Laureates
2013
"in recognition of Laureate's courage in promoting civil society values; for determination to establish foundations of economic freedom and for the unwavering struggle for justice and human dignity".

Mikhail Borisovich Khodorkovsky is a Russian politician and businessman. Still in the USSR, he founded the first private bank Menatep. After the collapse of the Soviet Union, he served, among others, as Deputy Minister of Fuel and Energy. Over that period he purchased the state-owned Yukos concern and transformed it into a company which soon became one of Russia's most transparent oil businesses. While consolidating the financial stand of Yukos, Khodorkovsky complied with Western financial management standards, with transparency turning into his company's trademark.
Starting from 2000, Mikhail Khodorkovsky actively committed to strengthening Russia's civil society. The 'Open Russia' Foundation he established launched numerous educational programmes investing in boarding schools and developing many assistance programmes to young people. Meanwhile, Khodorkovsky's position and activities gradually grew more critical of the government, to finally, just prior to the Duma election, make Khodorkovsky publicly accuse the government of corruption and donate substantial financing to the parties in opposition to the 'United Russia'. His moves quickly attracted the attention of the Russian authorities, thus turning him from a prominent public figure into a persona non grata at the Kremlin.
In 2003, Khodorkovsky was detained on charges of tax evasion and fraud during the company's privatization process, and eventually arrested. As a result, he was sentenced to 9 years in gulag-like camp in Siberia, the sentence strongly criticized by the international public opinion, e.g., the Council of Europe and the European Court of Human Rights which accuse Russia of the political abuse of the trial. Sentenced again in 2009, Khodrokovsky has been regarded by many human rights activists to be a 'prisoner of conscience'. Many outstanding intellectuals and dissidents worldwide have spoken in his support, e.g., the legendary Russian activist Lyudmila Alexeyeva.. Mikhail Khodorkovsky was released from prison in December 2013.
---
2012
"in recognition of the Laureate's actions for democratization of the Republic of Belarus, his active promotion of human rights and aid provided for persons currently persecuted by Belarusian authorities".
Ales Belyatsky is a Belarusian social activist, politician and human rights defender. He heads "Viasna" Human Rights Centre and is the Vice President of the International Federation for Human Rights. The two organisations support families of political prisoners in Belarus, providing them with legal and financial assistance. Mr Belyatsky is also an active member of organisations advocating for human rights in Belarus. Twice named a Nobel Peace Prize candidate, in 2006 Ales Belyatsky received the Homo Homini Award from Vaclav Havel.
In 2011 Ales Belyatsky was sentenced by a Belarusian court to 4-1/2 years of a high-security colony for alleged tax evasion.
---
2011
The 2011 Lech Walesa Award was given to Luiz Inácio Lula Da Silva for his work on peaceful agreement and joint cooperation between nations, in particular for his involvement in increasing the importance of developing countries and for his actions to reduce social inequalities.

Luiz Inácio Lula da Silva was born in Caetés in Brazil, in a poor working class family. When he was 14 he began to work in a metallurgical company. In 1964, following a military coup which introduced a an authoritarian regime in Brazil, Lula da Silva became involved with left-wing trade unions. It was a risky decision as participation in trade unions during that time often resulted in imprisonment. In 1975, he became the chairman of the National Union of Metalworkers, which became a thriving, independent organization. Lula's involvement in mass protests and strikes had him eventually imprisoned.

1980 was a breakthrough year for Brazil as the authorities allowed for the establishment of a limited number of political parties. Together with a group of intellectuals and trade unionists, Lula founded the Workers Party (Partido dos Trabalhadores). He initiated a number of social campaigns, which ultimately led to the resignation of the military authorities and changes to the Constitution (including the introduction of a common presidential election).

Since 1986, he sat in parliament. Since 1989, he participated presidential elections, which he finally won in 2002. Lula then gained the support of 54 million voters. He served as the President of Brazil during two terms until January 1, 2011.

As a political leader, he determined the fate of contemporary Brazil and led the country on in its evolution to democracy and prosperity, inspiring people to create one of the strongest economies in the world. Is also known that the activities of President da Silva in national poverty and crime reduction have led to significant improvements in these areas, mainly due to his reform programs.

During his term in office, Lula came up with a proposal to resolve the growing crisis in Iran's nuclear program, which in the opinion of the West had a military character. As a result, in May 2010, Iran, Turkey and Brazil signed a joint declaration in which they confirmed the commitment to the Treaty on the Non-Proliferation of Nuclear Weapons. In 2008, he played a significant role in resolving regional crises in Latin America and in the integration of the region. It was due to his activity, that the conflict between Colombia, Venezuela and Ecuador ended without the use of force. Brazil also led the UN Stabilization Mission in Haiti.

Currently Lula da Silva continues his social activities within their established Instituto Cidadania.
---
2010
"for creating a culture of tolerance and global responsibility"
Polish Humanitarian Action and its founder Janina Ochojska.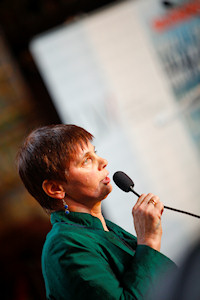 Polish Humanitarian Action helps people in crisis to become self-dependent and to regain responsibility for their lives and future. It focuses on providing long-term assistance to ensure sustainable development in the regions of war or touched by natural disasters. PAH's objective is to involve entire society in providing aid and to promote the idea that every person can help others in need within their bounds of possibility.
The organization was established by Janina Ochojska in 1992. It was the first time when Ochojska organized convoys with humanitarian aid for the people of Sarajevo seized with war. As the leader of the organization, she contributes to creating a new culture of tolerance, solidarity and global responsibility of the societies. Among the countries where she established PAH's missions were: Iraq, Iran, Palestine, Afghanistan, Kosovo, Lebanon and Sudan.
---
2009
" for the efforts to protect human rights in Iran"
Shadi Sadr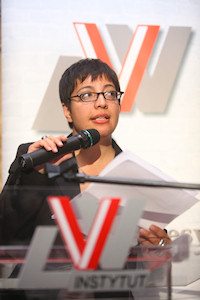 Shadi Sadr is an Iranian lawyer, journalist, and a woman's rights activist. She is an active lawyer defending execution cases in Iran. As a practicing lawyer, she has successfully defended several women activists and journalists in court, who had been sentenced to death penalty.
She is one of the Iranians who have campaigned to eradicate the practice of capital punishment by stoning, particularly of women, in a campaign known as End Stoning Forever.
Shadi Sadr was one of 33 women arrested in March 2007 after gathering outside a Tehran courtroom to protest peacefully against the trial of five women accused of "propaganda against the system", "acting against national security" and "participating in an illegal demonstration" in connection with a 12 June 2006 demonstration in support of women's rights. Sadr was held for fifteen days before being freed on bail.
Ladan and Roya Boroumand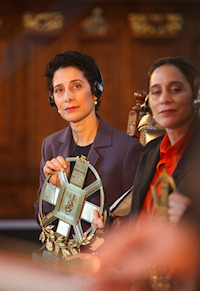 Ladan and Roya Boroumand are dedicated to the the promotion of human rights and democracy in Iran within the Abdorrahman Boroumand Foundation - a non-governmental non-profit organization. The Foundation believes that promoting human rights awareness through education and the dissemination of information are necessary prerequisites for the establishment of a stable democracy in Iran. Sisters Boroumand seek to ensure that human rights in Iran are promoted and protected without discrimination, whether it be on the basis of one's gender, race, religion, ethnicity, or national origin. Guided by the belief that unremedied human rights violations are a major obstacle to the establishment of a stable democracy.
Ladan Boroumand is a historian and a sociologist. Roya Boroumand is a historian specializing in the international relations.
---
2008
"for the promotion of the religious dialogue and the peace in the Middle East"
King Abdullah Bin Abdulaziz Al Saud, Saudi Arabia