We all deserve a little refreshment in our lives once in a while. But why limit it when we can have it onboard full-time? What we mean is, paint your house with the beautiful beach glass Benjamin Moore; it will never be a dull experience. Refreshments at your doorstep.
Beach glass benjamin moore is a light to medium blue-green color with subtle hints of gray. It is a soothing mid-tone coastal blue with a muddy green flavor. According to Benjamin Moore Paint, "A gray undertone brings versatility to this calming blue." It makes a perfect retreat for people that love the beach vibes.
It looks stunning in various spaces and lighting conditions; we will tell you how in this article.
Basics of Beach Glass Benjamin Moore
Beach glass benjamin moore is a classic nature-reflecting shade belonging to the blue-green hue family. It is neither too light nor too dark and carries a color code of 1564. The color exudes grace and style and will set your place in the tone for refreshment with the cool coastal vibe.
1. Undertone – Beach Glass Benjamin Moore
BW 1564 has a soft gray undertone which helps add personality to the overall color. However, keep in mind that undertones are subjective and might read differently in different light conditions. The gray undertone adds muted muddiness to the color to set the beach sand vibes.
It might look more blue or green depending on the light it receives. The gray undertones make the place look decent and spacious.
2. How Does Light Affect Color?

Paints and light go hand in hand. The lighting of a space has the power to highlight or de-tone a place's vibe. A place with good availability of natural light will brighten the place coherent with the paint, whereas insufficient lighting can make the place shady with a dingy feel. To understand the depth of it, go through the technicalities.
Make sure you paint walls considering the lighting factors mentioned above. The beach glass benjamin moore has an LRV lying in the middle of the scale, which absorbs 50% of the light and reflects the remaining 50%. This gives it a blue-green appearance. In excessive light, it might look lighter than it actually is, whereas, in a dark or dim light room, it can read a dark blue-gray shade pulling the walls closer.
3. Tone – Warm or Cold?
It is a bit difficult to vouch on a single tone because BM 1564 is more of a neutral paint. To pick one, it bends slightly toward the cooler side, but the blue hues do not pull up much. Still, the color brings a calm, cooling effect to a place with a spa-like feel, with the walls reading blue with a gray undertone. But, because it is neutral paint, meaning it has some warmth and depth to it, the color doesn't give too much of a pastel look. It is an amazing color for your consideration.
4. Technical Aspects of Beach Glass Benjamin Moore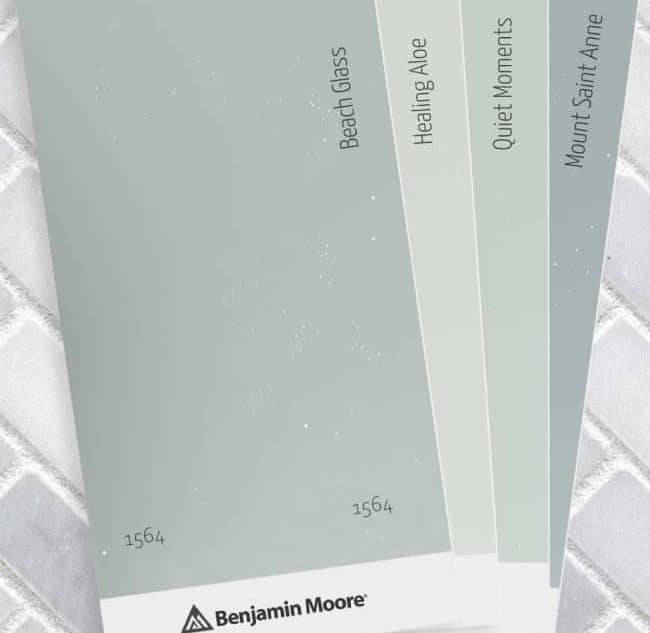 LRV- Light Reflectance Value: Light Reflectance Value is of utmost importance to designers, but you should also know its significance. LRV is a measure of light reflected from a surface when illuminated by light, be it natural light or artificial light. LRV of any color is fixated on its paint chip or sample. On a scale of 0-100, the higher the LRV, the lighter the shade of color, and vice versa. This means 100 is the purest white and 0 is the purest black. The LRV of beach glass benjamin moore is 49.7. This means it is neither too light nor too dark. Just right in the middle, with almost negligible comprehension toward lighter shade. With an average amount of lighting, you can build an absolutely refreshing space with this soft blue-green color from the classic collection of Benjamin Moore.
RGB Color Code: RGB stands for Red, Green, and Blue. Each color measures 0 to 255, quantifying the density of particular color in the overall color content. These parameters determine the combination of primary color in the final color. The RGB values for the color are 180, 189, and 184. You can now understand the depth of the three colors with which the final color is prepared.
HEX Code: HEX stands for Hexadecimal. Hex codes are hexadecimal codes for identifying the exact color. It is made with Red, Green, and Blue in a particular shade of color. For every specific color, a digital code is generated, which the designers and paint specialists use for accurate color recognition. The HEX code of this color is #b4bdb8.
Application of Beach Glass Benjamin Moore
As much as the specifications are important, it is also important to wrap your head around the practical aspects. Here, understand how the color looks and holds its beauty in the various parts of the home.
1. Living Room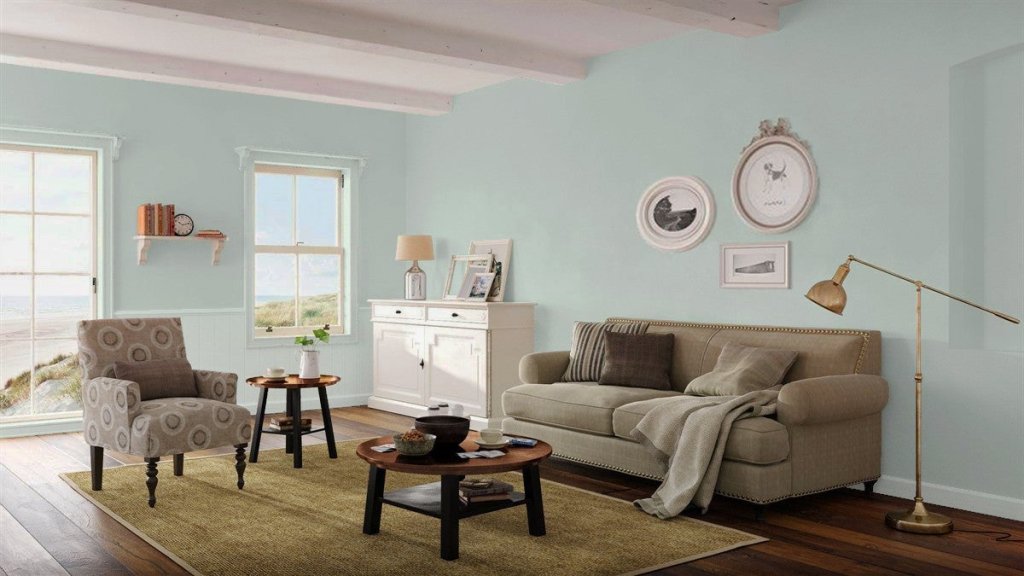 To feel light and bright, paint the walls of your living room with beach glass. It brings a cool and crisp texture to the walls, which makes it a perfect family hangout place. You can pair it up with neutral upholstery or warm accents. BM Beach glass is a cool and light color and thus gives an illusion of a wider space. An airy living room is comfortable for everyone to fit in. Keep it simple and elegant.
2. Kitchen
In a sun side kitchen, BM Beach glass will do wonders. Paint the walls of your well-lit kitchen with this color, pair it with white cabinetry, and create a fresh and refreshing kitchen that will never bore you. You can also place plant succulents to let the green hue vibe with nature. Try to keep the kitchen as natural and organic as possible; the color will work magic. Use wooden trays and jute baskets for an overall appeal.
3. Bedroom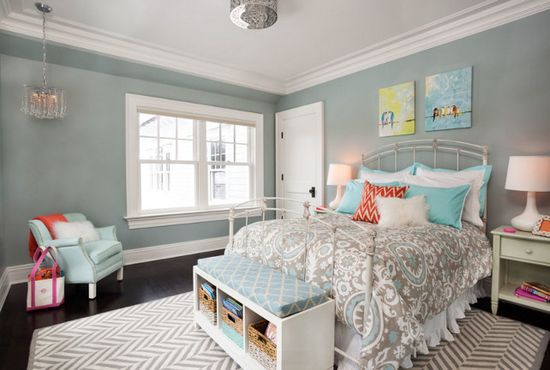 With a walnut wood floor, this color sets the perfect soothing vibe for the bedroom. Use it as a focal point behind the headboard of your bed and place bold fabric pattern art pieces and bedsheet to complete the look. It can play well with a variety of colors as well, whichever type suits you. Use soft colors for the bedroom since it is a place for your relaxation, and too many colors will hurt the eyes.
4. Bathroom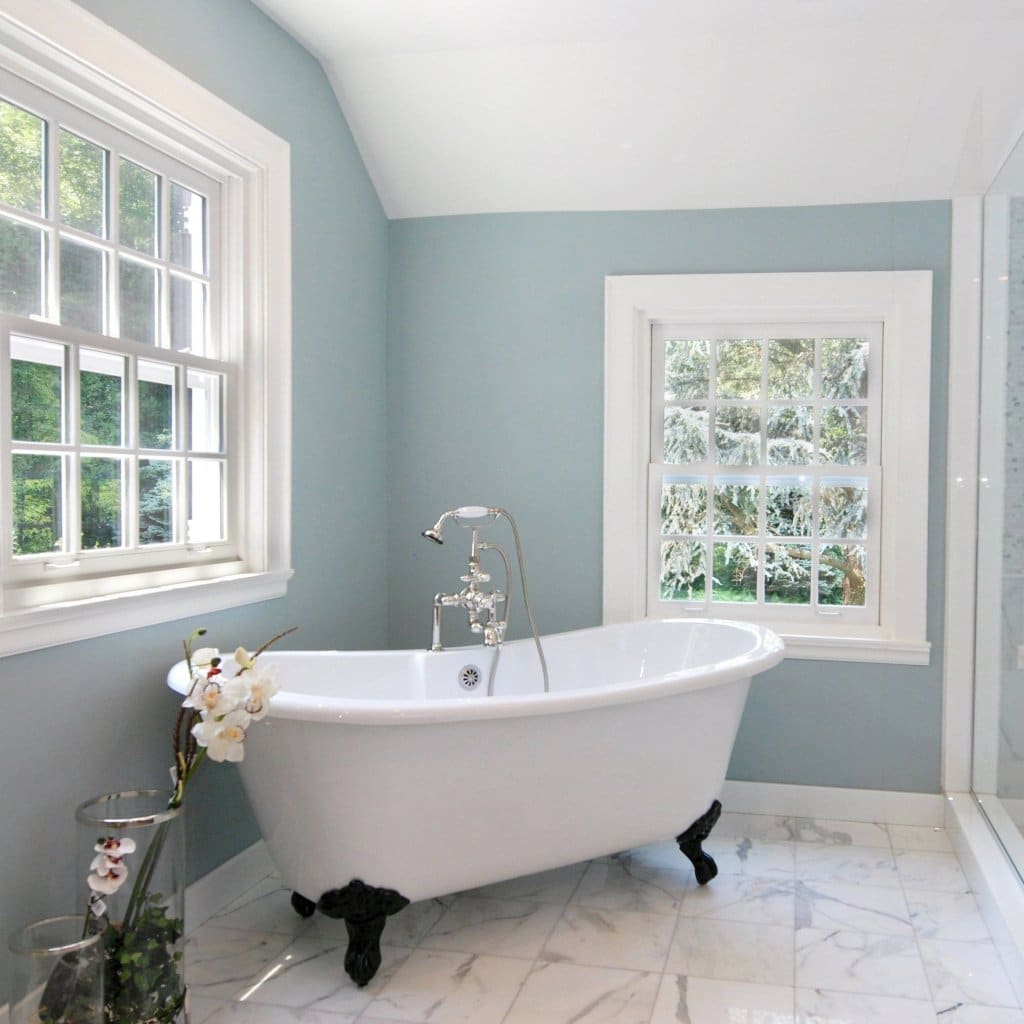 What's a better place than a bathroom to paint the walls with coastal blue color? Without a doubt, paint the walls in this light blue color and the hardware with a dark color or vice versa, and your beachside bath experience is ready. Pair the color with a classic silver-colored tap and water system. Keep the floor white marble, and the beach glass benjamin moore will show its glory. The color works best in natural light; thus, make use of the light coming from windows and elevate your bath space.
5. Exteriors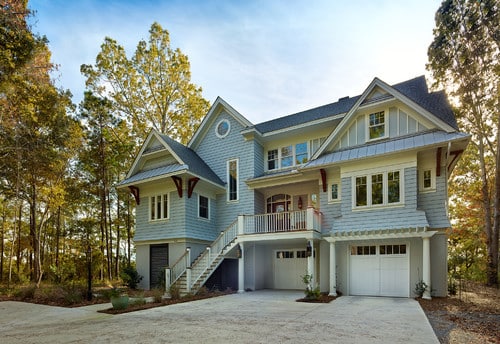 This color does not wash out in bright sunlight and, thus, is just the right choice for the exterior walls of your home. You can even paint the shiplap with beach glass paint. Pair the color with white door and window trims. It adds depth to the walls and a calming effect to the overall place. It soothes the eyes of the beholder.
Coordinating Colors of Beach Glass Benjamin Moore
Beach glass benjamin moore is a beautiful blue-green color with a versatile gray undertone, and you would not want to ruin its charm by pairing it with colors that do not abide by the color palette rule. The saturation, darkness, and brightness all matter for a paint color to reveal its true self. However, it is not child's play to get around the idea of coordination among the various paint colors, and thus we have brought the simplified details of it.
If you want to attain a monochromatic look, you can look up to colors like BM Healing Aloe(BM 1562), BM Mount Saint Anne(BM 1565), and BM Quiet Moments(BM 1563). However, if you are looking for a bold and contrasting palette in your home, you can opt from the following- BM New Hope Gray(BM 2130-50), BM Gray Owl(BM 2137-60), BM Rich Cream(BM 2153-60).
There are some other colors that you can consider pairing with BM Beach glass, namely Pale Smoke, Arctic Gray, Elmira White, Simply White, Eider White, and Barely Beige. To avoid making mistakes while choosing the right color, go through the mistakes people make while choosing paint colors.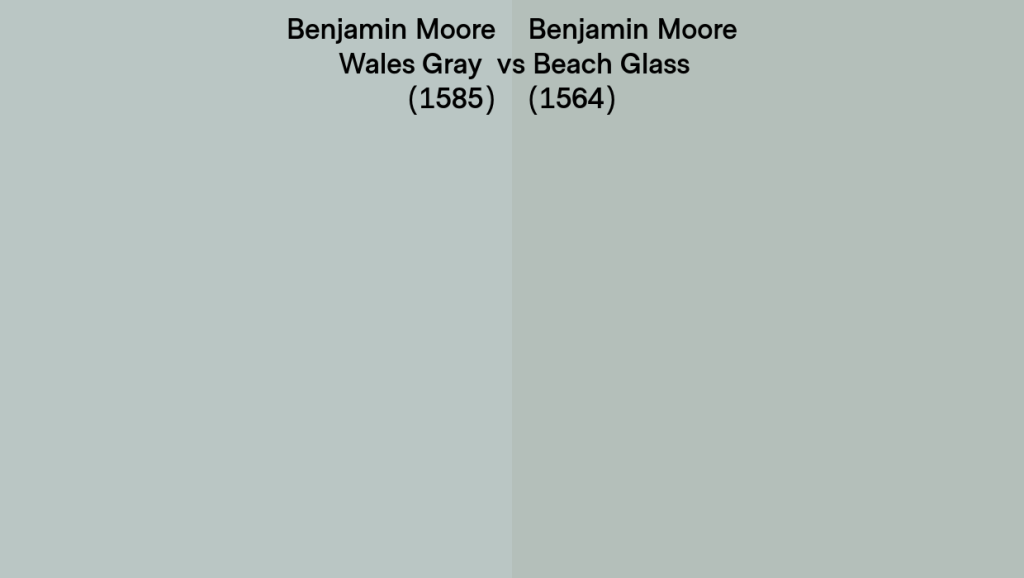 BM Wales gray is another beautiful blue hue with a gray undertone, making it timeless and classic. This color is named after the country of Wales, which is quite sophisticated and tranquil. It has a higher LRV than Beach Glass and thus reads lighter on the walls and objects. Both colors give a peaceful, elegant touch to the space.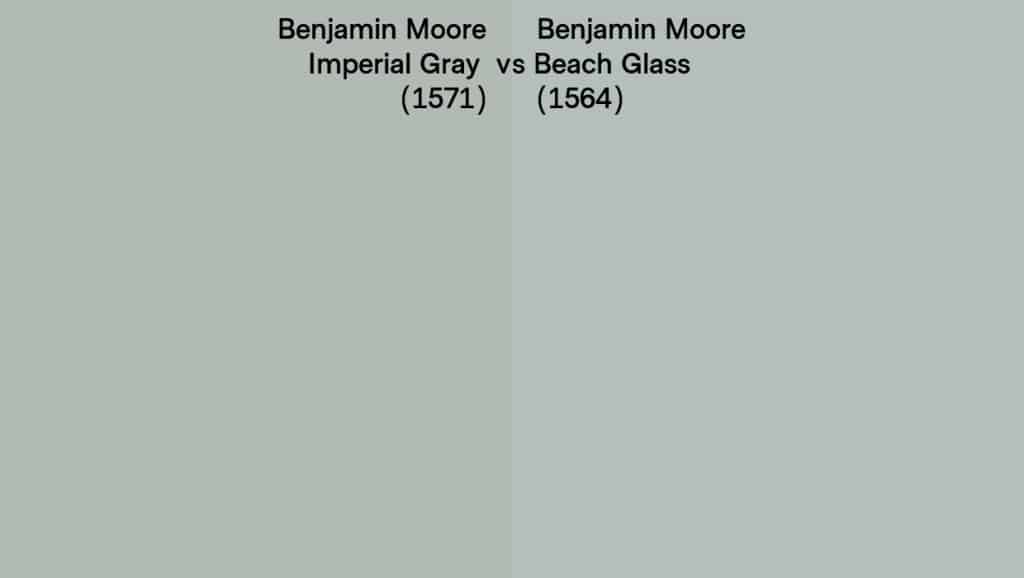 BM Imperial gray is more like a turquoise color with a darker gray undertone than BM Beach glass. The LRV of imperial gray stands lower than its counterpart, which makes the color dark but not dull. Both these colors provide a refreshing feel to the home.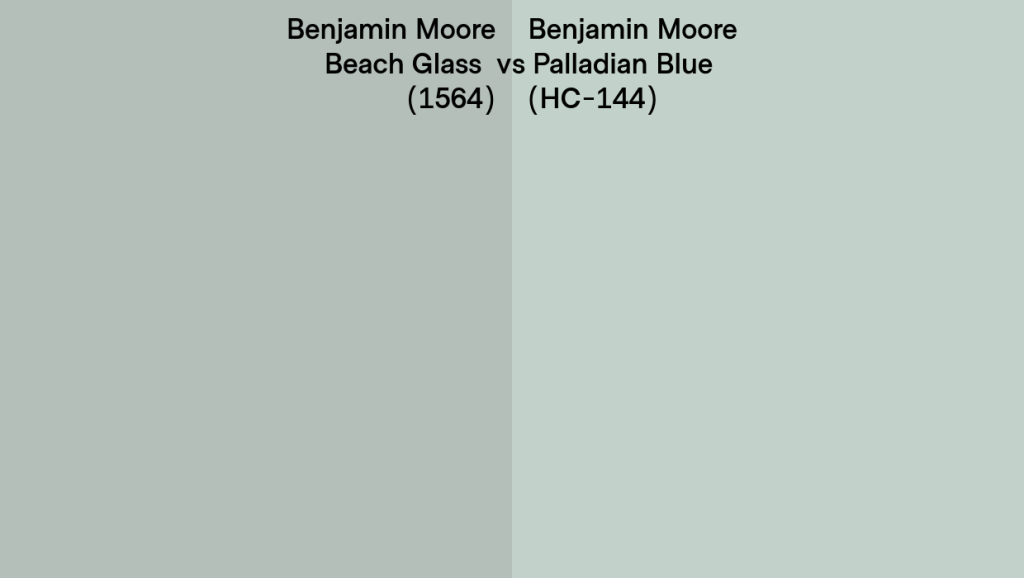 If your space is shy of bright light, BM Palladian blue is your go-to color. It is not the usual blue color and has lighter gray undertones than BM Beach glass. Palladian blue doesn't read as mature as its counterpart but has a breezy feel to it. It has an LRV of 60, which makes it sit higher than beach glass in the shade palette.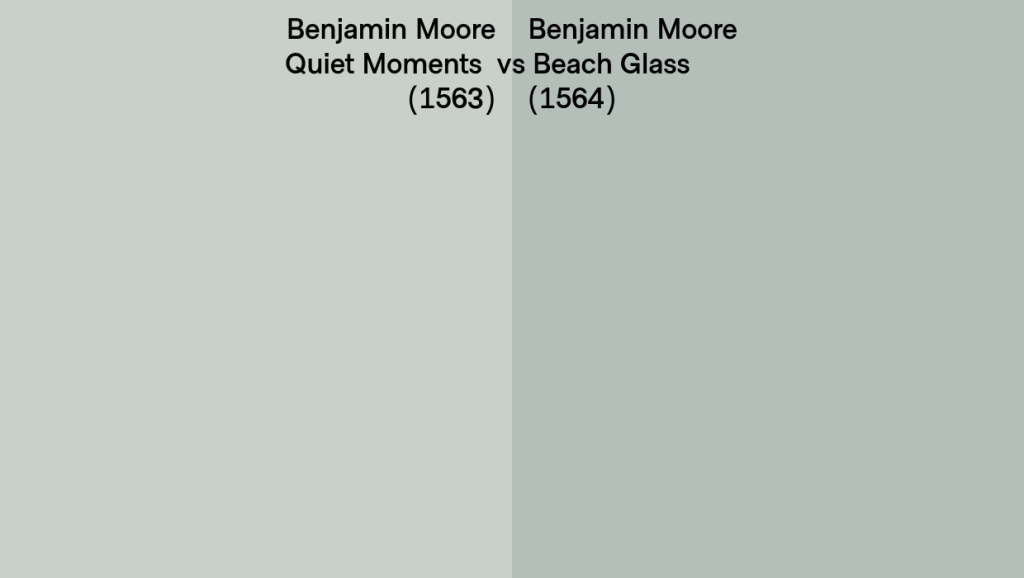 BM quiet moments is, as its name suggests, a quiet and muted color. It has a comparatively lower depth than beach glass. Both colors share the same color strip and are made up of a combination of blue, green, and gray. Quiet moments can be said as the lighter shade of beach glass with its LRV being 61.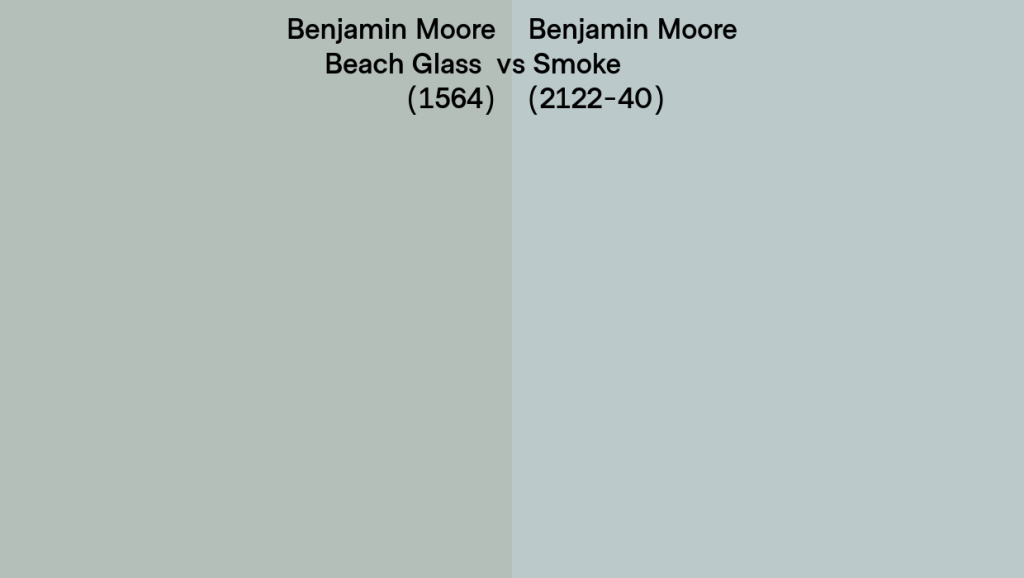 With an LRV of 56, BM Smoke gives a lighter shade than BM beach glass. Both colors have a blue hue that makes a place refreshing and relaxing. The calming shade of both colors makes them cool colors. Beach glass bends more toward green, whereas smoke bends more toward the bluish shade.
Final Thoughts
Beach Glass Benjamin Moore is a calming blue shade with a gray undertone, perfect for styling the home. The color has the capacity to hold longer than the others, and thus, the place will not look dull after some time of its application.
Its light reflectance is at par with light absorption and thus does not look washed out. The color should definitely make its way to your shortlisted paint colors for your home.
Choose the best color combination for your home that suits the furniture and other elements at your place, and let us know your thoughts on BM 1564.