With cool tones taking the lead in 'Aesthetic' 2023, gray has scaled to the top of the charts. You might say, no, it's beige, but that's in the past now. People are bored of beige and are more and more opting for gray for its chic and neutral look. But, among all the available grays in the market, which one is the best? It's definitely the Sherwin Williams Gray Screen(SW 7071). Go through the complete article, and you will know why.
Now, we don't want you to just paint your home with SW Gray Screen because we say so; we care for you and thus want you to check the whole article to decide if the color goes well with the undertones and fixed elements at your home.
So, let's walk through it together.
Basics – Sherwin Williams Gray Screen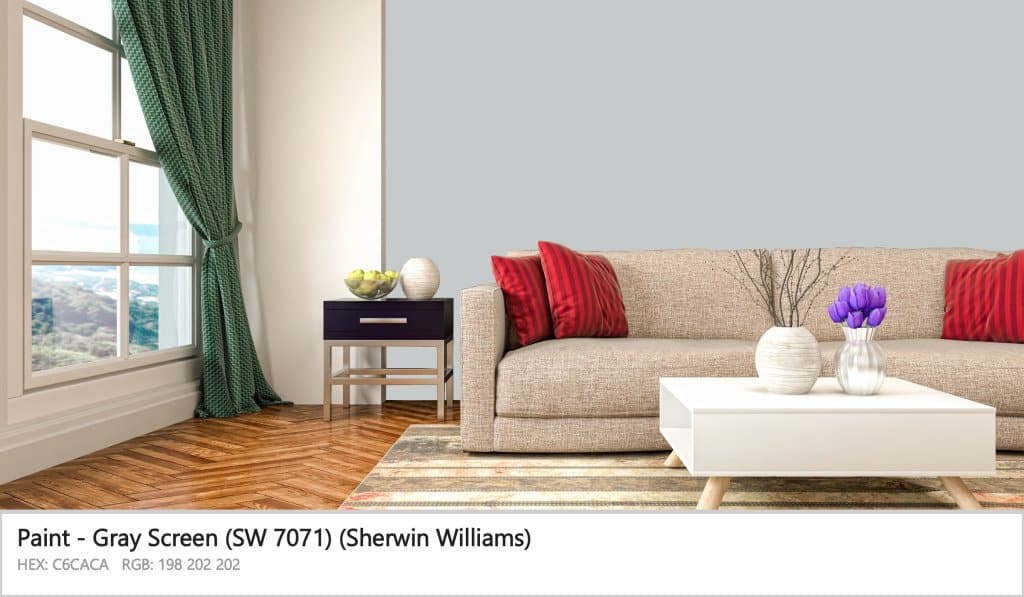 Sherwin Williams Gray Screen belongs to the neutral, blue gray, gray color family (hue). Unlike the other 'darker shades of gray,' SW 7071 is a light shade of gray which makes your place look airy and spacious.
Undertone – Sherwin Williams Gray Screen
If the Sherwin Williams Gray Screen reflects a tinge of blue post its application, do not be disappointed because that's its undertone. The exquisite cool blue undertone makes it a perfect match for homes/offices with hardwood floorings or wooden fixed elements.
SW 7071, with its blue undertone, defines a place and creates an illusion of a larger space.
But be mindful of the lighting available in the painted space or element (yes, you can also paint objects with this color). You do not want the cool blue undertone to dampen its look due to poor lighting.
How Does Light Affect Color?
Paints and light go hand in hand. The lighting of a space has the power to highlight as well as de-tone the vibe of a place. A place with good availability of natural light will brighten the place coherent with the paint, whereas insufficient lighting can make the place shady with a dingy feel.
So, make sure you use the paint colors accordingly because Sherwin Williams Gray Screen with its blue undertone might look worn off in a dimly light room. Plus, consider the compass direction as well. SW Gray Screen will beautify its look in east, west, and north-facing rooms but will be quite unwelcoming in a north-facing room since it is already cold. Basically, Sherwin Williams Gray Screen goes well in warmer spaces. You can add artificial yellow lights to add extra warmth.
Tone – Warm or Cold?
The cool blue undertone of the Gray screen makes it a calm and cool neutral color which adds a personality to the space. Guess that is why more and more people are opting for bedrooms. But don't worry; it works equally well with other areas. Sherwin Williams Gray Screen is a cool-toned color but will not give you chills. Rather, it will add freshness to the place.
Thus, if you want a warm and cozy space, SW 7071 is not for you! Before you take any concrete decision, please understand the technical specifications of the paint colors.
LRV – Light Reflectance Value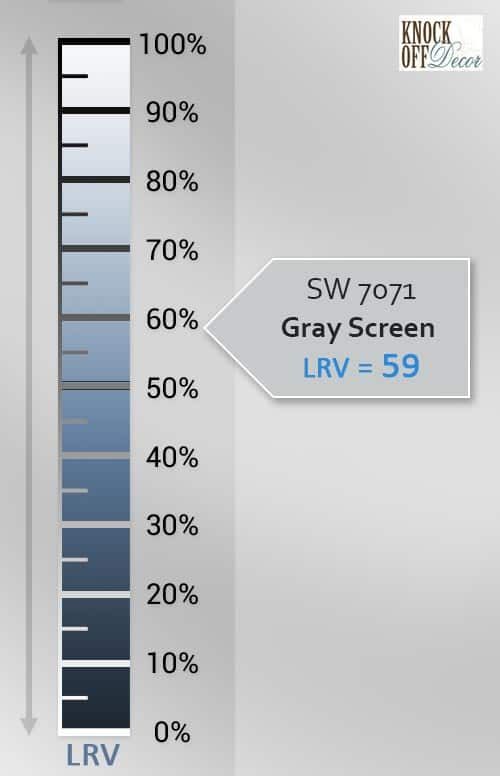 Light Reflectance Value is of utmost importance to the designers, but you should also know its significance. LRV is a measure of light reflected from a surface when illuminated by light, be it natural light or artificial light. LRV of any color is fixated on its paint chip or sample. On a scale of 0-100, the higher the LRV, the lighter the shade of color, and vice versa. This means 100 is the purest white and 0 is the purest black.
The LRV of the Sherwin Williams Gray Screen is 59. Now what it means is it is more towards the lighter shade, which makes it suitable for closed areas. It works well with darker accents and for styling the interiors.
RGB Color Code
RGB stands for Red, Green, and Blue. Each color measures between 0 to 255, which quantifies the density of particular color in the overall color content. These parameters determine the combination of primary color in the final color.
RGB of Sherwin Williams Gray Screen is 198, 202, 202, which means Green and Blue are in equal proportions and Red content is less in SW Gray screen.
HEX Code
HEX stands for Hexadecimal. Hex codes are hexadecimal codes for identifying the exact color. It is made with Red, Green, and Blue in a particular shade of color. For every specific color, a digital code is generated, which the designers and paint specialists use for accurate color recognition. HEX of SW gray screen is #c6caca. Now that you are well aware of the specifications of the color let's understand its applicability.
Application of Sherwin Williams Gray Screen
Coordinating Colors of Sherwin Williams Gray Screen
Just like you must know the rules to bend it in your favor, you must know the color theory to make it work in your favor.
But we understand it's not easy to check out every color and go through the process. After all, what are we here for then? To help you, of course! Here's an idea of how you can pair up the Sherwin Williams Gray Screen with various colors to achieve your desired look.
For a colorful palette and bright home interior, you must go for these colors, such as SW Cityscape (SW 7067), SW Contented (SW 6191), SW Coastal Plain (SW 9162), SW Site White (SW 7070), SW Gray Matters (SW 7066), SW Cyberspace (SW 7076), SW Intellectual Gray (SW 7045), and SW Worldly Gray (SW 7043).
The color also provides a set of options to the club in order to provide a monochromatic look, which includes SW Online (SW 7072), SW Network Gray (SW 7073), SW Software (SW 7074), and SW Web Gray (SW 7075).
However, in order to achieve complete coordination color options, there comes a set of other colors that can justify the purpose for you, SW Studio Blue Green (SW 0047), SW Site White (SW 7070), and SW White Hyacinth (SW 0046).
SW Gray Screen VS SW Agreeable Gray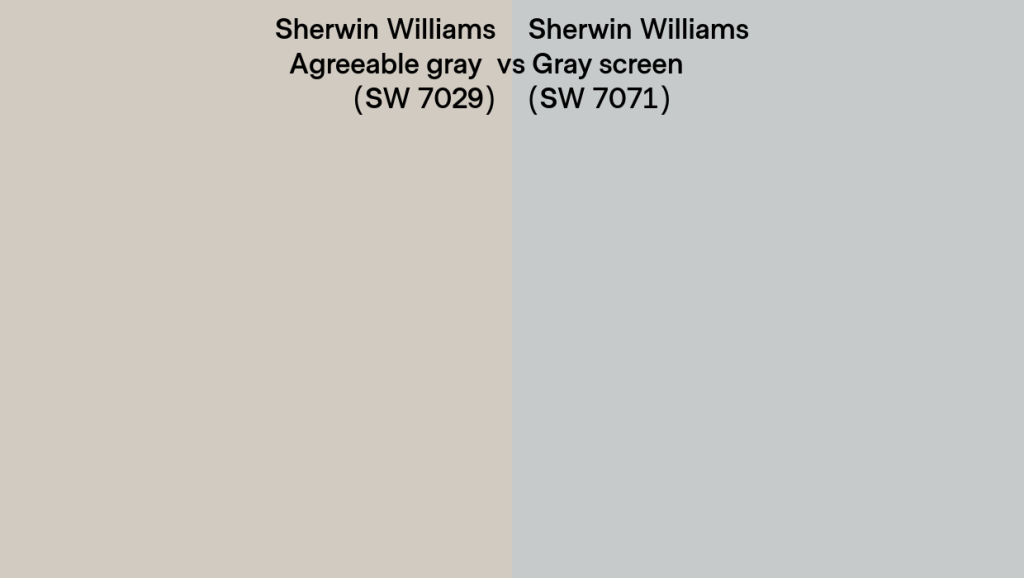 SW Agreeable Gray has a slight greenish undertone, unlike the blue of the gray screen. Agreeable gray is greige which makes it a color warmer than a Gray screen. However, both the colors look almost similar after their application since their LRVs are close. 60 for SW Agreeable Gray.
SW Gray Screen VS SW Passive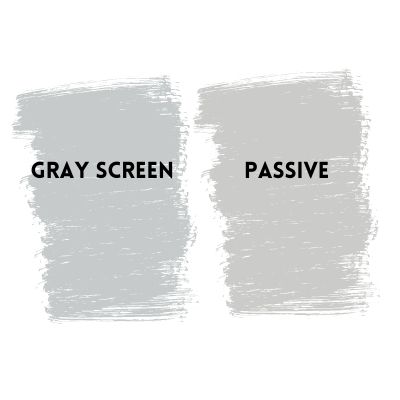 You will not see much discernible difference between the two since the LRV of Passive is 60, next to the gray screen. However, when placed side by side, you can witness the difference in the undertone. Passive has a muted blue undertone as compared to the deep blue, more pronounced undertone of the gray screen.
SW Gray Screen VS SW Repose Gray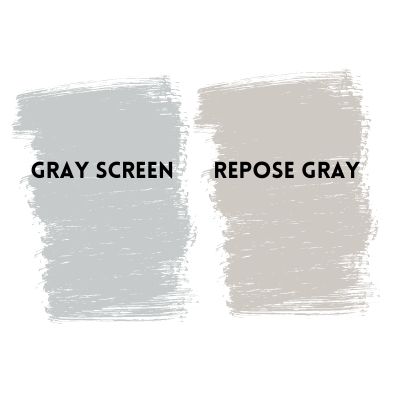 Repose gray is a warm gray. Unlike its counterpart, it can appear brown or purple depending on the availability of light. Repose gray has an LRV of 58, which again is close to the gray screen and thus look almost similar. But the difference can be noticed in the warmth of the color.
SW Gray Screen VS SW Gauntlet Gray The LRV of Gauntlet Gray is 17. It is a dark gray with brown- a taupe undertone, which makes it very different from the gray screen. Gauntlet gray is more suitable for the exteriors and wainscots. If you are looking for charcoal shades, SW gauntlet gray is your go-to option, but if you want a light look, it is a gray screen.
SW Gray Screen VS SW Dorian Gray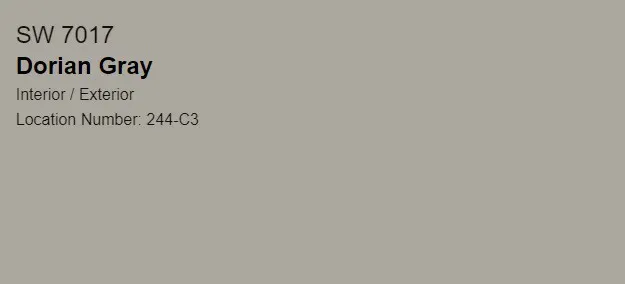 Dorian gray is a medium-toned gray color that has an LRV of 39. It goes well with medium to dark wood features. It has a slight greige undertone, due to which it pairs well with warm colors. Medium-stained wood furniture can refine the look. You are now free to make your choice.
Conclusion
Sherwin Williams Gray Screen is a crisp color, and most probably, you have started liking it too until now. Gray adds a minimalist look without having to put in much effort.
Imagine your place in the beautiful Sherwin Williams Gray Screen paint. Lovely, right? So, select the combination you want from the article above and just get started. Go with the trend and let your neighbors and relatives be in awe of your place.
Choose your preference wisely from the above-listed points. Tell us your thoughts about Sherwin Williams Gray Screen, and do not forget to install black colored lamp holders outside the gray screen-painted home.