DIY plumbing tips including basic preventative measures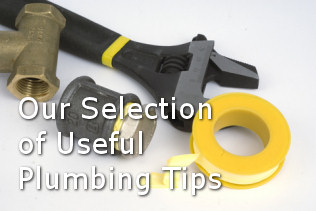 Here we offer you some basic tips and handy hints to help you start carrying out various plumbing tasks at home. We will also give you a general list of common dos and don'ts around the house, much of which is common sense and simple to carry out.

Many of our tips are preventative measures that will ensure that some of the most common plumbing problems do not occur.

Do It Yourself plumbing can save you the ever-increasing cost of calling out a plumber, however, unless you really know what you are doing, some jobs are better left to the professionals. Do not despair though, as there are still plenty of tasks that are fairly easy to complete yourself.

Please note: We will accept no responsibility for any damage or injury as a result of following this guide.
For further information please see our disclaimer, a link to which can be found at the bottom of this page.
Common plumbing problems
Most of the problems related to plumbing around the home involve water in one way or another. The most common ones, which are often the easiest to fix, are listed below.
Burst pipe
Leaking tap
Running toilet
Blocked drain
Condensation
Problems with the washing machine
Blocked toilet
Running overflow pipe
Leaking waste pipe
Leaking storage tank
Some of these common problems will be expanded upon and covered in more detail in the rest of the helpwithdiy plumbing tasks section.
You can avoid the majority of them by carrying out a yearly survey and maintenance check on all plumbing-related material in your home.
Many of the problems occur due to old fitments, old pipes, and old taps.
Basic preventative measures
Some of the following preventative measures tips are just common sense, yet they are often tasks that are overlooked, tasks that you think you can get away with not doing, or jobs that you just never get round to.
Money is often the reason for not carrying out preventative measures, but although there will be a small outlay at the time, these little jobs could save you a fortune at a later date if they are not carried out.
Here are our handy preventative plumbing tips, which is also a list of common dos and don'ts:
Familiarise yourself with your plumbing system at home, so that if any problems do arise, you can deal with them quickly and efficiently.
The stopcock controls the main water supply to your home. Make sure that you know where it is and how to disable it if necessary.
Check that the stopcock turns easily, as it can seize up due to lack of use. Grease the stopcock and turn it on and off a minimum of twice a year.
Remove limescale damage from chrome fittings such as taps by rubbing half a lemon over them.
Never ignore any early warning signs such as water flowing slowly, bad smells, or dripping taps, as if unchecked, they will lead to bigger problems and more expense.
Never pour leftover cooking oil down the sink. This is one of the worst culprits for blockages.
When carrying out plumbing tasks at home do not use cheap materials. If you can't afford the best quality materials, middle of the road will suffice.
Always turn the mains water supply off when carrying out any type of plumbing task.
Do not use cheap washing powder as this also clogs up the drains and pipes.
Run your washing machine on a 90°C wash once a month as the hot water will help to break down any clogged up washing powder.
Never throw any foreign materials such as cotton buds, sanitary towels, wet wipes, make-up remover pads, or nappies down the toilet. Always use the bin.
Try to buy good-quality toilet paper as well, as cheap versions will not biodegrade as easily, and can cause blockages.
Use a strainer to place over your shower plughole to pick up hairs.
If you live in a cold climate use plastic piping, as this is less likely to burst if water freezes inside it. It is also less prone to furring up and provides better insulation than copper pipes. Do not use if close to a boiler because plastic piping does not withstand high temperatures.
Do not try and flush a blocked toilet until an effort to remove the blockage has first been made.
To keep your sink clear and unblocked clean regularly with baking soda, white vinegar, and boiling water.
As you can see, all of the above are tips that even the most novice DIY home plumber can carry out. Check our pages on how to fix some of the above problems, and if you are in any doubt, then do call an expert.
Advertisements