Sherwin Williams charcoal blue is regarded as a top choice for a lot of house owners because this paint portrays richness and depth and has a lot of similarities with navy blue. It becomes a must-try since it has the power to transform your home into a captivating heaven.
The luxurious texture is also the top choice for manufacturing, hospitality, and beachside villas. You can feel the elegance and sophistication of this paint color as soon it touches your wall surface.
If you are someone that has large room space and that room has no shortage of natural light, then this bold blue can come as a great fit. You can apply this charcoal blue Sherwin Williams on the accent wall and pair it with white and golden furniture. If there is room for a fireplace, make sure you add black glossy marble to create an unforgettable experience for guests.
Sherwin Willams Charcoal Blue: Shades and Undertones
Interior designers all over the world have always recommended the use ofpaint swatches to get the real tone of the color. Charcoal blue tends to be a chameleon color that behaves differently in various lighting conditions. Hence we will suggest that you take the help of a color temperature wheel which will help you find the matching colors of this paint and help you transform your room into captivating heaven.
The Technical Aspects of Sherwin Willams Charcoal Blue
Light Reflecting Value: The LRV of charcoal blue is 6, and it is a light color. So that means this paint can bounce more light to your room and provide you with a "daytime "feel. Your room will appear spacious and brighter when this paint is applied to your accent wall.
HEX and RGB Value: HEX is defined as a term that has six-digit and letter combinations and is expressed through blue, green, and red. HEX can easily be converted to RGB values with the help of afree conversion tool available online, so there is no need to sweat. RGB denotes three colors, red, green, and blue, and is often limited to digital applications. Hence you will see RGB specifications in computers, tablets, and mobiles. In the case of charcoal, here is the combination it is made of: The red amounts to 61, the green amounts to 68, and the blue amounts to 80. The Hex value determined by the combination of these colors comes to #3d4450.
Effect of Light on Sherwin Willams Charcoal Blue
Charcoal blue Sherwin Williams is regarded as a symbol of authority. It portrays your personality in front of your guests. The color speaks that you are a person who is stable and authoritative, and hence people see you as a person that has power and importance. Let's see the effect of this paint on different areas of the room.
1. North Facing Room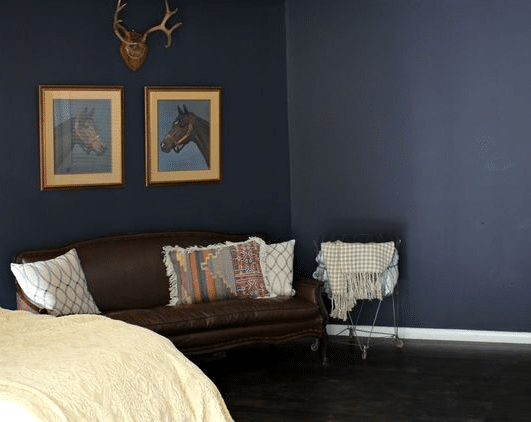 North Facing Rooms are generally spaces that have low right coming through. Hence using a paint that has high LRV would instantly brighten up your room and make it look spacious and big. Normally people who have limited space in their room can use this paint to create an illusion of a bigger space. Use can use additional lighting conditions to increase the aesthetics of your room.
2. South Facing Room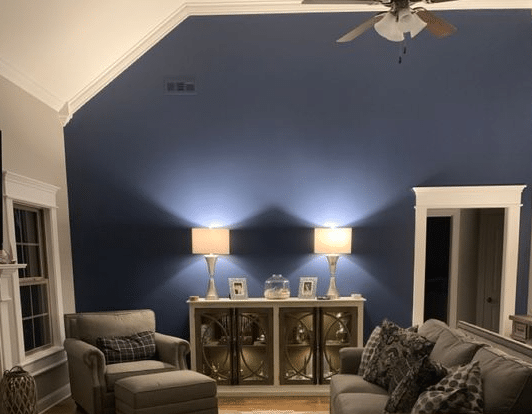 South Facing rooms are areas that receive a moderate amount of sunlight. Using charcoal blue can transform your room and provide an eclectic vibe. To complete the look, you can use wooden furniture or gold-plated decor. If you level it up, make sure you keep a room for a fireplace and add black marble for its decoration.
3. East Facing Room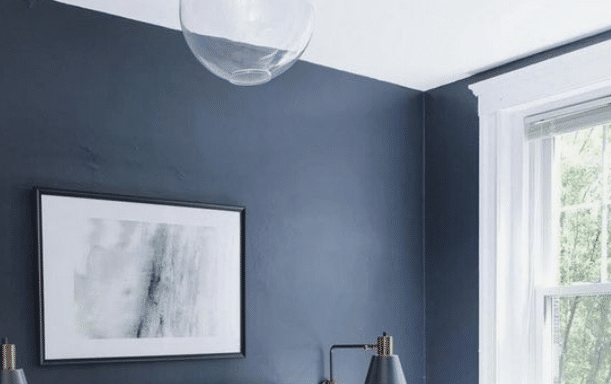 These rooms receive the maximum amount of sunlight and use Charcoal blue to create a cheerful look. By combing it with crisp white furniture you can create the best contrast and provide your guests an unforgettable experience. We would recommend a patch wall test before you go ahead with this color.
4. West Facing Room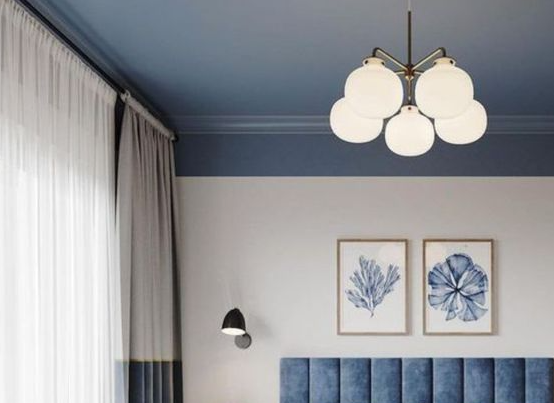 West-facing rooms look incredibly beautiful when you use charcoal blue as the accent color. When paired with decorative artificial light, you have the power to transform the room into a majestic space. Always use proper furniture with your room to increase the visual appeal of your room and provide a stunning display.
Note:Other than this, you can use this paint in the gym, family room, and hallways. This color suits every room and exterior, so don't hold back when using this beautiful hue. In addition, this paint serves as a great option for various interior design styles like contemporary, Hollywood glam, and mid-century.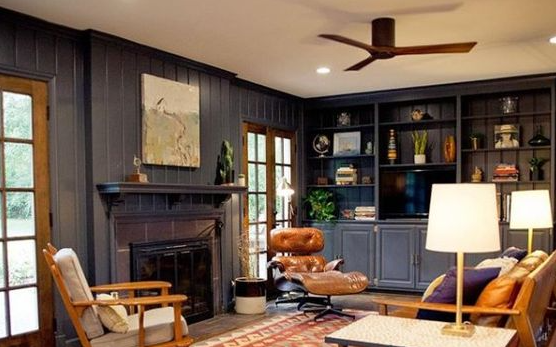 Colors that Match with Sherwin Willams Charcoal Blue
Since charcoal blue Sherwin Williams is a versatile color, it can be paired with various matching colors to create a balanced and cohesive look. Some of them are stated as follows :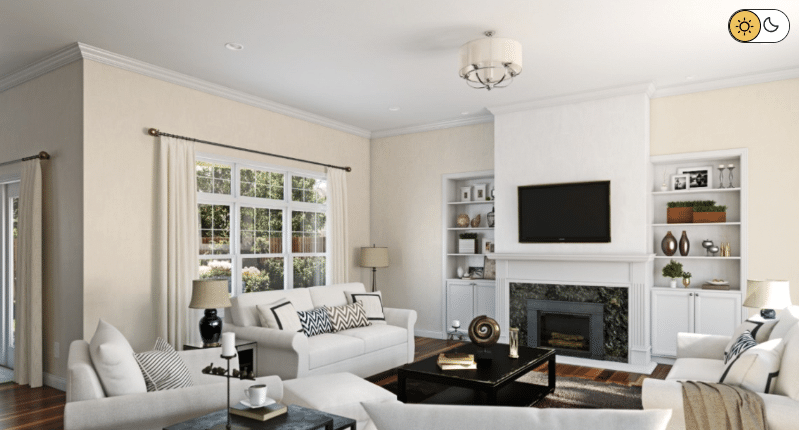 charcoal blue Sherwin Williams is a light color pairing with another light color that would provide an interesting contrast. Since both the colors have high LRV, a lot of light would be reflected in your room. Elegance and sophistication will naturally be installed in your space, and to complete the look, pair it with wooden or black furnishing.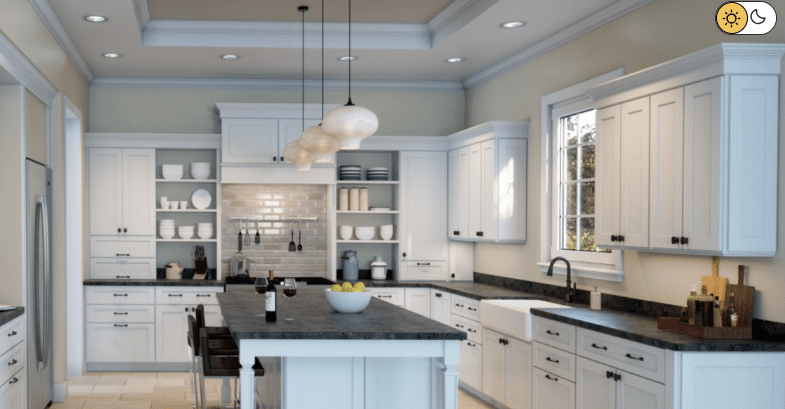 This color is regarded as the " peace color" when this paint is paired with charcoal blue, its creates brings the zen effect to your room. It opens the room for conversations as your guests feel super welcomed when they visit your room. To complete the decor, pair it with crisp white furniture or use black decor as an alternative.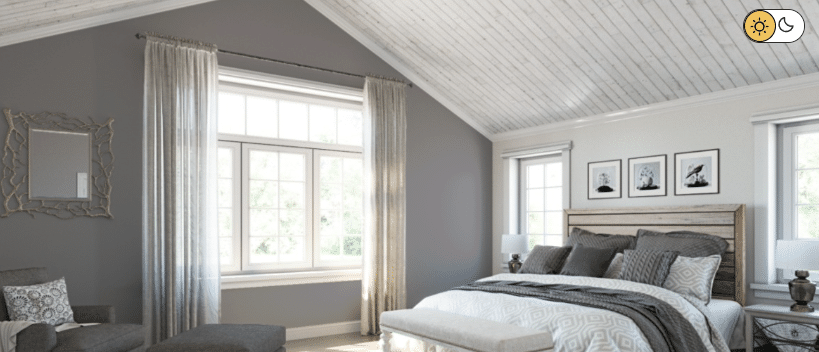 Moonlight Orchid has a dark undertone, and pairing it with a light undertone like charcoal blue would create an interesting contrast. A proper balance in your room has been generated since you now have a color that signifies warmth and exuberance. Use this shade to formulate a cohesive look for your room.
Sherwin Williams Charcoal Blue vs. Other Similar Colors
Though we don't recommend using any other color other than charcoal blue, few paints have a close resemblance to this paint. The most common ones are Moscow Midnight, Favorite Jeans, and Naval. So if you are curious to know some of its alternatives, check out this list.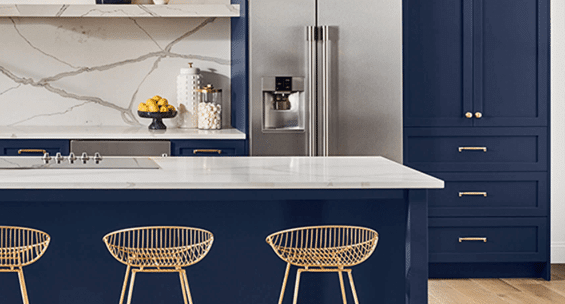 A relaxed atmosphere is created when this gray undertone paint is applied to your room. This alternative of Charcoal Blue creates a meditative serenity and transforms your room into a captivating heaven. To complete the look, pair it with a marble countertop and golden furnish decor. Or else, you can use black furnishing as an alternative.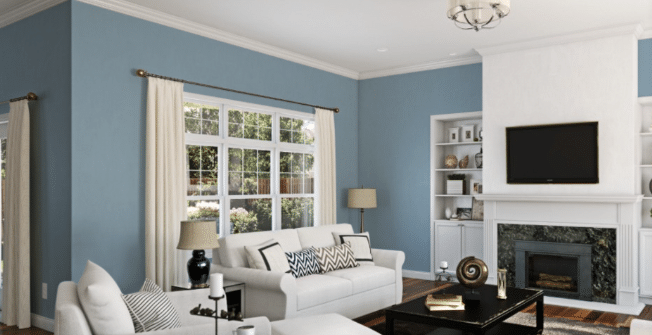 This paint has the power to transform your room into a stunning display. The light undertone of this paint has a similar LRV of charcoal blue and hence it can reflect a lot of light into your room and create an illusion of a bigger space. This color brings a pleasant effect naturally and looks majestic when paired with crisp white decor.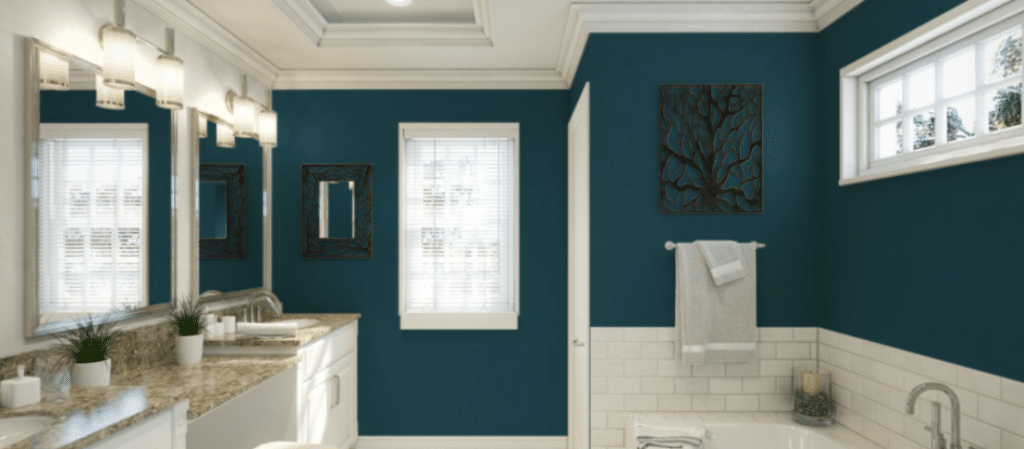 This is a saturated blue color that looks majestic when implemented into your room. This alternative of charcoal blue creates an air of mystery and transforms your room into a captivating heaven. They look incredibly gorgeous when used as an interior or exterior paint. This paint also provides an eggshell finish to your room, giving your guests an unforgettable experience.
Top 5 Benefits Of Using Charcoal Blue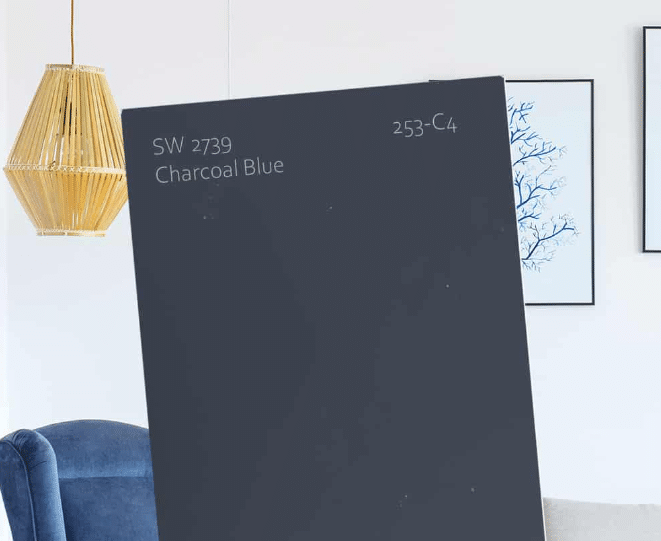 One of the most essential benefits of this painting is the power of transformation. The look and feel of your room will be transformed in an instant as soon as this paint touches your wall. A fresh coat of charcoal blue Sherwin Williams will increase the aesthetic appeal of your room and depict your style and personal taste automatically.
Room is related to mood swings. Studies have shown that warm yellow creates an energetic atmosphere, whereas charcoal blue Sherwin Williams creates calmness and peace of mind. Hence choose colors that out forward your feelings.
Charcoal Blue Sherwin Williams has great property value. A fresh coat of this paint shows that you are clean, organized, and a person who pays attention to detail. Well-maintained properties are the top choice for buyers.
Your walls get an extra life when this paint is implemented. Once you use charcoal blue Sherwin Williams as your accent color, your walls remain free of moisture, dirt, and dust. Stains won't stay on your walls. You can easily maintain them.
The welcoming space is created with charcoal blue Sherwin Williams. When paired with correct lighting conditions, your room becomes an atmosphere for conversation starters and deep talks. Your guests will get a memorable experience.
Takeaway
charcoal blue Sherwin Williams is a paint that promotes trust and dependability in front of your guests. It speaks volumes about your style and personality, as adding this color to your accent wall conveys that you are reliable.
Besides this, charcoal blue is a universal color that would never run out of fashion. You can change or modify the decor as you like, but you never have to change the color of your walls. To create a captivating room, it's recommended that you mix charcoal blue with bright shades since this paint comes with a cool undertone.
The striking contrast will make your room appear gorgeous. Be it any space; charcoal blue has the power to create an eclectic atmosphere. So what are you waiting for?
Frequently Asked Questions
Can Charcoal Blue Sherwin Williams Change the Ambiance of My Room?
Yes. The color is regarded as " calming effect" paint. Using this paint on your accent wall will easily create a cozy atmosphere which will give you a restful sleep and give your guests an unforgettable experience.
How Can I Bring Elegance to My Room with Charcoal Blue Sherwin Williams?
The deep shade, when combined with complementary colors, would bring elegance to your room effortlessly. You can pair this paint with any decor of your choice, and it will increase the aesthetics of your room.
Can I Use Charcoal Blue Sherwin Williamson Different Surfaces?
Yes, you can use this paint on various surfaces like the dining room, bedroom, kitchen, and hallways. To complete the look, it's recommended that you pair the color with crisp white furnishing, which will help generate an eclectic atmosphere.