When it comes to finding the perfect gray paint color, the options can be overwhelming. With its timeless appeal and versatility, gray has become a more popular choice for homeowners looking to create a sophisticated and neutral backdrop.
In this review, we'll take a closer look at Sherwin Williams Popular Gray SW 6071, a highly sought-after shade from the renowned Sherwin Williams paint collection. Is it truly the gray you've been searching for? Join us as we delve into the characteristics, application, and overall impression of this popular Sherwin-Williams gray.
Sherwin Williams Popular Gray – A True Gray?
Gray Paint colors have taken the design world by storm, offering a range of possibilities for creating stylish and contemporary interiors. Among the myriad of choices, Sherwin Williams Popular Gray SW 6071 has emerged as a top contender in the category of popular Sherwin Williams gray paints. But does it truly meet the high expectations? Let's find out!
1. The Undertones: What Sets it Apart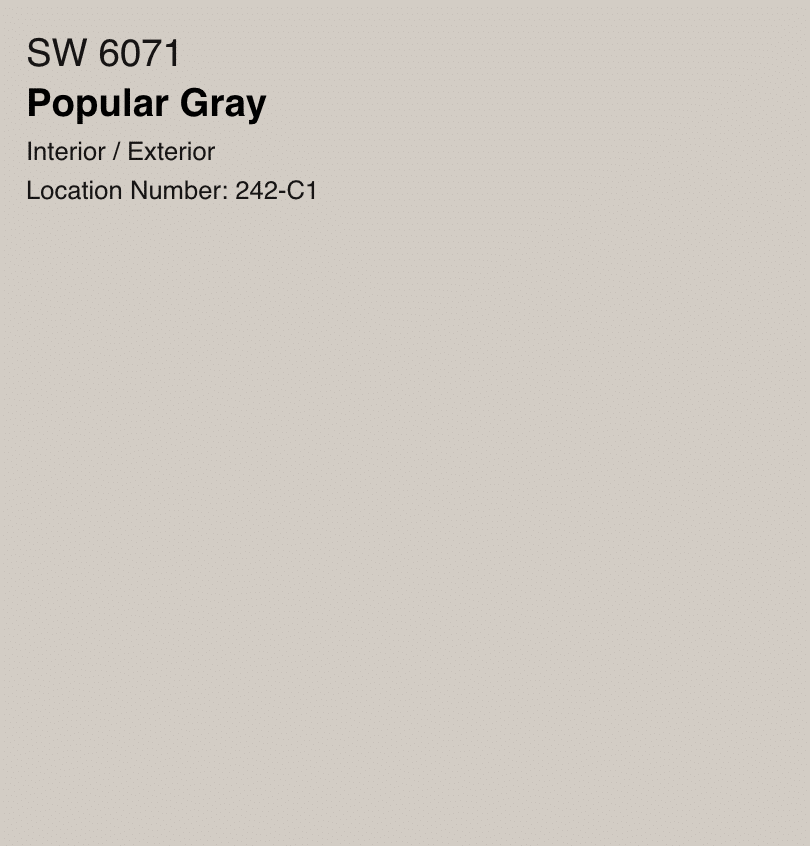 One key factor determining whether gray paint is a "true gray" lies in its undertones. Popular Gray SW 6071 leans towards a warm undertone, hinting at a subtle greige or taupe base.
This gentle touch of warmth sets it apart from cooler grays and adds depth and richness to the color. The result is a cozy and inviting atmosphere, perfect for creating a serene living space or a relaxing bedroom retreat.
2. Versatility: Complementing Various Design Styles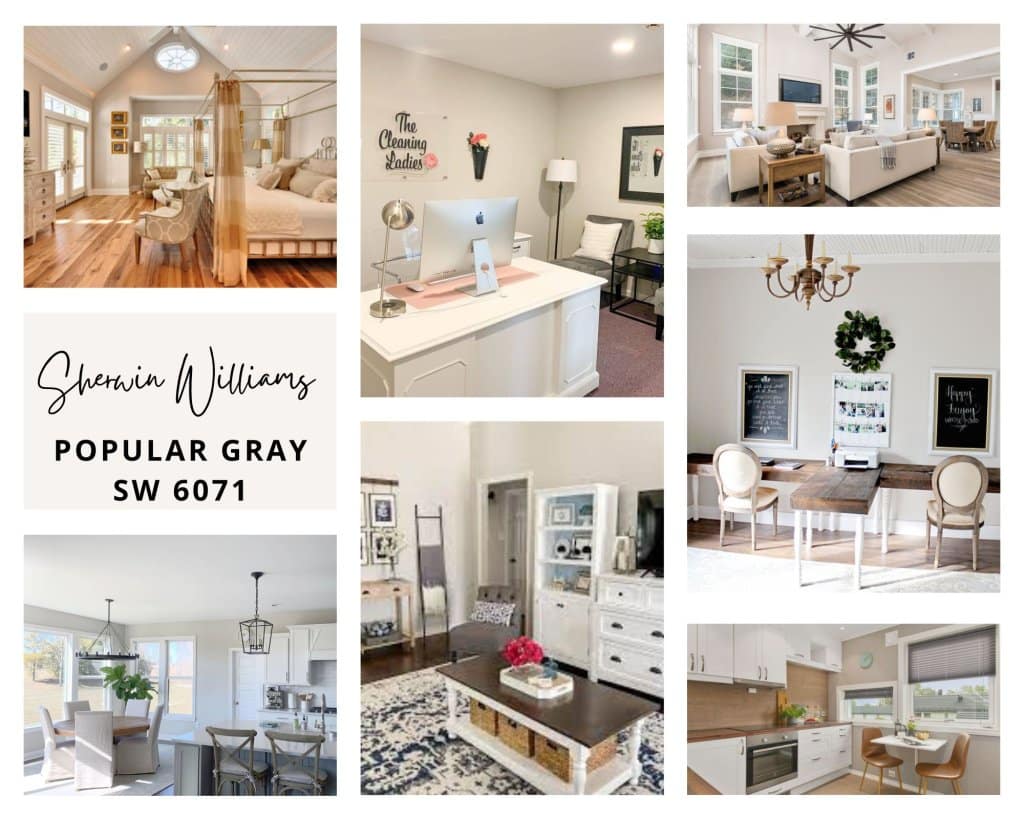 One of the greatest advantages of Sherwin Williams Popular Gray SW 6071 is its versatility. It effortlessly complements various design styles, from modern and minimalist to traditional and farmhouse.
The chameleon-like quality makes it an ideal choice for those who enjoy experimenting with different aesthetics or prefer to change their decor over time. Whether you're a fan of sleek lines and clean surfaces or like a more rustic and cozy ambiance, Popular Gray can adapt to your needs and preferences.
3. Lighting Considerations: Adapting to Different Environments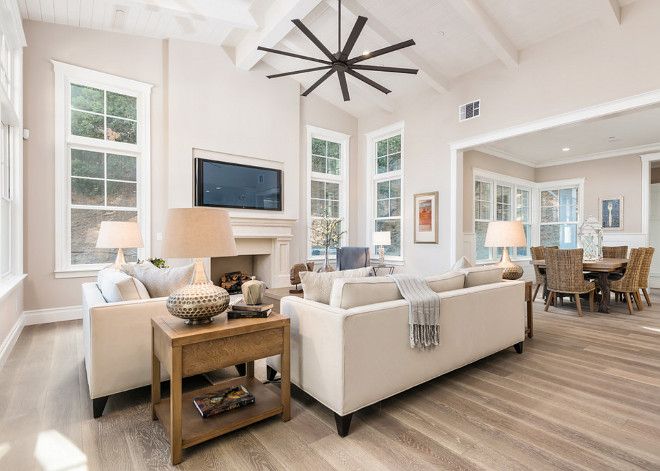 The lighting conditions in a room can significantly impact the appearance of paint color. Popular Gray SW 6071 is known for its adaptability, gracefully transforming under various lighting situations. In well-lit spaces, it can exhibit a lighter, more ethereal hue, showcasing its true gray nature.
In rooms with less natural light, the warm undertones become more prominent, creating a comforting and intimate atmosphere. This flexibility allows the color to blend seamlessly into any environment, providing a reliable and consistent backdrop for your furnishing and decor.
4. Light Reflectance Value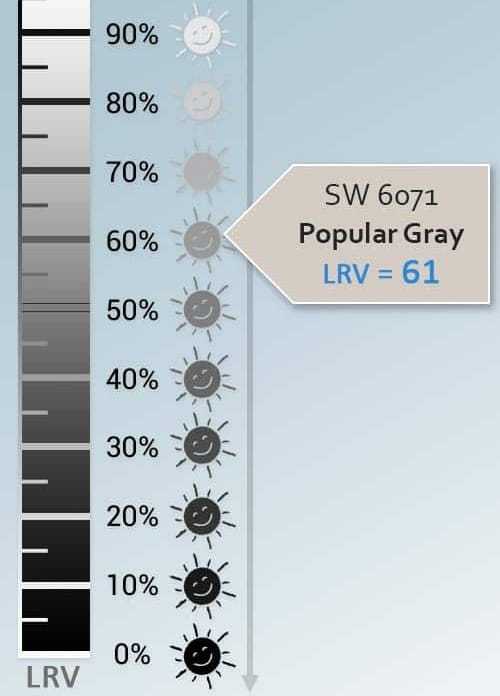 The light reflectance value (LRV) of Popular Gray SW 6071 is 61. LRV is a measurement of the percentage of the light that color reflects, with 0 being absolute black and 100 being pure white.
A higher LRV indicates a lighter color, while a lower LRV suggests a darker color. With an LRV of 61, Popular Gray falls within the mid to light-toned shades. Offering a balanced level of light reflectivity for your living space.
Coordinating with Other Colors: A Winning Combination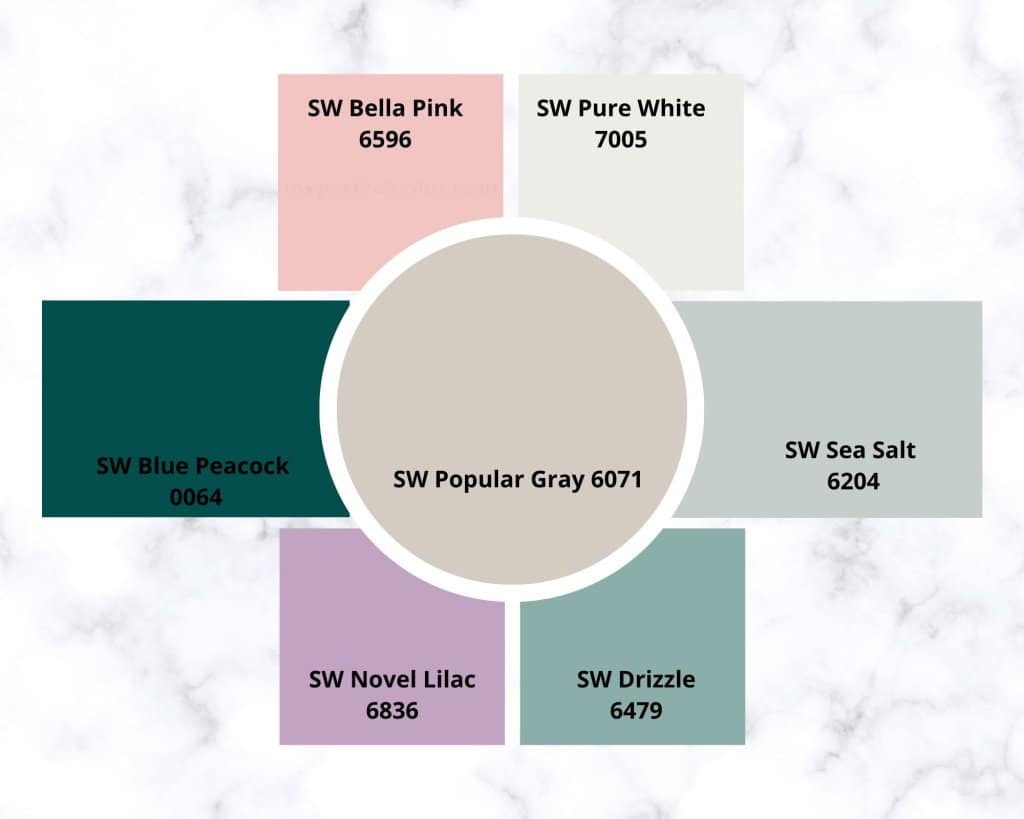 Choosing gray paint that harmonizes with the colors in your space is crucial for achieving a cohesive and aesthetically pleasing look. Sherwin Williams Popular Gray SW 6071 proves to be a team player, effortlessly complementing a variety of color palettes.
Paint it with crisp whites and soft pastels for a fresh and airy feel. For a bolder statement, combine it with deep navy blues or rich emerald greens to create a striking contrast. With Popular Gray as your base, the possibilities for creating a stunning color scheme are virtually endless.
Application and Coverage: A Painter's Delight
Painting can be a laborious task, so choosing a paint that offers smooth application and excellent coverage is essential. Sherwin Williams Popular GraySW 6071 delivers both fronts. Its high-quality formula ensures easy and even application, resulting in a professional-looking finish.
With popular preparation and a few coats, this paint provides excellent coverage over most surfaces, saving you time and effort. Whether you're a seasoned DIY enthusiast or hiring a professional painter, this shade makes the application process a breeze.
Where to Use Sherwin Williams Popular Grayin Your Home
Sherwin Williams Popular Gray is a versatile and timeless shade that can elevate the style and ambiance of various spaces in your home. Whether you're going for a modern, traditional, or eclectic look, Popular gray can effortlessly complement your design aesthetic. Here are some ideas on where to use SW gray in your home.
1. Living Room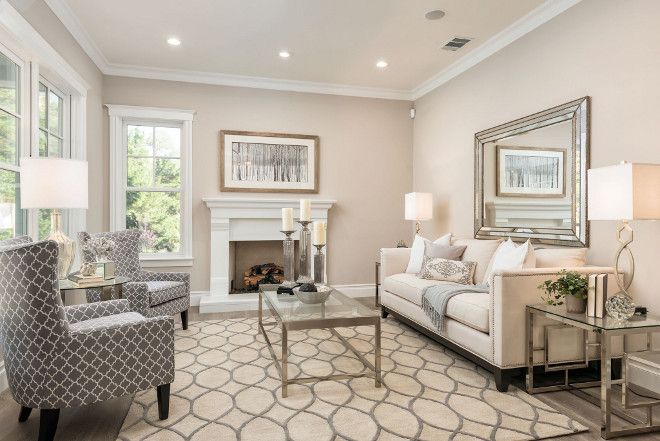 Popular Gray is a fantastic option for the living room, offering a soothing and inviting ambiance. Apply it as a primary wall color to establish a neutral backdrop, allowing your furniture and decor to take center stage. To inject visual interest and achieve a cozy and well-balanced space, complement Popular Gray with vibrant pops of color using accent pillows, throws, and artwork.
By incorporating these colorful accents, you can enhance the overall aesthetic while maintaining the calming and versatile nature of Popular Gray in your living room.
2. Bedroom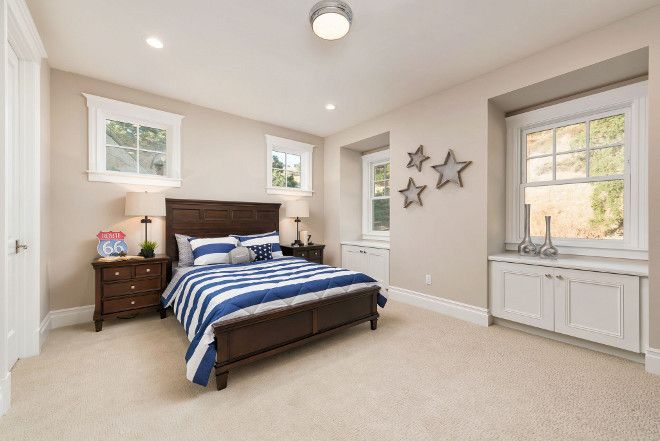 Create a tranquil haven in your bedroom with the soothing walls of Popular Gray. This gentle gray shade sets a serene ambiance, ideal for unwinding and achieving a peaceful night's sleep. To enhance the luxurious and inviting feel, pair it with crisp white bedding and incorporate plush textures throughout the space.
The combination of Popular Gray with these elements creates a serene oasis that exudes comfort and relaxation, providing you with the perfect retreat within your own home.
3. Kitchen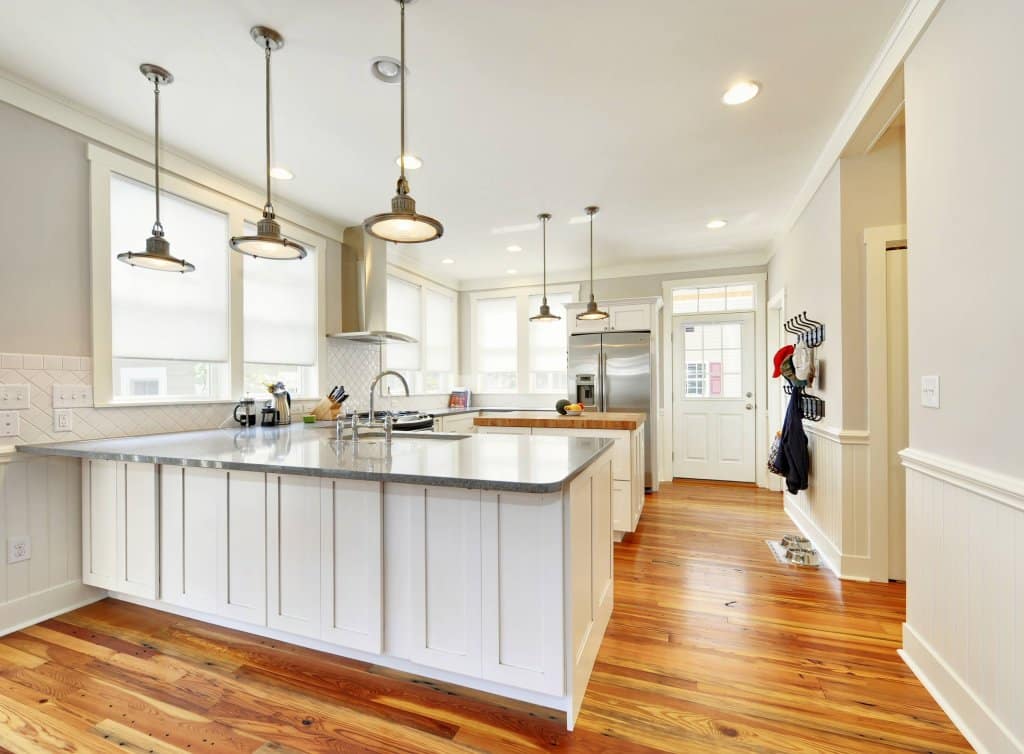 Popular Gray adds sophistication to your kitchen, especially when used for cabinetry, resulting in a timeless and elegant appearance. Pair it with sleek countertops and stainless steel appliances for a modern touch. If you prefer a more traditional or farmhouse-inspired kitchen, combine Popular Gray with warm wood tones and open shelving to create a cozy and inviting atmosphere that exudes charm.
Whether you're aiming for a contemporary or classic kitchen design, Popular Gray offers versatility and stay to transform your space into a beautiful and functional culinary haven.
4. Bathroom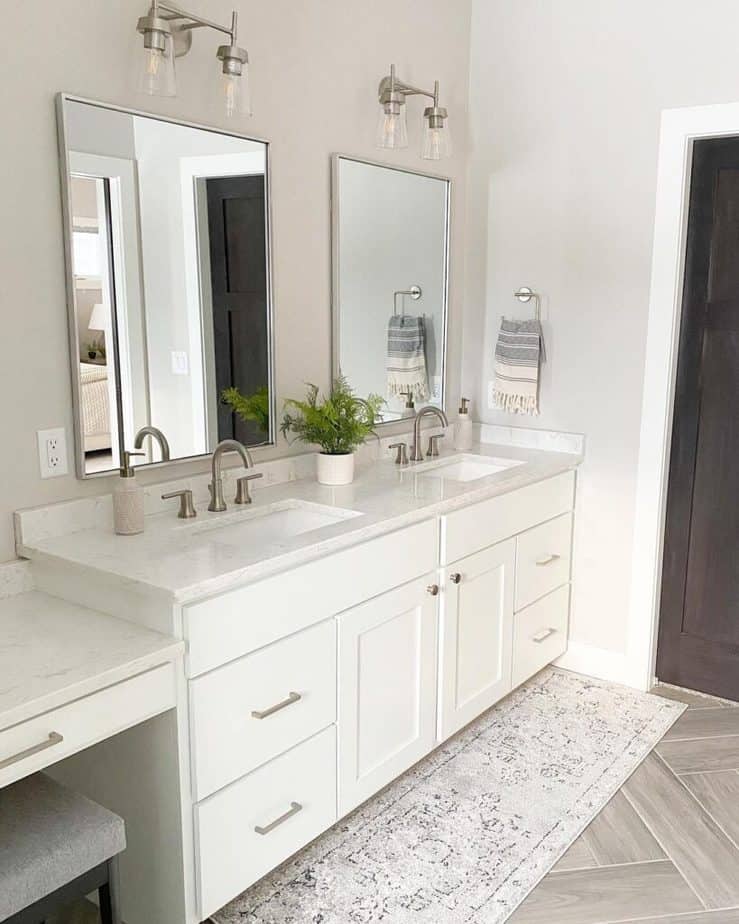 Popular Gray brings tranquility and elegance to your bathroom. Paint the walls with this shade to achieve a spa-like atmosphere and combine it with fixtures and natural stone accents for a fresh and sophisticated appearance. To further enhance the color scheme, incorporate Popular Gray through towels, shower curtains, and accessories, creating a cohesive and harmonious design.
With its soothing presence, Popular Gray transforms your bathroom into a peaceful retreat, providing a serene and stylish space for relaxation and rejuvenation.
5. Home Office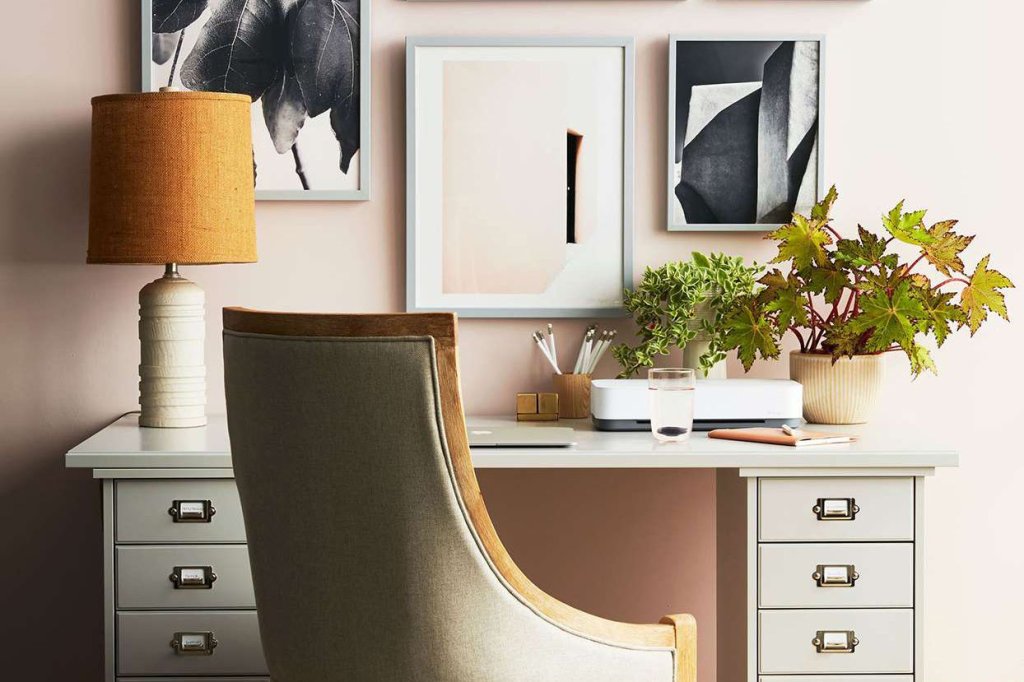 Popular Gray is a perfect option for a productive and inspiring workplace. By painting the walls in this soothing shade of gray, you can establish a serene and focused atmosphere. For a clean and modern aesthetic, pair it with white or natural wood furniture.
Alternatively, infuse vibrancy and creativity into the space by incorporating pops of color through artwork and desk accessories. With Popular Gray as the foundation, you can create a harmonious and inviting workspace that promotes concentration and sparks inspiration.
6. Hallways and Entryways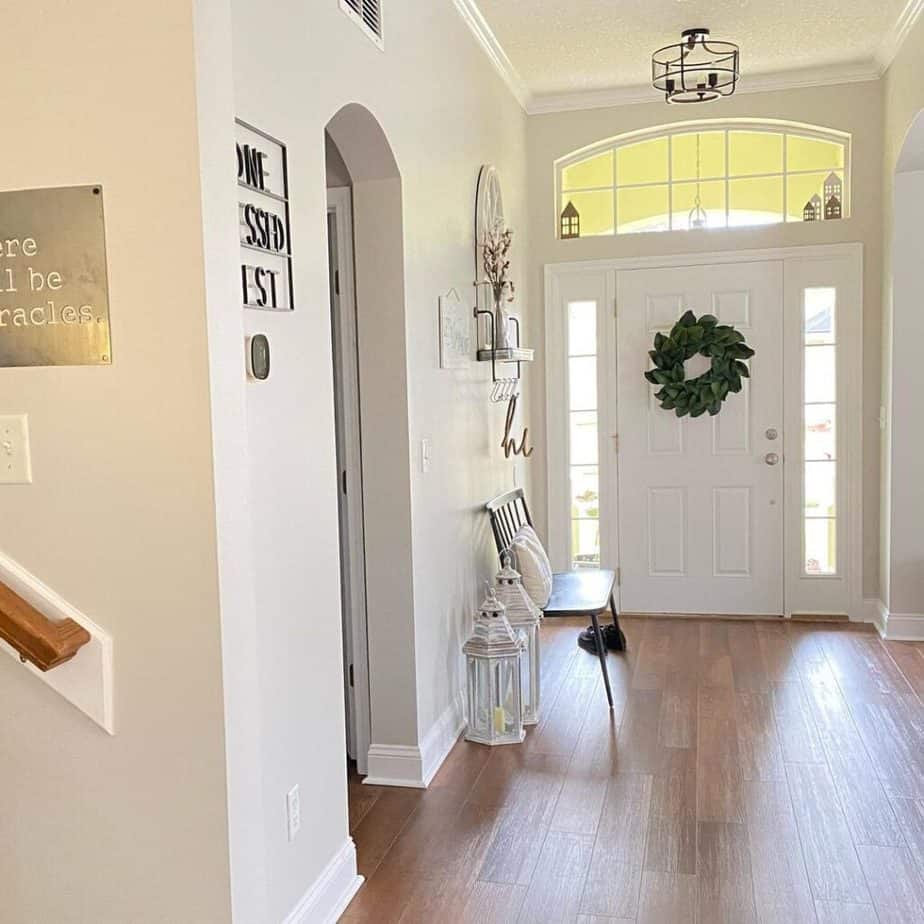 Hallways and entryway decors often serve as transitional spaces, and Popular Gray can provide a cohesive flow throughout your home. Use it on the walls to create a subtle and elegant backdrop, allowing artwork and decorative elements to stand out. Add a statement mirror or a stylish console table to complete the welcoming ambiance.
Remember, these are just suggestions, and the versatility of Popular Gray means it can be used in other areas of your home as well. Explore your creativity and experiment with different combinations to find the perfect balance that reflects your personal style and creates a cohesive look throughout your living space.
Popular Gray VS Similar Gray
Sherwin Williams Popular Gray SW 6071 is undoubtedly a top contender in the world of gray paint colors. However, there are several other shades out there that may pique your interest ad give you more options to consider.
Let's take a look at how Popular Gray compares to some similar colors, so you can make an informed decision that suits your style and preferences.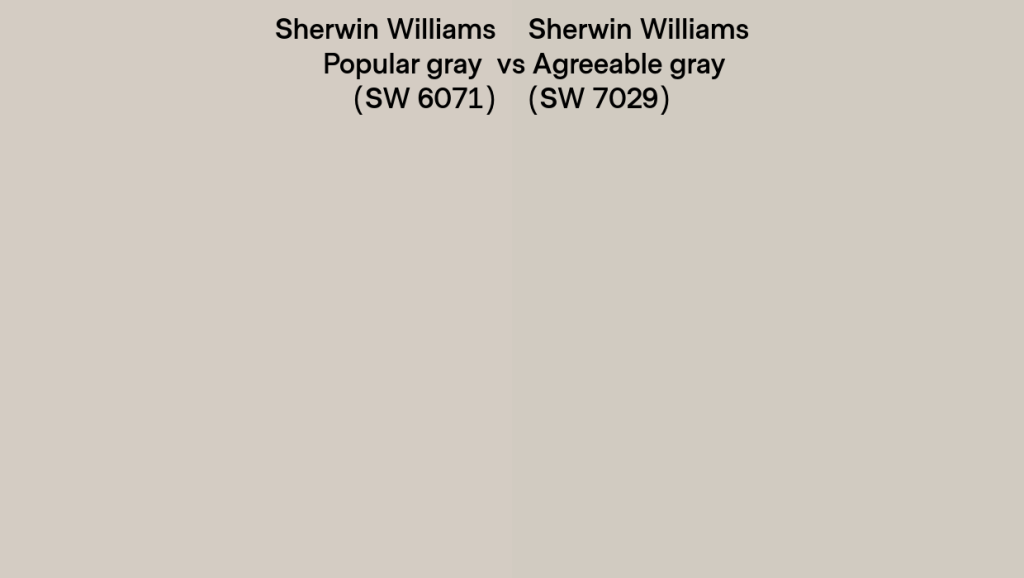 When it comes to Sherwin Williams grays, another popular shade that often draws comparison to Popular Gray is Agreeable Gray. While both belong to the gray family, they possess distinct characteristics. Agreeable Gray is a warmer and slightly lighter shade with a hint of warm green undertones, making it a versatile greige option.
On the other hand, Popular Gray also has a warmer and lighter color but leans towards subtle purple-pink undertones, resulting in a more neutral greige. When deciding between Popular Gray and Agreeable Gray, it's important to consider the features of the area you'll be painting, such as the walls, ceilings, or cabinets.
If these features have a cooler, icy tone, then Popular Gray would be a suitable choice. However, if you want to create a cohesive look throughout the room, opting for Agreeable Gray would be a better match.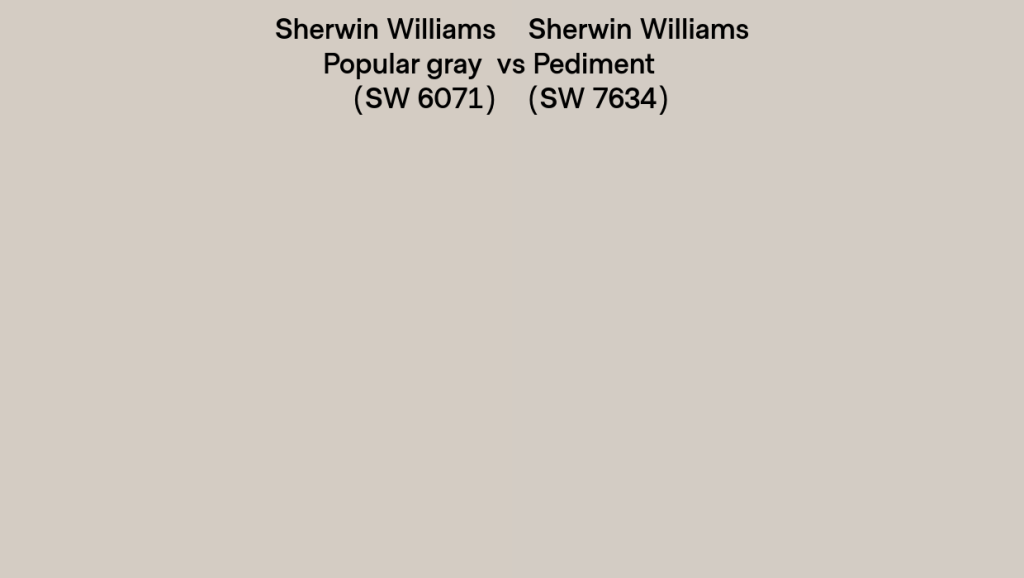 Pediment, a noteworthy gray shade from Sherwin Williams, frequently enters the conversation when comparing gray paints. With an LRV of 61 and a touch of warmth, Pediment shares similarities with Popular Gray. However, Pediment takes on a more pastel appearance, offering a subtle and soothing vibe for rooms.
Its deep red-brown undertones serve as an ideal neutral base, particularly when paired with beiges and off-white paint colors that exude a calming effect. For homeowners seeking a tranquil atmosphere, we highly recommend considering Pediment as a complementary choice.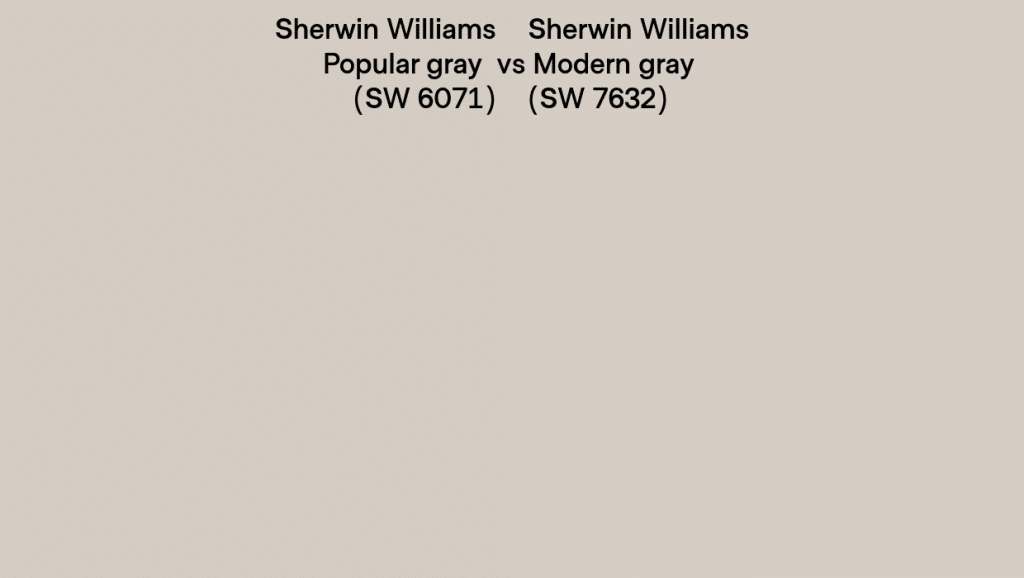 SW Modern Gray is one of those paints that may surprise you with its name. Despite being called "Modern Gray", it actually leans more towards a greige rather than a true gray. However, don't let the name fool you, as it shares many similarities with the aforementioned Popular Gray.
With an LRV of 61, SW Modern Gray boasts a warm-toned palette that closely aligns with Popular Gray. This makes it an excellent alternative if you're considering Popular Gray for your home.
Conclusion
Sherwin Williams Popular Gray SW 60071 has rightfully earned its reputation as a popular Sherwing WIlliams gray paint. With its warm undertones, versatility, adaptability to different lighting conditions, and seamless coordination with various color palettes, this shade proves to be a true contender for those seeking timeless and sophisticated gray paint.
Whether you're looking to refresh your living room, bedroom, or any other space in your home, Popular Gray SW 6071 is a reliable choice that will enhance the ambiance and provide a stunning backdrop for your personal style. Give it a try and see for yourself why it become a go-to-favorite among homeowners across the United States.
Frequently Asked Questions
Which Shade of Gray is More Popular?
Determining the most popular shade of gray is subjective and can vary based on personal preferences, design trends, and regional influences. However, widely popular gray shades include Sherwin Williams Repose Gray, Benjamin Moore Gray Owl, and Behr Silver Drop, which are known for their versatility and timeless appeal.
Which is Sherwin Williams' Lightest Gray Color?
The Sherwin Williams lightest gray color is generally considered to be "Passive" (SW 7064). It is soft and airy gray with subtle undertones, creating a light and luminous appearance on walls.
Is Gray a Good Option for the Living Room?
Yes, gray can be an excellent choice for the living room. Gray is a versatile and neutral color that can create a calm and sophisticated ambiance. It pairs with a variety of accent colors and allows for easy coordination with furniture and decor styles.