Venue decor. Check. Food for the guests. Check. Send-offs at the reception. Check. Sure you didn't miss out on anything for your wedding preparations? Okay, but what about your guests dropping their greetings and letters of warm messages for the new couple? The wedding card box is the missing piece to your wedding prep jigsaw puzzle.
Believe it or not, a wedding card box is the most underrated wedding venue decor item, yet, one of the most valuable ones. We are here with a list of the most innovative wedding card box ideas that you can DIY, which are not only budget-friendly but also add value to your wedding theme, be it an exorbitant arrangement or a close-knit inexpensive affair.
DIY Wedding Card Box Ideas
Check out this article to get a list of 19 wedding card boxes you can DIY that are super fun to make and also won't take up too much of your time or money.
1. DIY Mailbox Wedding Card Box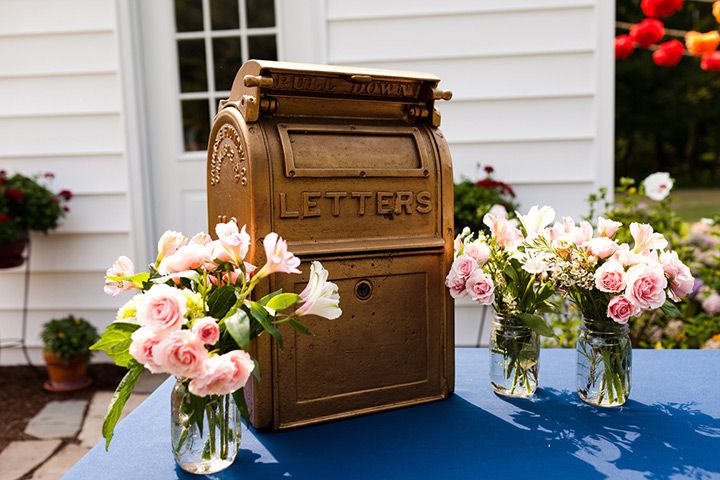 You can use either an upcycled mailbox or a Royal-themed postcard box for this purpose. This is a classic card box idea for guests to drop in their letters and greeting cards at the wedding reception because of its practical significance. Spray paint the post box or the mailbox according to the theme of your wedding or as per your personality. Place stencil carvings of the first names of the bride and groom for a touch of personalization. You can also use burlap ribbons for the purpose.
Install the mailbox in your front yard or the postbox on your front door for the card box to serve as a decorative item that will also treasure memories of your big day.
2. Wicker Basket Wedding Card Box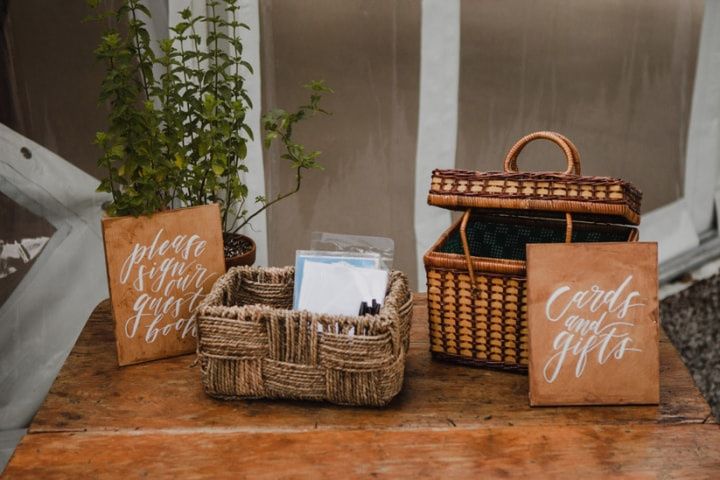 This is one of the favorites and adds the perfect charm to traditional weddings and outdoor weddings. Hassle-free and easy to make, you can decorate the wicker basket or even just place it as it is, and it will still grab eyeballs for the thought you have put into it.
Add a few fresh flowers or scented candles inside the basket, and your DIY wedding card box is ready. You may also use string ribbons for a minimal touch-up. Keep it open; it is easier for guests to drop in their cards, especially because the space is large enough. Place it in the entrance on a high-perched table top so it is well beyond the reach of children and furry friends.
3. Faux Book Wedding Card Box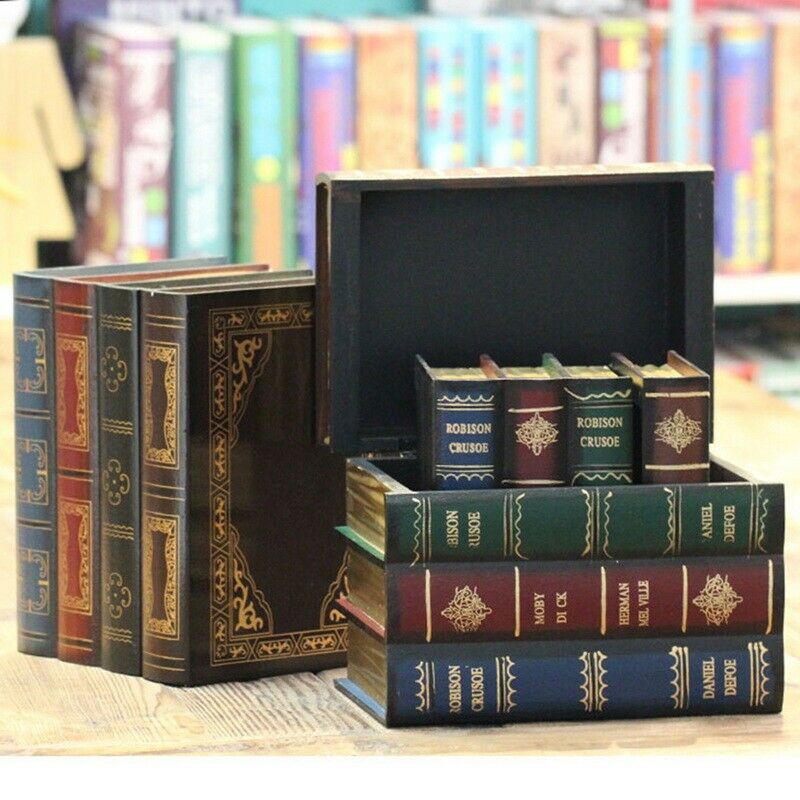 This is the perfect wedding card holder for book lovers. Stack up a pile of cardboard boxes, paint them to simulate the front cover of your favorite books, and engrave your names instead of the title of the book. You can also use wood boxes for making your DIY wedding card box to shape it like one or more faux books.
Try making it hyper-realistic with your work of art. You can also place the original books beside the wedding card box and set up a wooden placard stating, "Drop your letters there, not here (wink emoji) for a touch of modern, quirky vibes.
4. Wooden Log Wedding Card Holder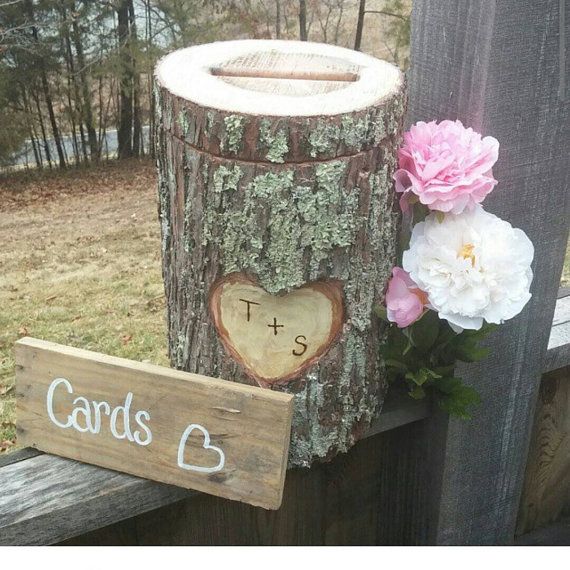 This distinctive wooden wedding card box idea adds a taste of refinement to your wedding event. For this, you would just need a medium-sized hollow log that is closed at one end. Keep it all-natural for a rustic vibe that perfectly complements traditional lowkey wedding ceremonies or elaborate themed wedding parties.
Minimalism is the key to a wooden log wedding card box, and you can spice it up using simple things like placing name banners on a string around the log or a leather strap. You can also use vinyl letters of your and your fiance's name or "Mr. and Mrs." to adorn the wooden log wedding card holder.
5. Vintage Makeup Box Wedding Card Box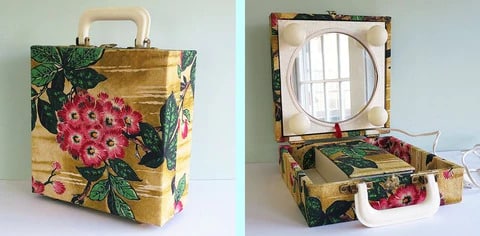 This is one of the most innovative and creative wedding card box ideas that you definitely need to try! While it screams delicacy and softness, it gives off major aesthetic vibes that will be the topic of talk among guests every time one of them goes up there to drop a card. Adorn the vintage makeup box with a string of pearls, ribbons, or streamers. If you are organizing a themed wedding, use soft pastel colors to paint the vintage makeup box such that it serves as the perfect adjunct to it.
For the best effect, we recommend placing this card box adjacent to the photo booth (if you set up one) at your wedding.
6. Wood Carved Wedding Card Box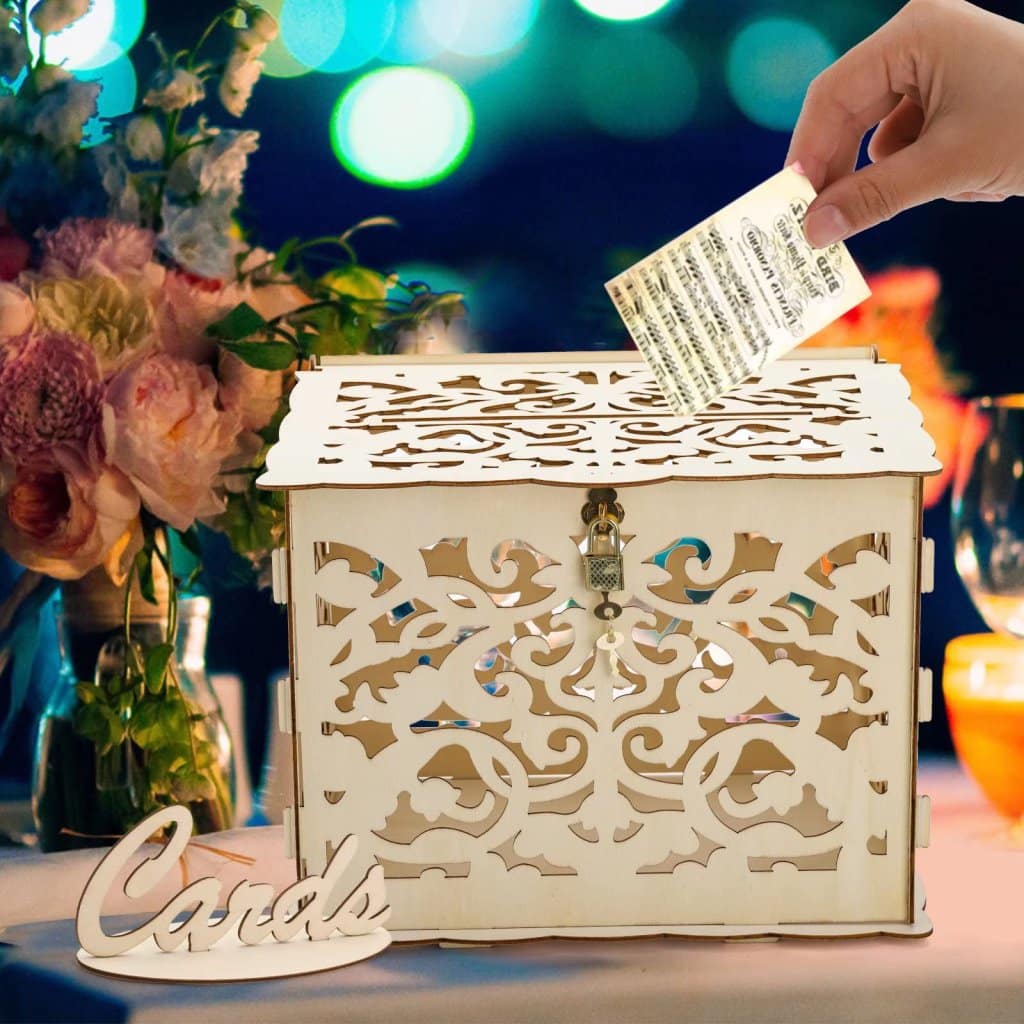 A classic masterpiece in wedding card box ideas, this has an added advantage we will let you know in some time. A major plus point of this card holder is that you need not spend even a dime in decorating it. It catches the attention in its original pattern itself. The intricate wood carvings speak for themselves. Coming to the advantage we were talking about, it comes with a lock, so you don't have to worry about any letter going missing.
You can inscribe your family name on the wood-carved wedding card box for customization. Place string lights inside or hang them outside of the box for an attractive appearance.
7. Wooden Crate Wedding Card Holder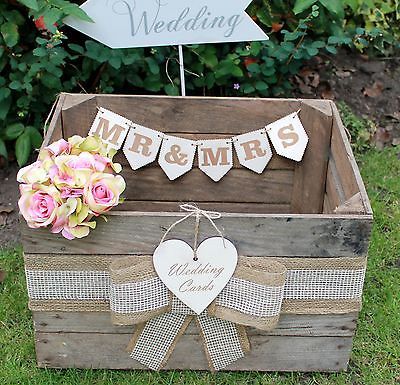 The easiest, simplest, and most minimal DIY card box idea has got to be this! It radiates an air of sheer elegance and sophistication. You can level up this effortless wedding card holder just by painting it a few coats of your favorite shade or a shade that matches the theme decor of the event.
Engrave the names of the bride and groom – you can use stencils or decals, or even wood carvings for the same. It is highly functional because cards can be easier organized in this holder. By naming or color-coding, you can use two to three wooden crates to segregate letters from family, friends, and co-workers.
8. Acrylic Wedding Card Box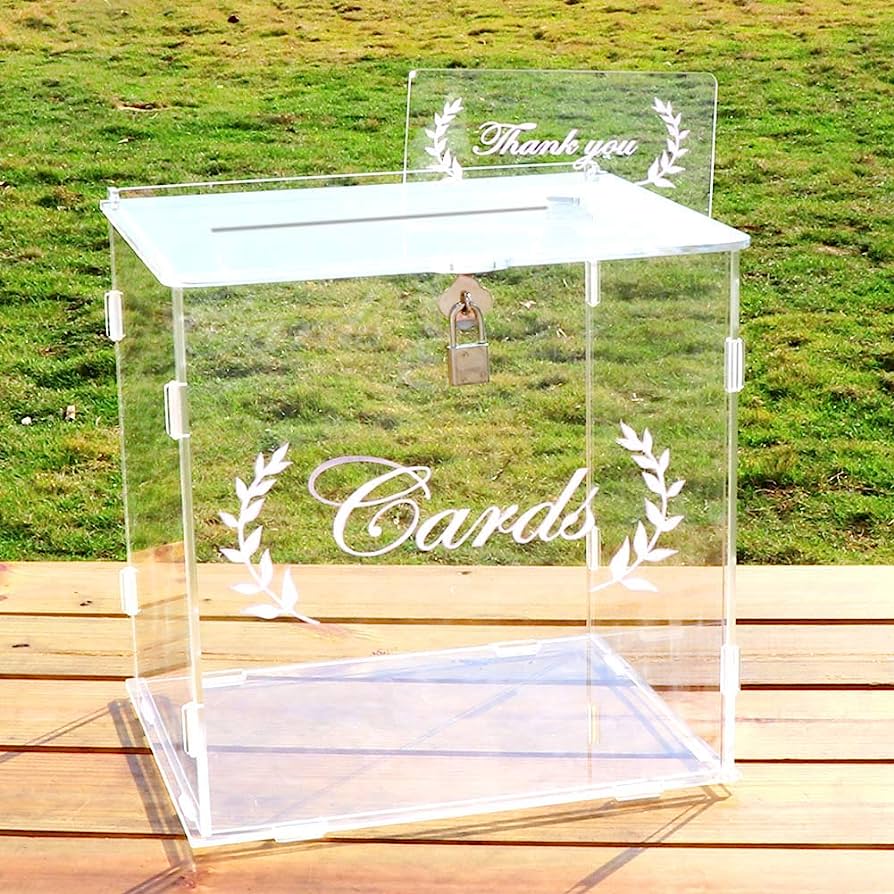 Irrespective of whether you want to abide by the latest trends for arranging your wedding or resort to age-old classic themes, an acrylic wedding card boxis a chic addition. Since they are transparent, you can allow your creative juices to flow to create eccentric and quirky visualizations out of a simple acrylic box. For example, create a terrarium or a greenhouse by placing stones and artificial flora and fauna for a different style.
Use self-adhesive cursive letters to pen down your family name or words like "WELCOME," "THANK YOU!" or "WE HOPE YOU HAD A GOOD TIME." You can also add sparkles for livening up the decor. Attach a fillable light bulb inside the acrylic box to enhance the fancy quotient.
9. Globe Wedding Card Box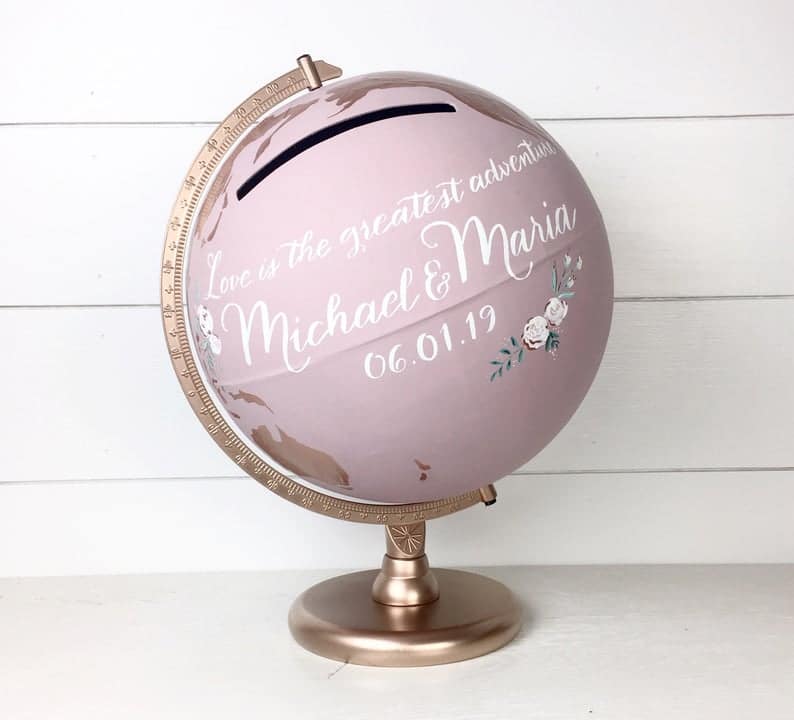 Globetrotter couples, where are you at? If you're reading this, you know you just have to incorporate this at your wedding, don't you? Use an illuminated globe with a stand for this. Take a box cutter knife and make a sizable slit near the center, and your DIY globe wedding card box is (almost) ready. Stick an attractive wallpaper on the globe that resonates with your personality, or spray paint the globe.
Place it out of reach of children and pets because they may tumble down if meddled with. If you get a plain globe that does not have an illumination feature, place a small desk lamp beside it for lighting it up if you are planning the reception at night.
10. Birdcage Wedding Card Box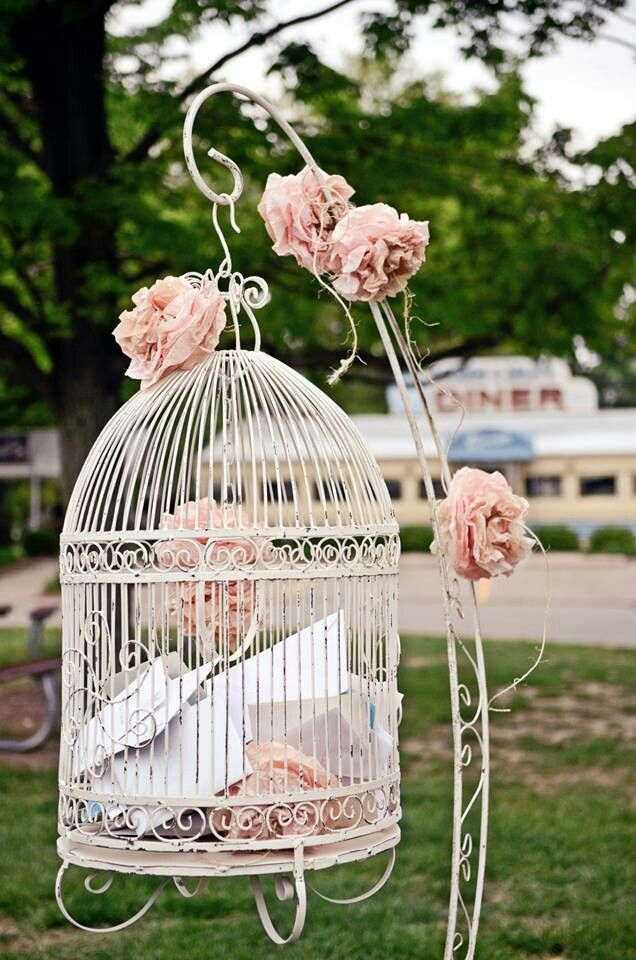 Using a birdcage as a wedding card box is a smart choice and is unique and creative. If you are an environmental activist and conscious about sustainability, THIS is the one that you should use at your wedding to describe your personality best. Style it up with accessories like clamshells, string lights, floral garlands, or small mirror hangings. Instead of placing it on a table, add a hint of freshness by hanging it using a tree swing rope from a tree branch if you are hosting the event outdoors. For an indoor event, use a tie-down rope or chain for hanging it from the ceiling or wedding arch.
11. Barrel Wedding Card Holder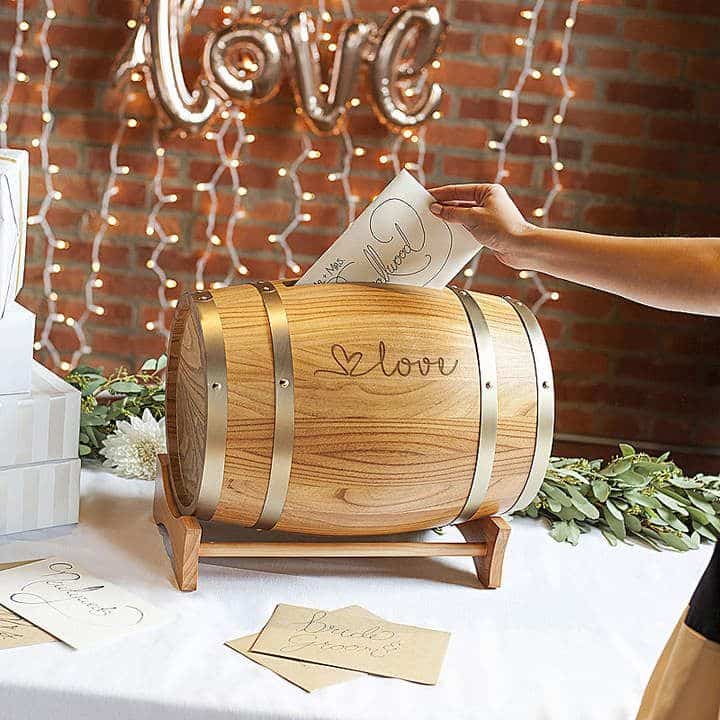 Another one of the simplest DIY card box ideas, the barrel wedding card holder, is a hit across modern weddings, where simplicity is the key but without a hint of "boring." DIY your own barrel using a cardboard box. You can also use small wooden barrel planters for the purpose. Use signage for the barrel-shaped wedding card holder. Decorate the barrel card box the way you want – paint it monotone or keep the rustic wooden shiplap style.
For an alternative to use at a conservative wedding, try mason jars. Glass mason jars are highly practical and ornamental, just like their wooden counterparts. You can embellish them with lights and streamers.
12. Lantern Wedding Card Box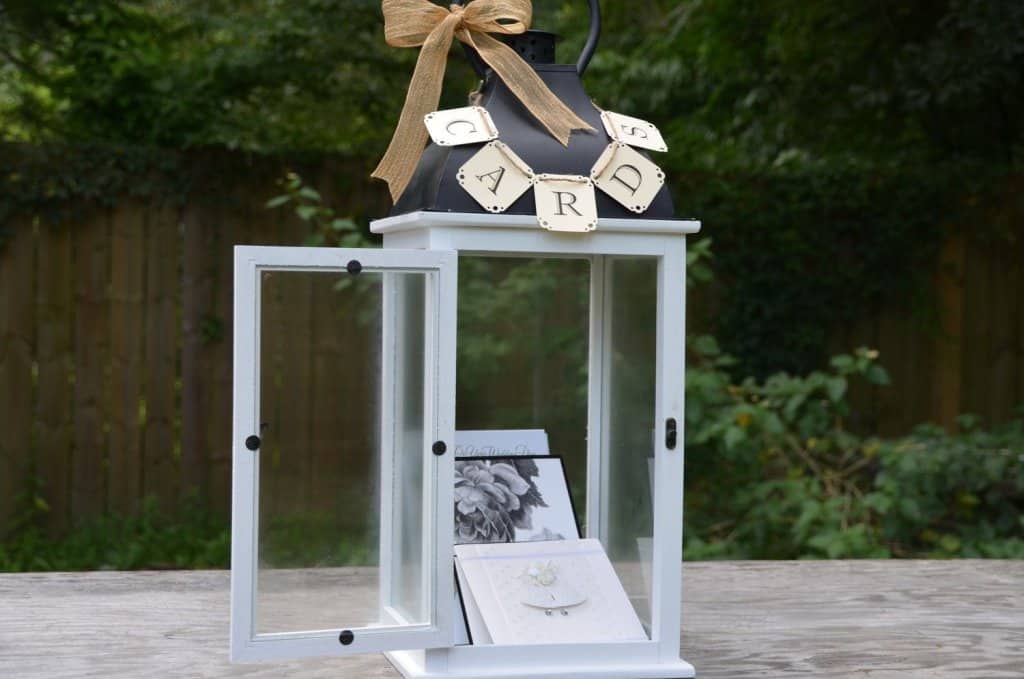 Adding the perfect vintage vibe at a ceremony, using a lantern that doubles up as a wedding card boxDIY is a great plan for others to applaud you for. It adds a sense of aesthetics with drama, each in perfect proportion. Stained glass lanterns add charisma and can act as the focal point on the display table, where you can organize the card holder along with send-offs.
Wooden lanterns with elaborately detailed carving patterns emit grace and look elegant. Once the occasion ends, use it as a living room decor. Engrave your family name and wedding date for a memory you can cherish every time you enter the living room in the future years.
13. Burlap Sack Wedding Card Box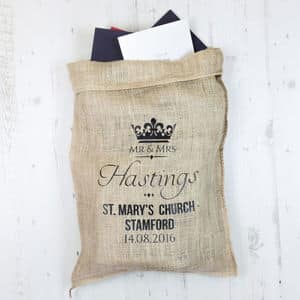 These are absolutely perfect for farmhouse weddings and outdoor weddings! You just cannot miss out on the homely feel it creates in the outdoor environment. Moreover, these are spacious, meaning you don't have to worry about running out of space in your wedding card box for ALL guests to drop their cards in.
Add a burlap banner at the neck of the sack and watch your guests admire it every time they pass by. Add one or more stickers on the burlap sack for decoration and spray paint it if you want to. Use adhesive letter stickers for putting up the bride and groom's names.
14. Vintage Suitcase Wedding Card Box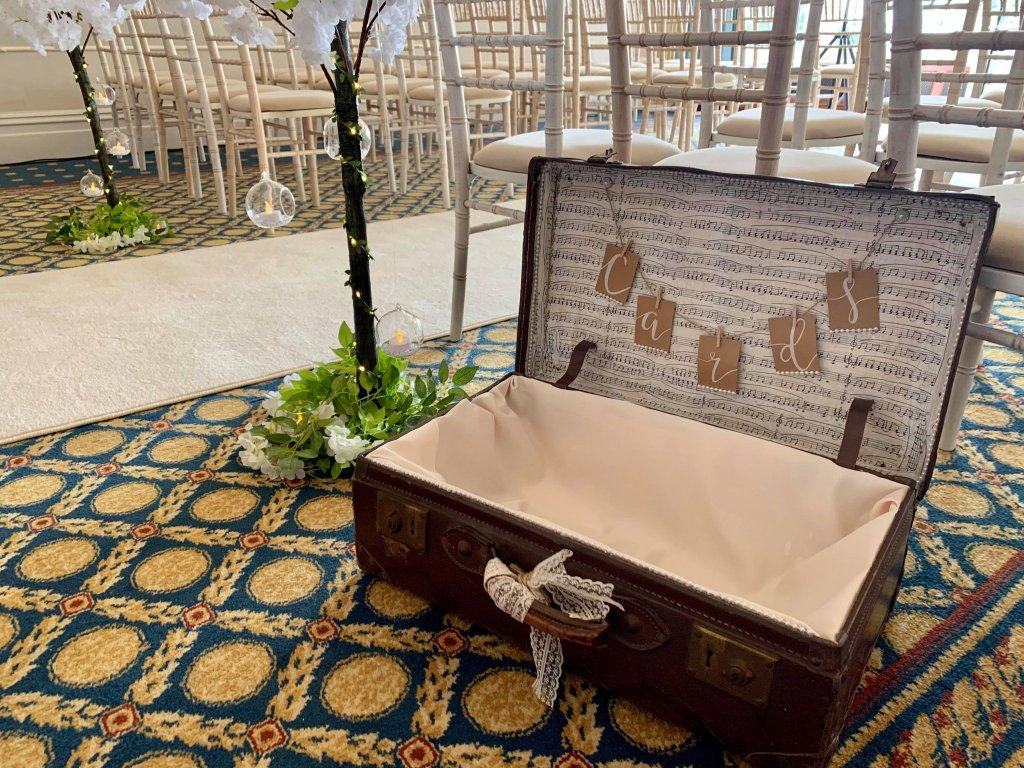 Forever an old-school romantic at heart? Then you have to bring back the retro vibes at your wedding event by using a vintage suitcase for a DIY wedding card box! The majesty it offers – you can't help but accept the truth that "Old is Gold." Vintage suitcase card boxes never go out of style. You can stack two to three vintage suitcases, one above the other, keeping the uppermost suitcase open to serve as the card box.
Use gold letters to inscribe your name alongside your fiance's, or spray paint it with gold glitter. Place one or two hardbound books for an alluring charm.
15. Vintage Wedding Card Box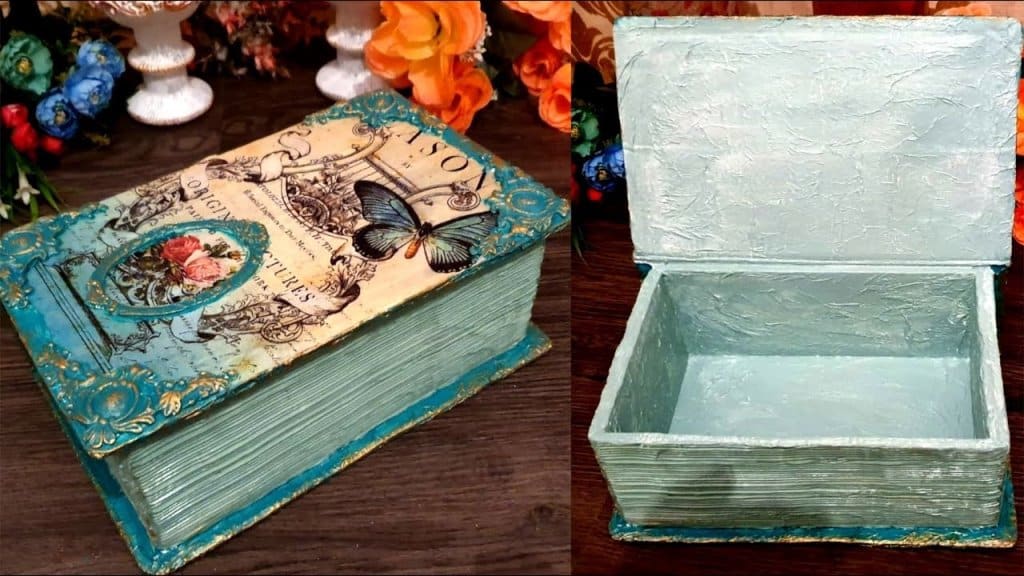 Always yearned for those treasure chests that your grandma or great-grandma owned? Maybe you've been handed one or two of them but haven't ever used them for display? Well, it's time to dust off the cobwebs from them and take them out of the attic because you will need them at your wedding! Repurpose them as a wedding card box that will turn heads for the regal decor.
After all, this treasure box is not just there to collect dust. It has a greater purpose, and now you know how! Go back to the golden era through this exquisite wedding card box idea and live your dream of a lavish wedding.
16. Geometric Wedding Card Box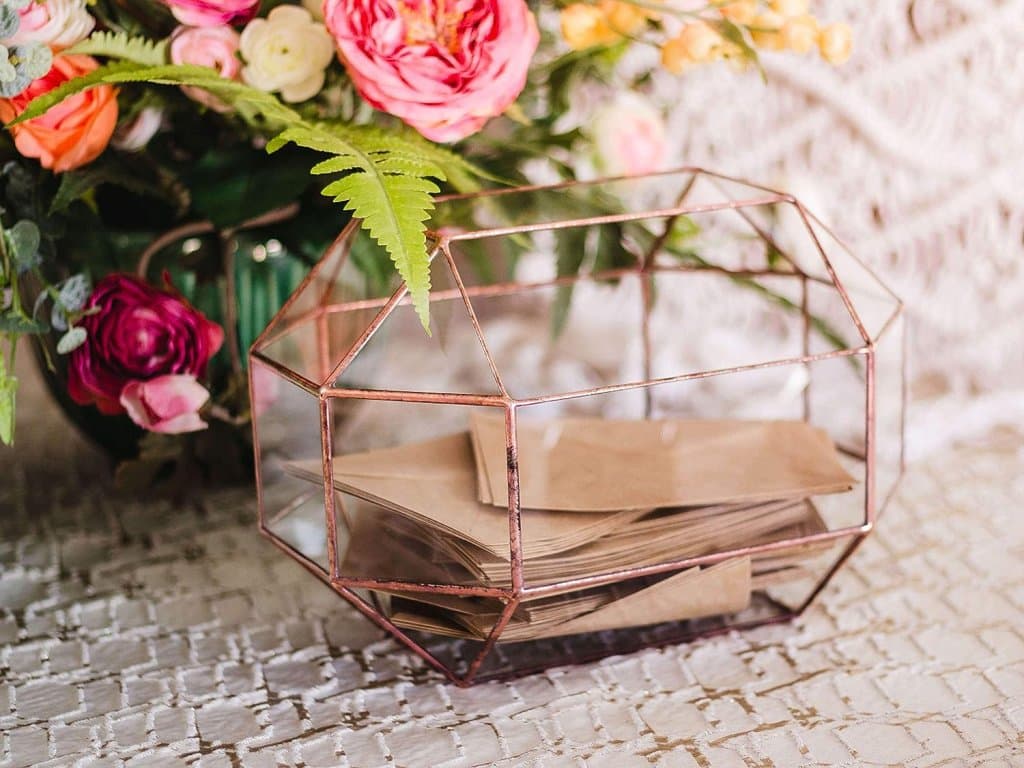 Geometric wedding card boxes are the perfect style statements that have a timeless appeal while being a modern choice. While you may make one out of cardboard boxes, wrought iron or steel geometric boxes are highly pronounced alternatives. They are eye-catching yet minimal.
Use silver or golden borders and place a few fresh and colorful flowers inside. Other than that, we'd say do not embellish it at all. Keep it innate and watch how it takes a stand for itself and becomes a centerpiece among other wedding decor items. The sleek design makes it a visually soothing showpiece that you cannot help but take a second look at.
17. Revolving Photo Wedding Card Box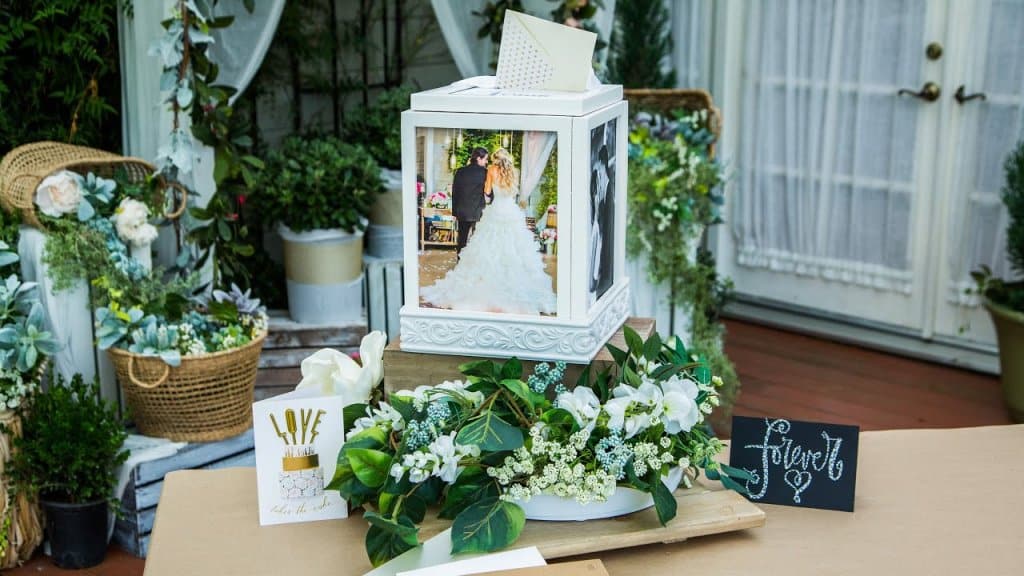 This is a pretty common wedding card box idea, but despite its prevalence, it never gets outdated. Use your favorite pictures of you with your would-be husband or wife. You may keep one or two blank slots to slide in event pictures.
Use ribbons for decor or streamers. Even burlap banners match well with revolving wedding card photo boxes. Instead of pictures, you can also display personalized messages like, "Thank You for your wishes," "We're glad you came," or "Mr. and Mrs." Illuminate the photo or text displays using mini LED lights.
18. Faux Pumpkin Wedding Card Box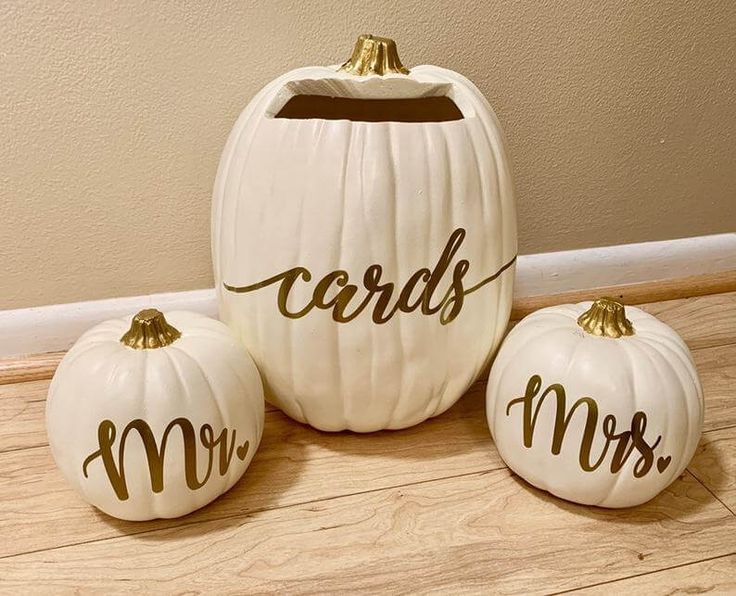 A compelling card box idea for fall weddings, using a faux wood or cardboard pumpkin can bring the autumn air to your venue! Haha, we're just kidding. But yes, this card box can set the right tone for welcoming the new season, symbolizing a new beginning in your life. It's all about the essence a simple cardholder can imbibe.
It is the perfect complement to an autumn-themed decor. Pro tip: Use bird and butterfly statues on faux pumpkin card boxes for the most realistic setting.
19. Matchbox Wedding Card Holder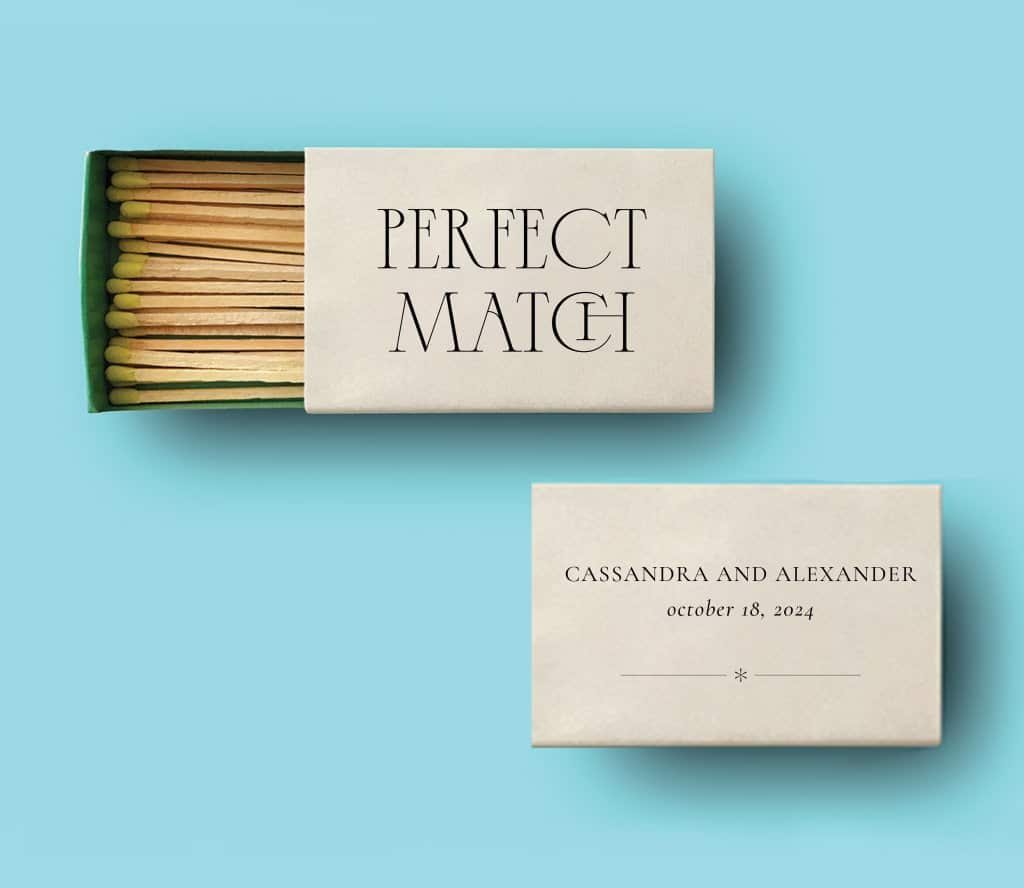 Sounds odd? Now look at the picture – it doesn't look half as bad, or does it? Make your DIY customized matchbox for your special day as the wedding card box. Use a cardboard box and shape it like a matchbox or a large matchbox set. You can also use a matchbox glass jar for the purpose. If using an original large matchbox, paste a couple of pictures or a cutout of your names for personalization.
Upcycling a matchbox or a matchbox jar is ornamental and sustainable. The space may be an issue, there's no denying that, but if you make your own matchbox using a cardboard box, you can overcome it.
Conclusion
Summing it up, using a wedding card box not only adorns to give a complete wedding venue decor but is also practical to use. You don't want these precious gifts to go missing, as these are beautiful reminisces that you can cherish for a lifetime. Moreover, using a wedding card box helps organize the space, and with so many ideas to choose from that you can DIY on a budget, there should be no second-guessing about whether you really want one or not.
So, what are you waiting for? Team up with your fiance, BFF, siblings, or any of your family members to create your own wedding that you can flaunt to your guests. Let us know in the comments section which wedding card box you have planned to make yourself for use at your wedding.