Rummaging through numerous paint swatches to find just the right ONE and yet unable to make a breakthrough? We understand. The struggle is real. Like, you just feel you've found THE ONE, and then when the light falls, it just doesn't match your expectations.
We can, of course, try to make things a wee bit easier for you. Especially if you are looking for soft, earthy, and neutral tones, Sherwin Williams Silver Mist (SW 7621) may be the perfect one for you! Of course, before you finalize a color, it is important to understand its texture and other properties before you put it up on your walls – be it your first home or second or your existing one.
Therefore, to better understand the color – whether it would suit your preference or taste- we have penned down this review of Sherwin Williams Silver Mist paint color.
After all, it's not just about the blend and the final color but also how it fits into the wall you will be painting, the ambiance you want, and the effect of light on it.
About Sherwin Williams Silver Mist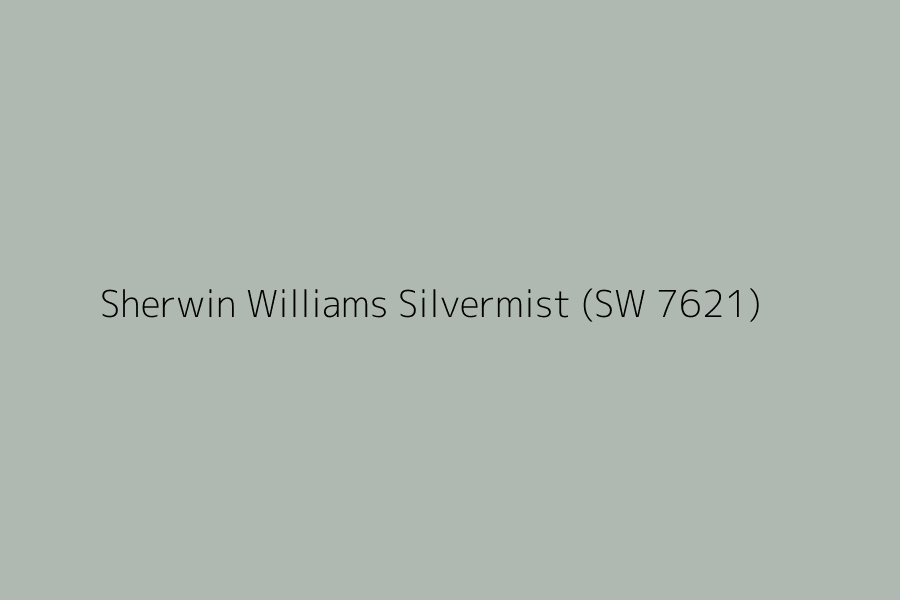 A perfect mix of blue, green, and gray, Sherwin Williams Silver Mist is pretty much an intriguing piece of mystery in itself. While you may be wondering about this paint color's odd and not-so-common color combination, wait until you take a look at the color sample. Before we move on with the review, here's a brief overview of the specifications of Sherwin Williams Silver Mist color.
Color Combination: Blue, Green, and Gray
Light Reflective Value (LRV): 47
Hex Value: #B0B8B2
A soothing and cool tone that calms the onlooker, it is a medium-depth color. That is, with a light-reflective value of 47, it absorbs quite a broad spectrum of light. Having said that, Sherwin Williams Silver Mist is not a very dark color as such. However, if used on walls having low light exposure, it may produce a different hue that is toned down yet not icy.
Sherwin Williams Silver Mist Color Tone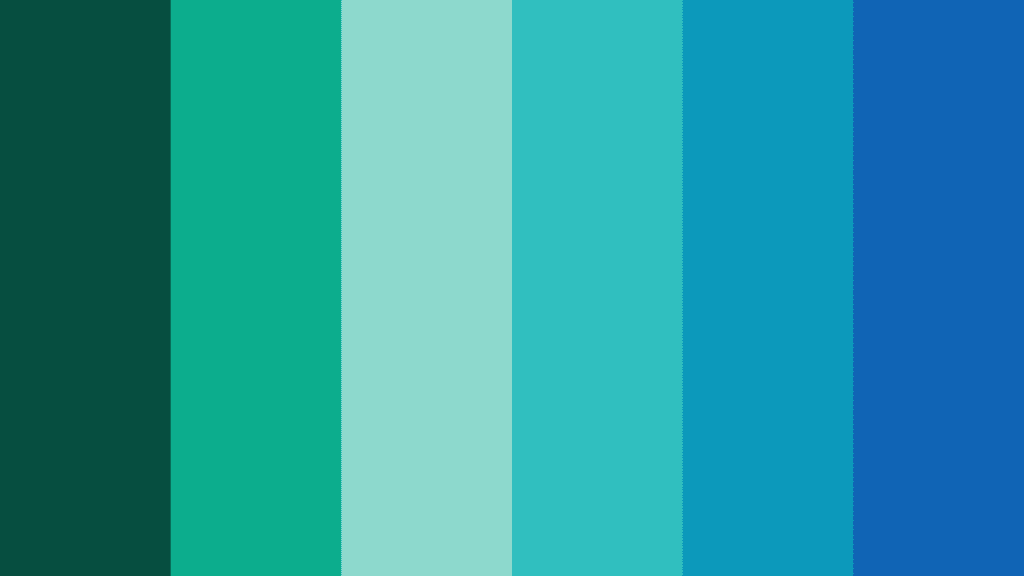 Now that the specifications are known let us move on to the color palette it entails. An interesting fact about Sherwin Williams Silver Mist paint color is that there are no "primary" or "secondary" colors as such. Yes. Green predominates numerically. But visually, you see a play of all three colors in almost equal contribution. While you may think that gray, being the base color, will take over as the predominant shade, well, you might want to look again. Neither gray nor green dominates over the other.
Rather, it is the blue that imparts the overall softness to the color. Green enhances the nature-inspired organic undertone. The gray color is laid back and holds the two colors in a balanced state. Thus, if we were to describe the color tone in a single word, subtle flamboyance would be it.
How Can Sherwin Williams Silver Mist Color Be Used?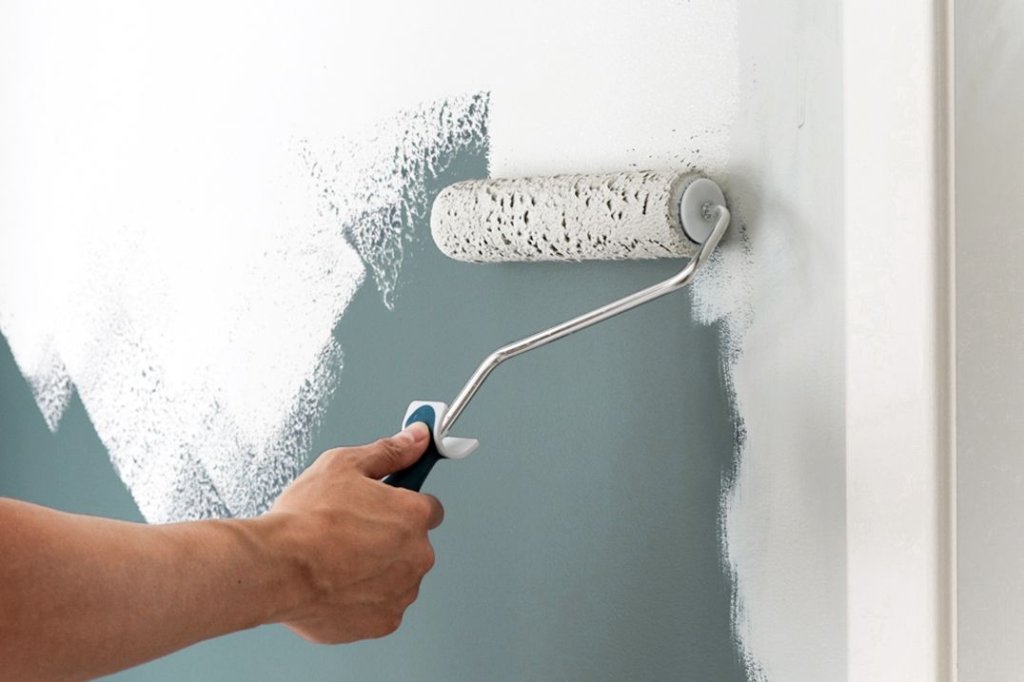 Sherwin Williams Silver Mist is a versatile color in the true sense of the term. Neither frigid nor flashy, it is the perfect color to implement in both personal and professional spaces. Whether you are someone with a minimal choice in aesthetics or prefer bright and loud decor, this color can serve your purpose. Minimalism is the key to using Sherwin Williams Silver Mist. So, if you are looking forward to a cozy, muted, and comfortable ambiance, a coat of this paint will deliver you the exact requirement. If you are keen on creating an extravagant space, then also this paint color may fulfill your wish.
Being a subtle tone, this paint color will highlight other flamboyant decors you will install in your sacred space. That is, this color will help your furnishings draw maximum attention to themselves instead of your guests being overwhelmed by a gorgeous paint color along with bold statement furniture pieces.
But wait, before you get too excited and start opening the lid of your newly bought Sherwin Williams Silver Mist paint can to dip your paintbrushes and foam rollers, sit down to get to the end of this article. Just as it happens with any color, the amount of light exposure finally determines the hue of the color on your walls. It is no different with Sherwin Williams Silver Mist paint.
Being a slightly tinted shade of blue, bright spaces with ample natural light will bring out a slightly warmer and calming blue. In spaces not having access to much natural light, the color will be portrayed as a slightly dark shade of coral green.
Where to Use Sherwin Williams Silver Mist?
You can use this color in almost any room. However, using Sherwin Williams Silver Mist paint in South, East, and West facing rooms enhances the true shade of the color. We would not say that you cannot use this color in North facing rooms.
It depends on your personal choice and sense of style whatsoever. But we would recommend you try out paint swatches on a colorless wall in the room to decide for yourself. Visualize it during the daytime in natural light to prevent a tainted view. Make sure to check out the color by placing the paint sampleson blank walls, as underlying colors can also provide a false image of the color that you are trying out.
Painting Walls Using Sherwin Williams Silver Mist
1. Sherwin Williams Silver Mist In Bedrooms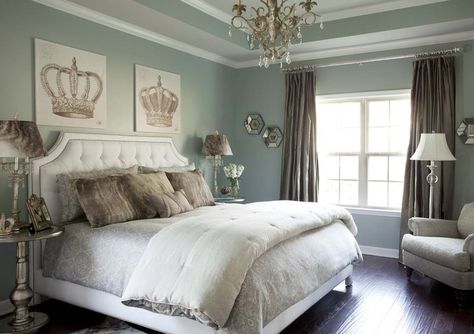 This paint is a popular choice for use in bedrooms because of the calming and peaceful vibes that it generates. The green undertone paired with the softness of warm blue gives this unique color an upper hand among other nature-inspired colors, which is the current trend according to the paint forecast of 2023. Whether you want to paint your child's nursery, your teenager's bedroom, or your master bedroom – this is a versatile choice. The indistinct misty vibe of Sherwin Williams Silver Mist imparts a serene environment in your sanctum. You can paint all your bedroom walls using the same color or make one wall stand out from the rest using this paint.
For an aesthetic look, do not overburden the room with elaborate decor. Use wood furniture or mounted shelves and foliage arrangement. For a chic bohemian style, hang macrame, use tapestry, and clamshell decorations. If you have a teenage daughter, you can make it look more lively by hanging picture frames or wall displays, installing white furniture and cover, and setting up indoor plants.
You can actually feel a positive difference in the concentration and mental health of yourself and all other residents of the house by using this color in one or all of your bedrooms.
2. Sherwin Williams Silver Mist in Living Rooms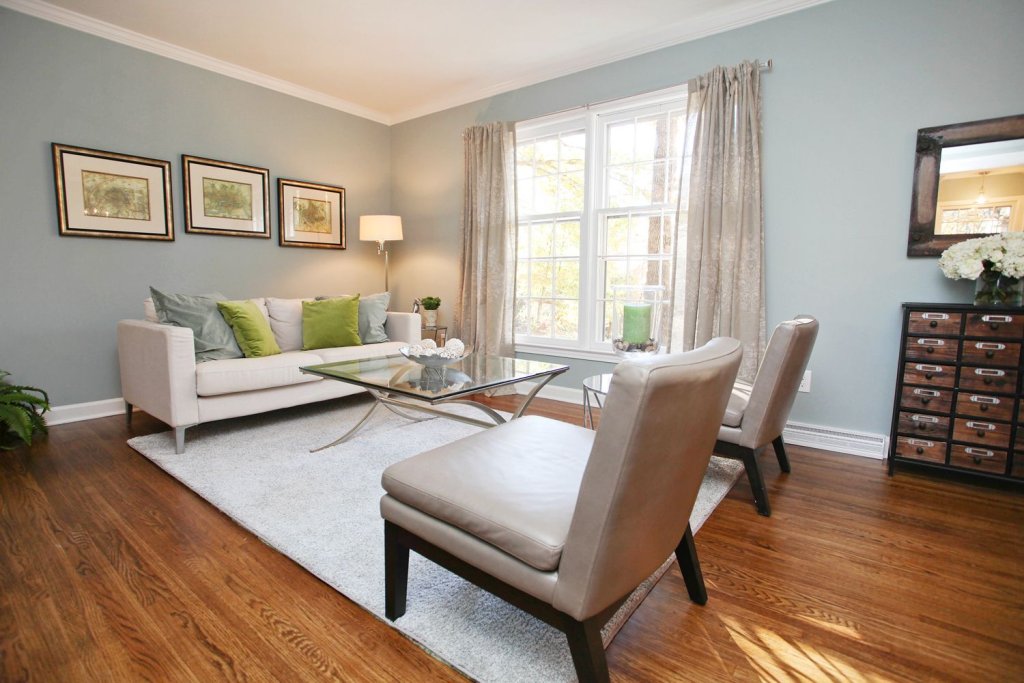 The living room is the point of attraction in any home. No wonder everyone is trying to prioritize their living room decor over any other room. If you feel that only bright, resplendent paint colors can beautify your living room, you are wrong. Try this muted Sherwin Williams Silver Mist paint in your living room and watch it become a sight to behold for yourself and your guests.
Of course, we will encourage you to use this color on well-lit spaces and walls. But in case your living room does not receive as much natural light as it should, you can always spice things up with artificial light that can double up as living room decor. Hanging pendant lights, painted glass lights or lantern lights can amp up the entire look of your painted wall.
Use the Sherwin Williams Silver Mist color to accent a wall or a specific area of your living room, for example, the fireplace. Paint other walls with coordinating colors like pure white (SW 7005), extra white (SW 7006), reserved white (SW 7056), or attitude gray (SW 7060). If you feel a little adventurous, you can pair Sherwin Williams Silver Mist with contrasting colors. You can also paint the entire living room using Sherwin Williams Silver Mist because of the subtle elegance it exudes.
3. Sherwin Williams Silver Mist in Bathrooms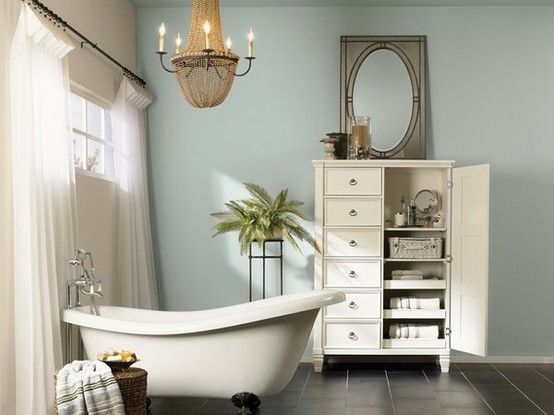 If you own a lavish bathroom in your house, you will know how important it is to deck it up. Because although bathrooms are meant to be just functional, luxury bathrooms can be a tease to the eye. Not only do you need to stock up on toiletries religiously, but you also take care of the way that it looks. Sherwin Williams Silver Mist is a perfect color for bathrooms, irrespective of the direction of the room. Emitting calming vibes, this paint gives off exactly what you need in the bathroom – a sense of comfort and familiarity.
Hang faux floral garlands or indulge in bath bombs for a sweet lingering smell and unwind in your bathtub after a long day for the ultimate relaxation. And while you do so, let Sherwin Williams Silver Mist perform its magic of visually soothing your senses. You can literally feel the tension leaving your body and mind, according to interior designers.
It's unusual for a paint color to help calm down one's nerves and reduce stress and anxiety, but the Silver Mist paint by Sherwin Williams does exactly that. Even your guests will be fascinated by the level of thought and care you've invested in curating your bathroom decor. If spending on bathroom decor feels like a lot of expense, simply paint your walls using Sherwin Williams Silver Mist and watch it upgrade from boring to sophisticated.
4. Sherwin Williams Silver Mist in Kitchens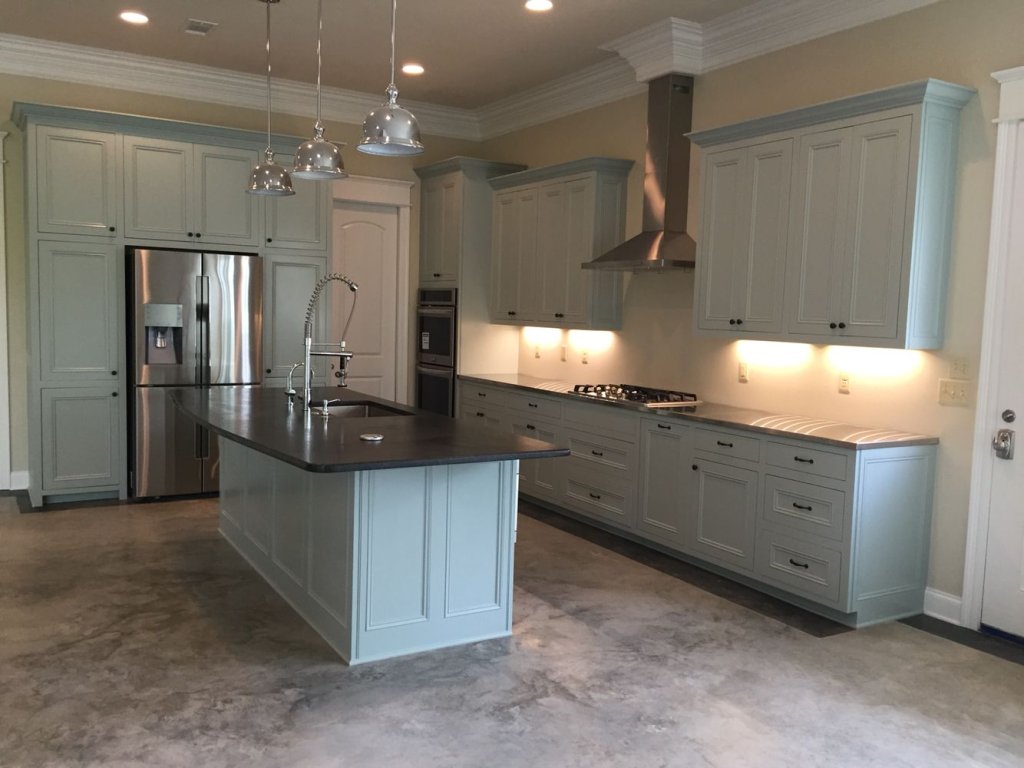 Despite it being a messy (mostly) place, the kitchen is a focal point for most households. No wonder it needs to be beautified minimally without elaborate decor. And one of the surest ways to do that is by painting the walls a striking yet not too flashy Sherwin Williams Silver Mist. Accent the kitchen chimney wall using the paint or go all out with painting all the walls the same color.
The slightly dark shade gives an opportunity for the lights to work up their magic. And, if your kitchen receives bountiful sunshine, the color alone is sufficient to revamp your kitchen. For maximum effect, use shades of slate gray for the countertops and table tops.
If you have a dining area in the kitchen itself, a black dining table or just the tabletop in a jet-black color can also amplify the setup. Contrasting shades like red give a stylish appearance to your kitchen. Pro tip: Using Sherwin Williams Silver Mist for painting the tile backsplash in your kitchen may not necessarily be a very good idea, especially because the small area may not do justice to the artistic quotient of the color.
If you must, use contrasting colors on the walls. As for our recommendation, you can pair your Sherwin Williams Silver Mist kitchen wall with shades of white for the kitchen backsplash.
5. Sherwin Williams Silver Mist in Office Spaces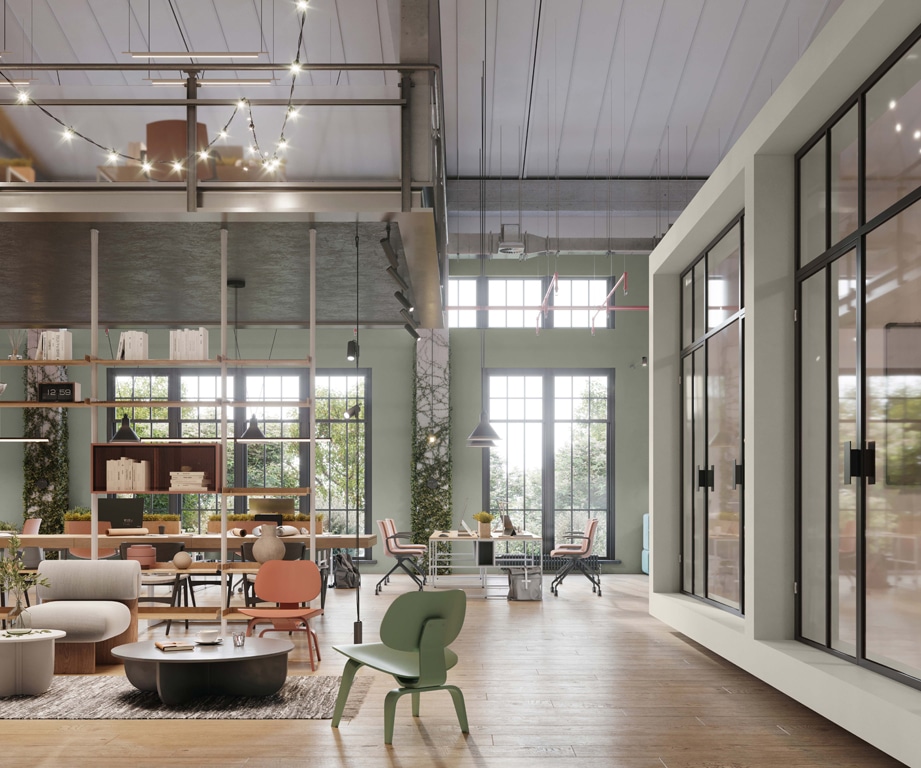 When it comes to the workplace, you must tread a fine line, balancing professionalism and cheerfulness. You don't want your office space to look so boring that employees start yawning as soon as they enter. On the other hand, you do not want to leave out a formal style on a quest to make it look bright and lively.
If you are struggling to choose the right color that looks refined and reserved yet not too ordinary, Sherwin Williams Silver Mist is probably what you have been looking for all this while. This color perfectly blends the authoritative corporate vibe without looking too strict and dull. This helps create the perfect atmosphere for a healthy workplace. Owing to its soft, nature-inspired (read, the earth and the sky) neutral tone helps employees focus on their work better and feel relaxed and confident.
Amazing, isn't it? The precise effect a color can have in improving workplace productivity, work efficiency, and quality of life in general! Pro tip: Paint your conference room a medium shade of the Sherwin Williams Silver Mist color and install pastel green or pure white table tops for an ideal space where you can host your board meetings in-house without having to spend exorbitant amounts on outdoor spaces.
6. Sherwin Williams Silver Mist for the Exteriors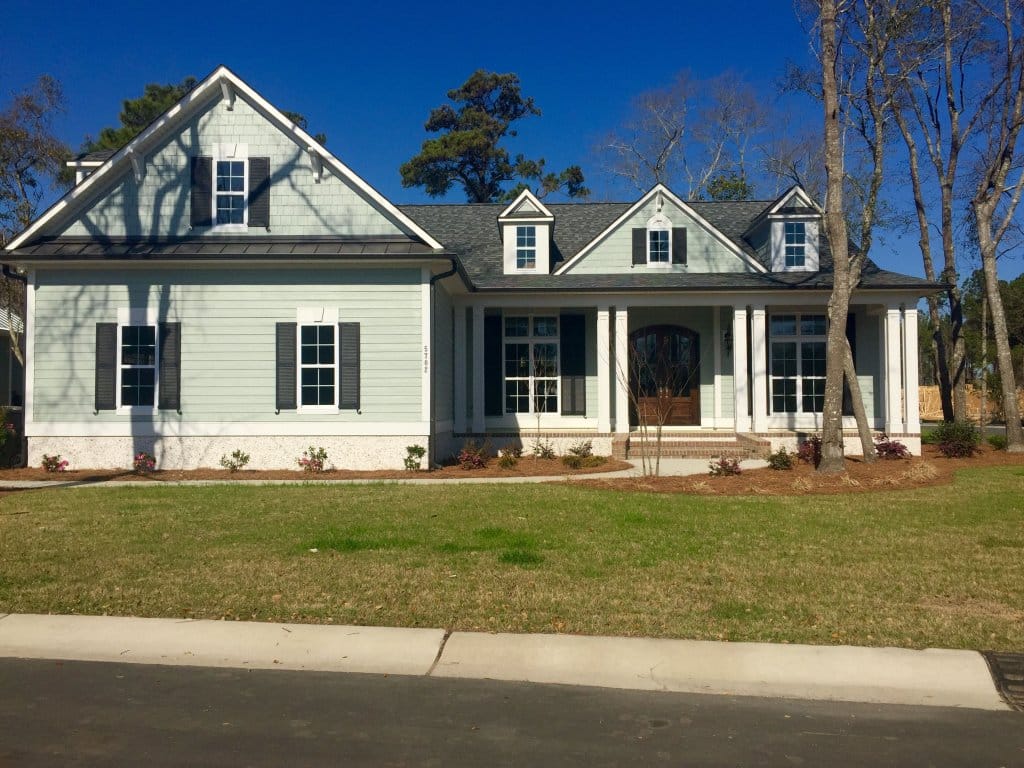 Feeling surprised? We were too. But what surprised us more was the look of houses whose exteriors were painted the Sherwin Williams Silver Mist color! Take a look at the picture above, and you will know why. Irrespective of the architectural pattern of your house – Victorian, Tudor-style, Bungalow, Cape Cod, or even Mediterranean, this paint color is a great choice! The vibrancy of this color, especially when it engages in sweet merrymaking with natural sunlight, enhances the existing enigma of the color. No wonder it is a sight to behold and makes your house stand out in the neighborhood. Don't act surprised if you spot passers-by stopping along their way to catch a glimpse of your home!
Paint your canopies and brackets a darker shade of blue for a synchronized makeover. You can also use other monotones towards the darker end of the color palette for a contrasting pair. Use string lights along the canopies for an added effect that will also lighten up the true Nature of the Sherwin Williams Silver Mist during sundown. Using this color for the exteriors brings out a certain old-world charm and a rustic vibe that is hard to miss. It will give your home the perfect tropical beach house aura if you tone down the color further by using a greater number of strokes for painting the exterior.
A Color to Recharge
Sherwin Williams Silver Mist is a distinct color that truly recharges the soul, mind, and, most importantly, the eyes. We highly recommend this color for livening up spaces more subtly. It truly excites your space without compromising on the most minute decor details it entails.
If you are looking for a calm atmosphere that soothes and recharges your vitality, go ahead with Sherwin Williams Silver Mist. Pair it up with one or more colors from the finest white and neutral collection for elegance that leaves a lasting impression on your guests. Unlock your creativity to make this paint color that holds the essence of Nature work in any room.
Have you tried it already, or are you ready to paint your new home with Sherwin Williams Silver Mist? Which rooms in your home or office have you painted using SW 7621? How much would you rate the color and why?
Drop your answers in the comments section below.
Frequently Asked Questions
Is Silver Mist Warm or Cool?
Sherwin Williams Silver Mist is typically a cool color. However, it is unique in that you can make it look bright or calming by adjusting your light setup. Although classified as a cool color tone, it is not "icy cold" per se, so you need not worry about the paint subduing the vitality of the space.
What Colors Go Well with Silver Mist?
Sherwin Williams Silver Mist Color works well with a vast range of colors, starting from neutrals to whites or even bright colors. If minimalism is the keyword you abide by, go for pure white or beiges. You can also pair it with slightly darker shades like Sherwin Williams Sea Mariner (SW 9640) on doors with 3D moldings or exteriors.
What is the Difference Between Sherwin-Williams Oyster Bay and Silver Mist?
Sherwin Williams Oyster Bay (SW 6206) is a color very close to the Silver Mist with close LRVs of 44 and 47, respectively. The difference lies in the percentage of the combining colors, with green predominant for the former and blue predominant for the latter. Accenting walls using Sherwin Williams Silver Mist for highlighting one wall and painting the others using Oyster Bay is a great idea, though!