Are you ready to elevate your nail game like never before? It's pretty inevitable that new trends have started to emerge in the world of fashion, accessories, and makeup, especially seeing how the world is already halfway through 2023.
Nails have always been a vital part of the beauty industry. How you wear your nails speak to your personality. Pink nails give a more feminine look, while black ones give the look of a femme fatale. Short nails make you look clean and tidy, whereas long nails elongate your fingers, giving your look a sexy edge.
Whether you are into fun shapes, vibrant colors, or nail art that makes people do a double take, here is a curated list of 24 nail designs of 2023 that have become all the rage.
Must Try Nail Design for 2023
Nail art is where art meets your fingertips. From nature-inspired patterns to modernistic line art, these nail art designs will transform your fingertips into miniature canvases. From elegant and sophisticated to bold and quirky, nail art offers a myriad of possibilities to elevate your overall look. So, let's unlock the door to your imagination and dive into the world of nail designs in 2023.
1. French Tips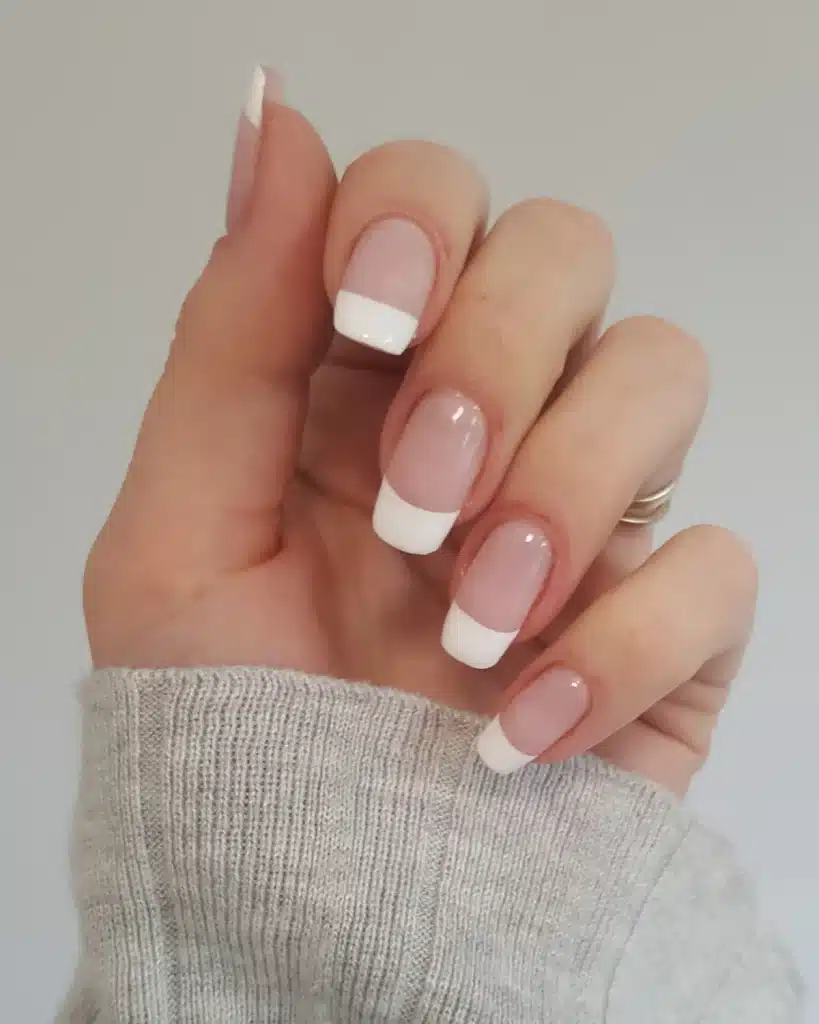 The French Tips is an iconic nail art style that has stood the test of time, gracing the fingertips of women worldwide for decades. Known for its sophisticated white tips and natural base, the French tips continue to reign supreme as a nail design even in 2023, seeing how the clean girl look is in.
Instead of using the traditional white tips, you can also try different colors for the tips or have your nail technician paint a flower or a pattern.
2. Evil Eye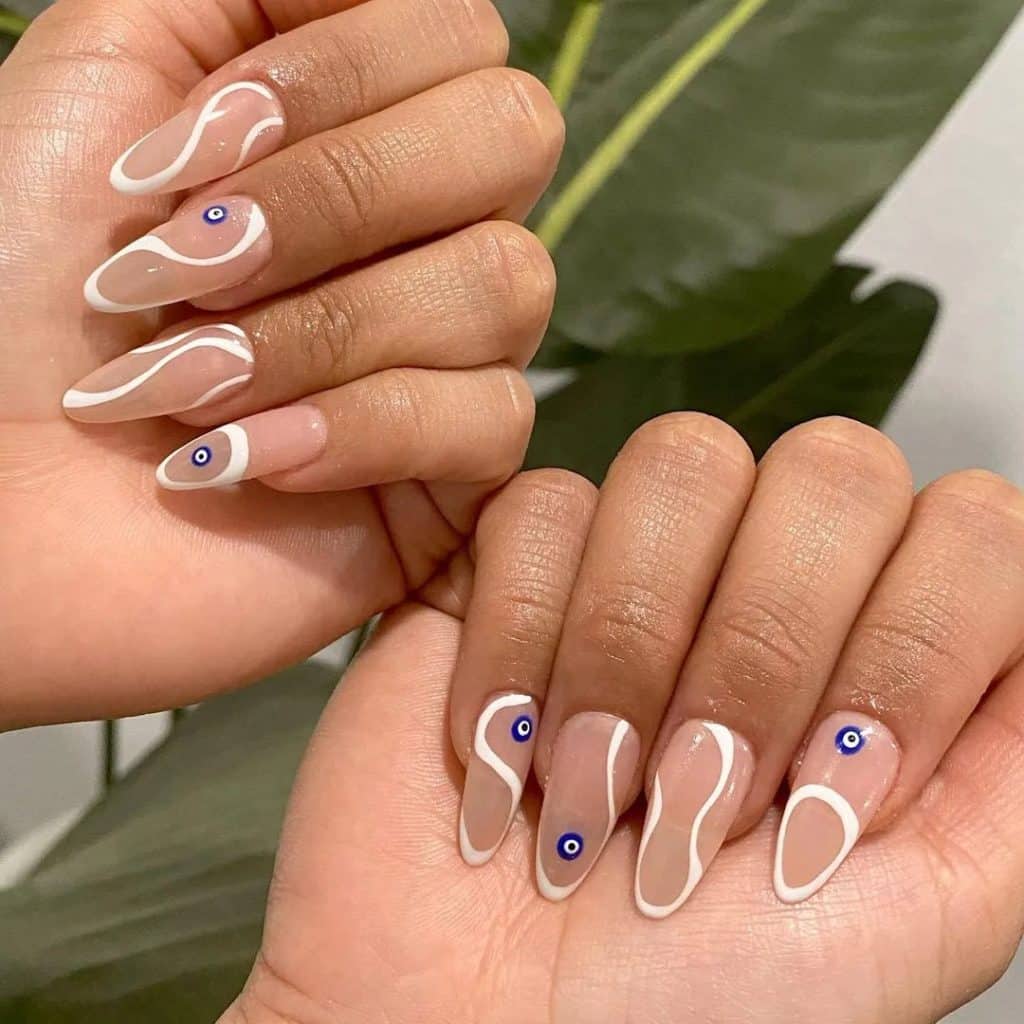 When adorned or displayed, the evil eye is meant to ward off negative energy and evil spirits. According to many cultures, it brings positivity to your surroundings. Thanks to the internet, the exchange of information has become extremely easy. People now know about so many things that can add value to their lives. One of those things is the evil eye.
In 2023, you can see the evil eye being incorporated into fashion, accessories, and nail design. Moreover, you will only need three colors for an evil eye nail design: blue, black, and white.
3. Line Art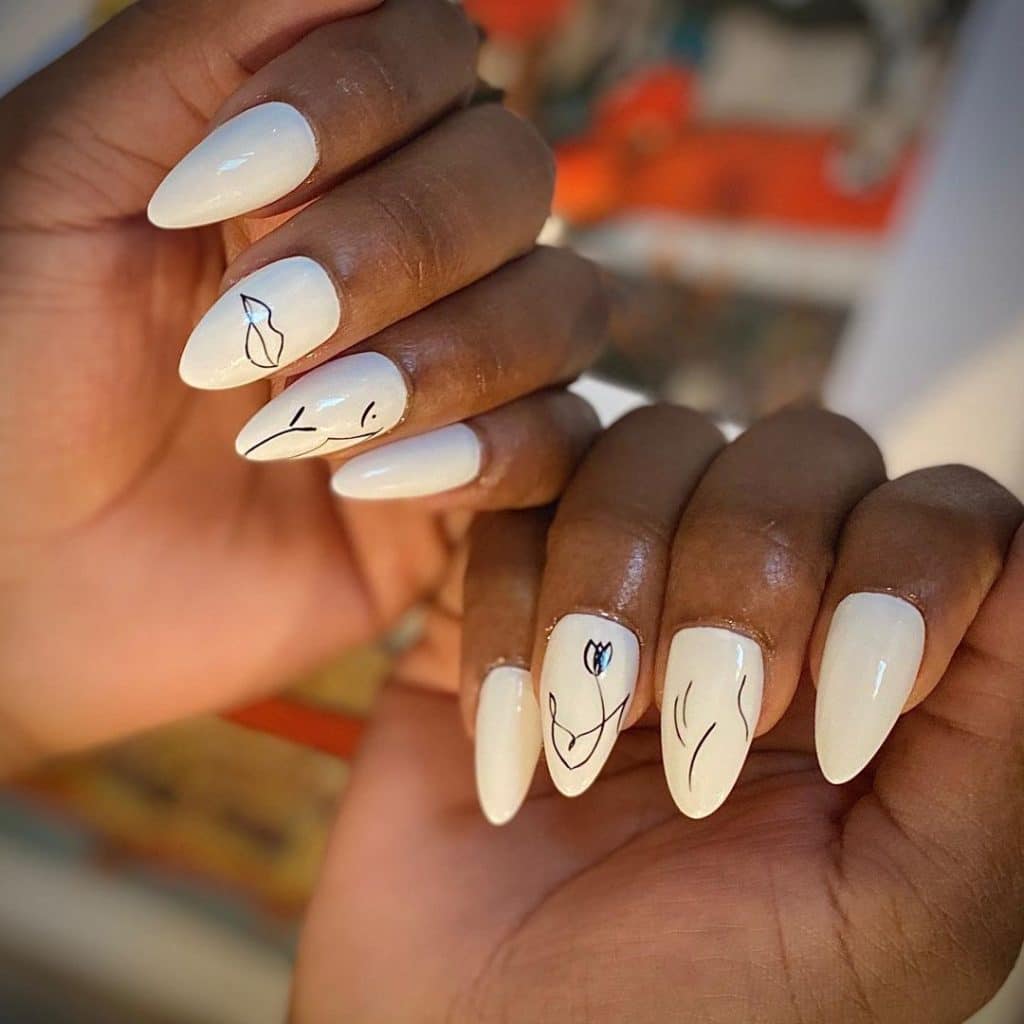 Line art nail design involves creating a design using fine lines with precision. A minimalistic and elegant form of artistic style, line art nail designs scream 2023. Think continuous lines, outlines of flowers, or even line art illustrations of famous paintings. You can get line art done using any two colors. White lines on a black base, baby pink lines on a light brown base, and black lines on a white base.
And, if you're feeling bold, you can always go with a clear base. Most importantly, your nail technician will require a fine brush and a steady hand to achieve this look.
4. Leaves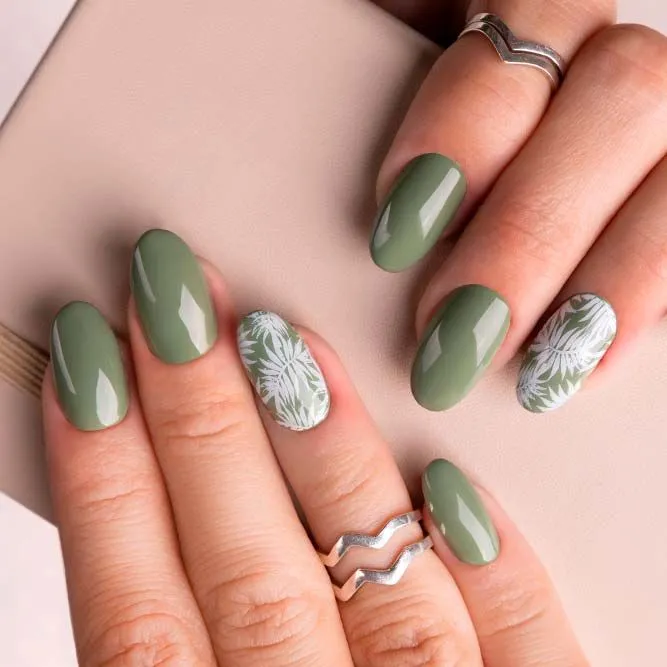 In 2023, nail designs are particularly being inspired by elements present in nature, specifically leaves. There is no one type of leaf, but each of them is as pretty as the next. A neutral base with green leaves of various shades will elevate your manicure game to the next level. Add a pop of color here and there to make your nail design unique. Leaves symbolize growth, renewal, and harmony.
5. Retro Swirls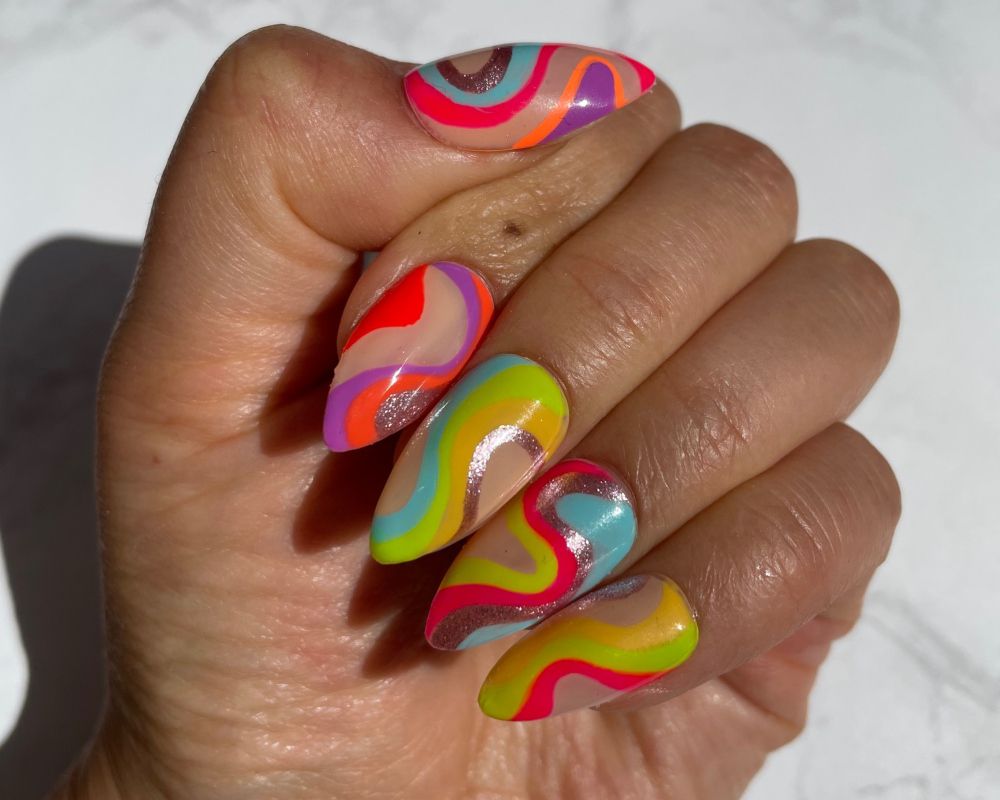 Wide-legged jeans aren't the only fashion statement making a comeback in 2023. Groove down to the world of nostalgia with this 70s-themed nail design. Bring forth a burst of color, vintage charm, and individuality to your fingertips with colors like pink, yellow, blue, and so many more. Try experimenting with different shades till you find your personal style. You can even add retro symbols to your nail art, like peace signs and smiley faces.
6. Faces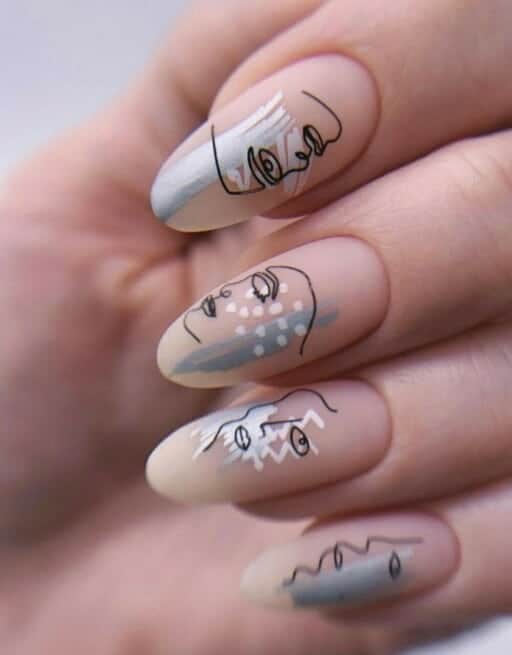 Whether it's a cute cartoon character, an abstract face, or an intricate portrait, incorporating faces into your nail art allows you to give your manicure a modern touch. With their talent and a steady hand, a skilled nail technician can easily provide you with the right service. The use of black and a pop of color will make your nail design stand out. Whether you are a nail art enthusiast or new to the world of creative nail designs, exploring face nail designs is a fun and engaging way to showcase your individuality in 2023.
7. Galaxy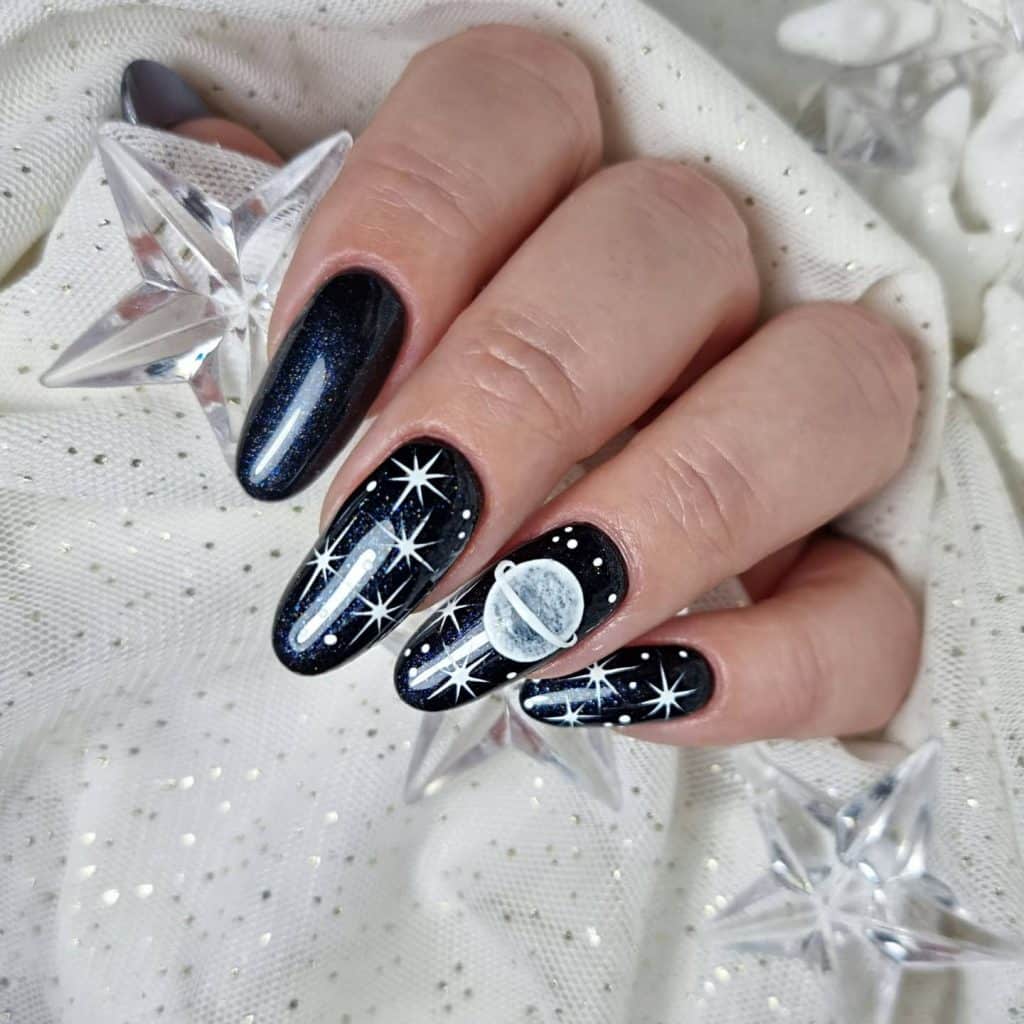 A tale as old as time, galaxy nail designs still hold up in 2023 as they did a few years back, but this time, it's more than just a dark blue base with white dots splattered across. Let's travel a little deeper into the galaxy, where the planets are. From Jupiter's vibrant hues to Saturn's mesmerizing rings, creating planet-inspired designs will give you endless possibilities for creativity when it comes to nail designs. You might have heard about the world being at your feet, but how about the solar system being at your fingertips?
8. Illusion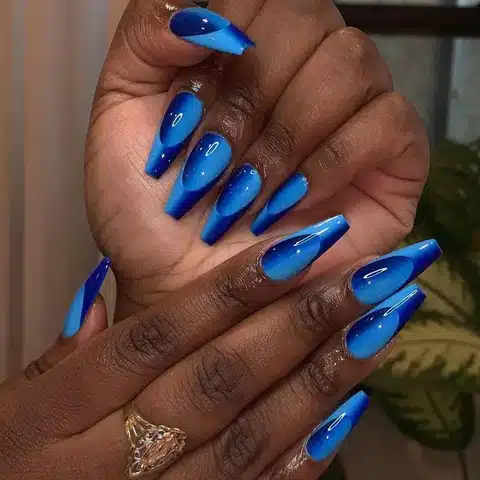 Expanding on the French tips nail design, an optical illusion effect will modernize the timeless style. Although these optical illusion French tips work great with gradients, you can also try more complex 3D effects. Gradient illusions create smooth transitions between colors that appear to blend seamlessly. Other than that, adding visual depth to the nails using shading and layering can provide a mesmerizing 3D effect. The versatility of these effects allows for so many possibilities in the world of nail design.
9. Abstract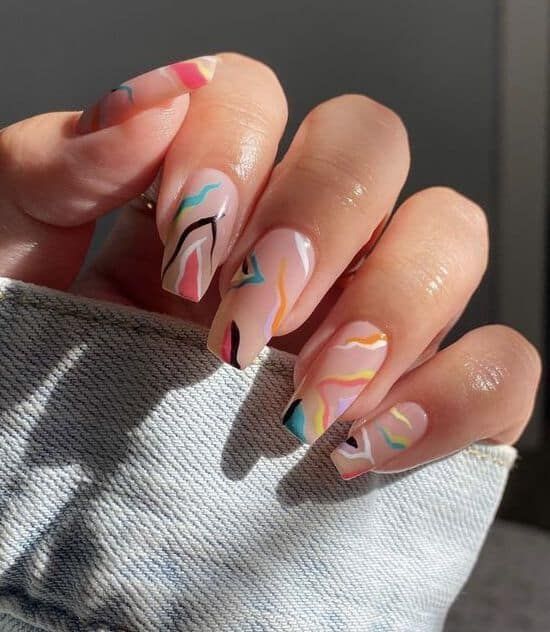 2023 is all about breaking free from the ordinary and stepping into the unknown. Abstract nail art will allow you to break free from traditional patterns and embrace something entirely unique. Use designs like swirls, asymmetrical shapes, lines, and splatters in this nail design. Abstract nail art is all about your personal expression and your creativity. Explore different themes like nature, emotions, music, or memories. You can even add rhinestones, studs, or dried flowers. You need to have fun with it.
10. Paint Splatter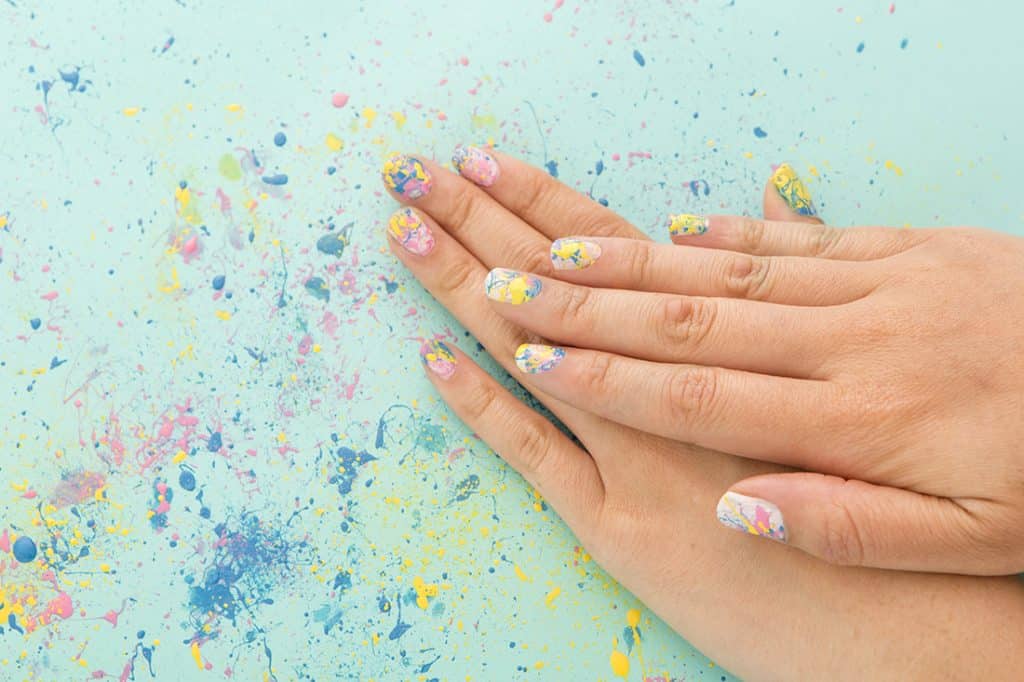 Remember when you wear a kid, you'd pour paint all over your toothbrush and use your finger to just splatter it all over your sketch pad, or any surface for that matter? Now that you're grown up, it's time to let out that carefree side once again. You can use both a straw and a nail art brush for this nail design.
For the straw technique, dip one end of a straw into a small bowl of nail polish and gently blow through the other end to splatter the paint on your nails. For the nail art brush technique, dip the bristles of a nail art brush into the nail polish and tap the brush over your nails. Paint splatter nail design is all about embracing creative chaos and, most importantly, allowing yourself to have fun.
Kaleidoscope of Colors
11. Black and White
The timeless combination of black and white offers endless possibilities for creating chic and elegant nail designs. They provide a strong contrast that elevates your manicure. It is as relevant in 2023 as it has always been. Whether you prefer a minimalistic style or a complex pattern, black and white make for a solid combination.
In so many of the above-mentioned nail art designs, black and white play a huge part. There are endless possibilities with black and white; for example, you can go with stripes, polka dots, a chessboard sort of thing, or just plain solid colors.
12. Pastels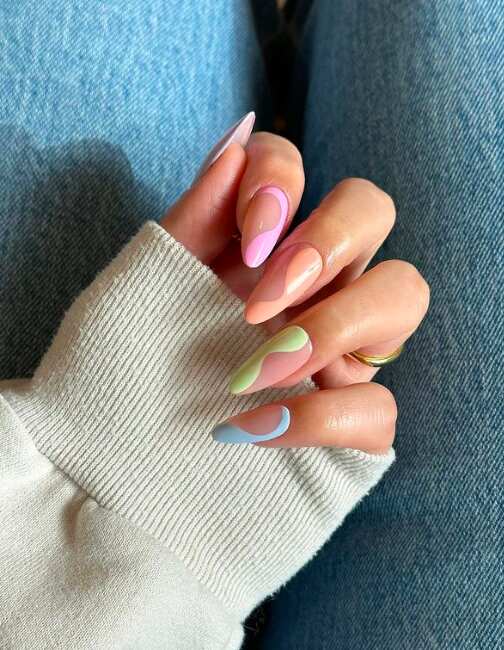 Ever so soft, pastels are the polar opposite of black and white. While black and white give your nails a bold look, pastels soothe the eyes with an angelic look. There are a variety of colors to choose from, like, pale pinks, mint greens, lavender, soft yellows, and of course, baby blues. These colors would work very well with the retro swirls.
Abstract, french manicure, paint splatter, and a lot of that other designs would be complemented by pastels, as well. Because of their delicate and ethereal look, pastels will always be a shoo-in in nail designs, even in 2023.
13. Pink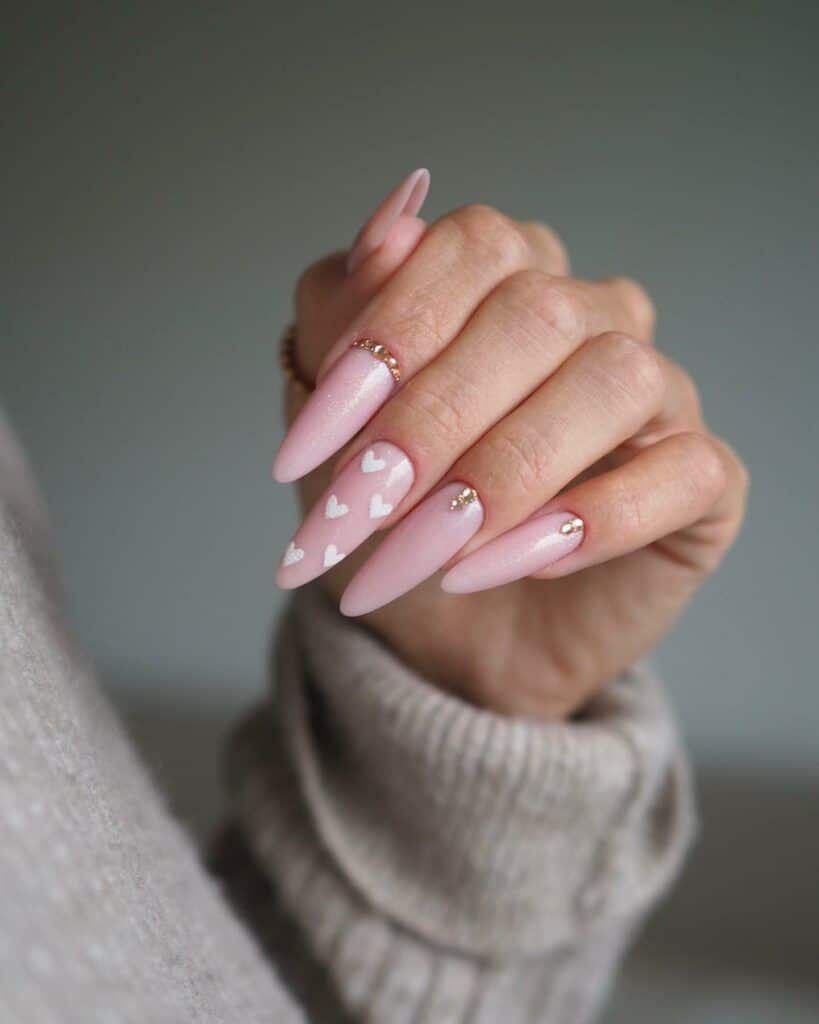 How could Pink not make the list? It's the year of Barbie, after all. Plus, the thing about pink is that there are not just a few shades; there are over a hundred. Whether you prefer soft and delicate pastel pinks or vibrant and bold fuchsia, pink nail designs offer so many possibilities to express your style and personality. The diverse range of pink shades includes baby pink, rose, hot pink, coral, magenta, and everything in between.
14. Black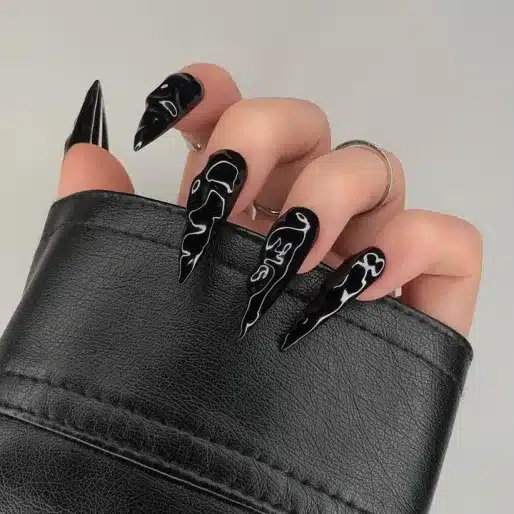 Black is as timeless as it is classy. They are suitable for any and every occasion. From sleek and minimalistic black nails to complex patterns, black nails belong on this list. Honestly, black will never go out of style, much less in 2023. You can go for solid black for timeless elegance, a bit metallic for something edgy, or glitter for a touch of glamour.
15. Neutral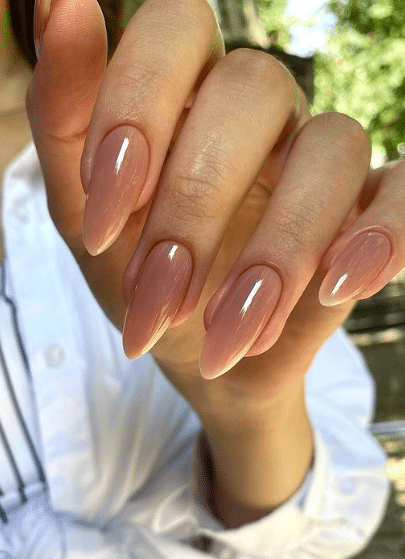 Understated elegance would be the best way to describe the neutral palette. Neutrals, such as beige, ivory, taupe, and grays, offer a sophisticated and chic palette that complements any style and occasion in a very understated way. Universally flattering, neutral male designs can seamlessly blend with any outfit and go easily with different nail lengths and shapes. Again, it is perfect for the clean girl look that is all the rage in 2023.
16. Blue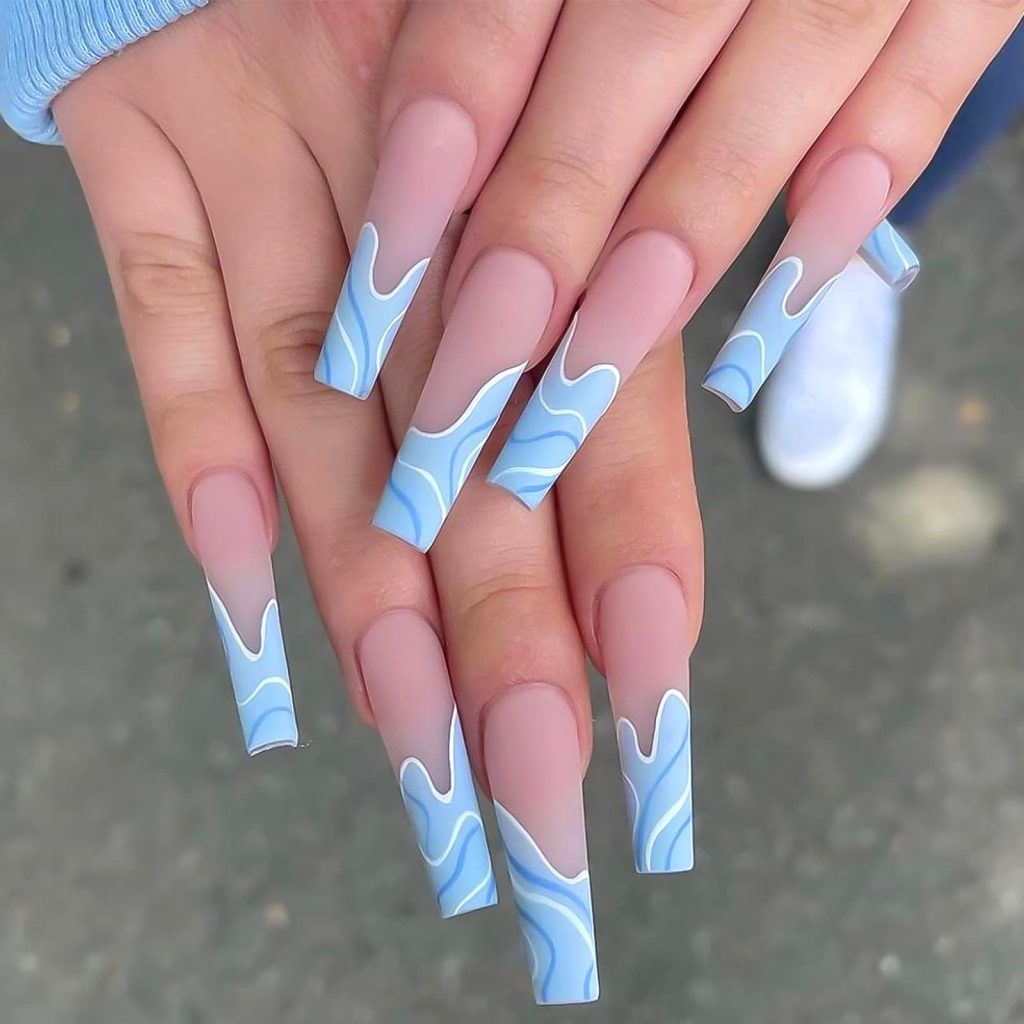 According to color theory, blue evokes feelings of peace and relaxation. It is frequently described as calm, safe, neat, and tidy. Another perfect color for the clean girl aesthetic. Beating pink with a whopping 100, blue has over 200 shades. Some are baby blue, sky blue, teal, aquamarine, turquoise, midnight blue, and so many more. You can go for soft gradients, solid colors, simple geometric patterns, or something related to the ocean or the galaxy. Honestly, the world is your oyster.
17. Brown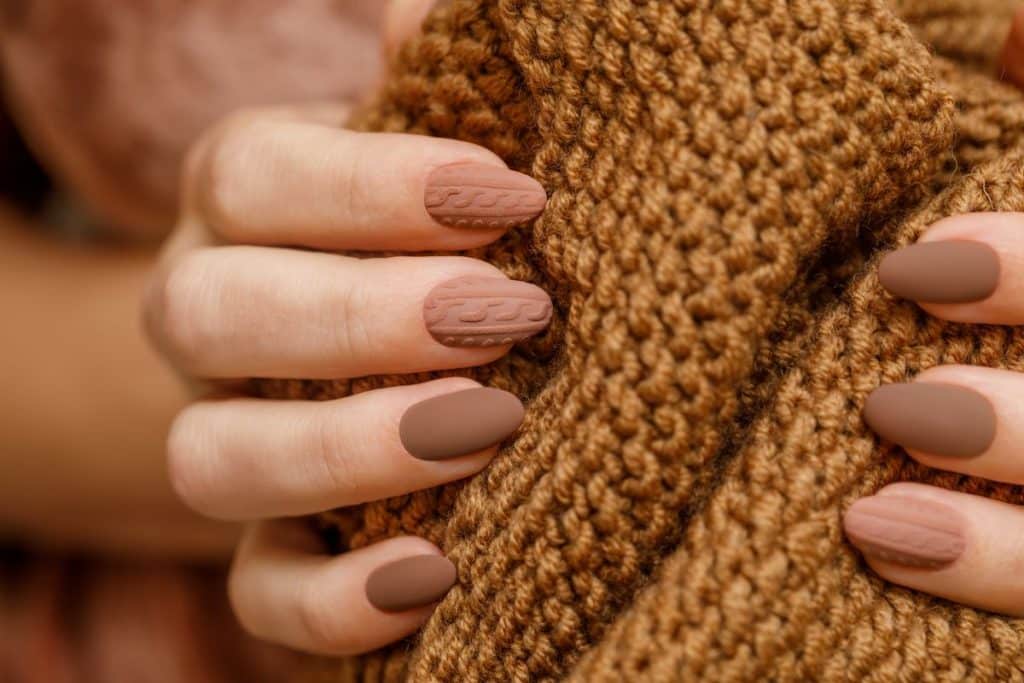 Brown is such comforting and warm color. It represents earthiness, stability, and reliability. Shades like mocha, chestnut, coffee, and caramel would complement different skin tones just right. You can get nail designs with bohemian accents, like dreamcatchers or feathers, or you can get something classic, like a clean geometric pattern. Even the combination of brown and gold will create a regal and opulent look.
18. White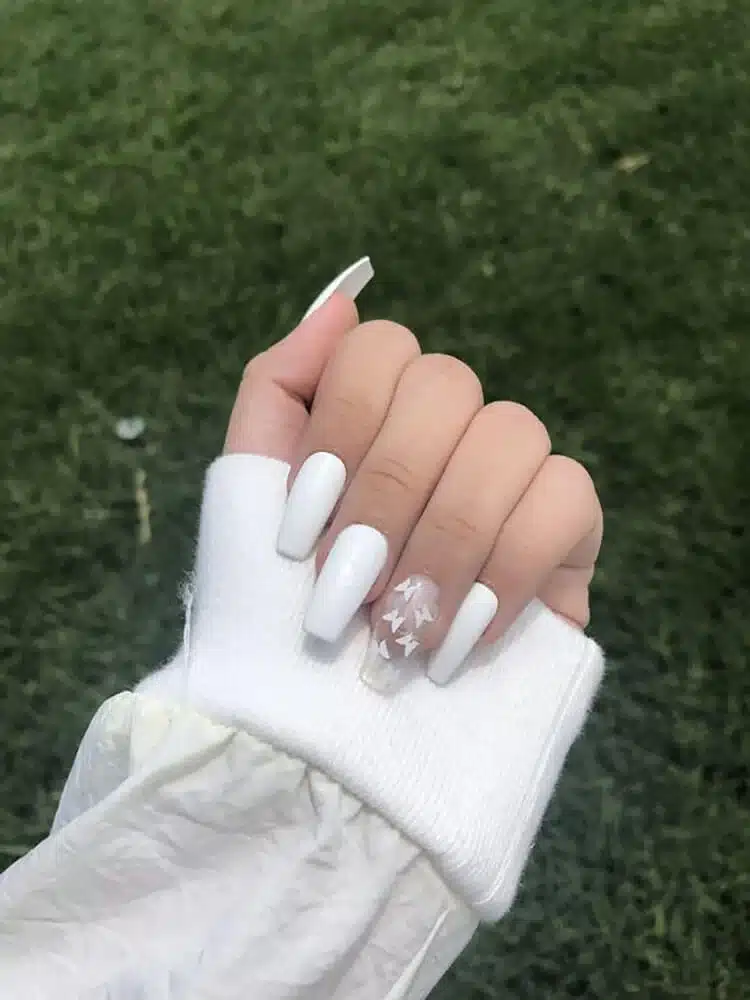 There is something very charming about white nails. It's pristine and powerful, but at the same time, it is pure, delicate, and ethereal. White is irreplaceable in the nail designs community; while colorful and elaborate nail designs have been fashionable for decades, white nails are timeless and beautiful. Whether you desire a minimalist and neat appearance or want to make an impact using bold and artistic designs, white nails provide a broad canvas for creativity.
Shaping the Canvas
19. Squoval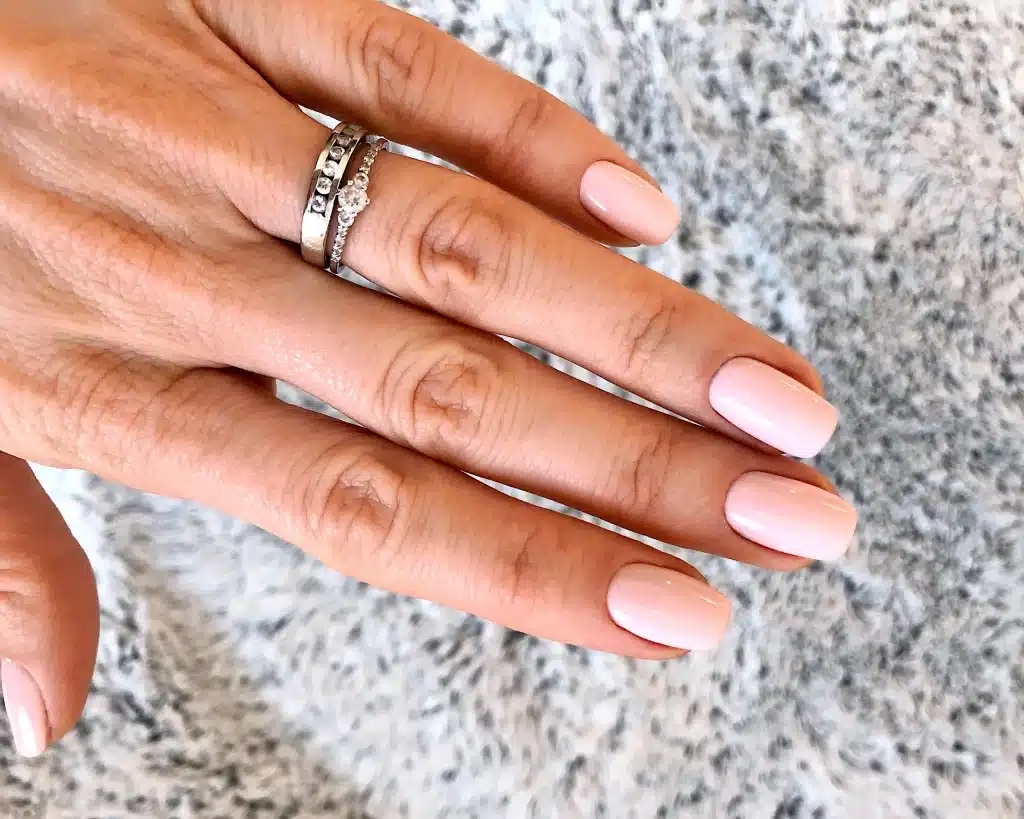 Squoval is a popular nail shape that combines the characteristics of square and oval nails. It features straight sides with rounded edges, creating a balanced, versatile shape that suits various nail lengths and finger shapes. Scowl nails offer a versatile canvas for creating stylish and chic nail designs, like soft and delicate pastels, tiny hearts, or cute little cherry blossoms. If you have some length in your tips and want a bit more dimension than a square or an oval, a squoval is perfect for you.
20. Square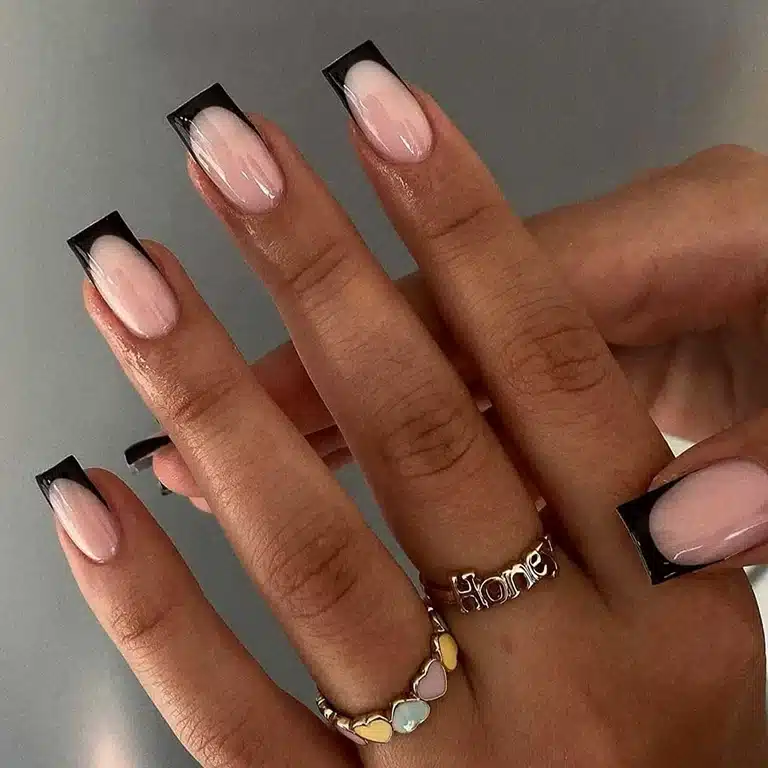 While you're probably aware of the various nail colors and art choices, you may be unaware of how many distinct nail shapes are available, making it difficult to find one that's suitable for you. Let's talk about the first half of squval nails. As the name suggests, square nails give off the appearance of a square with the help of two angeled edges. Boxy and stylish, this shape can make any nail designs edgy and daring.
21. Oval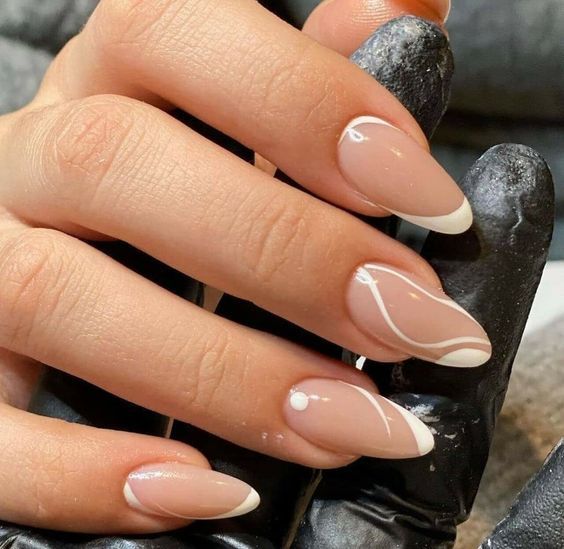 On the other half of squoval nails, oval nails are slightly longer than the normal length and have curved edges. Oval nails aren't overly flashy; they give a clean look. The traditional oval nail is renowned for being one of the most universally appealing manicures. The curved edges mimic the natural cuticle curvature, creating a very symmetrical appearance. The shape makes your fingers look slightly elongated and more proportionate.
22. Almond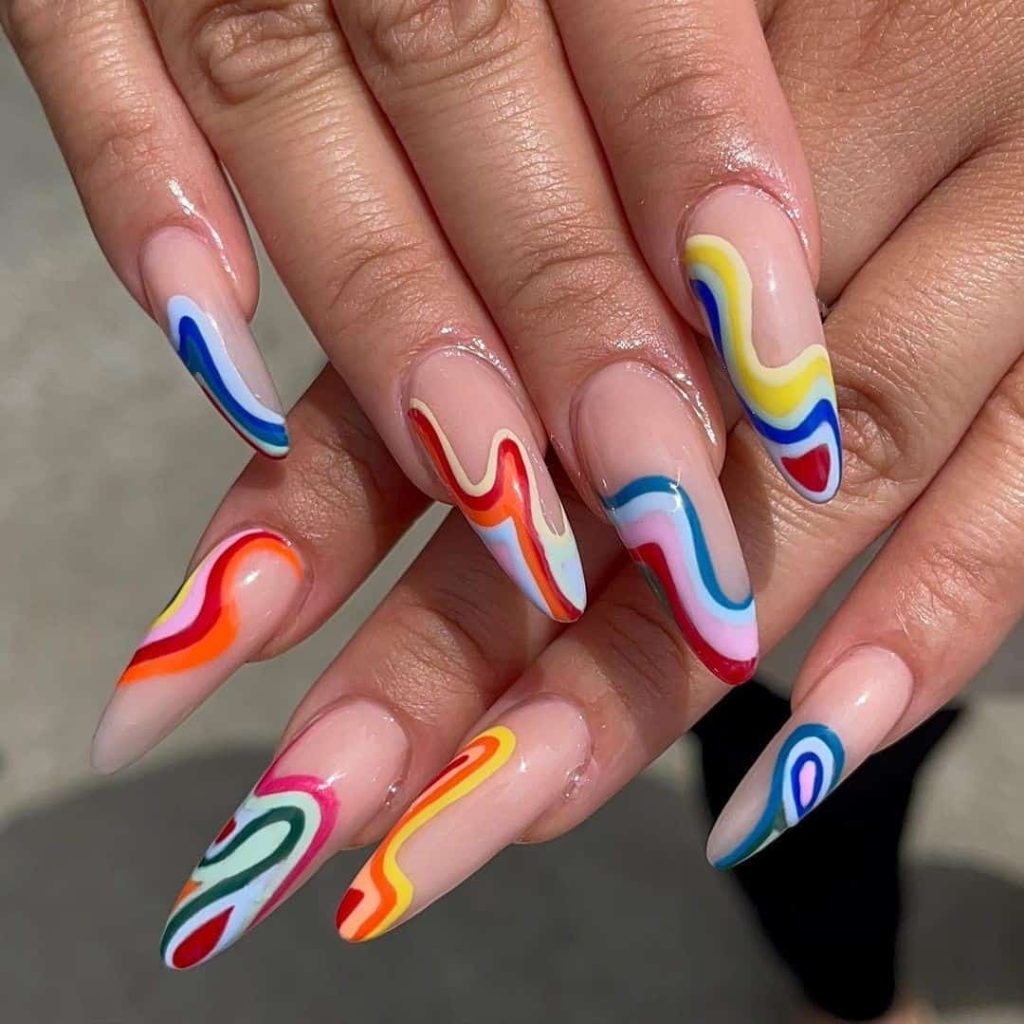 This lovely shape will be popular for nail designs in 2023. It can give your nails a feminine touch. As timeless as ever, consider an almond shape to elevate your oval nails to the next level. This shape will elongate and slim your hands by appearing narrow and finishing with a rounded tip. It will give your hands a graceful look. The almond shape will work extremely well with all of the above-mentioned nail designs, especially with French tips, both classic and illusion.
23. Coffin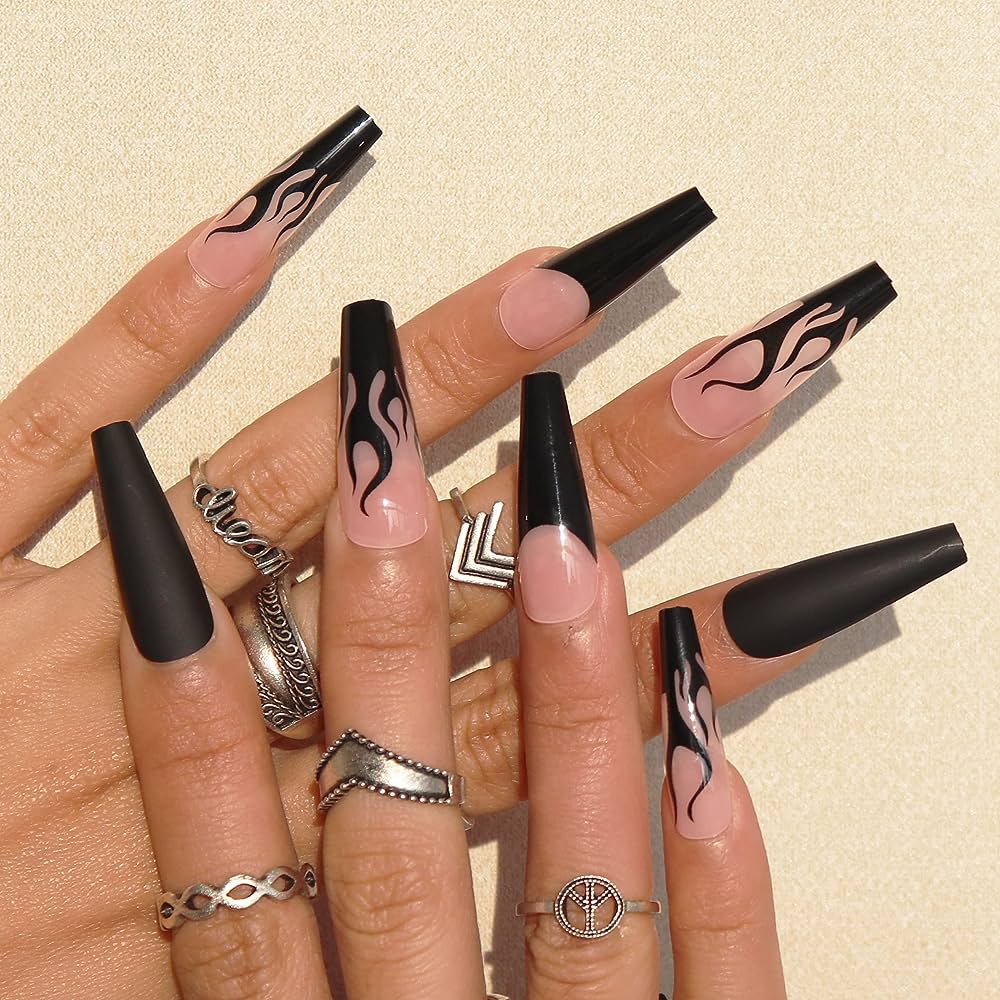 Square, oval, and almond nails are all the rage in nail designs 2023, but if you are determined to win your next manicure look, let's look at one nail shape style that isn't going away anytime soon: coffin nails. A bit high maintenance, coffin nails are chic and super trendy, through and through. Also known as ballerina's nails, you can go for this super dramatic shape if you suit squoval or square shapes.
Ending in a flat tip, coffin nails are long and tapered toward the top. This shape is perfect for making your hands look fuller. They're a softer substitute for the stiletto nail and are long and wide enough to accommodate the craziest nail art patterns.
24. Stiletto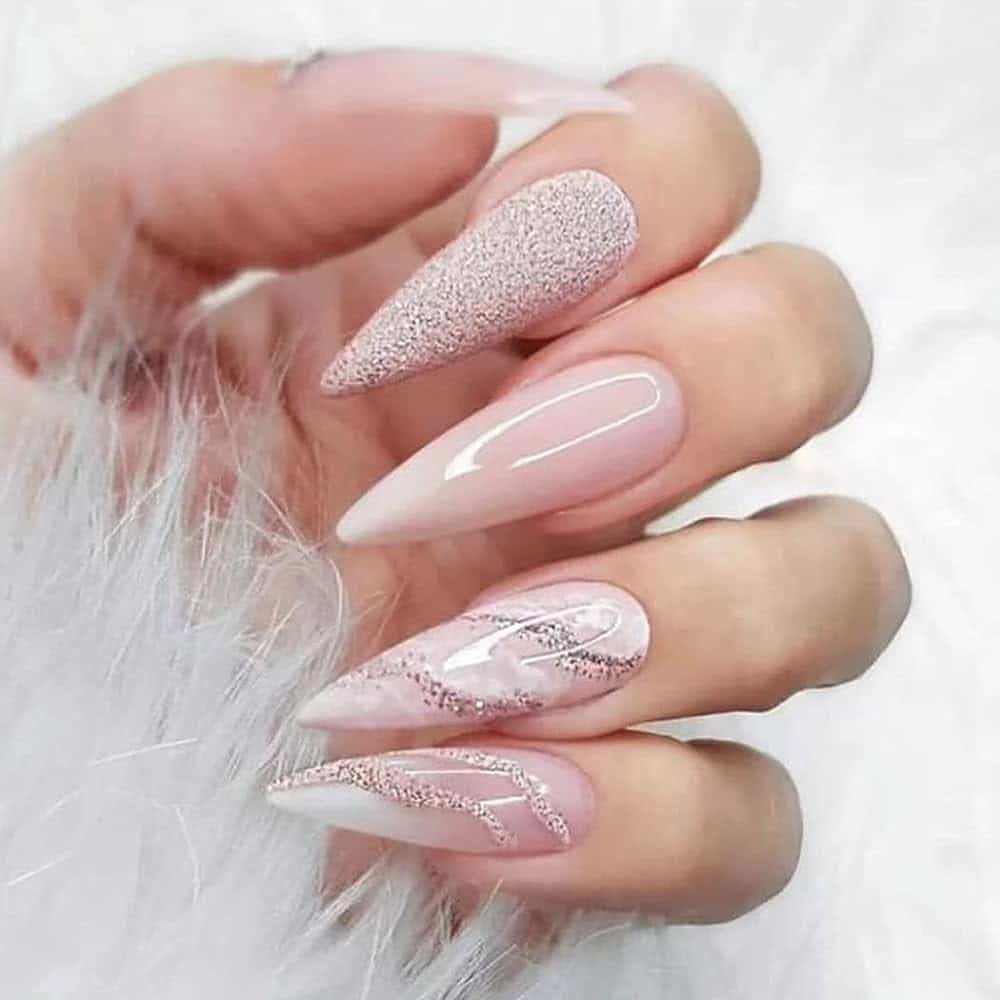 If you've ever wanted to attempt a stiletto manicure, you're in luck but found it tough to accommodate it into your regular life. The year of the short stiletto nail design is 2023. Stiletto nails have pointy tips, and stilettos are perfect for fashionistas.
Edgy and lengthy, these nails make a perfect mix of sharp edges and curves, resulting in more attractive and striking nails. These nails are sure to make you 'that girl.' You will definitely make a statement with stiletto nails, even if they are short.
Conclusion
The nail designs of 2023 have been a beautiful fusion of traditional innovation. From a nod to classic elegance like the French tips to a little nostalgia from the 70s to a leap into modernism with splattering paint, 2023 has truly been inspiring for the manicure enthusiasts of the world.
Nail designs can be influenced by various factors, including fashion runways, celebrity styles, social media, and cultural shifts, making it difficult to know which nail designs will be trending next. Still, whether you are a trendsetter or a lover of timeless beauty, a nail design in 2023 will make your heart skip a beat.