A screened-in porch is a versatile addition to any home. It not only provides a comfortable space to enjoy the outdoors but also enhances the beauty of your house. Using just the right design that suits the aesthetic of your house, you can transform the look of your house. The porch can also be created as an expansion of your living area.
A screened-in porch gives you the freedom to enjoy the rain, evening breeze, or maybe a snowfall without having to step out of the warmth of your house.
It can be used in so many ways, from being a reading nook to an area where you can host dinners and parties. Depending on your purpose and the amount of area available, you can decide on the theme for your screened-in porch. We have 10 handpicked designs of the most popular themes for you to check out!
1. A Rustic Refuge
If you are someone who connects with nature, then this is the theme for you! A countrified porch is a classy yet easy-to-design theme for your screened-in porch. Use some charming elements like stone accents, exposed wood or bricks, and some distressed-looking furniture. This is all you need to create a comfortable and welcoming space for yourself as well as your guests.
A fireplace is great for rustic pieces, and the mantle can be decorated with art or show pieces. Grandfather clocks, vintage bookshelves, and a few other vintage elements can be added to give it a more authentic look. For table linens and curtains, opt for earthy shades to complement the theme of your screened-in porch. Bamboo furniture and potted plants can also be added in some corners. Using vines hanging from the roof or wrapped around lamps adds a beautiful element to your porch.
2. Modern and Minimalist Grace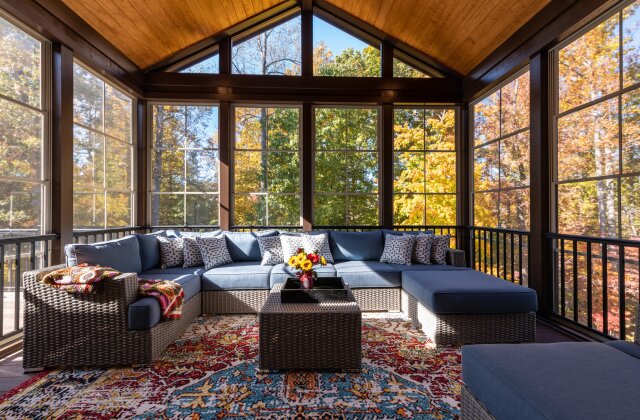 For all those minimalists out there, this screened porch idea is perfect for you! If you are someone who has a minimalistic house and wishes to apply the same for your porch, you can always start with neutral colors like beige and white for walls. Since minimalism is all about functionality, a sleek and comfortable modern couch, and a coffee table will work out great. Using big cushions, a woven swing and some candles can be added. You can also use colored cushions and linens to add a pop of color to the neutral theme.
Bright green plants are also great for adding color to your minimalist screened-in porch. If it's a space where you will be hosting dinners, add modern cutlery and napkins on the table to add class to your porch. Use pendant lights for subtle illumination and give priority to natural light.
3. A Coastal Oasis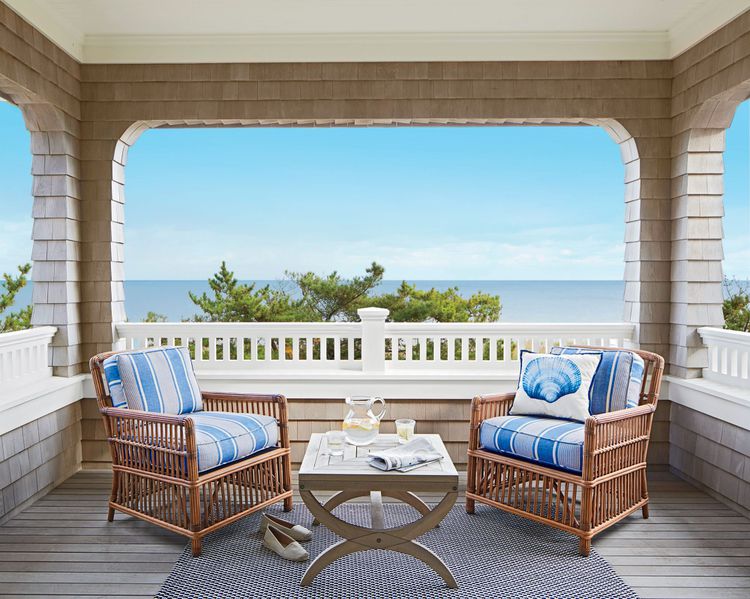 An ideal screened-in porch for a beach lover and for creating a relaxation space. In this theme, the purpose is to try and recreate the peace and vibe of a coastal area. For colors, you can go with colors of the sky, like pastel blue, sky blue, or sandy colors on the beach. Use materials like jute and rattan to build up the aesthetic of your porch. The porch must have a comfortable seating area since these porches are mainly meant for relaxation purposes. Installing a hammock or a weaved swing can also be a great addition to this otherwise amazing project.
Use sea-inspired or nautical accessories like lamps with shell accents, coastal pattern linens for drapes and covers, anchors, or driftwood. Add tropical plants to the space as reminiscent of coastal areas. Soothing colors, comfortable sitting, and a peaceful vibe is the key to a great coastal-themed screened porch.
4. The Boho Chic
A screened-in design for a free spirit like yours. It's based on the popular eclectic Bohemian aesthetic. There is nothing minimalist about this style, and you can match the porch with your vibrant personality. You can use deep tones of colors and saturated and earthy hues for walls. This gives off a bold vibe and stimulates energy through visuals. Don't forget to mix and match so you can select the perfect color combination.
Low sofas, vintage chairs, wicker baskets, and tables are ideal for furniture in this setting. You can add crochet blankets and patterned pillowcases as accessories for the furniture. Arts that include patterns like ikat, tribal and geometric patterns are perfect for an artistic touch. For lighting, you can use strong lights and lanterns for the aesthetic appeal of your screened-in porch.
5. The Charm of the Farm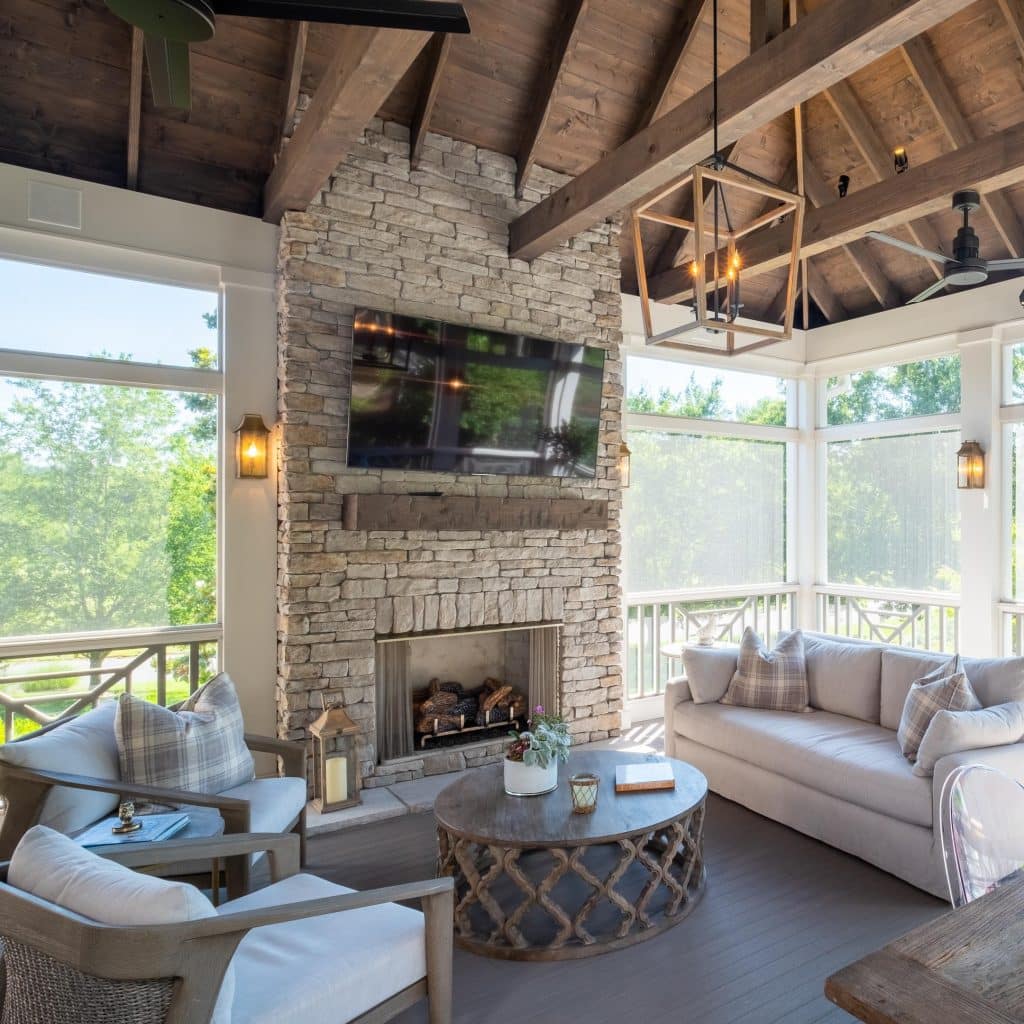 A cozy aesthetic for your screened-in porch and is the perfect style for people who are fond of farmhouses. A combination of simplicity and nature is what describes the farmhouse theme accurately. You should go for warmer tones of colors while choosing the theme so it mimics the business of a farm. Use rustic and wooden furniture for your porch with a distressed finish, like wicker chairs or farmhouse tables. Plaid patterned upholstery can sweeten the atmosphere, making it welcoming.
You can use different types of furniture as well since this theme is all about experimenting with your style. Pottery, baskets, etc., can be used for accessorizing the space. Candles and hanging plants will make your screened-in porch look more stunning than ever.
6. A Contemporary Finesse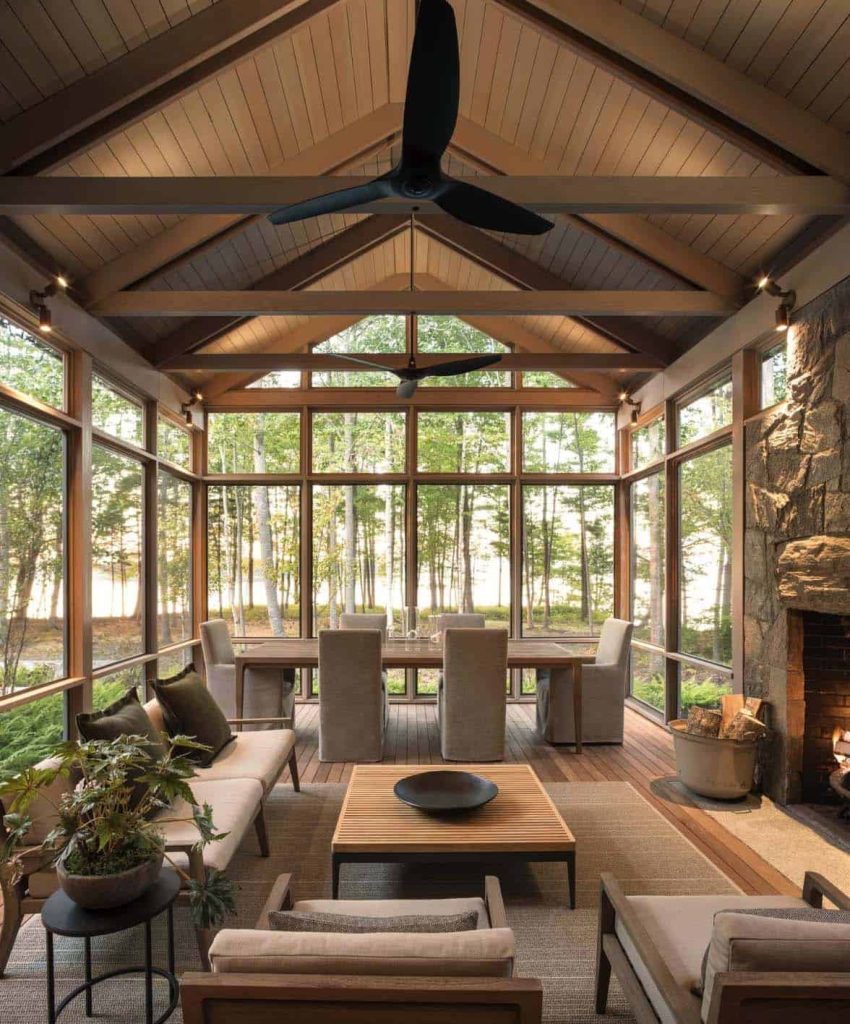 Not everything modern is sophisticated, and you might be one of the people who want to maintain the class with a touch of modernism. If you want your screened-in porch to exude luxury, you can go with this theme for your design. Choose colors like grey and taupe to provide a rich backdrop for your furniture and accessories. These colors bring tranquillity to the looker and create a sense of serenity.
Adding metallic accents using golden pot stands or centerpieces of your table will work out great. Use modern furniture like armchairs with leather accents or a velvet low sofa. Your furniture can also have metallic accents on the armrest to enhance the glamour. Use structural art pieces or mirrors with artistic yet modern frames. Minimalistic light fixtures that emit soft lights and give an illusion of natural light are apt for the design. Opt for luxurious fabrics for your upholstery to maintain a refined and luxurious aesthetic for your screened-in porch.
7. A Lush Utopia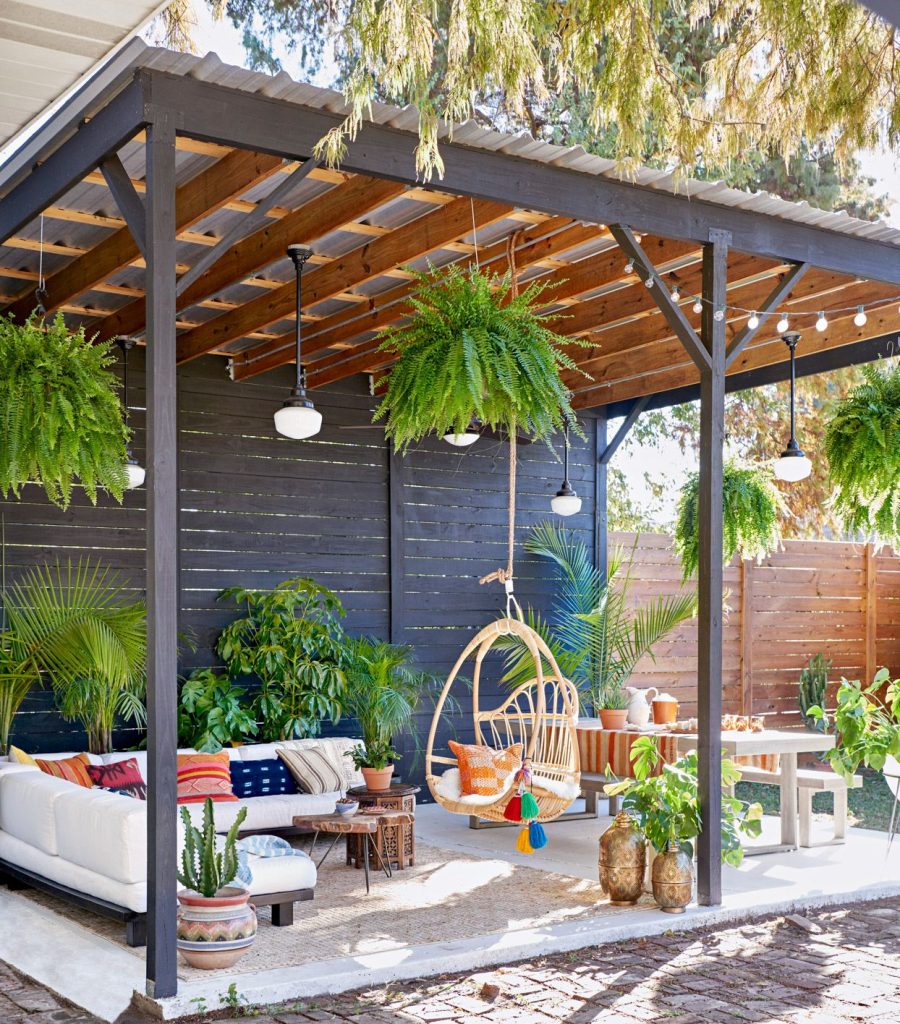 For all the plant enthusiasts, this is your time to show off the amazing collection you have on your screened-in porch. The purpose here is to bring out the beauty of nature in your house and to create your green haven. Incorporating various natural elements like floral patterns in the decor will create an amazing and peaceful corner in your house. Since the theme is green, try going for shades of green, like olive or forest green, for a backdrop.
You can also go for a yellow or mint backdrop to highlight the greenery of your plants. They bring a sense of refreshment and upliftment to the room. Use light fabrics like cotton or patterned fabrics for textiles or cushions. Rattan and wicker furniture are ideal for a botanical-themed porch. The seating must be comfortable, and add a leaf or floral patterned cushions on the couch to complement the theme.
You can use hanging pots, vertical gardens, and large pots for decorations. Use jute baskets for fresh flowers as centerpieces for your tables. Warm lighting creates an inviting ambiance and makes sure that there are tonnes of natural light coming. Use fragrant and blossoming flowers to add a sensory experience for your guests on your screened-in porch.
8. A Retro Charm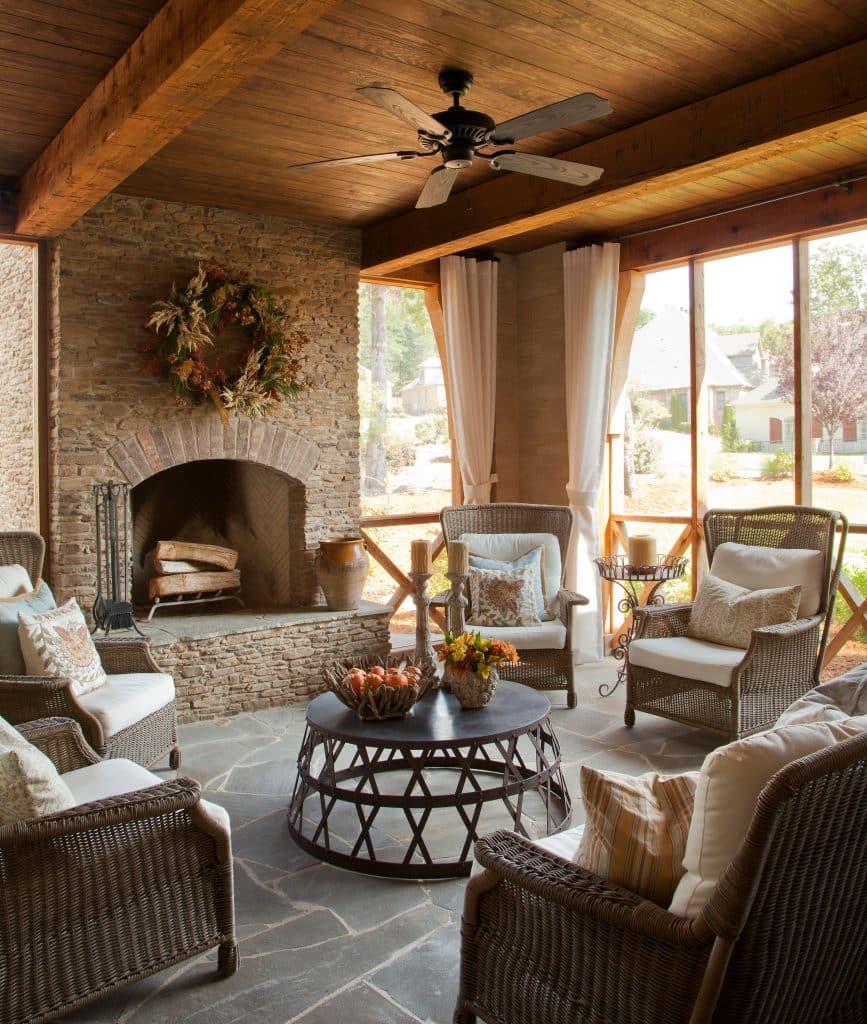 Bring the nostalgia of the 80s and 90s into your home and charm your guests with your vintage-themed screened-in porch. Vintage elegance is quite different from modern elegance in a number of ways, like furniture and accents. The soft color palette, which includes muted colors like greyish blue and pastels, set up a stunning scene for the porch. Ornate metalwork, rocking chairs, and wicker furniture capture the essence of that era perfectly, along with completing the backdrop color.
Add a wrought iron table and a vintage swing to complete the furniture. Lanterns, vintage artwork, and black and white photographs with intricate work frames can be added as accessories. If you own any vintage clock or have a lot of postcards, you can arrange a display for them as well. Embroidered drapery and delicate lace are something you should put on your furniture or use as curtains for your screened-in porch to sweeten the old-world charm. Make sure that the fabrics are soft even with the embroidery. Ceramic planters and metal buckets can be used for your plants.
9. A Moroccan Exotic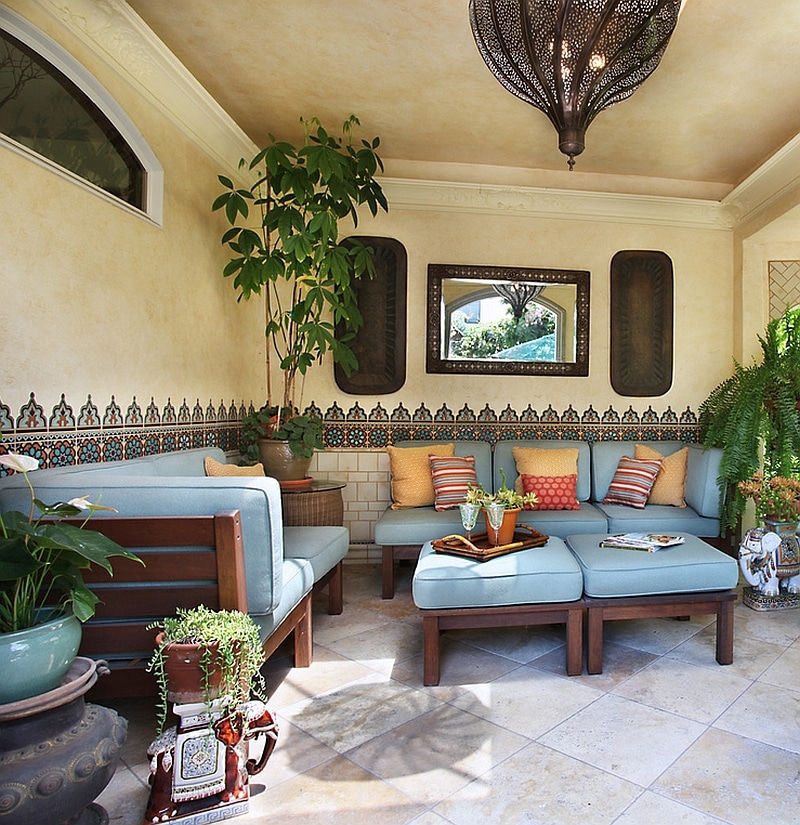 If you have ever visited the kingdom of Morocco, you must have been awed by its vibrant and enchanting culture. Using this theme for your screened-in porchwill bring that liveliness to the comfort of your home. You need to embrace the cultural beauty of Morocco to create a perfect Moroccan-themed retreat. Keep your background colors vibrant and bold with colors like purple and emerald, along with earthy shades like bronze and terracotta.
These shades exude an energy that resonates with Morocco. Ornated furniture, floor cushions, and poufs are a fitting representative of Moroccan culture. Geometric patterns and carved woodwork can be added around the room as accessories.
Huge mirrors, Moroccan screens as partitions, and a display of colorful ceramics add a touch of authenticity to the set-up. Use colorful lanterns, string lights, and pendant lights to create an intimate ambiance. Sheer curtains, layered cushions, and pillows add a touch of comfort to this otherwise energetic space. Small water fountains and intricate planters can also be used as decor for your screened-in porch.
10. A Zen Serenity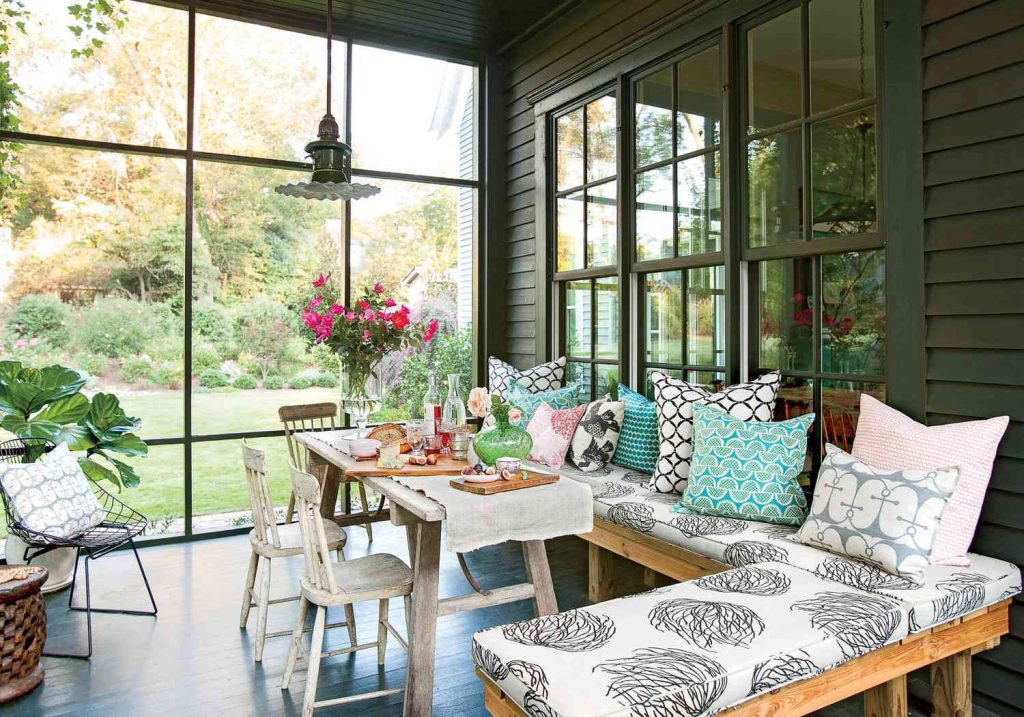 Inspired by the beautiful aesthetics of the Japanese with the amalgamation of Zen philosophy, this screened-in porch theme is rather simple. Its objective is to bring a sense of harmony among the occupants and create a safe space for relaxation. Using cool or earthy tones to forge a calming atmosphere. Also, using neutral colors will help your furniture and accessories stand out in the room. Keep your furniture minimalistic and enjoyable;
You can use floor cushions or tatami mats as well to create a more authentic experience. Don't cluster your furniture; try and keep the space open to allow movement.
Use woven jute, bamboo blinds, rice paper lanterns, etc., for decoration around the space. Simple pottery elements and sculptures as centerpieces or corner pieces add a touch of elegance. A  tabletop zen rock garden and soft lights create a sense of tranquillity. Make the lighting adjustable so they can be dimmed when needed. Natural fibers for textiles and curtains that allow sunlight in the room.
Conclusion
A screened-in porch is a versatile space that can be used for a lot of activities, from a reading nook to a hosting arena. With the ideas given above, you can choose a style that resonates perfectly with your personality and delivers peace to your mind.
Make this unique space of yours comfortable and inviting using comfortable furniture and textiles. Choose complimentary colors and accessories to bring elegance to your space.
Allow a lot of natural light to come into your screened-in porch with sheer curtains and bamboo blinds. Embrace your creativity and use it to create the perfect haven for your evening chronicles!