Are you looking to add a touch of creativity and personal flair to your table decor? Look no further! In this article, we will explore 21 captivating DIY centerpieces that are perfect for any occasion. Dollar Tree inspires these budget-friendly ideas finds, allowing you to unleash your artistic side without breaking the bank. From elegant floral arrangements to unique and whimsical designs, these DIY centerpieces will surely impress your guests.
With a focus on DIY, these projects are both cost-effective and customizable, allowing you to add a personal touch to your tablescapes. Whether you are planning a wedding, a dinner party, or a simple gathering with friends, these ideas will help you transform your space into a memorable and eye-catching setting.
So, roll up your sleeves, gather your crafting supplies, and let's dive into the world of DIY. Get ready to transform your space with handmade charm and showcase your creative talents.
Let's get started on crafting stunning centerpieces that will make any table shine!
Dollar Tree DIY Centerpieces
1. Rustic Mason Jar Vases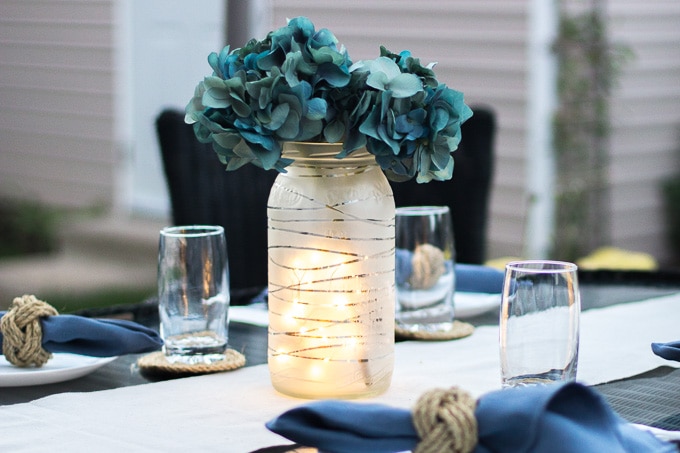 A delightful addition to your DIY centerpieces, rustic mason jar vases creates a beautiful rustic centerpiece for any occasion. With just a few simple materials from Dollar Tree, you can create these timeless and versatile vases that radiate a rustic charm.
Transform plain mason jars into stunning décor pieces using twine, burlap, and faux flowers. Whether for weddings, parties, or everyday home décor, these centerpieces add warmth and character to any setting.
Sale
Ball Regular Mouth 32-Ounces Mason Jar with Lids and Bands, Clear,(Pack Of 2)
2-Regular mouth glass preserving mason jars. 2-Regular mouth lids. 2-Regular mouth bands.
Ideal for sliced fruits and vegetables, pickles, tomato-based juices, and sauces.
These jars are BPA-free. Dishwasher Safe and Reusable
New and improved sure tight lids
Helps keep canned food sealed now for up to 18-months
2. Candlestick Elegance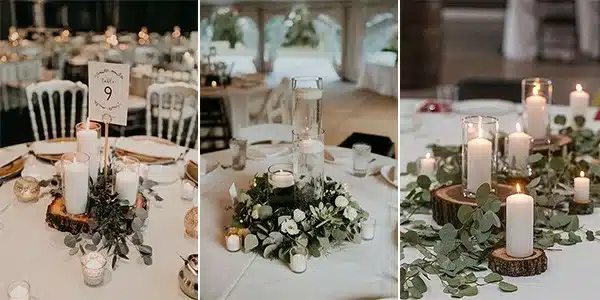 Create an ambiance of sophistication and warmth with the enchanting Candlestick Elegance centerpiece. This centerpiece idea combines Dollar Tree candle holders, taper candles, and decorative accents to bring a touch of elegance to any table setting.
Following a few simple steps, you can craft stunning candlestick DIY centerpieces that captivate your guests. With the flicker of candlelight and the sparkle of decoration, this centerpiece is sure to add a touch of magic to your event.
3. Succulent Garden Oasis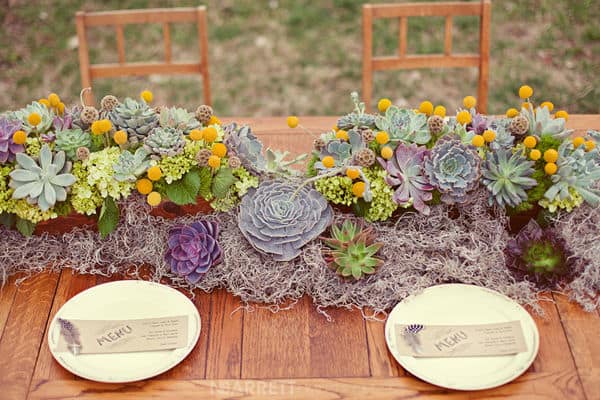 Create a serene oasis on your tabletop with a stunning DIY succulent garden centerpiece. Succulents have become increasingly popular due to their low maintenance and unique beauty, making them a perfect choice for DIY centerpieces.
By using Dollar Tree planters, faux succulents, and decorative stones, you can craft a stunning succulent garden that will add a touch of greenery and natural elegance to any table.
Winlyn 19 Pcs Assorted Artificial Succulents Plants Unpotted Small Green Hanging Succulent Aloe Fake Cacti Succulents Bulk for Succulent Garden Centerpiece Wreath Arrangement Indoor Outdoor Home Decor
Quantity: 19 Pcs Assorted Artificial Succulents in Bulk include artificial string of pearls plants, faux yucca pick, faux flocked sedum hops stem, faux echeveria succulent pick, faux flocked pachyphytum stem, artificial molded wax agave stem, faux burro's tail stems, faux jelly bean stem, faux spiky aloe stem, artificial air plant, artificial aloe stem, faux flocked echeveria, and faux sedum pick.
Color: Faux succulent assortment comes in great many varieties, featuring the illusion of realness with succulent's thick and fleshy leaves attached to wire stems. These succulents feature vibrant shades of green and flocked purple color, effortlessly providing color and texture to your home's floral ambiance and greenery arrangements.
Size: Faux succulent picks measure about 2"-6.3" wide and 2.8"-12.6" tall. These cute artificial succulents are perfect to be used in DIY projects, you can add them to terrariums, mason jars and small pots, or accentuate wreaths, bouquets and succulent arrangements. They are also great housewarming gifts, wedding favors, birthday gifts, holiday gifts and more.
Material: Artificial succulents are made of latex or plastic with flocking coating, and the wired stems are bendable so you can twist them to any shape you need. They require no care or maintenance, you can enjoy their beauty year after year.
These Assorted artificial succulents are perfect for making Potted Succulents Display, Succulent Wreaths, Succulent Macrame Hanging Display, Succulent Terrariums, Floral Arrangements, Wooden Picture Frames, Succulent Boutonniere, Succulent Bridesmaids Corsage, Succulent Bridal Bracelet, Succulent Wrist Corsage, Cactus Bracelet, Succulent Table Sigin, Centerpiece Succulents, Pumpkin Succulent Arrangements, Succulent Christmas Treesents, Pumpkin Succulent Arrangements, Succulent Christmas Trees.
4. Whimsical Fairy Lanterns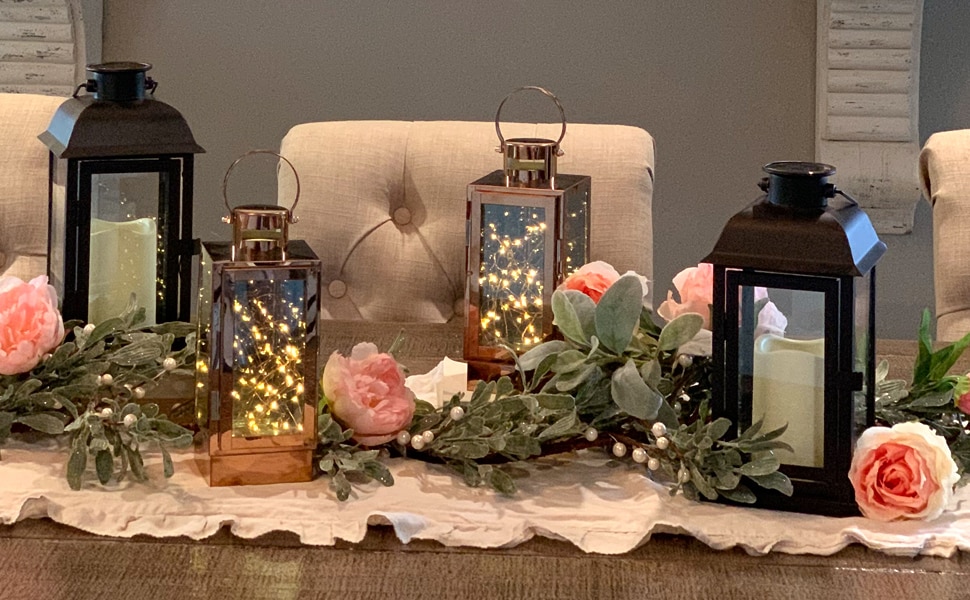 Illuminate your space with the enchanting glow of whimsical fairy lanterns. These DIY centerpieces will add a touch of magic to any occasion. Using Dollar Tree glass jars, LED tea lights, and a sprinkle of creativity, you can craft attractive lanterns that will transport you to a magical realm with their eternal glow and delightful charm.
Whether you are hosting a garden party or adding a whimsical touch to your home décor, these fairy lanterns will bring a sense of wonder and enchantment to any space.
JHY DESIGN Decorative Candle lantern-10inch High Vintage Style Hanging Lantern Metal Candleholder for Indoor Outdoor Events Parities and Weddings (White with Gold Brush)
VINTAGE METAL CANDLE LANTERN - The life-size vintage candle lantern, with glass panes, special top and pattern frame distressed by white with gold brush powdering, creates an aura of old world charm - Adds a gorgeous touch to any space with the graceful marriage of beauty & practicality - Eye-catching prop for tables, bars, patios, porches; fabulous indoor & outdoor decor day & night.
UNIVERSAL SIZE FOR MOST OCCASION- Uses tea-light, votive or small pillar candles up to 3" x 4". 4 4/5" x 4 1/5" x 10" tall, 11" tall with loop. Iron and glass.Can generally fit candle lights smaller than 3"L x 3"W x 5"H.
VERSATILE & PORTABLE - A hanging ring for easy hanging, or sits on a flat surface - Lightweight (0.95lbs), convenient to carry around -These lanterns make a great home décor accent or centerpiece for many different styles and themes such as rustic, beach, nautical, coastal, or farmhouse.
TEMPERED GLASS PANES & DURABLE METAL - Four clear tempered glass panes -greatly reduce the damage of glass when decorative lanterns in transportation,and protect the decorative lantern from external changes. Strong metal frames, special top of the lantern are all well welded. - Serves as rustic decoration indoor & outdoor - Ideal for yard, pathway, driveway, shelf, table, bar, photo booths, patio, porch, etc.
DEVOTED CUSTOMER SERVICE - This product comes with 1-MONTH full refund trial period and LIFE-TIME customer service - If you found any problem of our products,contact us,we will response you in 24 hours.
5. Coastal Seashell Display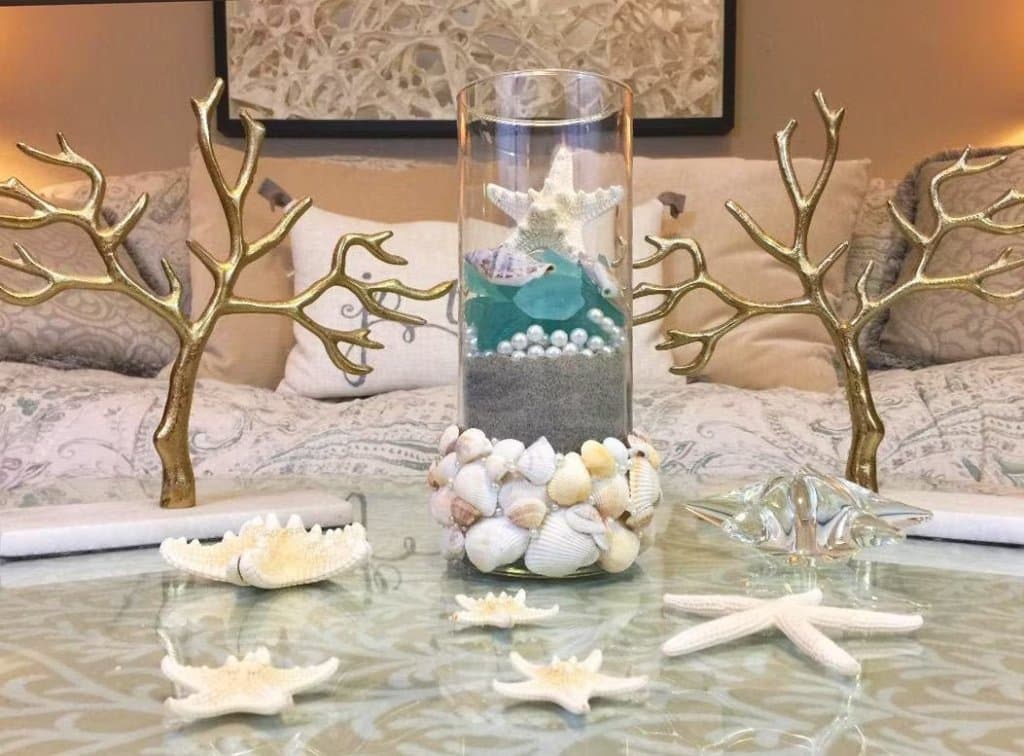 Transform your table into a coastal oasis with a mesmerizing Coastal Seashell Display centerpiece. This delightful DIY centerpiece idea brings the soothing beauty of the beach right to your table. Utilizing affordable seashells from Dollar Tree, you can easily arrange a stunning display that evokes the tranquility of the seaside.
Whether you're hosting a beach-themed party or simply yearning for the calming vibes of the seaside, this centerpiece is sure to capture attention and spark conversation.
6. Harvest Pumpkin Arrangement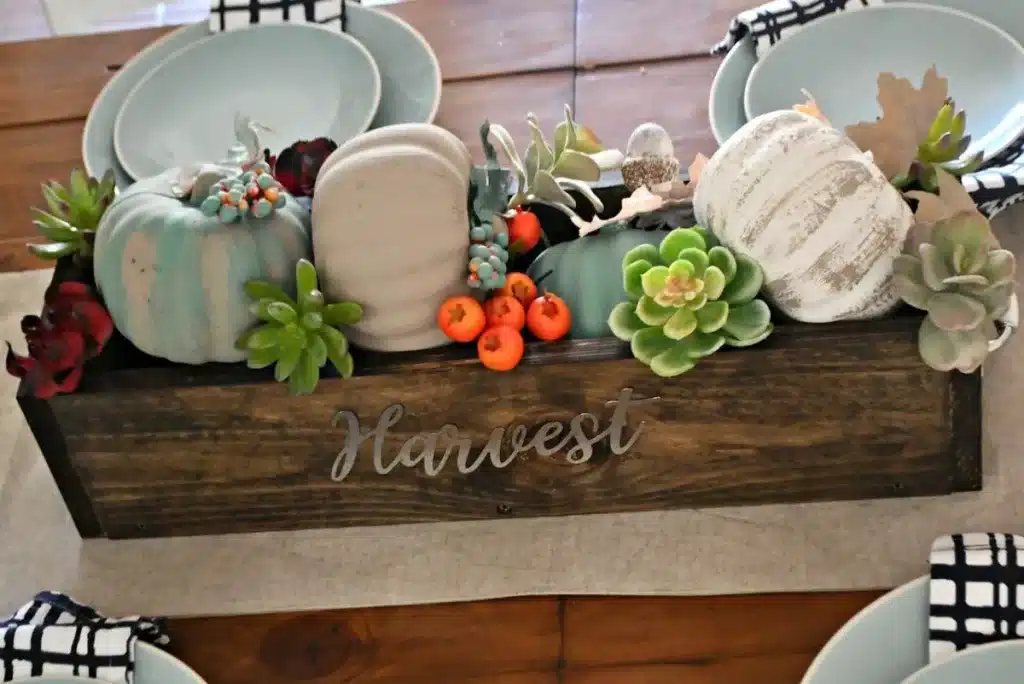 Embrace the cozy vibes of autumn with DIY centerpieces with Harvest Pumpkin Arrangements. This delightful centerpiece combines the warmth of fall colors with the rustic charm of faux pumpkins.
By gathering a variety of Dollar Tree faux pumpkins, autumn leaves, and floral picks, you can create a rich centerpiece that celebrates the harvest season. In just a few simple steps, you'll have a stunning arrangement that will bring a touch of seasonal beauty to your table.
7. Sparkling Wine Glass Centerpieces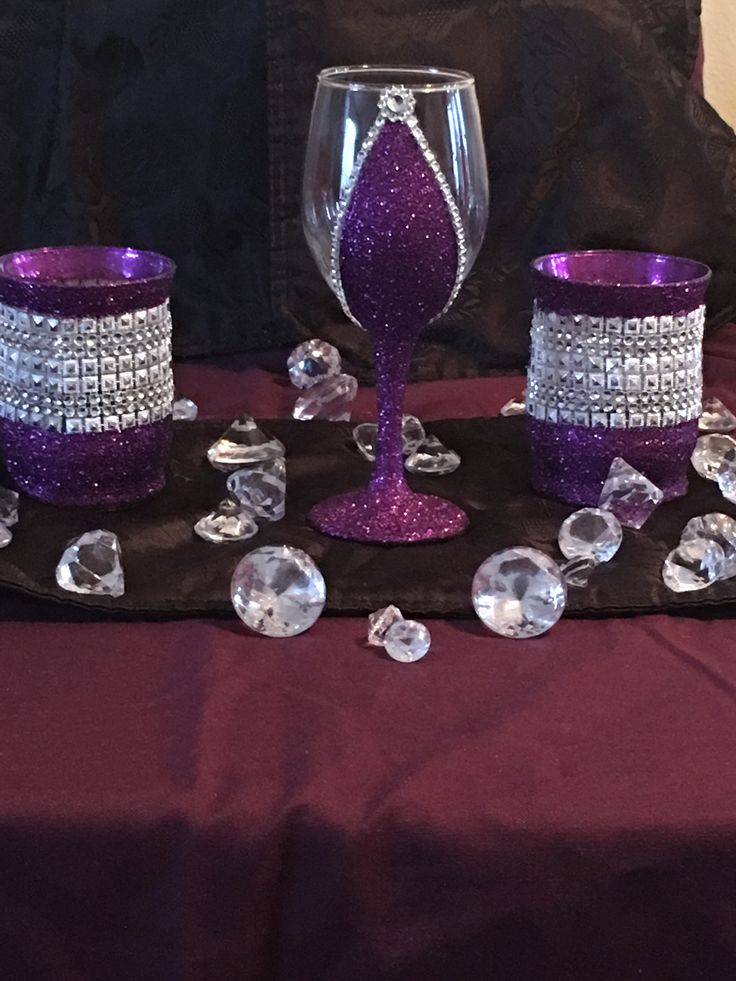 Create mesmerizing centerpieces with a touch of glamour using these DIY Sparkling Wine Glass Centerpieces. With just a few simple materials from Dollar Tree, you can transform ordinary wine glasses into dazzling décor that will make a statement at any event.
Whether it's a wedding, anniversary, or New Year's Eve party, these DIY centerpieces will add a touch of elegance and sparkle to your table. Get ready to impress your guests with these eye-catching centerpieces that are both affordable and easy to make.
8. Fruitful Harvest Cornucopia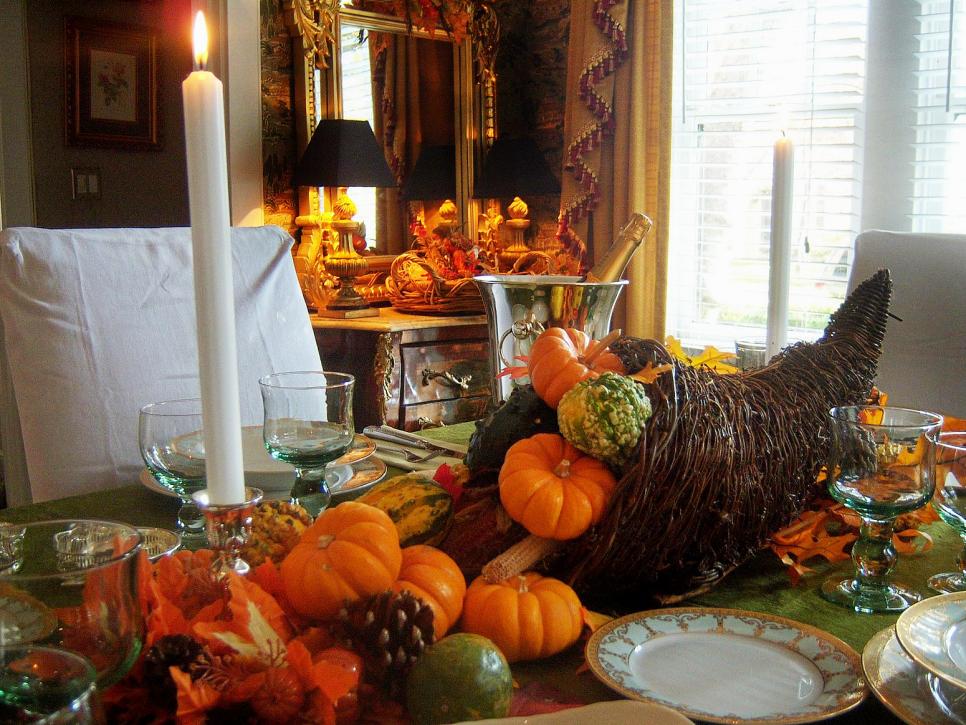 Embrace the warmth and abundance of the autumn season with a DIY centerpiece that captures the essence of a fruitful harvest. The Fruitful Harvest Cornucopia is a delightful centerpiece idea that combines Dollar Tree faux fruits, cornucopia, and foliage to create a bountiful display.
This cornucopia, commonly referred to as the horn of plenty, embodies abundance and makes it an ideal centerpiece choice for autumn-inspired events or festive Thanksgiving gatherings. With just a few simple steps, you can assemble this charming centerpiece that will impress your guests and bring a touch of seasonal charm to your table.
Cornucopia Basket Large, Horn of Plenty Wicker Grapevine Fall Basket, Use for Table Centerpiece, Decorations, Thanksgiving - Bamboo 17 Inch
QUALITY HANDCRAFTED DECOR. Large cornucopia basket is designed to be durable, rest flat on a table or surface, and can be reused season after season
PERFECT AUTUMN TABLE CENTERPIECE. Wicker cornucopia basket can be filled with miniature pumpkins, gourds, acorns, leaves, veggies, or fruit to create beautiful fall cornucopia centerpiece display
USE AS INDOOR OR OUTDOOR FALL HOME DECOR, THANKSGIVING, OR GIVE AS A GIFT. Place horn of plenty on patio, display on table or throughout your home, use as centerpiece for thanksgiving, or give as a housewarming gift
LARGE STURDY SIZE. Cornucopia measures 17" long, 7" width, and 6" tall
AUTHENTIC LOOK. Made of bamboo, horn of plenty is created to look natural with brown and tan colors
9. Vintage Teacup Bouquets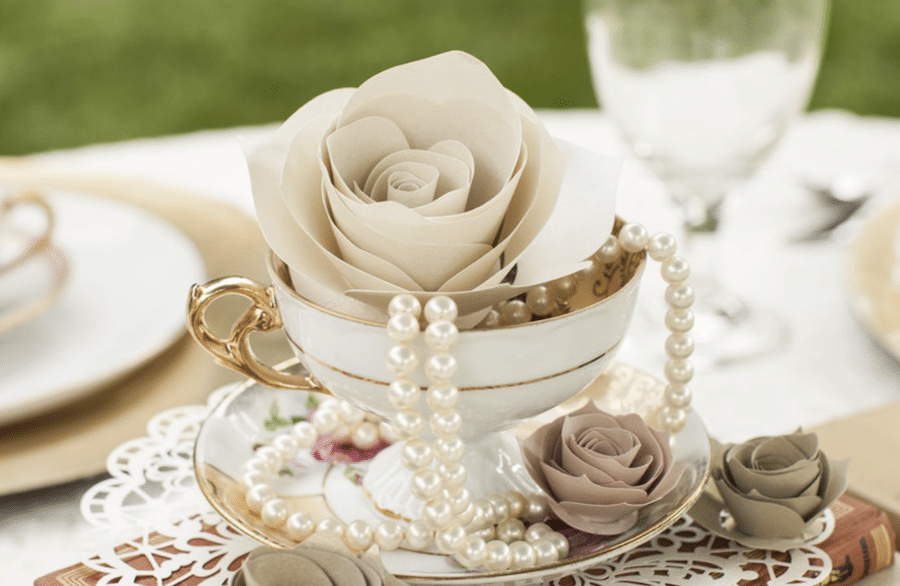 Create a delightful centerpiece with a touch of vintage elegance by repurposing teacups, saucers, and Dollar Tree flowers. These Vintage Teacup Bouquets bring a nostalgic charm to any event or gathering.
By combining delicate floral arrangements with the beauty of vintage china, you can effortlessly elevate your table decor. In just simple steps, transform ordinary teacups into unique vessels for small floral arrangements that will enchant your guests. Embrace your creativity and infuse DIY centerpieces with the timeless allure of vintage teacups.
BTaT- Floral Tea Set, Tea cups (8oz), Tea Pot (38oz), Creamer and Sugar Set, Gift box, China Tea Set, Tea Sets for Women, Tea Cups and Saucer Set
Pink Royal Tea Set13 piece tea set: 4 tea cups (8oz), 4 saucers, tea pot (38oz), creamer pitcher and sugar bowl. (display stand not included)
Floral British style tea set with exquisite and elegant shape decorates your kitchen and serve your guests in a practical way, but with great refinement and sophistication
Safely packaged in a beautiful gift box, perfect for gift giving for weddings, holidays and other occasions
Tea cups are ideal to serve tea or coffee, also can be used for cappuccino cups, macchiato, latte, espresso cups, demitasse cups, coffee cups
Made from fine and high quality lead -free porcelain known for its strength. Dishwasher safe, not microwave safe
10. Tiered Tray Centerpiece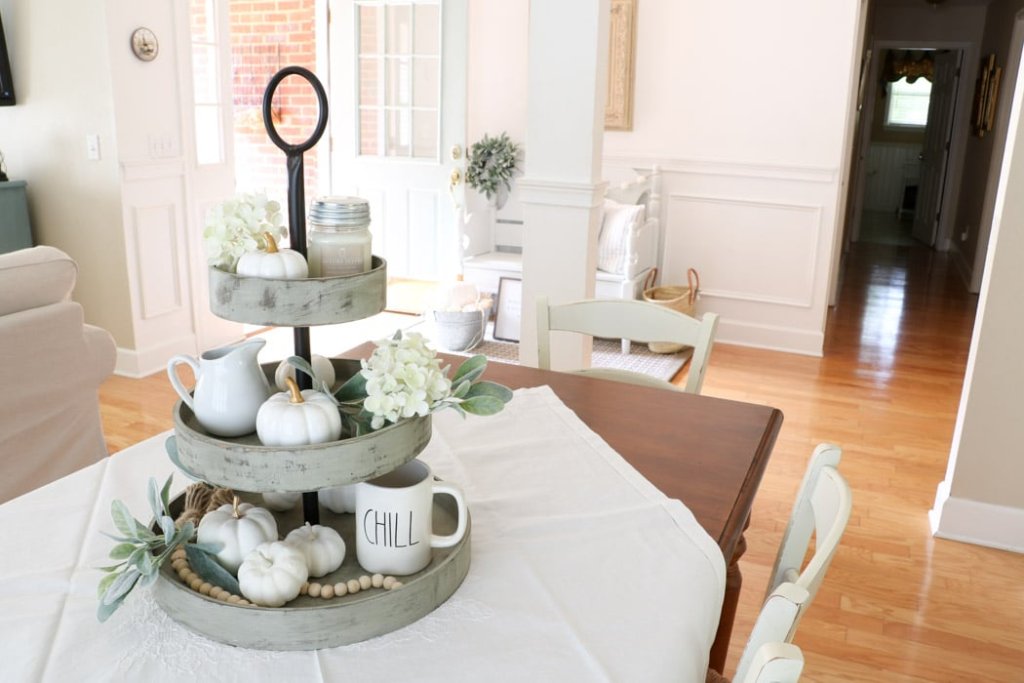 Elevate your table décor with a Tiered Tray DIY centerpiece, adding a touch of charm and versatility to any occasion. This delightful centerpiece idea allows you to showcase a variety of decorative items on multiple tiers, creating visual interest and a focal point for your table.
The Tiered Tray Centerpiece can be easily customized to suit your style and event, whether you are hosting a casual brunch or an elegant soiree. The tiered tray design adds dimensions and visual interest to your table, making it perfect for various occasions and themes. Get ready to amaze your guests with this beautiful centerpiece that showcases your creativity and flair of design.
11. Floating Candle Oasis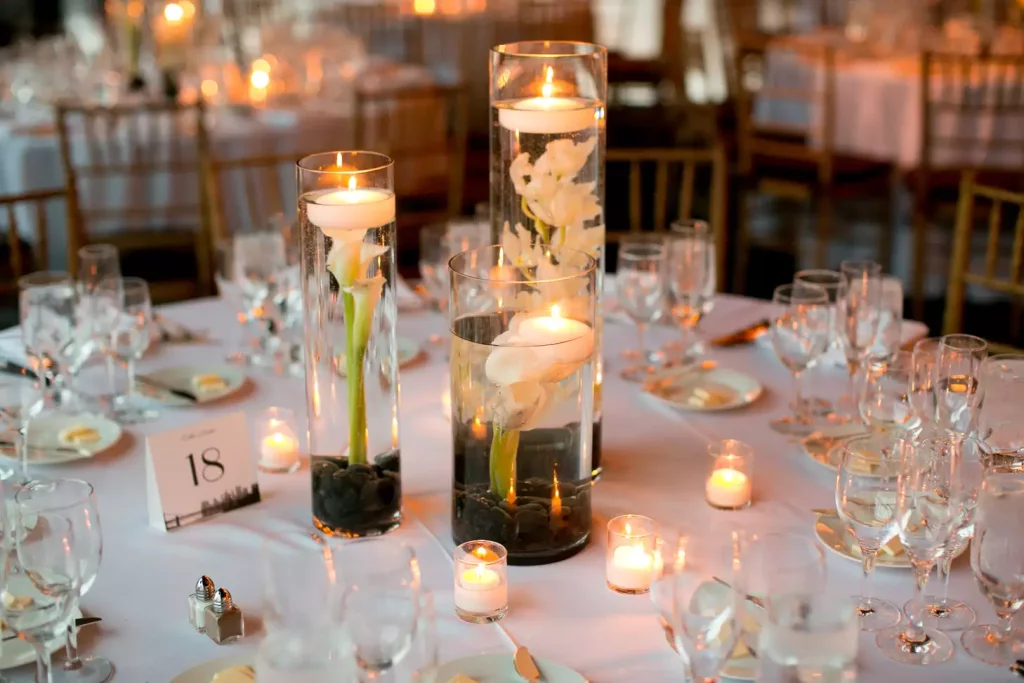 Create a serene and alluring centerpiece with a Floating Candle Oasis. This DIY centerpiece idea combines the gentle glow of candlelight with the tranquillity of water. By simply floating Dollar Tree candles in a glass bowl or vase filled with water and petals, you can achieve a fascinating effect that will enhance any event or gathering.
Regardless of a romantic dinner, a special occasion, a wedding reception, or simply wanting to add a touch of relaxation to your home decor, the Floating Candle Oasis adds an elegant touch and creates a soothing ambiance. With some creativity, you can make a truly enchanting centerpiece.
12. Farmhouse Galvanized Bucket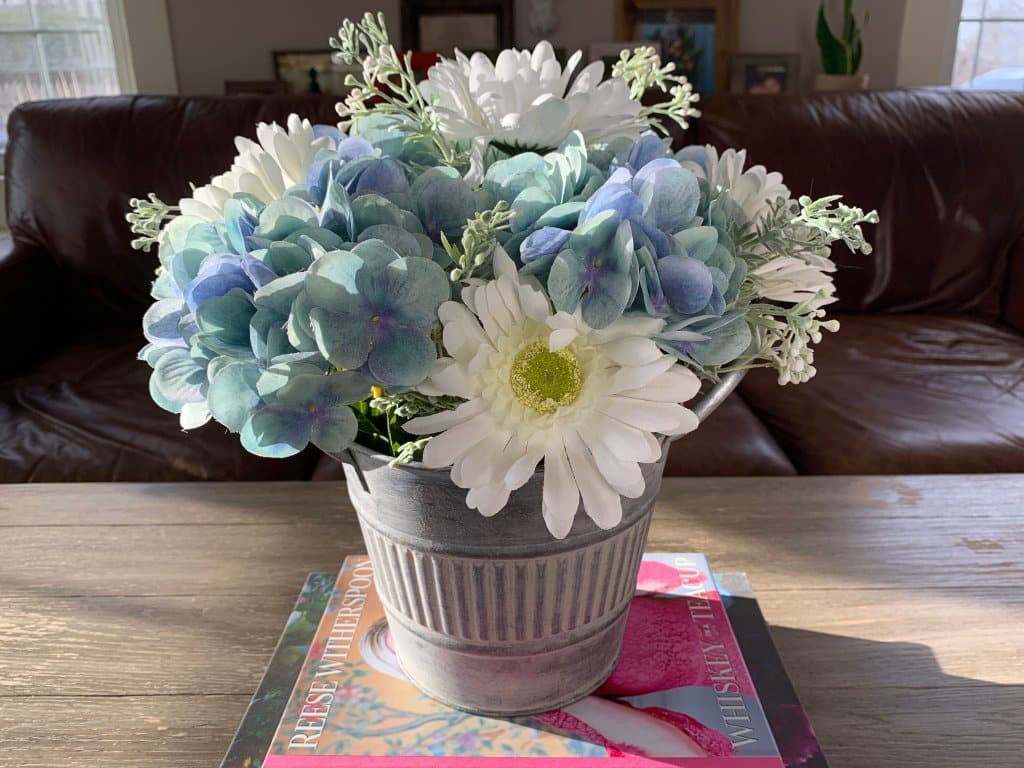 Add a rustic charm to your table with a Farmhouse Galvanized Bucket centerpiece. This DIY centerpiece idea merges the simplicity of Dollar Tree's galvanized bucket with the beauty of faux flowers and farmhouse-inspired elements.
This centerpiece gives the vintage appeal of the galvanized bucket in addition to a touch of warmth and character to any setting. Whether it's hosting a casual gathering or a formal event, this centerpiece idea brings a rustic elegance that complements various themes. With this, you can turn any ordinary galvanized bucket into a beautiful centerpiece that will catch your guests' attention and add a cozy farmhouse vibe to your space.
13. Spring Blossom Topiary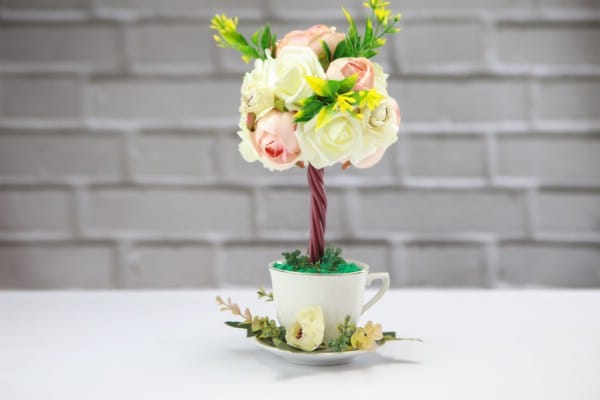 Bring the beauty of spring indoors with our dazzling Spring Blossom Topiary, the perfect DIY centerpiece for your upcoming celebrations. This delightful creation combines the freshness of blooming flowers with the elegance of topiary design, adding a touch of charisma to any springtime gathering.
Crafted using affordable Dollar Tree materials and an easy-to-do centerpiece allows you to showcase your creativity while staying within budget. Transform a foam ball, silk flowers, and a decorative planter into a stunning centerpiece that will capture the essence of the season.
Let your imagination bloom as you create this eye-catching Spring Blossom Topiary, guaranteed to impress your guests and infuse your space with the vibrant spirit of spring.
Sale
AmyHomie Artificial Flowers Combo Silk Mix Peony Rose Hydrangea Fake Flowers w/Stem for DIY Wedding Bouquets Centerpieces Arrangements Table Party Bridal Baby Shower Home Fall Decor(Champagne)
🌹Fake Flowers Combo: This is a combo pack of different silk types of flowers and different colorful fake flowers as a theme for decorations. All silk flowers come with stems(already assembled the "stems" on the flowers), you can bend or cut them into the right size freely.
🌹Product Specification:3.93inch dahlia x 1pcs;4.7inch Peony x 1pcs,3.5inch Peony x 1pcs,Peony x 10pcs(assorted size and color);3inch Austin rose x 1pcs;Rose x 7pcs(assorted size and color);1.96inch Hydrangea x 3pcs;other berries Stems, leaves,baby's breath artificial flowers x7pcs
🌹Usages: Perfect for making bouquets, centerpieces, kissing balls, boutonnieres, cake flowers, floral arrangements, DIY wreaths, or any other flower decorations/arrangements that you want at your wedding, party, baby shower stages, parlors,bedrooms, parks, offices, dining rooms, courtyards, stores and any other place that you want to decorate.
🌹Quality Material: Silk with injection molding. Our faux flowers are made of healthy and environmental materials. It's not easy to fade or fall. All flowers look beautiful and vivid
🌹Warm Tips: Due to long-term transportation, the petals may be deformed. You can use a garment steamer to gently steam the petals, and the flowers will be fuller.AmyHomie has lots of artificial flowers, fake plants, and fall decor flowers for you to choose from. Welcome to our store.
14. Sparkling Snowflake Centerpieces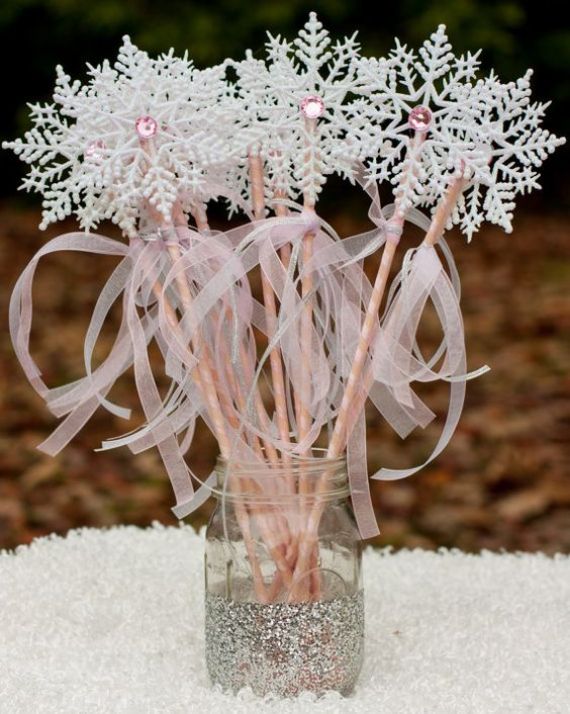 Add a touch of winter magic to your table with dazzling Sparkling Snowflake Centerpieces. These DIY centerpieces ideas are perfect for creating an attractive winter wonderland atmosphere during the holiday season or any winter-themed event.
Using affordable materials from Dollar Tree, you can craft a lovely display featuring snowflakes, ornaments, and twinkling LED lights. In just a few simple ways, you will have centerpieces that sparkle and shines, spreading holiday cheer and creating a memorable focal point for your guests. Get ready to embrace your DIY skills and bring the beauty of snowflakes indoors with this Sparkling Snowflake centerpiece.
15. Nautical Rope Candleholders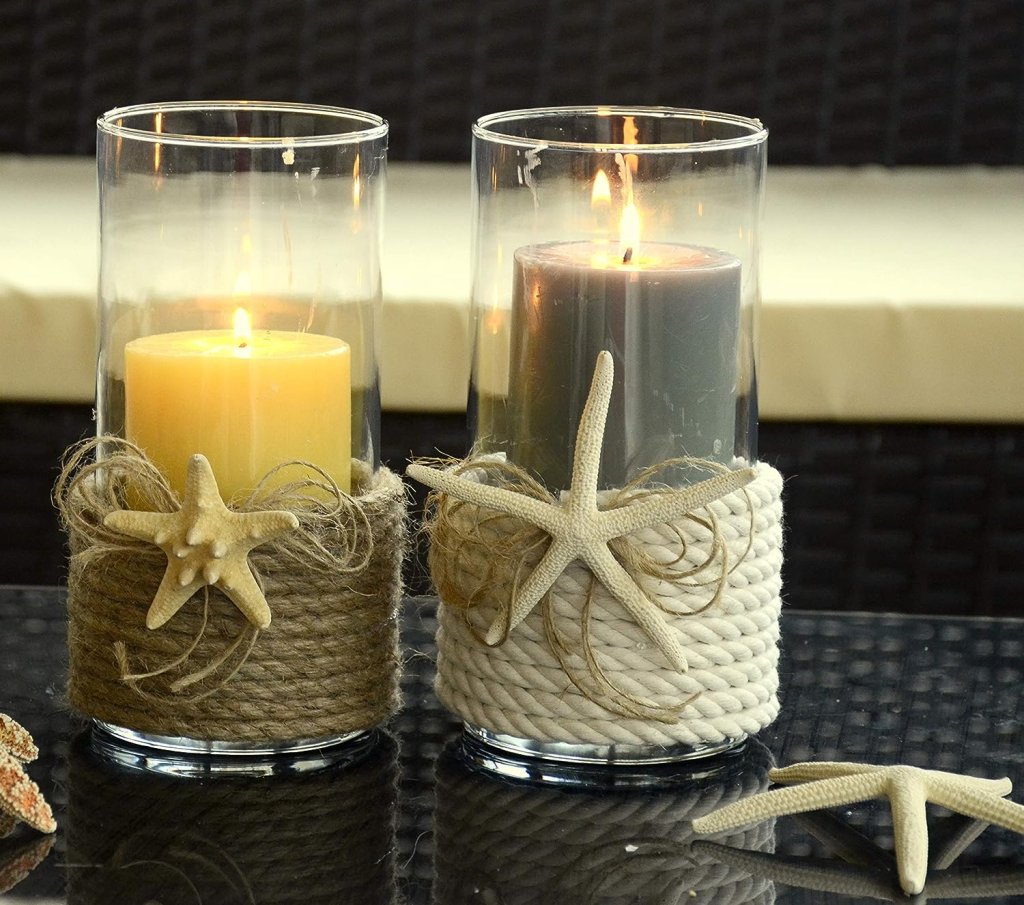 This Nautical Rope Candleholders DIY centerpiece introduces a touch of coastal charm to your table. Perfect for a beach-inspired centerpiece, these candleholders add a simple yet elegant vibe to any setting. With just a few simple materials from Dollar Tree, you can make these unique and budget-friendly decorations.
Get your guests awestruck with this DIY prowess as you weave nautical rope around glass votive holders, transforming them into stunning candleholders reminiscent of the seaside. Let the flickering candlelight and the coastal allure of these Nautical Rope Candleholders set the mood for a memorable gathering.
16. Rustic Wood Slice Centerpieces
These Rustic Wood Slice Centerpieces are a pleasing addition to your DIY centerpieces collection! These centerpieces bring nature indoors with their natural and organic elements. By using Dollar Tree wood slices, mason jars, and wildflowers, you can create a warm and inviting centerpiece that perfectly complements a farmhouse or woodland-themed décor.
Whether you are hosting a family gathering or a cozy dinner party, these centerpieces will effortlessly elevate your table setting. Impress your guests with these simple yet stylish Rustic Wood Slice Centerpieces that you can easily create on your own. It's time to embrace your DIY skills and add a rustic flair to your next event.
Maputune 8 Pcs 7 - 8 inches Large Unfinished Wood Slices for Centerpieces, Natural Rustic Wooden Plate for DIY Craft, Round Wood Chips for Table Signage Painting Wedding Party Christmas Decor
A set of 8 pieces unfinished wood slices are the ideal size at approximately 7 - 8 inches round. Wood slices are cut from hard wood, with natural bark edges, ideal for projects or props for special occasions or photo shoots.
Natural, smooth, unfinished wood slices are ideal for your DIY craft projects. They can be painted, stained, drilled, and even carved with wood-work tools to create fun and interesting art, enhance friendship and cultivate hobbies.
Rustic wood slices are perfect for wooden centrepieces for weddings, receptions, to serve hors d' oeuvres, or as a base for candles or evergreens for the holidays. Add to your country style celebration as serving pieces for pettifores, wraps, and various little nibbles.
These large wooden plates are ideal as a charger under your serving dishes to protect table tops and to add that extra rustic charm for your dinner party, while lending an air of rustic nostalgia to your reception or celebration.
Reusable, all natural wooden slices make a perfect serving or display piece for food and beverages at home, for use in a kitchen or cafe, and are suitable for any occasion from everyday use to holiday celebrations, anniversaries, birthdays and Christmas.
17. Fairy Light Terrarium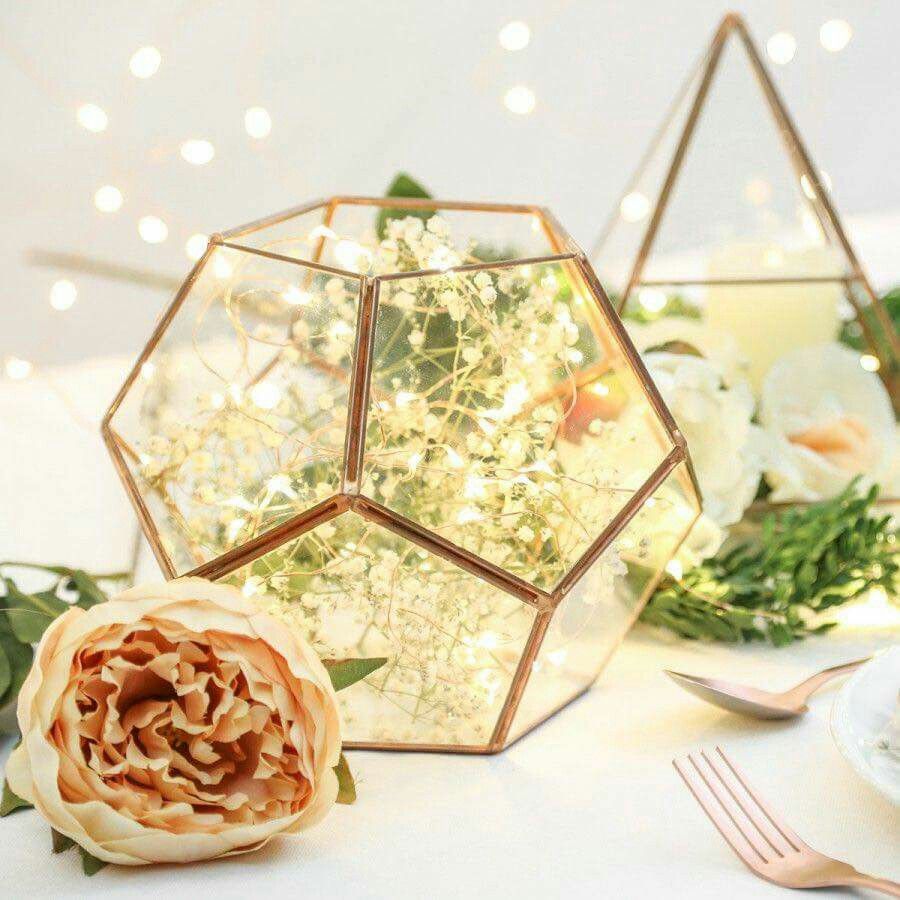 This bewitching Fairy Light Terrarium Centerpiece is a gorgeous addition to your DIY centerpiece collection. This centerpiece will bring a touch of fairytale magic to your home décor. Using Dollar Tree glass containers, moss, and delicate fairy lights, you can create an appealing display that will catch the eyes of your guests.
The Fairy Light Terrarium Centerpiece combines the beauty of nature with the warm glow of twinkling lights, making it perfect for any occasion or season. Craft this whimsical centerpiece and transform your space into an oasis that will surely leave a lasting impression.
18. Elegant Feather and Pampas Grass Centerpiece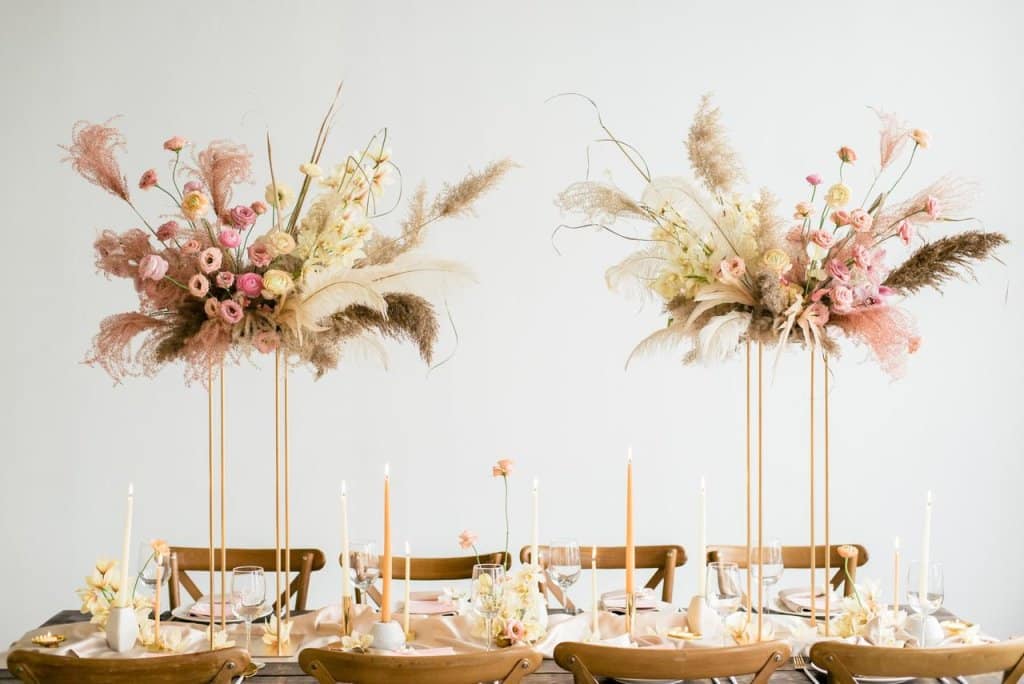 This Elegant Feather and Pampas Grass Centerpiece is a stunning DIY centerpiece idea that brings a touch of elegance and sophistication to any occasion. This centerpiece adds the natural beauty of pampas grass with the opulence of feathers, creating a visually striking display.
The soft, feathery plumes and graceful grass stems will add a sense of luxury to your table setting. Even if it's a wedding, a dinner party, or a special occasion, this centerpiece is sure to make an impact on your guests. Let your creativity shine and embrace DIY spirit by crafting this centerpiece to elevate your home décor that exudes elegance and charm.
19. Easter Eggs Bouquet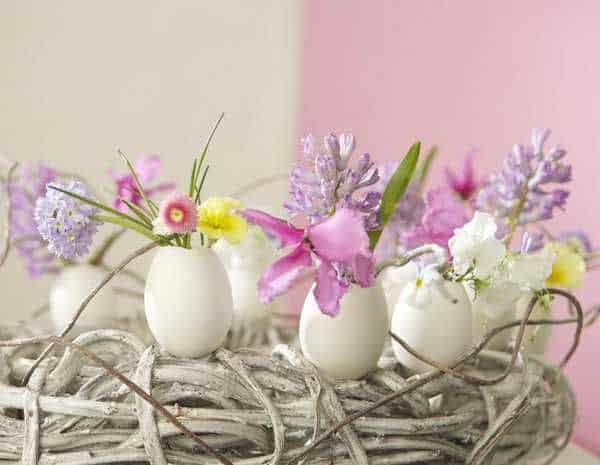 Add a touch of spring to your table with this Easter Eggs Bouquet Centerpiece. This DIY centerpiece adds the whimsy of painted Easter eggs with the beauty of pastel flowers and decorative grass. Perfect for Easter brunches or gatherings, the Easter Eggs Bouquet centerpiece brings a festive and colorful atmosphere to any occasion.
This easy DIY creates an eye-catching centerpiece using affordable materials from Dollar Tree. With your creativity, customize the colors and designs of the eggs and make this centerpiece truly unique. This budget-friendly centerpiece that embodies the spirit of Easter will capture the eye of your guests.
20. Autumn Leaf Luminaries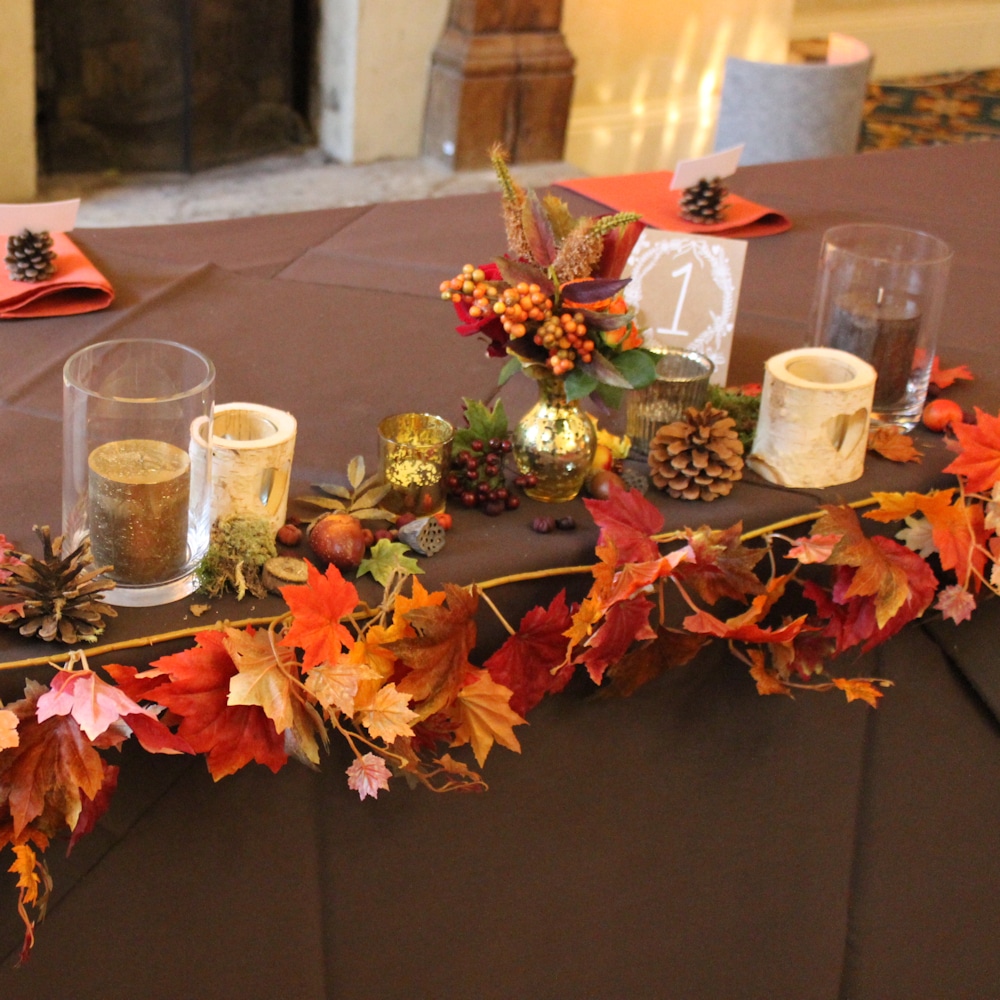 This Autumn Leaf Luminaries centerpiece is a dazzling DIY centerpiece idea that will infuse your space with the warm hues of fall. Perfect for cozy gatherings or Thanksgiving celebrations, these luminaries will add a touch of enchantment to your tabletop.
By repurposing mason jars from Dollar Tree and embellishing them with vibrant autumn leaves, you can create a stunning centerpiece that exudes a cozy ambiance. When illuminated with flameless candles, the luminaries cast a mesmerizing glow, bringing the beauty of fall indoors. Embrace the DIY spirit and craft this Autumn Leaf Luminaries Centerpiece to make an impact on your guests with its autumnal charm.
21. Floral Ice Bowl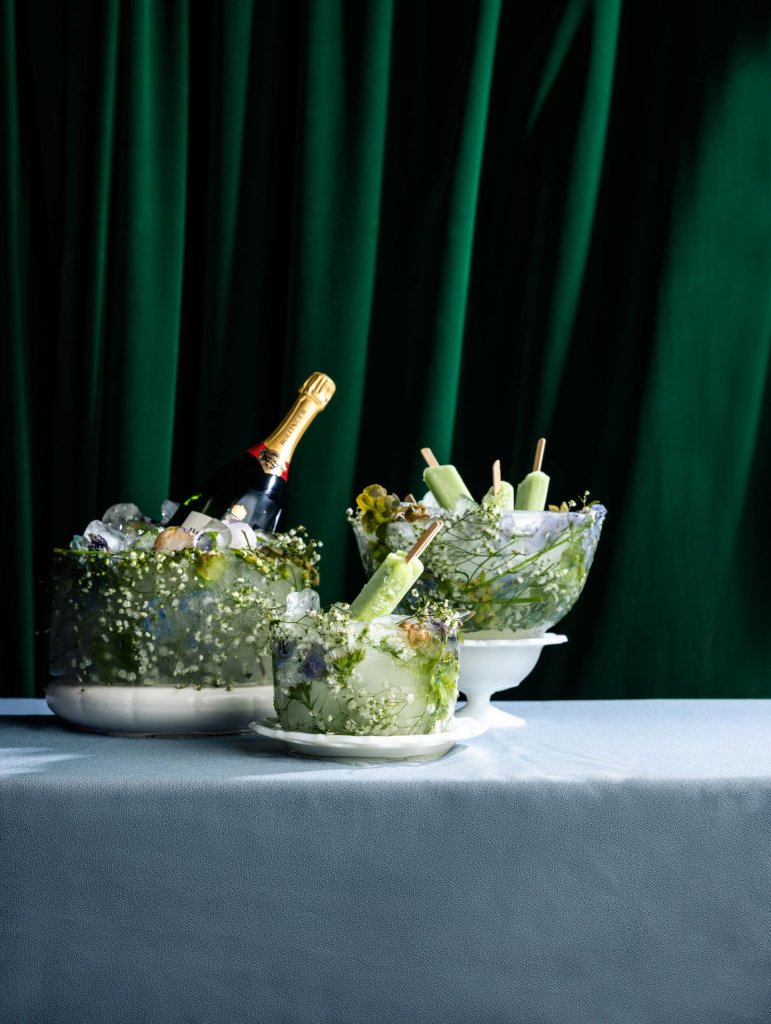 The Floral Ice Bowl centerpiece is a breathtaking addition to your table décor that will wow your guests. This DIY centerpiece combines the beauty of Dollar Tree flowers with the elegance of ice, creating a stunning focal point for any occasion. The floral Ice Bowl Centerpiece is visually striking and a budget-friendly choice.
With just a few simple ways and Dollar Tree supplies, you can create this exquisite centerpiece that will elevate your table setting to new heights. Let's create and bring a touch of enchantment to your next gathering.
Conclusion
DIY centerpieces are the key to impressive tablescapes without overspending. Discover 21 unique ideas, from mason jar vases to fairy lanterns, and elevate any event with personalized charm. Impress your guests and make lasting memories. Embrace the power of DIY and let your imagination flourish.
Don't settle for generic store-bought decor when you can showcase your resourcefulness and style. Get inspired, gather your materials, and embark on your DIY centerpiece journey. Let your table become a conversation starter and reflection of your personality.
Ignite curiosity and inspire others to unleash their creativity. Start crafting today and witness ordinary events transform into extraordinary experiences. Share your DIY centerpieces creations with us, and let's celebrate the art of DIY together!
Frequently Asked Questions
How Do I Make a Budget-Friendly Centerpiece?
To make a budget-friendly centerpiece, start by exploring your local dollar stores or discount stores for affordable decor items. Look for versatile and inexpensive materials like glass vases, candles, faux flowers, and decorative elements. Additionally, consider incorporating natural elements such as branches, pinecones, or seasonal foliage, which can often be found for free or at a low cost in your surroundings.
Are There Any Rules to Follow to Create a Centerpiece?
While no strict rules are set in stone for creating a centerpiece, there are some general guidelines to consider. Balance is key, so ensure the centerpiece is proportionate to the table and doesn't obstruct views. Furthermore, consider the theme or occasion, choose a focal point or theme for the centerpiece, and incorporate complementary colors and textures to create a visually appealing arrangement.
What Are the Common Centerpieces?
Common centerpieces often include floral arrangements in vases, candle displays, and decorative bowls filled with various elements like fruits, seashells, or ornaments. These classic centerpieces provide a focal point on tables for different occasions, ranging from weddings and dinner parties to holiday gatherings.