Step into the realm of Sherwin Williams Rosemary SW 6187 – a mesmerizing dark sage green that exudes elegance and charm in every stroke. Whether you're revamping your living room, transforming your bedroom, or sprucing up your office space, Rosemary is your ticket to a timeless and sophisticated ambiance.
As a renowned name in the paint industry, Sherwin-Williams has truly outdone itself with this captivating hue. So, get ready to be enchanted as we unravel the allure of Sherwin Williams Rosemary, exploring how this delightful shade can elevate your home and captivate your senses.
From versatile pairings to soothing vibes, Rosemary has all the elements to make your space truly special. Let's dive in and discover the magic of theSherwin-Williams Rosemary!
When it comes to choosing the perfect paint color for your home, it's essential to find a hue that not only complements your decor but also stands the test of time. SW Rosemary 6187 is a stunning dark sage green that effortlessly ticks both boxes, making it a top choice for homeowners.
1. A Dark and Cool Sage Green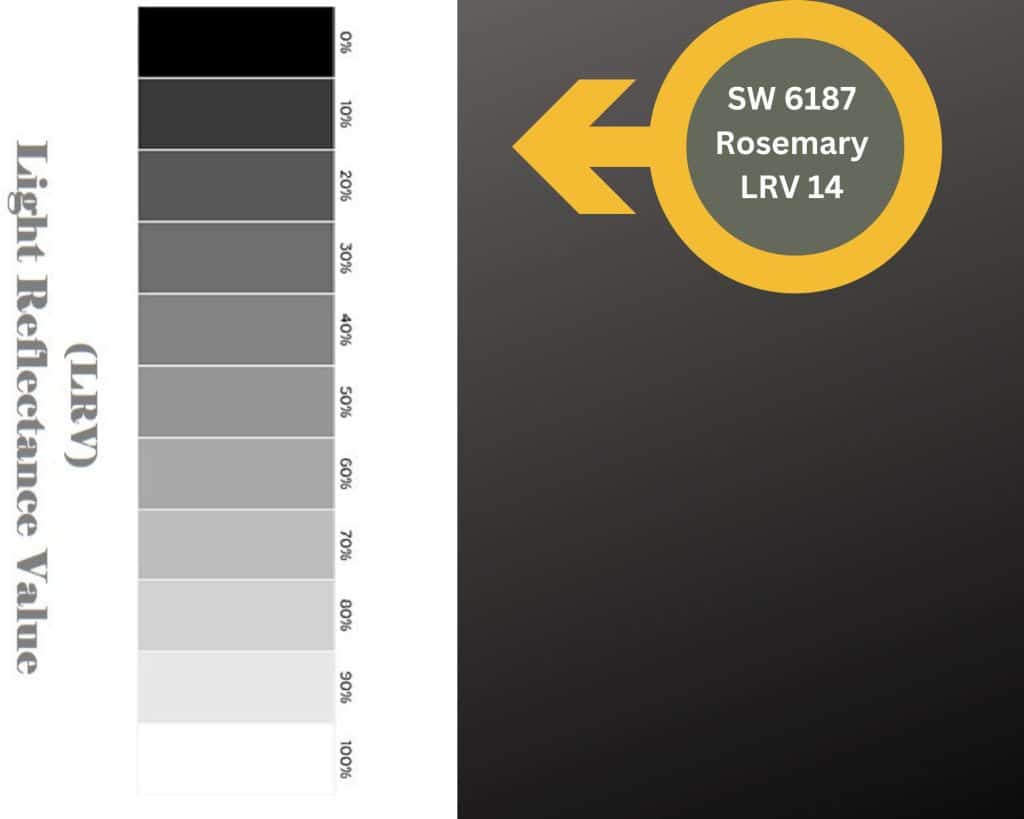 Sherwin Williams Rosemary SW 6187 is a magnificent dark sage green that exudes a calming and tranquil vibe. With its low Light Reflectance Value (LRV) of 14, it falls on the dark end of the scale, making it an ideal choice for those seeking a touch of drama and depth in their interiors.
But don't let its darkness intimidate you; this shade can create a stunning and inviting atmosphere when used wisely. Ensure your space receives ample nature light to make the most of SW Rosemary.
This will help balance out the darker tones and prevent the room from feeling too closed off. North-facing rooms might require additional lighting, as the paint can appear cool and slightly grayish in these areas. However, in west-facing rooms, You'll experience a warm and creamy ambiance, making the space feel cozy and inviting.
2. Versatile and Timeless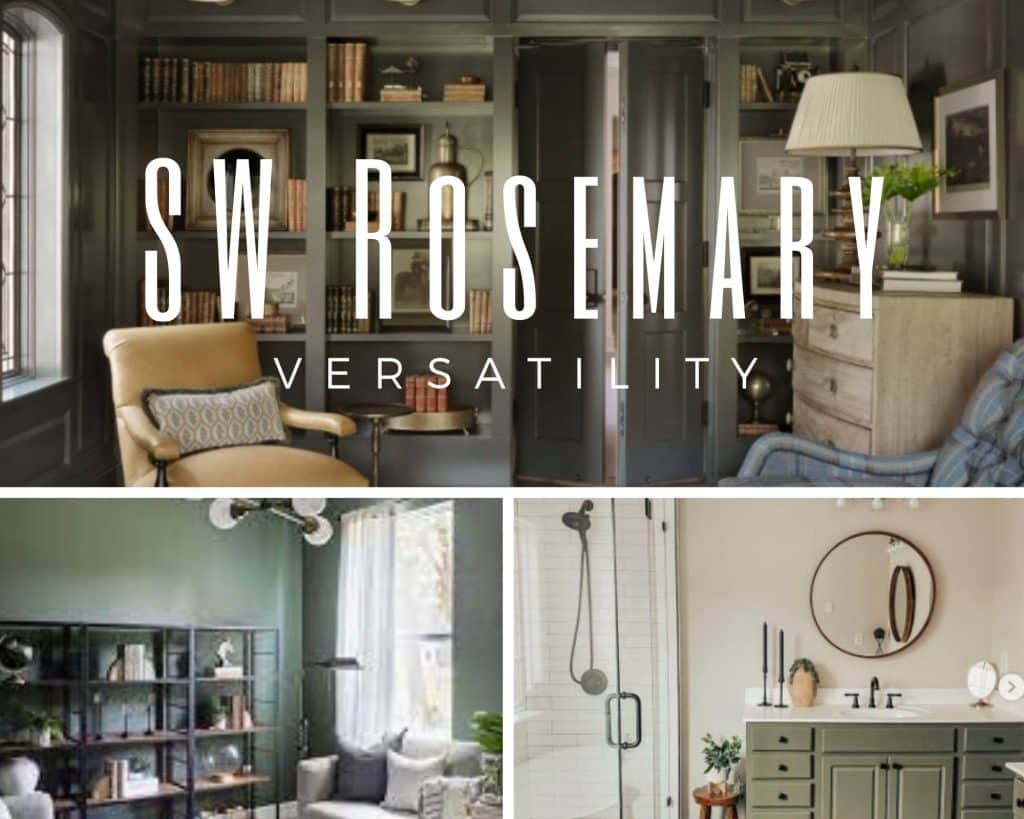 One of those reasons why Sherwin Williams Rosemary is so beloved is its versatility. This shade complements a wide range of interior styles, from modern to traditional, and pairs beautifully with various design elements.
Whether you're going for a rustic farmhouse look or a sleek contemporary feel, this dark green will blend effortlessly with your chosen decor. Furthermore, SW Rosemary is a timeless color that won't go out of style.
While trendy colors may come and go, this classic shade stands the test of time, ensuring your home remains stylish and elegant for years to come.
3. Easy Pairing Option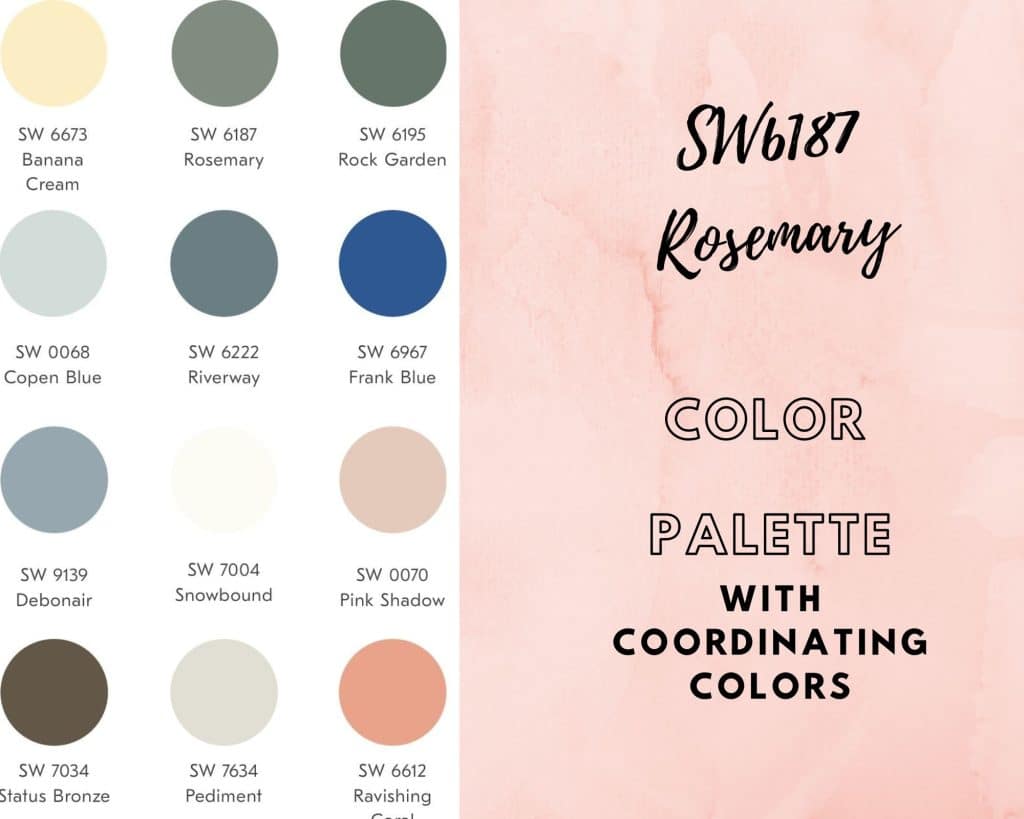 Pairing Sherwin Williams Rosemary with other colors is a breeze. For a harmonious and nature-inspired theme, consider combining it with warm neutrals like creamy whites, sandy beiges, or soft taupes. This combination will evoke a sense of tranquility and bring the outdoors inside.
If you prefer a more daring look, opt for contrasting accents in rich jewel tones like deep burgundy, royal blue, or golden mustard. These bold additions will make SW Rosemary pop, creating a dynamic and eye-catching space.
Pairing Tips and Tricks: – Before diving into your painting project, remember to test a small section of your chosen room with SW Rosemary. Lighting conditions can vary significantly throughout the day, affecting how the color appears on your walls. Take your time to observe how the paint interacts with your room's natural and artificial lighting to ensure it's the look you desire.
Complementary Tones with Sherwin Williams Rosemary
Alright, now that we've established how awesome Sherwin Williams RosemarySW 6187 is, let's talk about the perfect wingman to complement in enhancing the serenity of this gorgeous dark sage green.
1. Creamy Neutrals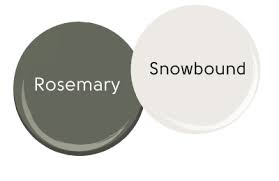 Picture this – SW Rosemary setting the stage while creamy neutrals like SW Snowbound 7004 do their magic as supporting actors. Think soft whites, warm beiges, and gentle taupes. These colors will create a dreamy, relaxed vibe in your space, balancing the dark intensity of Rosemary with its mellow charm. Whether it's your living room, bedroom, or even your home office, this combination will give you a serene feel.
2. Rich Jewel Tones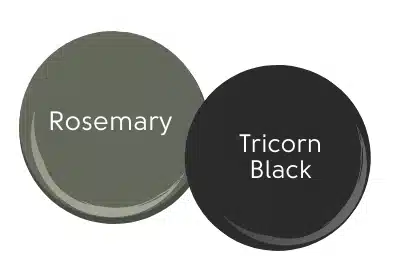 Now, if you're feeling a bit adventurous and want to add some pizzazz to your decor, consider teaming up SW Rosemary with rich jewel tones such as Sherwin Williams Tricorn Black 6258. Picture deep burgundy, regal blues, or golden mustard. These bold colors will bring out the best in Rosemary, making it pop like a superstar. You'll end up with a space that's vibrant, sophisticated, and guaranteed to make a statement.
3. Earthy Browns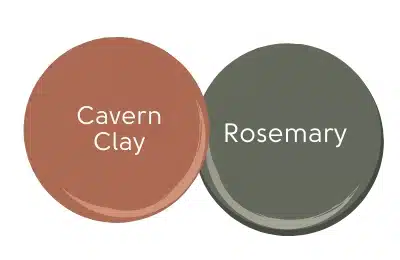 Ah, the charm of earthy tones! Pairing SW Rosemary with warm browns (SW Cavern Clay 7701) can create a cozy and nature-inspired ambiance. Think chocolatey browns, earthy terracotta, and rustic tans. This combo is perfect if you want a room that feels like a snug retreat, wrapping you in comfort and natural goodness.
4. Subtle Grays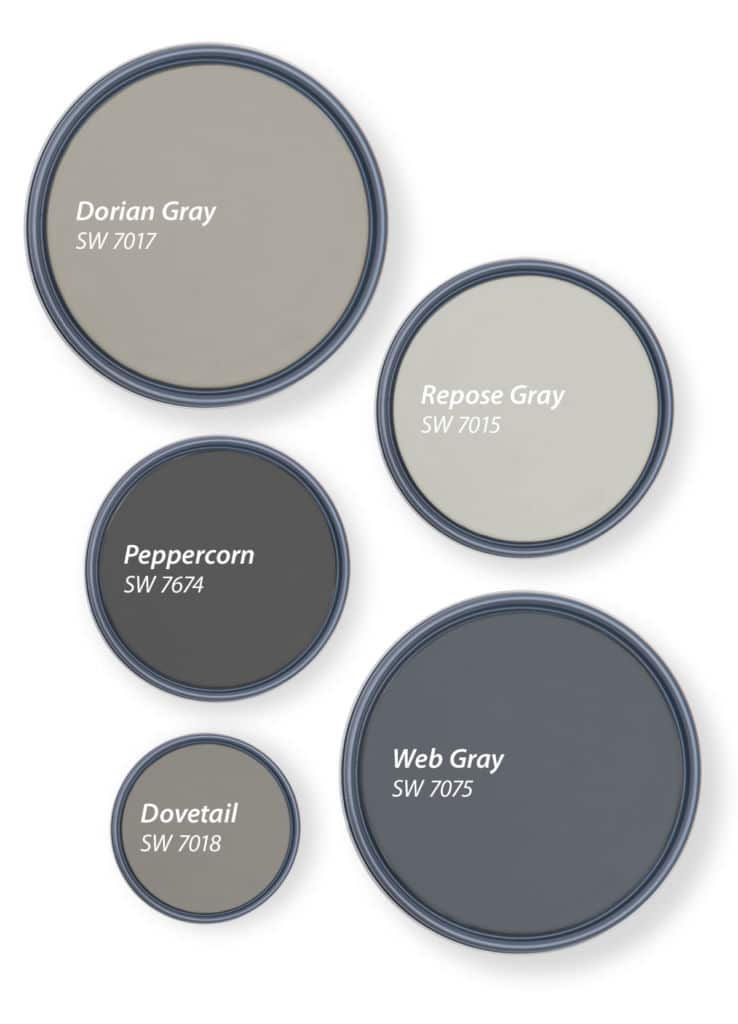 For those who lean towards a more monochromatic look, soft grays are your go-to partners for SW Rosemary. These understated tones will beautifully compliment the coolness of Rosemary, creating a refined and elegant atmosphere. From light silvers to gentle greiges, this combo is all about understated sophistication.
Remember, the key is balance! When using complementary tones, make sure you strike the right harmony with SW Rosemary. Don't let any color overpower stars; they should work together like a well-rehearsed ensemble cast.
Pro-tip: Grab some color swatches and test them out against Sherwin Williams Rosemary in your space. This way, you can see how they are put together before committing to a full-blown painting project.
So there you have it – a handful of fantastic complementary tones to consider with SW Rosemary. Whether you're aiming for a relaxing retreat or a bold and lively atmosphere, these color combinations will help you create a space that's uniquely yours. So get creative, and let SW Rosemary work its magic in your home!
Where to Use Rosemary in Your Home
All right, folks! So, we know how fabulous Sherwin Williams Rosemary SW 6187 is, but now comes the fun part – Where to splash this delightful dark sage greenin your crib!
1. Enchanting Living Room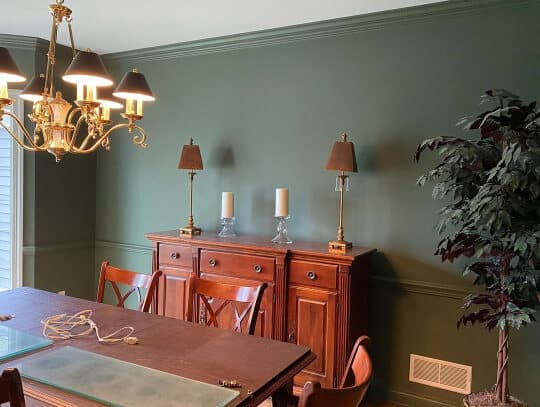 Let's start with the heart of the home – the living room! SW Rosemary can work wonders on an accent wall, creating an instant focal point that'll leave your guests in awe. Pair it with neutral furnishings, plush throw pillows, and some indoor plants, and you've got yourself an enchanting living space that oozes sophistication and style.
2. Dreamy Bedroom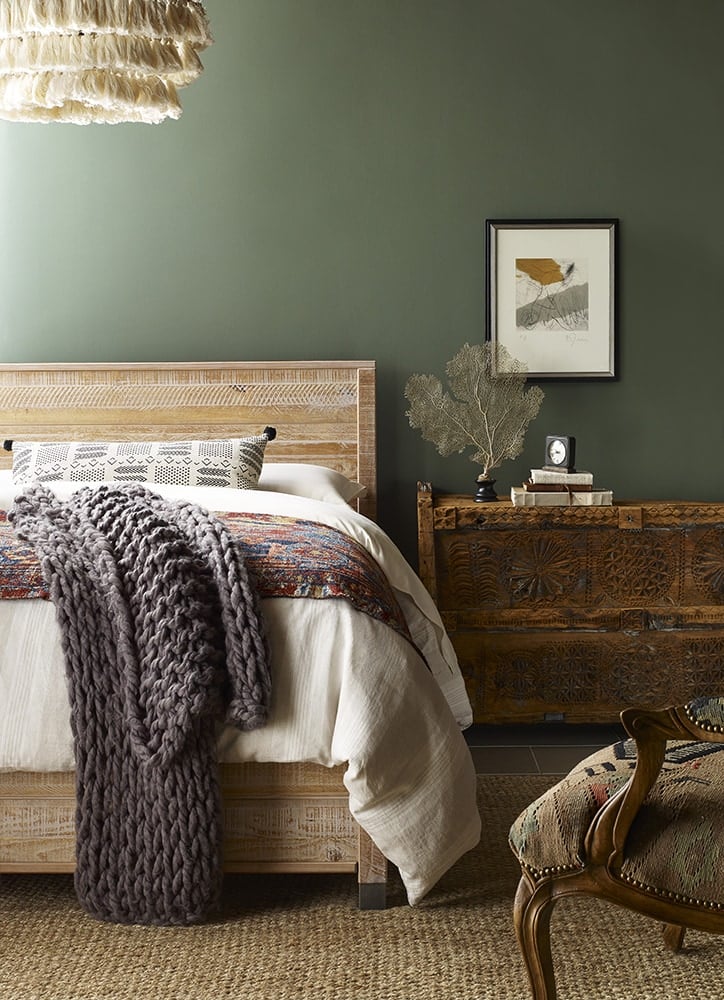 Your bedroom is your sanctuary, and Rosemary knows how to create a calming and dreamy vibe. Consider painting your bedroom walls in this soothing shade, and you'll have a cozy retreat that'll have you sleeping like a baby. Throw in some soft bedding, twinkling fairy lights, and voila – a peaceful haven to recharge your batteries.
3. Inviting Kitchen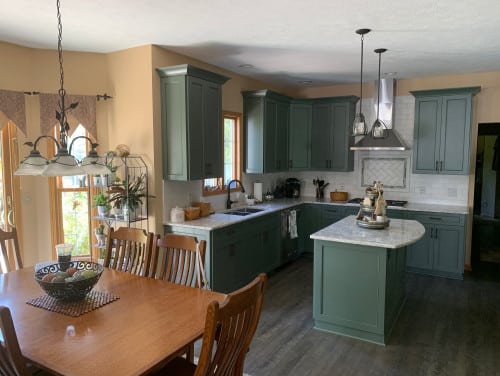 You heard that right – Sherwin Williams Rosemary can even work its magic in the kitchen! If you're tired of the same old boring white walls, why not add a splash of personality with this captivating green? It'll bring life and warmth to your cooking space. Plus, you can accessorize with copper pots, wooden accents, and earthy tones for a rustic kitchen that's Instagram-worthy!
4. Relaxing Bathroom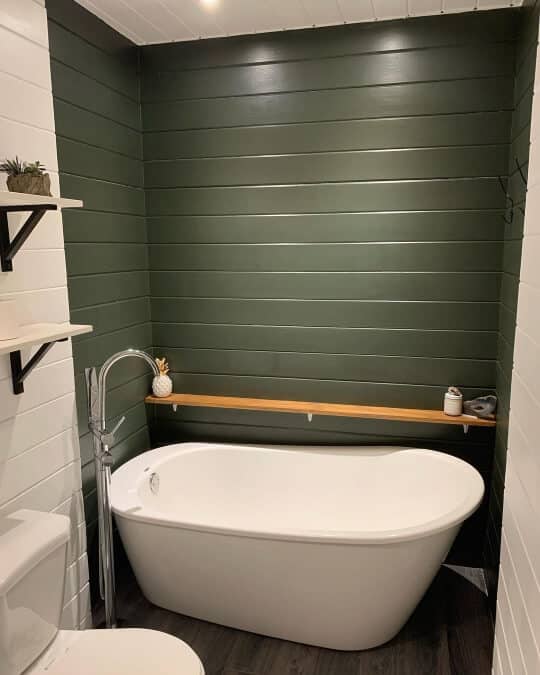 Who said bathrooms have to be plain and dull? Not with SW Rosemary around! Turn your bathroom into a calming oasis by painting the walls with this delightful hue. Imagine soaking in the tub surrounded by this tranquil green – total bliss! Add some fluffy towels, scented candles, and a hint of spa-like décor, and you'll never want to leave this paradise.
5. Cozy Home Office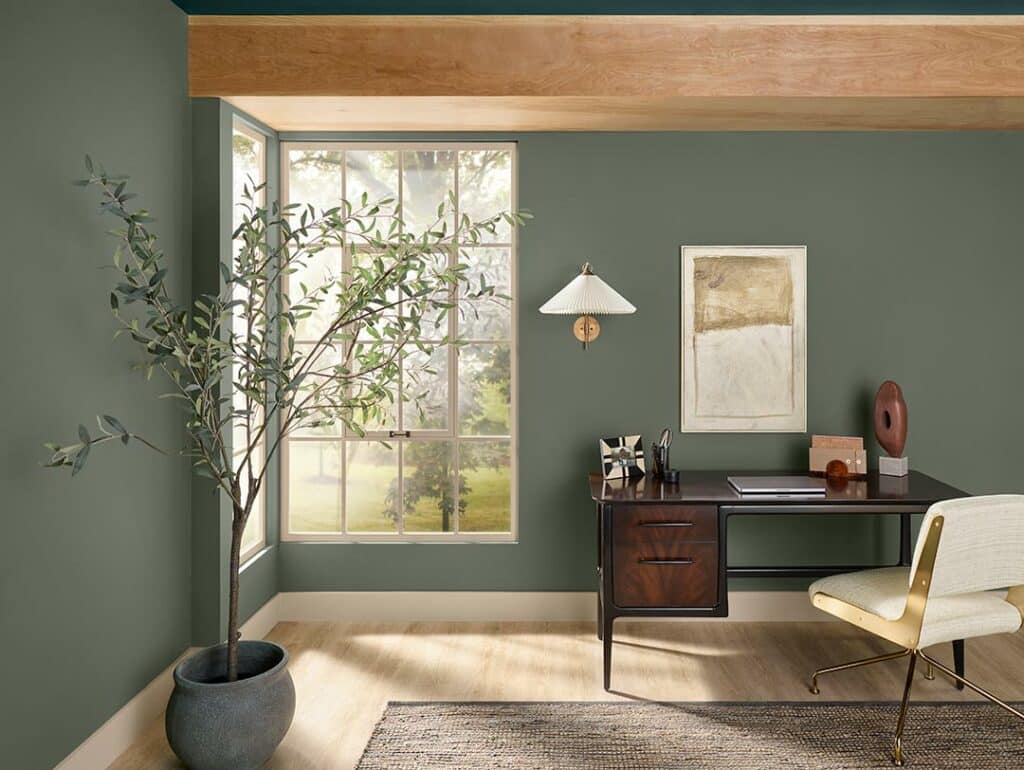 Working from home can be a drag, but not if you have a home office decked out in SW Rosemary! This color will add a touch of sophistication to your workspace, making it a place you actually want to be. Combine it with a comfy chair, an inspiring gallery wall, and some greenery to keep you feeling motivated and productive.
6. Charming Entryway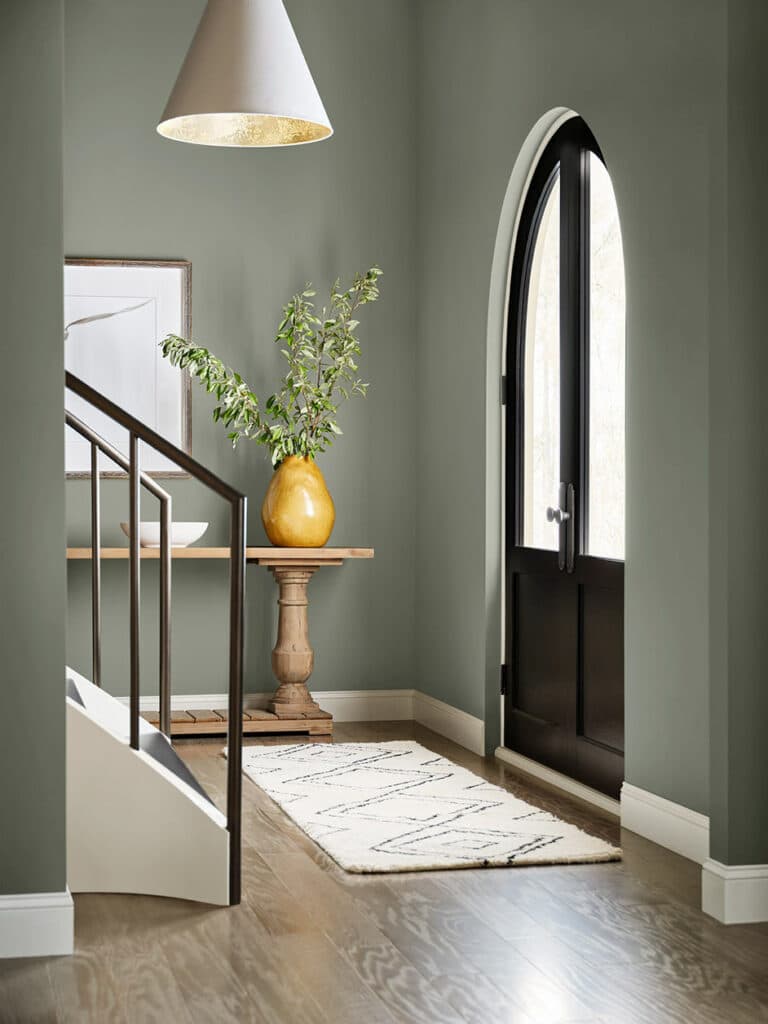 First impressions matter, and SW Rosemary can leave a lasting one. Paint your entryway with this inviting green, and it'll set the tone for the rest of your home. Welcoming your guests with a stylish console table, a decorative mirror, and a cozy rug – they'll feel right at home from the get-go!
Remember, you don't have to go all-out and paint the entire room with SW Rosemary (unless you want, of course!). Even a pop of this delightful color can work wonders and breathe new life into your space.
Pro-tip: If you're unsure about committing to a full paint job, try using SW Rosemary in smaller doses – like through accessories, throw pillows, or curtains. This way, you can test the waters before taking the plunge.
So, here are some fabulous ideas on where to use SW Rosemary in your humble abode. Let your creativity flow and transform your home into a captivating haven with this beautiful dark sage green!
SW Rosemary vs. Other Sherwin Williams Green Colors
Alright, it's time for a showdown – Sherwin Williams Rosemary vs. other Sherwin Williams green colors! Let's see how our dark sage green champ stacks up against the competition.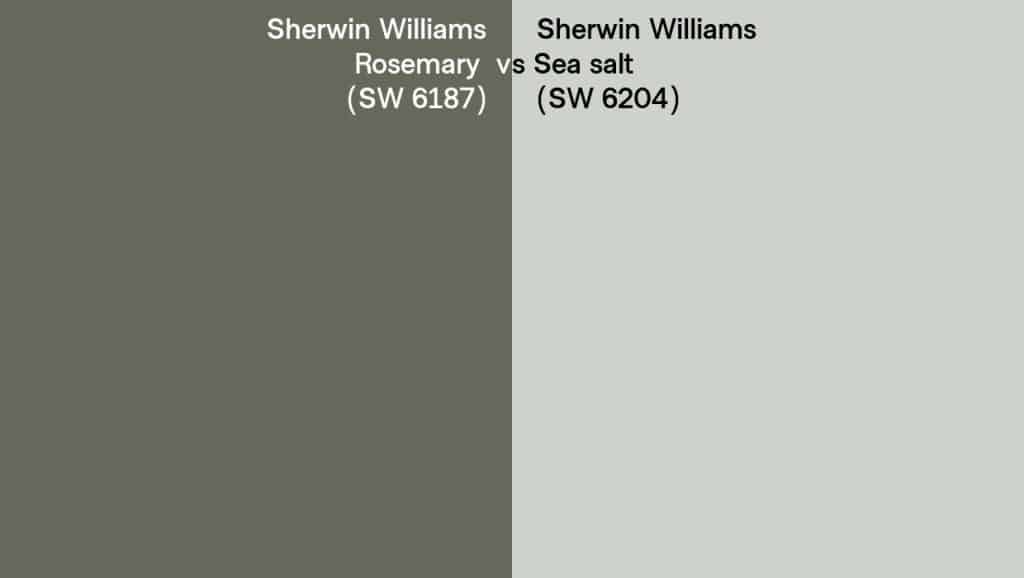 First up, we have a fan-favorite – SW Sea Salt. Now, both Sea Salt and Rosemary are incredibly popular choices, but they bring different vibes to the table. Sea Salt is a soft and airy greenish-blue, perfect for those going to coastal, beachy feel.
On the other hand, Rosemary is darker and moodier, ideal for adding depth and richness to your space. So, it all depends on the ambiance you're after – breezy beach or elegant sophistication!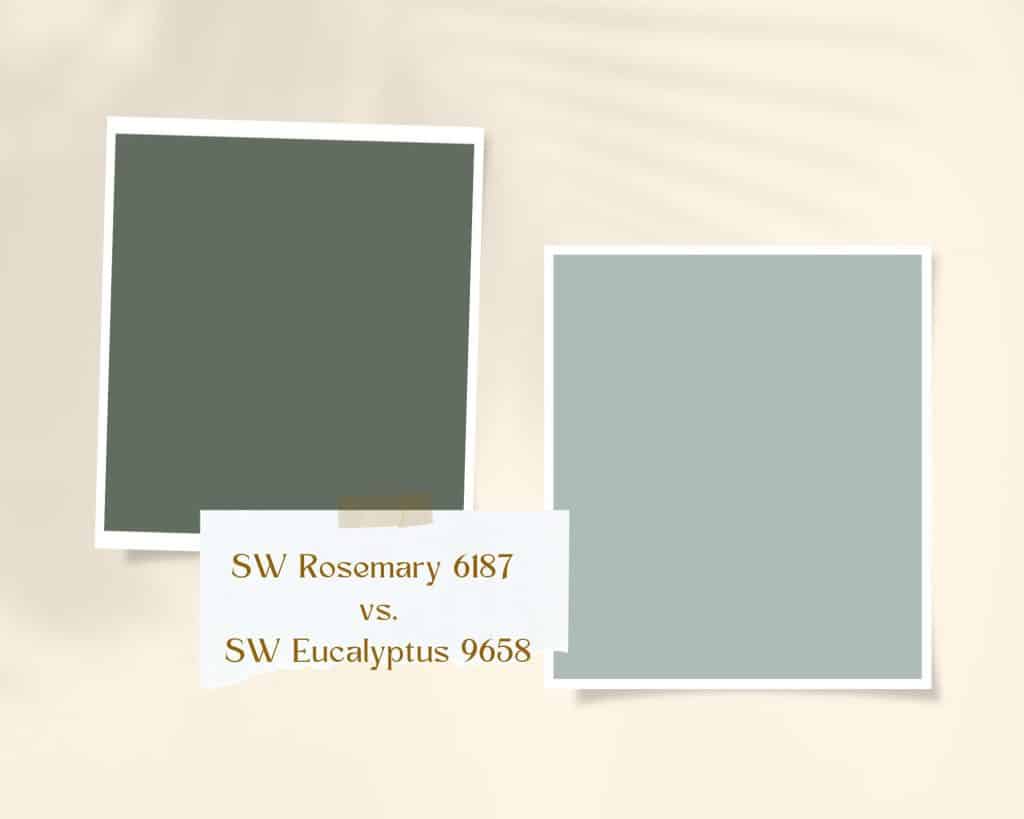 In the green corner, we have SW Eucalyptus! This light and refreshing green is a bit cooler than Rosemary. While both colors offer a sense of tranquility, Eucalyptus leans more toward a soft, spa-like ambiance.
On the flip side, Rosemary brings a touch of drama and warmth to the scene. So, if you're looking for a cool and calming green, Eucalyptus is your go-to, but if you want that sultry sage vibe, Rosemary is the winner.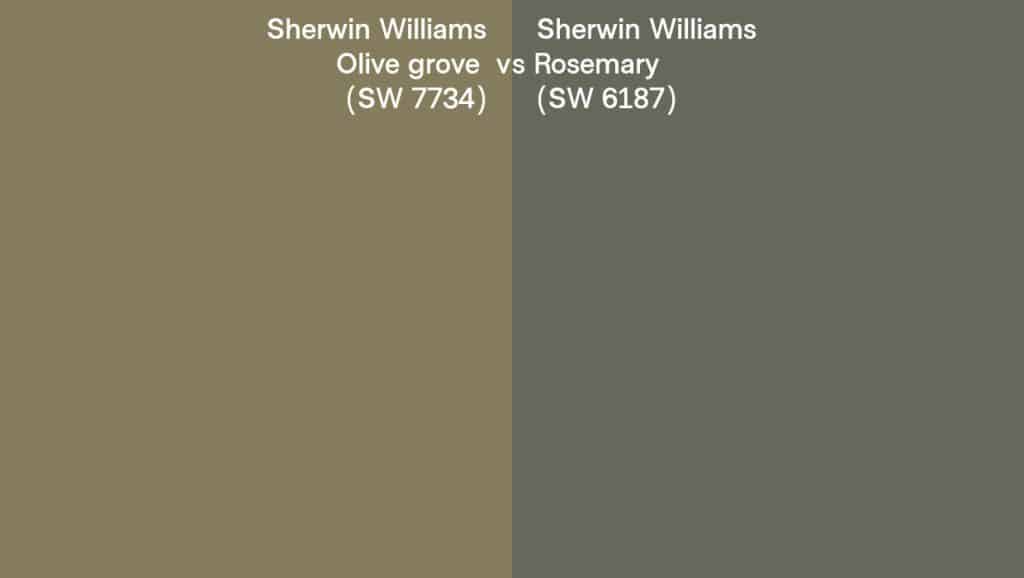 Now, let's compare Rosemary with the mighty SW Olive Grove. Olive Grove is a deeper green with strong earthy undertones. It gives off a natural and organic feel, perfect for those who love the outdoorsy look.
On the other hand, SW Rosemary is darker and cooler, adding a touch of elegance and mystery. So, if you're a nature enthusiast, Olive Grove might be your jam, but if you want a more sophisticated and moody green, Rosemary takes the prize.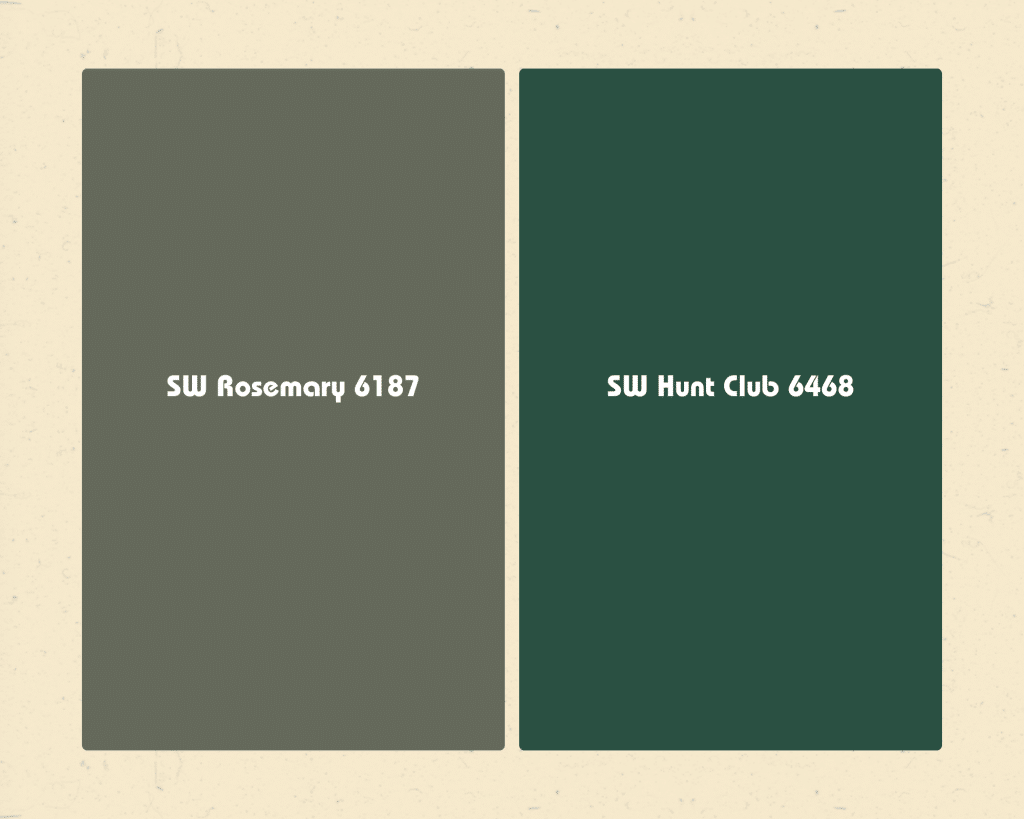 Last but not least, we have the classic SW Hunt Club. This deep green is reminiscent of lush forests and brings a cozy and traditional charm to any space. Rosemary, on the other hand, is a darker and cooler green, creating a more modern and sophisticated look.
If you're traditional at heart, Hunt Club might be your soulmate, but if you're craving a contemporary twist, Rosemary will steal the show.
Considering Before Making a Final Call
At the end of the day, choosing the perfect Sherwin-Williams green for your home depends on your personal style and the ambiance you want to create. So, whether you go with the soft Sea Salt, the cool Eucalyptus, the earthy Olive Grove, or our sultry champion, SW Rosemary, you're sure to have a stunning green oasis in your home.
Pro-tip: Don't forget to test paint swatches on your walls before making the final call. Lighting and room size can play tricks on colors, so it's always best to see how they look in your space.
There you have it, folks – a friendly face-off between SW Rosemary and other Sherwin Williams green colors. May the best green win in your home sweet home!
Conclusion
Sherwin Williams Rosemary SW 6187 is undoubtedly a dark sage green that brings sophistication and calmness to any space. Its cool and warm undertones make it a versatile choice for homeowners looking to infuse their interiors with timeless elegance. Remember to balance this dark shade with ample natural light.
Don't hesitate to experiment with a complementary color palette to create a home that reflects your unique style and personality. So, whether you're redesigning your living room, bedroom, or kitchen, Sherwin Williams Rosemaryis the perfect hue to transform your house into a beautiful and inviting home.
Frequently Asked Questions
1. What is the Ideal Sherwin Williams Paint for Exteriors?
The Sherwin Williams paint specifically designed for exterior use is "Sherwin Williams Duration Exterior. It is a premium paint that offers excellent durability, protection against the elements, and long-lasting color retention for outdoor surfaces.
2. What is the Best Sherwin-Williams Color?
The "best Sherwin-Williams color is subjective and depends on individual preferences and the specific context in which it is used. Sherwin-Williams offers a wide range of high-quality paint colors, and the best color for one person or project may not be the same for another.
It's best to explore their color palettes and consult with experts to find the perfect Sherwin-Williams color for your specific needs and style.
3. Is Sherwin-Williams Pure White a Warm or Cool Color?
Sherwin Williams Pure White is considered a warm color. It has subtle blue undertones that give it a crisp and clean appearance. This warmness makes it a popular choice for creating a fresh and modern look in interiors, especially when paired with other warm-toned colors or as a contrast against cooler shades.