Is doing laundry also a big hassle for you because of storage and organizing problems? If yes, don't worry; you are not alone. One of the major issues that people face is having organized storage in their house's laundry room, which ultimately leads to a messy and unorganized laundry room. We often avoid doing laundry because of laundry room storage issues, and that makes sense; who wants to work in a messy room?
However, what if we told you that we had brought the best laundry room storage ideas for you which will change the way your laundry room looks? Having a fixed storage for all the laundry materials can be the first hack you need. We have curated 23 similar simple laundry room storage ideas, which can change your whole laundry experience by simply easing the things that otherwise can be very tedious.
Best Laundry Room Storage Ideas for Your Space
1. Washer and Dryer Storage Shelf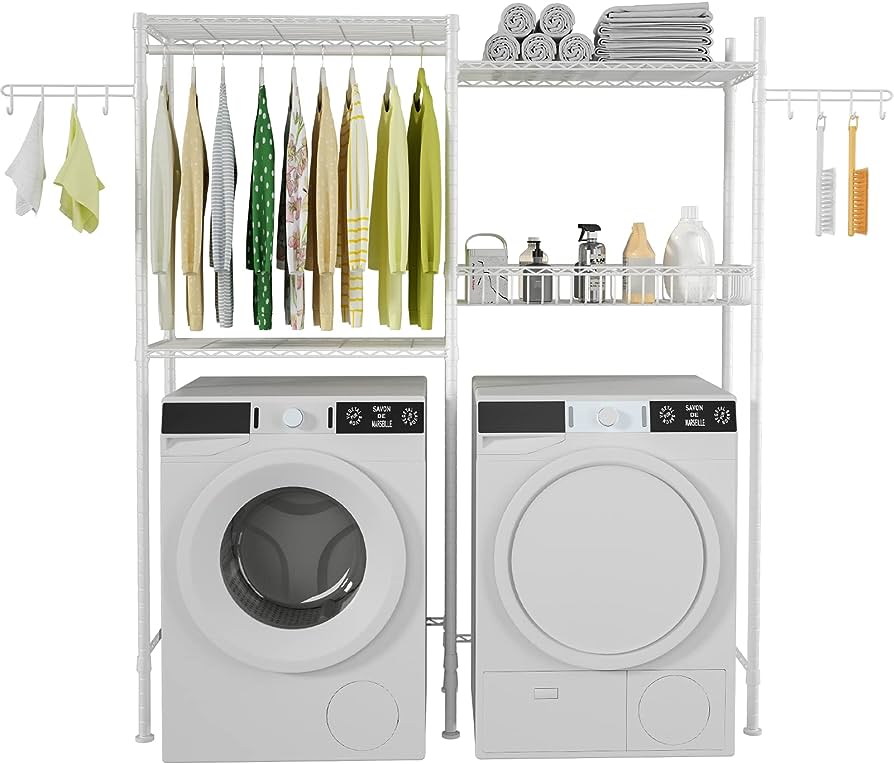 Beginning with a few basic laundry room storage ideas, you might be looking for a simple storage solution that solves most of your laundry purposes. This unit has over 5 shelves. Each of these serves a unique purpose. There are two basic shelves at the bottom where your washer and dryer can easily fit above these. There are compartments for you to hang your clothes and also keep the washed and dried clothes folded. There is also a small space to keep all of your detergents and other products you use for your laundry. There is also storage on top which can be used to keep other necessary items.
2. Over the Washer Storage Shelf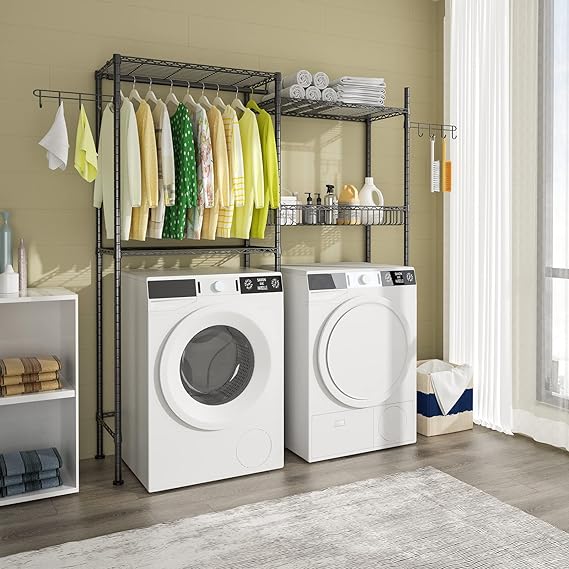 This particular unit might look similar to the previous one but is a little smaller and more minimalistic. If you do not want to keep too many things in your laundry room storage, then this one might be for you. There is only one side where there are hooks for you to hang your clothes. The design is compact and can easily fit in a tight place.
On the other side, there are smaller cubbies to simply keep smaller items related to laundry or other washroom items. There are hooks extending from either side for you to hand your comb or hairbands. Overall a very simple unit.
3. Laundry Room Storage for Garments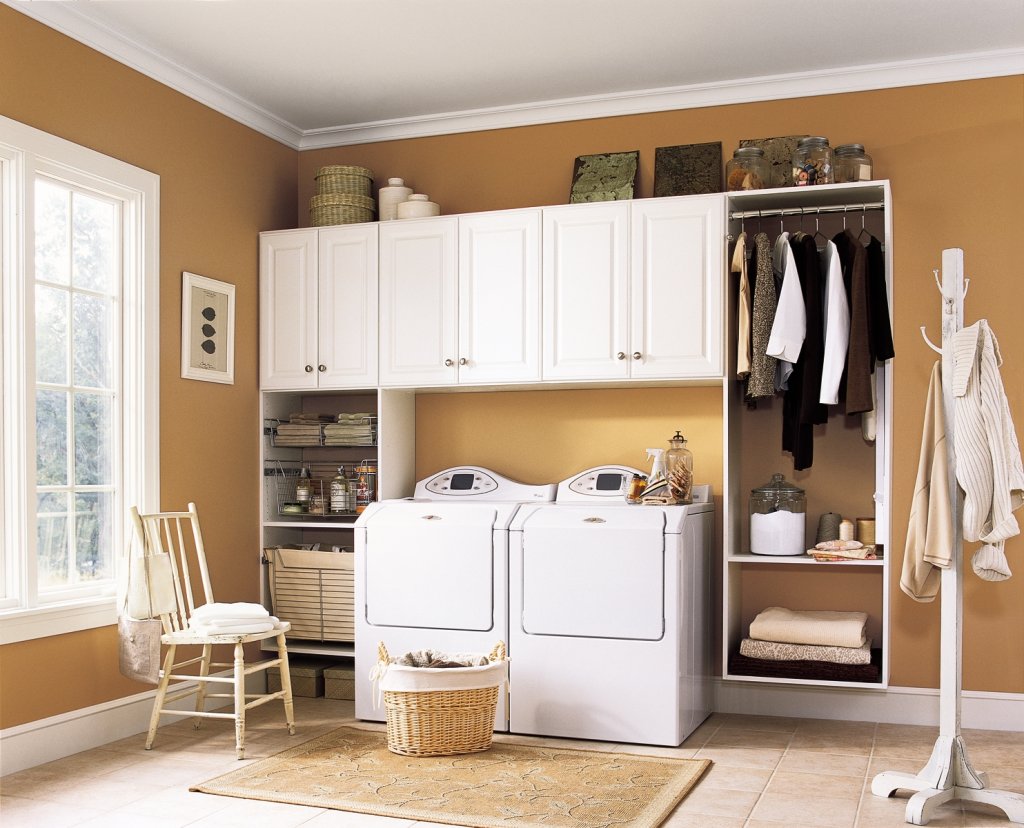 As the name suggests, this one does not feature the washer and dryer. The main purpose of this unit is to store clothes. There is also a little space below to store 2-3 pairs of your footwear which is a bonus. The size is not too big, so it will not take up too much space in your laundry room. There is provision for you to hang clothes to dry, which is also nice. There is additional exposed space on top for you to keep extra clothes, if any.
4. Laundry Room Storage Cabinet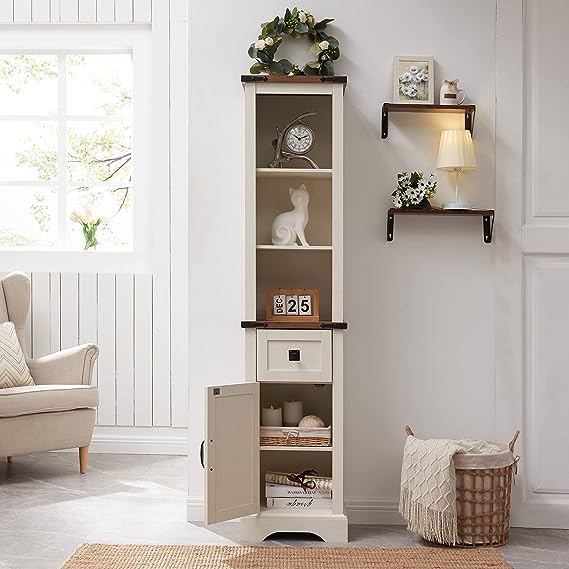 This unit is very simple, and it might catch your eye. The size is small and compact and serves the purpose it intends to serve. There is a door cabinet below which is big enough to store clothes. It contains a drawer right above the cabinet where you can keep a few essential laundry items. There are 3 exposed cubby spaces where you can keep towels, dirty clothes, and any other essential items that can also be accommodated easily.
5. Slide Out Laundry Room Storage Organizer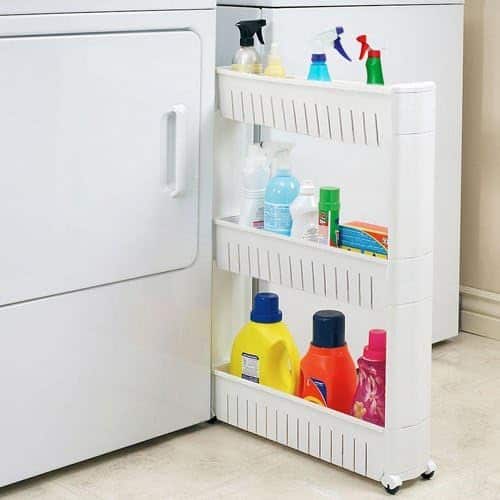 As the name says, this storage slides in right next to your dryer and washer. If you are looking for a simple storage shelf for your detergent and other bathroom cleaning products, this is definitely a product to go for. The materials you keep on it will be hidden until you slide out the entire unit from its space which makes this an easy hack not to have bottles lying around. A simple yet efficient storage option to go for.
6. Three Shelf Storage Shelf with Wheels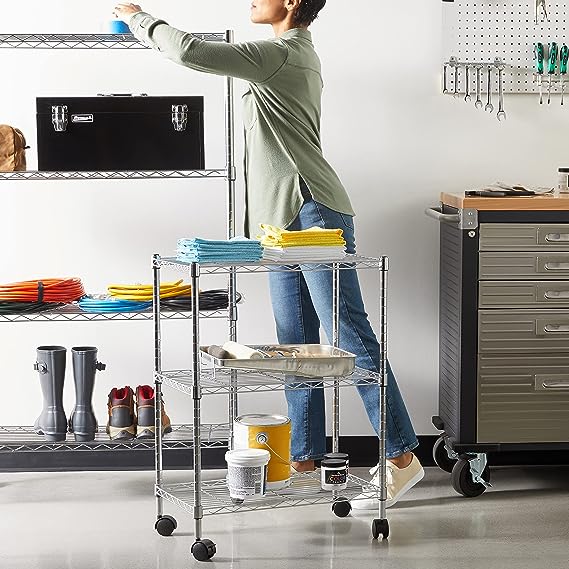 Another one of the simple yet efficient storage units. This product, as you can see in the image, is pretty basic, and its job is to give you a quick storage shelf that can be moved easily. You can easily keep your washed and dried clothes on this one. Since there are three shelves, you can also dedicate one for dirty clothes and one for laundry necessary items. A feasible and simple product for sure.
7. Laundry Basket Sorter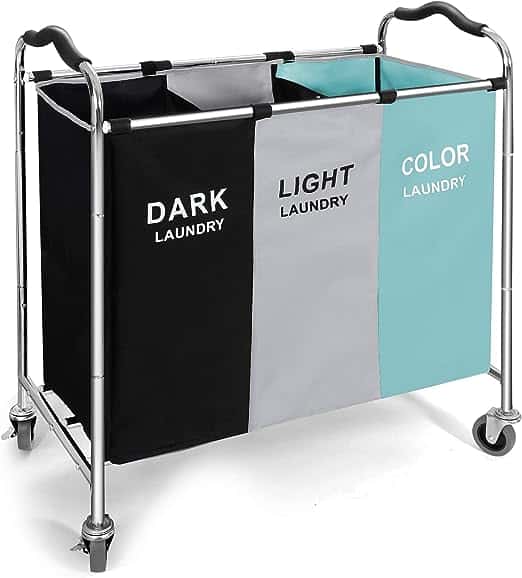 The biggest mess we have in our laundry room is the huge pile of clothes. Half of our time gets wasted while sorting out the different colors for washing, and that does get irritating after a while. This basket is a laundry room storage solution you need to check out if you also face the problem mentioned above.
8. Adjustable Laundry Rack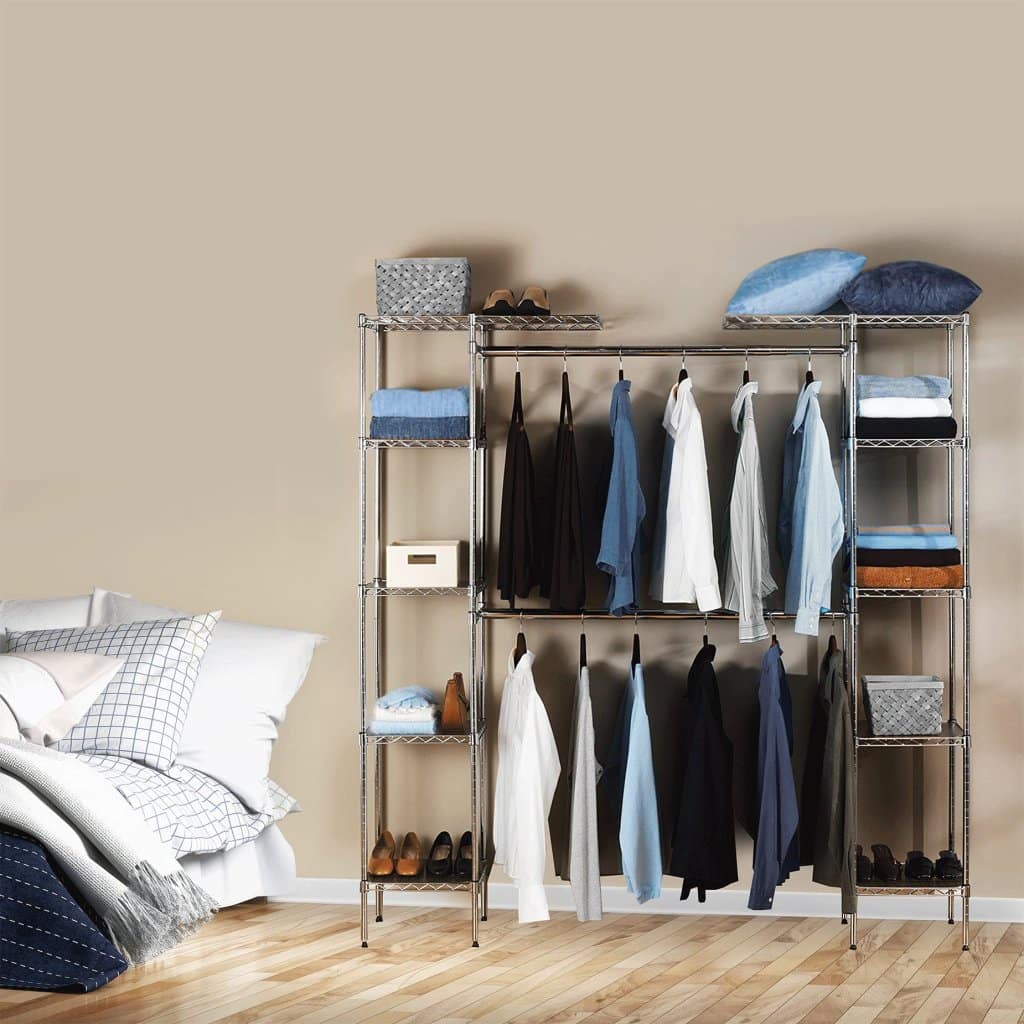 If you are looking for a laundry room storage solution where you can adjust the shelves and hangers according to your need, this is the one for you. The storage is a big one if used at its maximum adjustment, and it will be useful, especially if you have a lot of laundry items. There is an option to hang clothes in the middle as there are rods, and there are also shelves on either side to store other items. You can also fit in your dryer and washer in between, and this will become your whole laundry unit.
9. Wall Clothing Rack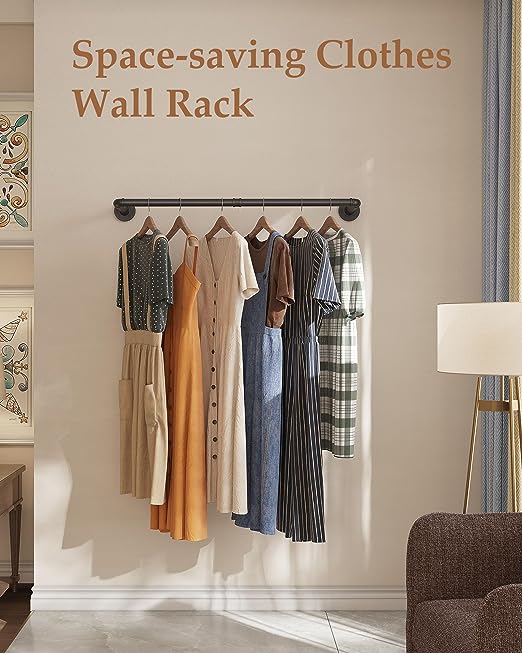 This one mainly focuses on you having a fixed spot for hanging in your clothes after doing the laundry. This is a pretty basic Rod that can be drilled onto your wall, and you are good to go. This is an excellent alternative to hanging clothes in an organized manner. You can quickly access the washed, dry clothes on the go. Again we will mention you only go for this if you are looking for a clothes-hanging solution.
10. Laundry Cabinet Cupboard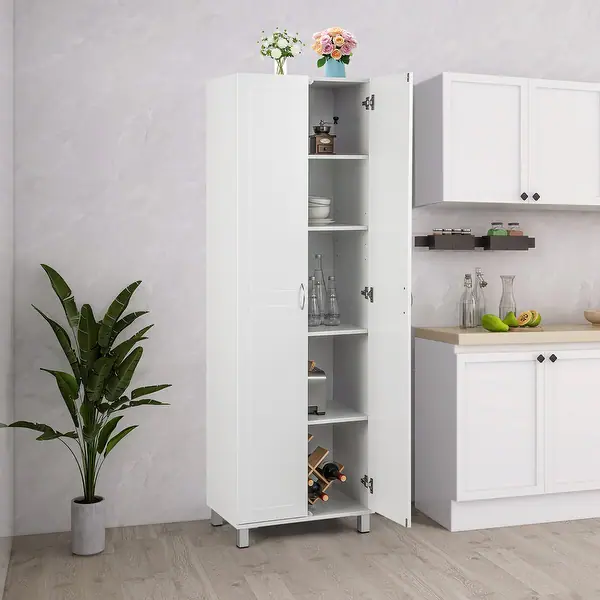 This is a storage solution that can solve multiple of your purposes. This unit is compact enough to fit in your laundry room and can store multiple items. You can also store all of your home utility products in this one, so you don't have to go looking for them when needed. Apart from this, there are shelves inside so you can also store your clothes in this cupboard. Two shelves are adjustable, so you can store bigger items inside as well.
11. Laundry Room Storage Cart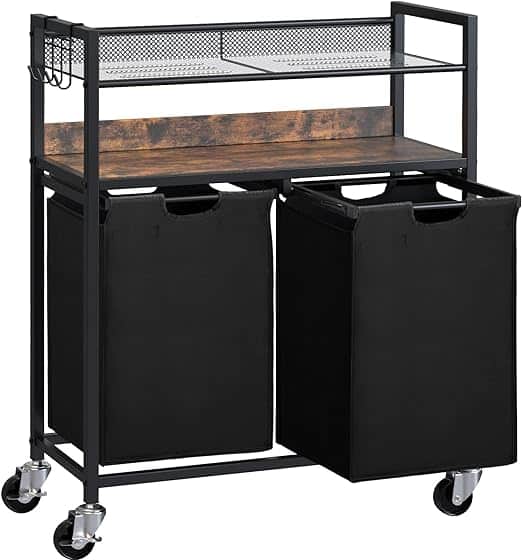 This Laundry room storage solution solves mostly all of the storage issues we face. From finding a place to keep and sort the dirty clothes to finding a place to keep all the detergents, this cart has it all. There are two big hamper baskets below, which can be used to sort out the laundry clothes. There is a platform above it where you can keep the folded clothes. Finally, at the top, there is space for you to keep your detergents and other smaller items. There are also a few hooks on the side for you to hang a few clothes.
12. Laundry Storage Cabinet with 2 Door Cupboards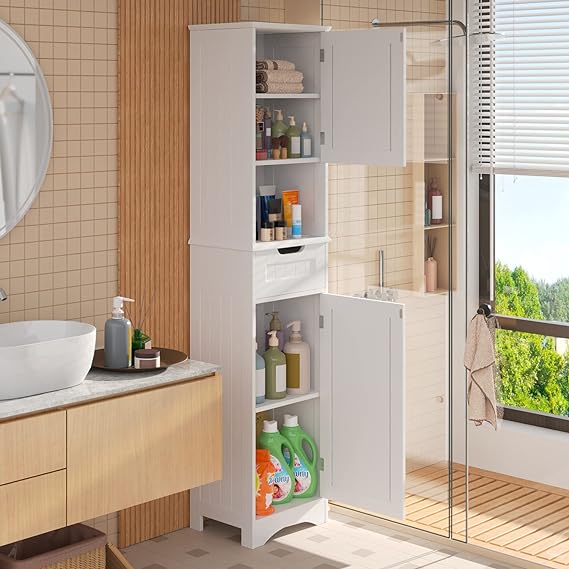 If you want a compact storage cabinet that can fit in tight spaces, you can go with this laundry room storage solution. Also, if you want that most of your stuff is not exposed, this is perfect for that. There are 2-door cupboards in this cabinet, which can be used to store stuff inside, and it will not be exposed. There is also a small cubby place in between, which can be used to store items used on a more frequent basis. The shelves inside the cupboards are adjustable, so you can also keep clothes inside if you want.
13. Tilt Out Laundry Hamper Cabinet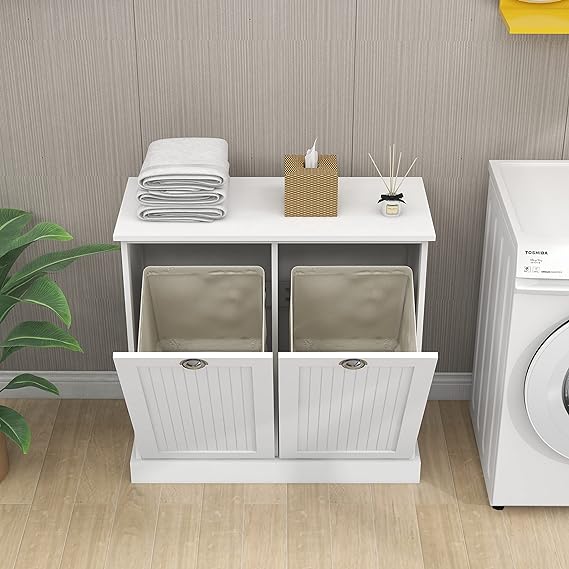 We were not missing out on innovative laundry room storage ideas for you. This unit looks like a normal unit when looked at from the outside. As soon as you pull the handle, it tilts open from the top, exposing two hampers inside, which can be used for your dirty laundry clothes. A perfect solution if you don't want your dirty laundry hamper to keep exposed. The overall design of this cabinet is very neat, and there is also space on top for you to keep other items like detergent or towels.
14. Lift Top Laundry Basket with Wheels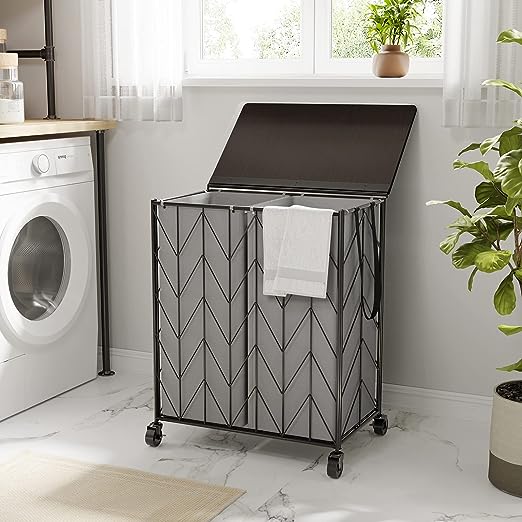 Another innovative and eye-catching product. This one has a frame made out of iron, and it is in a design. Inside there are two huge bags that are removable. Your dirty laundry clothes will be hidden inside, while you can keep other items on the top when it is closed. There are wheels on this one which also ensures easy portability.
15. 2 in 1 Laundry Storage and Hamper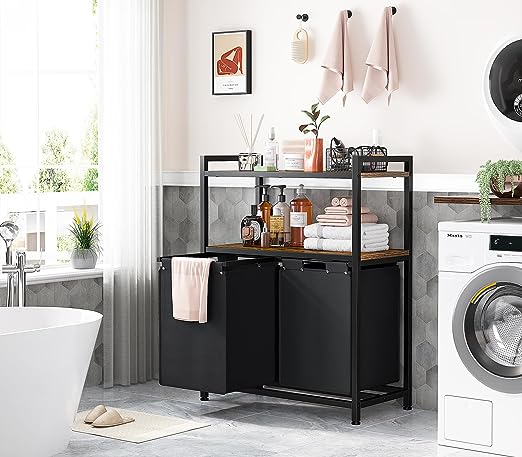 This product should be considered if you want all the basics required for doing your laundry. There are 3 laundry hampers below, which are removable, so you have more options to sort out dirty laundry clothes. There is storage space right above the hampers, which can be used to keep detergent and other laundry essentials. Above this, a single shelf can be used to keep washed and clean laundry or even towels. There is also space at the top which can be used to keep decorative items, if any. A unit one must consider for his/her laundry room storage.
16. Wall Mounted Cabinet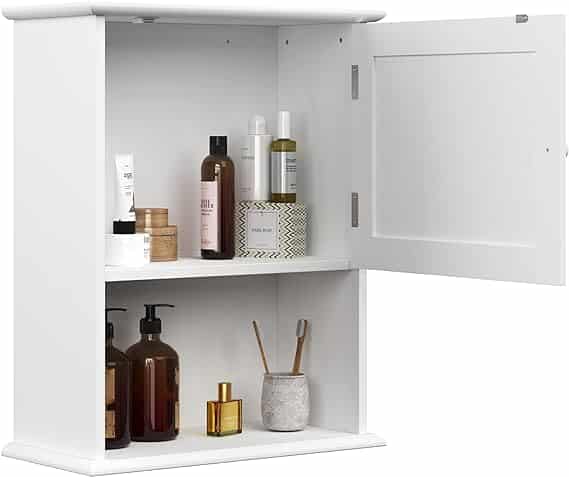 This is a simple laundry room storage solution for keeping basic stuff. This can be more practical if your bathroom and laundry room are both one, as many people have. This unit can be wall mounted and has a small cubby space that can be used as a storage for your detergent and can even store some towels. Above the cubby space, there is a door cabinet that can also be used to store other smaller items you like.
17. Laundry Double Door Storage Cabinet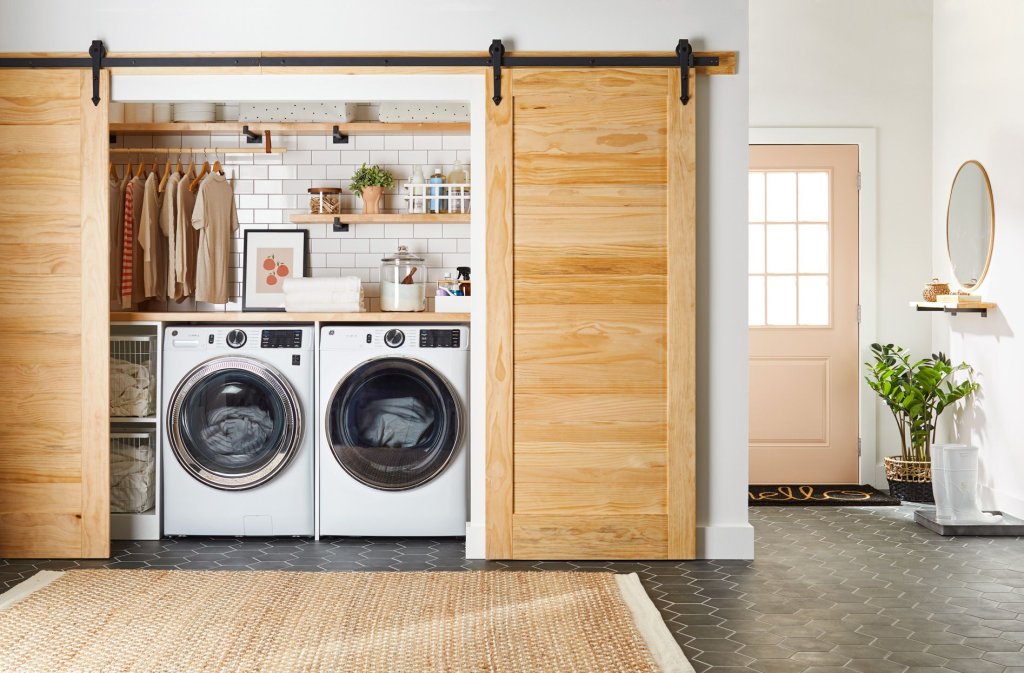 This cabinet offers an all-closed storage design. This a good laundry room storage solution for those looking for a completely private storage cabinet. The entire unit is covered by two doors which, once opened, reveal plenty of space inside. It also has 4 shelves which can be adjustable. The color of the unit is simple white which will blend in easily in your laundry room.
18. Retractable Clothes Rack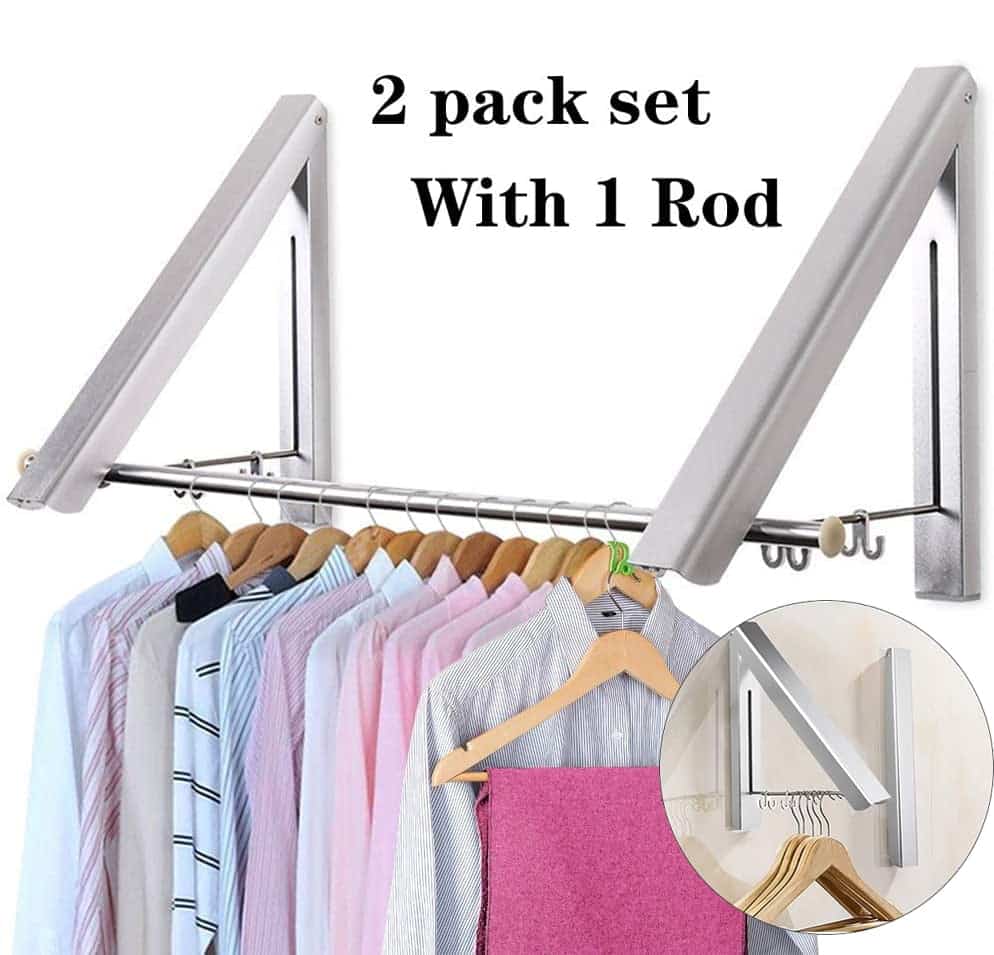 This is a simple but very stylish rack for you to hang your clothes. The Racks come in a set of two, and they will be mounted on the wall. They can be retracted back when not in use. They look very stylish if you have a very modern theme for your laundry room. When retracted, they don't even look like a clothes rack. A good laundry room storage solution.
19. Bamboo Laundry Sorter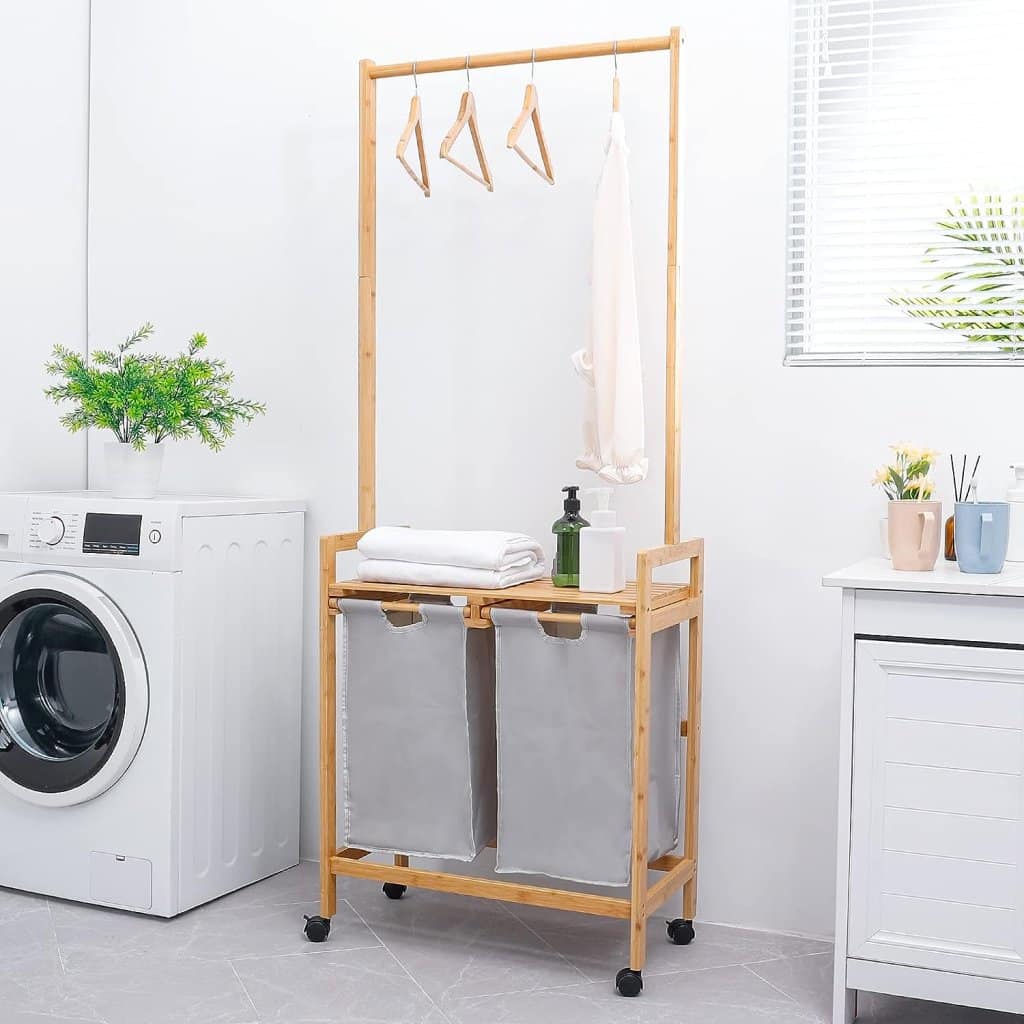 As the name suggests, the entire unit is made out of bamboo and looks very natural; There are 2 laundry baskets below for you to sort your laundry. There is a little space above to keep laundry-related products, and finally, it has a rod that can be used to hang clothes. The unit has wheels below which make it easily movable. Not a lot of storage to offer, but it perfectly does the job for you.
20. 3 Tier Hanging Shelves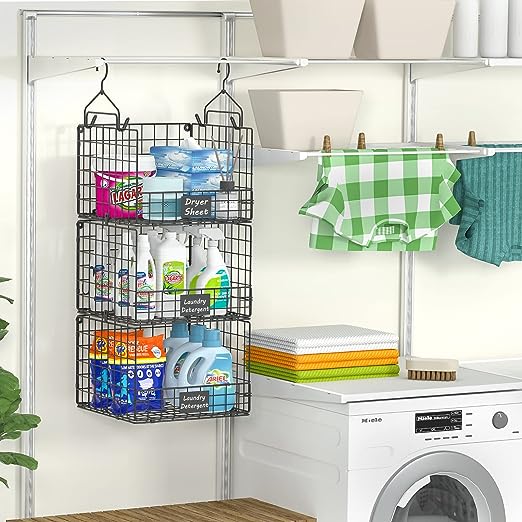 This laundry room storage solution is unique. These are basically three metal shelves that can be hung on a rack and used to store different laundry items. However, here's the unique part, the three shelves can either be hung together or differently at different spots. So you can have fixed spots for certain things stored on these portable shelves. You can also keep dry towels and clothes on the shelves.
21. Standing Shelf Unit
This standing shelf unit has a very simple and useful design; There are 3 tiers of shelves offered. At the bottom, you can also fit in a right-sized laundry basket for your dirty laundry clothes. The above two racks can be used to keep laundry essentials and dry clothes or towels. A simple all-in-one laundry room storage solution you can go for.
22. Slide out The Slim Storage Cart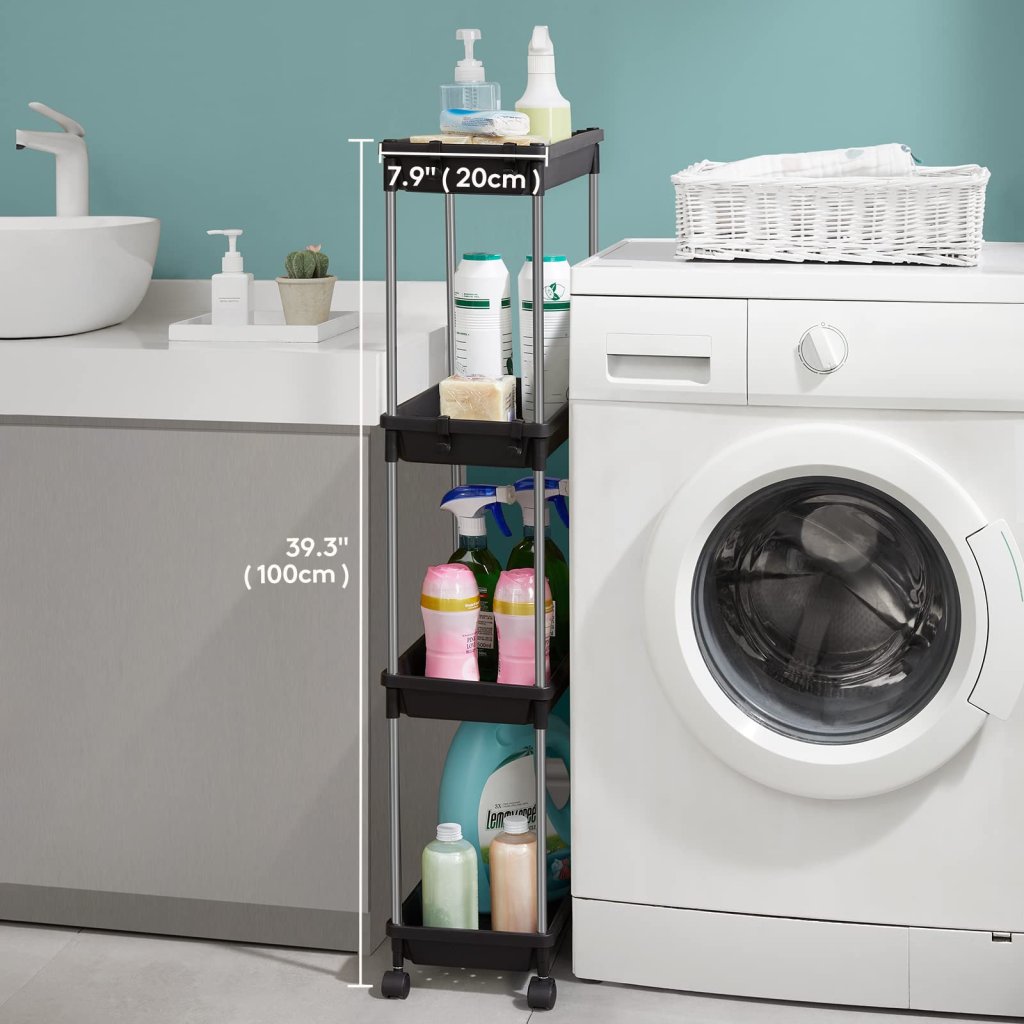 This wooden textured storage cart is simple and practical. It can slide right inside next to your washing machine and dryer or even between them. The wooden texture design gives it a very premium look. There are 4 tiers of storage. The bottom one has a large storage space available to keep bigger bottles of detergents and other items. The top tiers have smaller storage options to keep the essential items that you need handy.
23. Horizontal 3 Door Wall Mounted Cabinet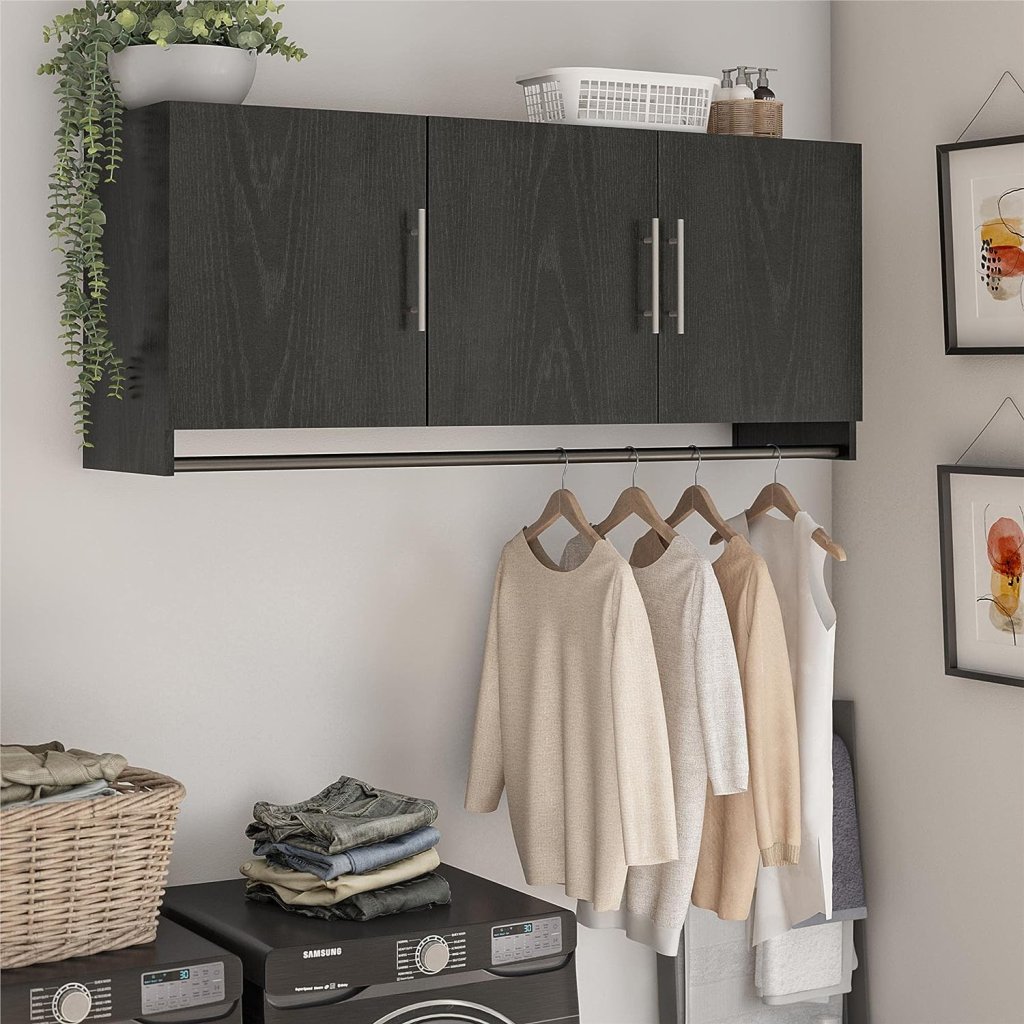 This multipurpose cabinet is a nice laundry room storage solution. Firstly, all three storage spaces are at the same level, so you don't have to worry about what height you should place this at. Secondly, all the storage is covered by a door, so none of your stored items will be easily exposed. There are two tiers of storage inside, so you have plenty of storage in hand. It also offers a rod below to hang your clothes, which makes it a perfect laundry room storage solution to opt for.
Conclusion
As you have seen now, there are plenty of laundry room storage solutions available to you. The main problem was always what option to go for, as some didn't serve all your purposes or some did not look good enough to match your existing interiors. Now, there is a solution to everything. From simple to stylish, from small to big, there is an option for everyone. You can use these storage solutions not just in your bathroom but in the kitchen as well.
You should definitely look into the above-mentioned options, and we are sure you will find one perfectly suitable for your needs. Upgrade your laundry room and transform your storage issues into organized bliss with the above showed laundry room storage solutions, do let us know your views on this list and how you plan to proceed with incorporating similar ideas at your home.