All of us must have encountered a DIY project in some form or the other. However, it is not that easy to change the entire look of your home by incorporating just these. Home Decor requires the utmost level of cautiousness since it encapsulates the final get-up of your home. It is essential to go through extensive research before setting on to the home decor task, keeping in mind that it must fit into our budget. Otherwise, it will miss out on the whole point.
And Dollar Store is one such place that will serve the very purpose of providing a personalized touch to your home. In this article, we have curated a list of 42 DIY home decor ideas that can be put together by adding basic creativity, with a few purchases from the dollar store and certain waste products kept unused at your home to make super useful decor items.
1. DIY Jute Rope Hanging Pots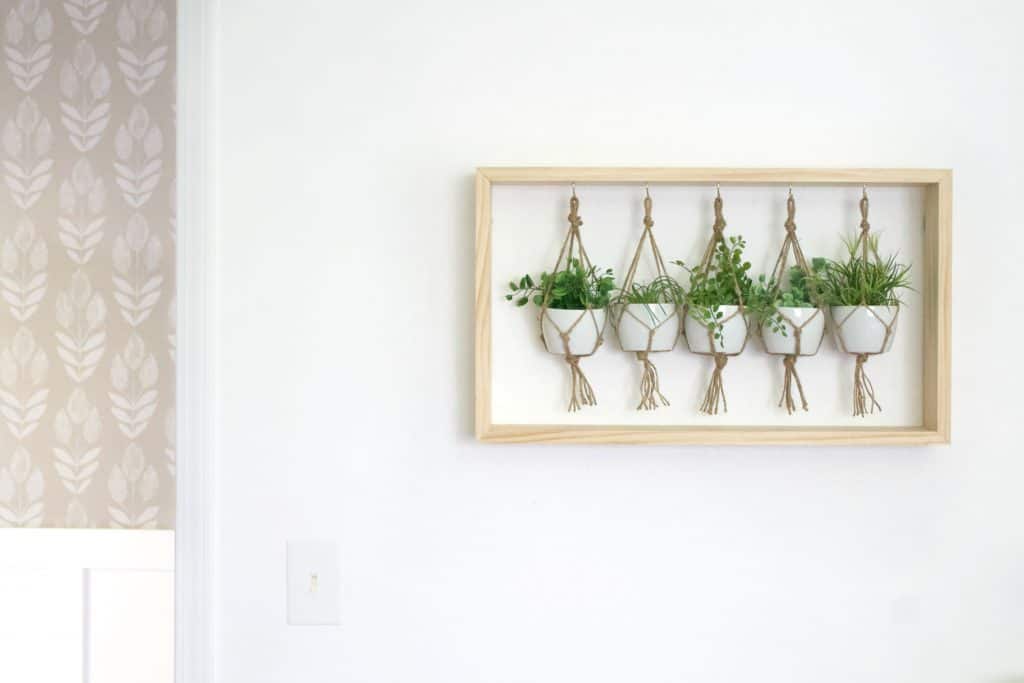 All you need is some terracotta pots, jute rope, and a glue gun from a nearby dollar store, and you can give any room of your home a bohemian vibe. The nature-lover in you will rejoice in making this craft, and so will everyone who comes across it. The combination of sturdy brown jute rope and white terracotta pots will give a modern yet aesthetic touch to any room and will elevate your living space in an eco-friendly way!
2. Self-Painted Flower Vase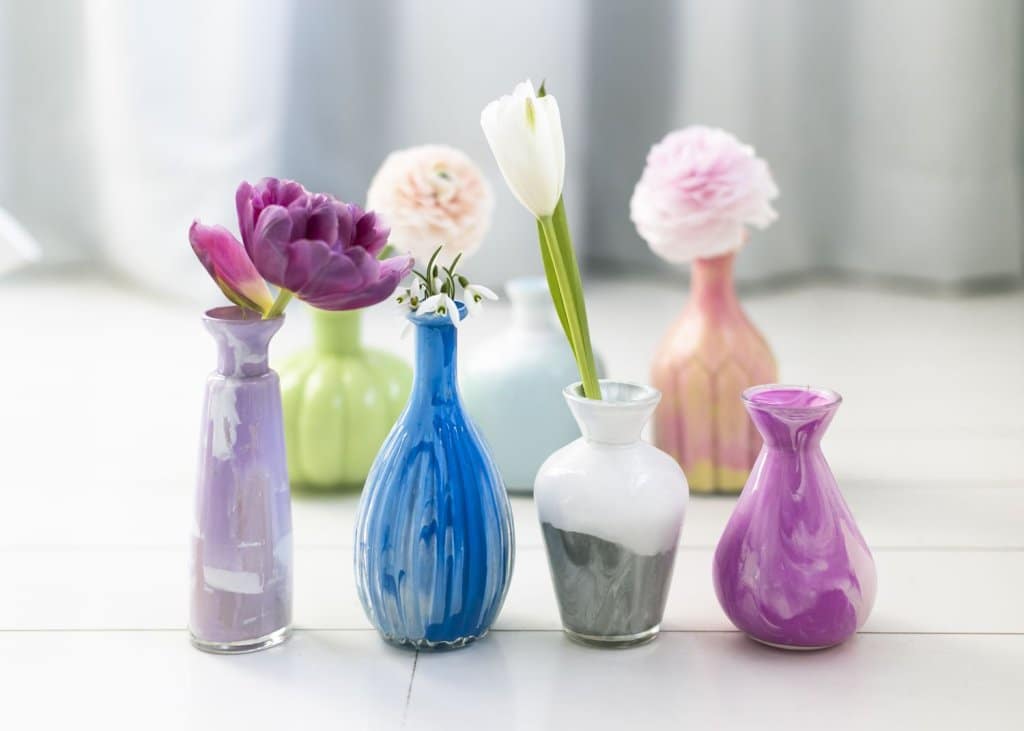 A flower vase by itself is not something unique or creative to elevate your home decor, but it can become a lot more interesting and personalized with some swift brush strokes. Let the vase be your canvas and transform it into a unique piece of art that reflects your style and taste. You can use earthy colors to give it a fresh, natural look or choose a modern art style like in the image.
3. Chalkboard Label Wire Baskets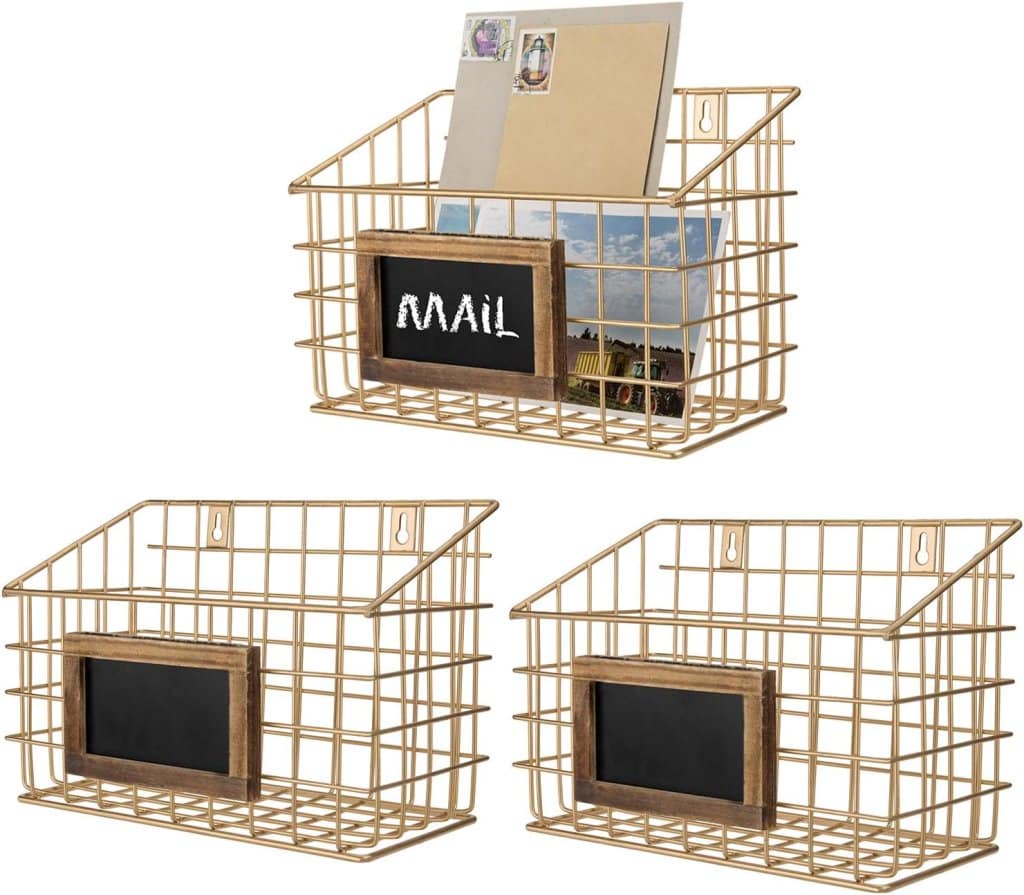 Wire baskets are pretty simple, cheap, and effective for storing magazines, mail, bills, bathroom essentials, etc. However, let's admit it; they don't look the best. You can give the boring wire baskets a rustic look with some spray paint, miniature chalkboards, and a glue gun. Simply paint the basket with a color of your choice. Black looks best, and stick the chalkboards in the center. You can simply re-write on the chalkboard to repurpose it.
4. Serving Tray Wall Decor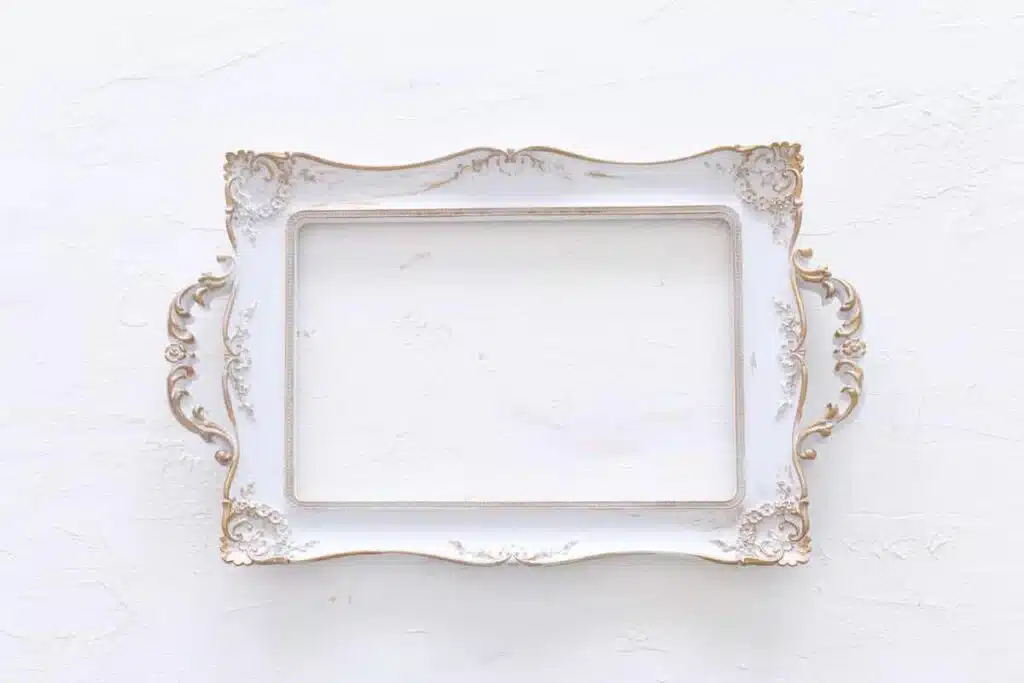 Add a touch of elegance to your home walls with this simple yet effective DIY project. Repurpose beautiful serving trays to create a stunning display that catches the attention by sparking curiosity. You can go for any design as per your liking, a vintage design, a traditional design as shown in the image, or a modern design with sleek prints. With multiple possibilities for arranging and decorating trays, this idea will allow you to put forward your vibe in a visual statement.
5. Self-Painted Polka Mirror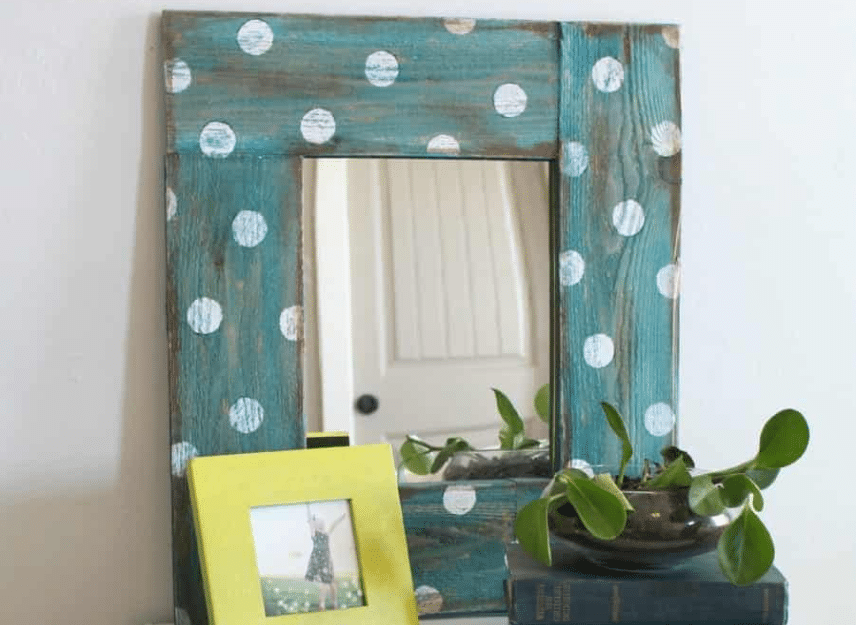 Mirrors do reflect our beauty, but if you think about it, they are pretty basic and can be styled up as beautiful wall decor. For this project, you'll need a basic mirror(square/rectangle) from your nearby dollar store, some wood (or cardboard), and of course, paint. Put the wood/cardboard pieces together in a frame similar to the mirror, stick them together, get creative with paintbrushes, and voila, add the flavor of charm and interest to it. You can either choose vibrant colors or go for a distressed look, as shown in the image.
6. Glass Bead Candle Holder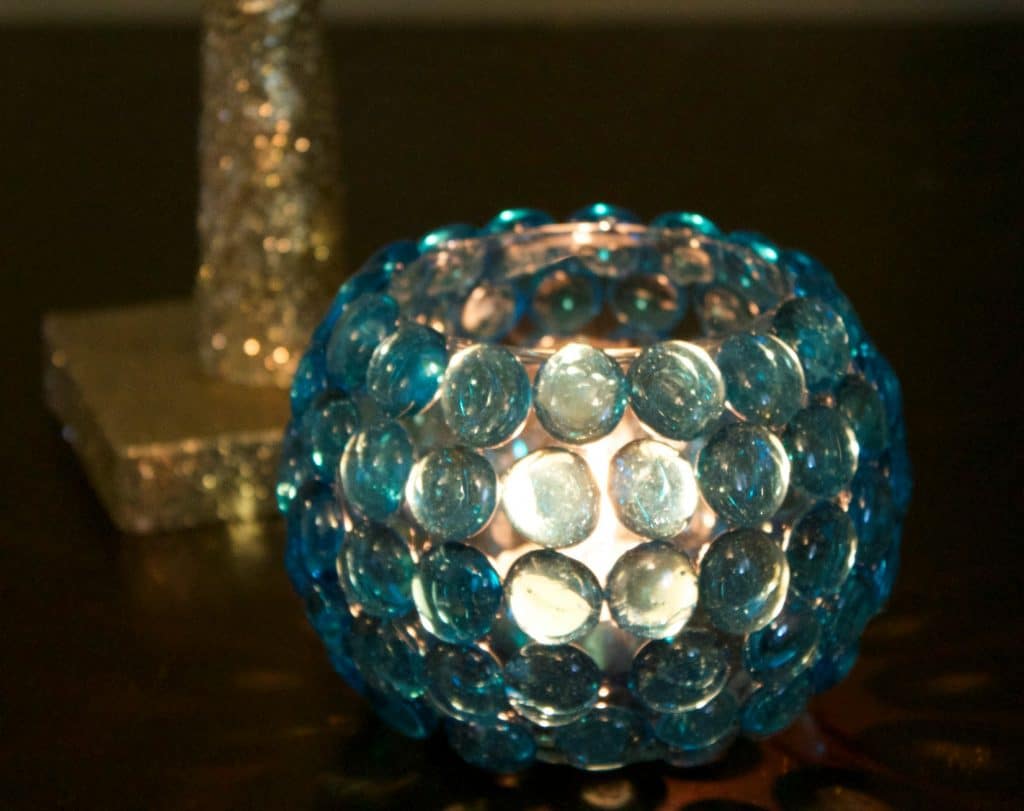 Candle holders are not a very fresh idea when it comes to home decor, but this project is something that will change the perception. This candle holder is very easy to make. You just need some small oval glass container(s), glass beads, and a glue gun to get started. All you have to do is simply stick the glass beads on the container. You can place it on a dining table, mantle piece, or centerpiece to add a touch of warmth and sophistication.
7. Monogram Wall Art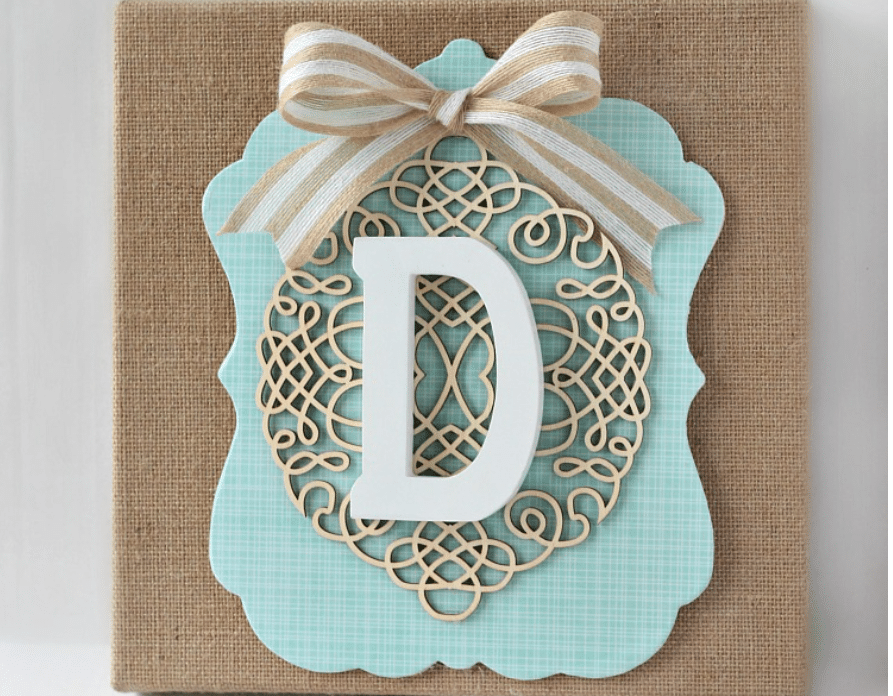 Monogram makes for great wall decor when well customized. You can get the letter of your name from any nearby dollar store, pair it with an earthy canvas, a glue gun, and a wooden/cardboard decorative motif, and you're good to go. This DIY home decor idea is also great for kids' rooms and can double as a great summer activity for kids.
8. Beehive Mirrors Wall Art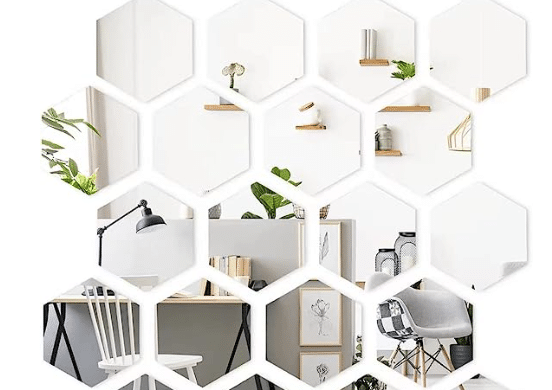 This one is probably the easiest DIY home decor project on the list. All you have to do is get some hexagonal mirror wall stickers; you can also get them from your local dollar store. The next step is to simply find a blank wall and stick them in a pattern of your choice. One piece of advice would be to roughly sketch out the pattern that you wish and then move ahead with the sticking part.
9. Easy Christmas Candles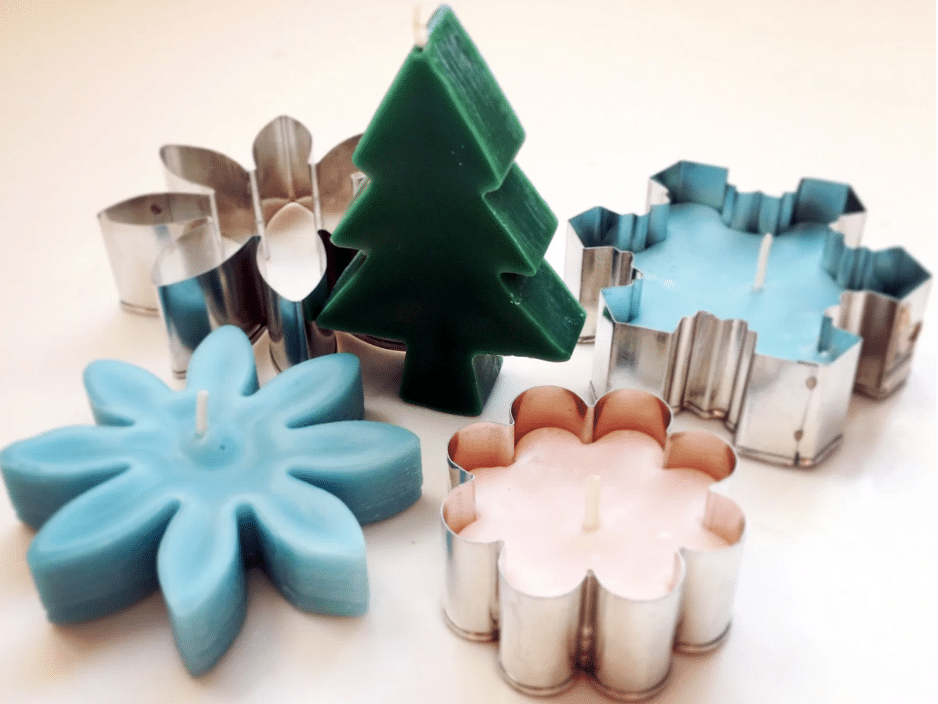 Candles are an evergreen part of any kind of home decor. Did you know that instead of buying candles of different shapes, sizes, and designs, you can also buy standard candles and mold them to your liking? Just some cookie cutters, standard candles, and candle wicks are needed to make Christmas-themed cute little mini candles. Simply heat the wax, pour it into the cookie cutters after putting the candle wick, and let them dry.
10. Gold/Silver Accent Vase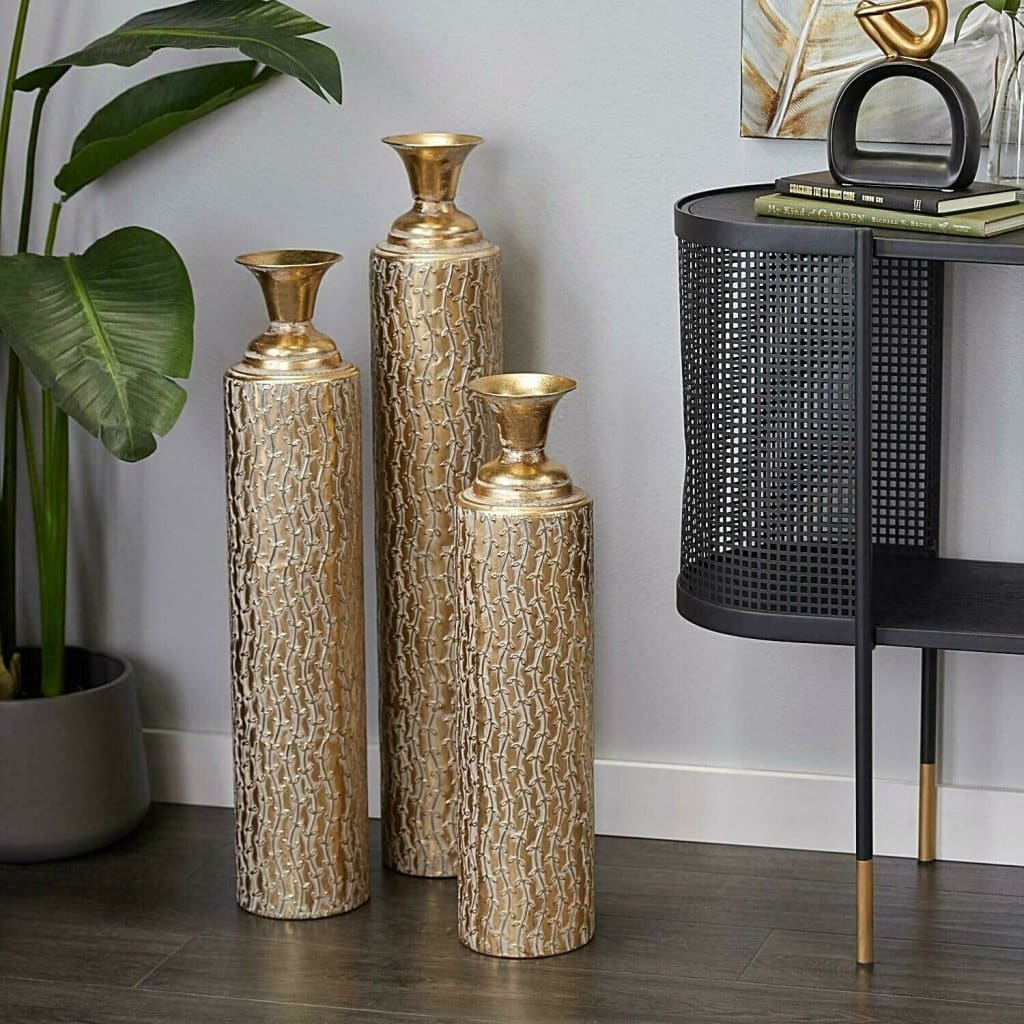 Another easy-peasy DIY home decor project, which turns out to be good in no time! A flower vase is found in every home, but you can make yours stand out by simply spraying some metallic paint on it. You'll need to get a transparent flower vase, some electrical tape, and metallic spray paint. Simply put the tape over the vase in a design of your choice, and spray paint with silver/gold/copper paint matching your other decor.
11. Thumbtack Wall Art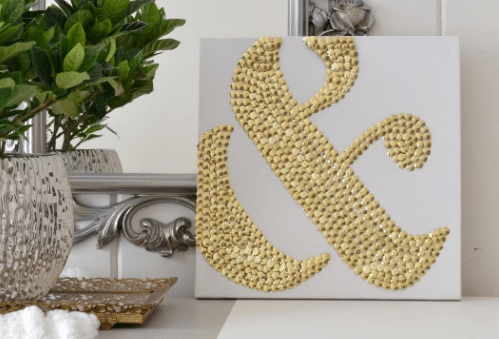 Adorn your walls with a personal touch with this easy and unique idea. You'll just need some thumbtacks and a canvas of your desired size, and you're good to go. Roughly sketch whatever you want onto the canvas before using any thumbtacks. Unleash your imagination and add a pop of personality to your place with this inexpensive DIY home decor project.
12. Boho Vibe Hanging Shelf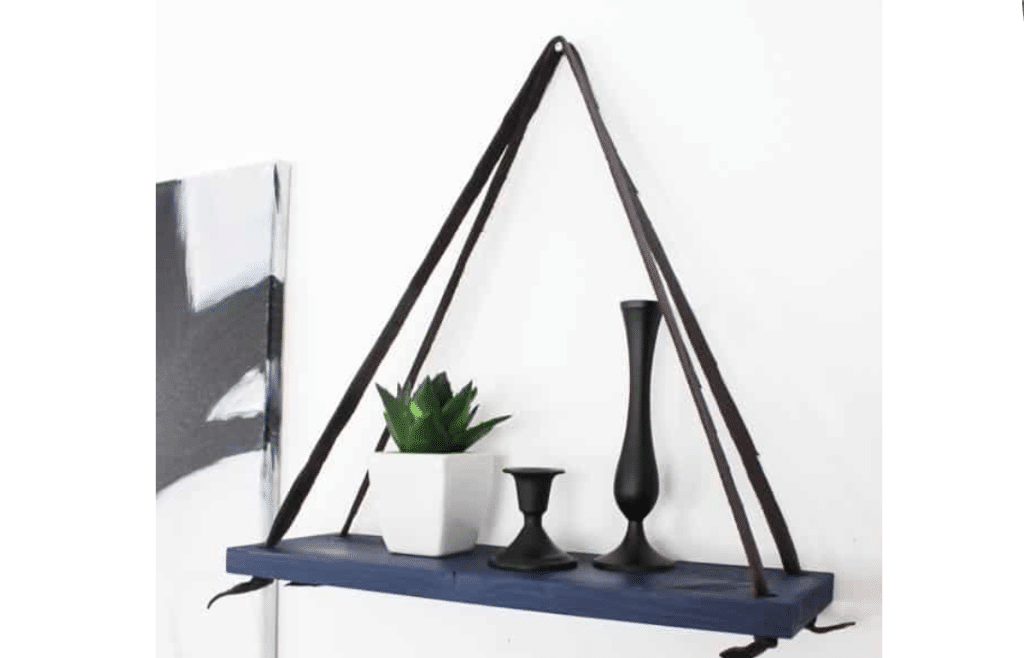 This one is a fantastic addition to any room. It instantly adds a touch of relaxed and free-spirited lifestyle to your living space. You can easily get a shelf board cut and hole-punched from any neighborhood dollar store. Apart from that, you just need some denim paint, leather, and glue. The idea is to make straps of leather and pass through the holes in the board, tying a knot at the other end.
13. Mini Bar DIY Home Decor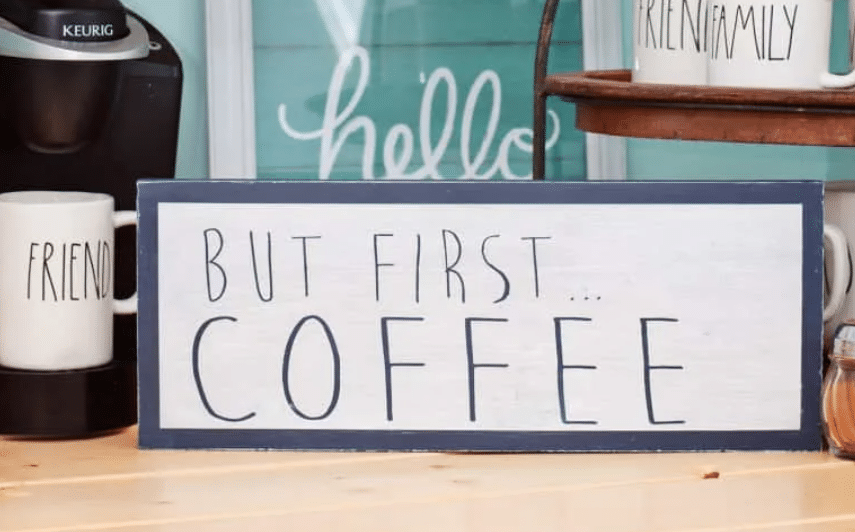 As a good host, we always want our mini bars/coffee bars to show off a bit of personality. With this DIY mini bar/coffee bar sign, you can add a fun and creative touch to your home. You'll just need some scrap wood, or you can get some from a dollar store, and what's left is just paint. Unleash your creativity and make the most of this DIY home decor project.
14. Chalkboard Frame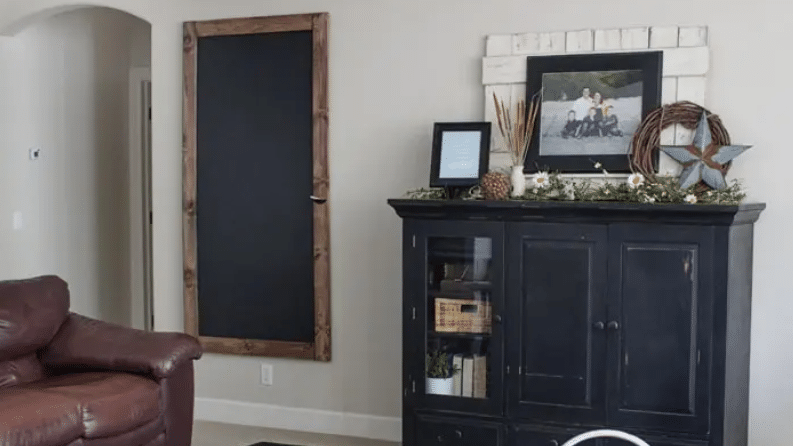 This one is a pretty versatile and eye-catching addition to your living space. The framed chalkboard provides an opportunity for you to show your creativity, brainstorm, and layout plans, or for your toddlers who love scribbling on the wall. All you'll need is chalkboard paint and a wooden frame according to the size you want, and you're good to go.
15. Switchboard Covers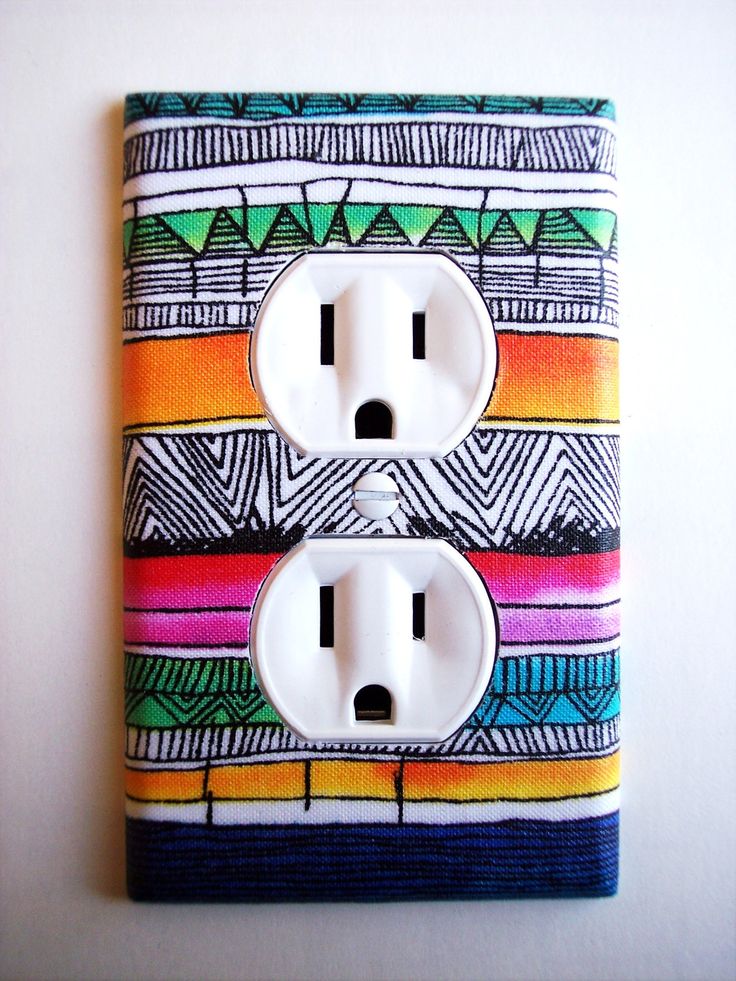 Boring switchboards are something that you really can't get rid of. However, you can very well decorate them. Here's a simple idea to do a complete makeover of your old boring switch plates. You just need some fabric, fabric glue, and you'll be done in no time. Now whether you prefer sleek and modern designs or intricate and ornate patterns, you can play with the endless possibilities for elevating your living space.
16. Accent Wall Mirror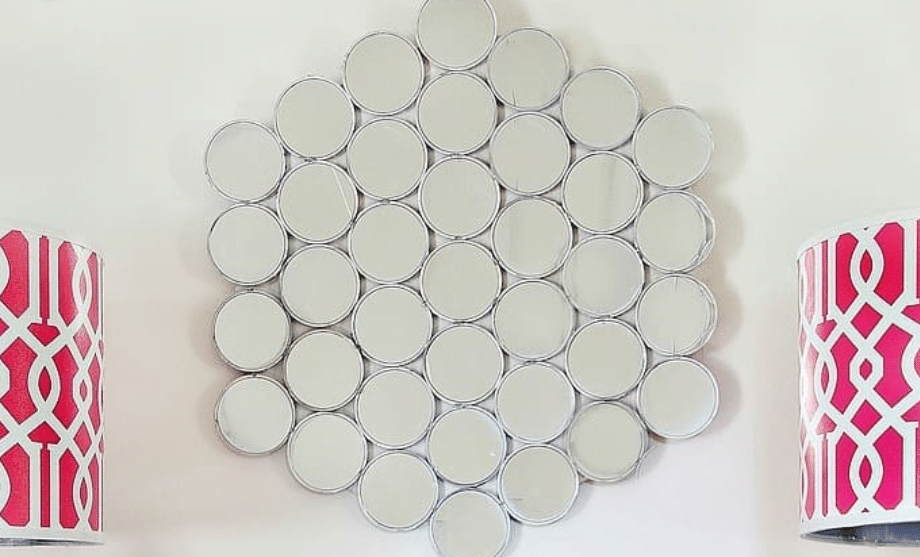 This one is an impressive mirror that will add an artistic flair to your living space. You'll just need a base which can be a wooden board, and some compact(preferably round) mirrors from your nearby dollar store. All you have to do is to cut multiple compact mirrors into two individual circular pieces and stick them together on the board in your desired shape. Additionally, you can color your mirror gold, silver, or copper or leave it as it is.
17. Invisible Bookshelf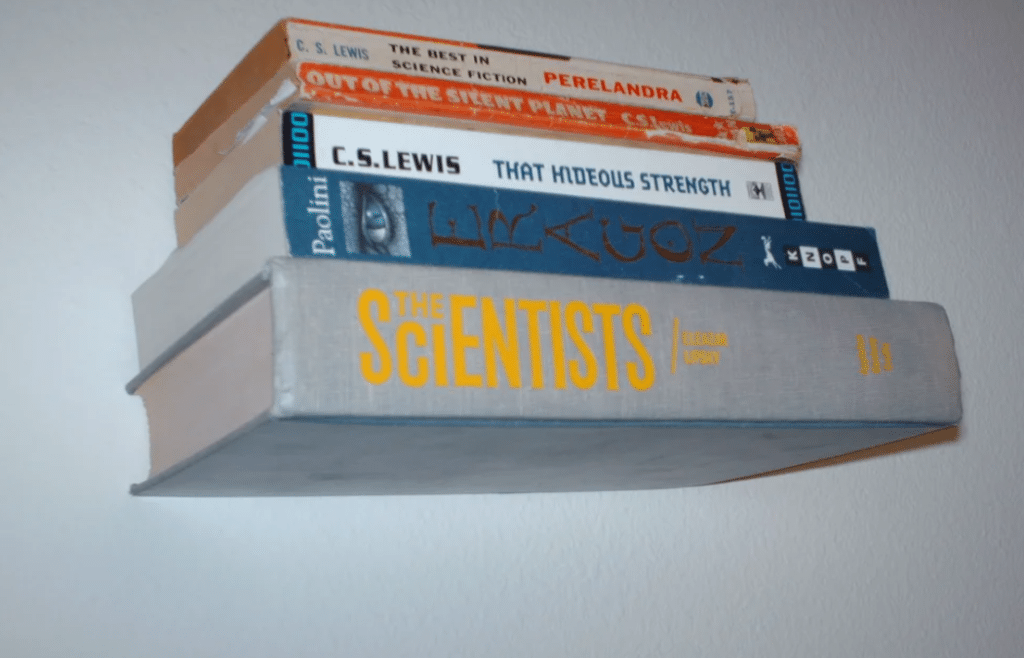 Of all sorts of bookshelves, this one is the most desirable. You'll just need some L-shaped brackets, screws, a knife, and a sturdy book to be used as the bottom part of the shelf. Once done, you can repeat the process with multiple books. By incorporating multiple such arrangements, you can create an impressive look on the wall that will help in elevating the artistic pleasure and ambiance of your room, besides displaying a fine character.
18. Hula Hoop Chandelier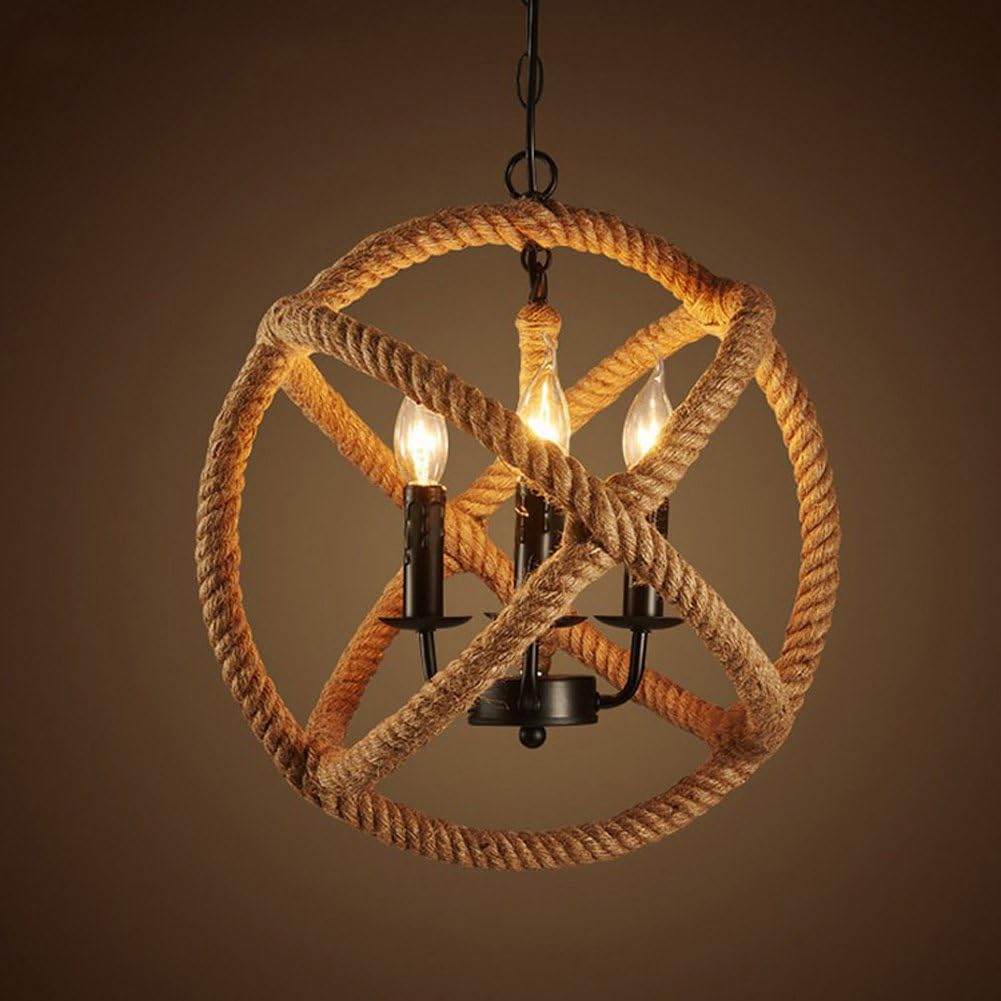 Add a playful touch to any room with this whimsical and unique lightning fixture DIY home decor project. You might have never thought of transforming a simple hula hoop into an enchanting chandelier; well, now you can make it. You just need one hula hoop, some decorative laces, and of course, Christmas lights – all of which you can easily get at a dollar store. Whether you hang this one in a bedroom, living room, or outdoor space, this chandelier will be a focal point!
19. Keyframe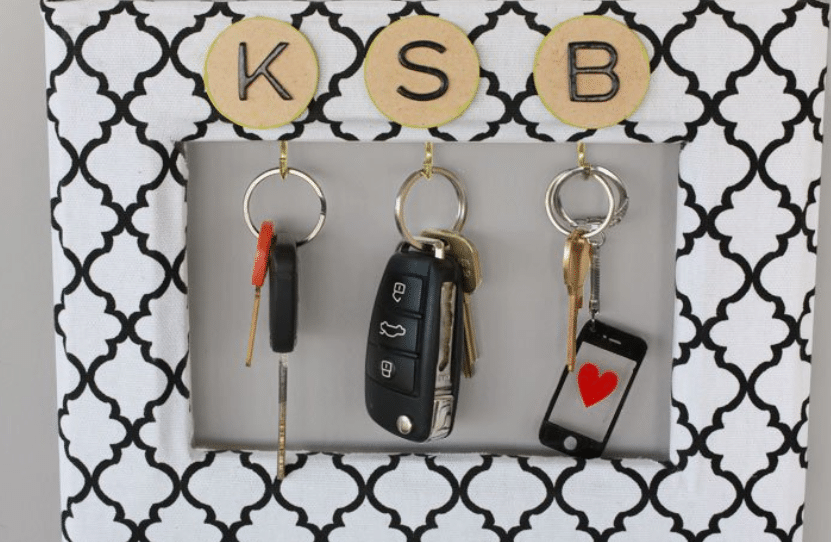 This one is so much more than your basic key holder. With this DIY home decorproject, you'll realize that even basic items like keys can be so beautiful. You'll just need a thick frame and hook screws. That's it; you'll be done after attaching the hook screws to the frame. Additionally, it will elevate the importance of being organized and will also help in hassle-free arrangements.
20. Foam Dice Door Sign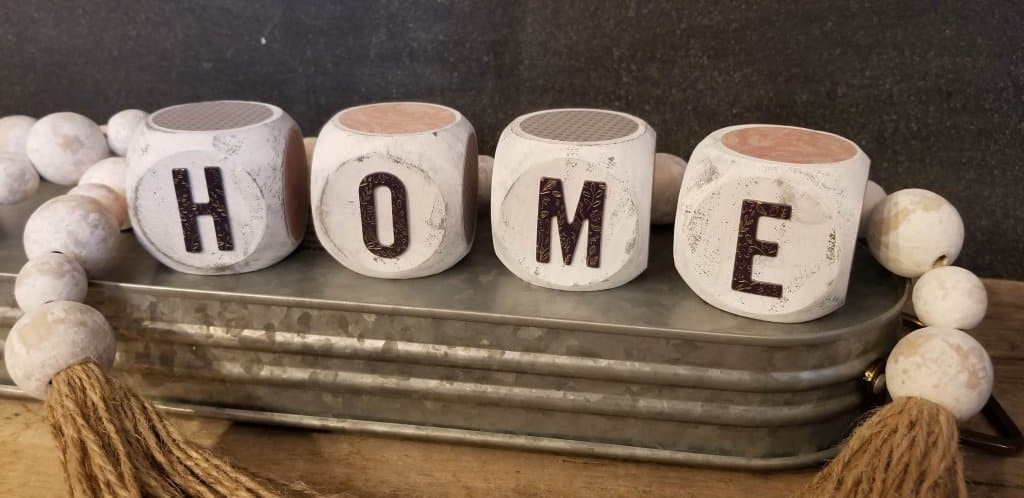 Door signs are a necessary addition to our homes, but they can also double up as quirky home decor. For this project, you'll just need some foam dice, some paint, sandpaper for a rusty effect, and cardboard/wood board to stick and hang. You can begin by thinking of a design and implementing it on the dice; prefer one die for one letter. You can see a step-by-step guide here. However, don't stick to the guide; get creative and give it a personal touch.
21. Clipboard Photo Collage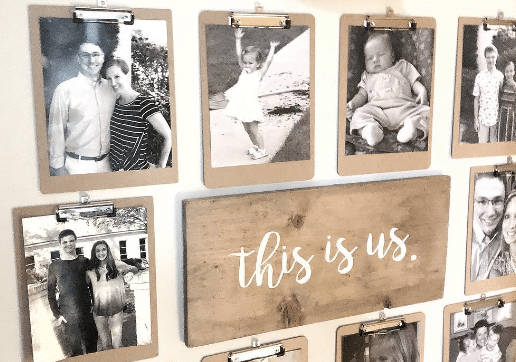 This one is an easy and unique way to display your photos. By using clipboards as a foundation, you can easily arrange your favorite photographs and prints in a visually appealing and customizable manner. You'll just need some wooden clipboards for this project. You can also use a central wooden board/cardboard to display some text, as shown in the image. Simply hang the clipboards on the wall in any desired order, and replace the photos as and when you please.
22. Rustic Frame Lanterns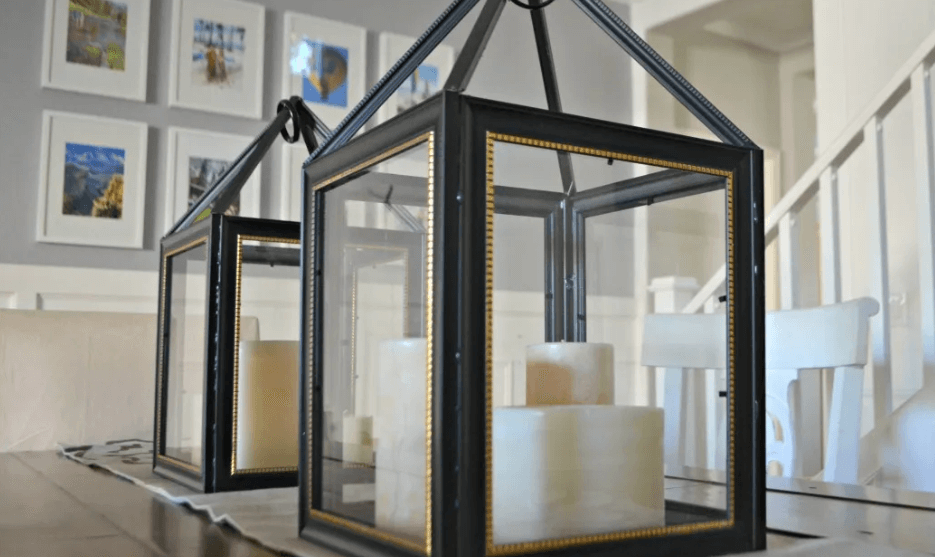 Transforming dollar store frames into rustic lanterns is an excellent way to add a cozy ambiance to your home. In simple steps, you'll just need 4-5 photo frames, take them apart, and just stick all the edges together in a similar fashion as shown in the image. You can use candles to light up this lantern or also play around with fairy lights – depending upon the season and occasion.
23. Mini Flower Vase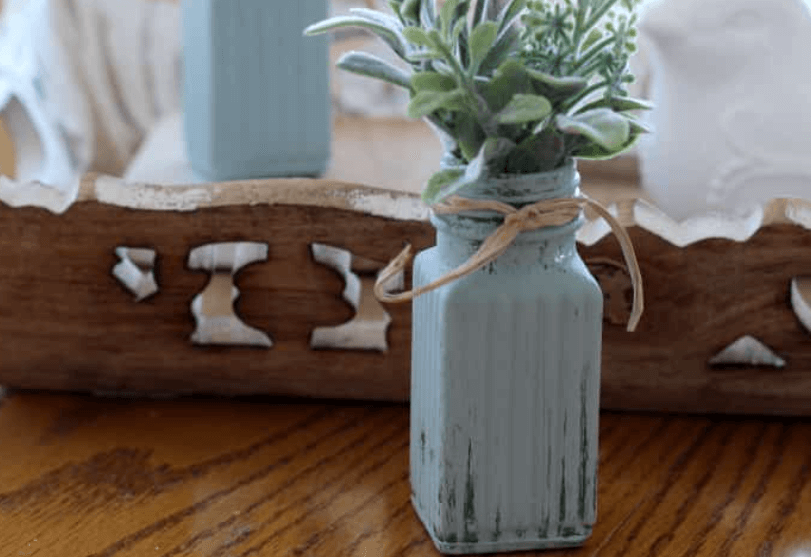 These mini flower vases are an absolute delight to make as well as watch! For making these, you just have to get salt and pepper buds, chalky finish paint, and some faux/real flower stems – all of which you can get at a nearby dollar store. These petite vases are perfect for displaying single-bloom flowers or flower arrangements.
24. Woodlock Calendar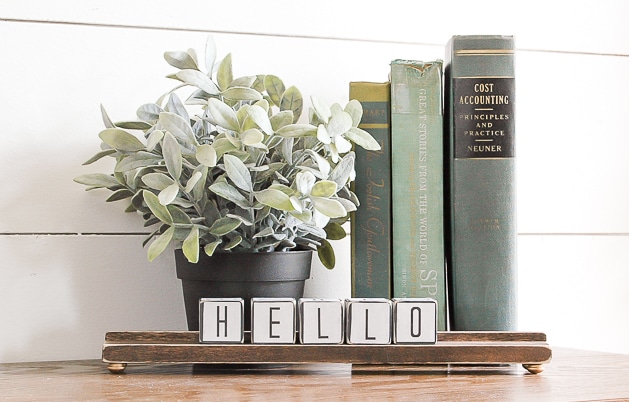 This DIY home decor project is a pretty attractive and chic calendar that can be made out of children's alphabet blocks. You'll need a set of five alphabet blocks, some glue, and lots of creativity. Simply apply some chalky paint over the blocks to hide the letters, then print some letters of your choice and stick them on the blocks.
25. Floating Flowers Wall Decor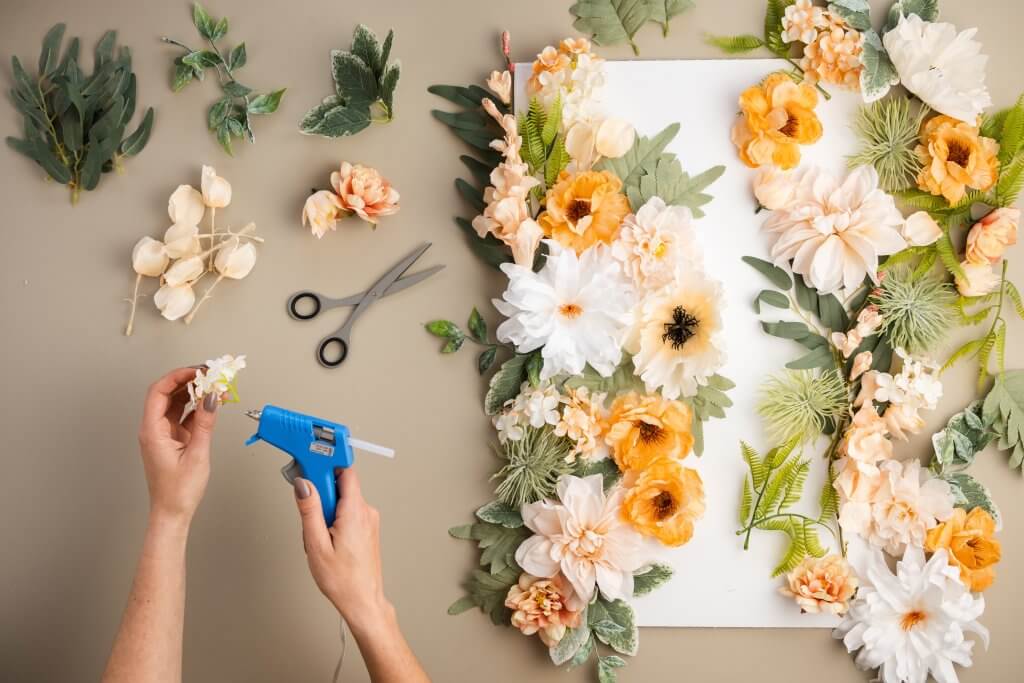 This project is a stunning way to add beauty and serenity to your living space. You probably won't even need to buy anything for this one. You'll just have to use a wooden board, some faux/real flowers, and a glue gun. The result will be something like that shown in the image. Not just for a particular occasion, you can bring this decor idea into use on any given day to amplify the overall look.
26. Mosaic Backsplash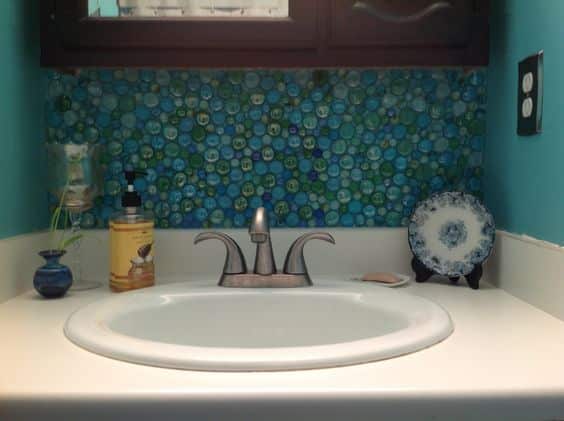 Backsplash is a crucial part of wash area decor, and this mosaic backsplash is both unique as well as artistic. You'll just need glass beads and tile adhesive for this project, which you can get online as well as from your nearby dollar store. The shimmering and colorful glass beads will create a captivating visual effect reflecting light and adding depth to the space.
27. Mini House Bookends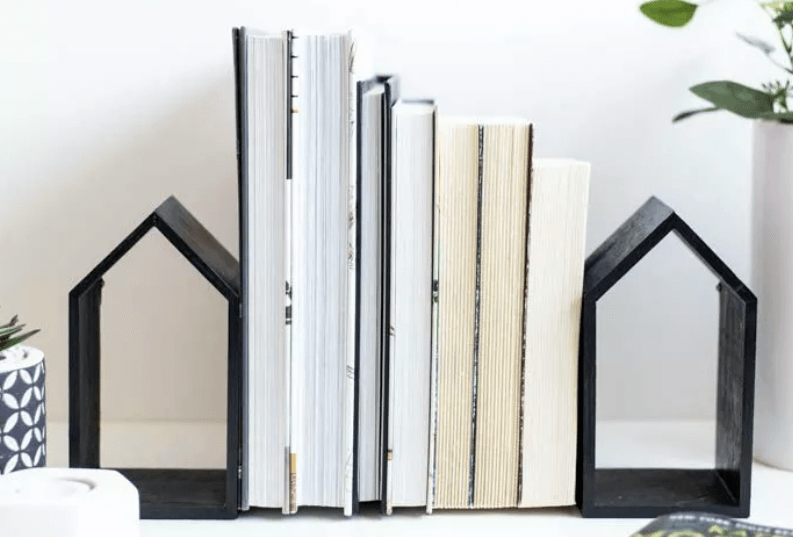 Bookends are a great addition to your bookshelf, and while there are many types of bookends available in the market, the best are DIY. This is again one of the easiest projects as you can shop for mini houses from a local dollar store, and then you just need paint and an L-shaped bracket. Put them together in a similar manner as shown in the picture, or get creative with colors.
28. Animal Bookends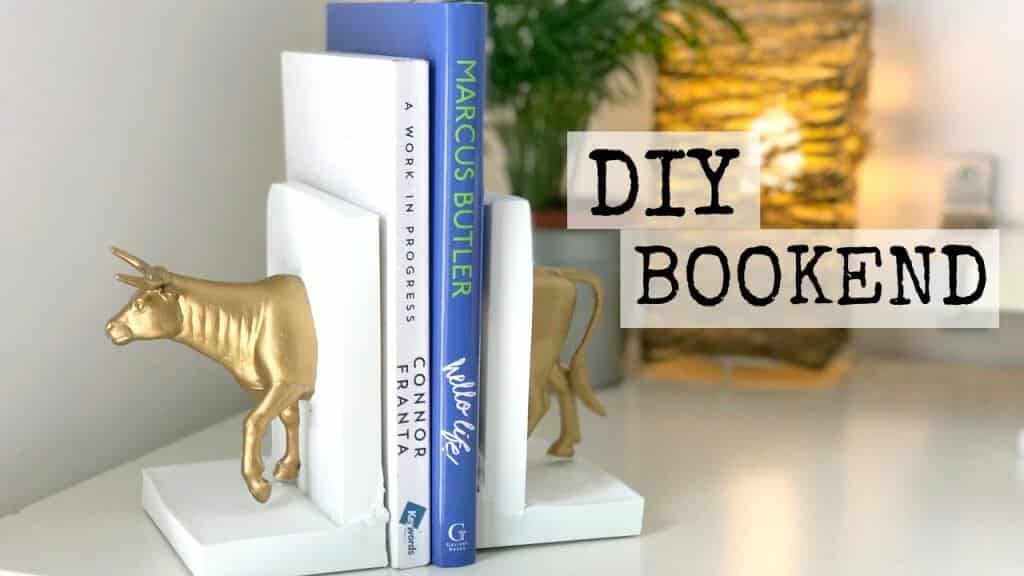 Apart from mini house bookends, this is another DIY bookend that looks cool and is a great addition, especially for children's rooms. You just need to get some plastic animals from a dollar store and a glass photo frame. Just put them together, and your quirky fun book ends will be ready. It also adds a huge degree of aesthetic pleasure to the place wherever it is placed.
29. Mirror Boxes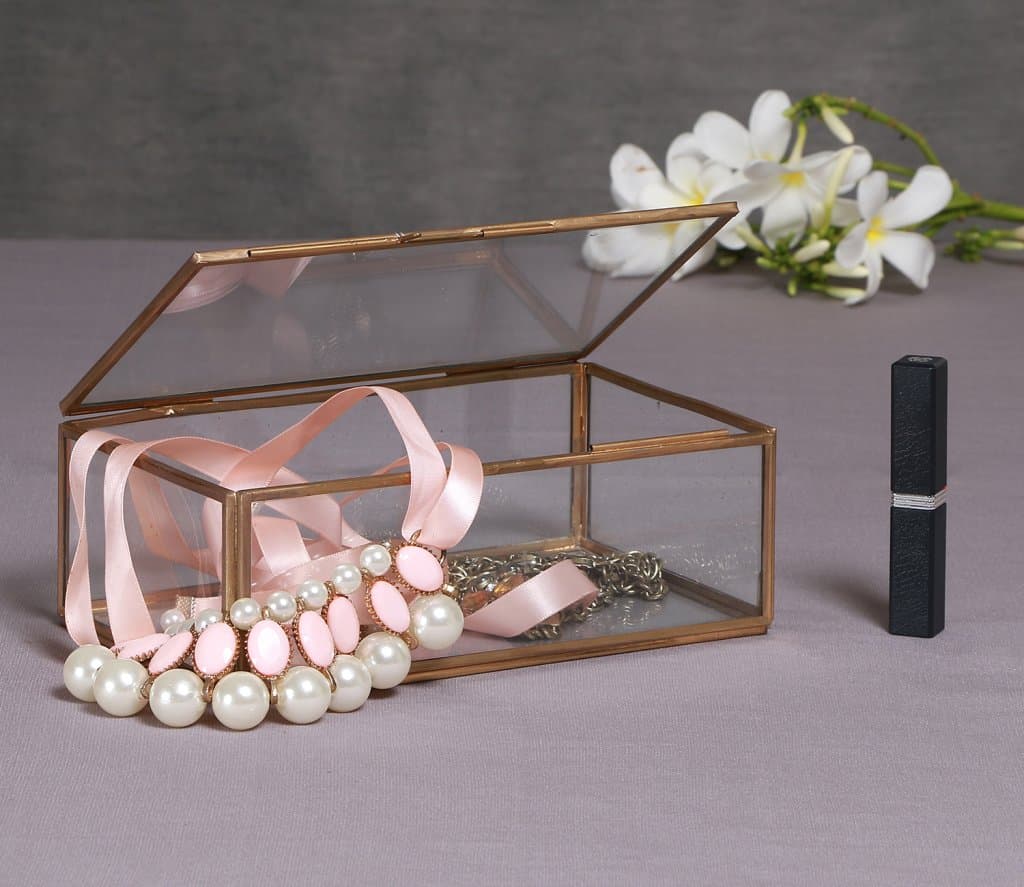 These DIY mirror boxes are a great addition to any home decor. They are easy to make and look super adorable. You'll just need four square mirrors and a glue gun. Just stick the edge of the mirror by the edge, and use a flat square mirror for the base. You can use it as a flower vase, as shown in the image. It is a great option to go for while offering gifts to your closed ones. It has a multi-faceted use that can be used to store items in any manner you wish.
30. Photoframe Backlit Candleholder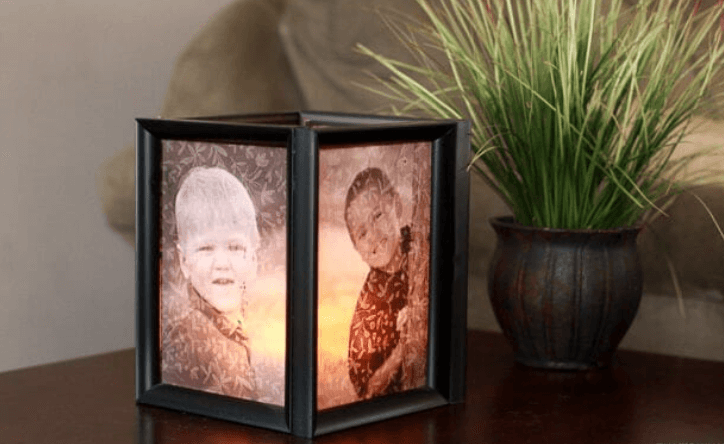 This one is again a simple project that combines the memories from photos along with a luminescent look. You'll simply need four same-size photo frames and some super glue. Just stick these together, and add a base of cardboard/wood board. Illuminate a candle in the middle, or you can also use LED candles. Yet another option that fills up the huge void is to gift your friends on their big day.
31. Flower Vase Holder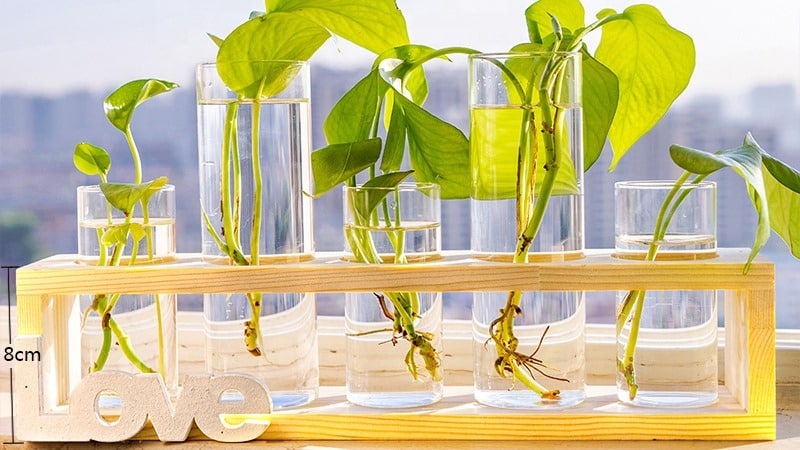 This one is a very unique and picturesque flower vase holder which will add a fresh vibe to your living area. You'll just need some milk bottle vases, board, and glue from a nearby dollar store. With this project, you'll be able to add a unique element to your flower vases and make them stand out. This will help in enhancing the overall look of the area wherever it will be placed. Make sure the room has sufficient
32. Photo Frame Gallery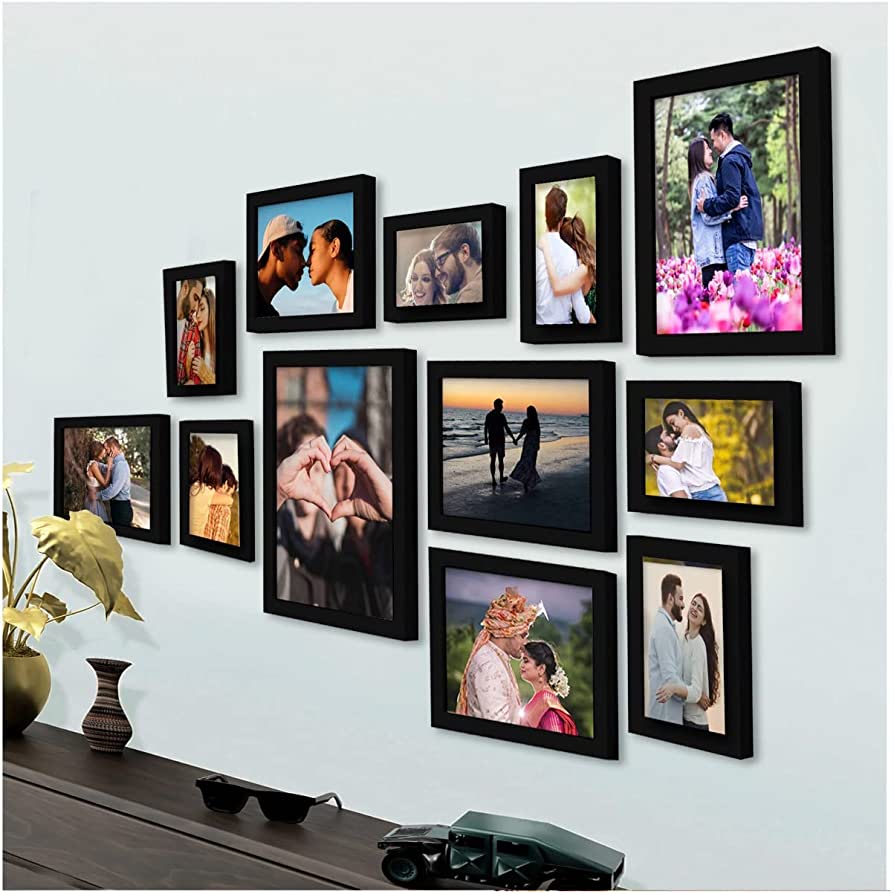 Just like an art gallery, you can put several photo frames – of similar configuration on an empty wall. This will give a very artistic vibe to your living space and is very simple to implement as well. You can get photo frames online as well as from a dollar store. It is always a great call if this kind of arrangments is made in your living room where your guests are made to sit or the first room in your home.
33. Botanical Wall Art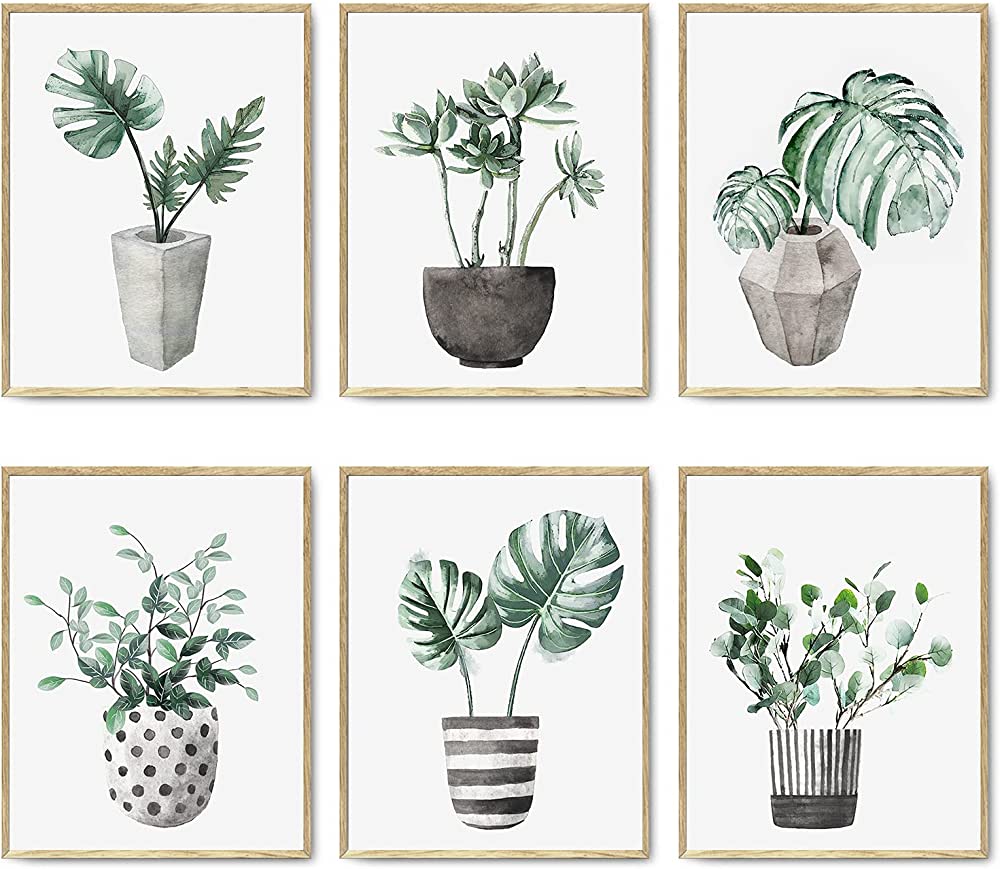 DIY home decor projects in the form of botanical art always give a refreshing vibe to homes. However, it can be very costly. But that's not a problem, as you can easily DIY these. You'll just need some flowers, preferably with a stem; just press them to remove moisture and stick them on thick paper/linen before framing. It is a great option to put your artistic skills on display; this kind of art form is just one you can make use of from plenty of options available or anything based on your wish.
34. Faux Grass Carpet Photo Gallery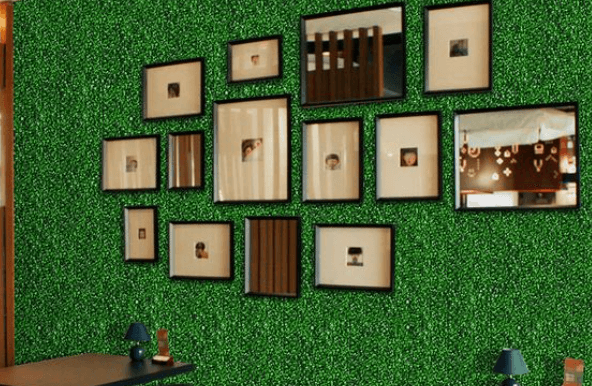 It is a very simple idea of sticking a faux green carpet over a section of wall – which will give it a fresh green look. You can get some strong glue, and classic wooden/wooden accent photo frames, as shown in the picture, and you're good to go. After you're done with the wall, let the carpet stick properly for some time, and then on top of it, you can hang photo frames, wall hangings, shelves, etc., to make it look more appealing.
35. DIY Sneaker Gallery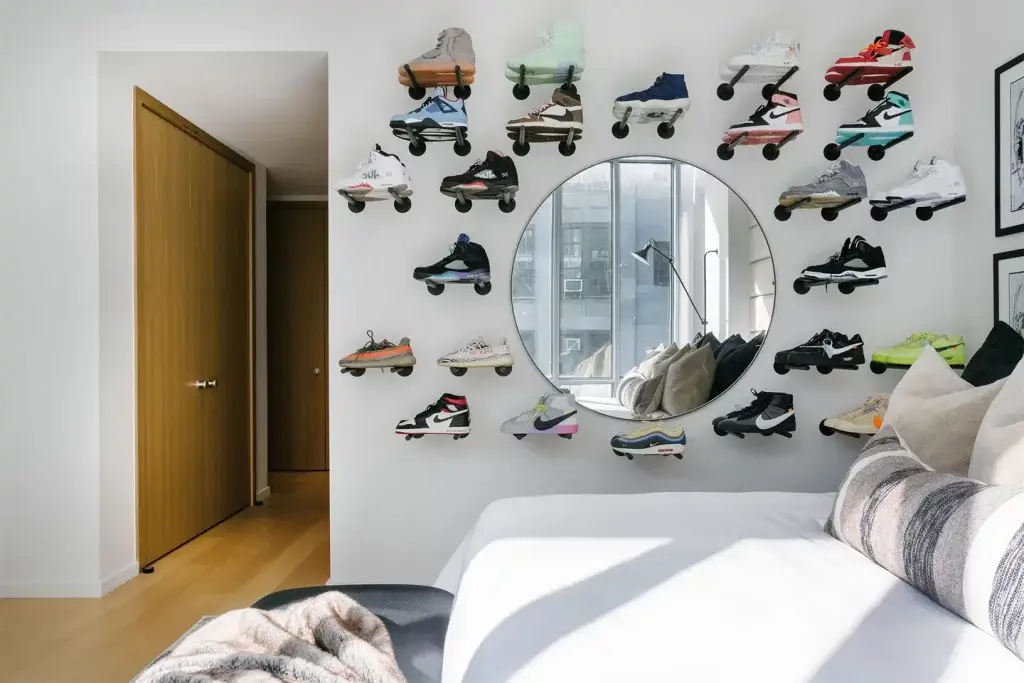 A great DIY home decor for sneakerheads! Simply buy some sneaker storage shelves or boxes, and put them together in any way you fashion. You can also make a floating sneaker gallery, as shown in the image, by getting these shelf brackets. Sneakers are a priced possession in today's era, and we sneakerheads know the wear and tear they get after each wear. Hence, to showcase your sneaker collection without much wear and tear, this is one of the best options.
36. Vintage Storage Boxes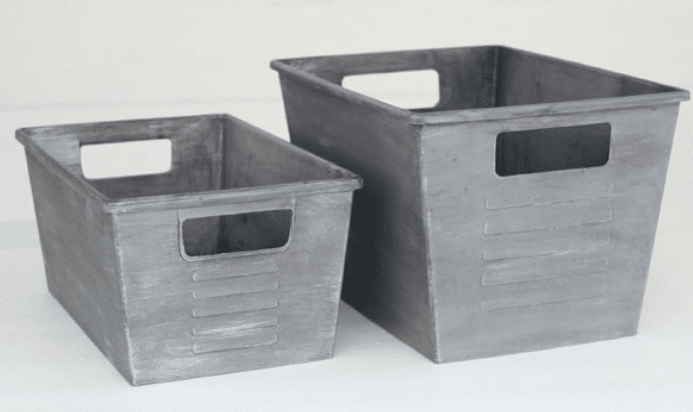 Through this project, you'll be able to turn simple bland-looking storage boxes into vintage boxes just by painting over them. Buy some boxes from a dollar store, some chalky paint, and sandpaper. Paint over the boxes, and rub some sandpaper briskly for the desired effect. It has a multi-faceted use ranging from living room, kitchen, store room and many more.
37. Potted Topiaries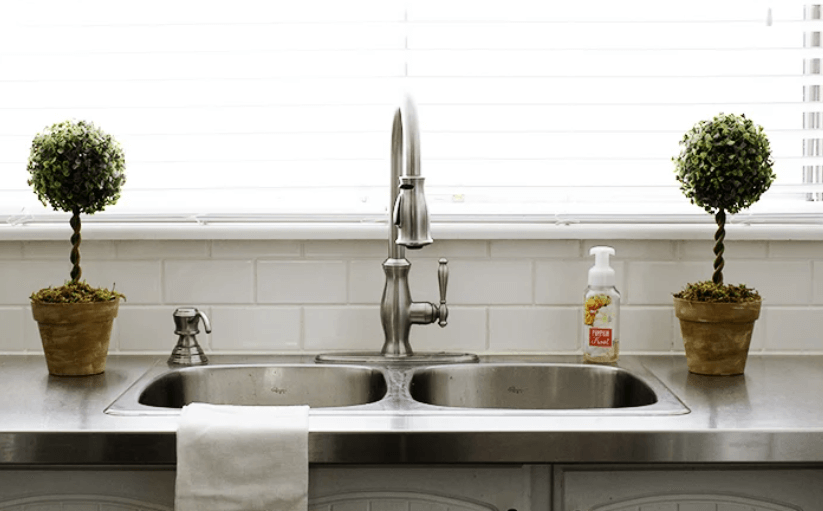 Topiaries Are Beautiful in all senses, and to have them in pots as home decor will just add freshness to the overall living space. Head over to this easy tutorial for making potted topiaries for your home. These potted topiaries will stand out in your home decor as they are so much more than just another potted plant. Not only will they add a touch of greenery, but they will also showcase your artistic flair whenever you have guests over!
38. Wall-Mounted Basket Shelves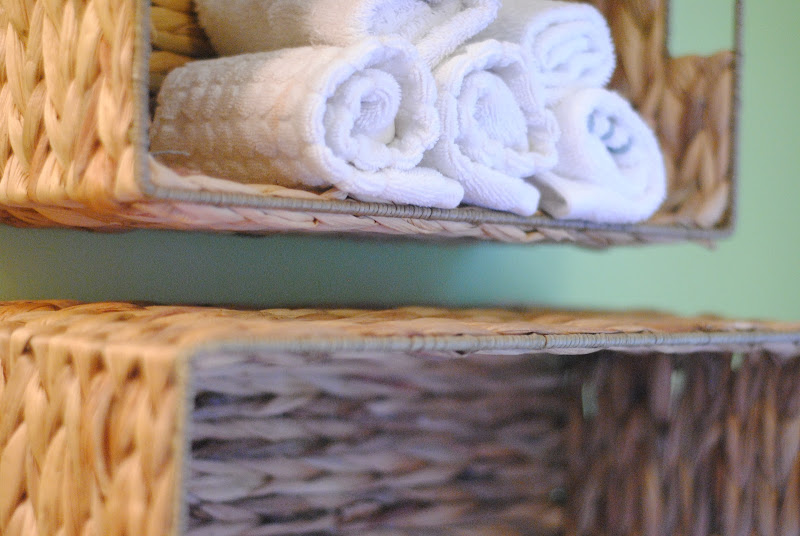 Baskets are a great way to store things, but they get so much more interesting and visually appealing when used as shelves. Especially wooden and bamboo baskets will look great for this DIY project. For corners and confined spaces, you can use one basket, and for wide open walls, you can arrange multiple.
39. Mirror Jewelry Hangers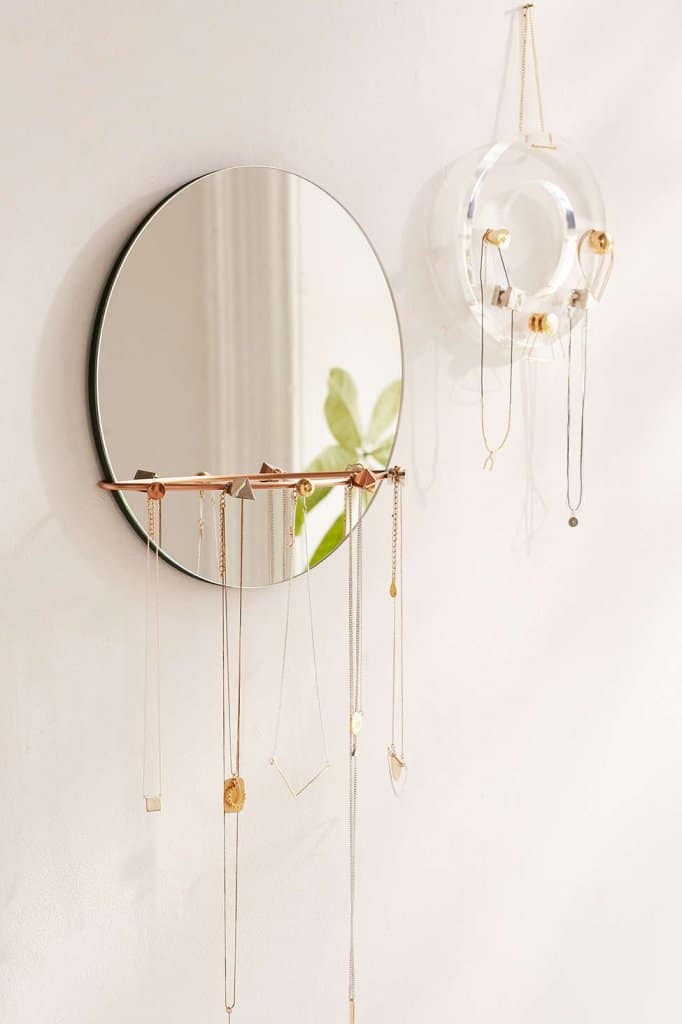 These jewelry hangers are both convenient as well as unique. This easy diy home decor project will turn some heads for sure. You just need some hexagonal mirrors, double-sided tape, hooks to hang jewelry, and a glue gun. The result will be awe-inspiring jewelry hangers, as shown in the picture.
40. Classic Poster Gallery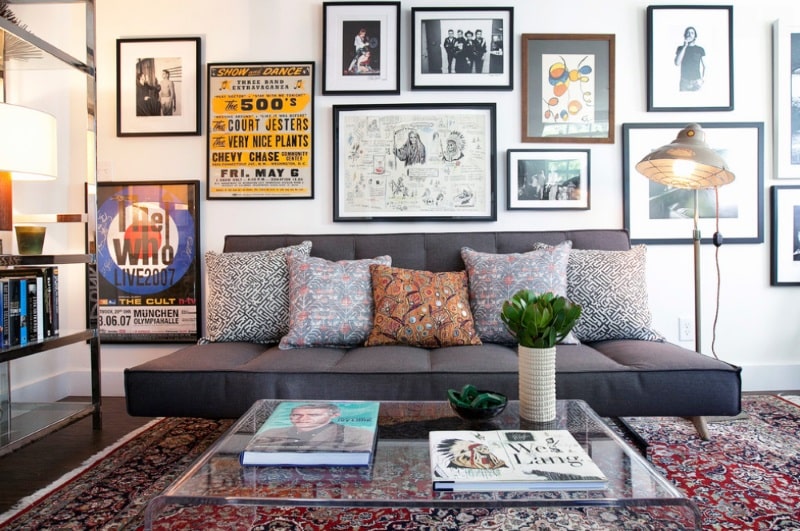 Posters always stay in fashion, and they reflect your taste in the best possible way. Whether you are an anime fan or a Potterhead, you can decorate any wall with all the posters that you like. Whether to go frameless or framed is totally up to you. However, the best advice is that if you're a student or on a tight budget – you can always go for non-framed posters. For working individuals, framed posters will be best as they will enhance the look as well as be easy to clean and manage.
41. Sunburst/sunrays Mirror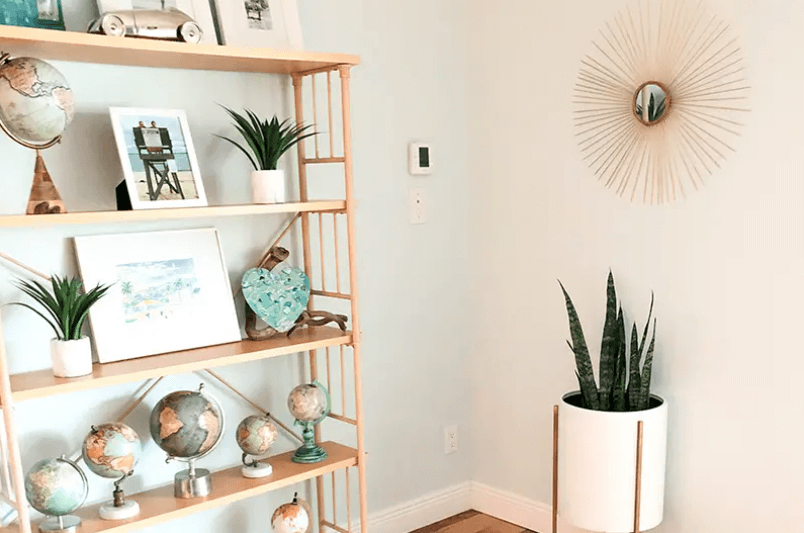 This exquisite-looking mirror is not at all complicated to DIY. Revamp your dressing room or living area with this simple yet elegant mirror. You just need a circular mirror, cardboard, a glue gun, bamboo skewers, and gold spray paint. After putting it all together, the result will be similar to the image shown. This project might look complicated, but it really isn't.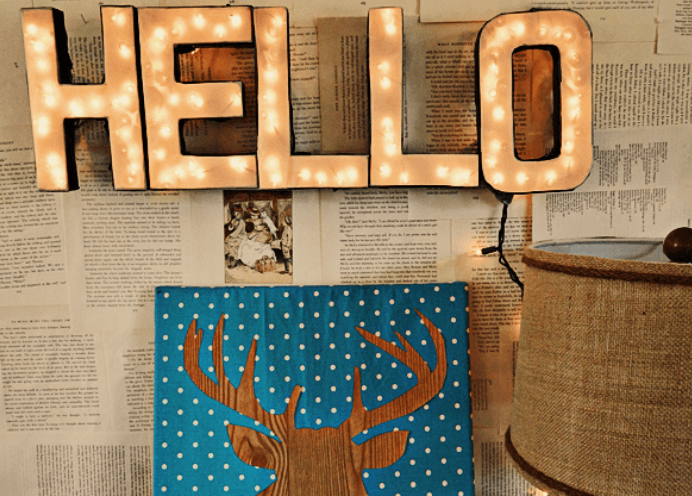 Marquee letter signs are the talk of the town these days. Not only do they look aesthetic, but they also add to the vibe of any party/get-together. However, these letter signs can be very expensive if you buy them. Hence, here is an inexpensive and equally beautiful diy solution. You'll just need cardboard letters, some butter paper, lights, and other common craft supplies.
Conclusion
DIY Home decor project is not always about buying expensive items and arranging them to get an elegant look; it is more about displaying your personality and infusing a deep sense of character into lifeless elements, which is more achievable with DIY projects. DIY home decor is about enjoying the process, the time, and the work that you put into making things presentable.
When being enquired about your home decor, you can proudly say that it is something you made and share the wisdom as well. And for what it's worth, all of these projects can be achieved by spending just a few bucks at the dollar store and very little time to deal with creativity.
Set out on your creative renovating journey with these ideas, and do let us know how you plan to proceed with the ideas ahead.