Are you puzzled between all the trendy sage greens for your interior? Well, that's very natural, especially when trying to keep up with the trends! We understand how even the smallest difference in the shade can impact your interior's appearance. But do not worry! We will help you pick the perfect shade of sage for your space. In particular, one true sage green fits the bill – the exquisite Sherwin Williams ClarySage.
To help you master the usage of Clary Sage, we have spilled all the details and specifications about Sherwin William Clary Sage in this review. We will also discuss the best application areas to achieve your desired ambiance. So, are you charged up to make the best use of Clary Sage for your interiors?
Stay with us till the end to discover the detailed description of the timeless elegance of Clary Sage SW 6178.
All About Sherwin Williams Clary Sage: SW 6178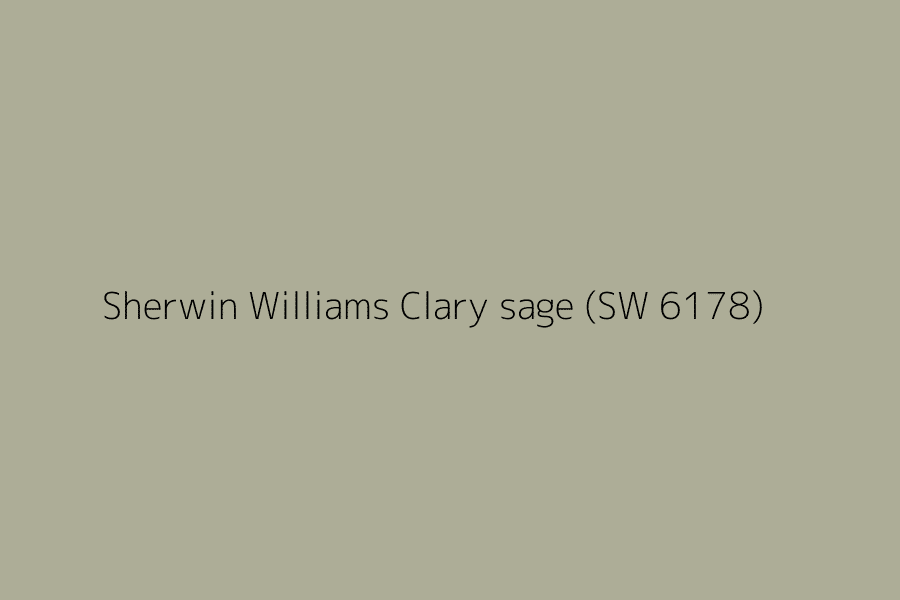 SW – 6178 is a hue we love! Clary Sage makes a place appear livelier, from its color tones to gentleness. In fact, every stroke of this beautiful sage green exudes peace. It is a color that has an instant calming effect. And if you love nature, then this herbal green color has a bonus effect. Wondering what? It brings the outdoors to you in your indoors.
However, before jumping excitedly and transforming your space, hold your horses and pause. First, let's consider this color's basics- what color is Sherwin Williams Clary Sage? What are its undertones? And how does it work under different lights?
1. What Color is Clary Sage Sherwin Williams?
Clary Sage is muted green color. Or some also say it is a combined shade of gray and green. Basically, it belongs to the green family. And for us, Clary Sage is the closest to the color of the herb – sage. It's a true sage with undertones of a dash of yellow.
Having said that, Sherwin Wlliams Clary Sage has a medium tone. It appears cooler or warmer depending on your light source. Do you know why? Because every color you see has an LRV (light reflective value). It determines how much a color reflects light.
In this case, Clary Sage has an LRV of 41. Although it is in the lower half of the spectrum, Clary Sage is quite refreshing and light. If we further discuss Clary Sage based on the RGB model (red, blue, green) – the primary colors are mixed in this ratio: 172, 173, and 151, respectively. And the Hex Value is #ACAD97.
With this, we have detailed enough of the technical aspect associated with our Hue. Let's move on to learn other aspects of Sherwin Williams Clary Sage.
2. How Does Light Affect Clary Sage in Space?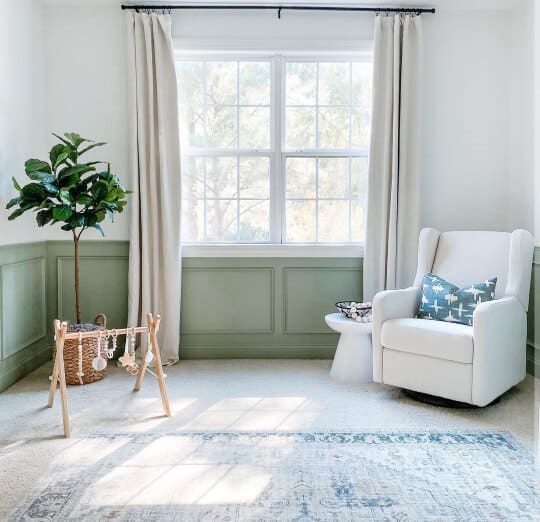 This natural color needs natural light to shine the most! If you have ample space and a good source of natural lighting, voila! You have got the best version of Sherwin Williams Clary Sage! Besides, if you have a north-facing room, brownie points to you. Your space will have a perfect balance of warm and cool tones.
Aside from that, we also suggest using Clary Sage in smaller rooms. Just play it smart. Skip painting all the walls. It will make your room appear small and dull. Instead, paint the accent walls. Adjust the intensity of your light set-up (stick to a more natural looking one). And you are good to go!
Coordinating Colors of Sherwin Williams Clary Sage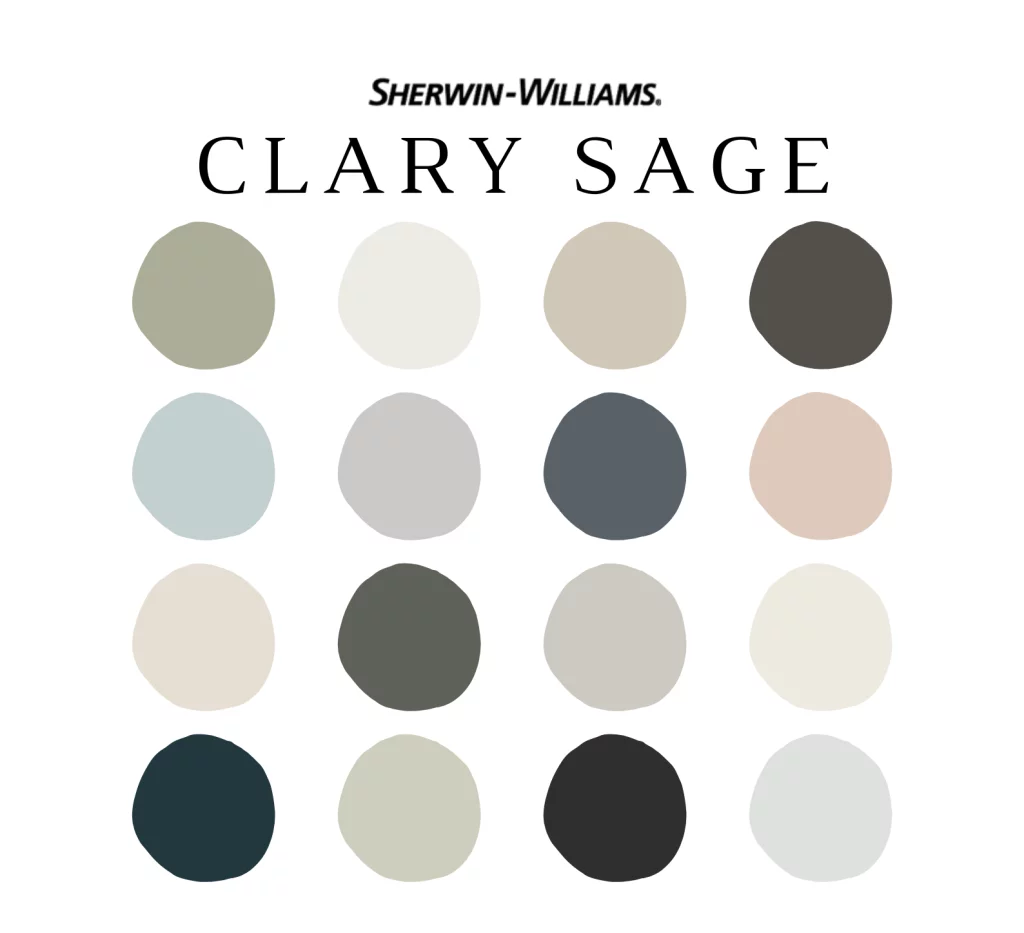 Now let's dive into the fun part – the colors that coordinate with Clary Sage. Well, if you ask us, you can pair it with almost EVERYTHING owing to its neutral characteristic. On the one hand, you can pair it with darker and warmer shades to create bold impacts. On the other, you can pair Sherwin Williams Clary Sage with lighter and cooler shades too. It adds a very minimalistic and chic character to your space.
You can also try a monochromatic palette as per your theme. Or, add some contrasting shades like SW – 6107 (Nomadic Desert) to create a bohemian vibe. In order to make it a bit easier for you to understand, we have comprised a comprehensive list of coordinating colors for Clary Sage into two sections:
1. Clary Sage With Muted Hues
If you prefer a soft ambiance, here are some shades to experiment with Clary Sage:
2. Clary Sage With Bold Hues
If you are more inclined towards creating unique spaces, try pairing Clary Swage with the following Sherwin Williams shade:
Tip: Keeping these palettes aside, always try different combinations. Be spontaneous and play with the shades you prefer. Trust us, you will be surprised by the unique results.
Where to Use Clary Sage in Your Home (Interiors)
Just like you can pair Clary Sage with everything, you can use it EVERYWHERE. You can paint any space of your house with this color without any disappointment. It is one versatile color that will never seize to impress, and that's exactly why Sherwin Williams Clary Sage is highly preferable.
1. Bedroom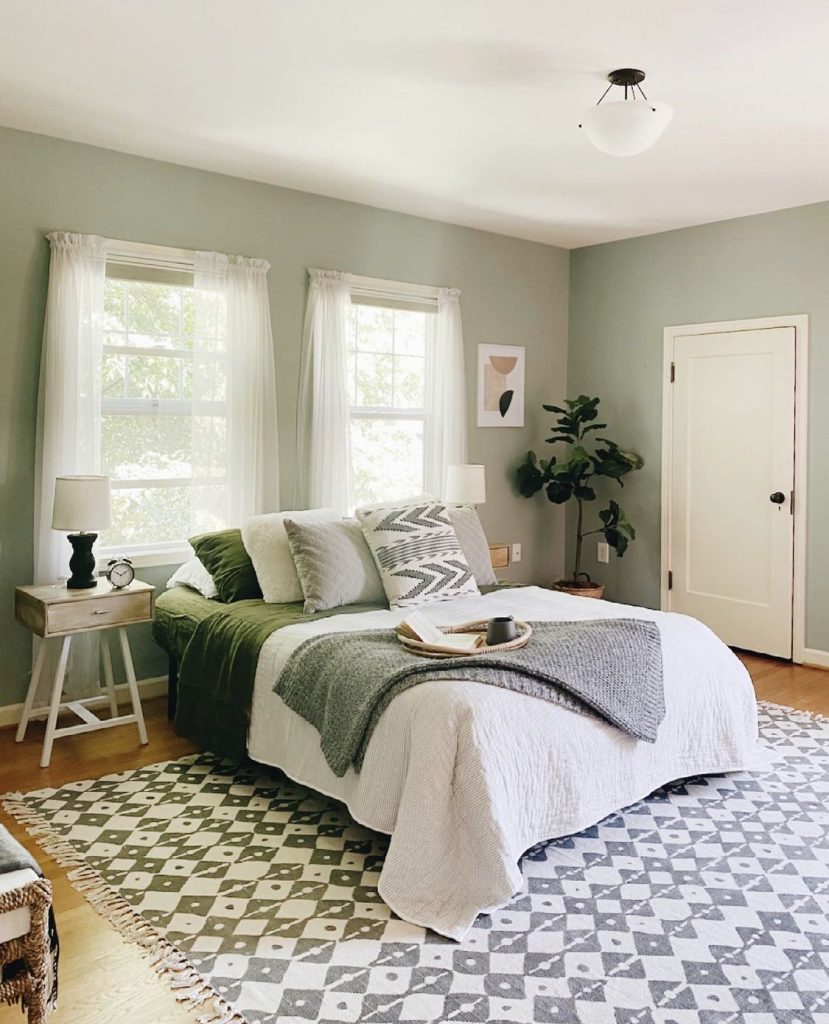 Imagine walking into your bedroom painted with Clary Sage after a strenuous day. And guess what happens? Your attention shifts. Your anxiety takes a sit back. The next moment, you will relax in your favorite corner of your room and let loose.
Are we exaggerating? Maybe a bit. But look at that picture again. Isn't it so serene? If you want Clary Sage to shine through, do not clutter your room with extra furniture. A warm white bed with some contrasting pillows works great with Sherwin Williams Clary Sage. You can further add some rugs and wooden desks for texture.
2. Living Area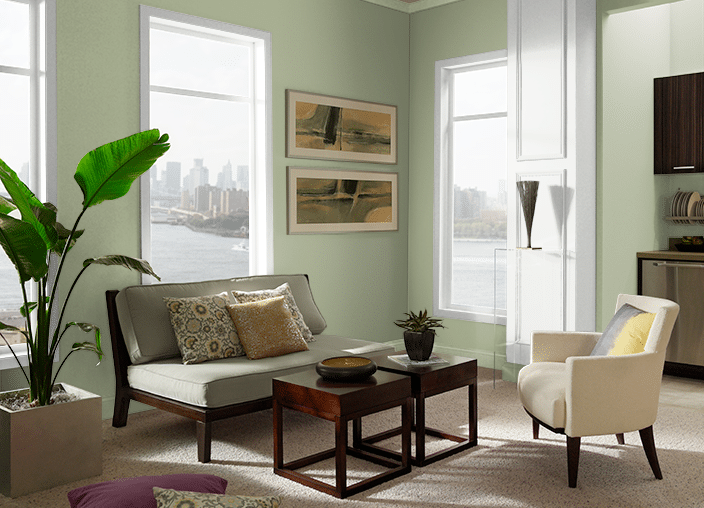 The living area is the most used in a house. From having family talks to hosting house parties, this is the most exposed area of your house. That means it has to look the BEST. And Sherwin Williams Clary Sage rises to the occasion.
Clary Sage makes the area more inviting and comforting. In short, it is the perfect place to have a good time. Add some linen curtains, off-white sofas, and wooden shelves to style it aesthetically. Even painting the trims with off-white or pure white does wonders. Besides, you can also have a good indoor plant to complement the Clary Sage.
3. Kitchen Cabinets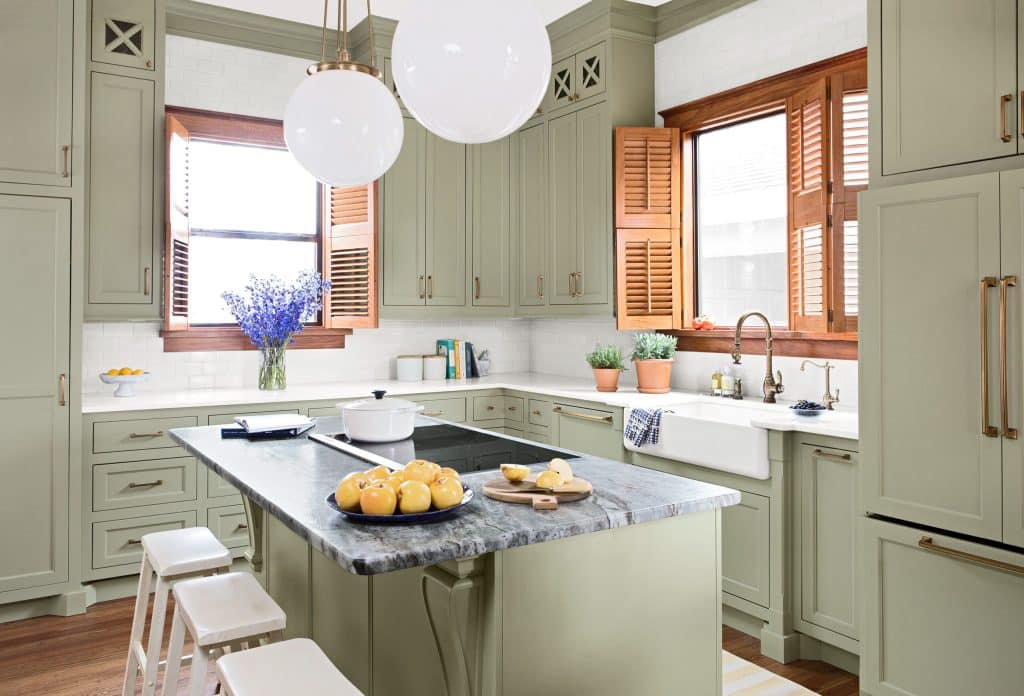 A trendy contemporary kitchen looks amazing in the Clary Sage shade. Yes, it looks so modern you might never want to step out of your kitchen (even if you DO NOT cook). But Clary Sage is not limited to modern kitchens; it can equally be used in traditional ones!
Moreover, if you wish, you can paint both the kitchen and cabinets, even the kitchen island, in Sherwin Williams Clary Sage. Yes, just add some other elements to ensure Clary Sage stands out. Like some quirky wallpapers, a chich chandelier, and wooden or terracotta flooring. We also love a splash of colors like orange accents and burnt caramel here and there.
4. Dining Space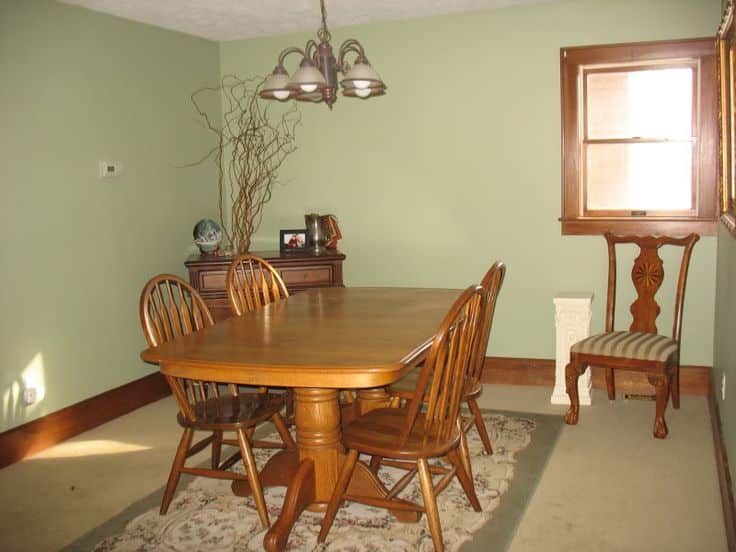 Clary Sage is an excellent color for a dining space. Whether you have an open or closed dining area, the neutral tone exudes a tranquil environment. It is apt for having a meal any time of the day. You can paint an accent wall or paint the chairs of your dining area with Clary Sage.
Aside from that, a wooden dining table will be a great finishing touch if all four walls are in Clary Sage. Add more decors if you want, as per your taste, but stick to minimalism.
5. Work-Space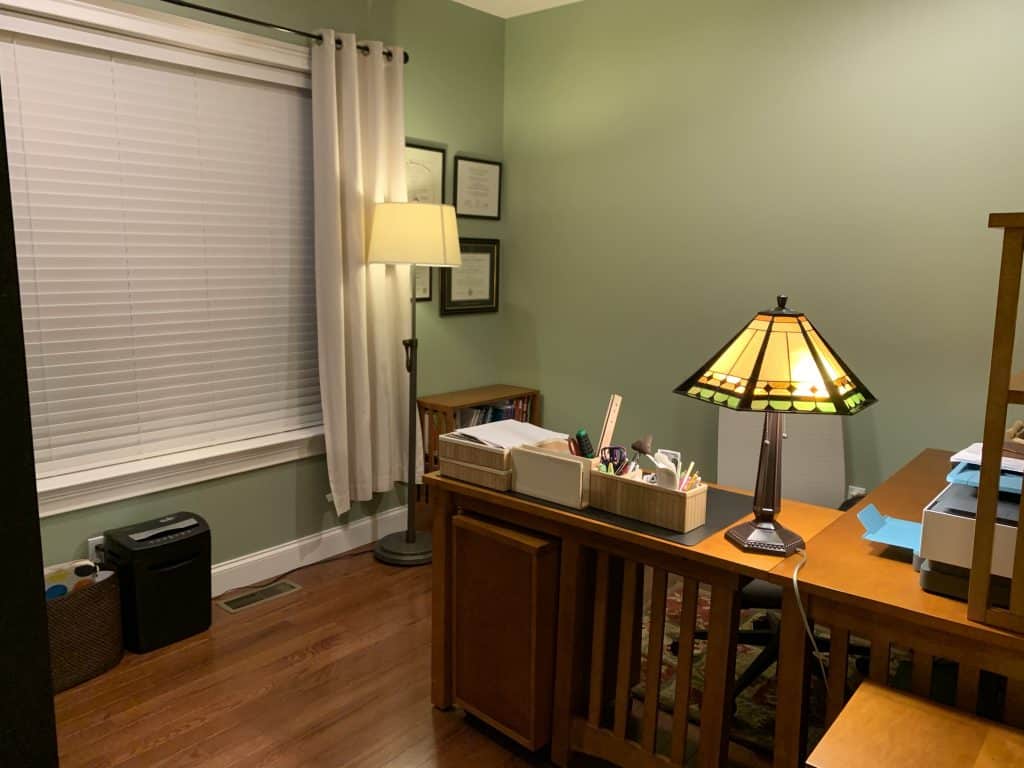 This color is a fantastic choice for your workspace if you work from home. It creates a serene ambiance and oozes positivity. Plus, it reduces the strain on the eyes from constant screen time. Even a hectic day becomes a bit easier to tackle in such an environment.
And in case you do not work from home, you can still customize your office space with SW Clary Sage paint. Add some little desktop plants and cute decors to make the space your own. After all, who doesn't love a stress-free office space, isn't it?
6. Bathroom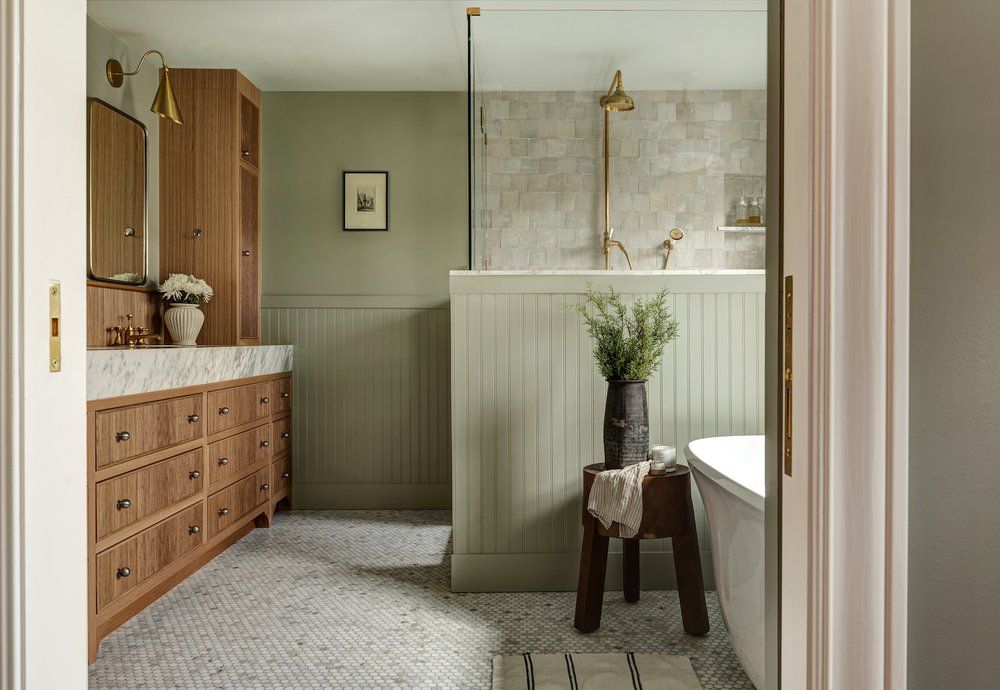 It is one of the most interesting spaces to use Sherwin Williams Clary Sage. You can transform your bathroom into any vibe. Clary Sage can do it all, be it aesthetic, quirky, or bohemian. As you paint the bead boards of your bathroom with Clary Sage or the accent walls, add some black cabinets and marble flooring to accentuate the shade. Even a little touch of white rim mirrors helps to pop the Clary Sage more.
Clary Sage for Your Exteriors
We hope by now you have enough ideas of how to use Sherwin Williams Clary Sage in your interior. It's time to give you some visuals and ideas for your exterior. Yes, you read right; Clary Sage can also be used on the exteriors.
1. Base Color for Outdoors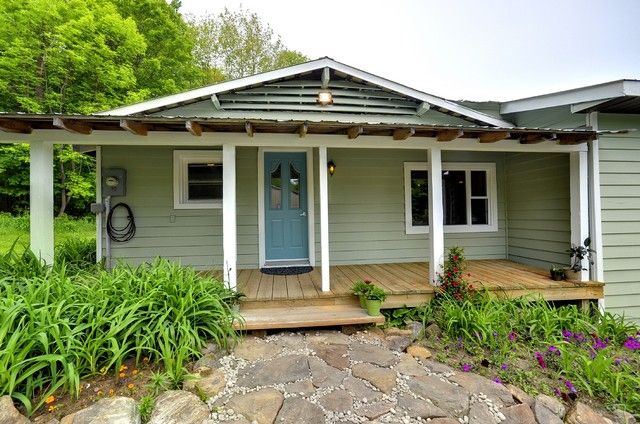 You can use the most amount of Clary Sage on the exterior as the base color of your house. You can use it in any style of the house, be it a bungalow, craftsman Mediterranean, or modern architecture. Clary Sage is a subtle color and looks best with white and dark brown or brown wooden rooftops. You can also use it in your exterior trims as well.
2. Front Doors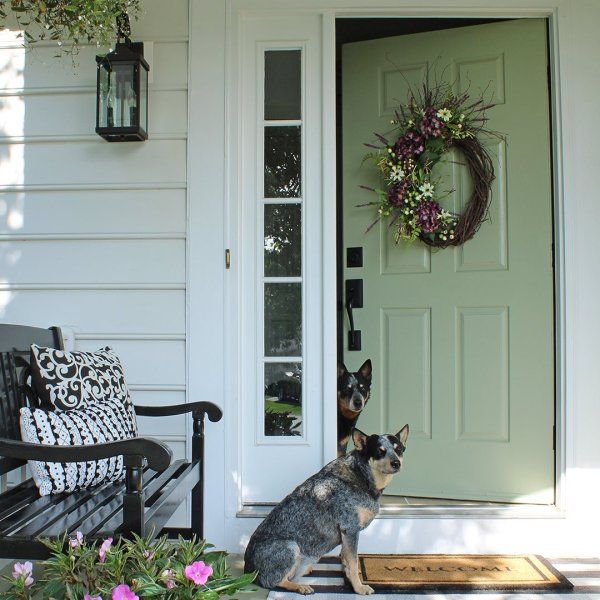 Clary Sage on the front doors is a statement of its own. It welcomes everyone with warmth. Along with the front door, Clary Sage also looks good on the garage door. It's a surprise when it is paired up with brick walls. Moreover, if there's a lawn or some kind of greenery, it goes onto another level. If you do not have any, you can always purchase some plants to elevate the entrance of your house.
3 Similar Alternatives to Sherwin Williams Clary Sage
We always believe alternatives are essential to make an informed choice. It gives you a proper vision for choosing the right space color. Although we absolutely love Sherwin Williams Clary Sage, and no color replicates its vibe, here are three similar colors to look at: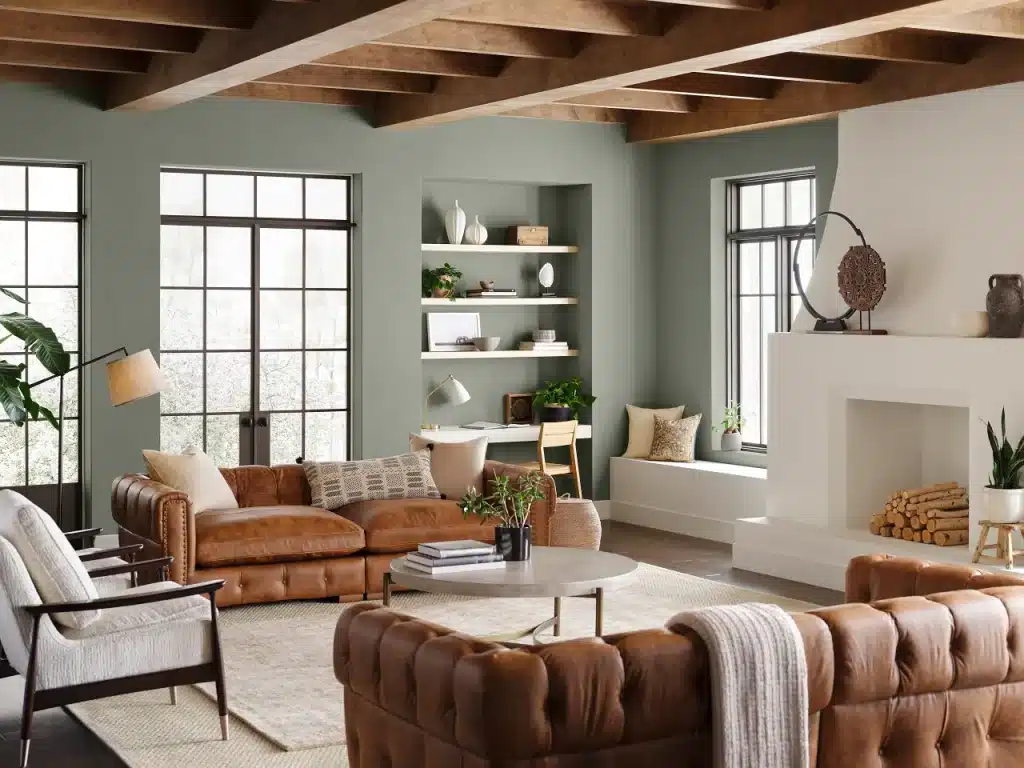 Just like its name, SW 9130 is an evergreen color and an excellent alternative to Sherwin Williams Clary Sage. It was Sherwin Williams's color of the year for 2022. A warm green color with an LRV of 30, Evergreen Fogs has a tad of blue undertones. With a neutral tone similar to SW 6178, Evergreen Fog also adds fresh air to your space. You can incorporate it with SW Neutral White and SW Dried Edamame.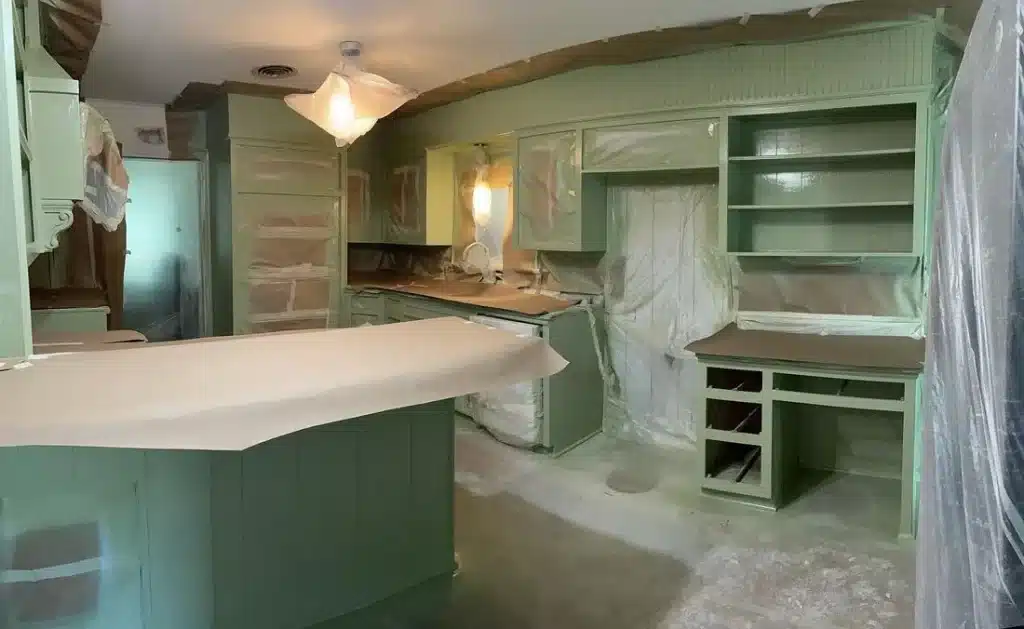 Another similar shade from the green family is Majolica Green. It has an LRV of 42 and is a little less gray than Clary Sage. The yellow undertones are quite prominent in SW Majolica Green. If Clary Sage is a bit lighter for your space, you can opt for Majolica Green. You can coordinate with SW Oyster White and SW Steal Stencil.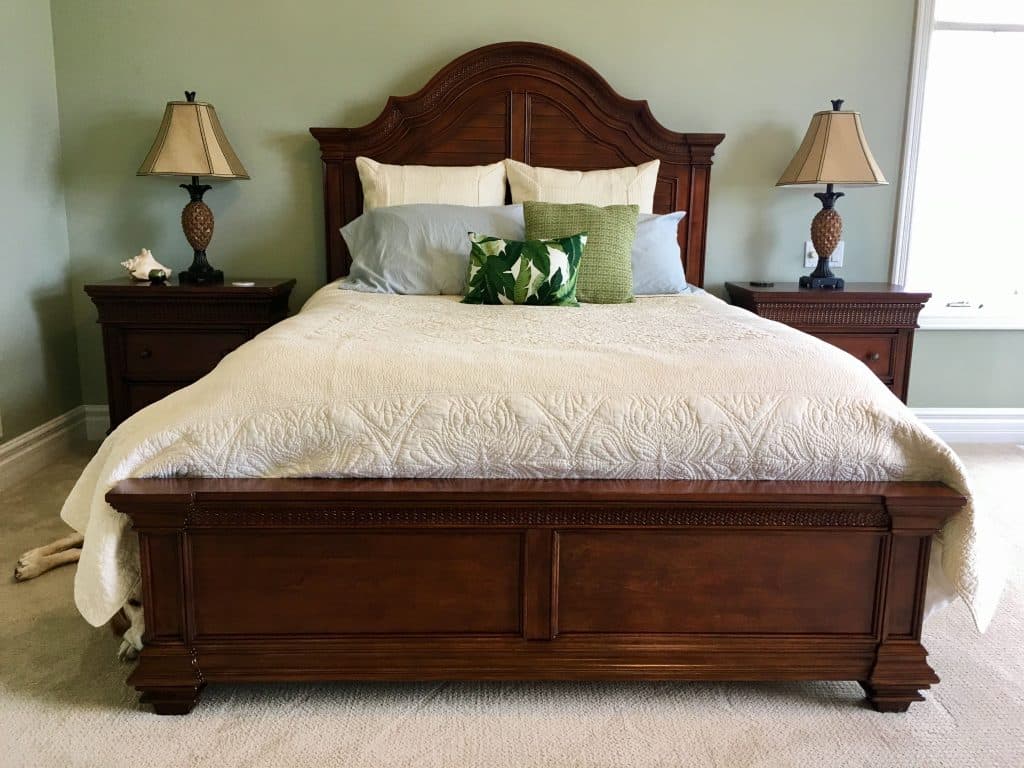 If any brand comes 99% close to SW Clary Sage, it is Benjamin Moore's Saybrook Sage. It is hard for an ordinary person to pinpoint these two colors' differences. In fact, there are only technical differences like the undertones and LRV.
Saybrook Sage has an LRV of 44.86 and boasts more gray undertones than yellow; apart from that, it has the same depth and appears like a twin of Clary Sage.
Saybrook Sage has an LRV of 44.86 and boasts more gray undertones than yellow; apart from that, it has the same depth and appears like a twin of Clary Sage.
Sample Test for Sherwin Williams Clary Sage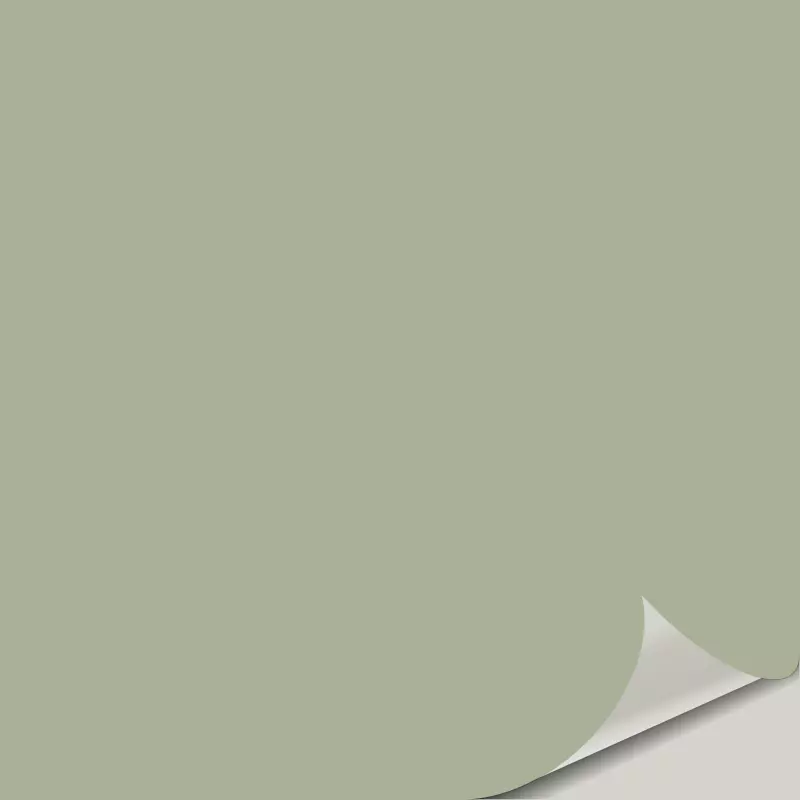 Still not clear how it would look in your house? No worries! We have a solution for this too. Do a peel-and-stick sample of Clary Sage and paste it on the wall.
See it yourself if it complements your space on an overall basis. Make sure to check it under both natural and artificial lighting. This is the best way to finalize any color for your space. Plus, it does not get messy (clean freaks – you can have a sigh of relief)!
Unwind With Sherwin Williams Clary Sage
Sherwin Williams Clary Sage is a color to unwind your soul. It helps you revive your energy and feel at peace. In addition, Clary Sage's muted green and yellow undertones also evoke a connection between you and your surroundings. Moreover, Clary Sage also tunes in perfectly with its neutral, earthy, and cool tones. And its compatibility with a diverse color palette makes room for creative and well-balanced design. All of these reasons make Clary Sage SW 6178 a top choice for everyone.
Have you used Sherwin Williams Clary Sage before? What colors did you pair it with? Share your experience with us in the comments. If you still have some queries in regards to Sherwin Williams Clary Sage, feel free to drop them below.
We are always there to guide you when it comes to colors!
Frequently Asked Questions
Which Sherwin Williams Shades are Darker and Lighter than Clary Sage?
If you need a shade darker than Sherwin Williams Clary Sage, opt for SW Green Onyx 9128. It has an LRV of 31. And for a lighter shade, SW Softened Green – 6177 is the right choice. It coordinates beautifully with Clary Sage. You can use both shades together as well in your interiors.
Is SW 6178 Clary Sage Warm or Cool?
Sherwin Williams Clary Sage is right in between. It has a neutral and medium tone as it sits on the LRV scale of 41. So, it can appear both warm and cool based on lighting. Use this to your advantage and transform your spaces into a peaceful atmosphere.