Tired of your never-ending quest and still haven't found a color that ignites your senses and captivates attention wherever it appears? We have the shade that will bring your quest to a satisfying conclusion. Vermilion, with its fiery tone, is precisely that shade that has the answer to all of your questions. The hue has a historic journey and is widely popular. From ancient works to modern art, the hue has left its mark everywhere, infusing life & energy into any design it touches.
Vermilion color takes center stage, invoking passion, boldness, and adventure. Are you ready to make your wall finishes come alive with the vibrant spirit of the hue? But how can you utilize the color to its full potential? How can you use it in your surroundings with its vibrance without overwhelming the ambiance? We have tried to make things easier for you.
In this article, we will discover the various shades of vermilion, their applications, the atmosphere it creates in every room, and most importantly, How to use this lively color? Let's get started!
About Vermilion Color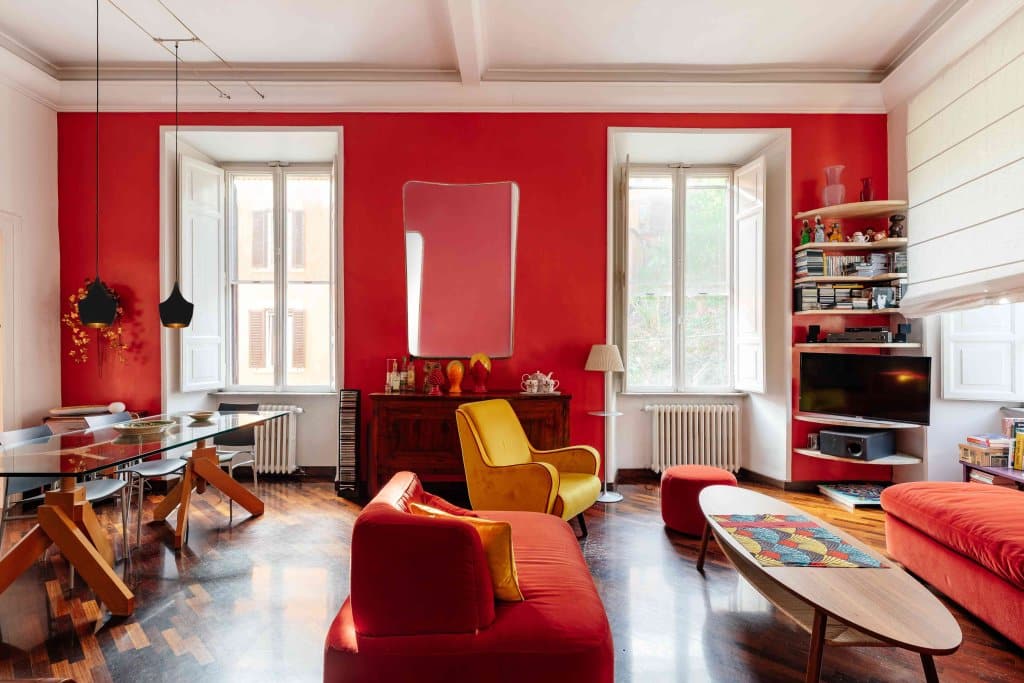 Vermilion or vermillion is a color equivalent to modern red-orange. It is described as a fiery hue with an intense shade of red-orange, similar to a vibrant sunset. The warm and bold hue, wherever placed, demands attention and adds a pop of energy to the surrounding.
The medium-dark color is versatile and pairs beautifully with various interior styles, from traditional to modern.
The hue provides a vibrant atmosphere, evoking passion and excitement, as if every stroke was carefully applied with a paintbrush. It doesnt matter where the hue is used; it instantly creates warmth and makes the space look lively. Its presence uplifts mood and enhances interactions. Further, it tends to create an inviting and stimulating atmosphere, captivating the attention of everyone who enters.
Different Shades of Vermilion
Vermilion, just like any other color, comprises a variety of shades. Each provides a different atmosphere, from fiery and passionate to warm and inviting. This allows for a range of moods and styles. Below we have listed some of the most popular shades of vermilion. Also, for ease, we have discussed the kind of atmosphere each shade creates.
1. Scarlet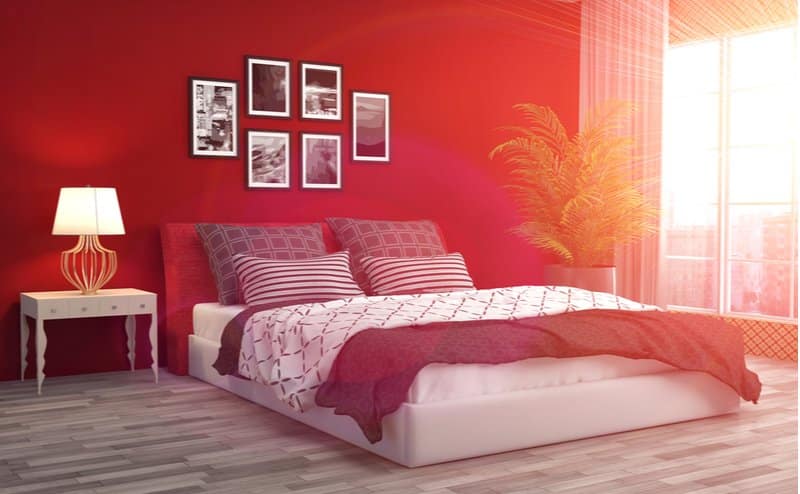 The shade is a lighter version of vermilion with an overpowering orange. It is frequently used in interior design and creates a moderately bold and vibrant atmosphere. It is mainly known for its eye-catching looks and energetic presence, making it a popular choice for highlighting spaces.
2. Crimson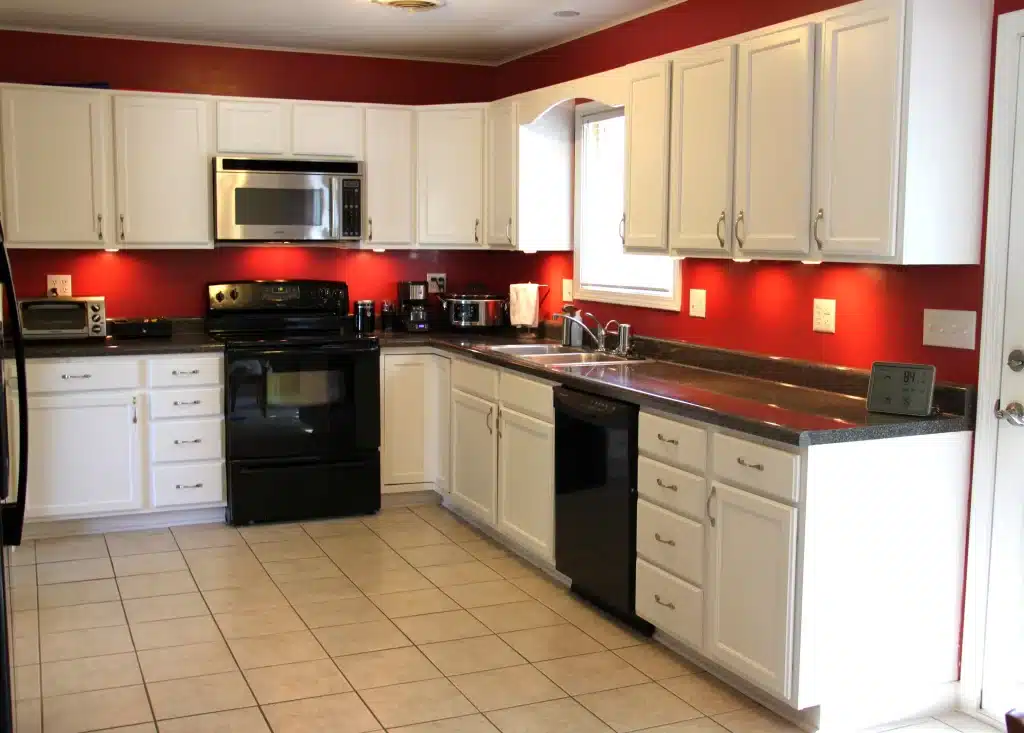 A striking and intense hue of vermilion known for its deep rich tones as if it was carefully prepared with a primer. Its hint of blue makes it look cool, giving it a more refined look. Crimson is bold and adds a touch of drama to any space. Whether used in accent wall paint or small furniture, the color evokes a sense of passion and vigor that energizes the ambiance.
3. Chinese Vermilion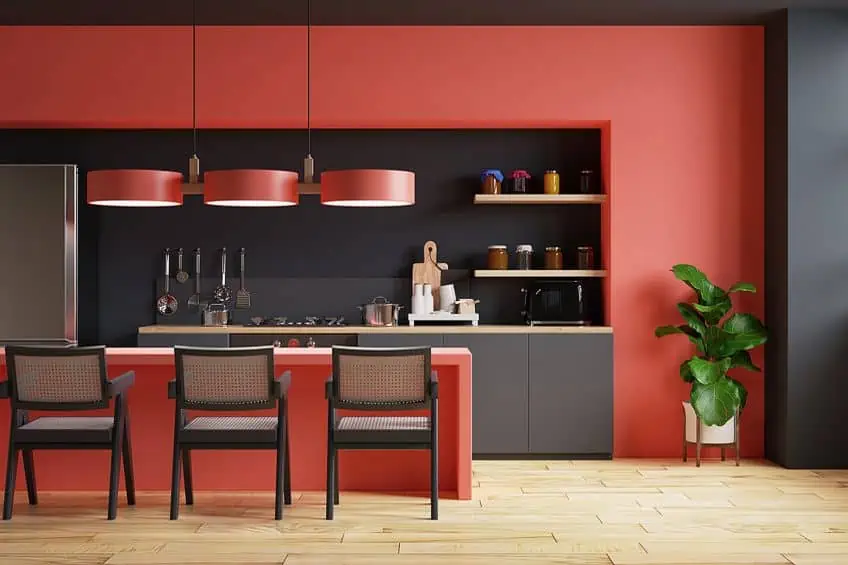 It is a brilliant shade of red that has been used for centuries. The hue has a brownish-red tone that provides a ground look, making your space more inviting. It helps create a calm and soothing ambiance. Further, the warm undertones add a touch of elegance and timelessness to the room, adding a traditional touch to the overall room.
How to Use Vermilion in Interiors?
With its reddish-orange shade, Vermilion color imparts a fiery look and boosts the energy level of the area/room when used. Further, it adds a bold and luxurious touch when used carefully. Can vermilion be used in any room? Well, we will get into that, but a bit later. Using vermilion color requires careful consideration; you cant just paint your entire room with vermilion. Itll look too bold and strike your eyes every time you blink. So a better option is to use vermilion on accent walls and decor elements.
Painting vermilion on a single wall highlights that particular part of a room. The probability is high that you want the same for showcasing your imported wall paintings in a living room or your marriage frames in your bedroom. For adding a hint of captivating color, you can also use it in upholstery and fabrics. This includes sofas, armchairs, or curtains. Also, you can select more minor decorative elements like pillows, rugs, vases, and lamps. While using vermilion, remember that its a solid and intense color, and using it all over may make your space overwhelming.
Where to Use Vermilion Color?
As a bold and vibrant color, Vermilion can be used in any room, such as living, dining, or other. Further, its suitable for workspaces too. It adds a touch of warmth and grabs the attention of everyone who enters your space. Using it in a room full of light can make it more captivating. But wait, before you get started with vermilion, we suggest trying a paint swatch. If you have an underlying color, it's better to utilize vermilion samples for a better understanding. So, now we assume you better understand using vermilion in rooms. Lets explore what vermilion looks like in different rooms.
1. Living Room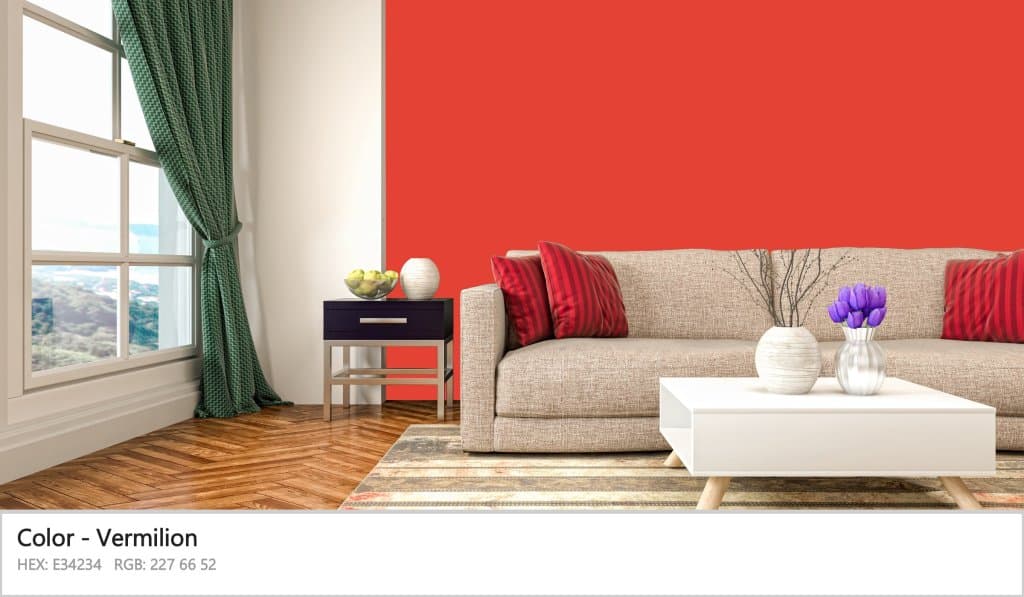 With vermilion, you can quickly give your living room a sanctuary-like look. The rich deep color exhibits warmth and sophistication, much like a clear coat's smooth and polished finish. This makes it an excellent choice for creating a visually appealing space. Also, the bold reddish tone fills the room with energy and portrays it as an essential part of your home. The striking look that the hue creates is unmatched. Its red undertones with a pinch of orange help create an environment that demands attention and looks lively. Further, the vibrancy adds a dramatic touch to the room, portraying it as a focal point of space.
Additionally, the vermilion color is suitable for the living room as it has the potential to create a welcoming and elegant atmosphere. This is a characteristic every living room should possess. It promotes unity and improves your living room for a family gathering or creating a memorable experience with your loved ones. The charm, liveliness, and warmth help uplift your living room environment, fostering relaxation and interaction.
2. Bedroom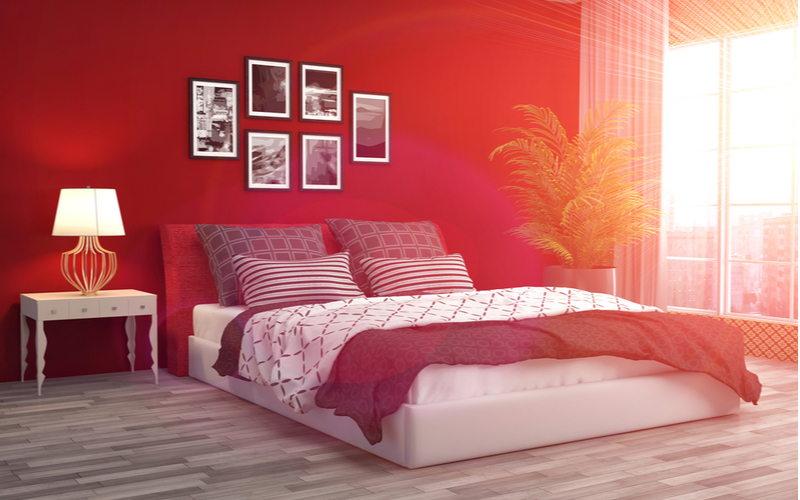 Everyone wants their bedroom to look romantic, right? The hue is a symbol of love and creates a warmth that soothes the mind and makes you cheerful. The versatility of shade allows for making different combinations ranging from a modern and classy look to conventional ones. The best combinations include teals, deep yellow, white and black.
Want a living room that provides warmth and excitement? Thats what vermilion color offers. It makes your room alive, infused with vitality and confidence. Also, the hue creates an atmosphere where you can enjoy quality time. Consider coordinating your furniture with an ivory lace or copper pot shade to enhance your bedroom. These fusions will work wonders, creating a stunning and harmonious atmosphere that looks inviting.
3. Dining Room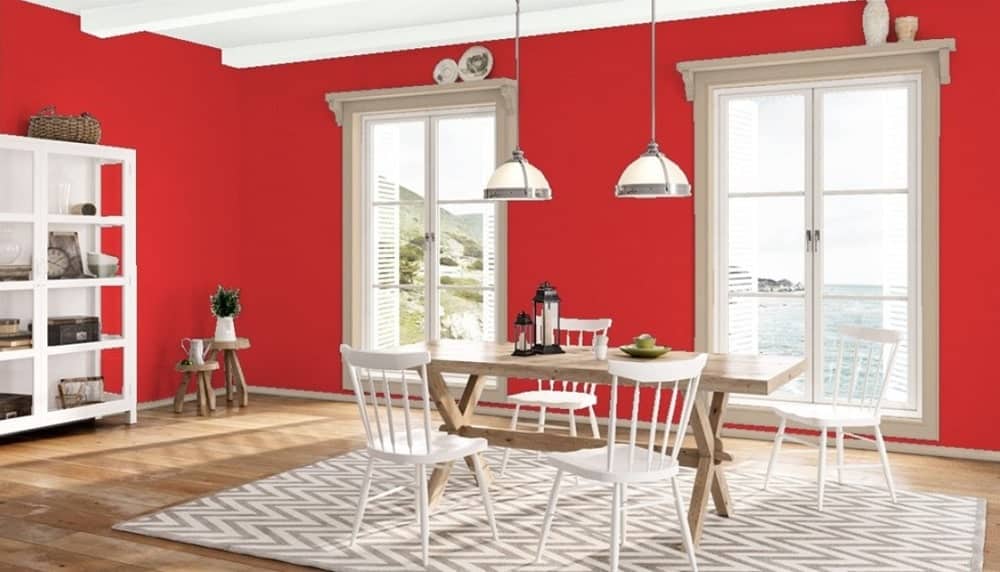 Vermillion in the dining room is a fantastic choice. What do you want your dining room to look like? A place that looks lively and keeps your mood cheerful to enjoy your food. We suggest not missing out on color; try the vermilion color sample and decide. The color evokes a sense of delightfulness, making it an excellent option for dining rooms. It simply mesmerizes the space and creates a refined look.
Apart from the look, the hue is well suited because it stimulates appetite, says a psychologist world. Additionally, the color promotes conversations, which helps better coordinate while eating. It ignites a spark to both and mind, radiating a feeling of warmth and coziness. So, grab your vermillion palette and let your dining room look alive, full of energy and excitement.
4. Kitchen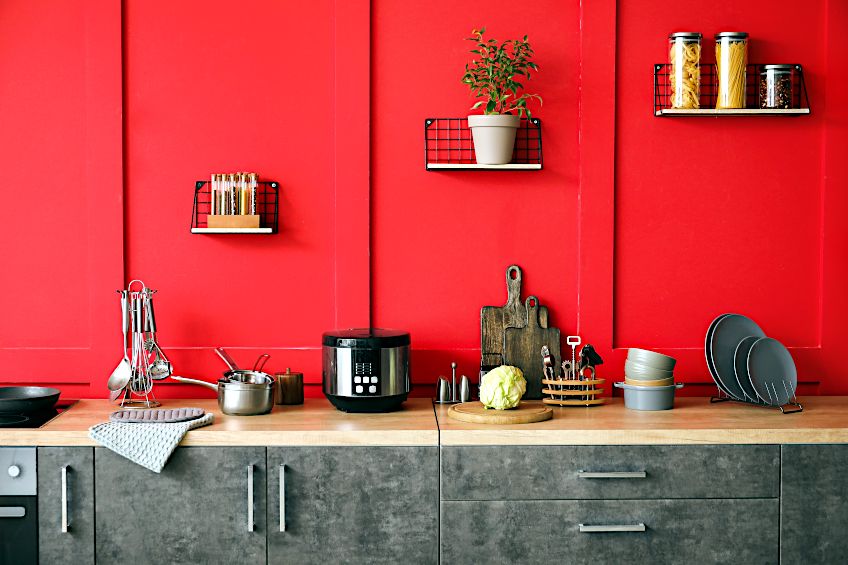 The hues sunset tone fills the kitchen with warmth and energy. But painting with vermilion on all the walls would look too bright and may distract you. Whats better? Using it only on accent walls with complementary tones like bright lime green or light turquoise, applied with the precision of a paint sprayer. It would make your kitchen a better place and would provide cohesiveness throughout. Further, the cluttered kitchen would look more clean and more organized with these combinations.
We have a better option if you don't want to use vermilion color on a single wall. What? Use it only on trims and cabinets. Thinking about what will be the paint off the wall finishes then? Well, we would suggest using neutral tones like white or navy blue, or if you want dark colors, then blue and olive green would be a great choice. Again you need to take care of lighting on cabinets mainly. If it is improper, you may feel low on your decision.
5. Bathroom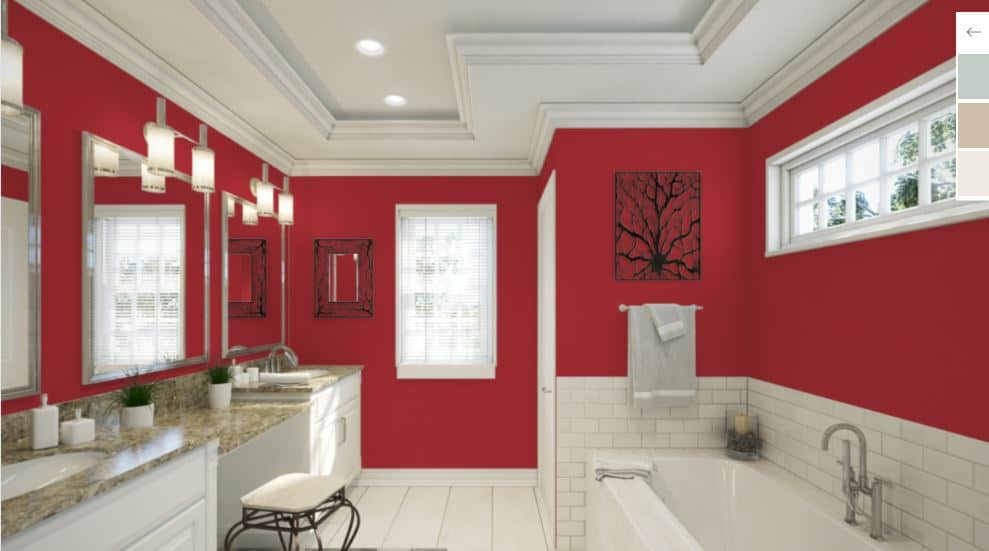 This is a room no one wants to compromise with. So making it look appealing and luxurious is a must. Choose your bathroom cabinet hues carefully if you want to color all sides with vermillion. Also, we suggest using a lighter shade of vermillion color with earthy tone cabinets. Together they will create a refined and classy look. The reddish tone adds to the elegant and classy look, while the earthy cabinets will calm your mind and let you enjoy your bath to the fullest.
On the other hand, if youre painting only on an accent wall. Choose a wall that has a mirror. It will just glow up the space and would make it inviting. If you dont want to mess up the overall look, go for a creamier shade for the remaining walls and cabinets. It will make your bathroom ambiance pleasing and comfortable, and the reddish-orange tone will add to your cheerful mood.
6. Workspace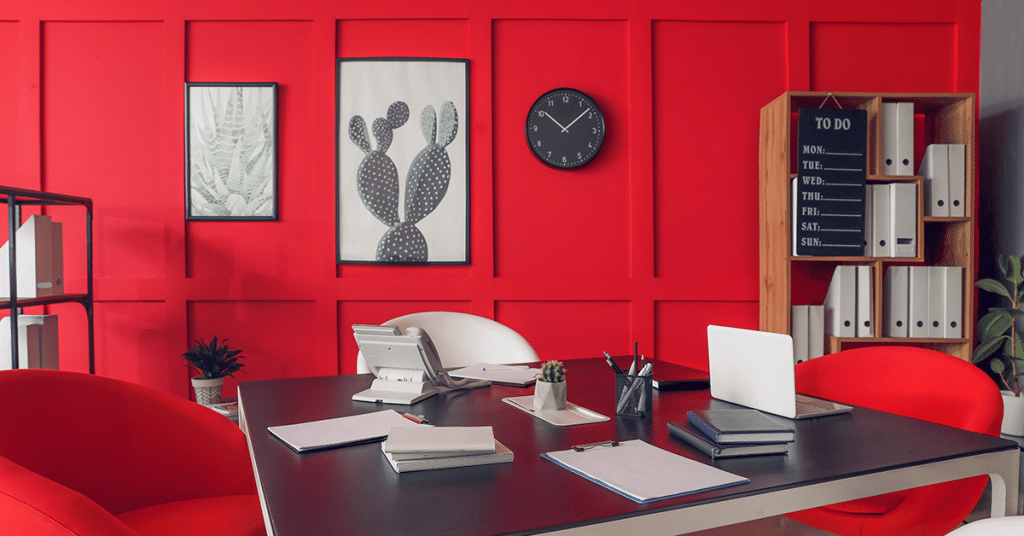 Painting workspaces requires careful consideration. No employer wants to sound too friendly or too strict to their employee. As paint color reflects mood and personality, it should be such that it strikes a balance between professionalism and companionship. Therefore, it isnt suggested to paint your every wall finishes with vermilion color. It would look too bold and friendly. Apart, you can add it to the back wall of your office desk. It would highlight your achievements and maintain the room's professional integrity.
Or else, if you want something different, try lighter-toned walls like eider white or waterfall with a vermilion showcase on the back wall. It would look more professional and cohesive. The lighter tone will keep your mind calm, while the vermilion will cheer up your mood, maintaining the decorum of your space.
7. Exteriors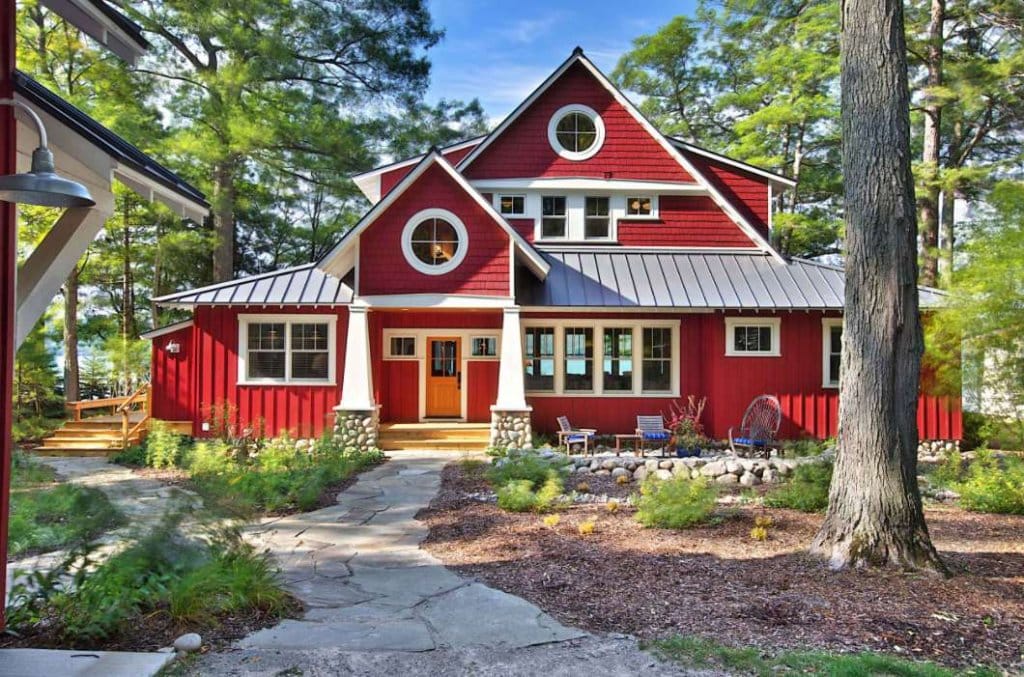 Dont skip! We know you think the vermillion on the exterior will look too bold and highlight your house. What if this is not the case? We were amazed to see stunning homes with vermilion color on their exteriors, beautifully enhanced with a varnish shade that adds a glossy sheen. Here is what we perceived. Vermillion looks great if fused with complementary colors that don't lose charm with light. In case you want to use vermilion all over, you should go for a lighter shade.
For a cleaner look, paint your rooftops with vermilion, and the wall finishes with creamy, bluish, or pinkish tones. It balances out the bold style and smoothly adds to its inviting nature. Both techniques will give your home a classy, refined, and luxurious look. Further, vermilion on the roof captivates everyone's attention and makes your home stand out.
Conclusion
Vermilion color is an attention-grabbing tone that transforms any space it is used on. The fiery rich orange tone makes it suitable for a range of designs from modern to traditional. Its vibrant and bold style makes it ideal for those desiring to create an energetic and adventurous environment in their space. Using vermilion requires careful consideration; otherwise, itll make your space look overwhelming.
Accent walls and aligning decor elements allow vermilion to shine without dominating the entire room. Also, different shades of vermilion offer a varying atmosphere, from the moderate boldness of scarlet to the soothing warmth of Chinese vermilion. It's upon you how you blend them to style up your home.
It makes your interior stand out with a bold, elegant, refined look. Additionally, vermillion is suitable for workspaces too. Even on exteriors, vermilion color is an outstanding choice, especially when coordinating it with complementary colors. However, consideration of lighting remains essential to get the desired outcome.
Frequently Asked Questions
What Color Matches Well with Vermilion?
If you want to give a monochromatic look to your space, dark brown and grapefruit red is a suitable choice. On the other hand, for complementary colors, choose teals, cinnabar, or deep blue-green. Consider experimenting with different shades and combinations to find the perfect balance that reflects your unique style and personality.
Is Vermilion a Good Option for Exterior Walls?
Absolutely 'YES. All you need is to choose the right shade and pair it up with suitable complementary colors. Light plays an important role, so select hues that wont lose their charm in the absence of light. Additionally, consider the overall ambiance and style of the space to ensure the chosen colors create a captivating environment.