A wedding day is very important for the bride and groom, and that goes without saying. On this day, everything has to be perfect for it to be the day that will be remembered forever. These days, everyone focuses on having everything sorted and perfect on their wedding day. Everything has to be perfect, from the venue to clothes and food. Recently, a very popular trend has been having very fancy-looking Designer Wedding Cakes.
The wedding cake symbolizes the union of the bride and groom; thus, it has to look perfect. There are many ideas available for you to choose from for your wedding cake, so many that you might even get confused as to what to choose from!
In this article, we are going to show you various trending wedding cake ideas that will definitely turn heads on your special day.
1. 3 Tier White Cake on a Gold Stand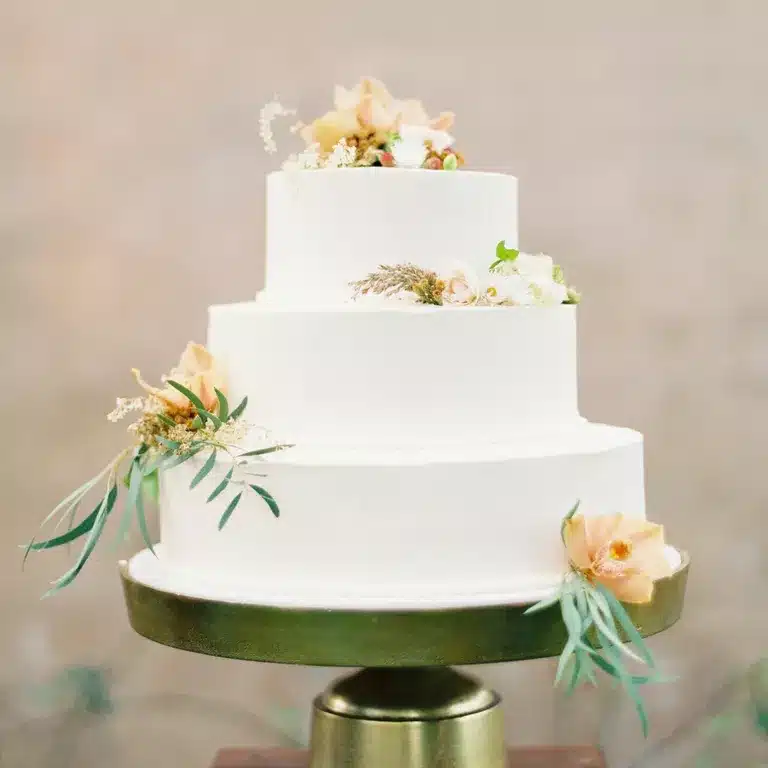 Let's start with simpler and more elegant options for your wedding cake. This cake is a white cake divided into 3 tiers. The bottom-most tier has the biggest cake, followed by smaller cakes on top. You can design these cakes by using Artificial Flowers on the side to give them a better look if desired. The cake looks simple, but it pairs well with a golden stand and does the job.
2. Simple White Cake with Pink Flowers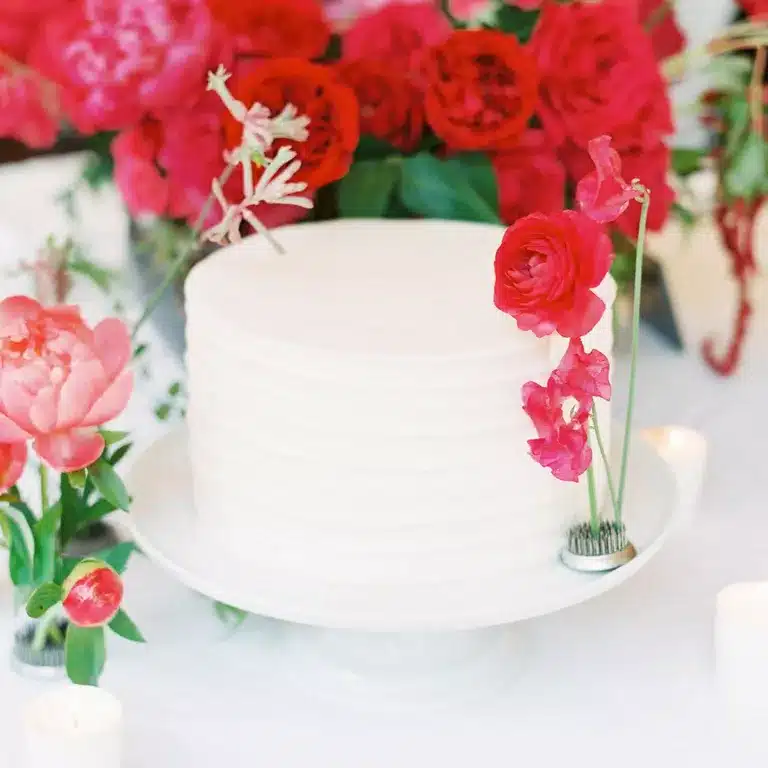 Pink and White is a combination that always looks good in general, and there's no doubt on whether it will look good as your designer wedding cake combination because it definitely will. If you do not want to have a rather fancy look for your wedding and just want a simple single cake, then you can choose this. Pair the cake with Pink Flowers to give it a very pretty look, which your guests will notice.
3. Three-Tier Pastel Detailed Cake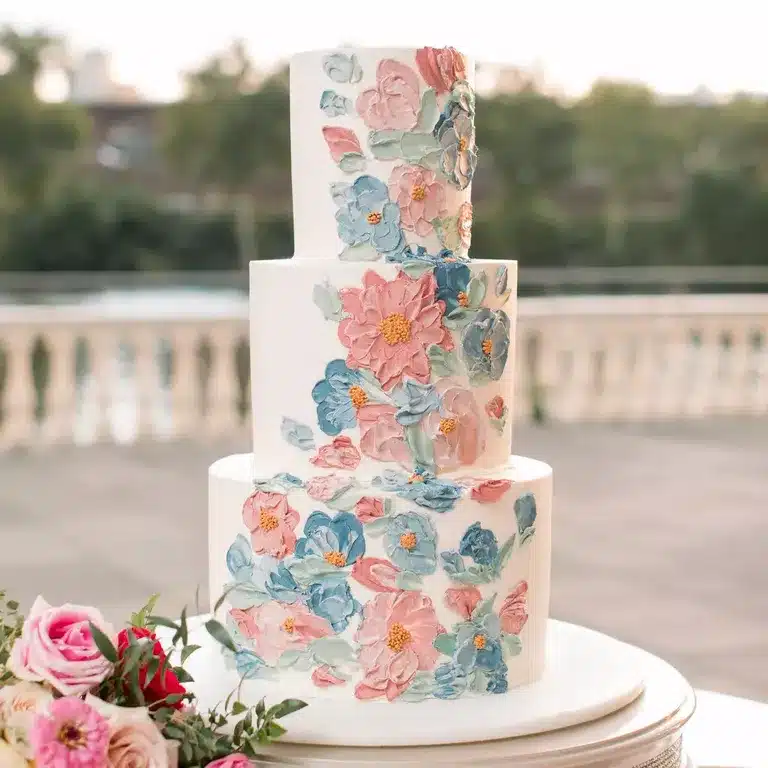 As the name suggests on this one, the cake is again a 3 tiered one. A 3-tier wedding cake is kind of necessary at weddings as there are a lot of guests and almost all of them want a piece of the cake. This is one of the simple designed wedding cake ideas. The 3 tiers of the cake are plain white, and there is pastel flower detailing on the sides of each cake, which looks elegant and goes well with almost every wedding theme. This detailing is icing only, so everything is edible.
4. Marble Finished Wedding Cake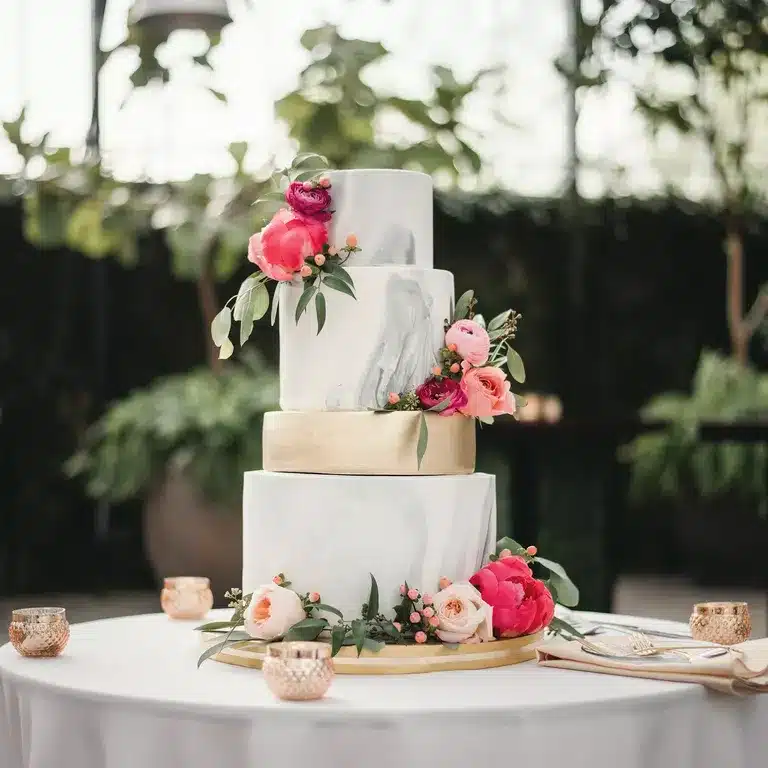 Let us now move towards more stylish wedding cake ideas. A marble-finished wedding cake is visually appealing, and paired with golden designer items; the cake will definitely catch every guest's eye. The marble finish is obtained by carefully and precisely applying the textured icing. The marble cake can be made in a single or multi-tier design with artificial golden design items assisting the look of the cake. The Golden Design Elements go best with this cake as it pairs well with the marble finish.
5. Sugar Flowers Wedding Cake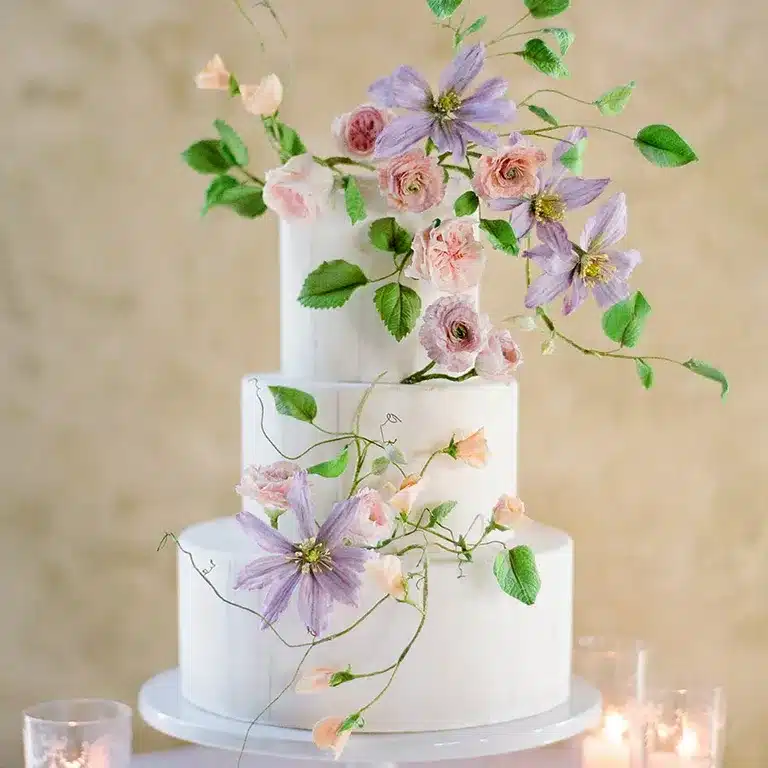 What if we told you that the flowers you can use for design and look purposes on your wedding cake are actually edible? It is true. Wedding cake ideas are getting better and better, and this is one example of it. The rose or clematis flowers are made of sugar and edible like the rest of the cake. So your design elements will not go to waste. Instead, it will actually be a part of the whole cake. You can choose a 3-tier cake, and these flowers can run from top to bottom, giving the cake a very elegant look.
6. Combed Buttercream Wedding Cake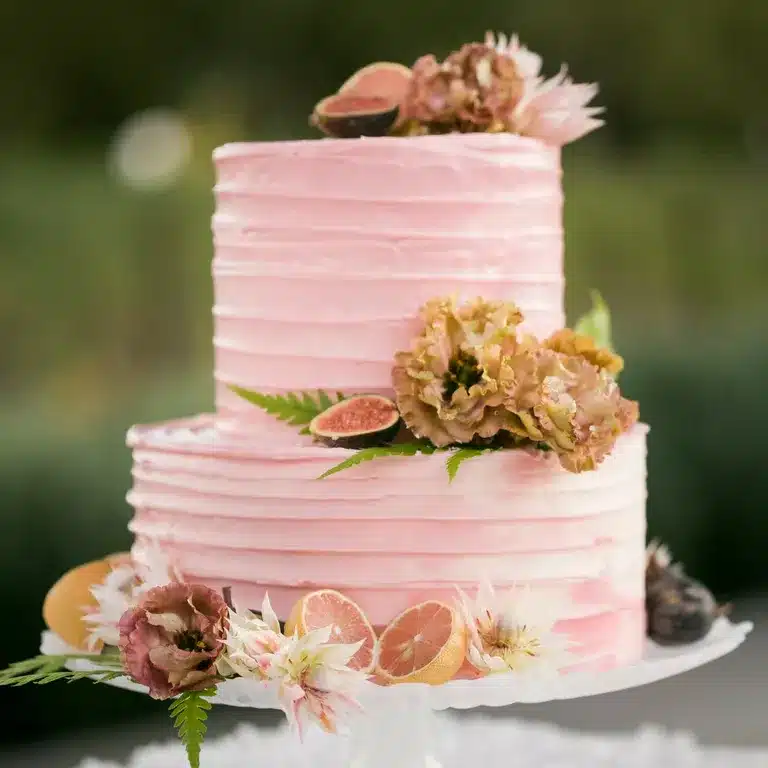 If you want your wedding cake to taste more on the sweeter side and have a very soft and subtle color to it, then you should look into Combed Buttercream cake. This cake is frosted with pink buttercream on all sides, giving it a very subtle look. From the looks, you can tell that it is a very sweet and creamy cake, so if you're one who likes cream, this is the cake for you. You can add sliced fruits on the sides for design as well as for anyone who wants to mix these two things up.
7. Two-Tier Pink Watercolor Cake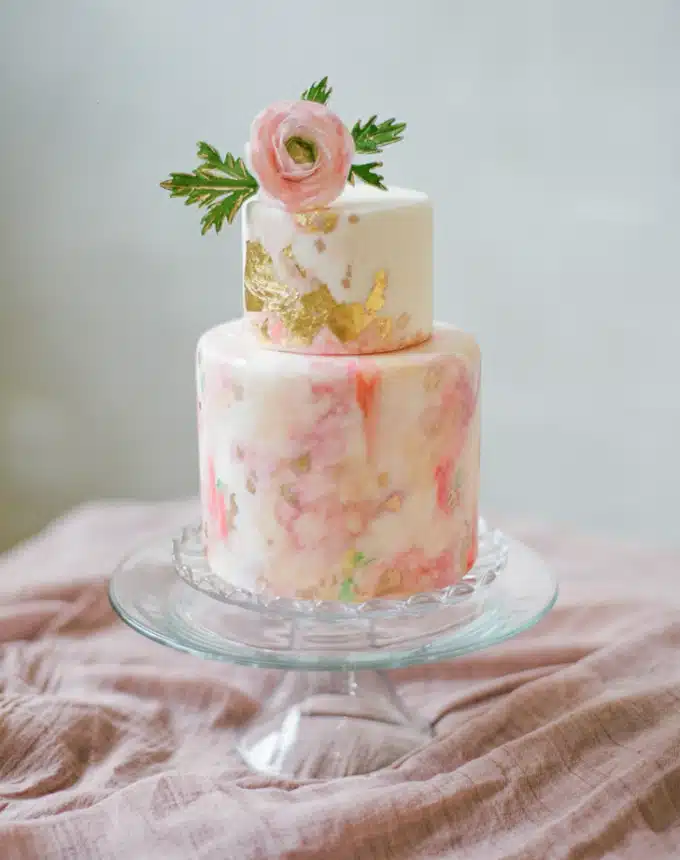 When we talk about wedding cake ideas, we mainly refer to ideas that will turn heads and satisfy the taste buds of anyone who eats them. Mainly, it is about the design and how attractive one can make the cake. This cake is surrounded by pink buttercream frosting in a combed design which makes the edges look uneven, but that is part of the design. You can use sugar flowers or freshly cut fruit to design the cake and give it an extra attractive design.
8. Fern-Covered Plain Cake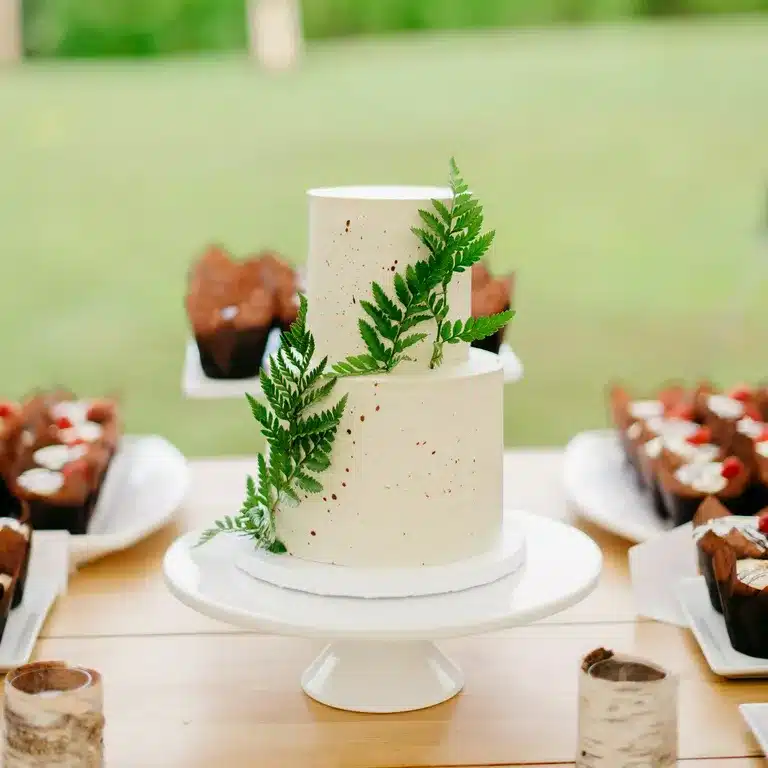 Now, if you are into minimalism and want that idea in your wedding cake, this is the perfect choice. This plain 2-tiered wedding cake is covered with a few Fern Leave Stems on the side, which makes the cake look natural and does the job of adding to the design for the whole cake. You can also use natural flowers on the sides to further elaborate the natural theme of the wedding cake.
9. Pressed Flowers Wedding Cake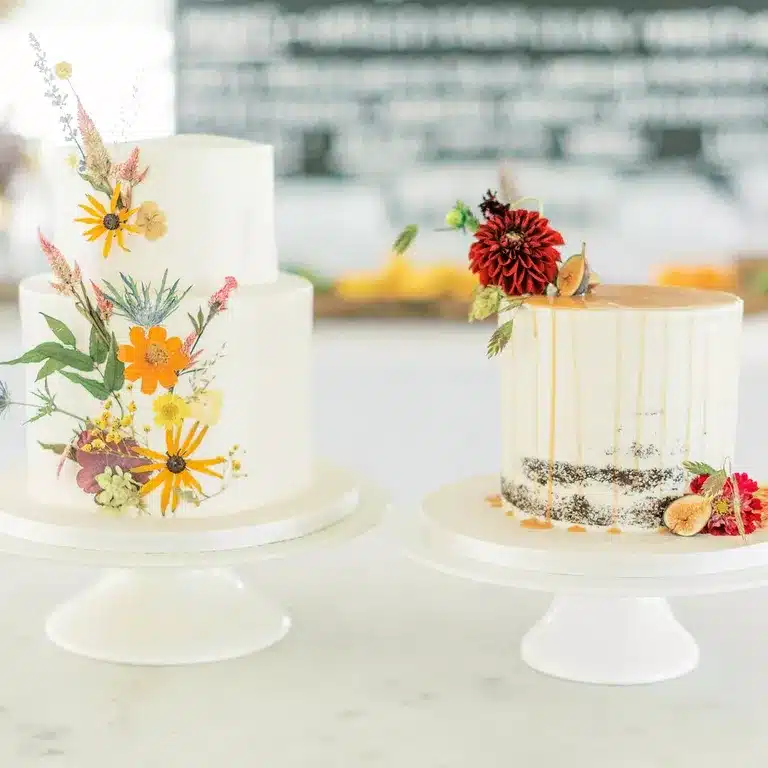 When we talk about wedding cake ideas, the natural wedding cake category comes up quite often. This is simply because using natural elements makes the cake look authentic and less artificial. Pressed flowers are yet another example of such natural cakes. These flattened flowers are stuck on the sides of the whole cake to give it a natural aesthetic. These flowers are not edible and are for design purposes only.
10. Fresh Fruit Toppings Wedding Cake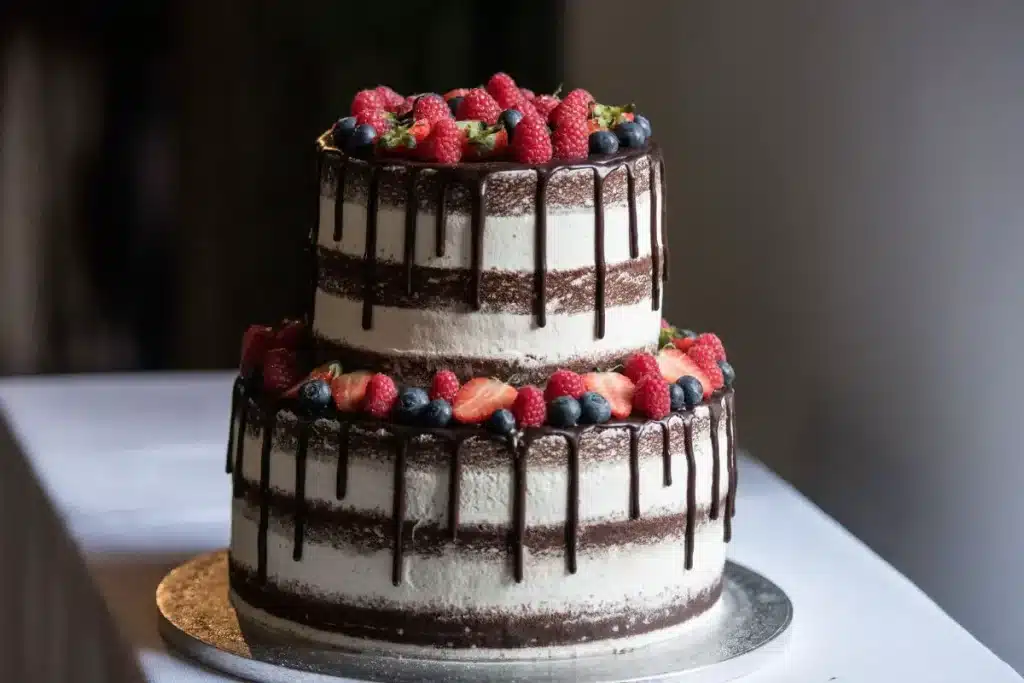 If you do not want your wedding cake to look too fancy but still solve the purpose, then this wedding cake idea is one for you. You can choose the frosting, make it simple, or have a particular flavor and add freshly cut fruits on top. We would recommend having a plain cake for the freshly cut fruits to taste good, but that is your choice, and you can experiment with a few flavors beforehand to figure out what will taste best. This type of wedding cake is best if your cake's size is not too big as there will be little to no wastage.
11. Edible Sequins Chocolate Cake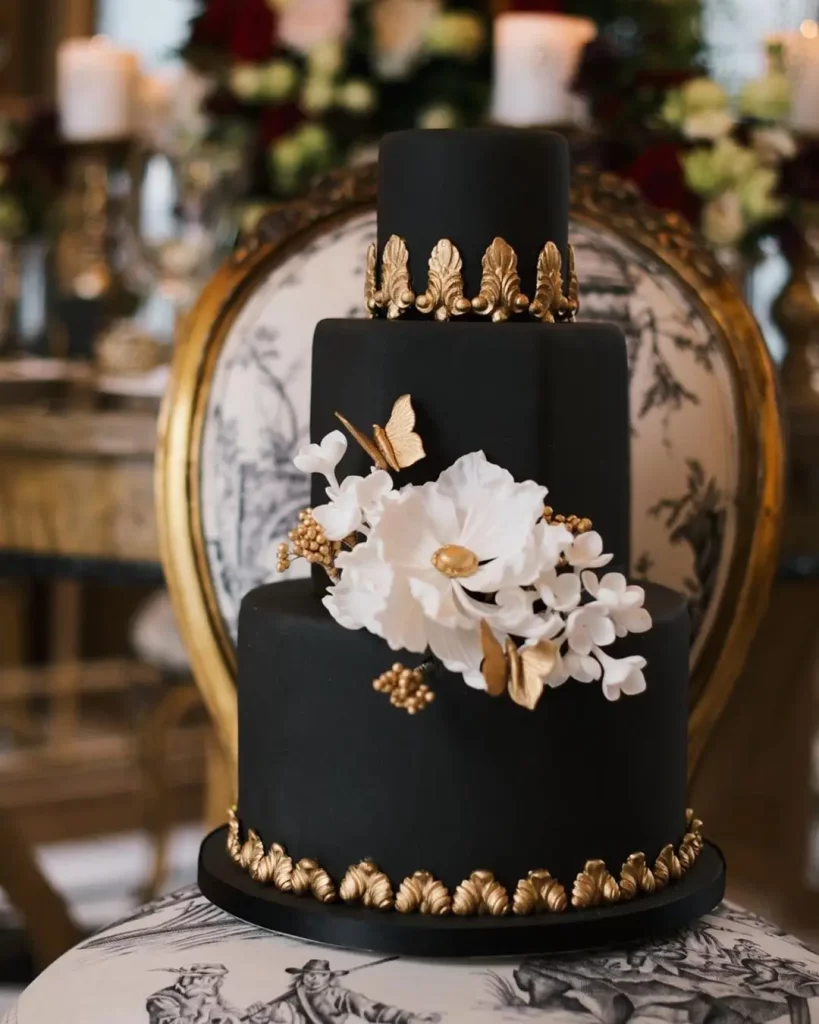 Wedding cake ideas are getting more and more diverse each day. Edible Sequins Chocolate cake is one such example of this. A chocolate cake covered in individually stuck sequins by hand. The number of sequins in this cake can literally be in the thousands! As visually pretty and appealing as this cake looks, it will all be completely edible. Thus, the design elements of your cake will not go to waste. This cake looks so beautiful that almost every guest will want a piece of it. As always, you can have the flavor of your choice in this cake.
12. Illusion Wedding Cake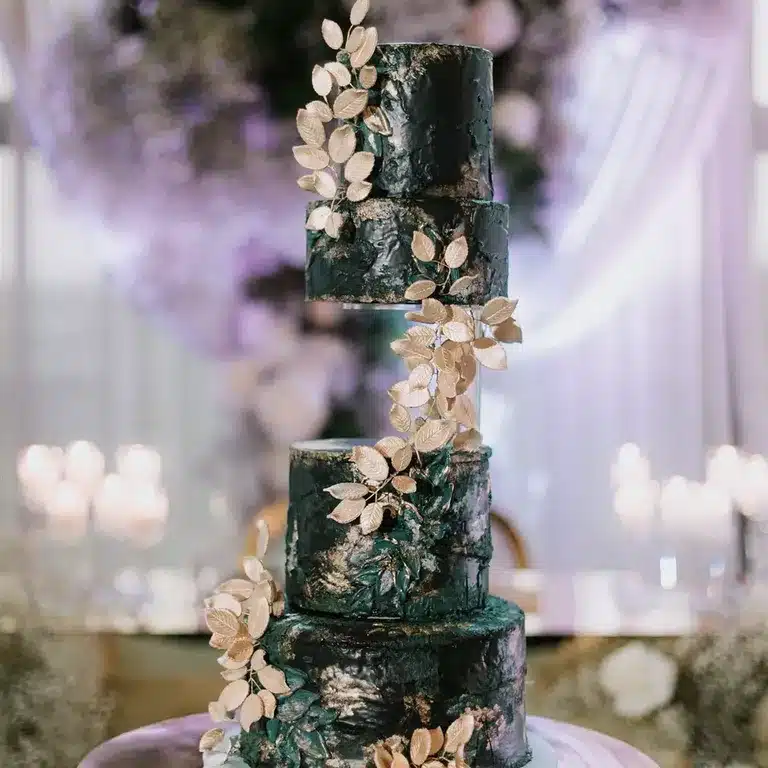 Wedding cake ideas do get wilder; this is one example. This 4 tiered cake looks very appealing. The bottom two layers appear to be quite normal, but there is a gap after the second layer. The top two layers appear to be floating in the air, and the space in between is absolutely empty. If you are an illusion enthusiast, definitely look into this cake for your wedding.
13. Copper Color Wedding Cake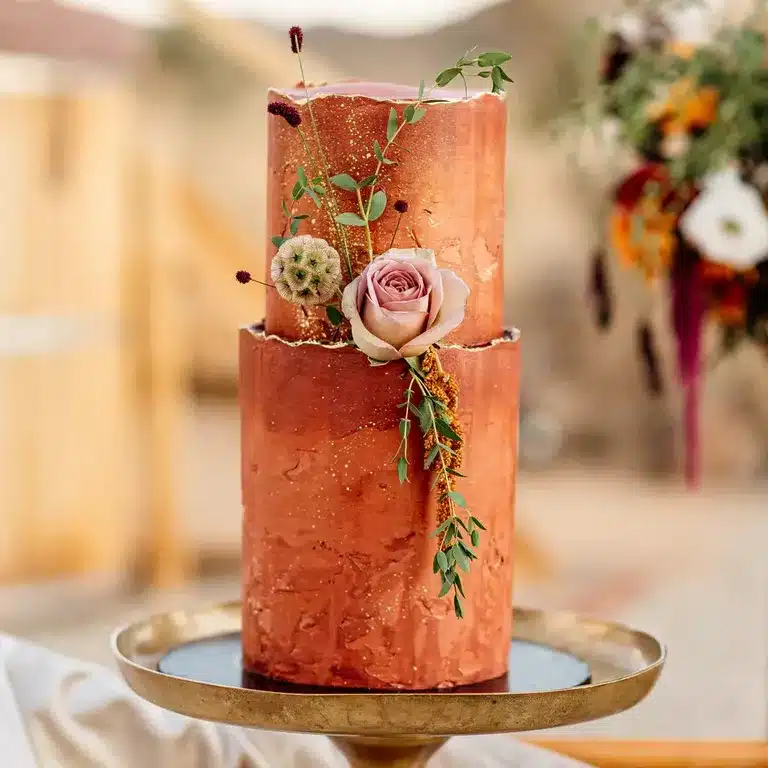 When it comes to wedding cake ideas, it is more about innovation than just flavors. This cake is one such example of the same. The cake is finished in a copper color which looks quite well when the cake is kept on a golden stand. The cake's brownish finish goes well with several flower choices. We would recommend using natural flowers to decorate this one, as it will look more authentic and well-finished. The overall look of the cake is quite luxury type and attractive.
14. White Wedding Cake with Fresh Roses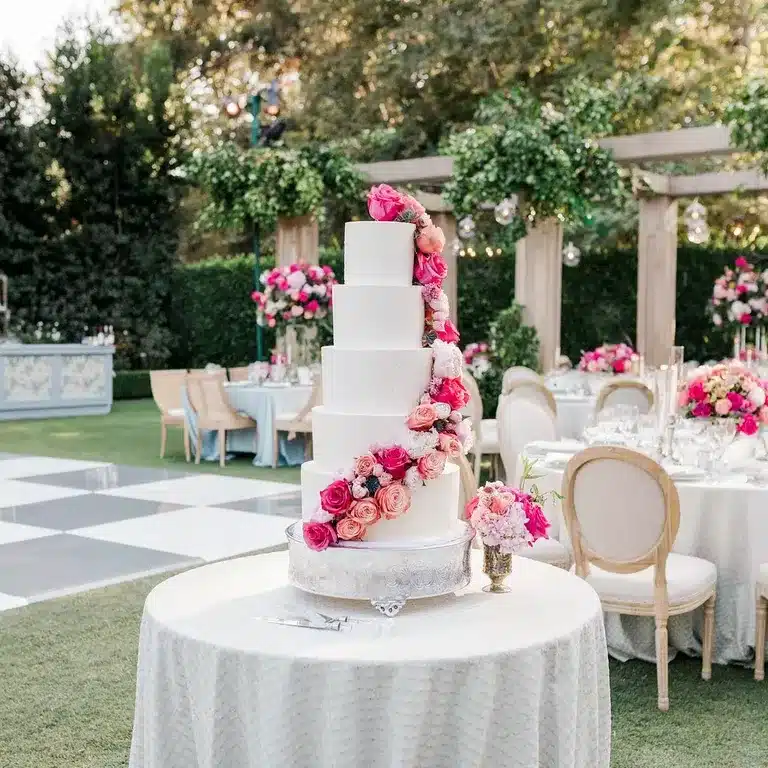 There has been a lot of talk about edible sugar flowers in this article. But if a few cases, using natural fresh flowers is just unmatched. A white wedding cake paired with fresh roses on the sides is a beautiful sight indeed. This pair can even go well with the rest of the theme of your wedding. The pink color of the roses pops brightly if the cake is kept in an open area and looks very tempting. A multi-tiered cake is recommended if you want to choose this so that there are plenty of roses to make it look beautiful.
15. Rose Spaced Multi Tier Cake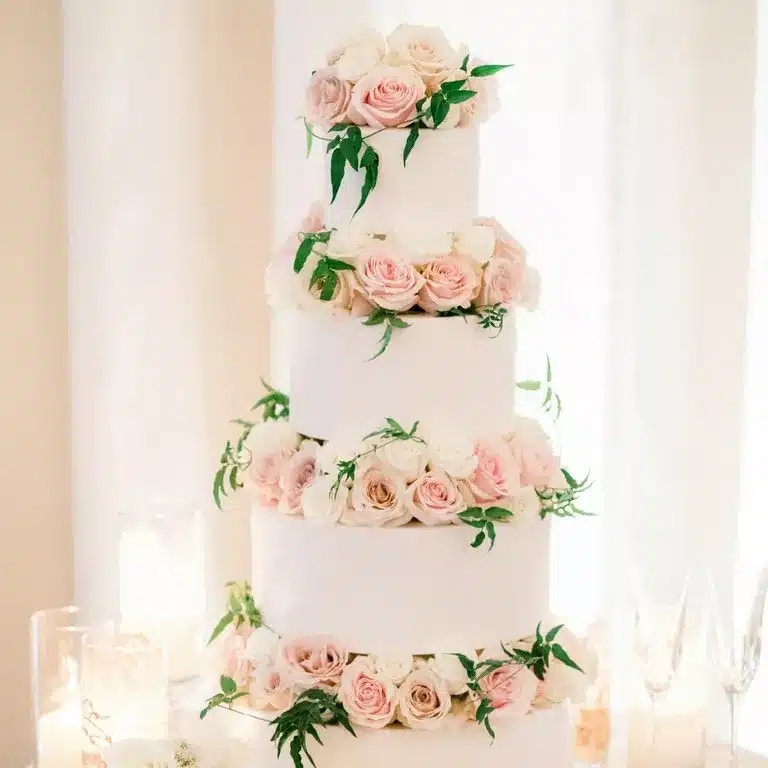 Regarding roses, the sides are not the only place you can use to design your cake. This wedding cake idea is a true example of how innovation can entirely change the look of your wedding cake. The rows of roses are kept underneath each tier of the cake, giving each tier a kind of levitating look that looks quite elegant. A few leaves can also be used in between the flowers to enhance the look of the same.
16. Sugar Bows Blue-White Cake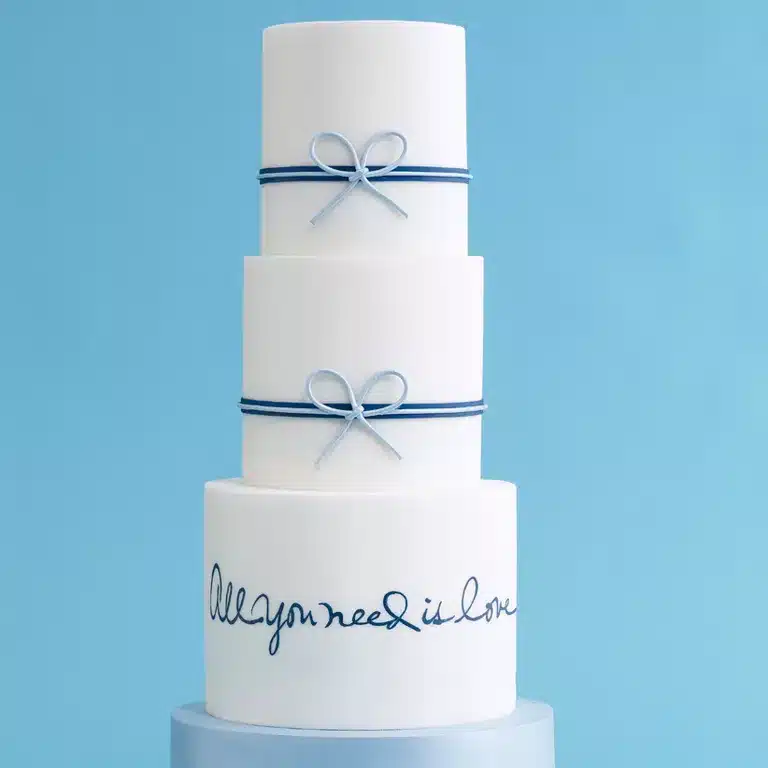 Moving ahead with wedding cake ideas, let's look into this themed cake. The cake is simply white, and there are a total of three tiers in this. The top 2 tiers are wrapped around by an edible bow which is made of sugar. A customized message can be written on the bottom-most layer, which is the biggest. The cake looks quite minimal yet also aesthetic. The combination of blue and white goes quite well.
17. Silver and White Decorated Cake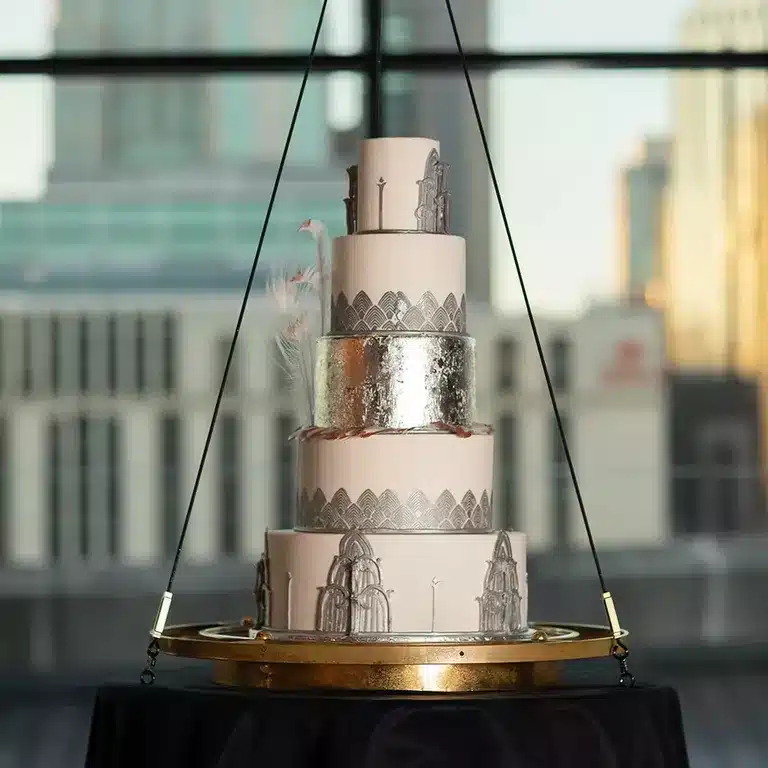 Let us now look into one of the luxury finished wedding cake ideas. This wedding cake is so visually appealing because of its price, design, and presentation. The silver design is done in a uniform pattern, so it looks professionally done, and everything is edible. This 5 tiered cake has unique designs on each tier, making it even more attractive. The cake is placed on a golden plate which pairs well with the silver décor elements of the cake.
18. Square Tiered Wedding Cake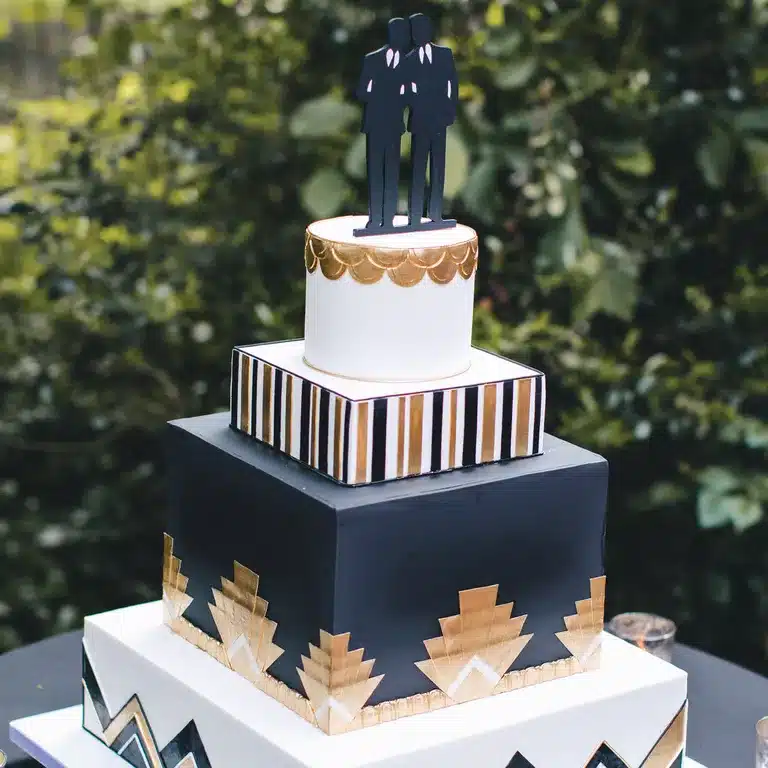 In all of the wedding cake ideas we have seen till now, the cake is always in a circle shape, as it mostly is. But this wedding cake idea is unique. There are multiple levels on this cake which are square in shape. The colors are black and golden, which pair very well to make the cake look quite attractive. The top layer can be in a regular circle, giving it a slightly contrasting look. Overall, the cake looks very well done and also visually appealing.
19. 7 Tiered Gold and White Cake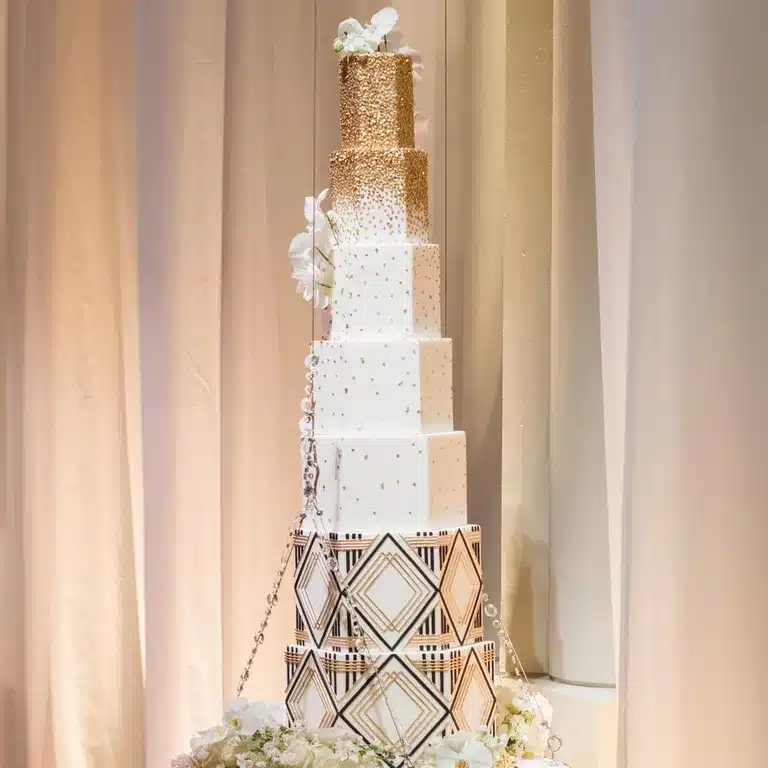 As we all know, white and gold go very well together and give a very refined look to a cake. However, this cake takes a look to a whole other level. This gigantic wedding cake has 7 total tiers and looks very well done if prepared correctly. The bottom two layers have a textured finish of diamond shapes in a black and golden finish, which looks very nice. The middle three rows are plain white with sparkling golden accents on the sides, adding to the overall design.
The top two layers are purely decorated with golden elements making the whole tower look perfectly done. There are flowers running from the bottom to the top to further add to the overall look of the cake. You should definitely look into this cake if you want to turn heads at the wedding.
20. White and Gold Orchid Cake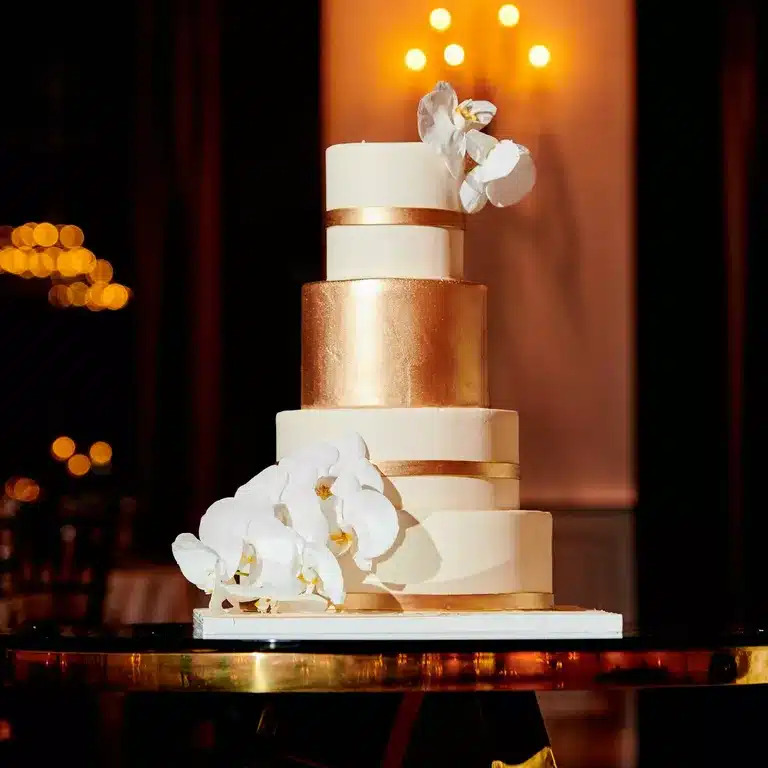 This is another wedding cake in the elegant category of wedding cake ideas. There are a total of four tiers on this cake, and the color scheme is golden and white. The bottom two layers have a ring of golden surrounding them, and the third row is entirely surrounded by golden frosting. The top row follows the same golden strip surrounding the design as the bottom two tiers making the whole design quite uniform and appealing. The cake is further paired up with orchids that go very well with the overall design. This is another minimalistic yet visually appealing wedding cake.
21. Black Wedding Cake with Sugar Shards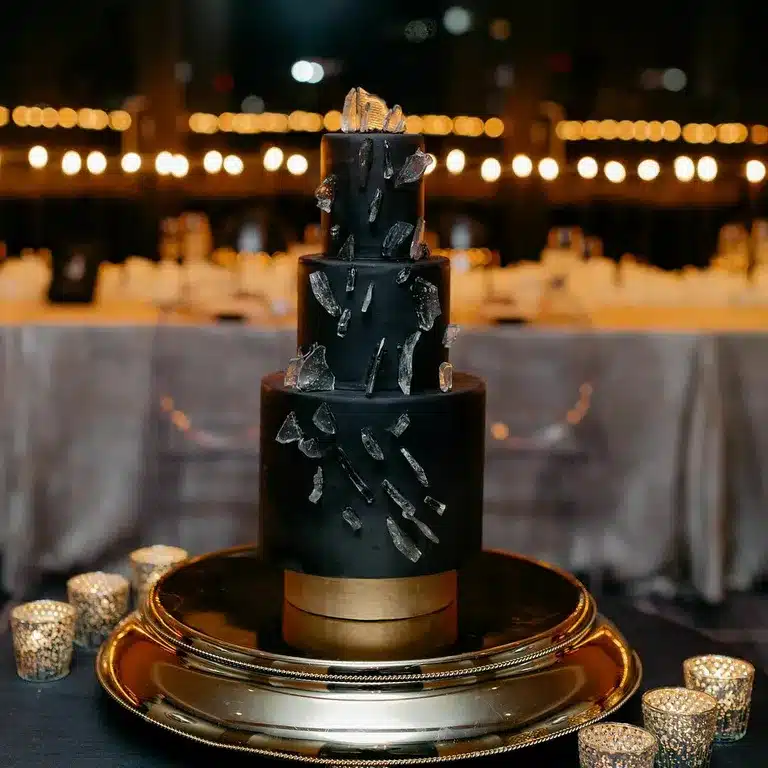 Talking about visually dramatic wedding cake ideas, this one is definitely on our list. The three-tiered cake is all black in color with sugar shards inserted on the sides, but it looks like they are actual glass shards. The cake looks dramatic, but it is something unique and will turn heads at your wedding. Place this cake on a gold bottom; the overall look is attractive.
22. Emerald Green Cake with Blackberries
This wedding cake is another one with a somewhat dramatic look. The emerald green color is mixed with black, giving the whole cake a nice accent look. The bottom part of the cake is more black, and the middle and top part is where the emerald green hue comes in. Both colors blend with each other perfectly. There are blackberries placed on top of the cake, which go well with the cake. There's also a rose placed on the top which adds up to the overall design of the cake.
23. Fun and Vibrant Wedding Cake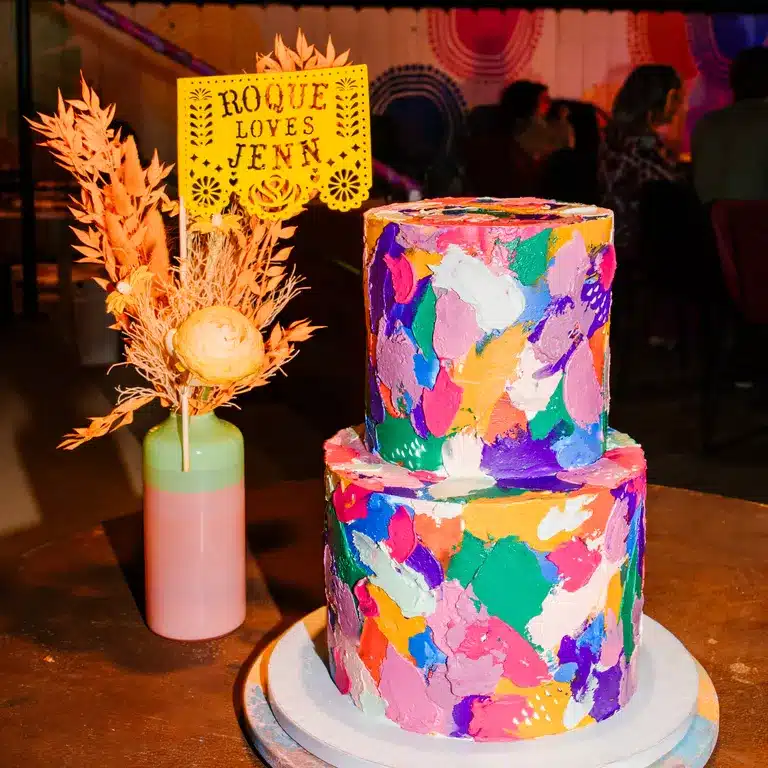 Probably the most dramatic wedding cake on this list, this multi-colored cake has it all. This cake is two-tiered, and the design on it basically colors. The cake has almost all colors. This cake is visually very appealing and will have all the guests asking about it. The uneven finishing of this cake is what makes it attractive. You might have seen many multi-colored cakes, but this one takes color to a new level. A must-try if you are someone who is into colors.
24. Flower Garden Cake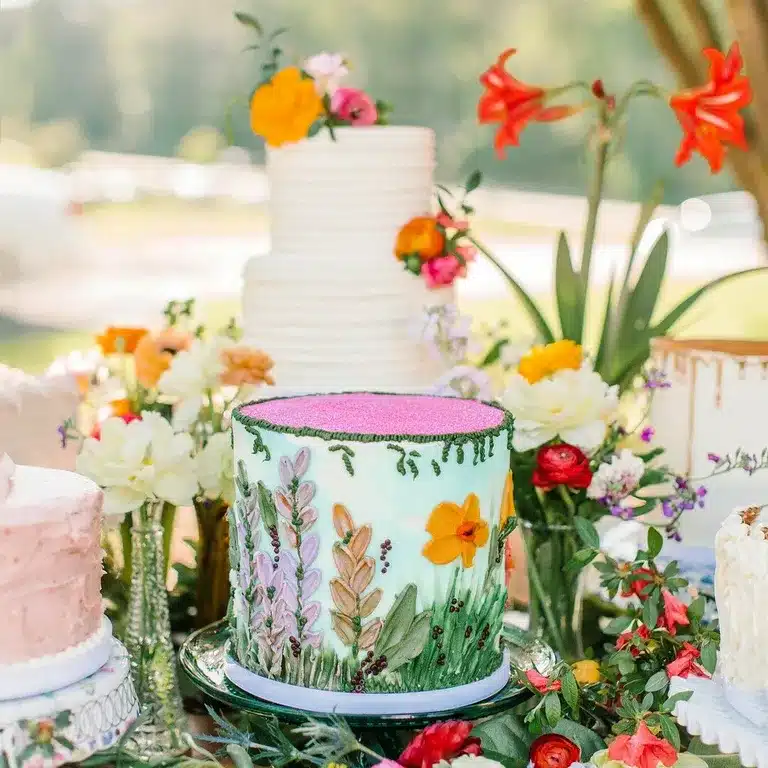 We have suggested you many flowers for your wedding cake. From sugar flowers to fresh flowers, quite a few options are available. However, this one is another form of pretty! The white cake has many different flowers drawn on the sides in different colors, which makes the cake look very attractive. The flower garden design is made of different colored icing and looks very pretty. You can surround the cake with real flowers so that it looks even better.
Conclusion
The ideas are limitless if you plan to get a cake for your wedding. There is something for everyone! The whole goal of having a wedding cake is to celebrate the day, and it must look good. The options range from simple and minimalistic to strong, visually appealing cakes. The best part about having a wedding cake is that you have all the customization options so that you can control your cake's aspects. From flavor to appearance, everything can be done according to you, and what else can one ask for?
This will ensure that you have a personal connection with your wedding cake, which is a very important part of a wedding cake.
Check out these cakes to see what best suits your choice and what will grab everyone's attention at your wedding!