One of the most popular trends in the current world scenario driven by sustainability and creative solutions is to repurpose furniture that awaits in the corner for you to use it. Rather than disposing of old and unused items, reusing them gives them a new life. This helps in reducing waste and creating new and unique pieces that enhance your living space.
In this article, we have curated 20 similar quirky ideas that hold immense potential for a stylish ambiance with repurposed furniture. From turning a bookshelf into a desk or using suitcases as tables, these ideas will show you the limitless possibilities to creating something from nothing. Let us discover and transform old into something new and valuable.
1. Turning a Bookshelf into a Desk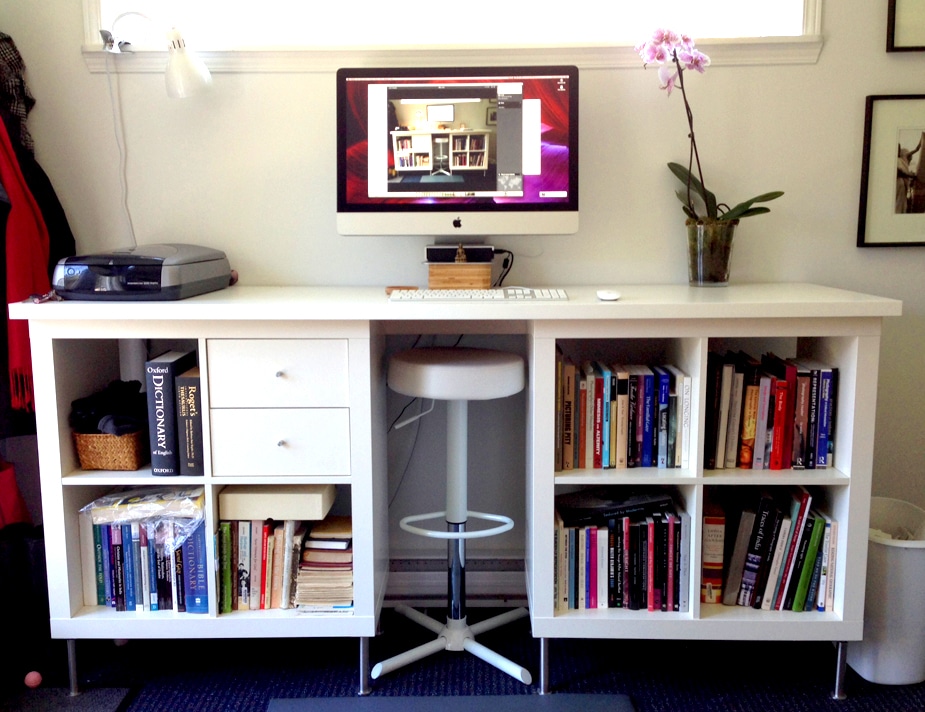 You can transform an old bookshelf into a functional desk that maximizes the space and allows you to repurpose furniture that is no longer in use. You can remove a few shelves from it and add a flat surface. This allows the creation of a compact and efficient desk that blends well with your room. You can use the remaining shelves to store books, decorative items, or other stationery. This also provides easy access to them while working. The repurposed bookshelf is suitable even for small apartments and home offices.
2. Suitcase Side Tables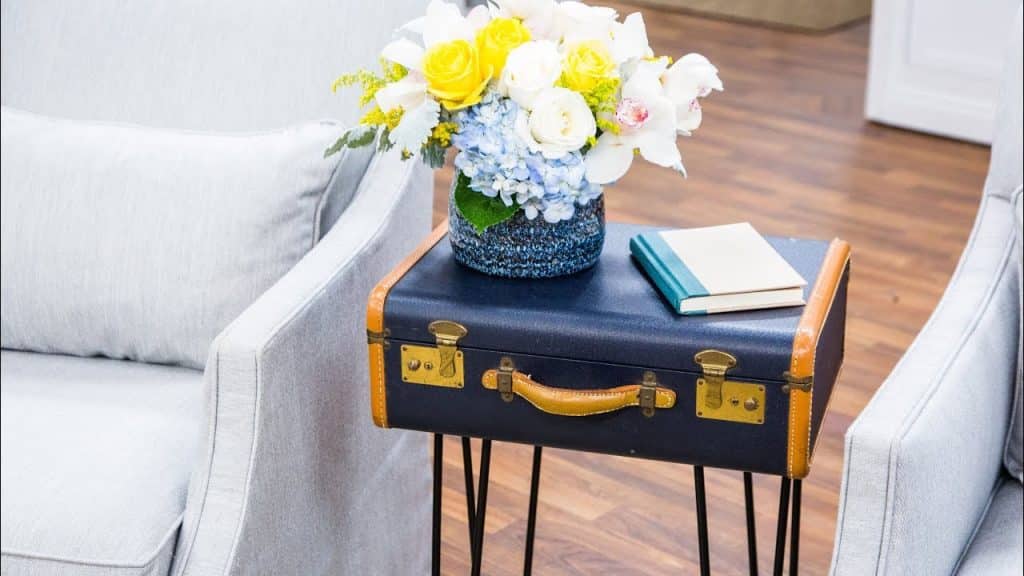 Another idea to repurpose furniture that is no longer functioning as it was intended is using old suitcases as side tables. This approach adds functionality to your room. To create such tables, you can stack suitcases of different sizes on top of each other and secure them using fasteners. Varying size and colors enhances the visual appeal of the table. You can place a lamp or other decorative items on top of the suitcase.
The interior of the suitcases can be used to place additional items like books, remote controls, or other small items to keep your surroundings clutter-free. This setting is useful in bedrooms and living rooms to create a point of interest. This repurposed furniture idea helps in reducing waste and promotes sustainability.
3. Bicycle Wheel Chandelier
One of the most clever ideas for repurposing furniture that promotes sustainability is using the wheel of an old or broken bicycle and making it into a beautiful chandelier. This lighting fixture illuminates the surroundings and gives an industrial vibe to your home decoration. You can start by sourcing an old bicycle wheel that has a visually appealing design and cleaning it. Remove the unnecessary components like the tire and tube. Continue by attaching small lights around the rim, like Edison bulbs or pendant lights.
Place them evenly to keep the physical and aesthetic balance. Suspend the wheel from the ceiling using ropes to hang it and adjust the height according to the room. The wheel gives a striking mix of light and shadow, creating a visually appealing aura.
4. Pallet Coffee Table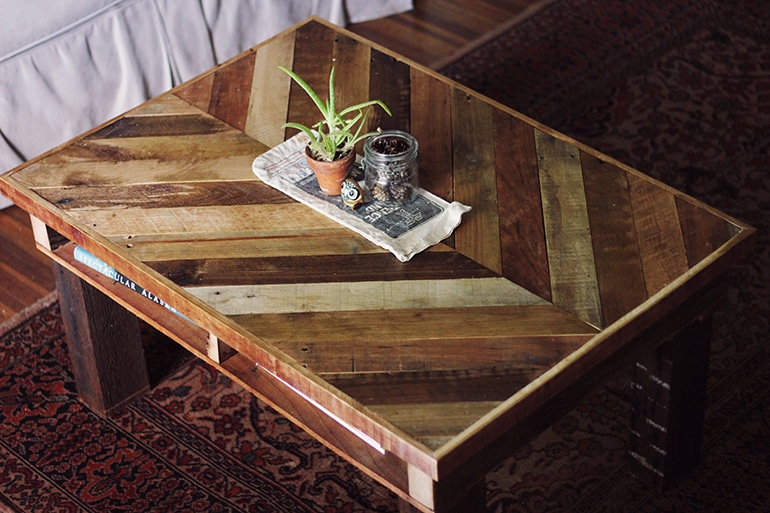 Transforming shipping pallets into a coffee table is a unique idea for repurposing furniture. To begin, you can select strong and clean pallets, sand them to clear out any rough edges and apply varnish for an enhanced visual appeal while keeping the wood protected. Stacking the pallets would be the next step, and adjusting them according to the required height, keeping them secure using screws. Add wheels to the bottom to add functionality and mobility. The top surface provides space to keep your drinks or books easily. You can add a glass top to enhance its look.
Additionally, you can add storage compartments in the hollow pallets to keep your items easily. The eco-friendly design gives a rustic charm to the surroundings. Since it is made from natural wood, it creates a vibe that is inviting and unique to your place.
5. Drawer Shelves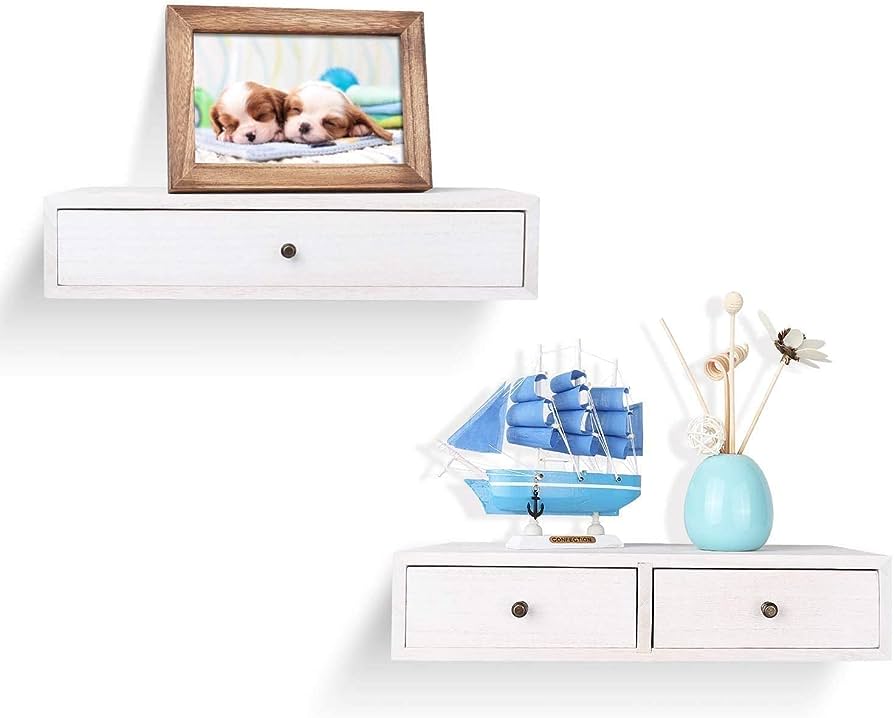 You can repurpose furniture for storage and transform it from old drawers into floating shelves. Using unused drawers and repurposing them to create a functional element that is unique to your living space. You can choose by selecting an old cabinet or dresser drawer, cleaning it out, and mounting them on the walls using brackets or hooks. The arrangement of the shelves is dependent on your taste and the surroundings. You can stack them and showcase your items conveniently.
You can even paint them in different colors to create a funky ambiance. These shelves are suitable for display in your bedroom, living room, or even kitchen. The shelves help optimize vertical space, thus reducing clutter and increasing the effective work area.
6. Vintage Door Headboard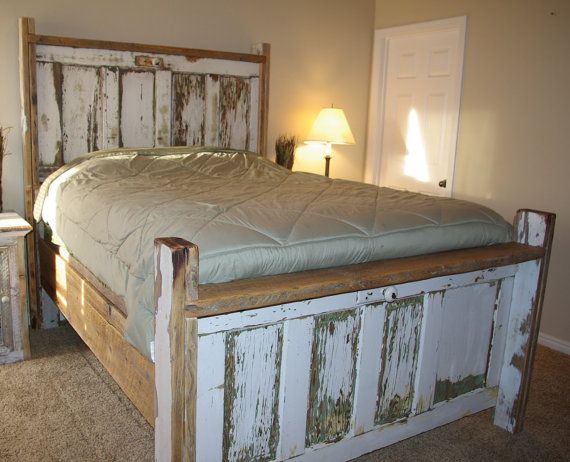 You can transform an old door into a headboard that is unique to your place. To do this, the first step would be to source a sturdy vintage door. You can choose from doors that have carvings, details, or distressed patina that matches the room's aesthetics. Clean, sand, and refinish the door to bring out its natural beauty. The next step would be to attach the door securely in place above your bed by using screws or brackets.
You can personalize the door by decorating it with mirrors, artwork, and sconces. You have the option to paint the door according to the room decorations as well. This adds an element of focus to your bedroom while reducing waste.
7. Wine Barrel Cabinet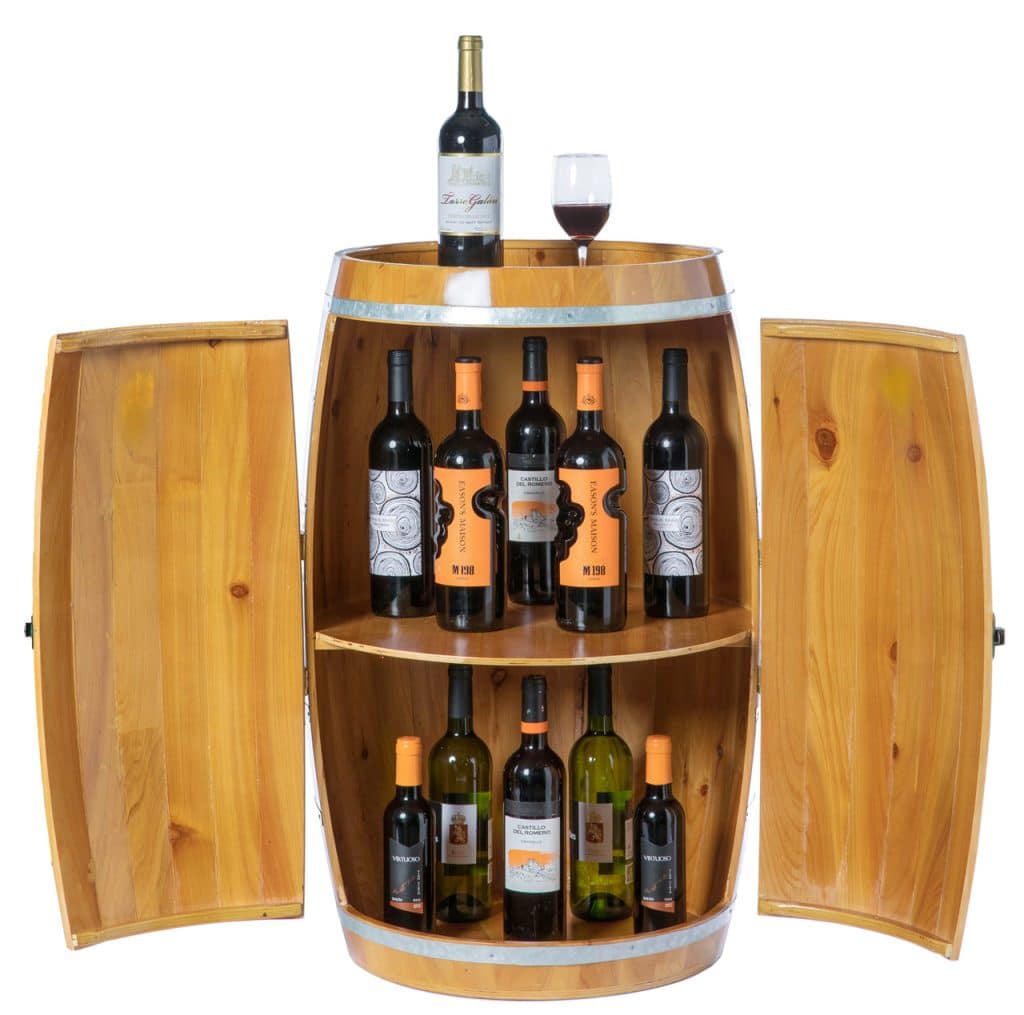 To create ingenious repurposed furniture that is visually striking, you can also use an old wine barrel and convert it into a cabinet. This enhances the storage space in your room and also gives a rustic appeal to the room. To create one, start by sourcing an old barrel; you can choose barrels with unique markings to give them an aesthetic appeal. You can cut them in half to create 2 sections.
Next, you can add shelves and compartments according to your needs and keep things organized. Finally, you can sand and stain the barrel for a polished look. You can place this unique decoration in your bedroom or kitchen or create a mini bar out of it to store glasses and wines.
8. Ladder Towel Rack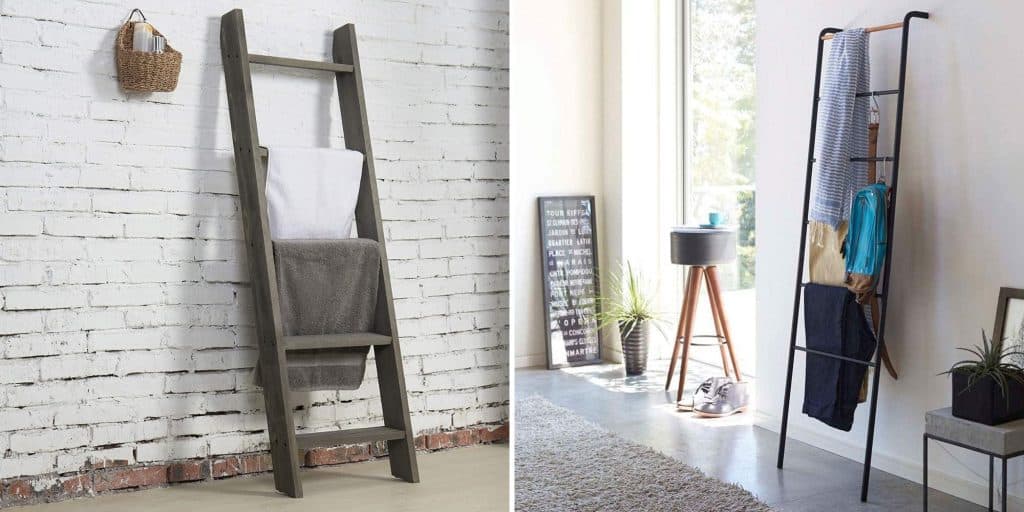 One of the most practical ways to repurpose furniture is by using an old ladder into a towel rack. Select a sturdy ladder and ensure that it can handle the weight of the towels. You can use ladders made of various materials like wood or metal. Determine the height and placement of the rack by leaning it against the wall to keep it stable. Attach it to the wall for secure placement if required. Rungs can be used to hang the towels. Additionally, you can use S-hooks to increase the number of towels that you can attach.
The ladder enhances the space for you to hang towels; you can even use the ladder to hang your clothes. This acts as a secure space in addition to being a unique decorative element in your living space.
9. Suitcase Vanity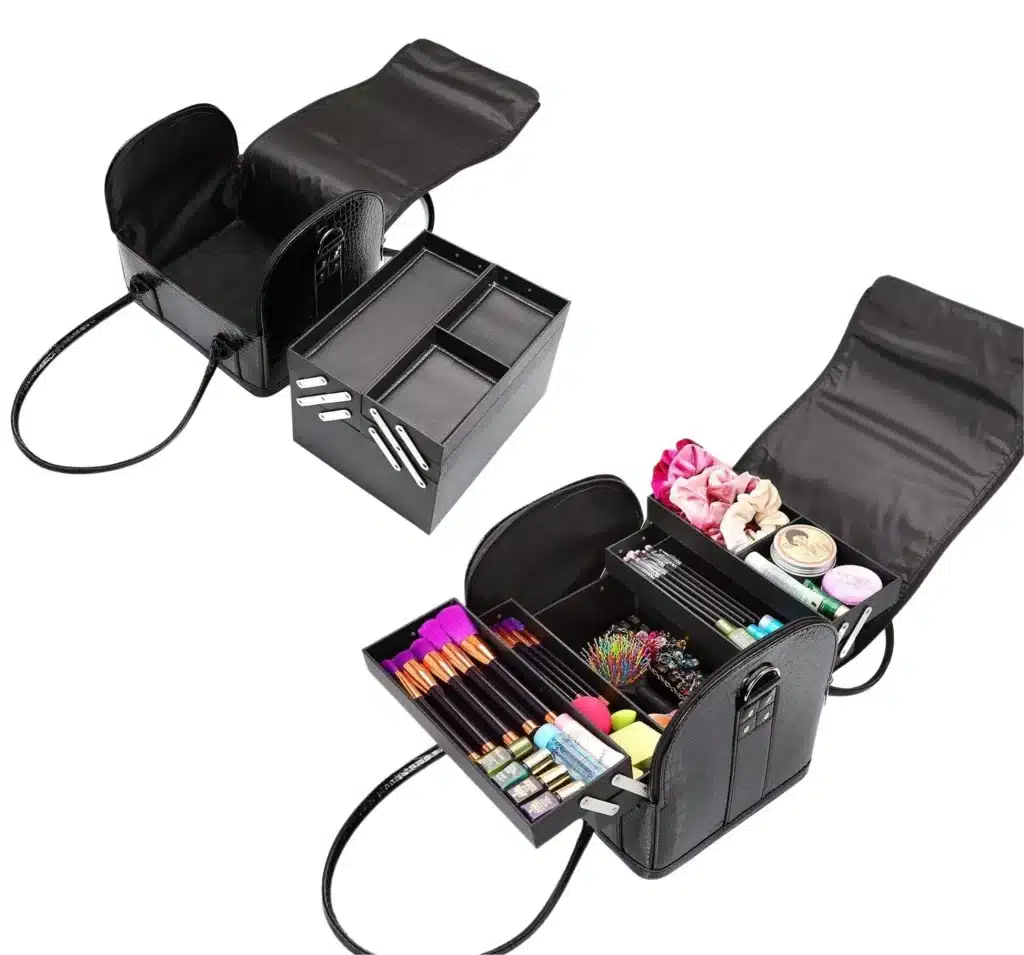 Another functional way to repurpose furniture is by transforming an old suitcase into a vanity. To begin with, select a good-condition suitcase that has an appealing design, is spacious, and is sturdy. Open it and attach a mirror to the inside of the lid. Make sure the mirror is secure and at a suitable height. You can choose a full-length mirror or one that suits your needs.
Add a base to make it functional and stand upright using brackets or screws. You can customize the suitcase compartments to keep your vanity essentials and fabric line them to keep them organized and safe. This piece of repurposed furniture offers a unique addition to your room decor.
10. Piano Bar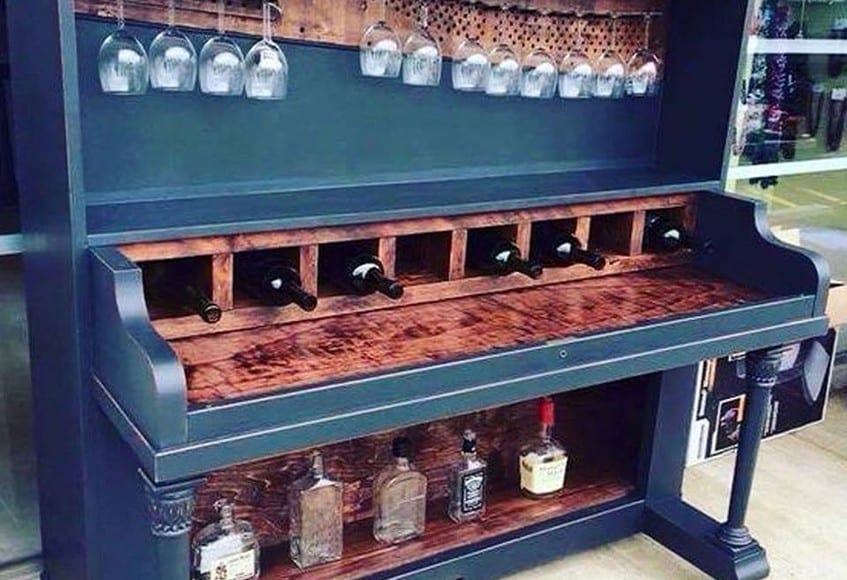 A piano bar is a show-stopper being used as a piece of repurposed furniture. Transforming an old non-functional piece of an instrument into a unique home bar. You can start making one at home by selecting an old non-functioning piano with a beautiful exterior. You can choose ones with a detailed finish or vintage-inspired craftsmanship. Dismantle the interior and convert it into a bar by adding shelves, countertops, and compartments to keep the bar essentials.
Strings and soundboard space can be used to store bottles and glasses. The keyboard cover can be repurposed as a countertop. Add lighting and mirrors to enhance the look of the bar and illuminate the surroundings. This lets you enjoy the perfect harmony of style and entertainment.
11. Window Frame Picture Display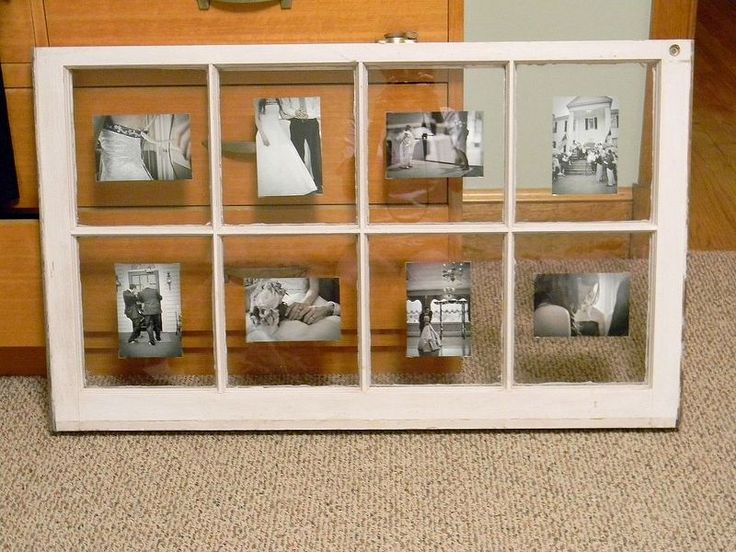 You can repurpose furniture to display your pictures uniquely. An innovative approach would be to use an old discarded window frame. Firstly, source one with multiple panes that allows you to add different pictures at the same time. Look for frames that have intricate detailing to enhance the ambiance of your room. Remove any glasses from the frame and give them a fresh coat of paint that matches the decor.
Attach wires and strings with hooks to make a base to hang the pictures. Arrange and hang the frames symmetrically or asymmetrically in your room according to your preference. This repurposed furniture acts as a piece of attraction and allows you to showcase your memories.
12. Bathtub Sofa
A remarkable way to repurpose furniture and make it visually and functionally appealing is to use an old bathtub and converting into a cozy sofa. Choose a sofa with a clawfoot base and comfortable shape. Clean any residue and create a cozy sitting area by adding cushions and upholstery to the back and bottom of it. Choose a fabric that matches the interior and is comfortable too.
Add foam padding and inserts into the cushions for ergonomic seating arrangements. Personalize it by decorating it with blankets and a side table. This becomes a unique addition to your living area by adding a vintage masterpiece in it.
13. Guitar Shelf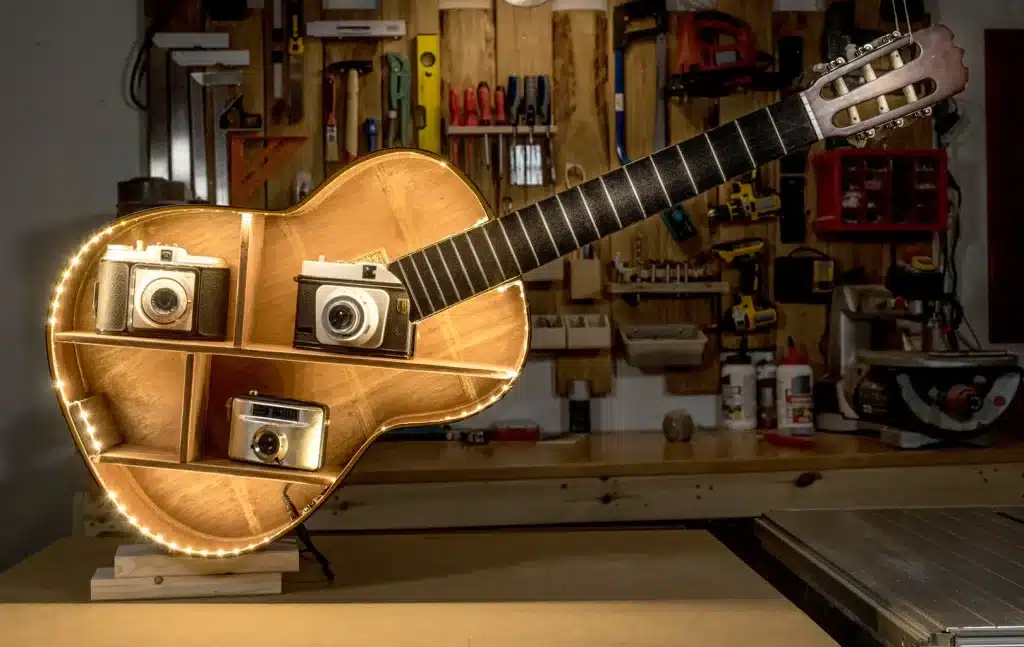 A musically inspired way to repurpose furniture for your room is by using an unused guitar and transforming it into a functional shelf. This gives a musical addition to your living space. Select a guitar that is no longer functional having a unique design and shape. Remove the strings and unnecessary components from the guitar to add shelves. Wooden cutout boards can be used in place of the shelves that can be fixed using screws or adhesive.
You can add multiple shelves depending on the size of the guitar. Add decorative elements to give it a personal touch, and apply varnish to protect the wood. This acts as an eye-catching piece to your living room and shows your passion for music.
14. Tire Ottoman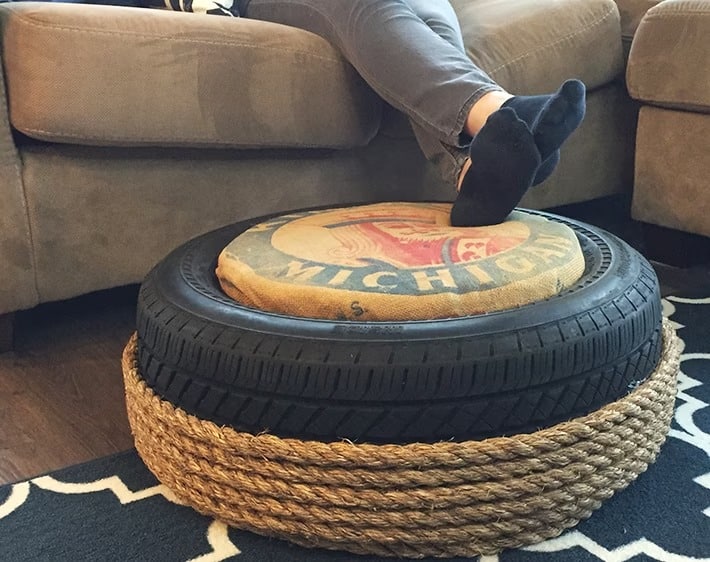 An eco-friendly way to repurpose furniture is by using old tires and creating a stylish and functional ottoman. Source tires that are in good condition in shape and sizes that match your vision of the ottomans. Clean them of any dirt and debris and wrap them in fabric or rope to cover the rubber. Tie the material securely around the tire and ensure it is evenly distributed.
Add a cushion to the top and make it functional. Attach a fabric-covered cushion for added comfort or foam pad it. Add detailing to it according to the room decor. You can use this as a footrest, extra seating, or even a table if you add a tray.
15. Window Shutter Room Screen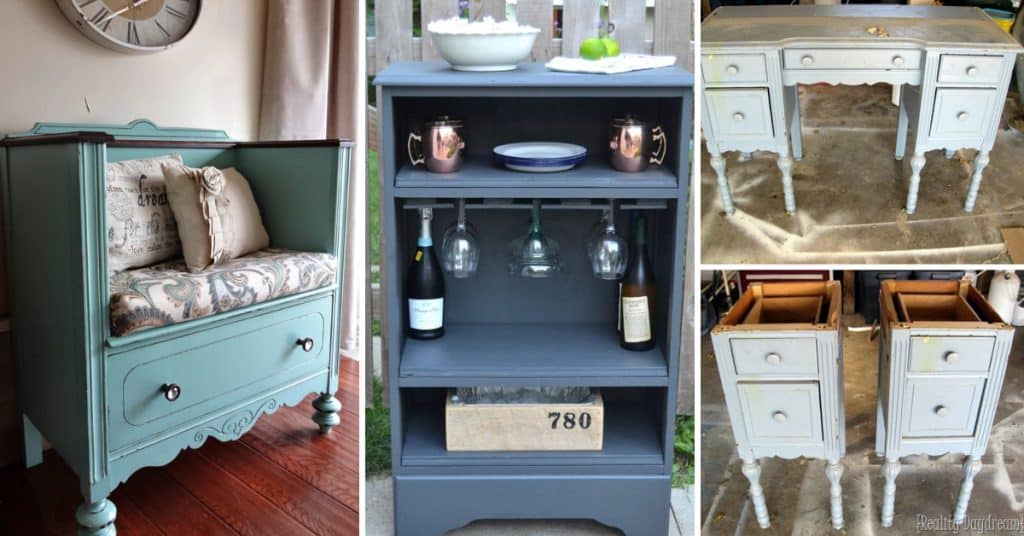 Repurpose furniture and convert your old window shutter into a room divider. You can use it to divide certain areas of your room by adding privacy or using it as an interesting visual piece. Source old and good-conditioned shutters with unique designs that match the vibe of the room. Make any necessary repairs and add more detailing if required. Hinge them together to make them into a folding screen.
Once together, you can personalize them by painting and adding more decorations. Make sure the shutters are securely fastened together so that they do not fall off and can be folded and unfolded easily.
16. Sewing Machine Table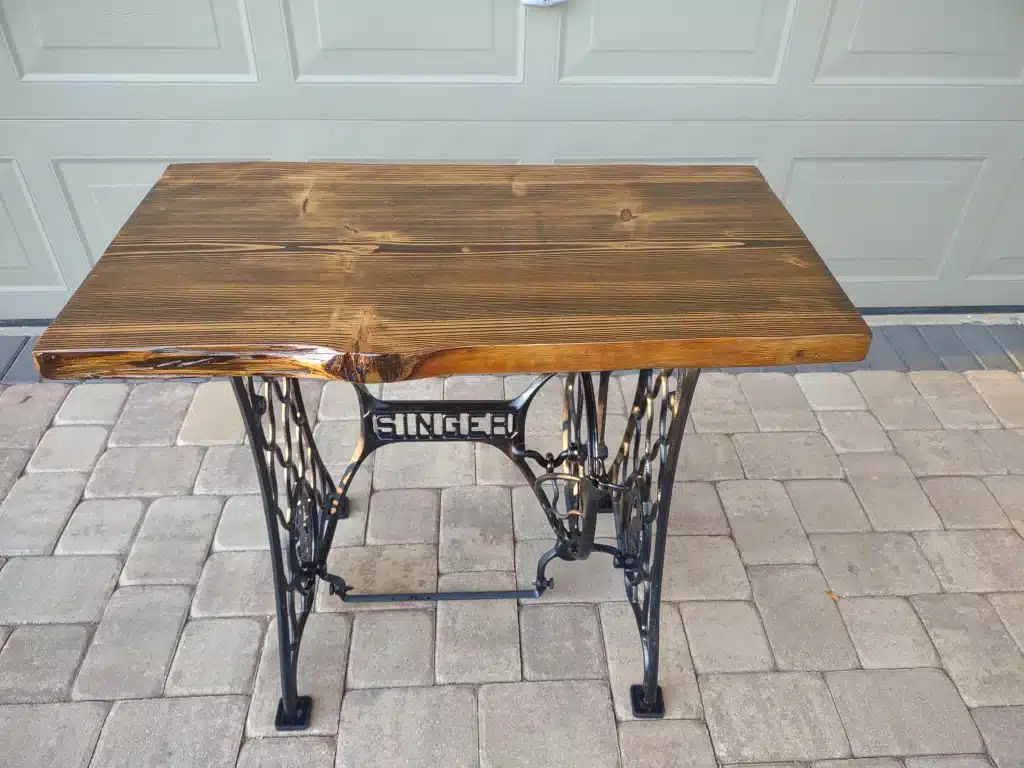 You can repurpose furniture and use your old sewing machine base to use it as a functional table. To make one, source a sewing machine base that is in good condition and has interesting details such as metalwork or detailed design for an enhanced visual appeal. Find an appropriate tabletop that complements it. It can be made of glass or wood, or even reclaimed materials. Secure the tabletop on top of the base using screws or other fasteners.
Level the table appropriately, making it functional and secure for use. This can act as a side table or be used as a small dining table. The vintage-inspired design gives this repurposed furniture a unique addition to your room.
17. Pallet Wine Rack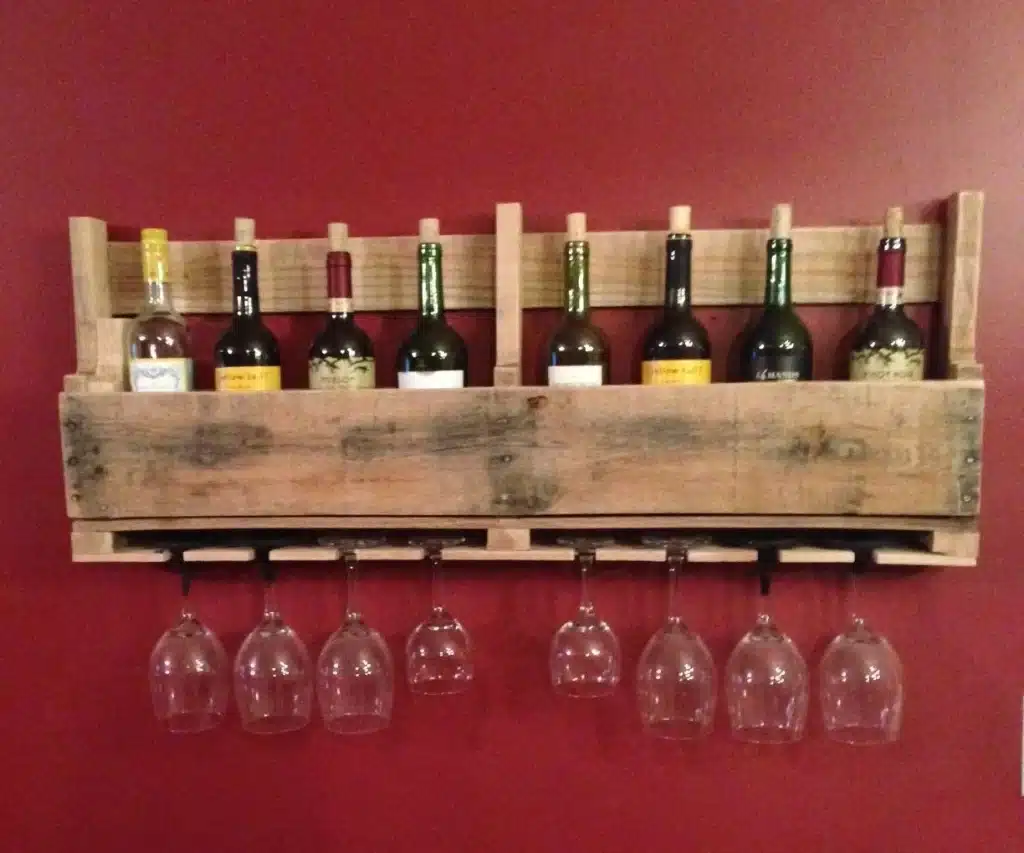 Transform old wooden pallets into a functional wine rack. This adds sustainability and makes it a creative addition to your home decor. Source wooden pallets that are in good condition having intact and sturdy boards. Clean and free them of any nails and splinters. Disassemble them and select boards to make them into wine racks.
Arrange the boards according to your preference. Attach the boards securely using nails and screws while leaving enough space to accommodate the wine bottles. Sand the boards to enhance their visual appeal.
18. Skateboard Swing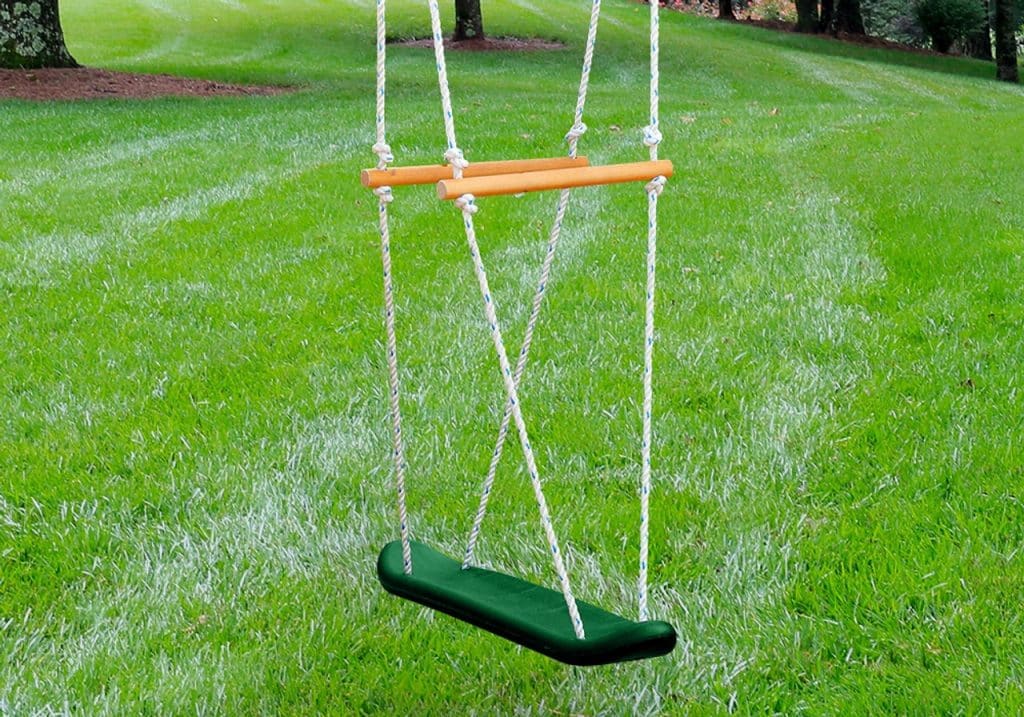 A fun way to repurpose furniture is by using an old skateboard and making them into swings. This adds a unique, playful vibe to your space. Create a skateboard swing by selecting skateboards that are no longer functional. Ensure that the boards are in good condition with sturdy decks.
Attach strong ropes to the decks and fasten them to the mounting points. Find a place to hang the board, like a branch or playset, while making sure that the place can support the weight of the swing and the person swinging. This adds a fun flair to your house while helping to reduce waste.
19. Dresser Bathroom Vanity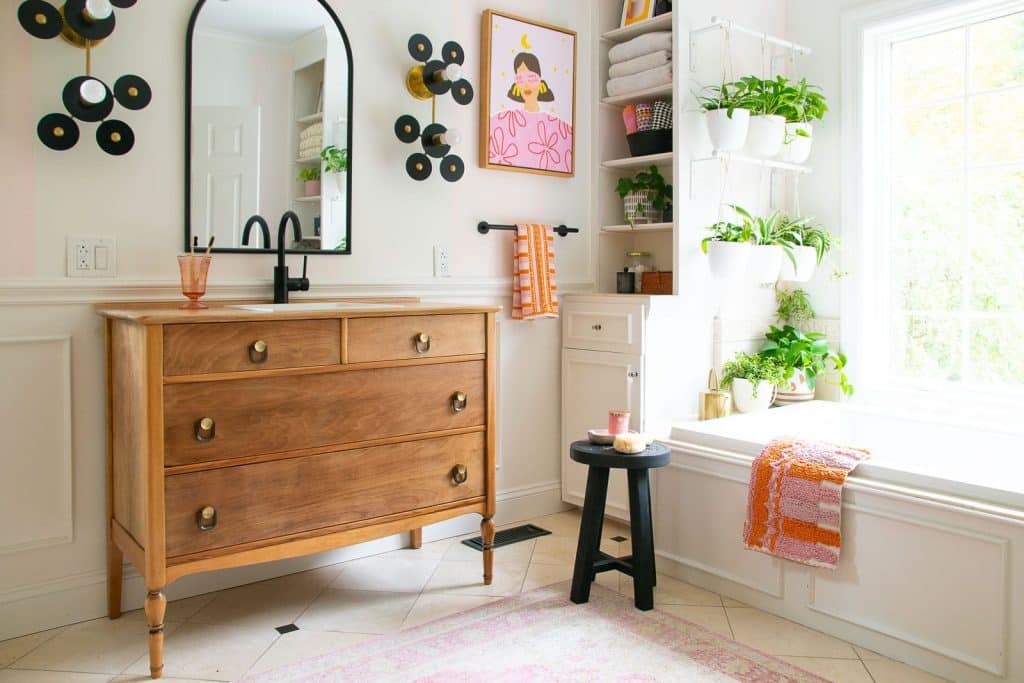 Add a functional transformation to your bathroom by making a non-functional or old dresser into a vanity. Find one with a suitable height and storage space. Remove the drawers to create space for a sink. Cut the area out for the sink and align it properly. Install the sink of your choice, like a drop-in or a vessel sink. Install the plumbing fixtures by modifying the back of the dresser. Cut the opening as needed to connect the sink to the plumbing system. Paint the dresser to match the bathroom decoration.
20. Toolbox Side Table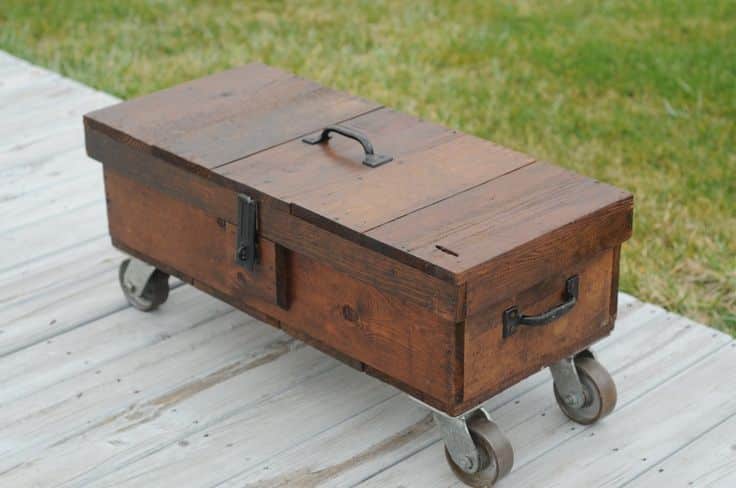 Add industrial-inspired furniture to your living space by converting an old toolbox into a side table. Source a visually appealing toolbox with vintage detailing like metal or patina. Add legs or wheels according to your preference and adjust their height. You can choose the material of your choice that matches the room's aesthetics. Attach them securely for stability. If the toolbox includes a hinged lid, use the interior to keep your essentials or keep it permanently open to make it into an open shelf.
Conclusion
By using repurposed furniture, we reduce waste as well as add a creative vibe to our living spaces. We hope that our 20 ideas to repurpose furniture allow you to add unique items to your rooms. Whether it is turning a bookshelf into a functional desk or using old tires to create ottomans, these ideas help create resources out of waste materials.
With these, start your repurposing journey by looking around the garage or local thrift stores for items that can be transformed into something unique. Let your creativity shine, and embrace sustainability. With a simple DIY project or a complex transformation, be inspired and give life to old furniture.
Bring out a positive impact on the environment while turning old furniture into new and functional items.