Twenty years is a big milestone in growing and evolving relationships. Staying together despite all the arguments and disagreements is something that essentially matters and is the biggest blessing in your relationship. Spending 20 years together with each other's love along with faults and raising a family together is not easy, and having achieved this milestone in your life altogether, it is essential to celebrate this moment together and make it memorable by presenting your token of love.
Your beloved partner deserves a unique gift marking this unique milestone of 20 years of togetherness. But, of course, it is not easy to find a perfect gift for your partner. Don't worry; we have got your back as we present the amazing 20-year anniversary gift ideas that will make your gift hunting easier.
Be it a traditional gift or something fancy, antique, or DIY, we have covered it all for you in the list below.
Beginning with Finding Perfect Gifts for Her
1. Night Sky Lantern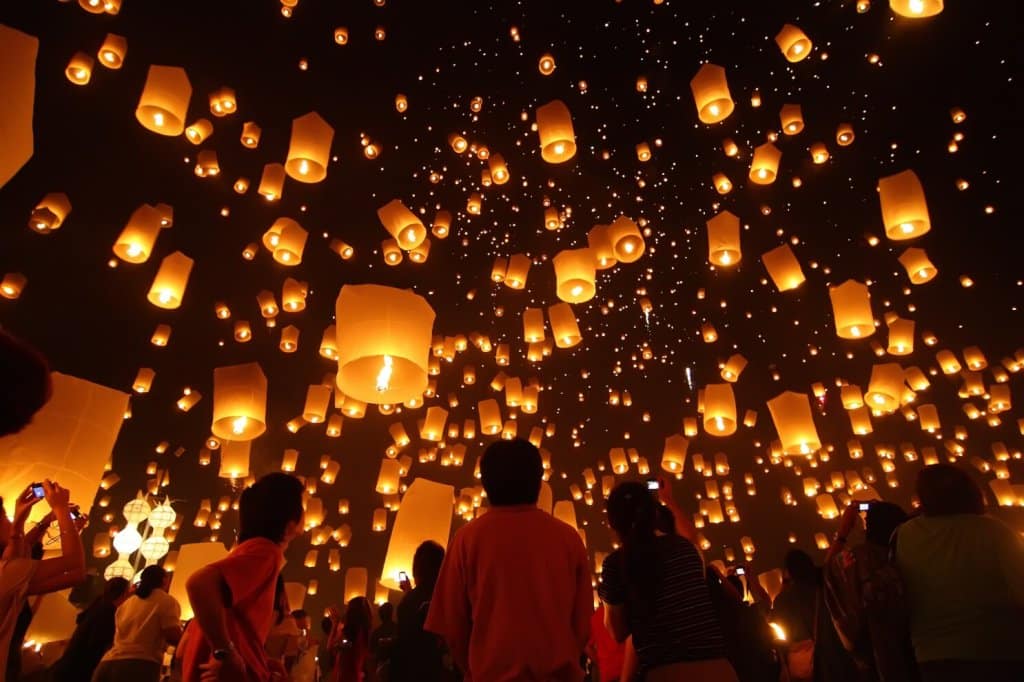 Gift your beautiful wife night sky lanterns. When you both ignite and let the lantern lose in the open sky, the warm light spreading in the sky makes hearts warm. Both of you can sit under the night sky lit with lanterns and enjoy your favorite meal. Receiving such a thoughtful gift will fill her heart with joy. You both can then sit under the sky and talk about the beginning of this beautiful phase of your life. But make sure you fly it away from trees, power lines, and buildings, especially away from airports.
2. Canvas Painting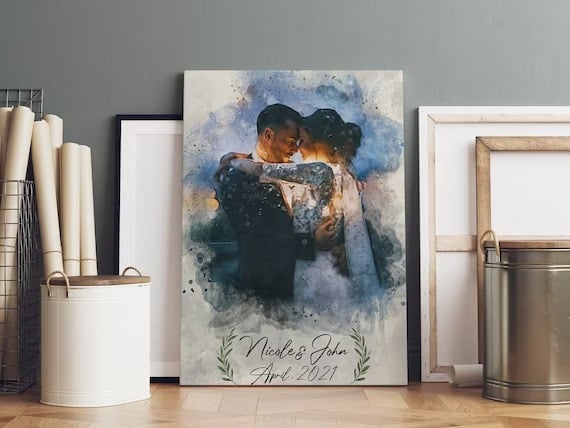 A beautiful portrait of the two of you as a 20-year anniversary gift is such a beautiful gift idea you can proceed with. She will treasure the canvas painting for life and maybe even get it framed in the bedroom where you can admire your love each day, especially when you argue enough not to speak to each other again. You can also gift her a canvas painting of her single picture because she is so pretty. Canvas paintings are never out of fashion, and if you are an artist and have made the painting yourself, she is going to shower you with love and respect.
3. Heart-Shaped Earrings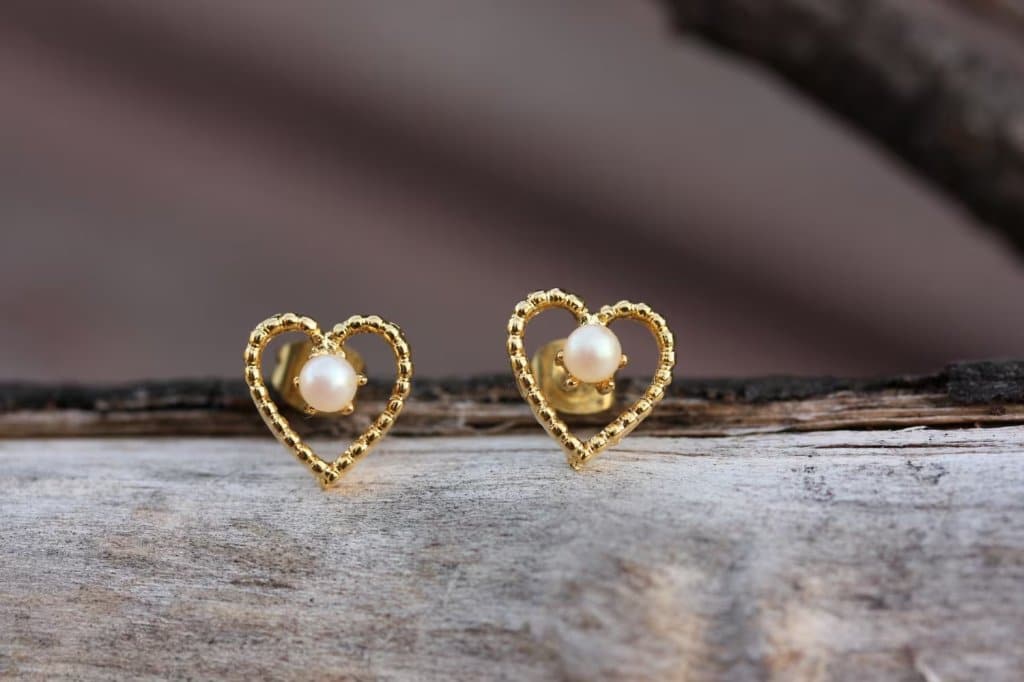 Have you ever seen how a woman flaunts what she loves? If not yet, gift your wife a pair of heart-shaped pearl earrings and witness how she flaunts them with her outfits and in front of her friends. She is going to love them, and more than that, she is going to love the thought and care you put behind buying her the beautiful gift. And the best part? Pearl jewelry fits right in your budget. This makes you happy, along with your wife.
4. Porcelain Jewellery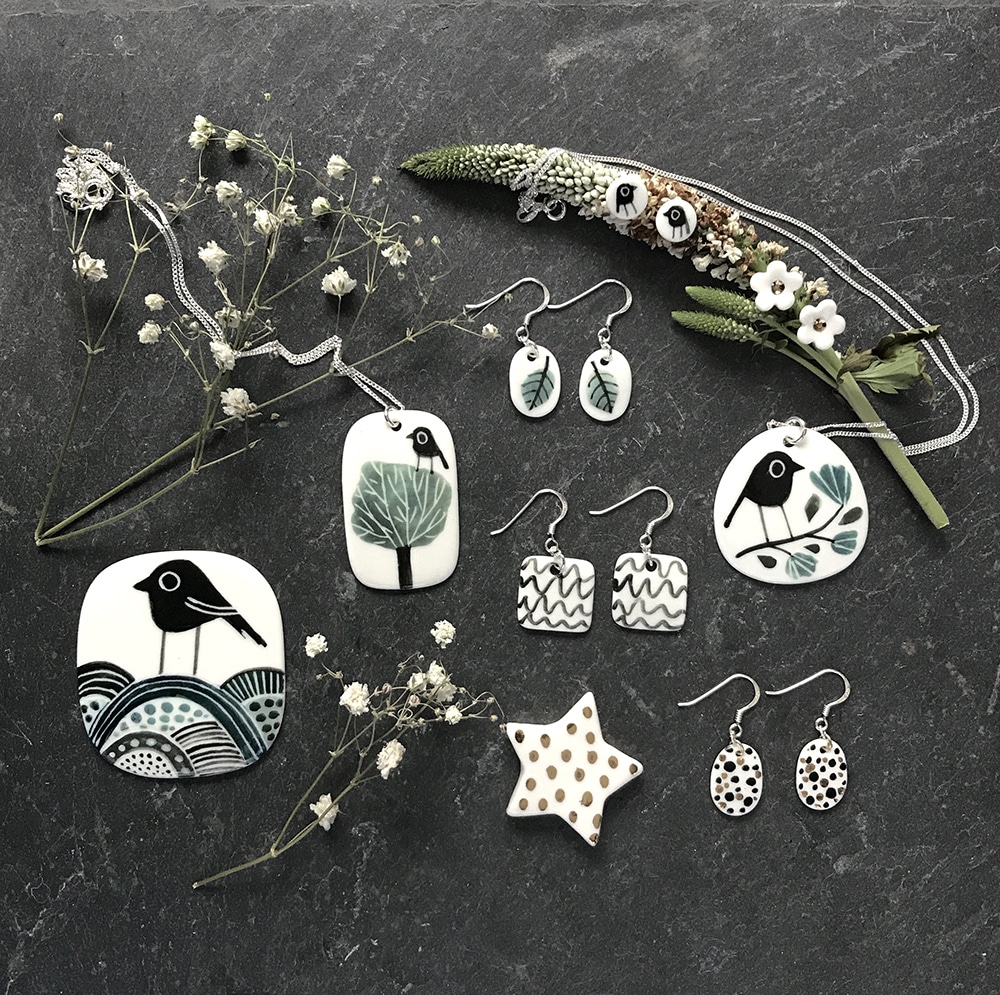 Porcelain jewelry includes earrings, necklaces, and brooches. They are generally hard and look beautiful when carried well with the right outfits. If the woman in your life is a 'beach person,' she is going to love porcelain jewelry. She can carry it when she visits the beach next time or attends a beach theme party with her friends. Women love accessories, especially if it's their favorite kind. Recognize the pattern of your wife, whether she carries an earring, necklace, or brooch more often, and then accordingly gift her.
5. Infinite Love Pendant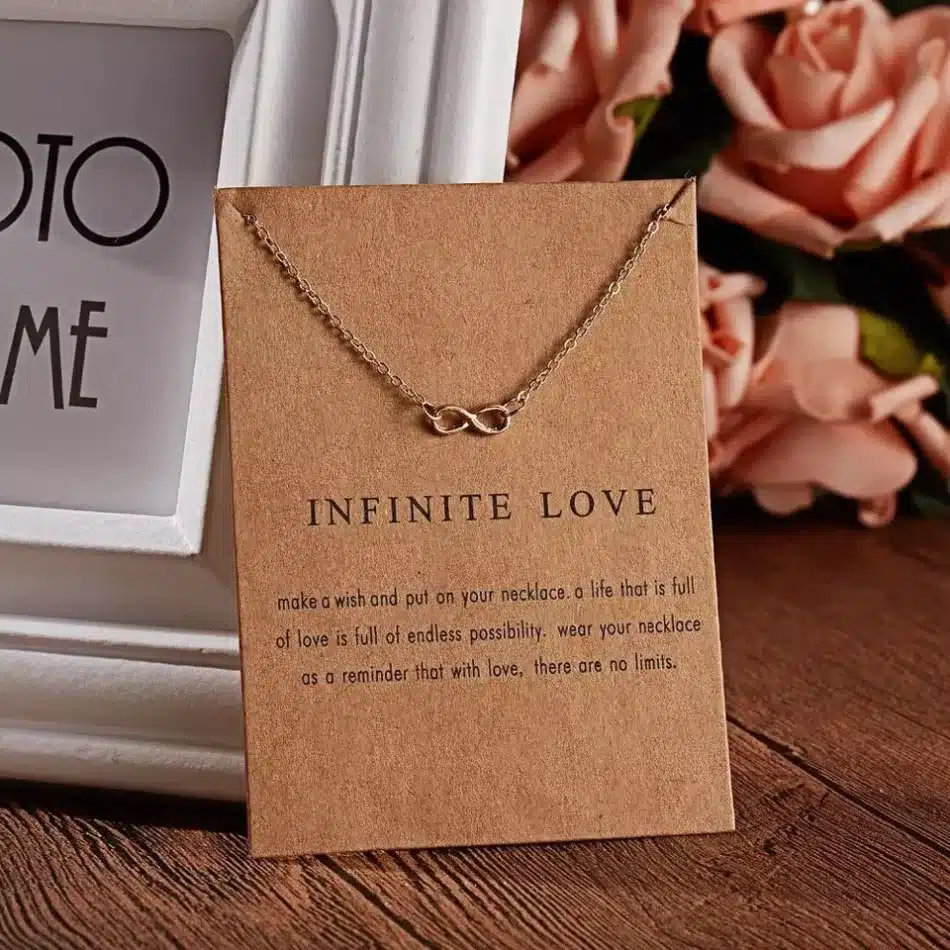 The infinity heart is a symbol of neverending love and friendship. By gifting your wife an infinite love pendant, you promise her abundant love and understanding for the rest of your lives. It is a sign that you will always have her back and enjoy life together. Receiving such a promising gift as a 20-year anniversary will keep her happy and going through all the hardships in her personal and love life. An infinity necklace is a very special gift, and she will forever admire this one.
6. Vanity Tray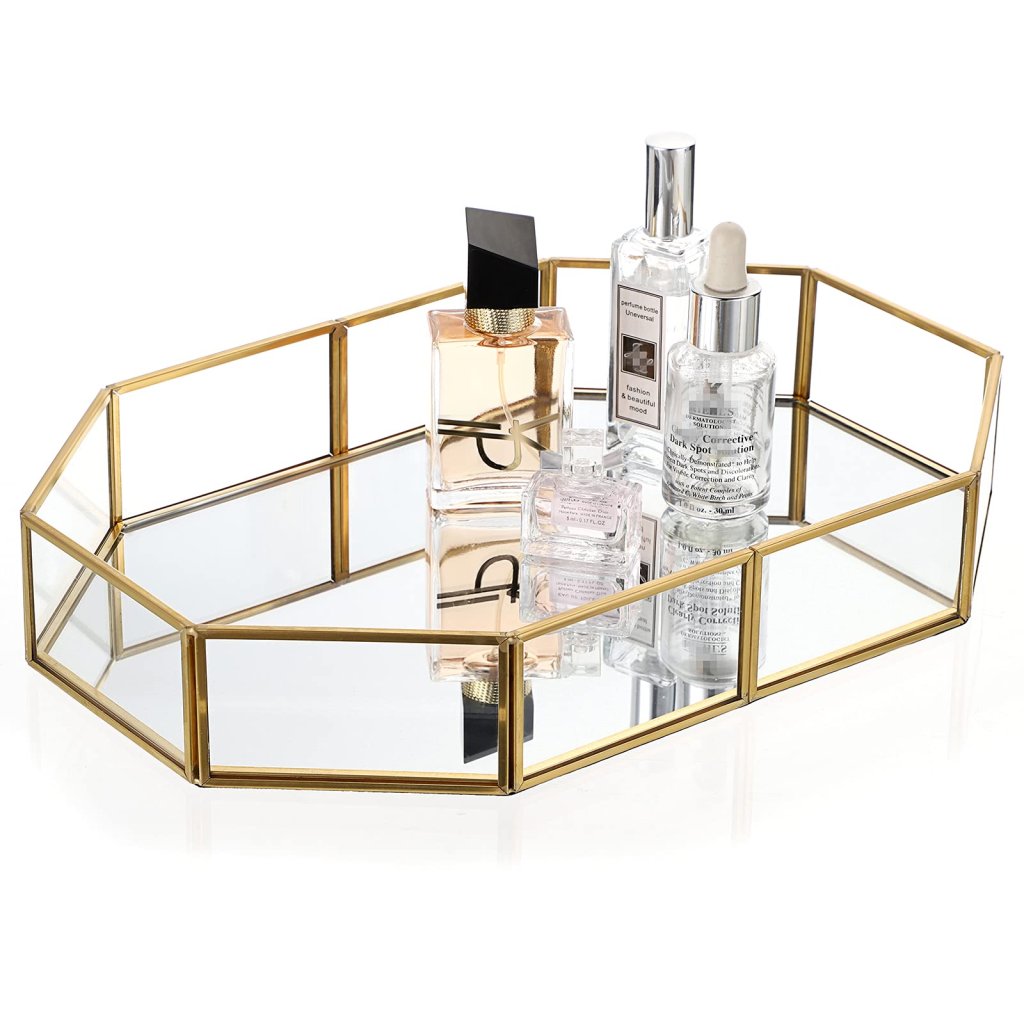 A vanity tray is an elegant and efficient object which helps store the essentials in a neat structure. Your wife might keep all her lipsticks, nail paints, and many other things stacked somewhere in a drawer, and a vanity tray will make things easy for her. She might not even know she needs this until you give it to her and she starts using it. She is so much going to love you and the gift. It looks elegant and is quite convenient.
7. Platinum Picture Frame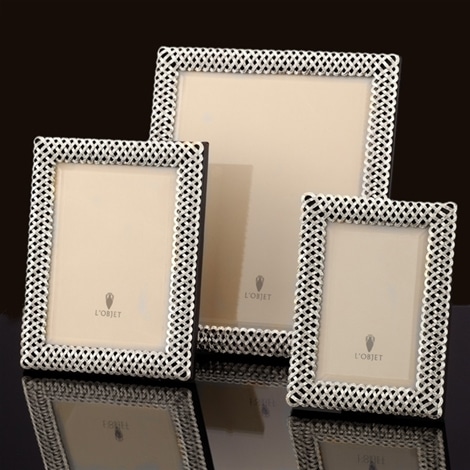 A picture frame is both special and personal. While there are various options for pictures that can be placed up on the wall, make this 20-year anniversary gift unique. Gift her a picture frame that is platinum plated and frame your marriage certificate in it. Besides that, get 2-3 other silver-colored frames and frame the pictures of the beautiful memories you two have together. Your wife will be super amazed and happy to receive such a thoughtful gift.
8. Silk Pillow Cover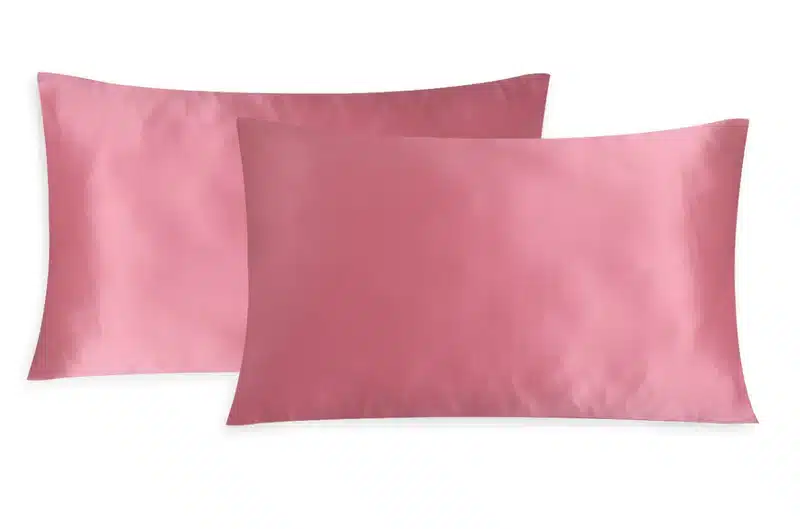 Women and their love for silk is impeccable. A silk pillow cover is an investment for your beautiful wife, especially her hair. Silk pillowcases keep hair non-frizzy while we toss around in our sleep. Also, it helps to keep our skin fresh and rash-free. Sleeping on a silk pillow cover feels luxurious and also promotes good sleep. Silk is tightly woven fabric and thus does not retain dust, dirt, and germs; thereby is very hygienic and great for her skin and hair.
9. Silk Dress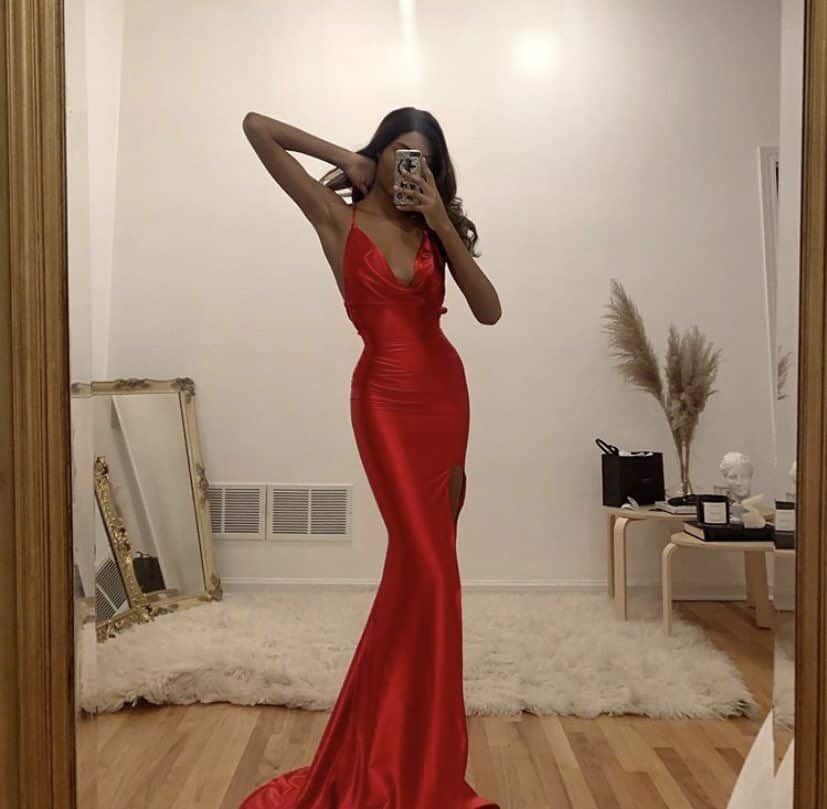 Do you remember the very pretty silk dress that she asked you to buy for her? If it rings a bell, rush to the same store and buy her the same piece as her 20-year anniversary gift. Even if she hasn't asked you for it yet, give it to her anyway because she is definitely going to love it. No woman can say NO to a silk slit dress. Give it to her and watch her carry herself in it with utmost elegance and flair. She would not have expected a gift as beautiful as this and thus will love it even more, not to mention the fondness she will have for you.
10. Customized Anniversary Book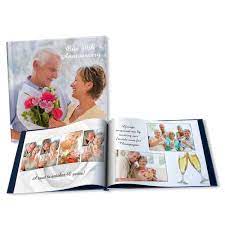 As a 20-year anniversary gift, give her an anniversary book. An anniversary book that is customized as per your needs and whims. Add pictures and memories of all the moments you spent together and things that are close to your heart as a couple. You can add pictures ranging from your first date to bathing your youngest child together. All the candlelight dinner date pictures will fit right inside this book that you both can cherish forever. An anniversary book is a great way of holding onto the memories. On the days you feel like giving up, these little things will give you back the required energy.
11. Aesthetic Incense Burner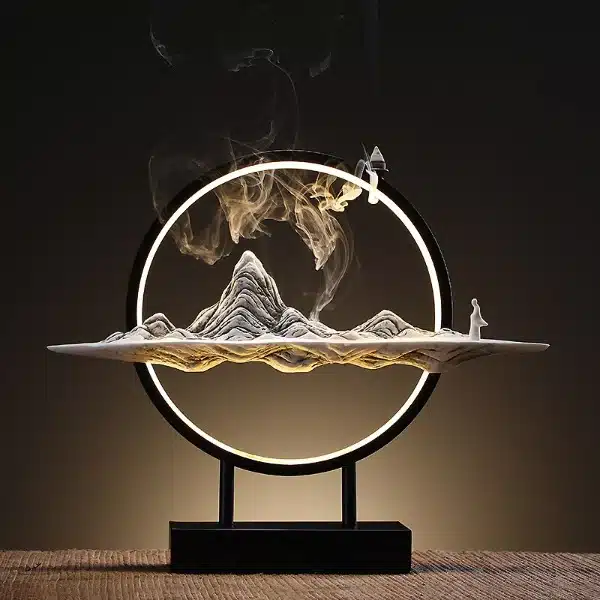 The fragrance is an important aspect of a house and people associated with it. While it's not easy to keep the things intact in their right place, it is easy to give your wife some aesthetic incense burner while keeping the smell of your dirty socks away from your nose and it also helps in the aesthetic look of the place. It will at least not make her angry due to the pungent smell. The beautiful incense burner will attract the incoming guest, and she will proudly boast it.
12. Gift Vouchers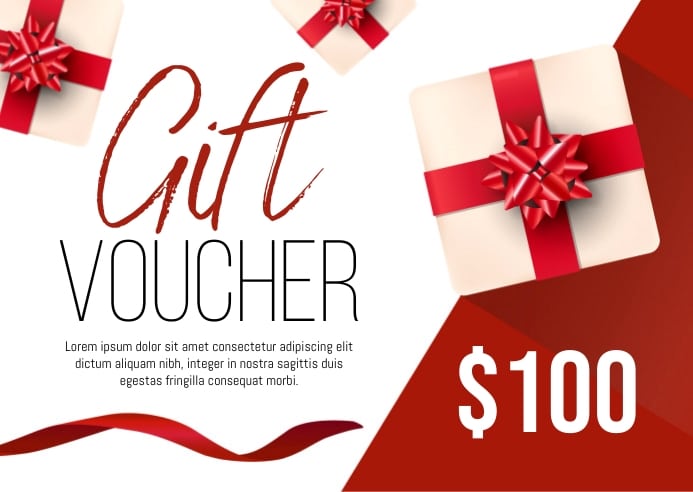 It is a perfect idea to gift your wife vouchers for her favorite shopping brand. She can buy anything she wants. This way, you will not have to bear the stress of buying something she likes. Save your time and energy by letting her shop on her own. Check the website of her favorite brand and choose a gift voucher with the amount you are willing to let go of for shopping and then gift it to her. Easy! She will be happy, and you will be relaxed.
13. Amazon Echo Show 8 (2nd Gen)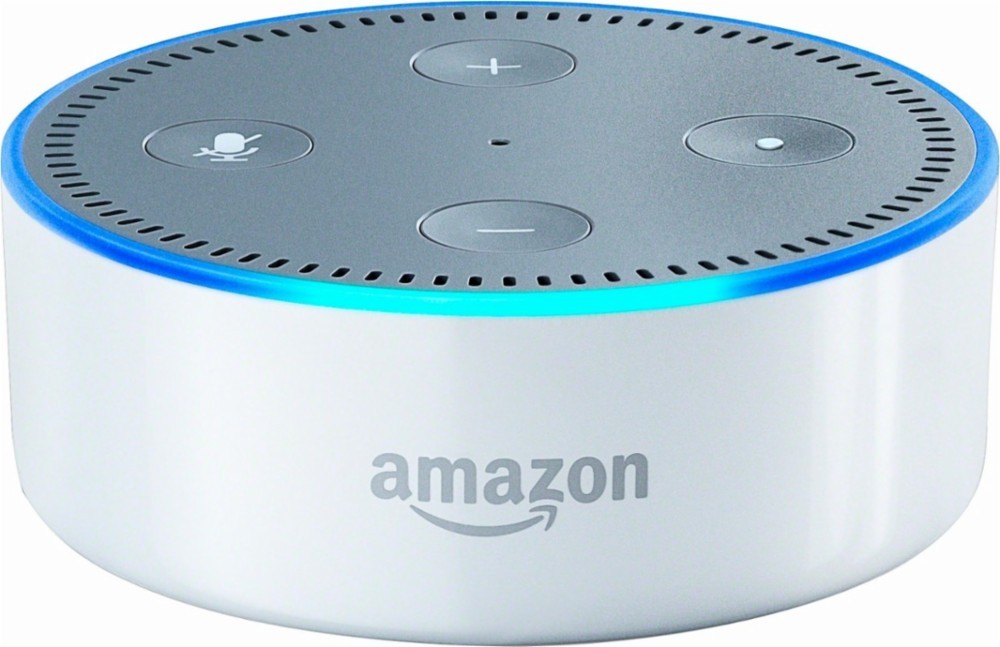 If your woman is a tech fan and loves cool new gadgets, gift her the all-new Amazon Echo Show 8(2nd Gen). The device is worth the hype. It can be used to watch series, play music and videos, and make voice and video calls. Alexa within the device can handle smart home devices like lights and cameras. It can help her keep a check on the children while they are playing in the corner room. It can also let her check who's knocking on the front door without having to reach there in a rush.
14. Wedding DIY Card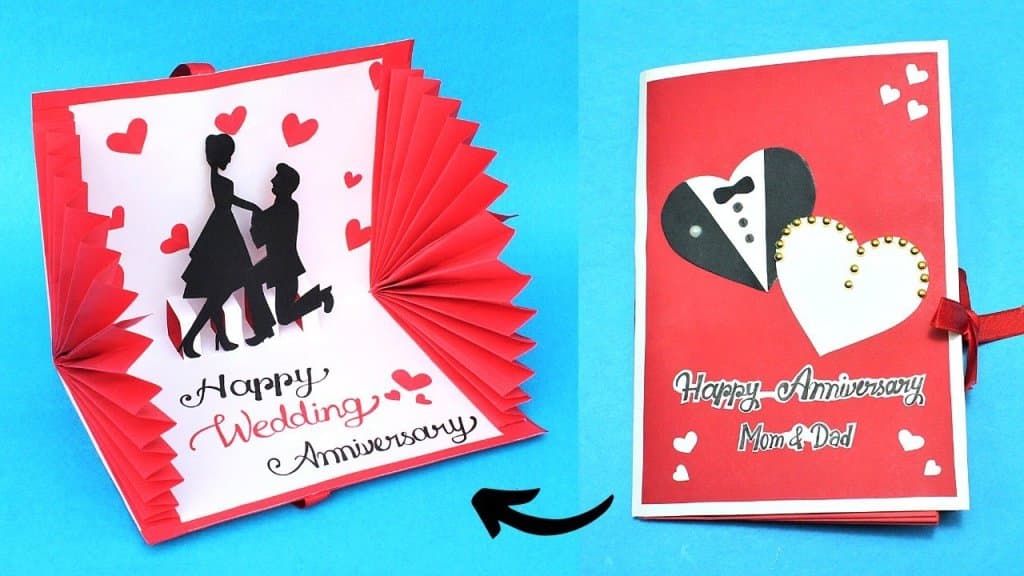 Handmade DIY cards are more about effort than price. It is more precious than precious jewels. We all look for effort and affection from our partner, and she is going to appreciate the DIY Card you made yourself. All you need to do is gather some art supplies from your child's shelf and follow the step-by-step routine of making a DIY Card. If you have never done this before, choose an easy yet beautiful card, and you can move up the level depending on your skills. She will love you for this 20-year anniversary gift.
Gifts for Him
15. Smart Indoor Garden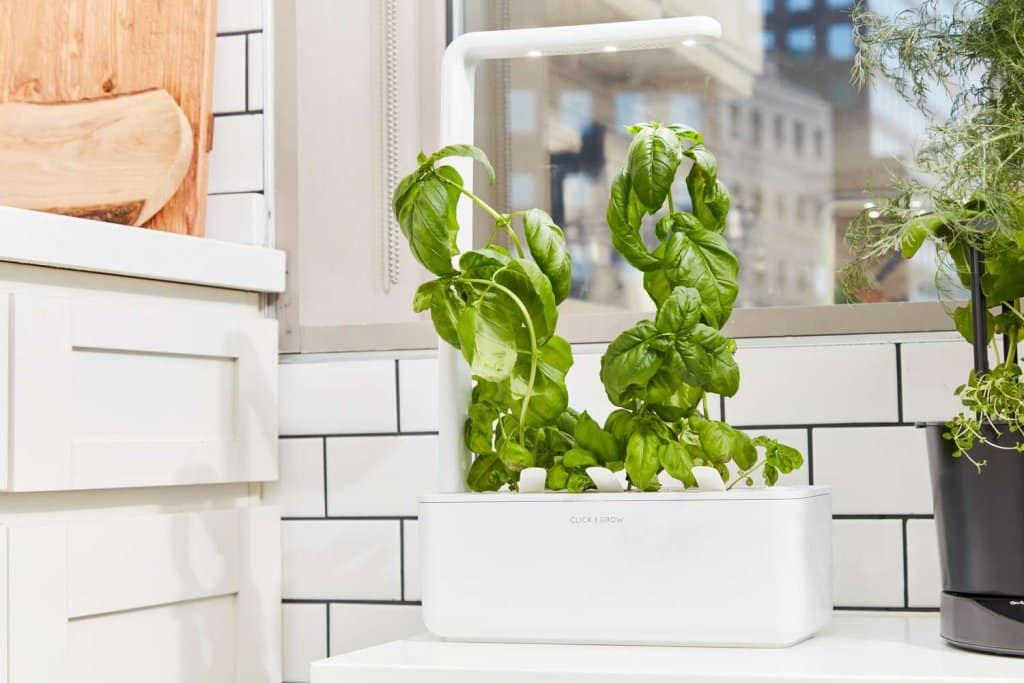 If your husband loves gardening but is allergic to sun exposure or just lazy for a fact, the smart indoor garden is the perfect 20-year anniversary gift for him. The sophisticated look of the indoor garden makes it look elegant on the kitchen top, table, or windowsill. The smart gardens are built to last long and can grow a variety of houseplants around the year. It also has health benefits like receiving fresh air inside the house and growing your favorite plants which are good for health. There are various benefits of gifting a smart indoor garden.
18. Vegan Leather Bag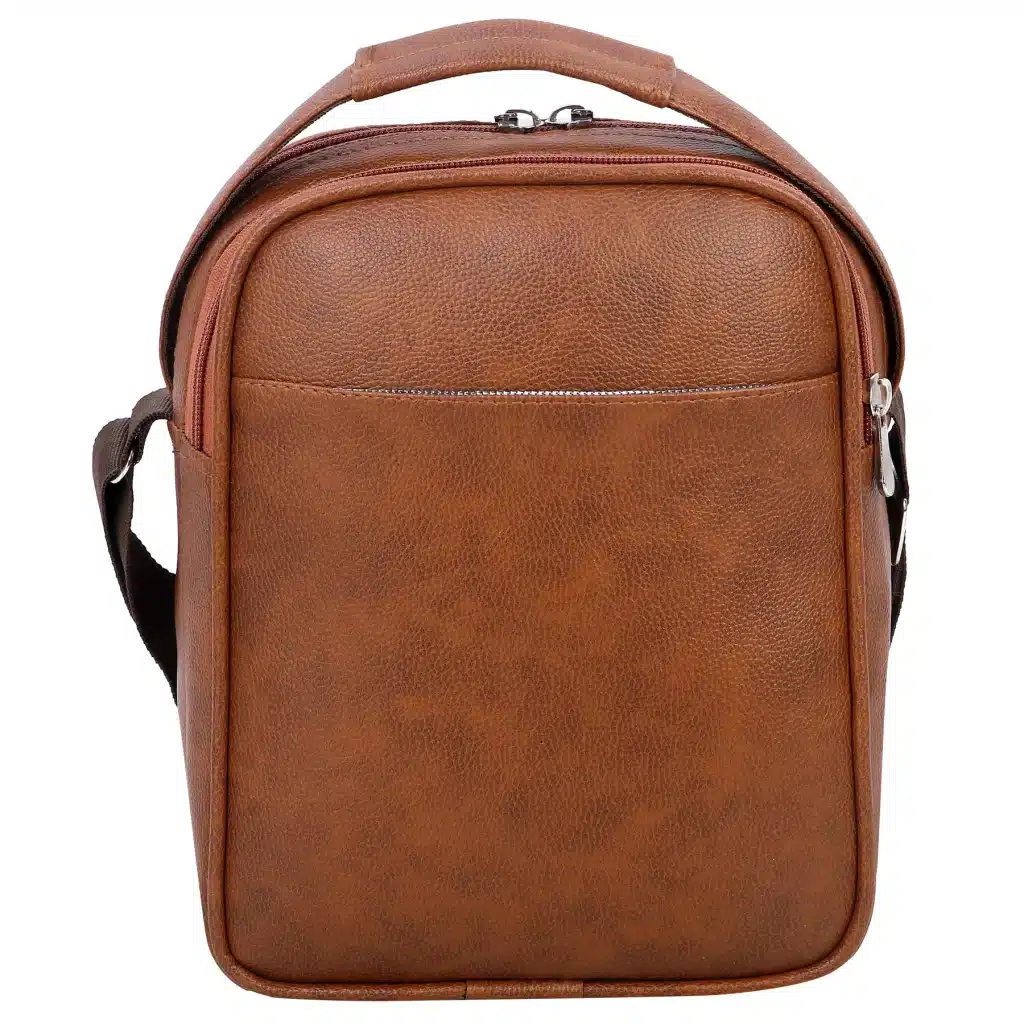 A bag that will confuse all and be super useful for your man is worth spending your money on. Is it a laptop bag? A gym bag? Or a traveling bag? No one can say. The vegan leather bag looks highly professional and rich, making your man stand out from the crowd. Gift him the unique bag and witness him flaunting it in front of his friends and colleagues. It is easy and comfortable to carry anywhere and everywhere and fits in a variety of objects like laptops, clothes, and accessories. A Leather bag as a 20-year anniversary gift is a great idea.
19. Shadow Display Box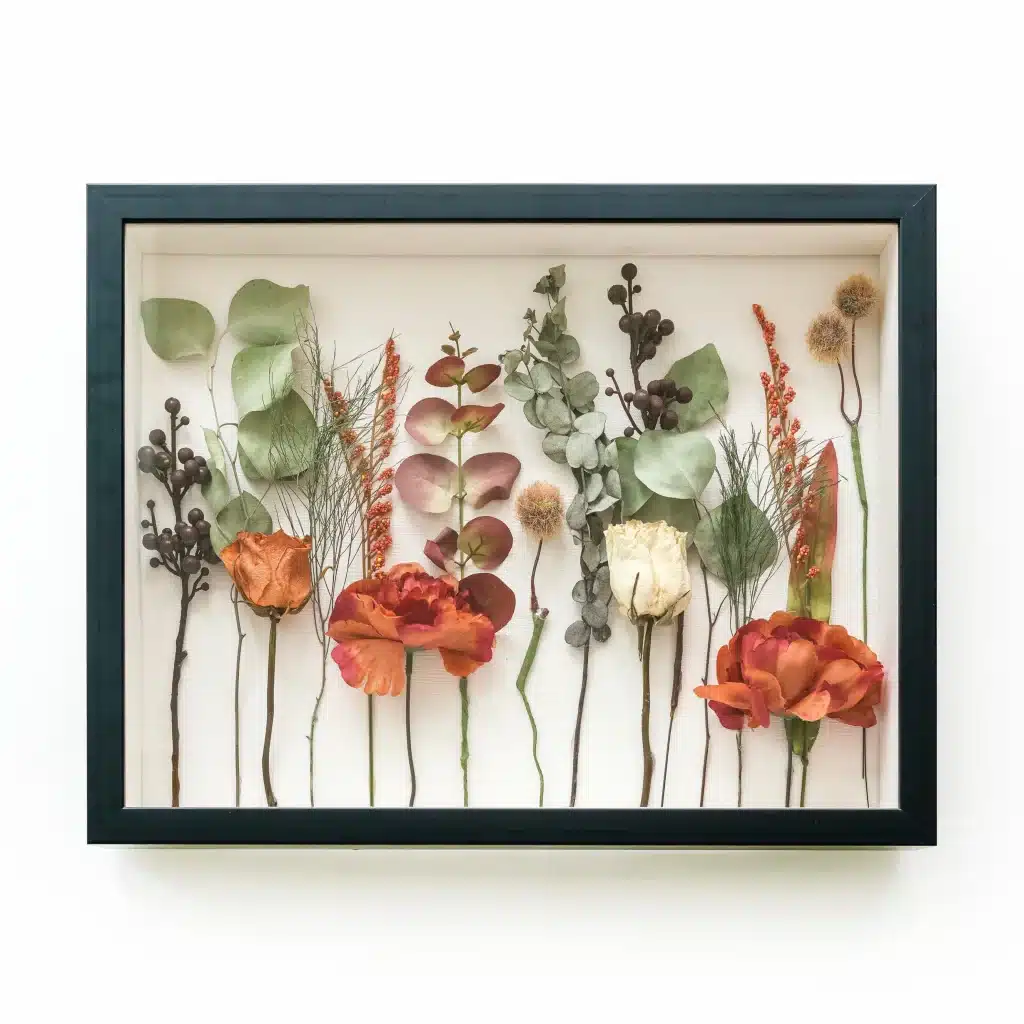 A shadow box to store his most prized possessions is the 20-year anniversary gift you are looking for. You can either buy a shadow box or make one yourself. The shadow display box can contain the medal he received in his school days or a postcard he treasures. It can be a storehouse of all the things he values and stores in the little box under the bed. It's now time to show the world the beautiful recognitions and memories he had received all his life. It can be a statement of his hard work, and he will be bewildered by the beauty of the thought of it.
20. Wallet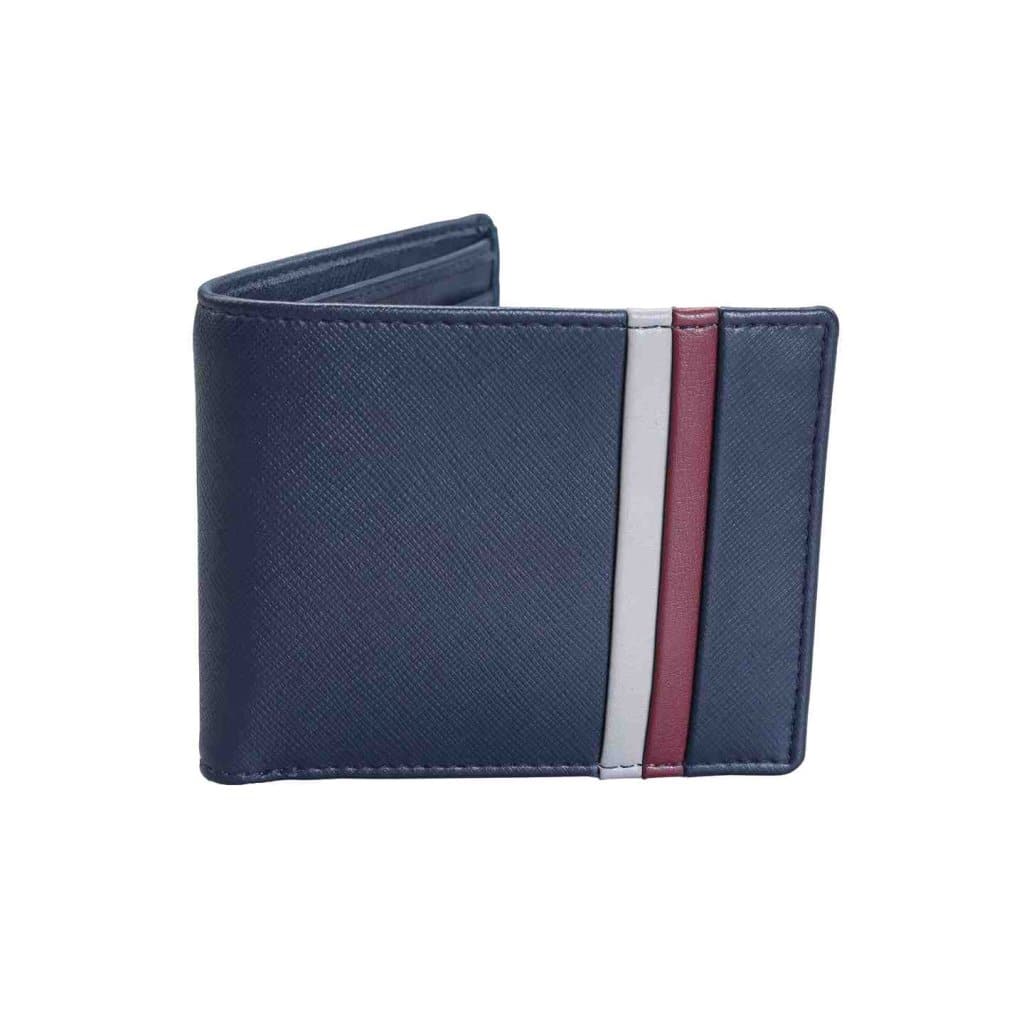 A wallet is the most practical gift you can give your husband. He might not say it, but this will perfectly suit your man's needs. So, why not gift it to him? Wallets are not just money holders or credit cards; they carry life's artifacts. A man puts a picture of the thing he loves the most in the little pocket of his wallet. Men love the 'Ridge wallet' as a gift because it is super slim and stores all their essentials without a commotion. A good quality wallet will help him store all his essentials in one single place.
21. Fragrance Perfume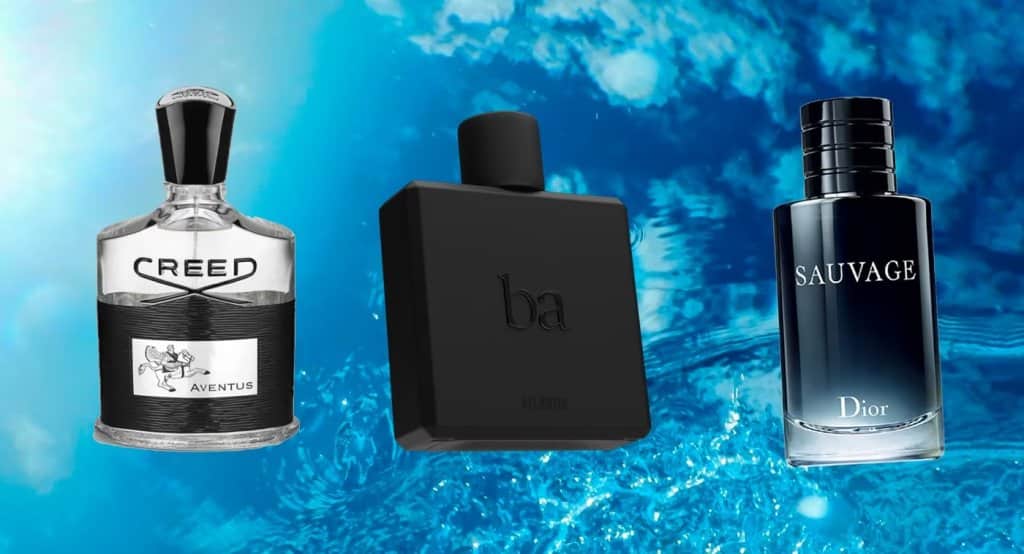 "Perfume is like music that you wear." A great smell lasts long in the memories of all the people around. Additionally, it gives you the confidence to walk up to people and express yourself. Invest in a good fragrance perfume and make sure to select one of the types that suit his personality. Perfumes are always a great gift and are timeless and classic. People might remember you with the smell of the fragrance you are wearing. It attracts the crowd towards you, gaining you more confidence.
22. Fine Old Whiskey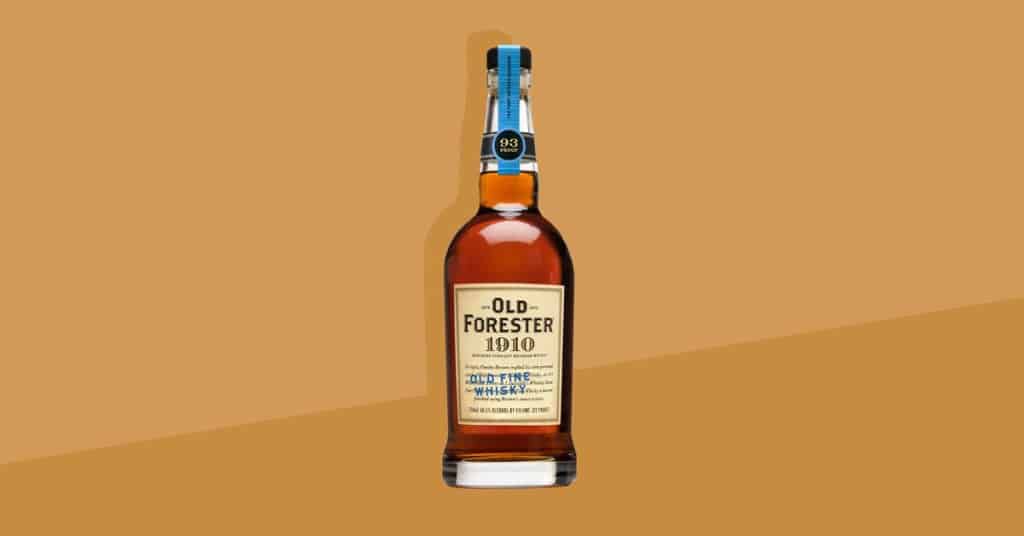 A fine-aged whiskey is all a man needs after a hectic and overwhelming week. A nice leisure time with his partner or buddies with a bottle of fine wine will boost him up. Ask him about his favorite whiskey flavor and gift it to him. He can open the bottle at your home's next big celebration party. The taste of age-old whiskey is much better than regular whiskey, and having a drink once in a while is not that bad either. The rich quality whiskey's divine rancio notes are worth every penny.
23. Winc Gift Card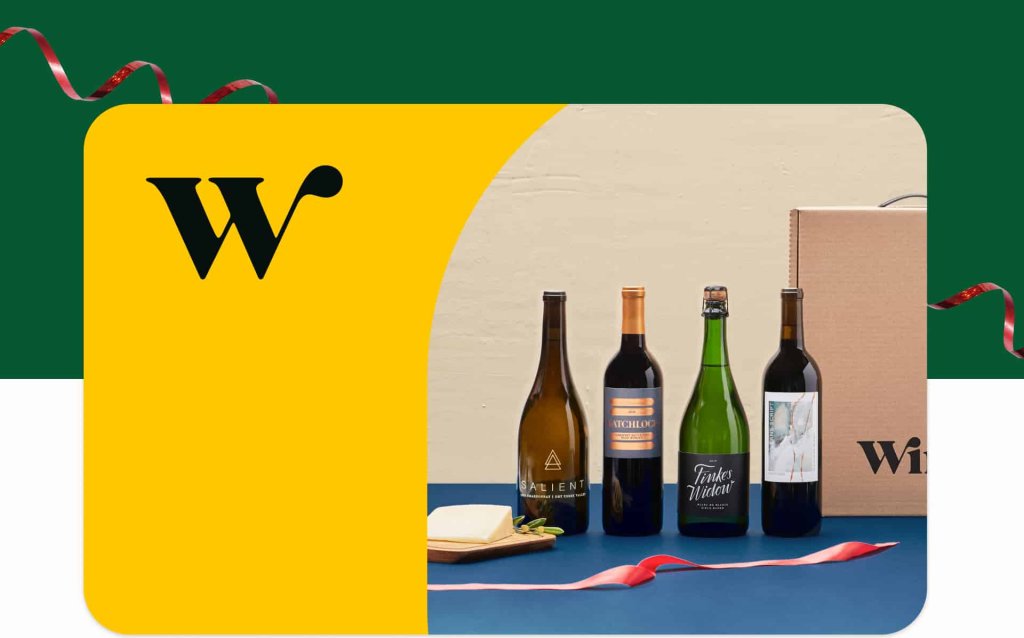 Even though you are aware of your husband's likes and dislikes, let him choose something different this time. As a 20-year anniversary gift, gift him the winc card that gives him access to new flavors of wine from various wine regions right at his doorstep. Winc is the best modern wine subscription over the internet. You can choose an amount for the gift card and add a personalized note which he will receive digitally, and it will make him smile with generosity and excitement. He can then easily redeem the gift card over the Winc website and get his drink. Cherry on the cake, you will get to share it.
24. Platinum Ring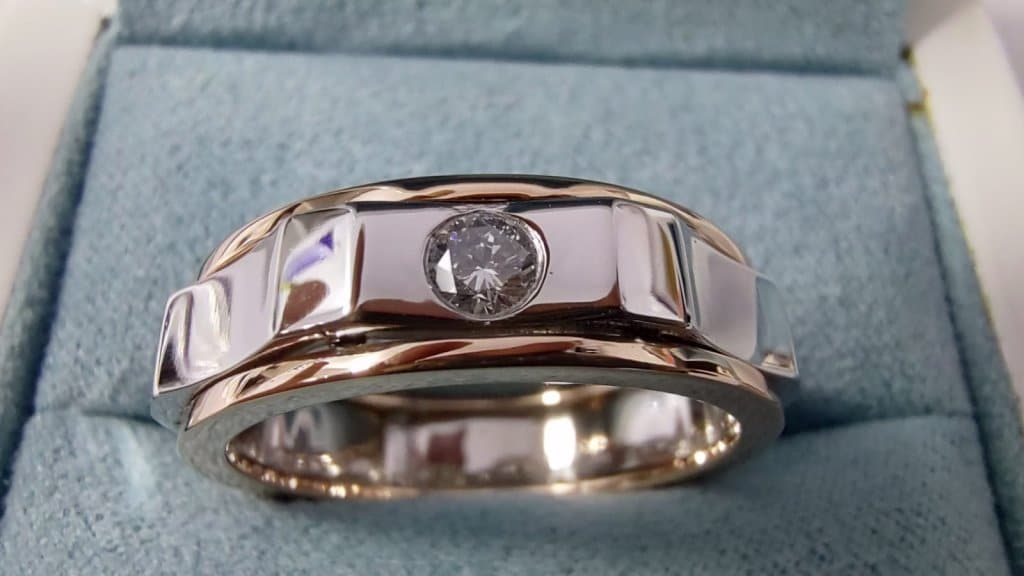 Your husband would love to receive a high-end gift from his wife, showing she has saved some money after shopping. Kidding! Gifting your husband a platinum ring is a notable gift he will forever preserve and value. Moreover, gifting platinum is believed to bring luck and fortune. The family as a whole can be an advantage; the platinum ring symbolizes purity and strength, and every time he looks at the gift, he will remember the strength of your love for him.
25. Engraved Band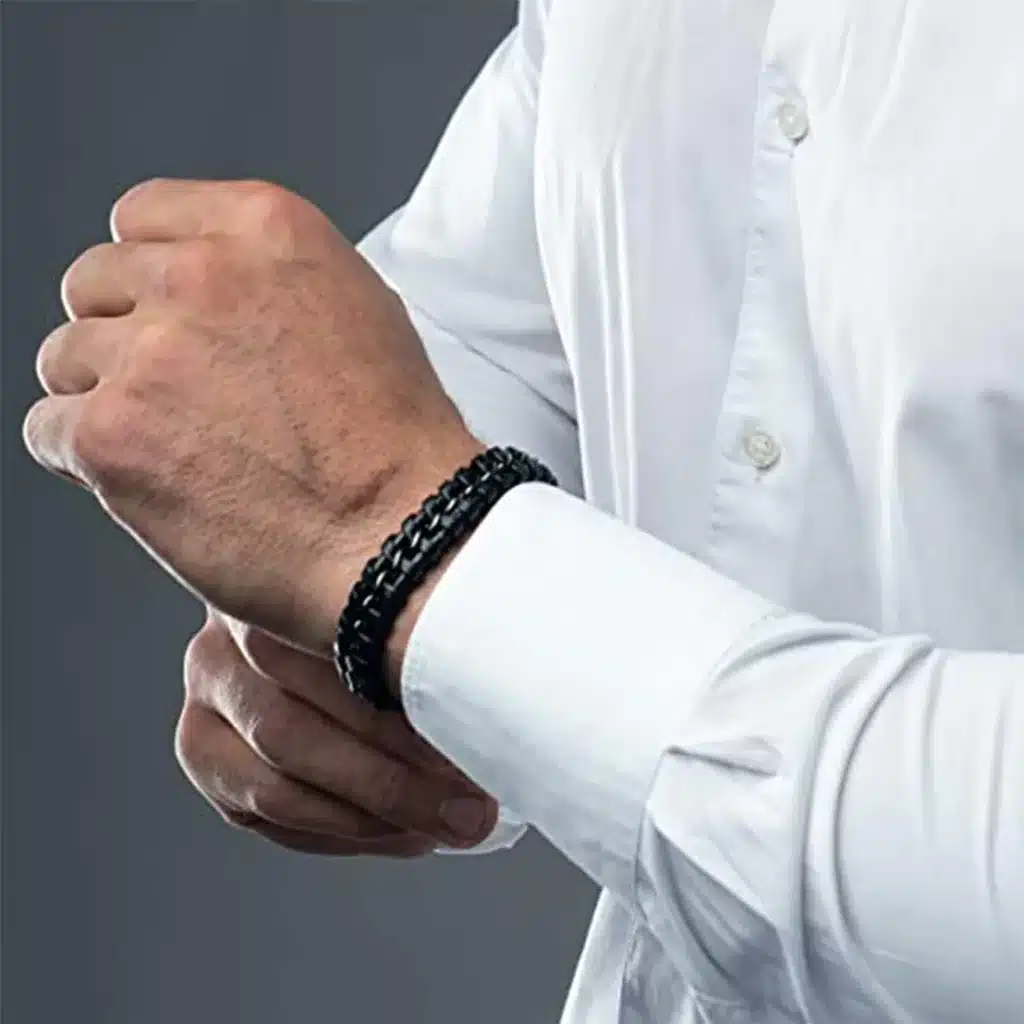 If your man is a fan of wristwatches and bands, a band with something engraved on it will make a perfect gift for your 20-year anniversary gift. Gift him a band which has his name engraved on it. You can customize the engraving with anything of your choice, like the initials of the two of you, the wedding date, or a day that is close to both of you. Just something special which he can hold on to forever. You can either choose to give a platinum band or something less expensive but with more emotions. He will eventually look out for the emotion behind the gift.
26. NFL Match Tickets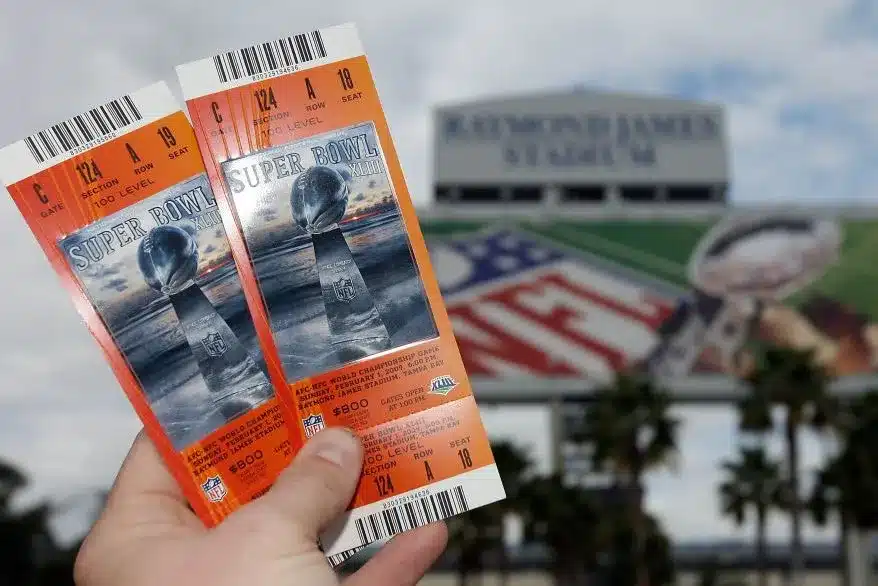 The 2023-24 National Football League is around the edge, and it is the perfect time to give your husband the 'wanted' NFL tickets. He is not going to believe his eyes and shower you with hugs and kisses. The double advantage of making him happy and gaining his affection is attained by gifting his favorite team's match ticket. You can also buy cool NFL t-shirts and accessories for him to brag about during the game. The boy's night spent watching the NFL is the best therapy your man can get.
27. Cufflinks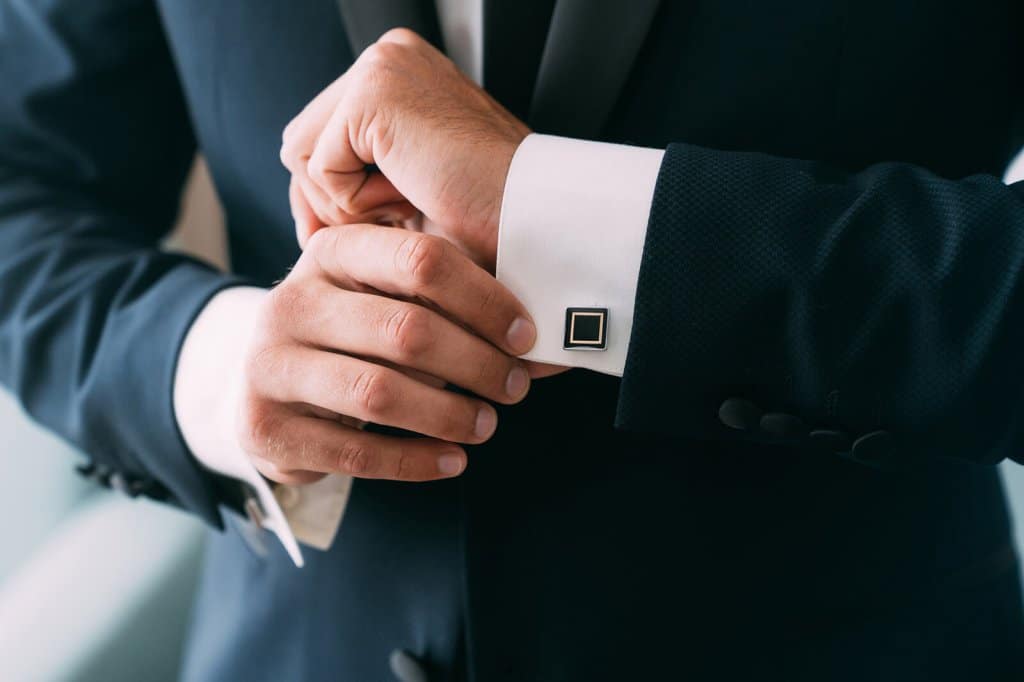 Cufflinks range from classic and collectible to fun and funky. Gift your man cufflinks that symbolize wealth, power, and reputation; he will feel stronger and always protect the love of his life. Cufflinks are an extremely thoughtful gift, be it the gold-studded classic or fancy button-down. As a 20-year anniversary gift, Cufflinks reflect how well you understand the personality of the person you are gifting it to. Cufflinks come in a variety of shapes and sizes, and you can choose the best one to gift your husband.
28. DIY Card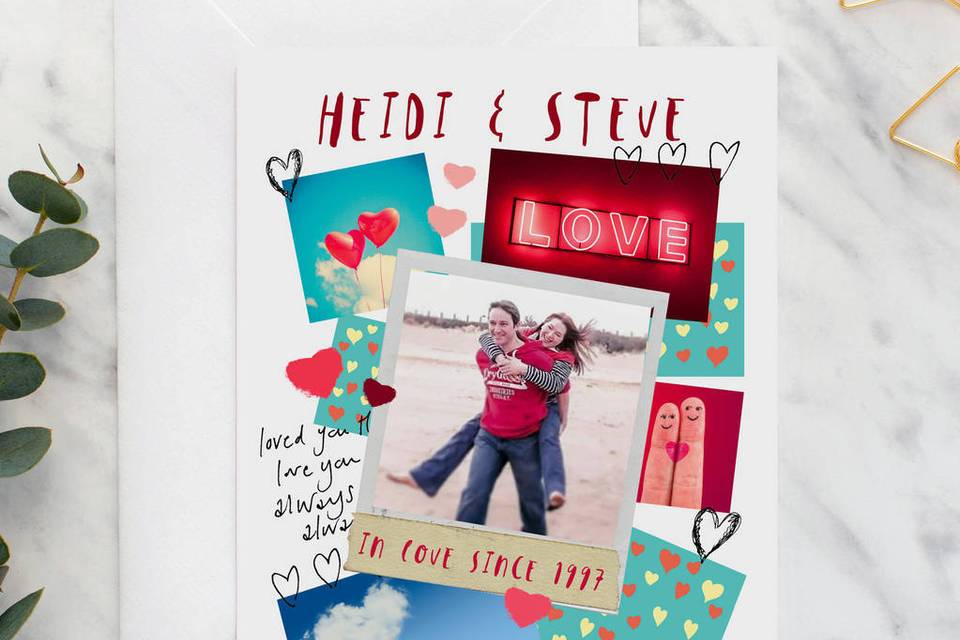 All love a handmade card. The thoughts, hard work, and emotions involved in making a customized card for your loved ones can be in comparison to no other gift. Pick up the craft papers of your kid and make a beautiful card filled with pictures and other special memories with your husband. You can make various patterns and cuts wherein you can insert some catchy slogans that he usually repeats or quotes from his favorite character. Most of all, express your love on the card and put your heart and emotions into celebrating the 20th wedding anniversary.
Final Thoughts
Spending 20 years of your life with someone is a beautiful journey and calls for an intimate celebration with your close friends and relatives. The time spent together, the memories made, the struggles faced together, and the growth two people perceive as a couple is a feeling only two people in love with each other can feel.
You can never be grateful enough to your partner for handling the relationship so well. A gift is a gesture of love and care towards each other and a promise to stay together despite adverse situations.
Therefore, we have curated a list of the most unique gifts you can give to your partner. Choose the appropriate one for your spouse and surprise them. Let us know which one you love the most.