Organic Manure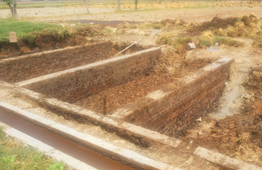 The process of Biogas generation yields a vital byproduct in the form of slurry.

This output residue can be processed and converted into rich Organic Manure. The process starts from the Bio Gas Digester. The Bio Waste that is fed in the digester to generate bio gas is discharged from the output slurry tank.

The richness of this residue can be enhanced by a Vermi Composting process that increases the Nitrogen, Phosphorous, Potassium ratio.
Why Use Organic Manure ?
Organic manure, owing to the presence of nitrogen, phosphorous and potassium (NPK) content, improves the fertility of soil
It enriches the soil with organic content
It boosts the water retention capacity of the soil
It reduces soil crusting problems
Suppresses erosion from water and wind
Has no adverse impact on soil quality
The Government of India has identified the true benefits of using Organic Manure and is thus encouraging farmers to include it in their framing techniques. Organic Manure is environment-friendly and an economical solution to increase farm productivity and thus we also advocate its use.