It is 2023, and are you still stuck with a rudimentary home? To attain an over-the-top house that is pocket friendly, harness the power of the basement. Create an extra space as a utility space for the building. Generally, an underground floor is ingeniously converted into a beautiful space for either privacy or storing the amenities that take up too much space in your living area.
Before inviting your friends over to the basement area, make sure that the ceiling height and ventilation are up to the mark. Proper lighting and a water seepage/drainage system are essential for a basement to stay lively and moisture free.
No matter if your underground space is not yet put to use or is a partially typical underground basement. We have curated a list of 25 ingenious basement storage ideas that will refresh your space and add character to the entire region.
1. Art Studio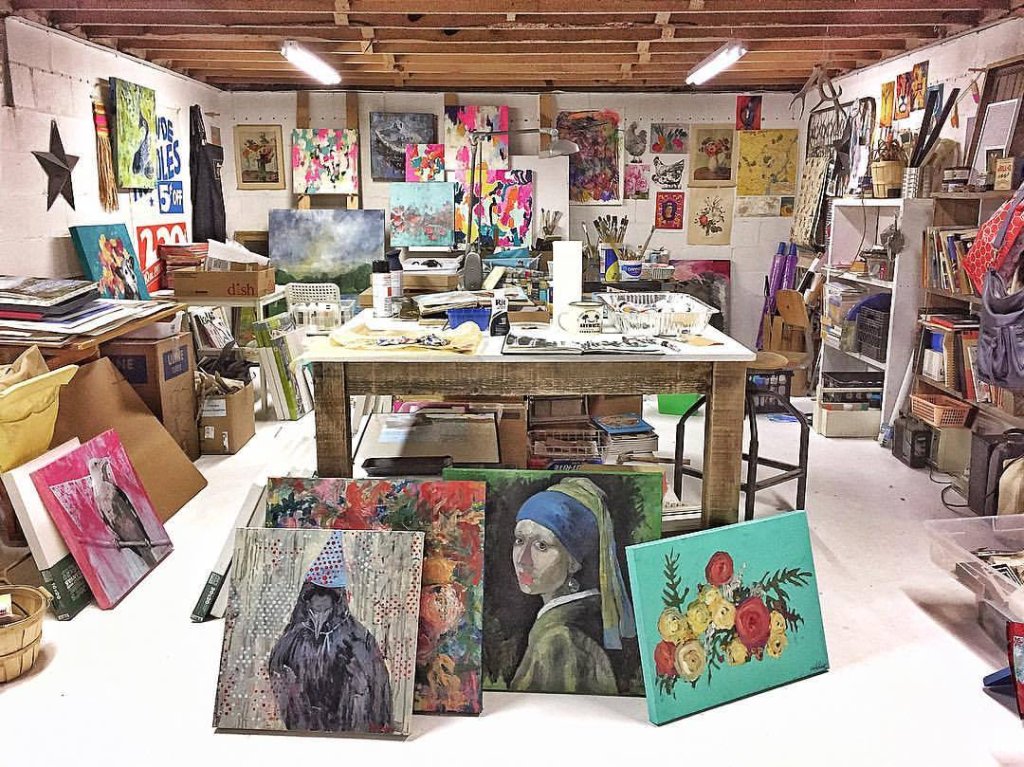 Artists and painters are fond of having separate areas for their work away from the crowd and the hustle and bustle for their vivid imaginations. Let your imagination go wild and create an art studio in your basement and fill the area with art supplies with posters, famous pieces of art, or anything that inspires your imagination. Create your best modern art in this basement storage idea.
2. Musicophile's Paradise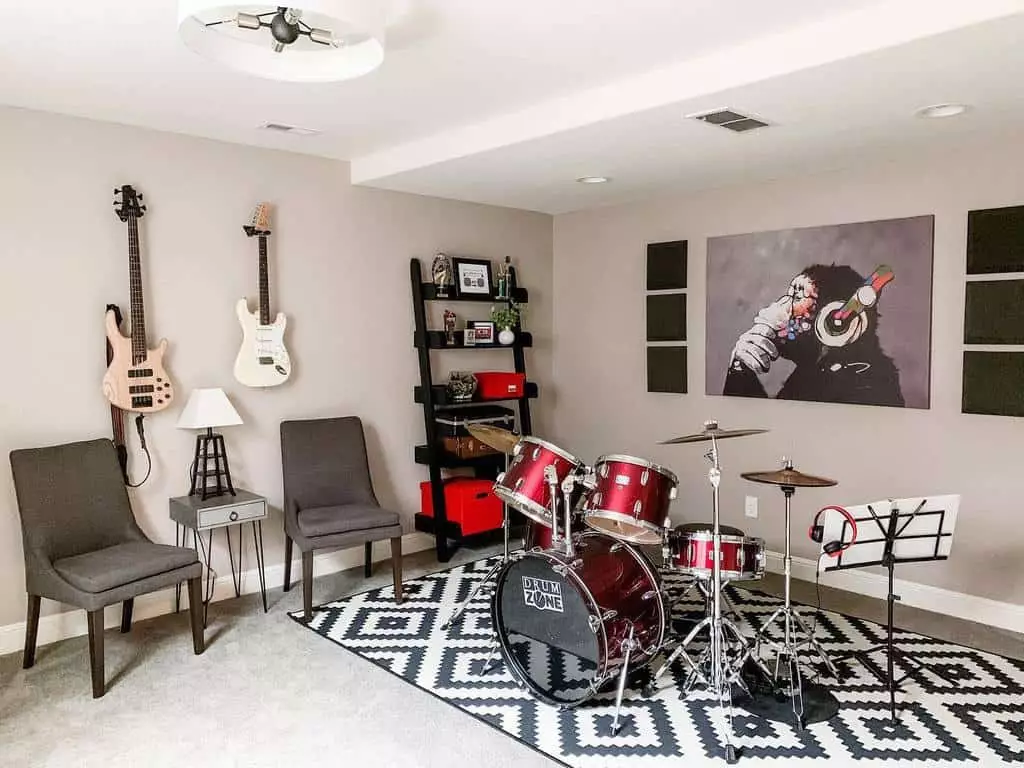 Every family has that one musicophile drummer or guitarist that loves banging the whole house with the sound of their instrument. Build a soundproof basement storage idea for the musician in them. Let them start their own band with college friends without disturbing the family. Once in a while, the other members can sit and enjoy the musical paradise.
3. Private Read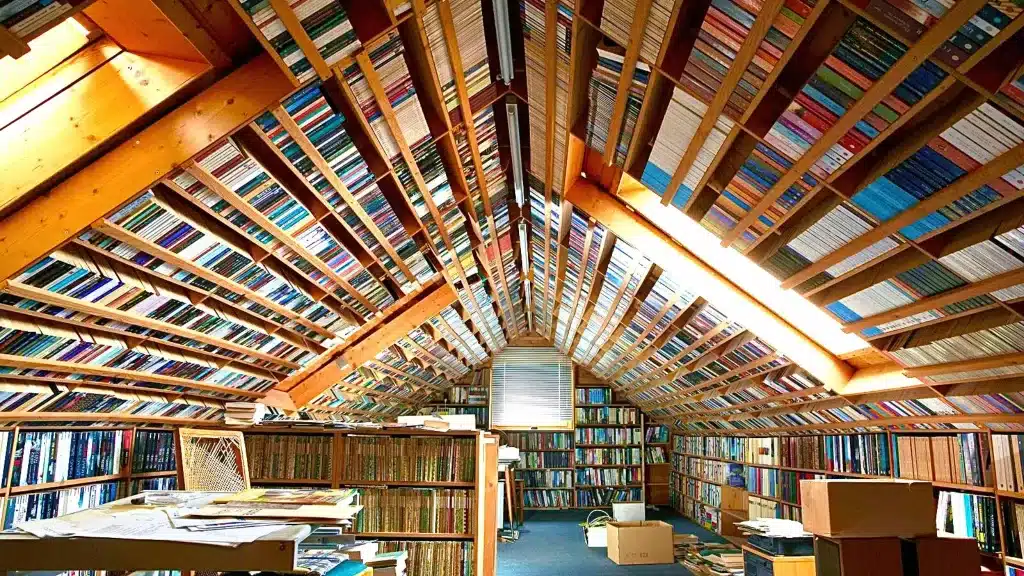 Use the basement storage ideas to design your private library. Install an aesthetically beautiful bookshelffor an effortless chic basement. After a tiring day or wholesome week, grab your book and sit down in the peaceful underground basement with your cup of coffee. Spend your 'ME' time with your favorite genre.
4. Gaming Arena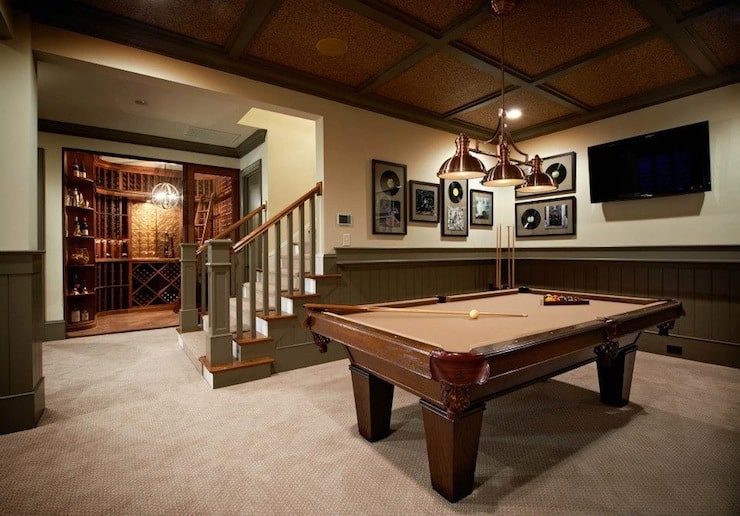 Convert your idle basement into a gaming arena to include fun and sports in life. Install table tennis along with other board games such as carrom board. You can also feature a chalkboard to keep a score while playing darts. Add ping pong, foosball, and classic pinball games, along with tables and chairs for various board games. Family and friends can enjoy together at this fun place.
5. Wine Cellar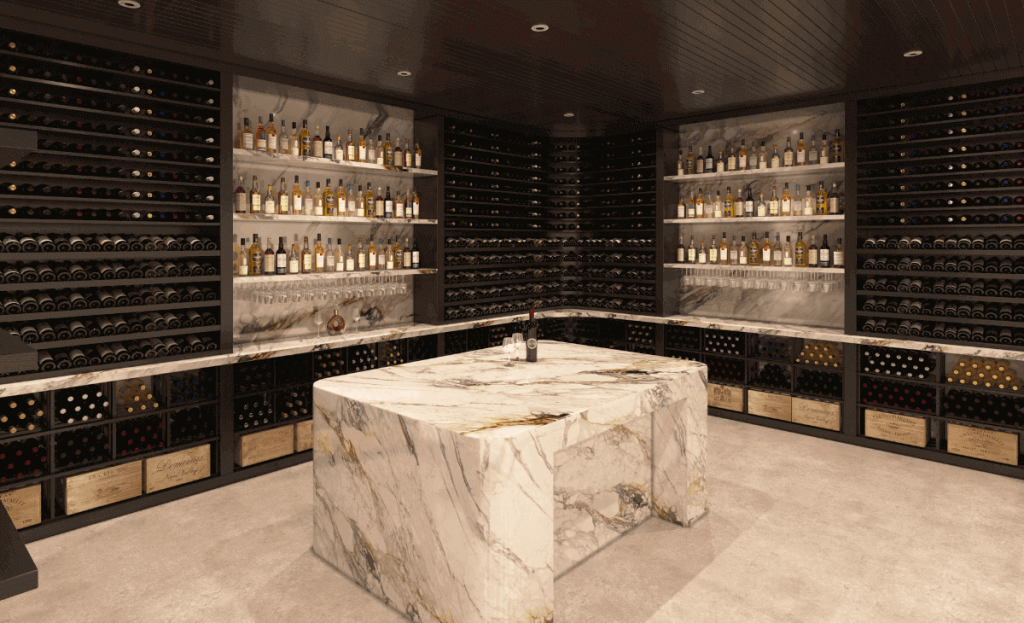 The wine cellar is one of the best basement storage ideas for the utilization of empty space. Typically, wine cellars are rustic, with refined arches and heavy wood furniture along the huge stone walls. This setting might not match the modern-day homes and thus build a chic wine bar and sleek area to enjoy the wine as per the level of your enthusiasm for wine. Play with the lights and wooden furniture design to set the mood.
6. Dream Bar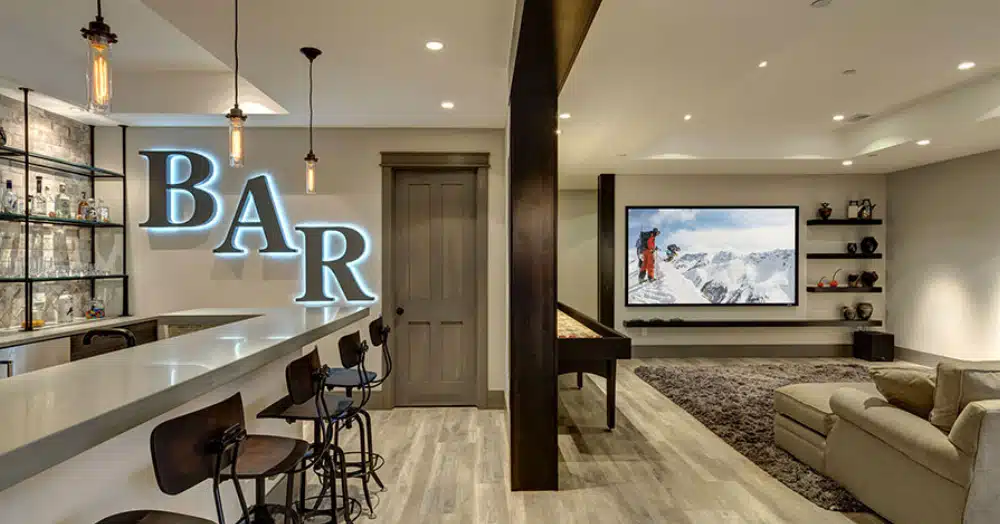 The basement storage ideas with neon sign boards make a perfect place for the dream bar with glassware and beverages. A small refrigerator for wine and beer with a dusky wooden accenture sets the tone for booze. Stack the shelves with your favorite drinks with dim lighting surrounding the area.
7. A Contemporary Den
Converting your basement into a contemporary den is one of the excellent basement storage ideas. It is gaining popularity for its flexible multipurpose setting. Place four contemporary sofas around a round coffee table to create a semi-formal ambiance for gatherings or semi-formal meetings. Add a piece of art to the wall and a beautiful rug to add personality to the space.
8. Home Theatre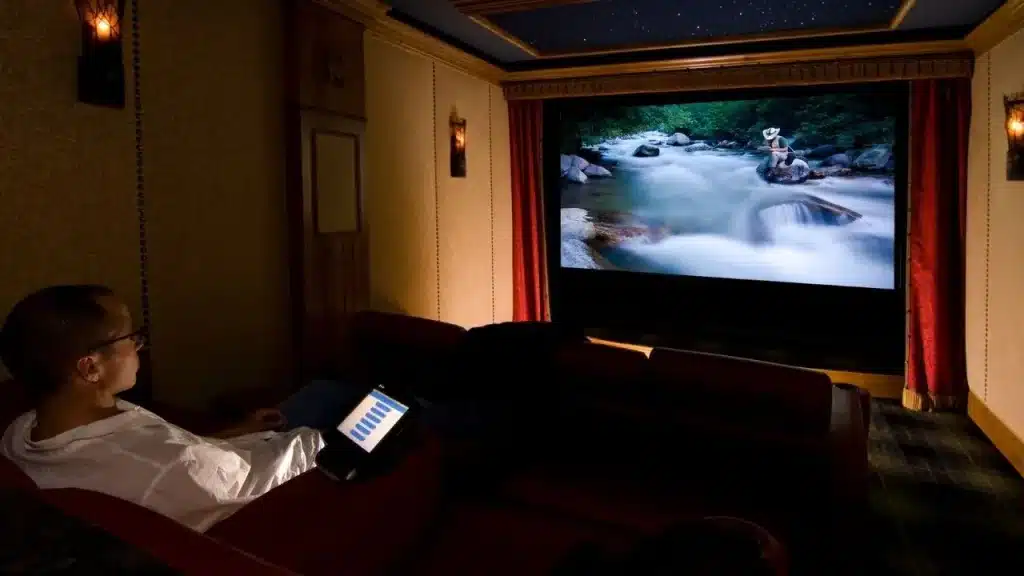 Use the big underground basement storage ideas to create a sophisticated area with wall textures and wallpapers, and comfortable sofas. Install a home theatre to watch your favorite shows with the family all together on a bigger screen. It can be a relaxing space where the family spends time together after busy days. Basements with sound tuning provide a more realistic experience of what is shown on a big screen.
9. Kids' Living Space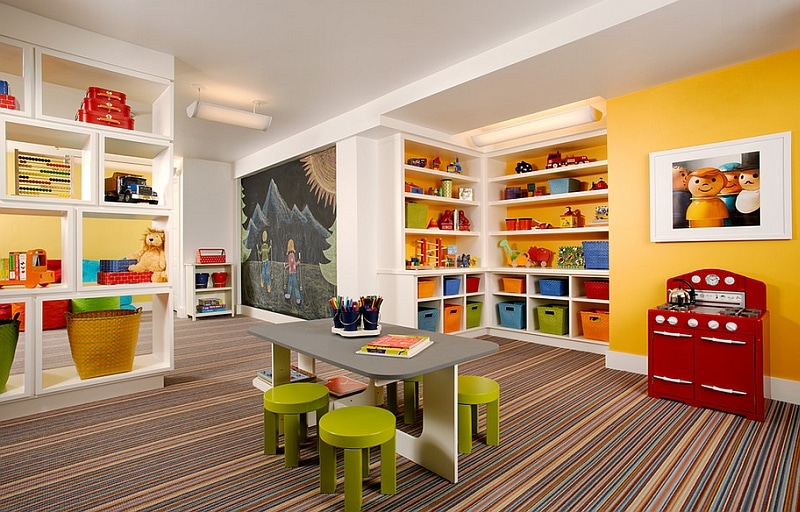 Let your kids bloom in the basement storage ideas. Paint the walls in colorful tones and hoard up the area with toys and games. Arrange art supplies and books, and musical instruments for the little ones to experiment with their interests. Let their imagination make them do wonderful things. You can also arrange kids' parties in the basement living room.
10. Fitness Studio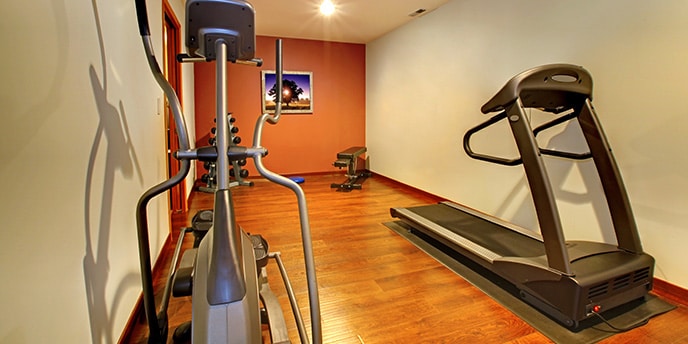 Work up your sweat in one of the basement storage ideas of a home gym. Using your basement as a fitness studio is the foremost option to avoid the hefty gym membership fees(which you hardly visit). You can also use it as a yoga spot to keep your body healthy and flexible. Store all the workout equipment, such as a weight rack and rock climbing wall, beside the yoga mat.
11. Workplace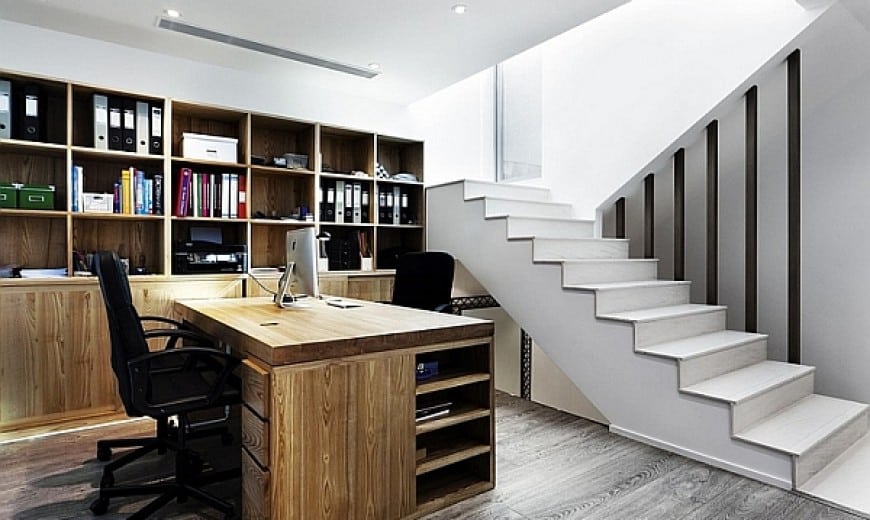 The post covid era has given us the opportunity to work from home. Sometimes, working from your bedroom or living room becomes tiresome and boring. The basement storage idea of utilizing your basement as your workplace effectively utilizes the area. You need not spend much to create a workplace. Either remodel or buy a work table and use the chair at your home and fix the lighting along with the aroma of the place, and your place to work is all set.
12. Introvert's Heaven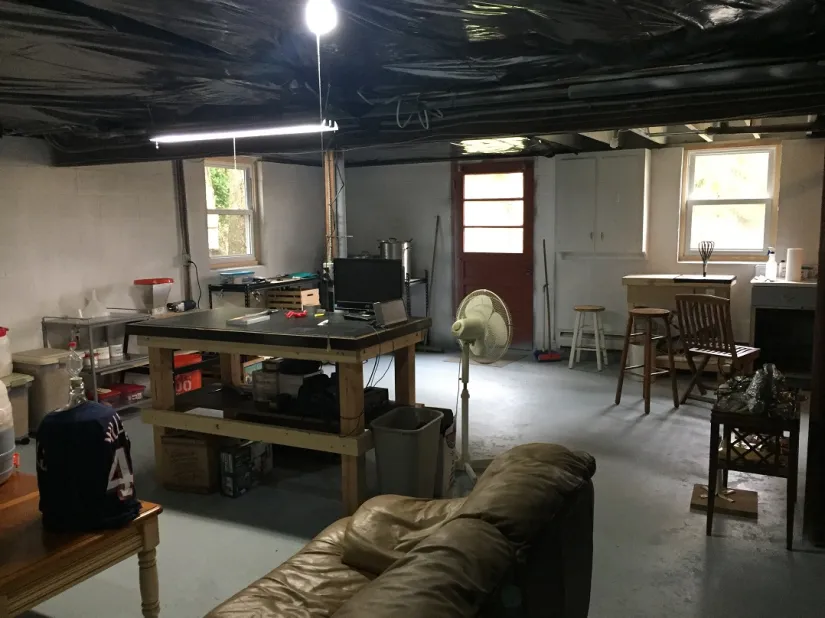 The heaven for an introvert is a quiet place with no social interaction. And the basement storage ideas serve just the purpose. The underground space is perfect for hiding away when guests arrive, and you are in no mood for interaction. Create your own safe, cozy place with an aesthetic ambiance for your introverted self. You can stick hoarders like 'DND.'
13. Partition for Purpose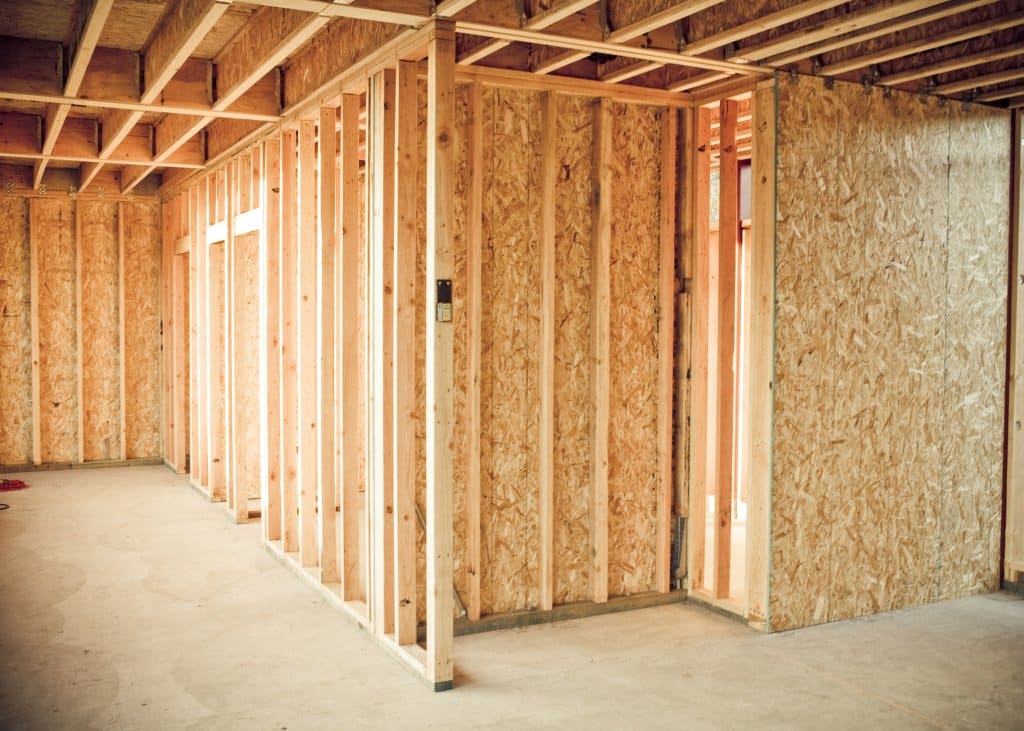 Go all Marie Kondo and declutter your home by partitioning the space for every purpose. A basement area can start to feel like a big closet with a lack of partitions and shelves for various particulars. Use folding screens to create partitions for each purpose, like storing electrical appliances separate from bathroom essentials. Instal shelves for the smaller portions.
14. Extra Bedroom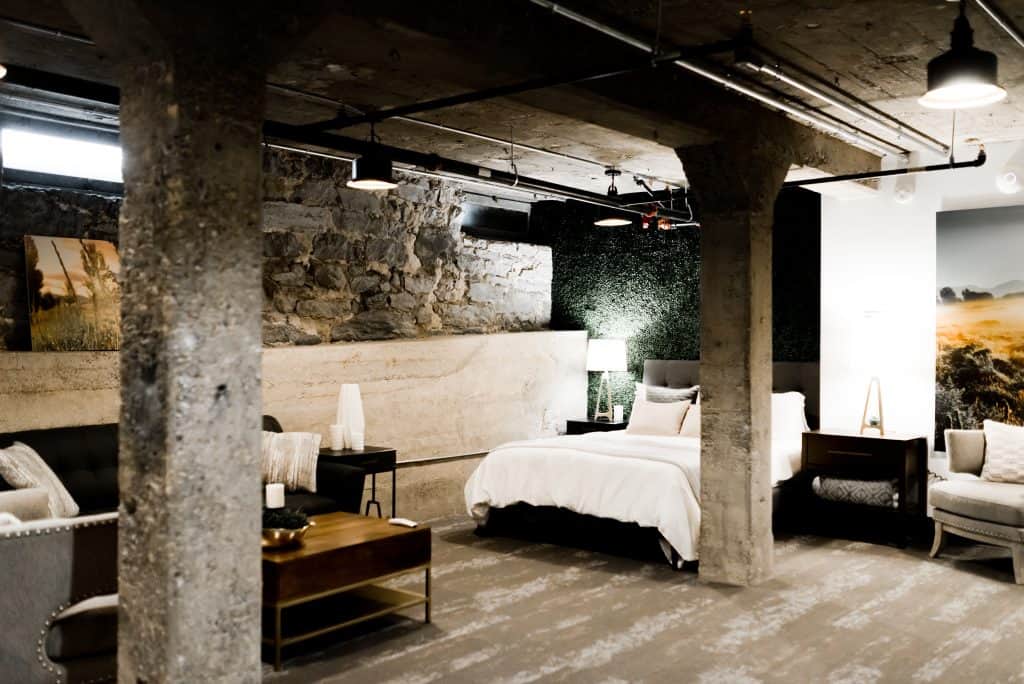 Sometimes the number of guests can outnumber the bedrooms available for all combined. In such cases, use the basement storage ideas to use the available resources and create an extra bedroom in the basement. Place a simple bed and a side table with the basic amenities for the guests to rest and have a good night's sleep. Use warm tones and dim lights.
15. Second Living Room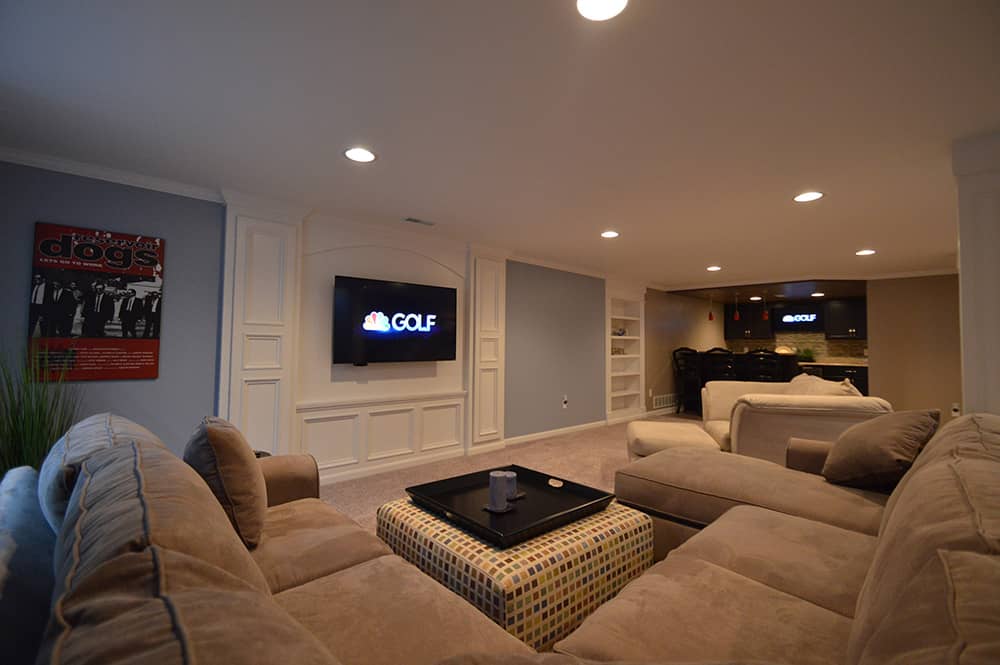 Use your basement as an entertaining second living room of your home. Use a neutral color palette with clean furnishing for a nice and bright space. Use a contrasting sofa and rug color in a warm tone. Add a foosball table and a bottle of scotch to keep the atmosphere light and entertaining. Install French drainage to keep the basement moisture free.
16. Screening Room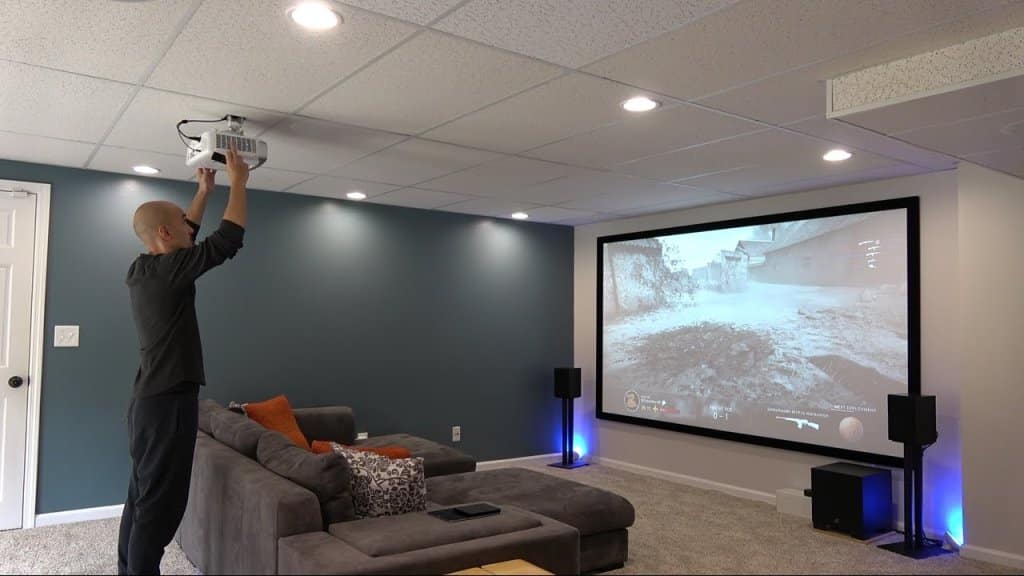 Using a screen and a projector can do the job if you have a tight budget and do not wish to spend much on a home theatre. Project your favorite shows and movies on a large white screen, and everyone can enjoy the basement storage ideas with all necessities in the basement. Use the extra space to store the extra clutter in your home.
17. A Chill Pad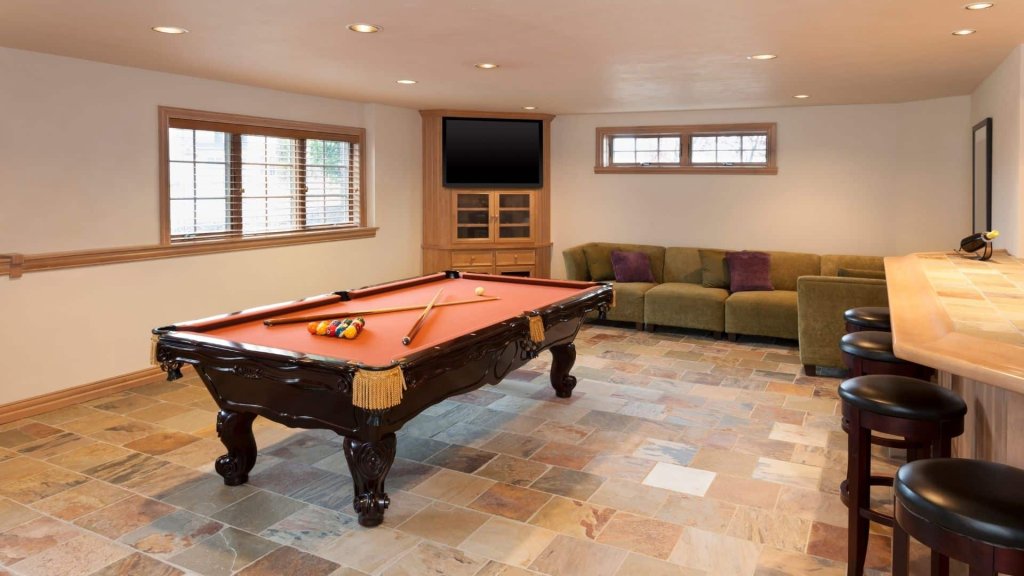 Always chilling out at fancy places and pubs can be exhausting on your hectic days. Convert your basement into a chill pad with soft music and close friends to reduce your stress every now and then. Add some moody decor and fill out the area with monochrome colors for a soothing effect. Keep the space light furnished and have basement storage ideas for proper storage.
18. Inside-Out Transition
Create a smooth transition between the outside world with the inside world of the basement. A swimming pool with a side of greenery is a lovely view to witness from the above-ground level basement. Use a glass door for an easy inside-out transition. Place a patio inside and paint the wall in bright colors. This will let you stay close to nature while you are still inside the basement.
19. Extra Storage Space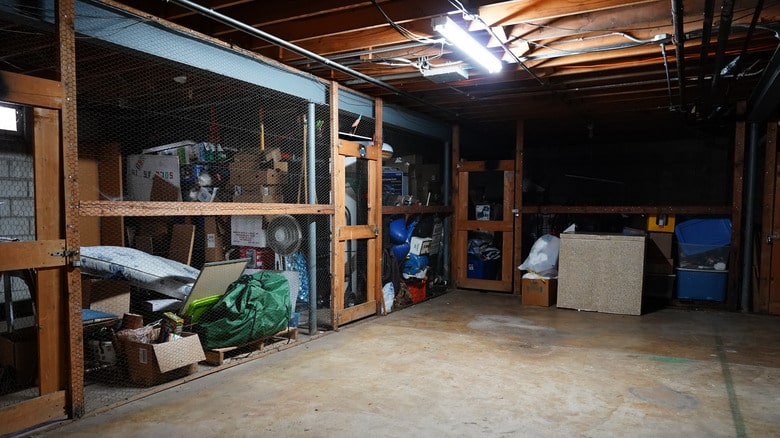 The basement storage ideas are perfect for filling in containers and boxes with the not so often used items in your house. This will help keep your primary living neat and clean. Also, keep the basement clean by using separate storage boxes for different items, and do not litter everything here and there. Assign places for categories.
20. Intimate Dining Area
If you live in a joint family, privacy is a luxury. To spend quality time with your partner, build an intimate dining area in the basement with zero access to anyone else while you spend time with your partner there. A table for two with candlelight dinner is all you need once in a while with your special one, and a basement is a perfect place indoors.
21. Equipment Room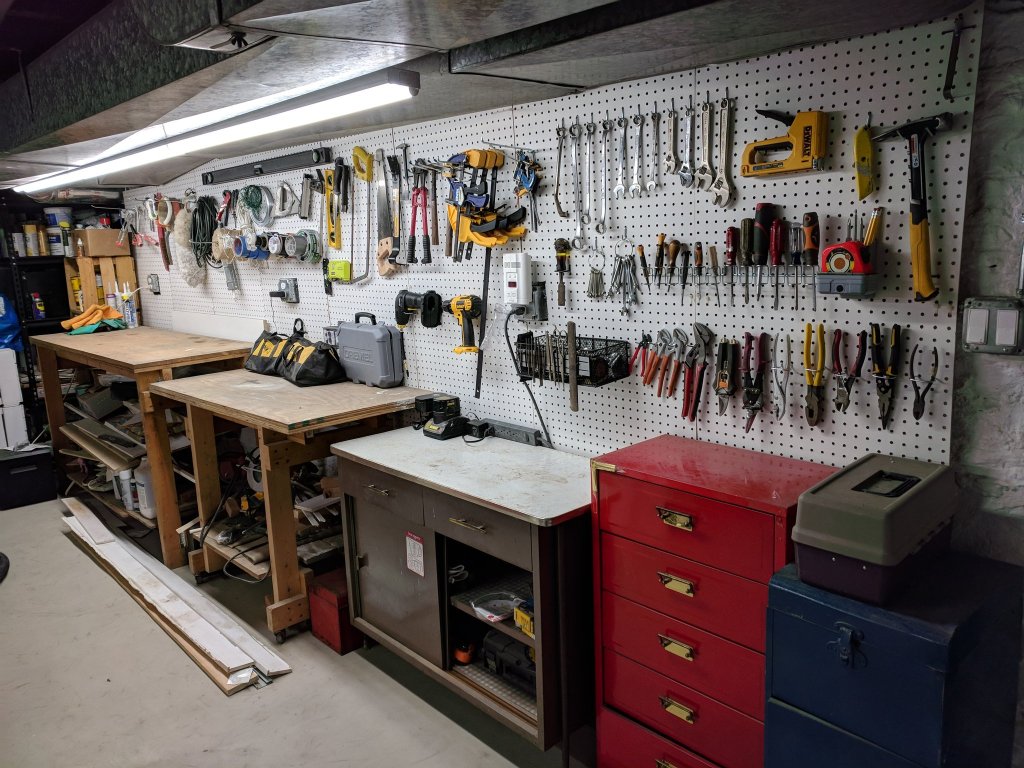 All your car tools and home fixtures must be lying at random places whenever it is used and must be hidden somewhere when people come over. Use the basement storage ideas to store all the equipment of the vehicle or plumbing or anything for that matter. This makes your place clutter-free, with a proper place assigned for everything, so you don't need to search for them the next time.
22. Study Room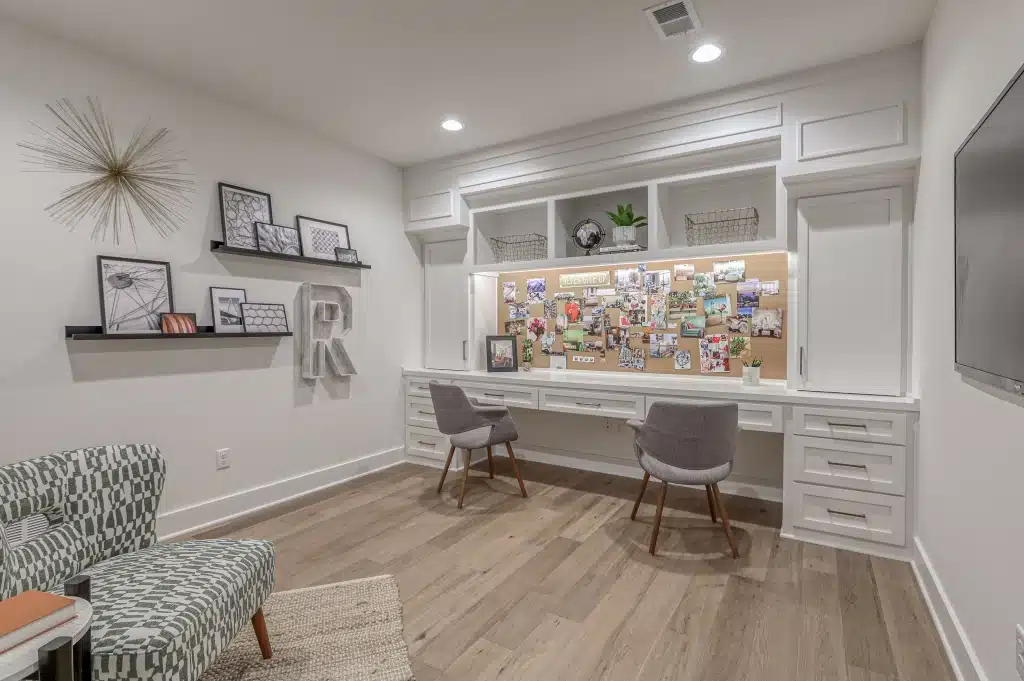 Utilize your basement for its perfect use- a study room. Away from the bustling noises of members and kids at home, concentrate and study peacefully in your basement. A study table, a bookshelf, and a chair with proper lighting is the basic necessity of a study room in the basement. Paint the wall in plain white colors and allow spaces for sticking notes on the wall or install a mood board to keep things in sight.
23. Dressing Room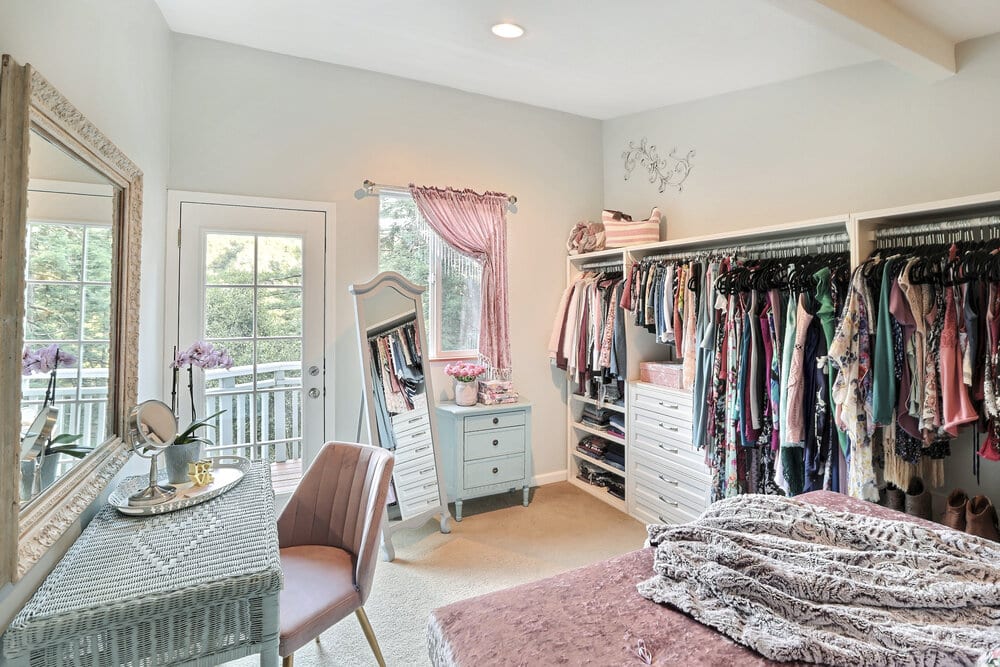 A woman loves her dressing room more than anything. And a walking closet requires a spacious area that your basement can provide. Build a dressing room in the basement for your lady; she will love you twice more. Install a full-length mirror with lights attached, a walking closet, and a separate shelf for all the expensive makeup. Keep the area light painted, and make sure the yellow lights are fitted at the right spots.
24. Shoot Studio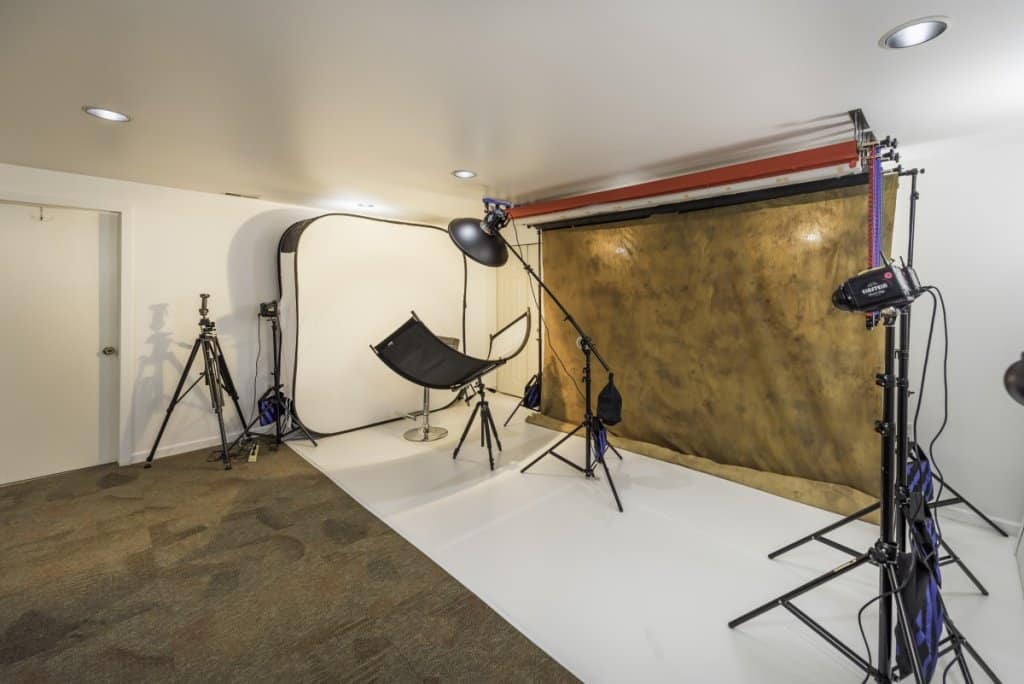 It is the world of influencers, and we are living in it, technically. All an influencer needs is a shooting studio with all their shooting equipment, outfits, and other necessities in one big room. Turning your basement into a shooting studio makes shooting video game plays and fashion vlogs easy. Clicking pictures in a well-lit room of the basement is an add-on.
25. Party Hub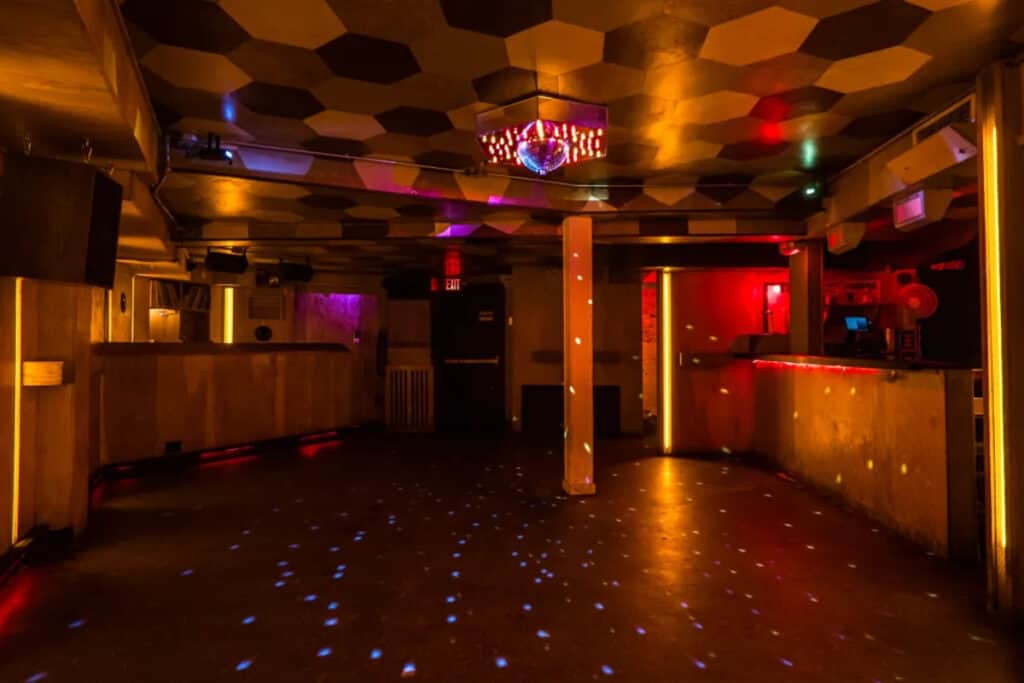 Let your basement become a party hub for all your friends and family. Be it cards night or booze night, host parties at your basement and invite people over to your place. The basement storage ideas will help you keep all the party equipment intact every time you party like a freak. Install excellent quality lights and music systems to add life to the place. Use fairy lights and drapes to decorate the place and add games like beer pong to keep everyone entertained.
Conclusion
Basement storage ideas are an amazing way to add extra space while decluttering the living space of your home. Ingenious basements take time and knowledge to build up. Do not forget to add shelves and containers to keep the basement mess-free.
Build a basement storage space that is warm and cozy for your guests and visitors. From the typical age-old underground crawl space, basement storage ideas have been enhanced to take the form of a fully furnished underground cellar. If a part of your basement area is above the ground, you can beautifully blend the concept of an English basement with a walk-out basement.
Try out these amazing basement ideas to make your home more lively. Let us know in the comments how well you like these ideas and which one you have shortlisted for your basement.