Earrings have been cherished accessories for a long time. Whether it be men or women, everyone loved earrings that complimented their flair. Earrings are a great gift and can enhance the look of an outfit. So many designs are available in the market that can be used to express your individuality.
Although, with this ever-changing fashion and trends, the cost of earrings has increased, making it extremely difficult to keep a diverse collection without compromising your budget. Do not worry because we will use your creativity, which knows no bounds and little imagination, to create an impressive collection of DIY earrings. It is light on your budget and tickles the creative worms in your mind.
In this article, we will be taking you through 24 different ideas for creating DIY earrings that are affordable and easy to make. This will be a journey where you will learn to express your personality and unique style through different designs.
Crafting Your Style by Unleashing the Creativity
Starting a journey of making DIY earrings will be a rewarding experience for you. You can channel your creativity and design the earrings exactly how you want them. You don't have to be a seasoned crafter to learn these simple designs. Even a novice can easily experiment with these designs to make themselves a budget-friendly collection of DIY earrings.
Creating earrings offers you the versatility that nothing else can offer. From a casual brunch to an elegant evening or a beach day, you can customize your earrings for your mood or any occasion. We will be seeing designs from bohemian to tassel earrings and exploring the endless possibilities.
Creating DIY earrings is easy on your budget in more than one way. Making your earrings yourself does not mean buying expensive supplies to create them. Most things needed to create DIY earrings can be found around the house or at affordable rates in a craft store. Old buttons, puzzle pieces, or tassels from an old cushion cover for some of the items that can be used.
1. Tassel Earrings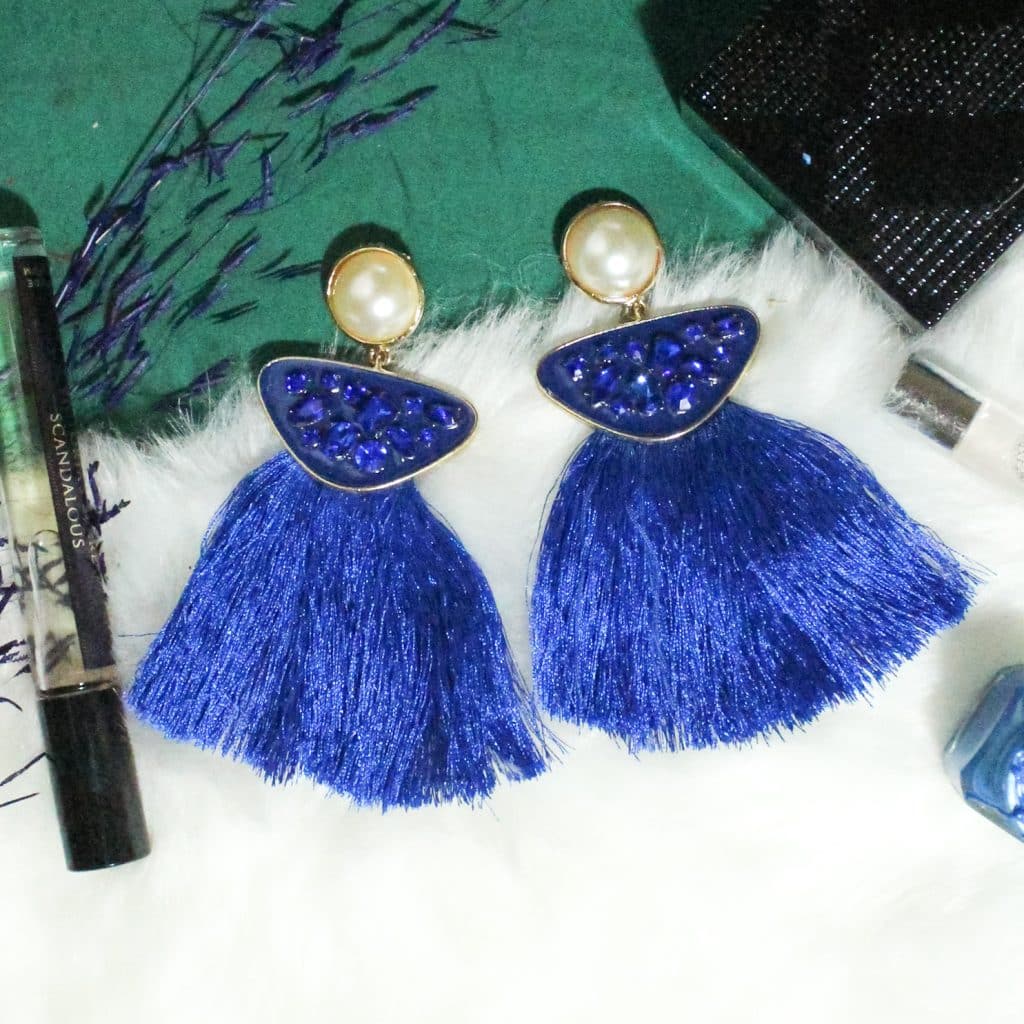 Do you know what is in rage these days? It's tassels! From dresses to accessories, everything comes with a tassel. The best thing about them is that they look amazing and are super easy to make!
All you need is an embroidered thread of your favorite color, earring hooks, jump rings, and a pair of scissors to make them.
Fold the embroidered thread and secure it with a jump ring.
Use the scissors to trim the edges to create the shape of a tassel.
Now you just need to add an earring hook to attach to the jump ring, and your earrings are ready to wear!
Try using different colors or mix a lot of threads together to create different looks. You can even add charms and beads as per your liking to create DIY earrings.
2. Paper Quilled Earrings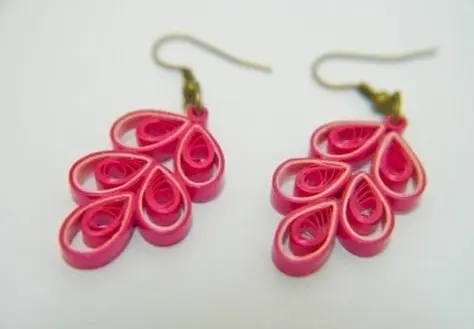 Paper quilling is a crafting technique used to create beautiful art pieces with intricate designs using colorful paper. Quilling can also be used to create jewelry which is what we are going to do. Collect colorful paper/quilling strips, tools, adhesives, and earring hooks.
Roll the strips using the quilling tool. It can be a scroll, a coil, or a teardrop shape.
Secure the shape using adhesive and wait for it to dry.
Attach the quilled shapes to an earring hook; your DIY earrings are ready!
They are not only lightweight but also pleasing to the eye. Make sure you experiment with colors and shapes to bring out your best.
3. Button Earrings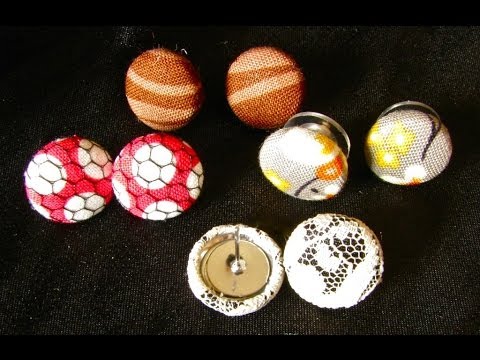 You can find so many buttons in your home that you don't exactly know the origin of, but they are too pretty to throw away. Well, it's time to use that pretty collection of spare buttons and use them for making statement earring pieces. Collect buttons, a strong adhesive, and earring posts to start with the process.
Sort your buttons according to color and size.
Choose the ones you want to work with.
Use the adhesive to stick the earring post at the back of the button and let it dry.
Once dried, the DIY earrings are ready to slay with you!
Mix the colors and sizes to get the best buttons that suit your style and outfit. A touch of whimsy and a collection of spare buttons can make an amazing accessory or a handmade gift.
4. Beaded Hoop Earrings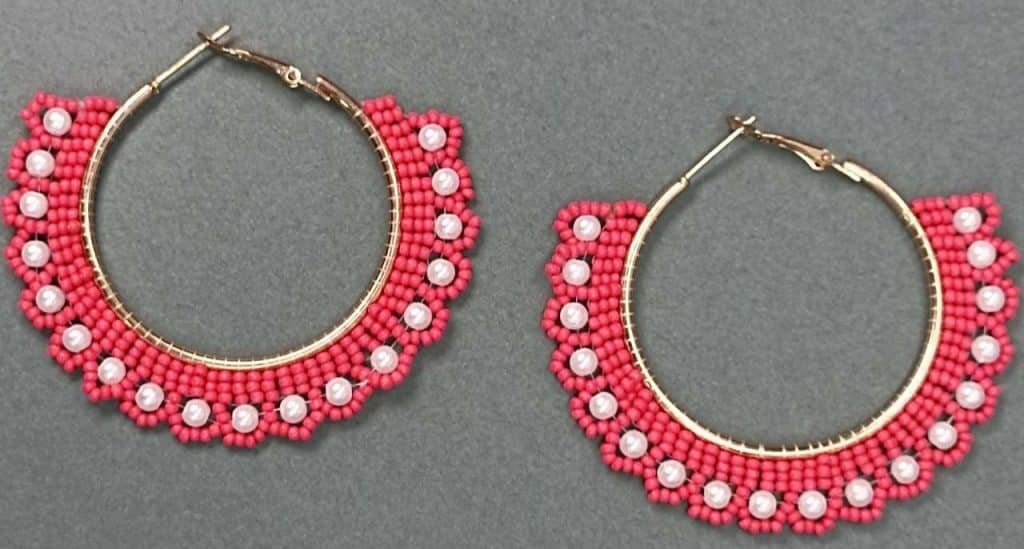 Upgrade the earrings you already have with this simple idea. We are all about upcycling and saving your pocket from burning; this is the best way. Bring your hoop earrings, jewelry pliers, and beads in different colors to start with the process.
Open the hoops using the jewelry pliers.
String the beads into the heap. You can mix colors or use the same color.
Close them tightly after you are done, and they are ready to wear.
You can use anything from small beads to big beads of different colors to create unique designs of DIY earrings.
5. Leather Feather Earrings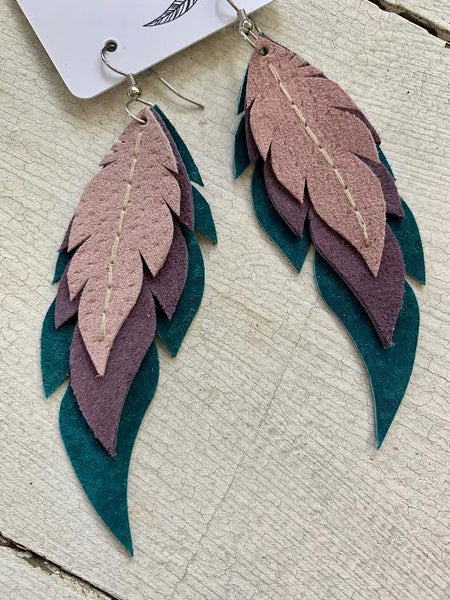 Inspired by Bohemian designs, leather earrings are the talk of the town. You will be able to add these trendy earrings to your collection with just a few simple steps. You can use soft leather or faux leather for the DIY earrings. Gather adhesive, jump rings, earrings hooks, and a pair of scissors.
Use the scissors to cut feather shapes from the leather in different sizes.
Small cuts around the edges will create a feather-like look.
Attach jump rings to each of the pieces and then join all of them together.
Attach the earring hook to the last feather using a jump ring.
Add beads and other items to experiment with the design. These earrings will add a touch of nature to your collection.
6. Washi Tape Earrings
This is one design that has countless patterns for you to work with. A perfect way to create amazing and unique earrings to enhance your style. Grab your favorite washi tape, some blank earring bases, adhesives, and scissors to begin.
Cut small or desired pieces of tape.
Paste them onto the earring base and make sure that it's smooth.
Use scissors to trim out any excess at the edges.
Attach the earring hooks using adhesive at the back of the base and let it dry.
A fun blend of creativity and uniqueness that will give you some great DIY earrings to wear.
7. Geometric Clay Earrings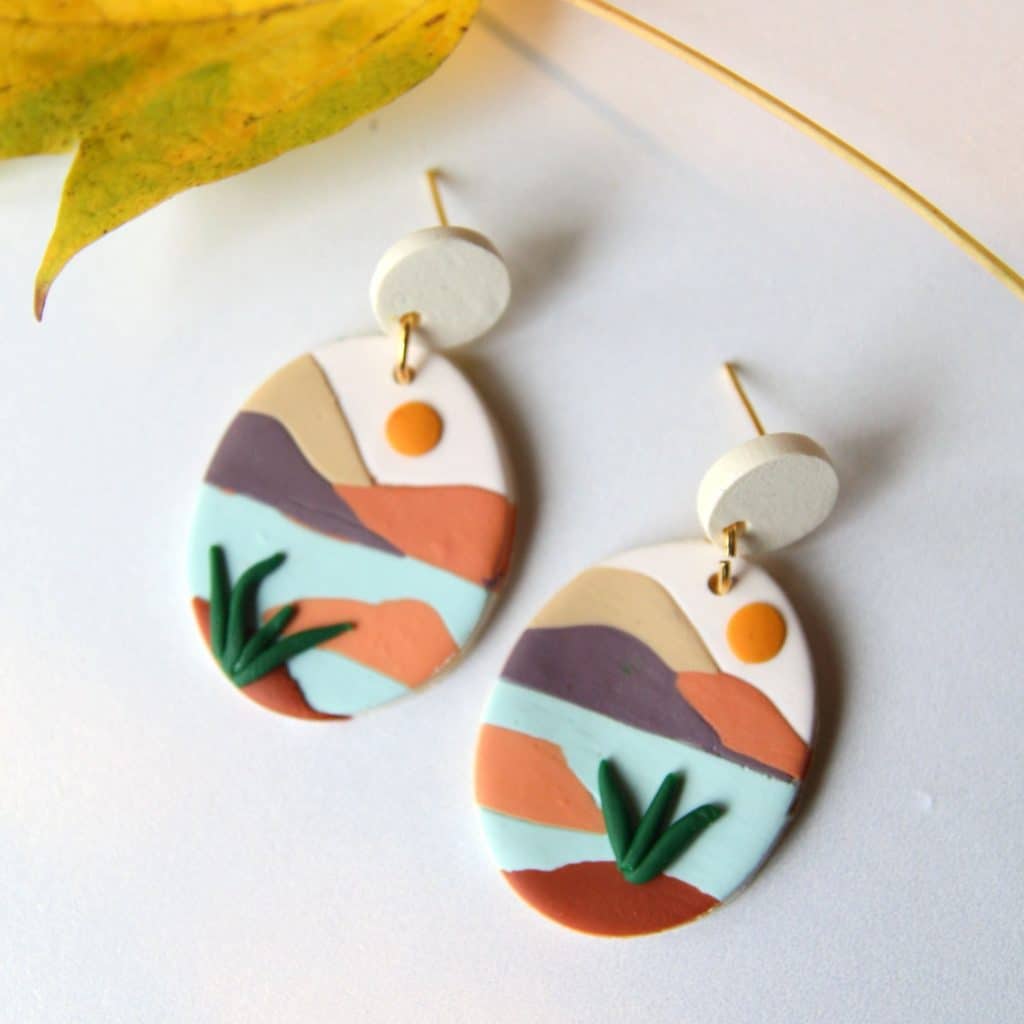 Are you ready to make some beautiful designs for your earrings with clay? This is an easy way to make DIY earrings with countless combinations. All you need is polymer clay, earring hooks, an oven, and some jump rings to make them.
Knead the clay into your desired design.
Make a hole at the top and then bake it as per the instructions given on the package.
Once the clay has cooled, attach the jump rings and hooks.
Mix different colors and create unique shapes with the clay. They will bring a touch of contemporary elegance to your outfit.
8. Safety Pin Earrings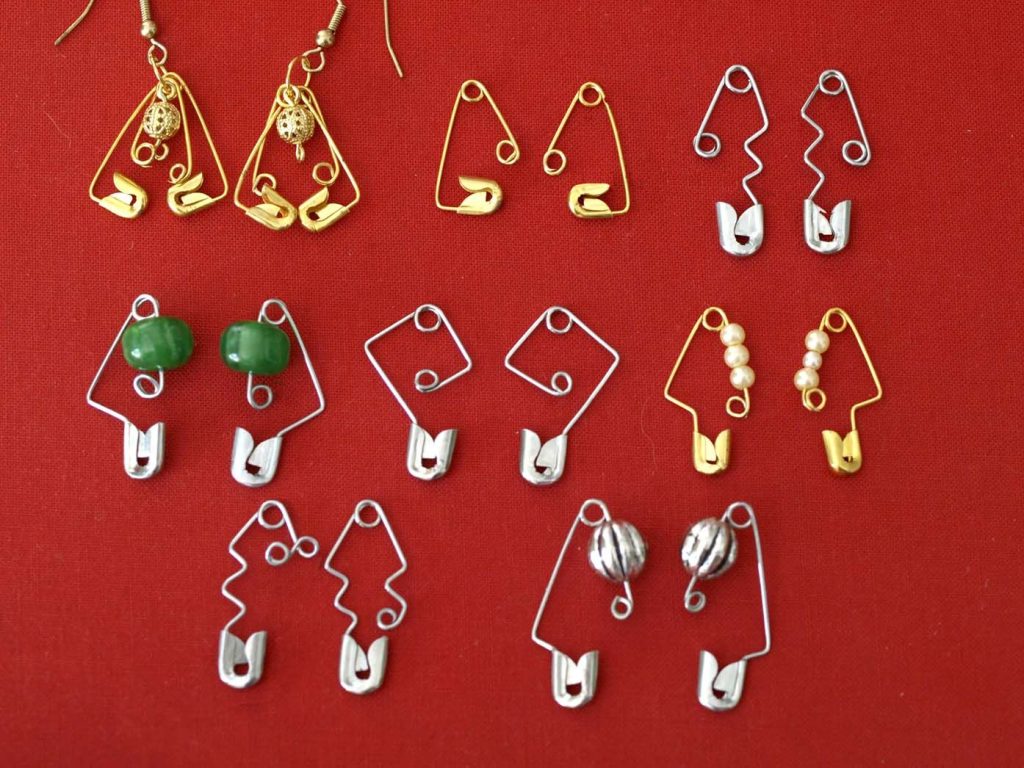 Transform your simple safety pins into unique and fashionable jewelry pieces. Collect safety pins of different sizes, earring hooks, beads, and jewelry pliers to start with.
Carefully undo the coil in safety pins using the plier.
You can add beads to the pin if you wish to.
Bend the pins into your desired shape with a plier.
Attach the earring hook at the top of the shape.
Safety pin DIY earrings are edgy yet minimalistic. Create personalized designs with different shapes and sizes of pins. You can even spray them with metallic color.
9. Resin Earrings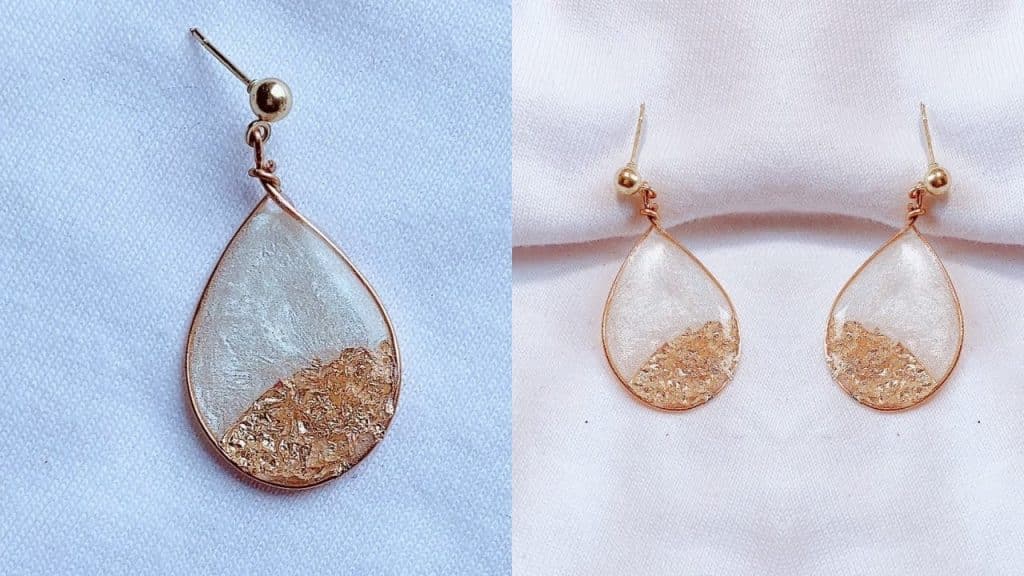 This is a fantastic way to create beautiful DIY earrings with a glossy look. You can add different kinds of embellishments like flowers and gold foil to create unique pieces. Collect resin, resin hardener, earring hooks, molds, and additives if needed.
Mix the hardened and resin as instructed.
Mix the additives, if any.
Pour the mixture into the earring molds.
Let it cure as per the given time.
Once done, attach the hooks to make them ready to wear.
An affordable and beautiful accessory is ready to be part of your collection.
10. Ribbon Earrings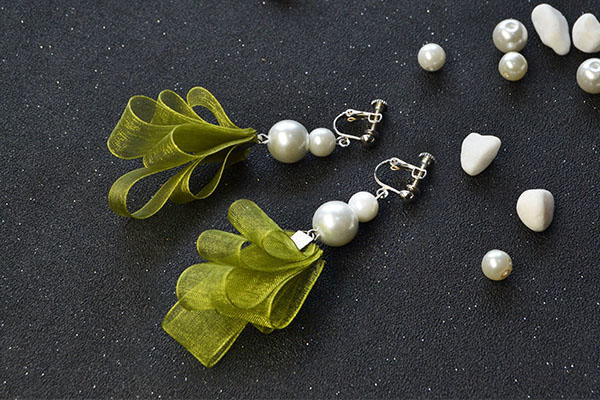 Make crafty and stylish ribbon earrings to add to your collection with this easy tutorial on making DIY earrings. Collect the ribbons of your choice, earring hooks, a strong adhesive, and scissors.
Cut all the ribbons into equal lengths of your choice.
Fold them into loops and secure them with adhesive.
Attach jump rings and earring hooks at the end.
Your ribbon earrings are ready to wear. Use different textures and widths. A lightweight and colorful accessory for your collection.
11. Upcycled Fabric Earrings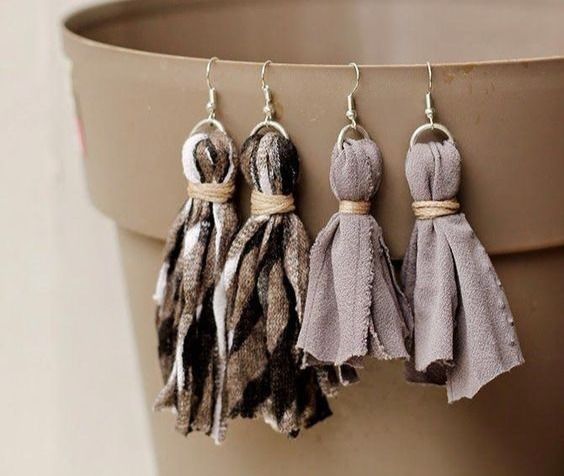 An eco-friendly way to use the scraps of fabric lying around your house. Use the given instructions to turn these fabrics into beautiful DIY earrings. Gather the fabrics, charms or beads, earring hooks, and scissors.
Layer the fabrics over each other.
Cut the layered fabrics into different shapes and sizes.
Attach hooks on each piece of fabric.
Add the beads if you want.
This is an easy way to reduce waste and get a beautiful pair of earrings that you made with your imagination.
12. Sea Glass Earrings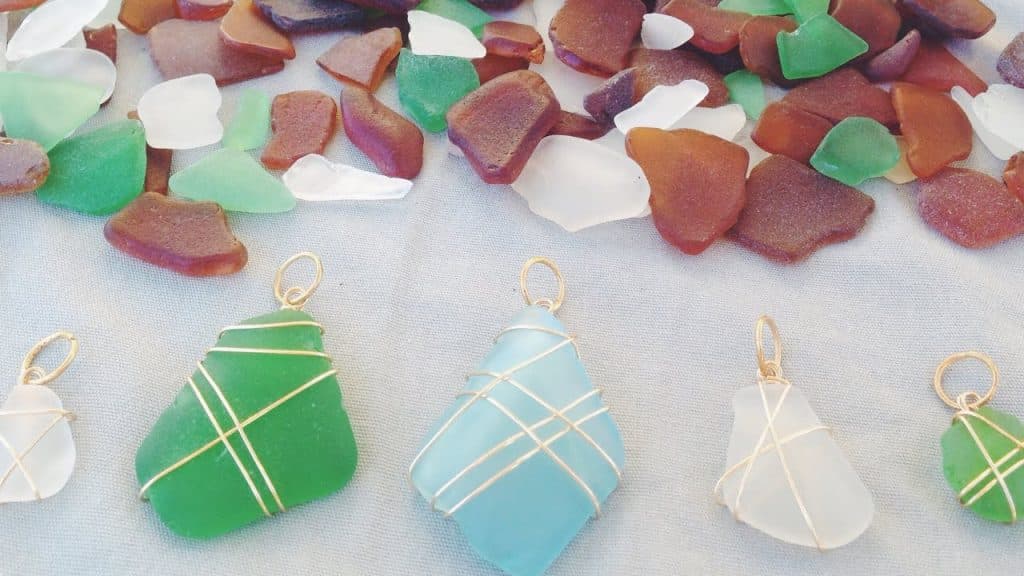 Do you like collecting sea glass while on the beach? Well, you can make some beautiful DIY earrings using those pieces of sea glass. Collect the glass pieces, a small hand drill, jump rings, and earring hooks.
Sort your glass pieces into colors and shapes.
Start drilling small holes on the top of the glass pieces which you want to use.
Attach the jump rings and earring hooks through these holes.
They are great for the environment and give an elegant look. You can also add some charms.
13. Puzzle Piece Earrings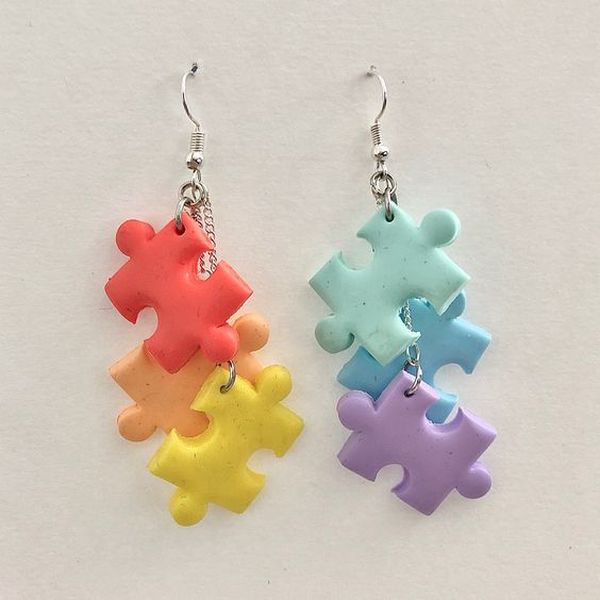 Let us use some puzzle pieces to create some beautiful earrings. You can use either the lost pieces of a puzzle or a puzzle you don't play with anymore. Collect the puzzle pieces, acrylic paint, earring hooks, and an adhesive.
Paint the pieces using acrylic colors.
Let them dry.
Arrange the dried pieces into interesting shapes.
Secure these shapes using adhesive.
Connect the final piece to an earring hook using a jump ring.
It's a playful activity that ultimately leads to an amazing reward towards the end and provides a great deal of elements to proceed along the definitive style that speaks out your artistic skill.
14. Feather Dangle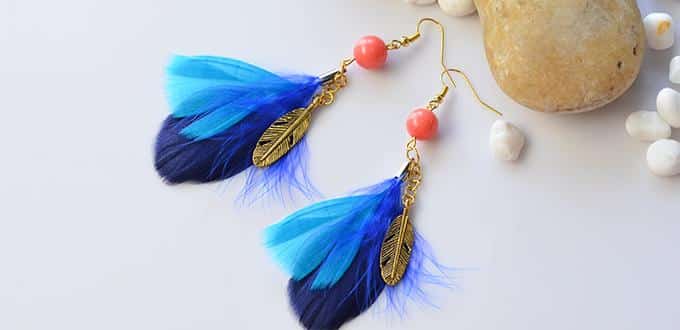 Another Bohemian design for you to work with. They are quite popular and easy to make. Collect different shapes, sizes, and colors of feathers, jump rings, hooks, and pliers.
Trim the collected feathers as per your need.
Attach a jump ring to each feather.
Connect the jump ring to an earring hook.
Use different feathers to create a dynamic look. They are lightweight and bring a boho-chic aesthetic to your outfit.
15. Macrame Earrings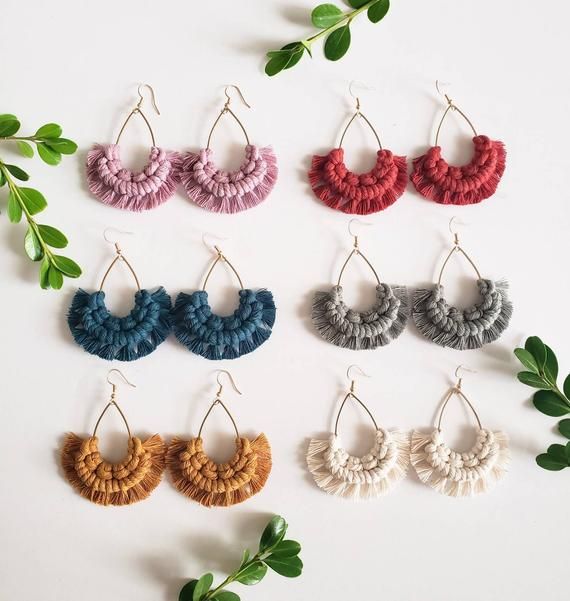 Add some macrame earrings to your collection to make it more diverse and increase your options. Thin cords in different colors, beads, earring hooks, and scissors are all you need for this DIY earrings project.
Take the thread and cut it into two equal lengths.
Fold them in half and tie them in a knot to create a loop.
Do macrame knots along the length till you reach the desired length.
Add your embellishments in the thread, attach the hook to the loop, and it's done.
You can use different knot patterns for a unique look and design.
16. Shrink Plastic Earrings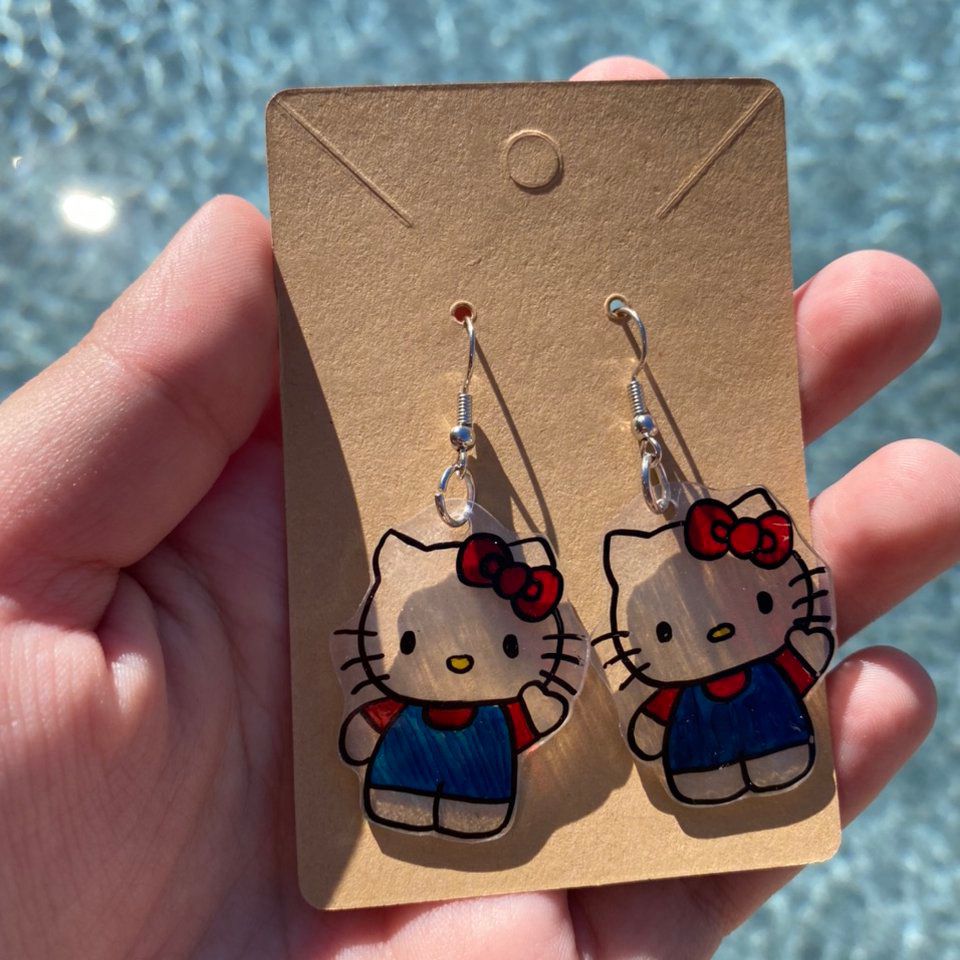 Create adorable jewelry using shrink-plastic sheets using this simple guide for DIY earrings. Bring colored pencils, shrink plastic sheets, hooks, a hole punch, and scissors.
Trace your designs on the sheets and color them.
Cut out the shapes and punch a hole at the top.
Follow the baking procedure and wait for it to cool down.
Put the hook through this hole after cooling.
These earrings are affordable and a fun way to create jewelry for yourself. You can customize them any way you want.
18. Nail Polish Earrings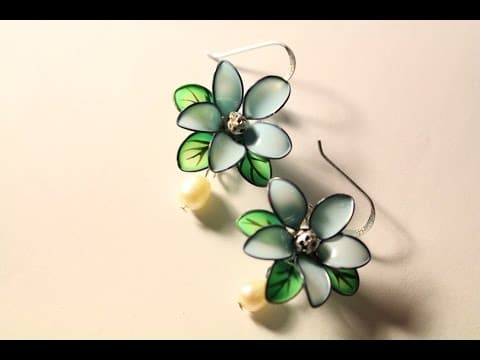 A vibrant touch to your jewelry collection. These glossy nail polish earrings can be created easily and are beautiful to look at. This technique requires various nail polish colors, blank earring bases, and hooks.
Paint the blank bases with nail polish and create your design.
Let the nail polish dry between the layers of patterns.
Once you are satisfied with the look, attach the hooks to the earring.
These DIY earrings are an easy way to use your discarded nail paints and add a pop of color to your collection of accessories.
19. Washer Earrings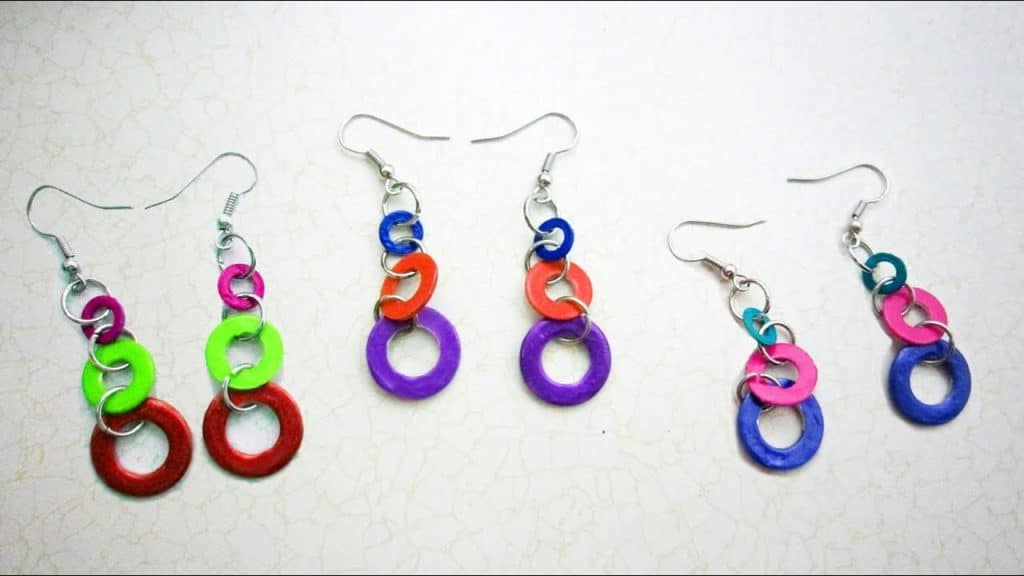 Industrial-style jewelry to add to your collection can be created with this tutorial for DIY earrings. Collect your washers of different sizes, jump rings, earring hooks, and acrylic paint to begin the project.
Wash and dry your washers completely.
Paint them with the desired color.
Attach the earring hook using a jump ring after you are done.
Mix and match different colors to get your outfit's unique and contemporary look.
20. Beaded Fringe Earrings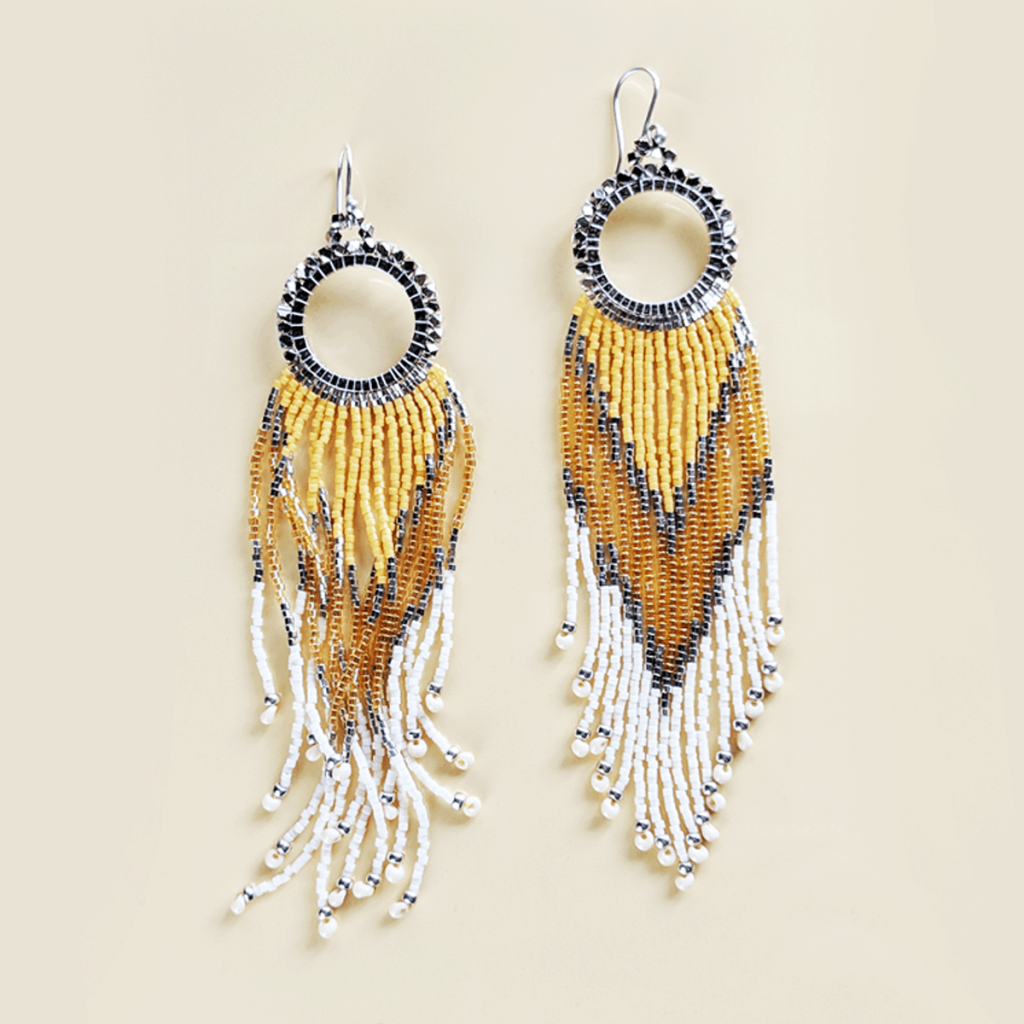 Fringes are already a trend, and when you add beads, it becomes better. Let us create some stunning beaded fringe DIY earrings for you. Bring earring hooks, seed beads, beading thread, jump rings, and small charms for this project.
Cut several pieces of the desired length of the thread.
String colorful beads into the thread.
Attach the charms along with the beads if you wish.
Connect it with earring hooks using jump rings.
Create different dramatic looks and styles using different lengths, colors, and sizes of beads.
21. Yarn Wrapped Earrings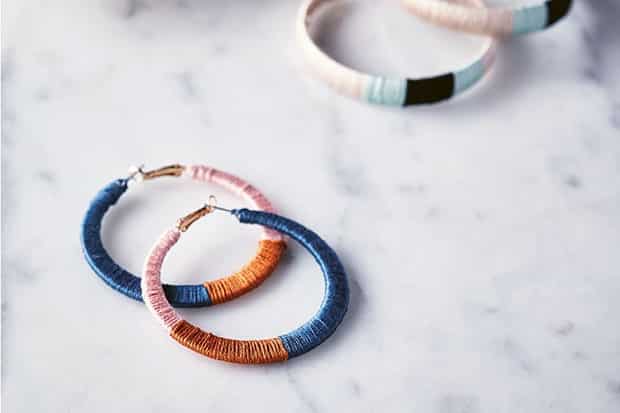 A charming pair of yarn-wrapped earrings is all you need for your accessory collection. Colored yarns, earrings hooks, scissors, and a strong adhesive is all you will need for your project.
Take a small amount of adhesive and apply it to the hook.
Start by wrapping the yarn around the hook.
Cover it entirely and secure the end.
A comfortable-looking and lightweight design with a lot of possibilities. Create these DIY earrings for a cozy look.
22. Cork Earrings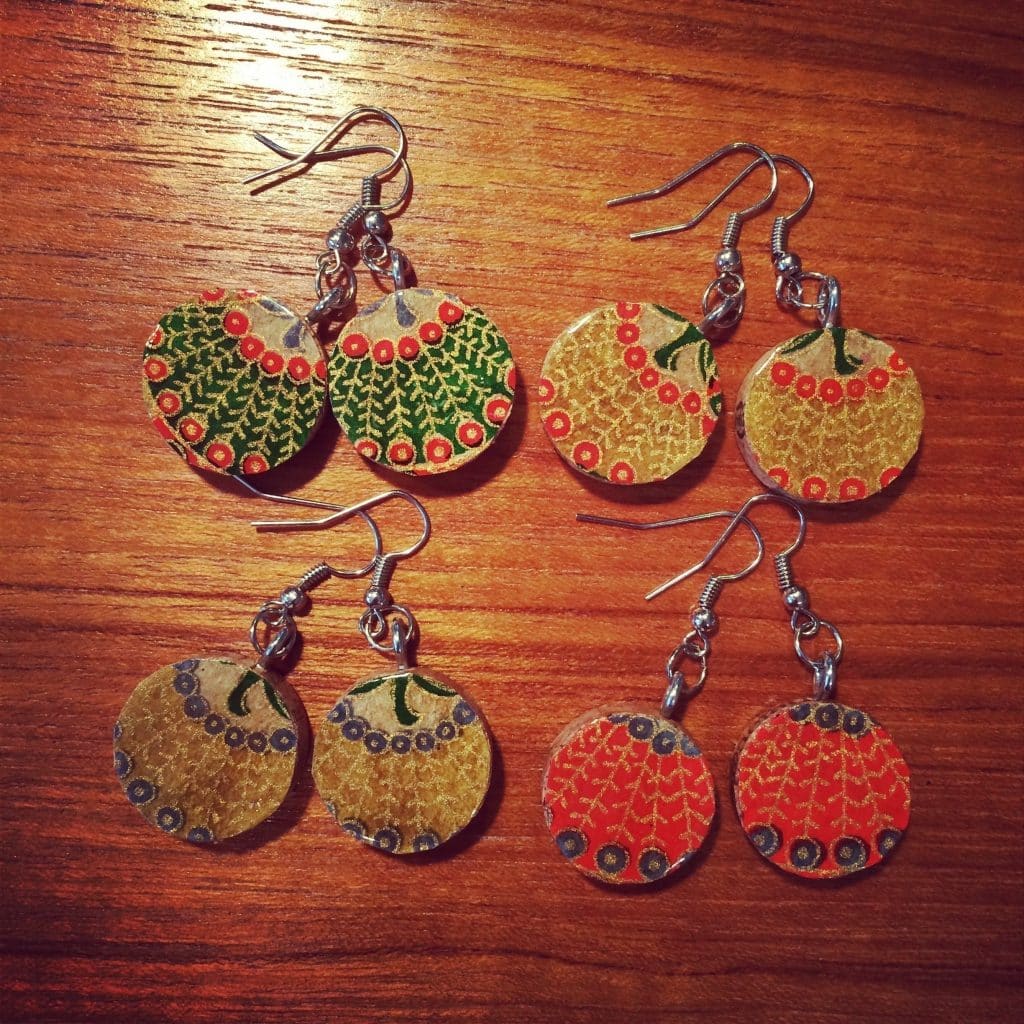 An eco-friendly and creative way to reuse the wine corks. Create some beautiful DIY earrings with these simple steps. Gather earring hooks, jump rings, wine corks, and a sharp knife for this craft.
Use the knife to cut thin slices from the corks.
Sand the edges of the slices to make them smooth.
Attach the earring hooks to these slices using jump rings.
Use different thicknesses and shapes like diamond and oval for experimenting. Add a rustic touch to your collection with these earrings.
23. Button Stud Earrings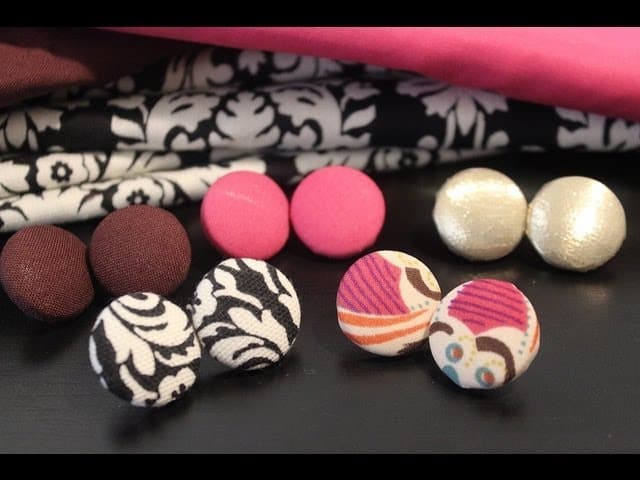 A couple of daily wear studs are a must-have in your collection, and what is better than making them yourself? Small buttons, earring posts, and a strong adhesive are easily available and all that is needed for the project.
Collect your buttons and sort them out.
Select the ones with a flat back.
Take the posts and stick the buttons on them.
Let them dry, and they are ready to wear.
Add these adorable DIY earrings to your collection that are budget friendly and super easy to make.
24. Wooden Bead Earrings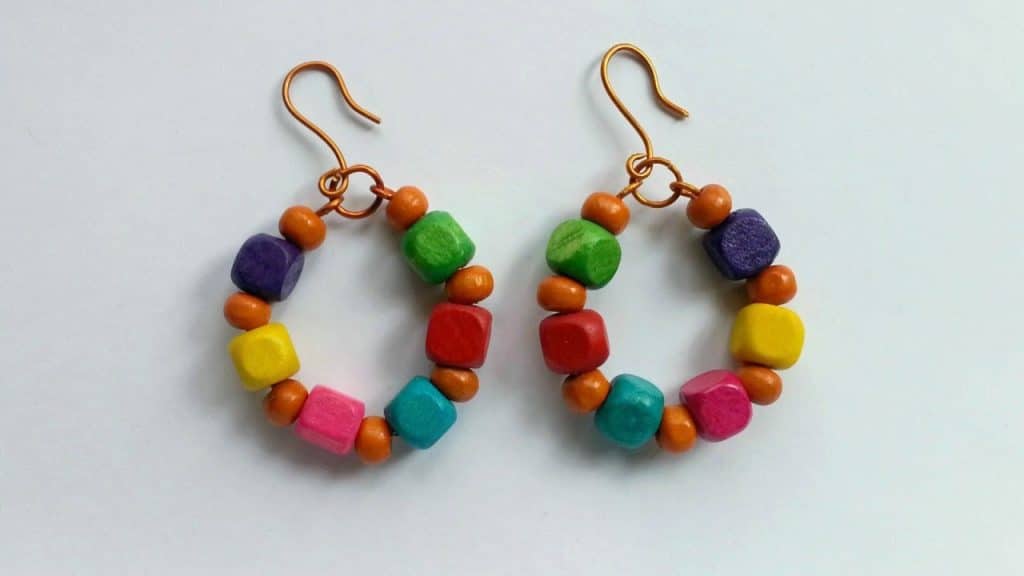 A natural and stylish-looking piece for your collection. Create it with simple steps. Collect wooden beads, jump rings, varnish, and earring hooks for a start.
String the beads of your liking into the hooks.
Arrange them as you like them.
Add the jump rings on each bead for a dangle effect.
You can also paint or varnish the beads for a better look.
A rustic and bohemian style packed into one earring. Add these nature-inspired DIY earrings to your collection now!
25. Earring Jackets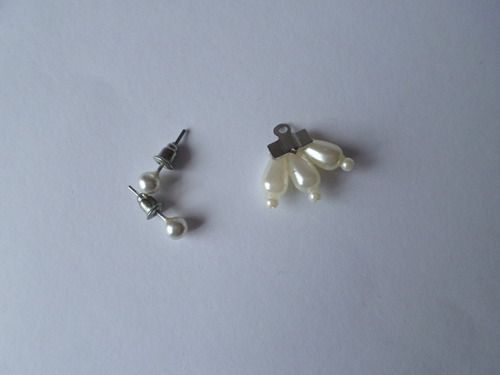 Are you bored with the way your earrings look? Well, here is a way to transform them into new ones. Collect the earrings you wish to change, some earring jackets, and an adhesive.
Attach the jackets to the back of the earrings using adhesive.
Let it dry completely.
They are transformed and ready to use.
An easy DIY earrings project for you to reuse your old earrings. Mix different jackets to create a beautiful look.
Conclusion
Exploring the world of DIY earrings is an exciting journey. This article delved into 24 unique ways to make earrings using your creativity and imagination. From tassels to jackets, we have explored every concept of design.
There are so many options for you to choose from and reflect your personality in the craft. It's budget-friendly and does not require much of your time either. The satisfaction which comes along with wearing a pair that is crafted by you knows no bounds.
You can also use them as gifts for your loved ones. Embrace your creativity and experiment with designs and watch your collection and your creativity grow!