Crafting is a hobby that allows us to show our creativity and bring beautiful creations to life. To enjoy this process, having a dedicated room that has a fully-equipped craft desk is required. This serves as the centerpiece of the room that provides a workspace that inspires ideas. Whether you are a regular crafty person or just starting your journey as a craftsman, a desk that suits your needs is something that everyone needs.
In this blog, we have summarized a list of 24 ideas for a DIY craft desk. Ranging from the usage of old discarded furniture to creating a custom workstation, these ideas are suitable for people with all skill levels. Whether the room is spacious or compact, there's a desk for everyone.
Let's explore these ideas together to get the best element out for your next DIY craft desk.
1. Old Door Desk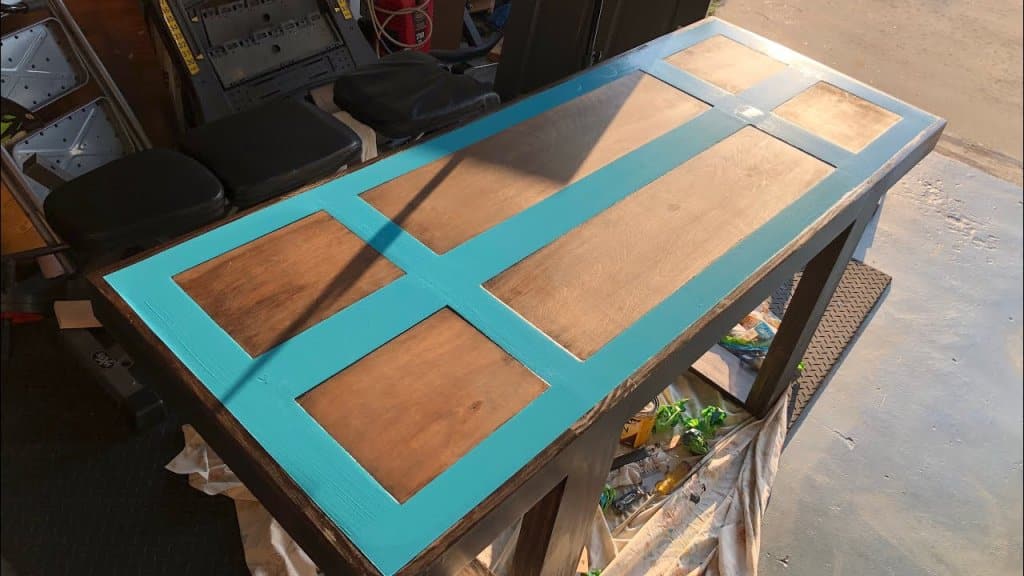 Repurposing an old door into a desk is a budget-friendly option. With some simple modifications, you can use an old discarded door and convert it into a unique desk for your workspace. The first step would be to sand down the door to make it smooth. You can skip this part to keep the original finish for a vintage look. Attach legs to make the table stable. Add storage elements and organizers to enhance its functionality. The surface area of the door lets you spread your projects, giving you space to create unique crafts in your workspace.
2. Ikea Hack Desk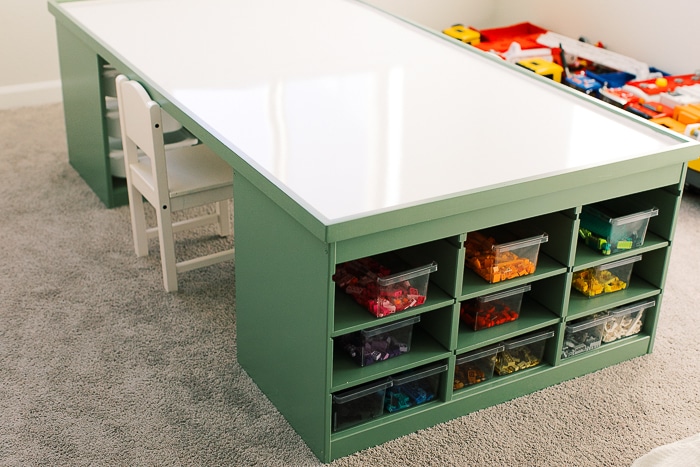 Create a personalized workspace with this hack if you are a fan of Ikea furniture. These are known for their versatility, thus being ideal for furniture enthusiasts. The starting step would be to take an Ikea desk that suits your needs. Customize and modify the desk to fit your room's vibe and style. Paint or stain the surface for a more modern look and add decorations to finish the project. Add organizers and baskets to keep your crafts essentials handy.
3. Foldable Desk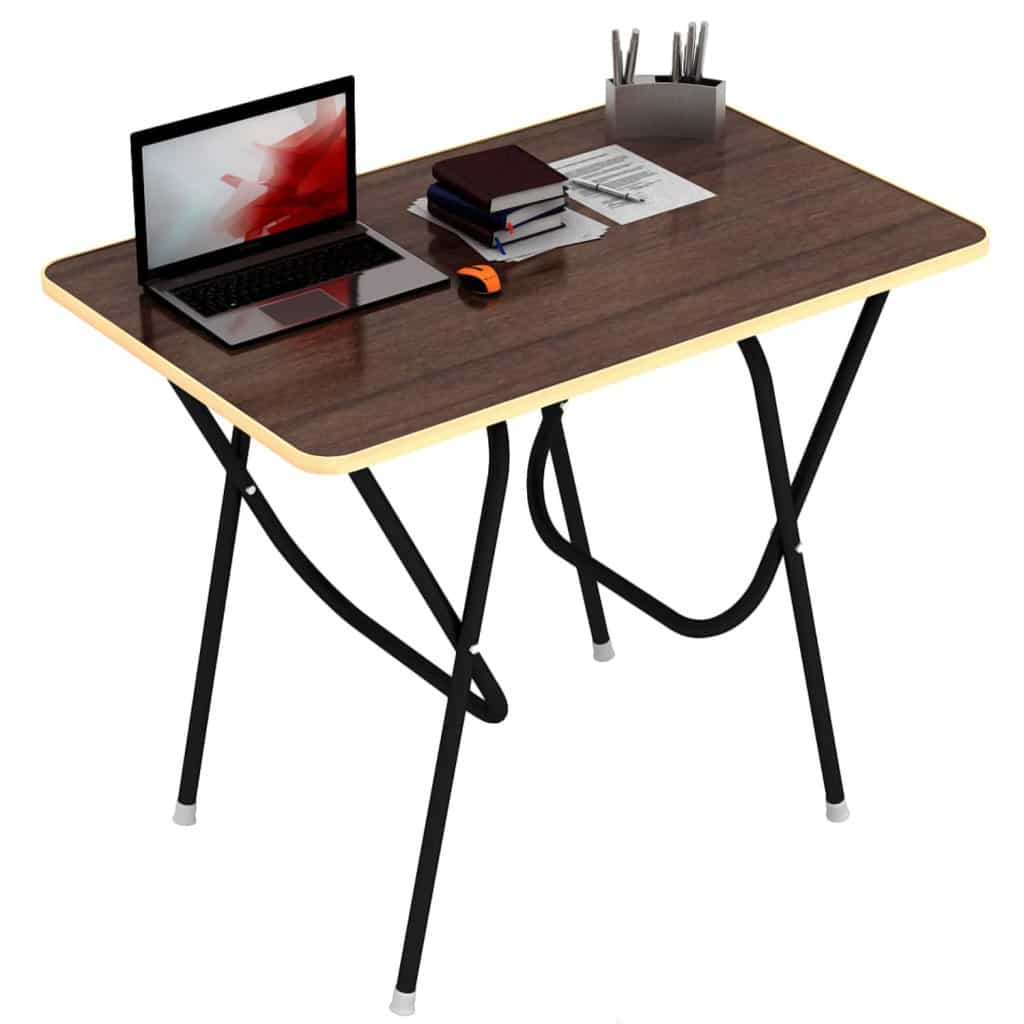 A foldable crafts desk provides a space-saving solution in addition to being a practical table for your crafts room. This can be folded down when not in use, thus providing additional space for a clutter-free area. To create one, you can make a wall-mounted table or a hinged standing desk that can be folded flat against the wall. Hinges need to be sturdy to handle the weight of the items when in use. Plywood or solid wood can be used as the desk surface as they are durable while being smooth. Add storage elements like drawers, pockets, and shelves to keep your items easily.
4. L-shaped Desk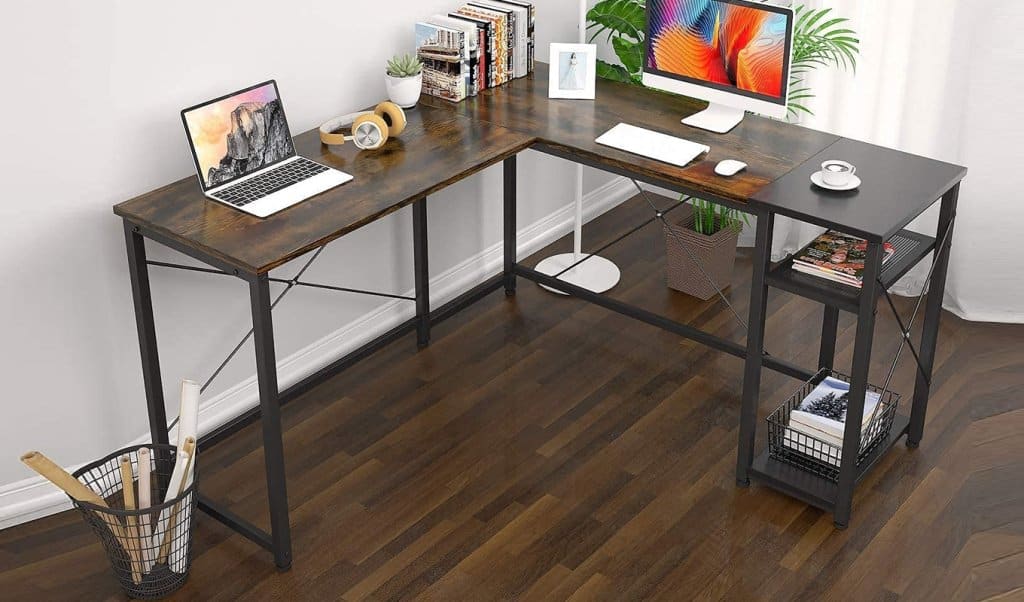 This is a popular choice for people who want a spacious desk with efficient organization. This can be created by using old furniture. You can join 2 separate desks or combine tabletops, legs, and storage areas. You can customize the desk according to your room and requirements. Add shelves, cubbies, and drawers to organize your crafts items. Make sure that the desk is sturdy enough by making it with sturdy materials such as particleboard. Make the legs adjustable if the surface area is uneven or if you want to work according to your preferences.
5. Sawhorse Desk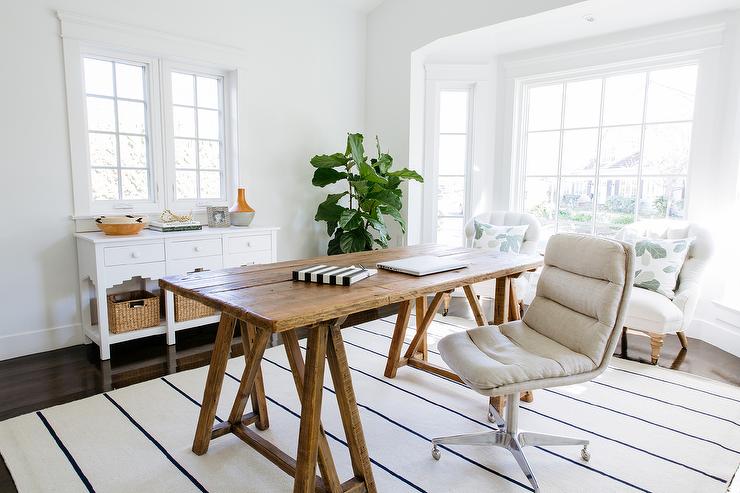 This is a stylish option for your crafts room. These are typically used for construction or woodworking and can be used as an alternate base for your craft desk. To create one, you can attach a sturdy tabletop with the sawhorses. You can either use discarded doors or wooden planks. It is essential that the tabletop is securely attached to the sawhorses for added stability. The design is both practical and functional. Open sawhorses allow you to access the storage area under the desk to keep the supplies organized. These can be painted to match the room's atmosphere or can be left as is for a vintage-inspired look.
6. Pegboard Desk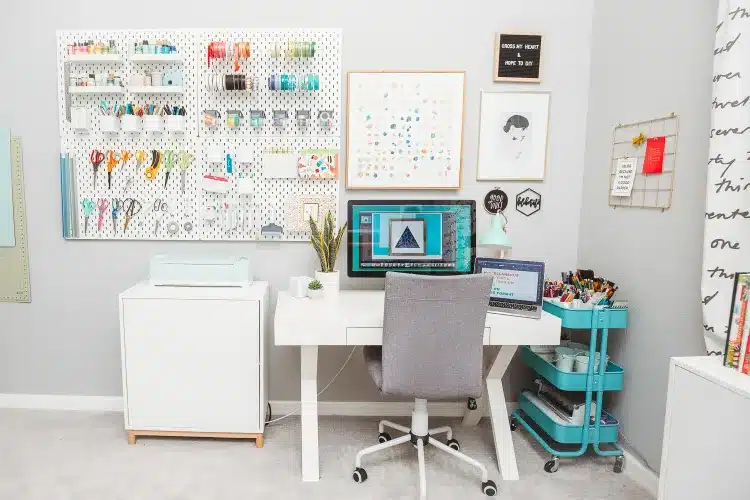 This combines functionality with organization space that provides easy storage options for all your crafts items. You can create your own pegboard crafts desk by attaching a board on the wall that creates a custom backdrop for hanging your tools and supplies. Using hooks and shelves to hold frequently used crafts items makes it a suitable choice for small areas. It also allows you to keep the essential items visually organized. Adding a pegboard to your workspace ensures that your workspace is never cluttered.
7. Sewing Machine Desk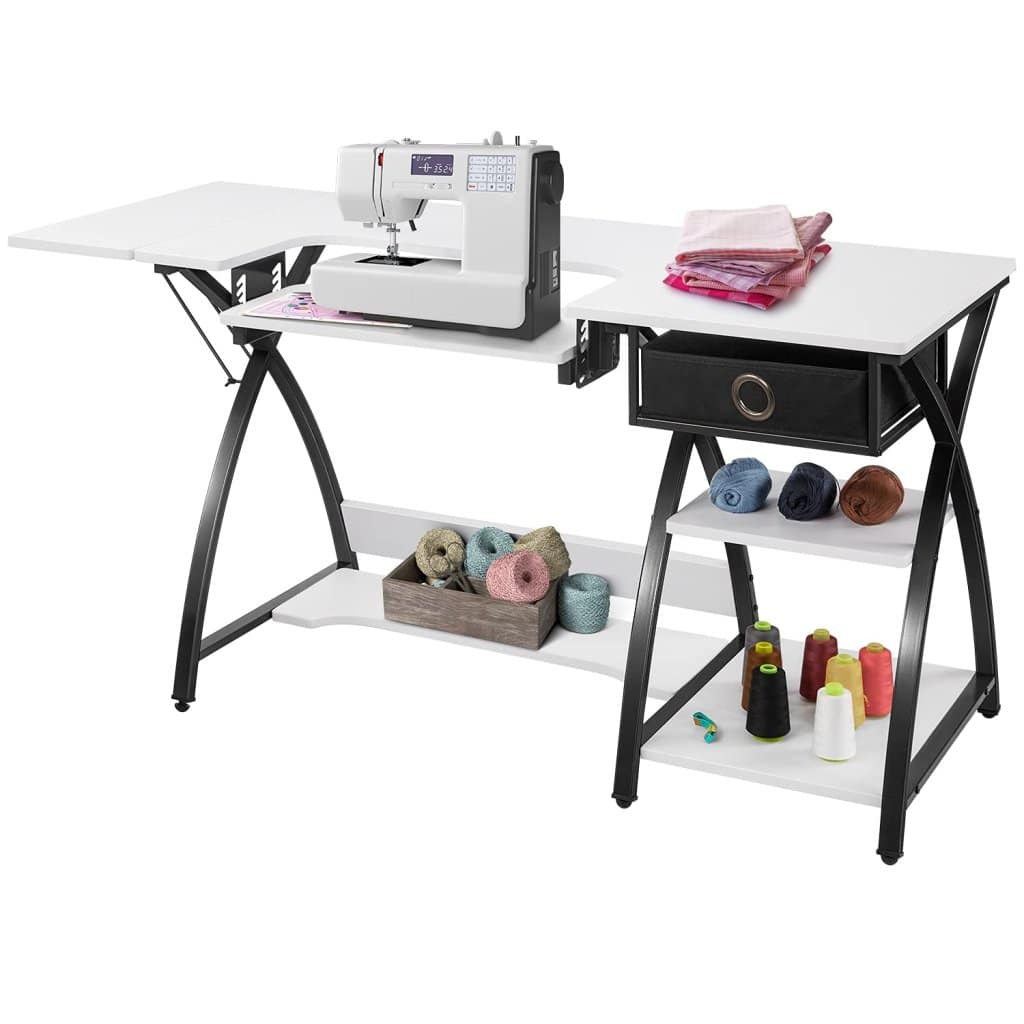 Transforming an old sewing machine into a crafts desk is one of the best ways to repurpose old furniture. Start by replacing the sewing machine with a smooth worktop that creates a functional space for you to work on. You can choose wood or glass as the material for the tabletop. You can add storage options like cubbies under the top to compensate for the lack of external storage in this type of desk. This is a unique focal point to add to your craft room.
8. Pallet Desk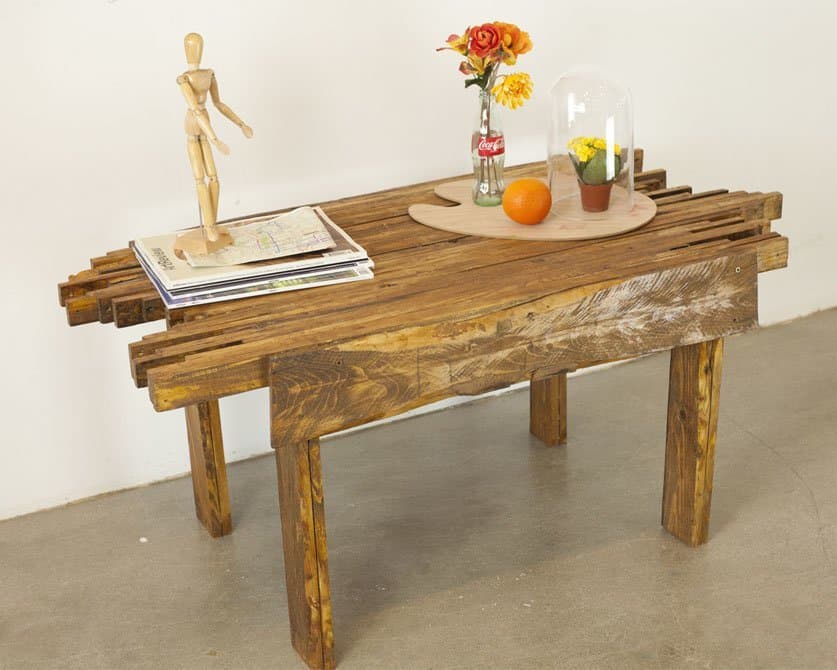 These provide an eco-friendly solution by re-using a wooden pallet, allowing you to create a desk that adds a unique touch to your craft room. Sand the pallet down for a smooth and even surface. You can leave the texture as is for a vintage look. Add support and legs to elevate the pallet up to a suitable and workable height. The pallet size, in turn, provides space to add storage baskets and bins to keep your supplies organized.
9. Murphy Desk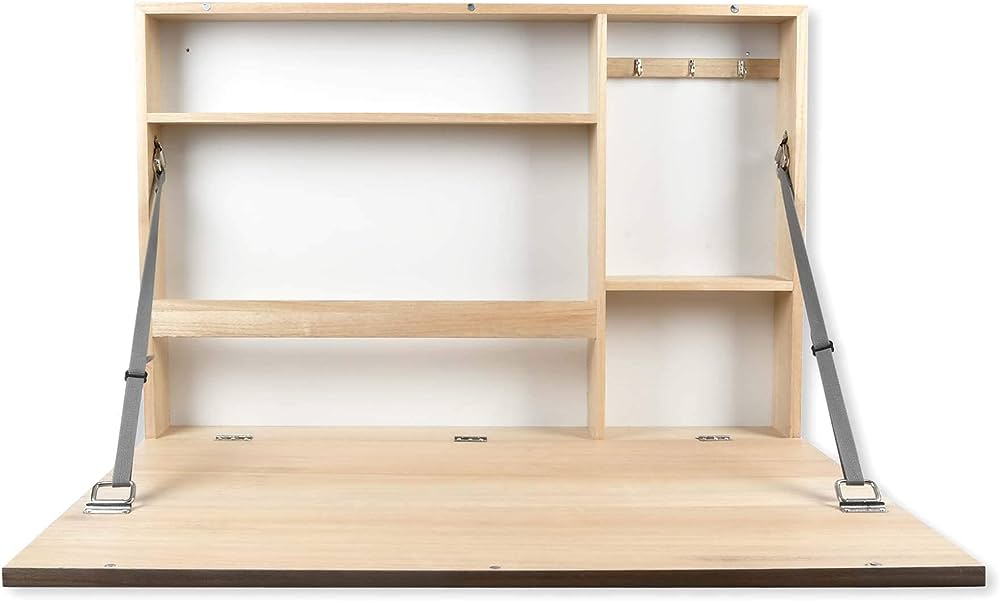 This is a space-saving solution allowing you to tuck it away when not in use. This is inspired by the concept of a Murphy bed, providing functionality and essential storage space. You can start with a wall-mounted unit with a hinged desk that folds up and down according to usage. Add storage spaces to the unit, like shelves and drawers, to keep the supplies organized. Attach a corkboard to its insides for additional storage space. The foldable design makes it suitable for spaces with limited floor space.
10. Glass-top Desk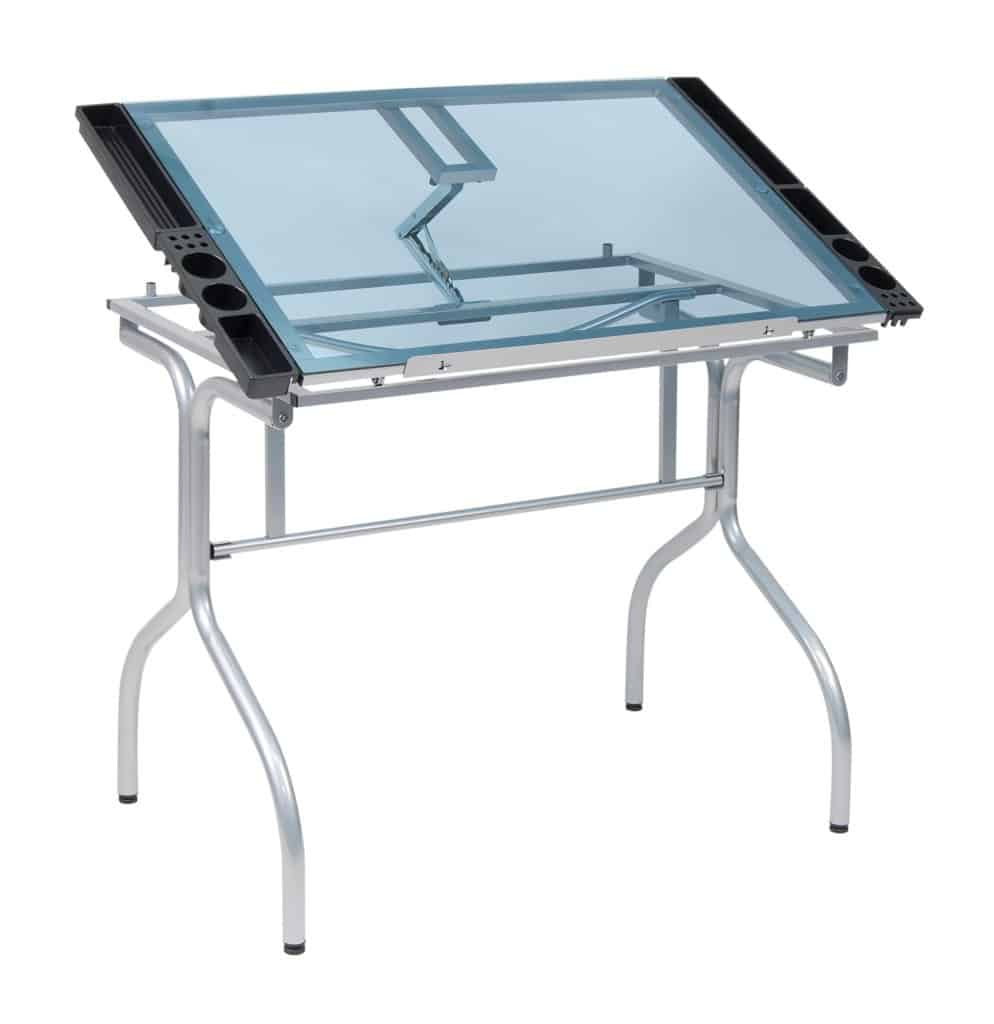 This is a sleek option to add to your craft room. The transparent glass top creates a light-filled workspace. Glass provides a smooth working space that is easy to clean. It also allows you to keep any storage elements that you have kept underneath, like shelves and drawers. These storage spaces can be made with metal and positioned in a way that is easy to access and use. This helps in making lightboxes or helpful in animation tracing as well.
11. Desks With Adjustable Height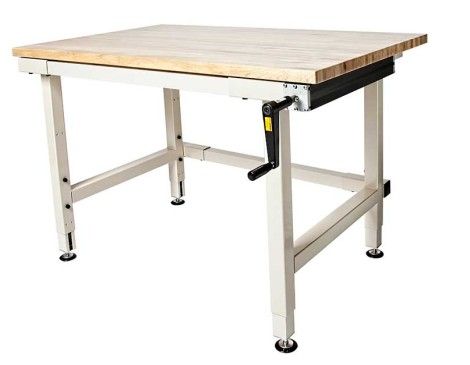 Adjustable height desks provide a flexible working area for your craft station. This is designed with a mechanism that allows you to change the height of the desk using just a button. This is also beneficial for people who work while sitting and standing alternatively. This helps maintain a healthy posture and reduces the strain on your body. Some desks have manual adjustment options, while some have hydraulic systems for easy height changes. You can also add storage options to keep your tools organized.
12. Drafting Table Desk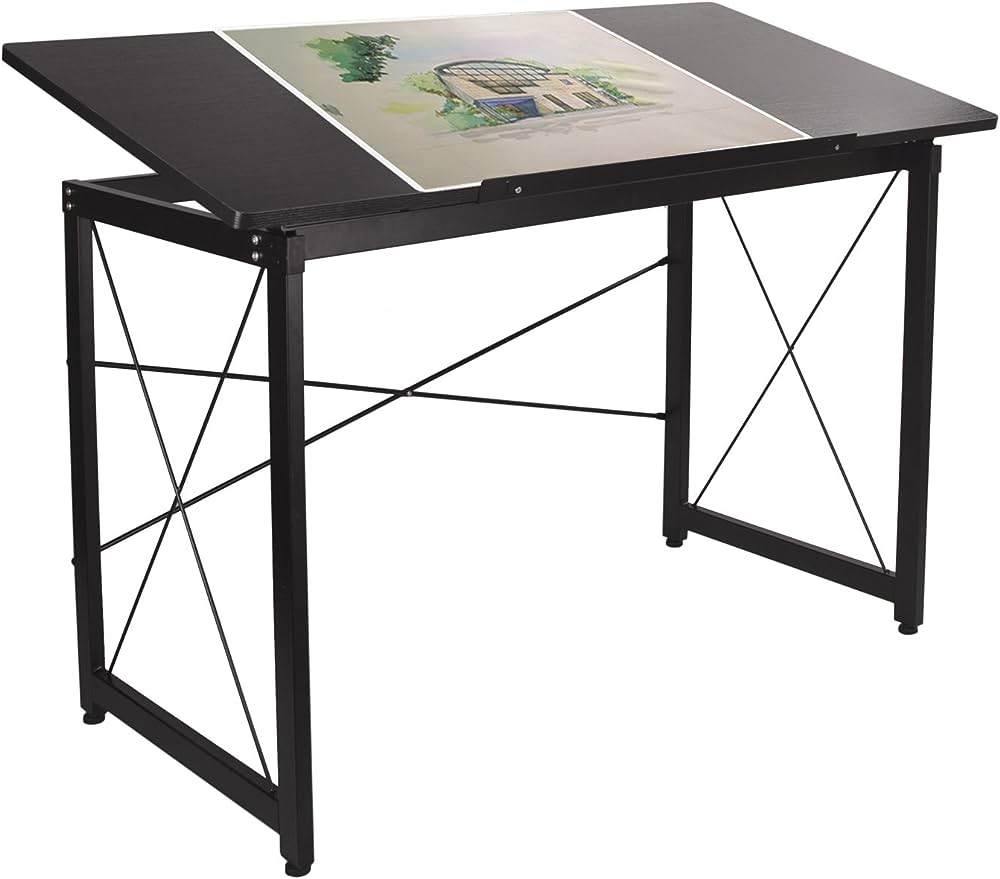 These table desks are inspired by traditional drafting tables that are used by architects; these types of tables provide a tilted surface for comfortable sketching and detailing work. The adjustable design provides an optimal position for your crafting projects. For scrapbooking, drawing, or crafts, the drafting desk provides high visibility and ergonomics. These are also designed with built-in rulers and guides to enhance their functionality. You can find tables that are designed with storage options or can attach custom storage options to keep your items organized. While searching for a drafting desk, it is essential to find one that is made with sturdy materials to support your crafts.
13. Fold-Out Cutting Table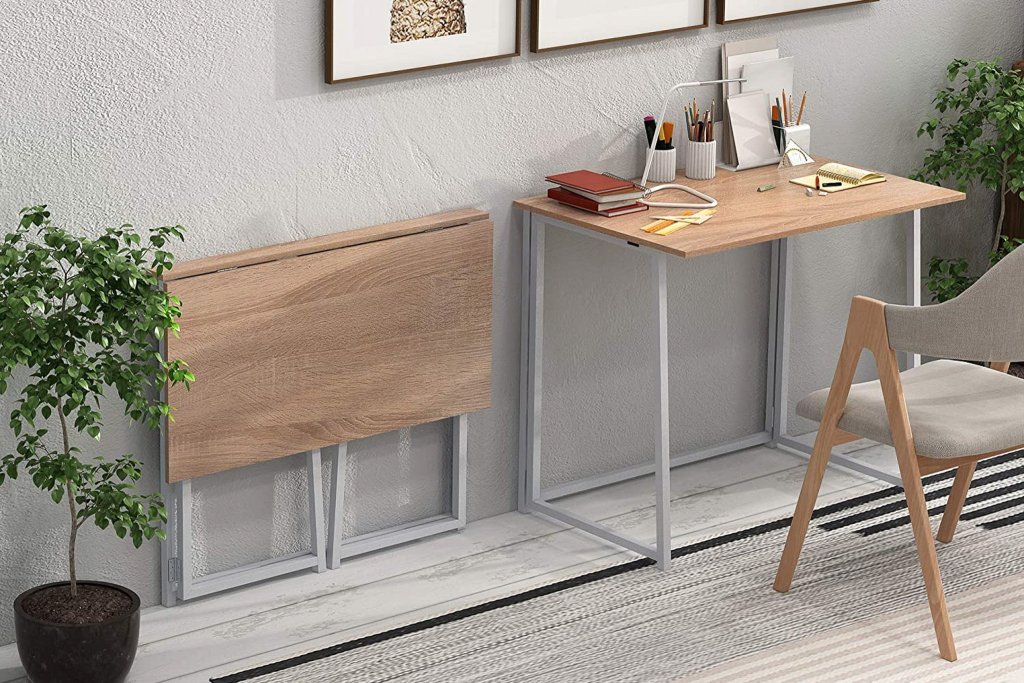 This is a space-saving solution for people who work with fabrics and materials that require cutting. Designed with a large surface area that can be extended easily and folded when not in use. The foldable design lets you increase or decrease the floor space that it uses. The table provides enough space for cutting materials for precise work. The material should be durable, and consider getting a table that has built-in rulers and measurement markings. Additional storage options can be added to keep your essential art items.
14. Wall-Mounted Desk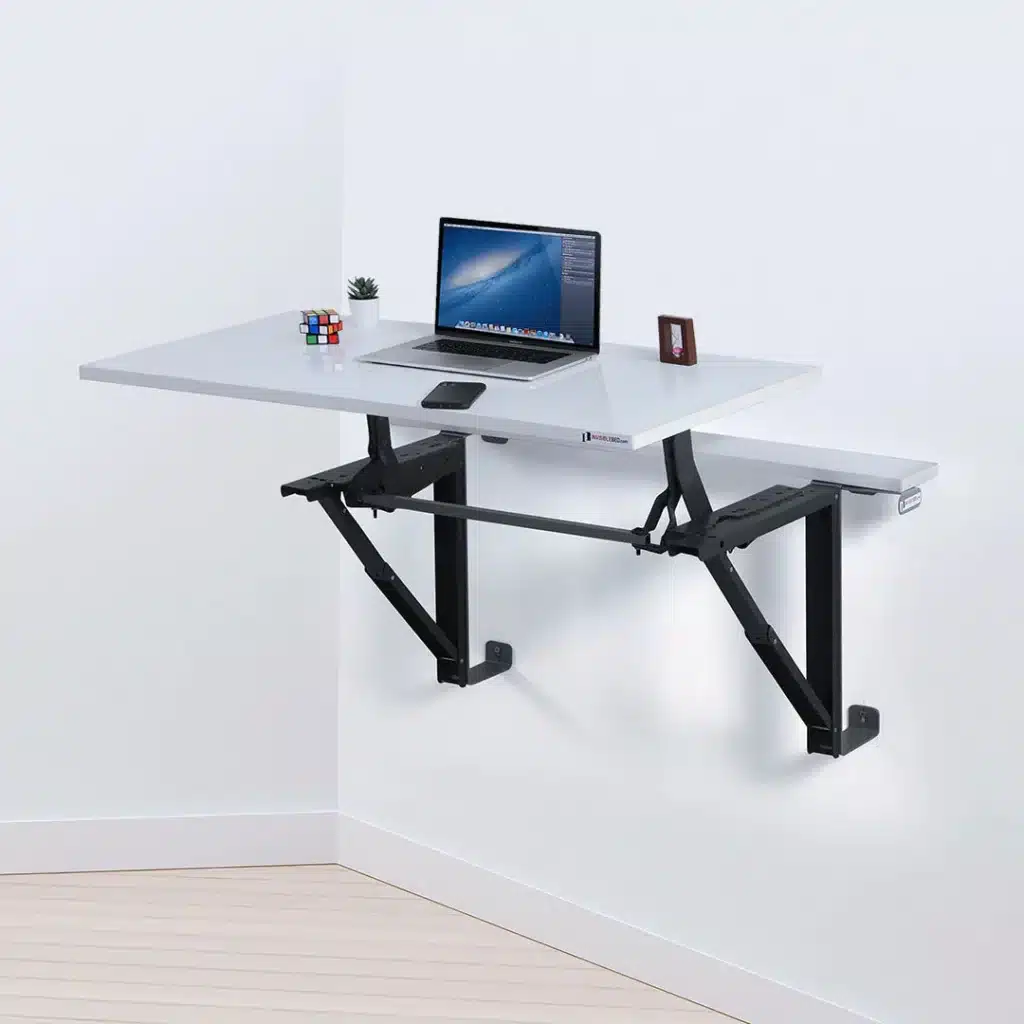 A wall-mounted desk is a space-saving solution for your crafts room. This is designed to be attached to a wall that frees up essential floor space. These types of desks can be customized according to your needs of shape and size as well as additional storage space. The essential thing to note while choosing a wall-mounted craft desk is to check the weight capacity and checking the mounting hardware for a secure installation.
15. Treadle Sewing Machine Desk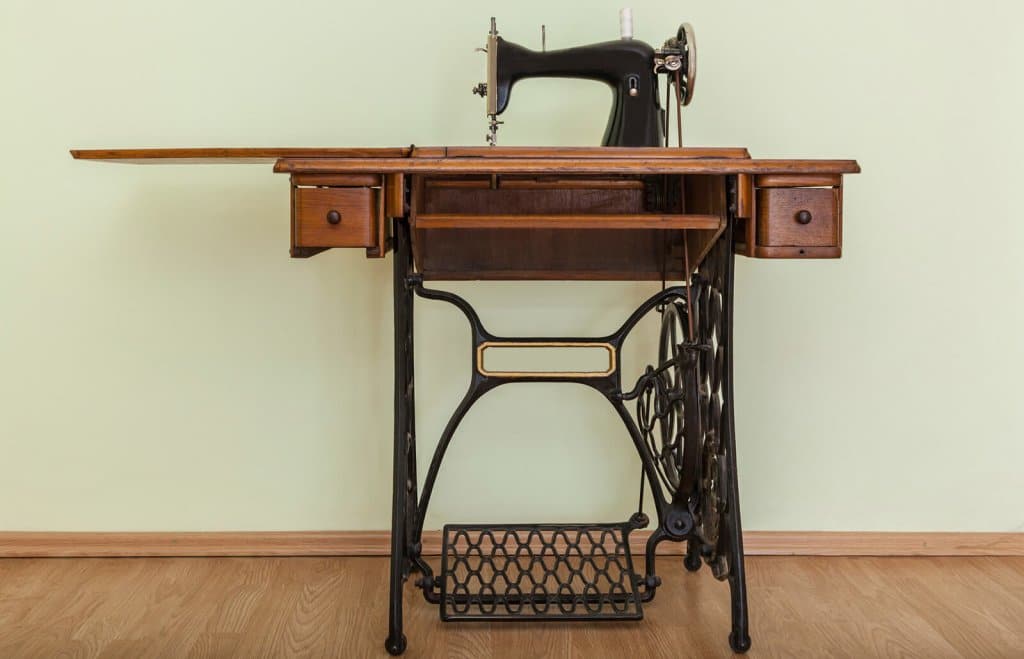 The Treadle sewing machine desk is a unique addition to your crafts room that allows you to repurpose an old sewing machine and create a unique desk. You can choose to remove the machine if it is not working or create a crafting area around it. Choose a material that suits the room and your style, like glass or wood. Drawers and compartments that were already built-in can be used easily to keep your items.
16. Upcycled File Cabinet Desk
You can repurpose old file cabinets into a crafting workspace by using the built-in storage and organization features, thus being ideal for keeping craft supplies. Start by searching for a file cabinet according to your needs. Ensure the functionality of the drawers and the hardware. Place a smooth tabletop across the cabinets to create a work surface. Drawers can be used to store the supplies and be organized using dividers.
17. Countertop Desk
These desks allow you to attach themselves to your existing countertops. These types of desks are typically found in kitchens or utility areas. These can easily provide ample space for your crafting projects. You can use an old countertop and alter it according to the dimensions that you require. Additional storage elements like cubbies and drawers can be added to keep the supplies organized. You can also attach pegboards and other accessories to keep the tools easily.
18. Floating Shelf Desk
The floating shelf offers a minimalist design to your workspace. These types of shelves provide an uncluttered look to the room while being sturdy enough to support your items. Mount storage areas on the wall next to the shelf to arrange the crafting supplies easily. Personalize the desk by decorating the desk using hooks and container attachments. The floating design gives it a simple yet modern look.
19. Vanity Desk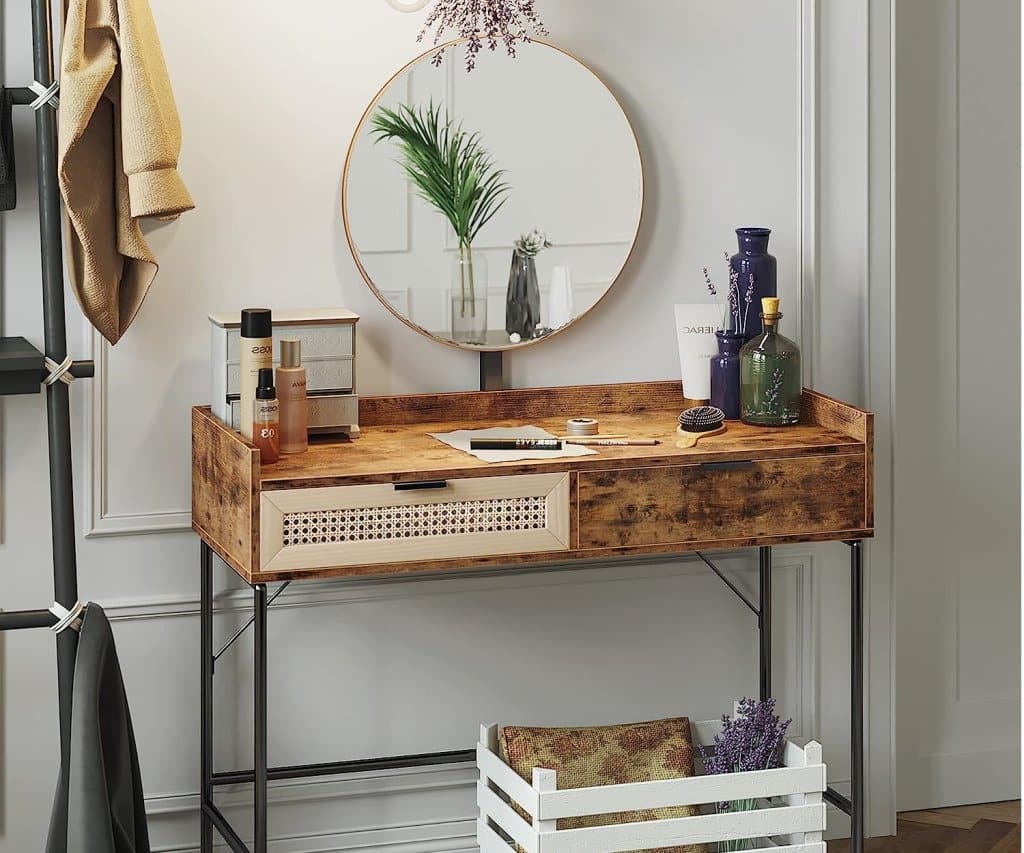 Repurposing an old vanity table allows you to make a personalized crafting area that displays the beauty of vintage furniture. The integrated drawers allow you to organize the crafts items easily. You can add a protective finish on top of the tabletop to protect it for extended usage and create a practical workspace. Add decorative items to the vanity to enhance its look and match the vibe of the room.
20. Card Catalog Desk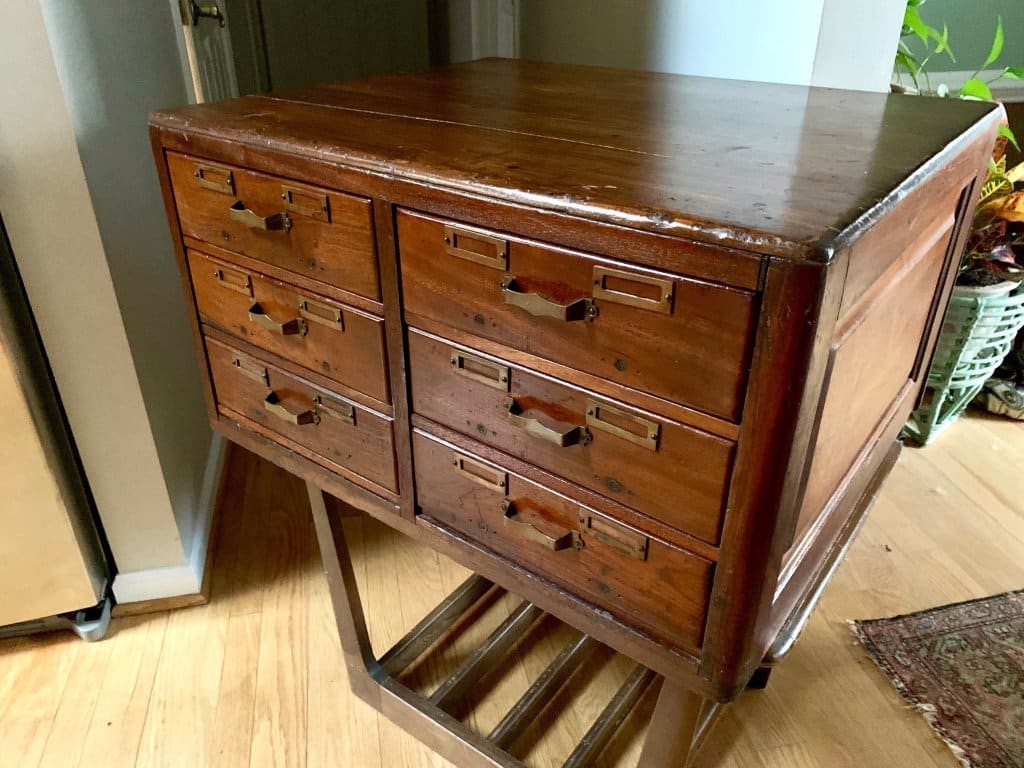 You can use individual drawers of the card catalog desk to organize small craft supplies like beads and buttons. You can create one by removing the original catalog labels and giving them a look that matches the vibe of the room. You can arrange the drawers in any way that you find comfortable and secure them together for proper alignment. You can add a smooth surface on the top to make it into a functional workspace.
21. Standing Craft Desk with Storage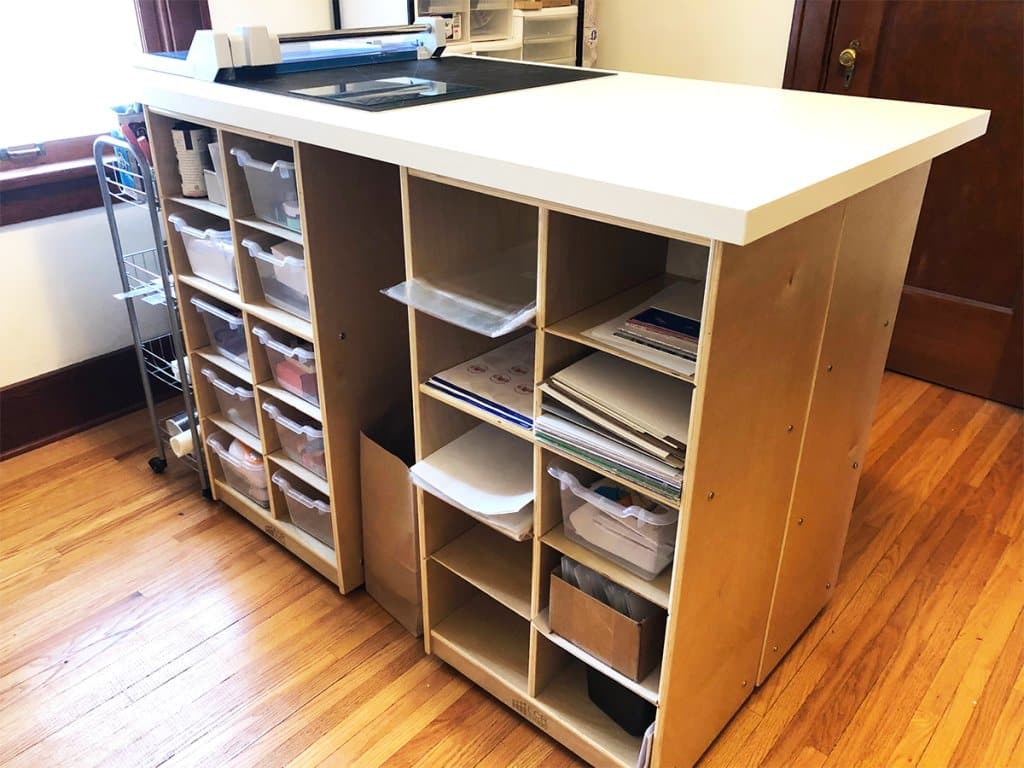 A standing desk helps keep your posture straight while providing ample storage to keep the craft essentials organized. These desks come with an adjustable height design, making them a convenient choice for people of all heights. This also reduces the strain on your back and neck. You can choose desks with manual or automatic height adjustment options. Some desks are designed with hooks and magnetic boards to keep handy tools organized and within arm's reach.
22. Fold Down Desk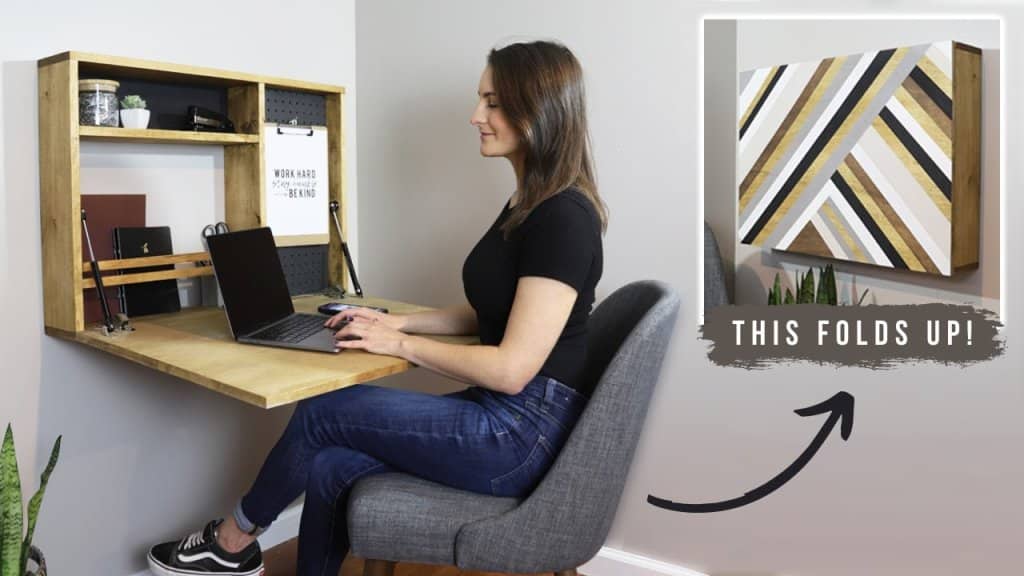 Fold-down desks are designed to be mounted on a wall that can be folded up when not in use. While being folded up, these look like generic wall-mounted units. To make one, choose a durable surface and attach it securely to the wall. When you want to work on your crafts, simply fold the desk down and continue your work. Add storage units around inside the wall itself for a sleek and functional look.
23. Sewing Machine Cabinet Desk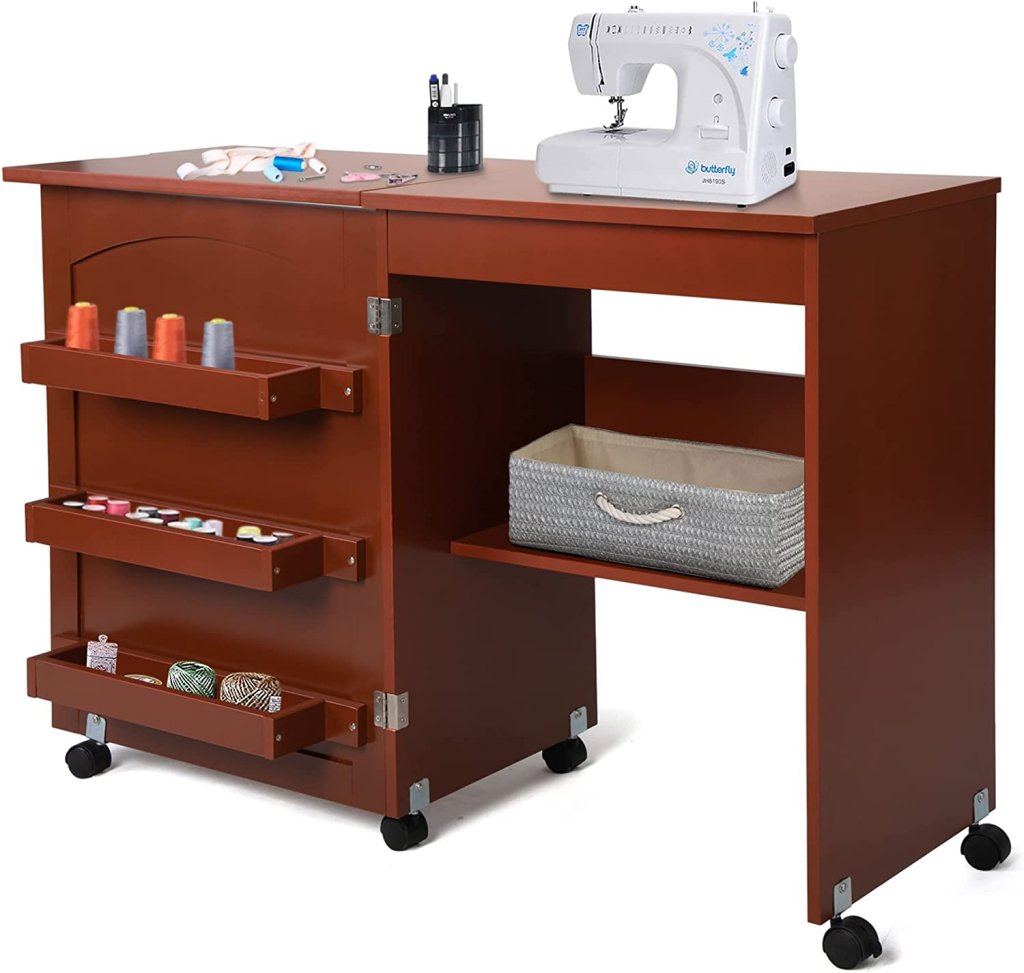 These desks are designed with a retractable platform that holds the machine that can be lowered or raised as required. These provide a dedicated space to complete your sewing projects while providing additional space to store your items easily. The desk also includes an additional storage area for you to organize fabrics and other sewing essentials. When the machine is not in use, you can use the tabletop to continue other crafts projects.
24. Corner Desk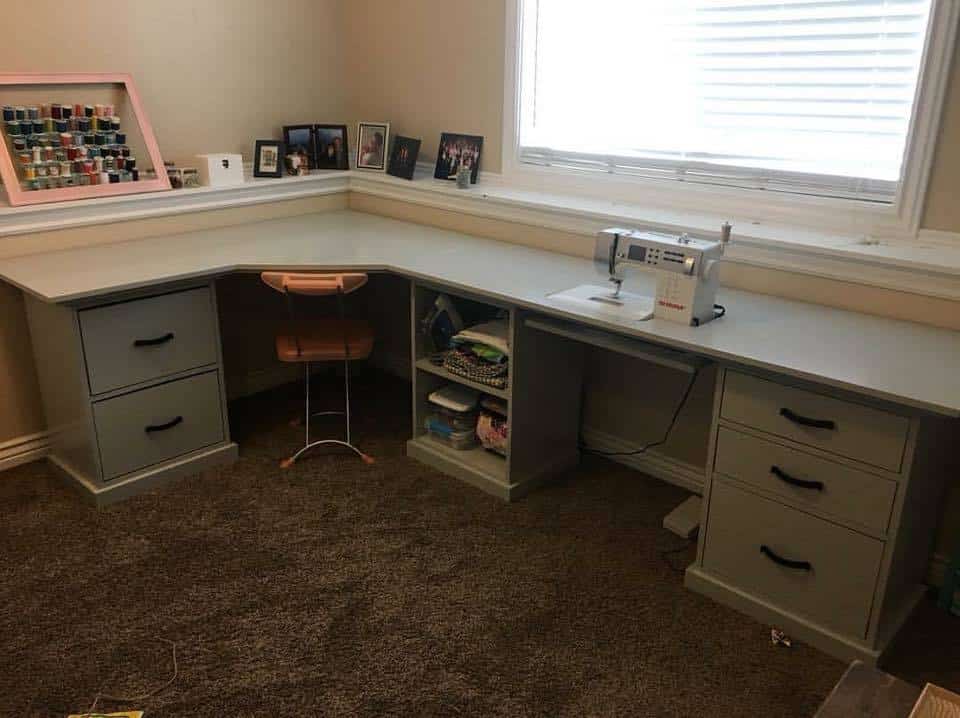 These desks are designed to be attached to a corner, thus maximizing the available floor area. This features a triangular or L-shaped design, providing ample space to do your projects. The desk provides multiple surface areas for different crafting activities. Add storage areas like shelves and cubbies to keep the craft supplies organized and accessible. You can even add pegboards and other solutions to keep the supplies handy.
Conclusion
We hope that our DIY Craft Desk ideas inspire you to create and customize your own crafts room. Having one in your workspace is essential for a fun crafting experience. From reusing old doors and foldable desks to sewing machine cabinets, there is an idea to create a desk for everyone.
Whether you want storage, ample workspace, or a vintage-inspired design for the room, our 24 craft desk ideas provide inspiration to suit your needs.
Take action, evaluate the craft room space with storage options, gather the necessary materials, and start building your desk. Get a new desk or repurpose older items. Customize the design to suit your budget, space, and crafting style that aligns with your creative side.
The satisfaction and enjoyment that comes from creating a desk that flows according to the room and matches your ideal space is bound to fuel your passion.
Happy crafting!