In the realm of interior design, the most pivotal part is played by choice of color. The color of the walls decides your furniture, curtains, and accessories. It's important to choose a color that brings serenity as it will affect your family members, and it also decides the ambiance of the house.
Benjamin Moore, a renowned pain manufacturer, has developed a huge variety of colors for people with different personalities and preferences. Healing Aloe by Benjamin Moore is one color that stands out in his collection due to its gentle and calming aura. It curates an oasis of tranquillity in any room. The soft green shade also has undertones of grey and blue. A soothing balance strikes the room, keeping the occupants refreshed and peaceful.
In this thorough review of the Healing Aloe by Benjamin Moore, we will explore its versatility and the applications of its unique characteristics in all living spaces. Let us dive into the serenity of Healing Aloe and transform your living space with this fascinating hue.
What Makes up The Healing Aloe?
Now that you know a little about the Healing Aloe by Benjamin Moore. Let us review more deeply the various characteristics and implications of this beautiful color. Several things can be considered when looking at a color, like the overtones and undertones. We will also look at the versatility aspect of this color and how it complements each aesthetic or accessory.
1. Soft Hue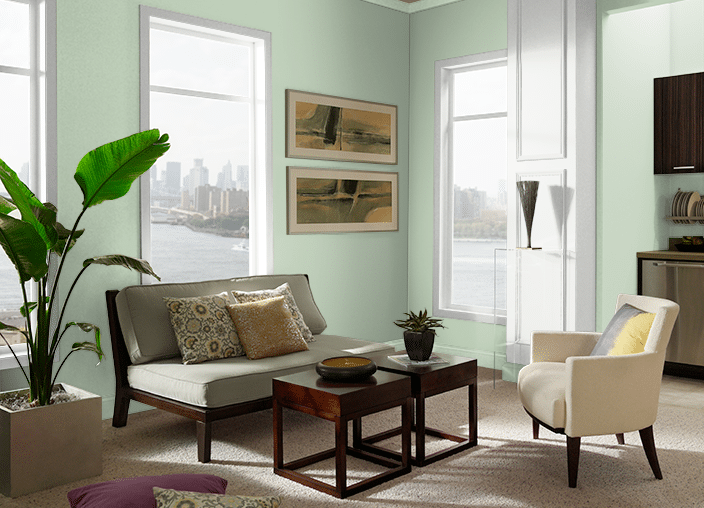 A delicate, muted green with darker undertones is what describes Healing Aloe the best. Unlike bold and vibrant greens, this color exudes a soothing backdrop for any space in your house. Hues are defined by the effect light has on the color and how it differentiates on the scale of red, green, and blue. Soft hues are somewhat synonymous to paste shades and exude an aura of coolness as well as peace.
2. Subtle Undertones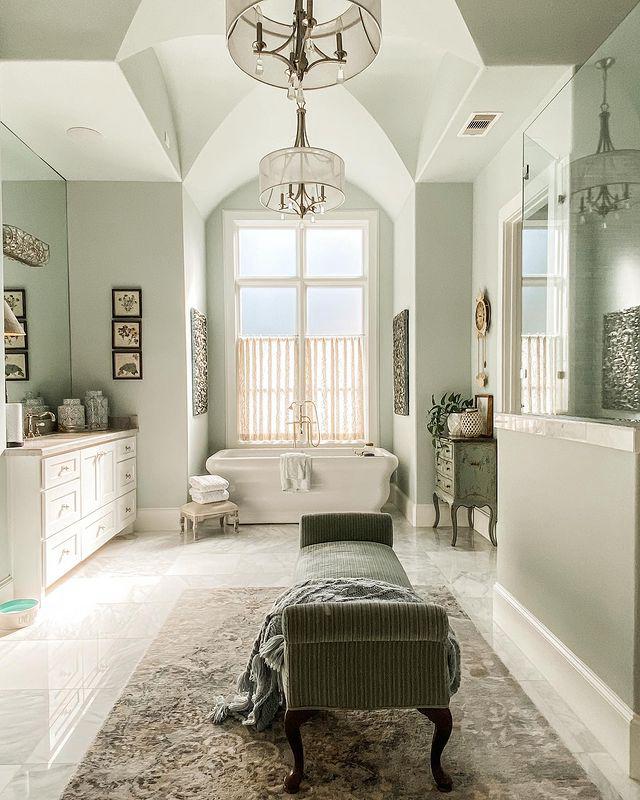 The color falls under the category of cool color tones that bring leave and calm to the atmosphere. A striking combination of green and blue feels reviving and brings a touch of sophistication to the decor. The green with grey undertone adds depth to the color and creates a multidimensional hue. The subtle touch of blue brings a cooling effect.
3. Versatility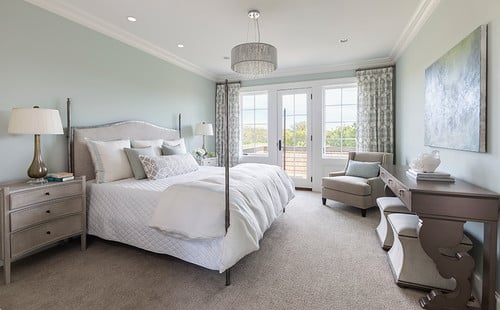 This color's unique and remarkable characteristic is its ability to complement various lighting. If you prefer a dimmer light, this color is perfect for creating a cozy ambiance. But if you want your space to get abundant natural light, Healing Aloe will create a crisp atmosphere. A seamless transition from day to night is what makes this color one of its kind.
4. Serenity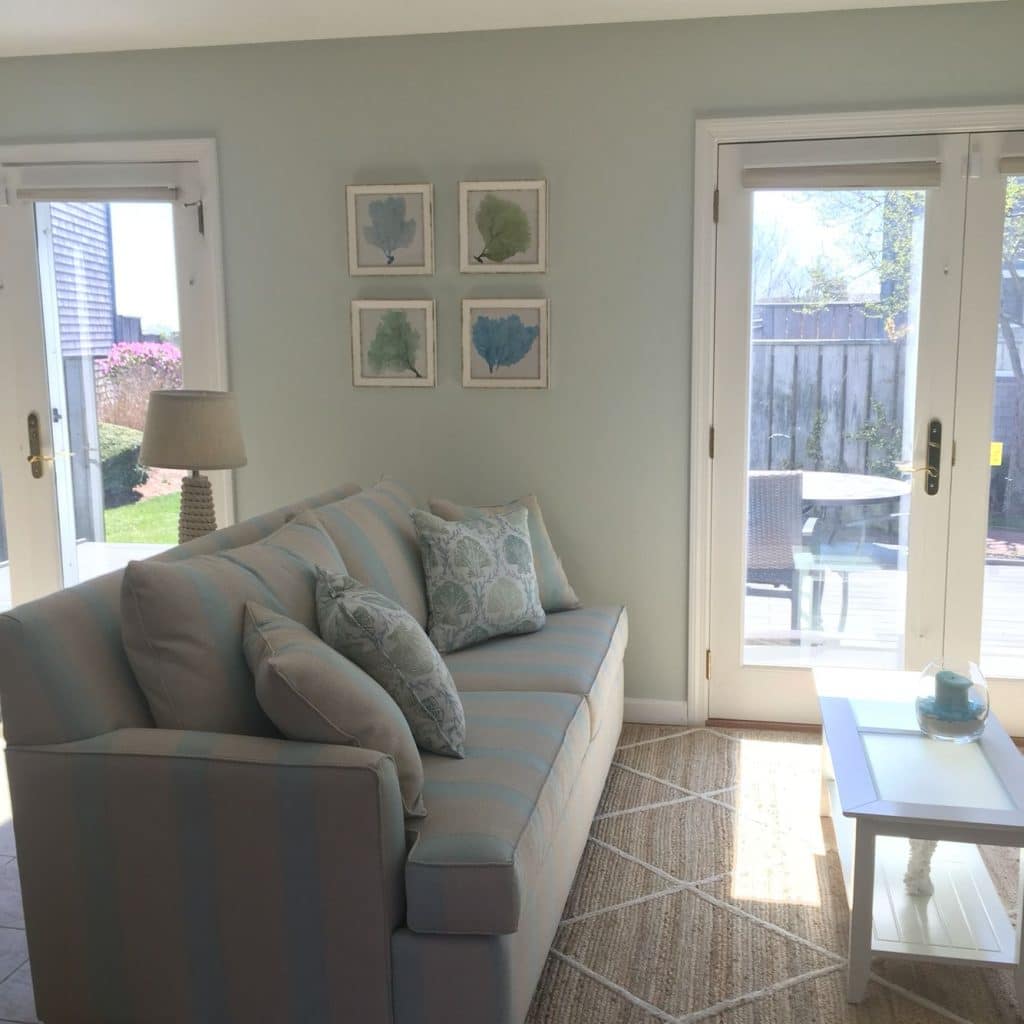 As already mentioned, Healing Aloe falls in the category of cool colors, which is why it creates a space fair where you can unwind and relax after a tiring day. It also rejuvenates and refreshes your mind. This is one of the reasons that this color is quite popular in choice for bedrooms and living rooms and helps in enhancing the overall serenity through multiple folds.
5. Complementary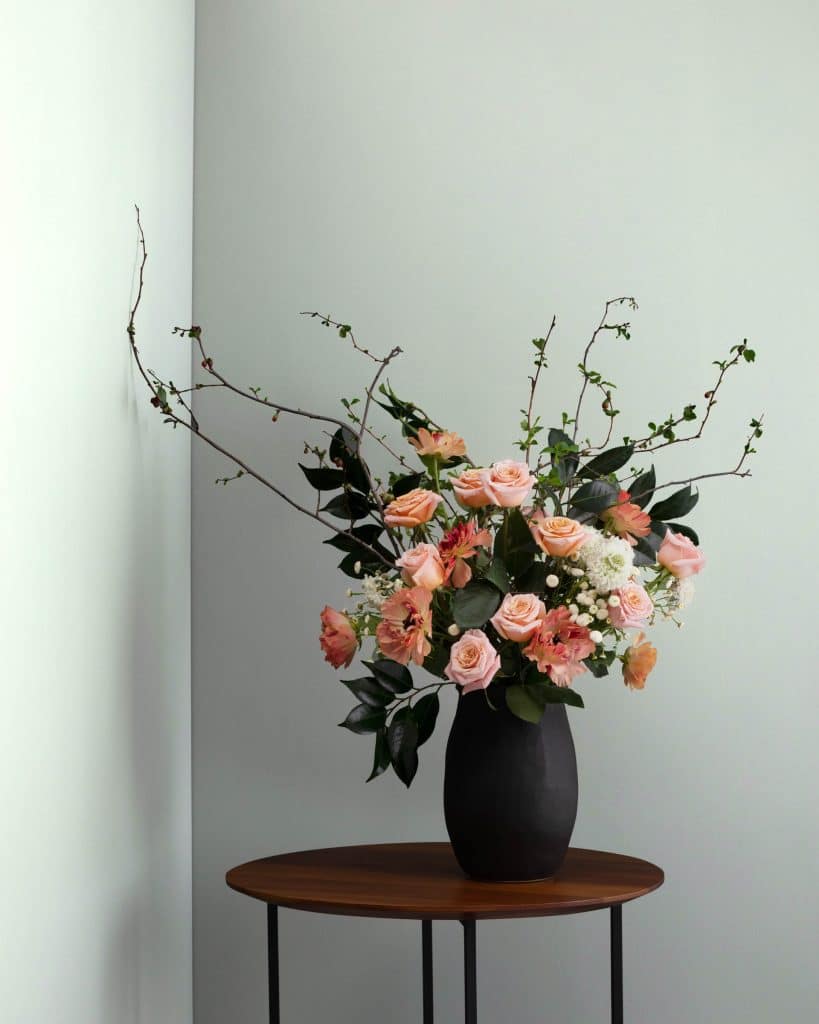 Along with being versatile with lighting, this color also complements a wide range of themes and color palettes. You can use it as a dominant color or as an accent without worrying about the colors being awkward. The best shades to go with Healing Aloe are earthy and neutral tones. This can be complemented well with different interior settings to make the setup entirely in your favor.
A Multifaceted Approach to Healing Aloe
Healing Aloe by Benjamin Moore exhibits extraordinary versatility, which in turn makes it suitable for different designs and styles. This adaptability to different aesthetics validates the appeal of this color. Let us explore different approaches in which this color can be used to create stunning interiors.
1. Contemporary Aesthetic
Clean lines and minimalism are what define a contemporary design. In this aesthetic, the key focus is on open spaces. Healing Aloe compliments this aesthetic beautifully with its cool tones, adding a refreshing backdrop. The blue and grey undertones create a sense of spaciousness and calmness in the room. It can be used on the walls or as accents to highlight the furniture and accessories of the space. Sleek and metallic furniture is ideal for the set-up.
2. Traditional Design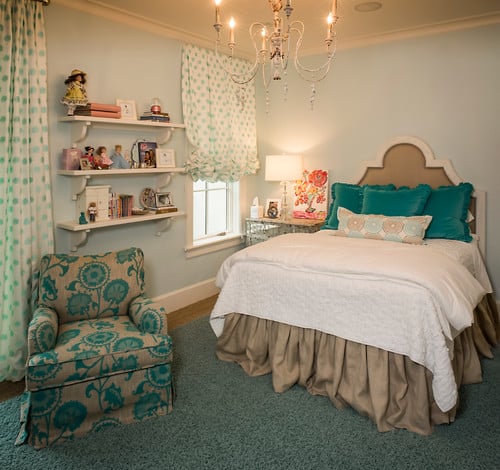 When it comes to traditional designs it's all about elegance and rich textures. They are not about minimalism but rather about neutral colors paired with bold accents to create a classic interior. Even with bold designs, the traditional aesthetic seems to bring peace and composure to the house. Whether it be four focal points or ceilings, Healing Aloe can be used in a traditional setting. It goes well with intricate wallpaper patterns, traditional molding, and wooden accents. Use neutral furniture and rich fabrics, like silk and velvet, to enhance the atmosphere. Fireplaces and shelves with a backdrop of this color are quite popular.
2. Transitional Design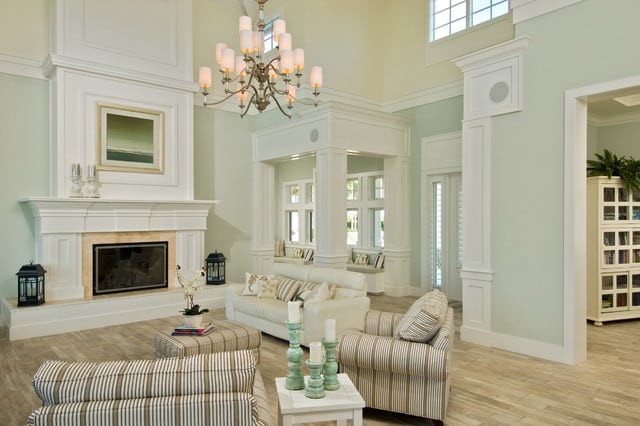 If we mix the best of contemporary and traditional aesthetics, we get that transitional design. A timeless space is created with the serenity of contemporary design and the richness of traditional design, which also bridges the gap between the two. Since the Healing Aloe by Benjamin Moore was suitable for both themes, it effortlessly blends with this design. Light-colored furniture, this color on the walls, and some modern accessories can create an amazing space for you to relax in your home. Ensure that there is a balance between the aesthetics and that one does not overpower the other.
Where and How to Use Healing Aloe?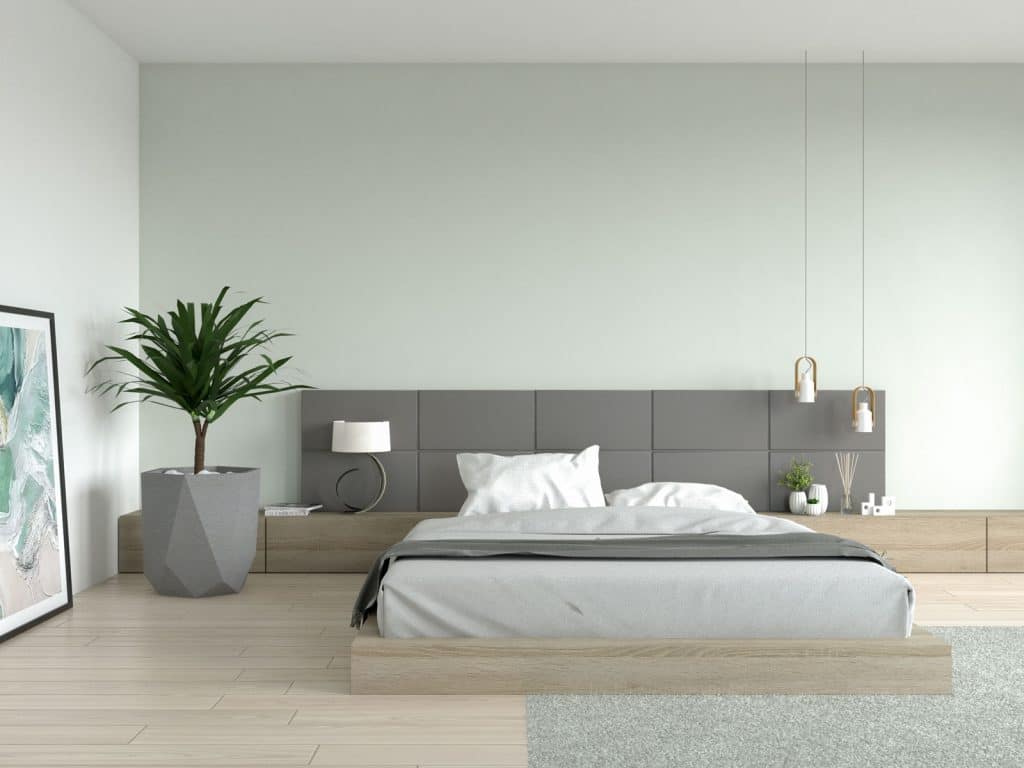 We have understood the characteristics of the color as well as how it compliments different types of aesthetics. With all this knowledge, you will be able to apply the color perfectly to increase the appeal of your home. Here are some ideas for you to explore.
1. Bedrooms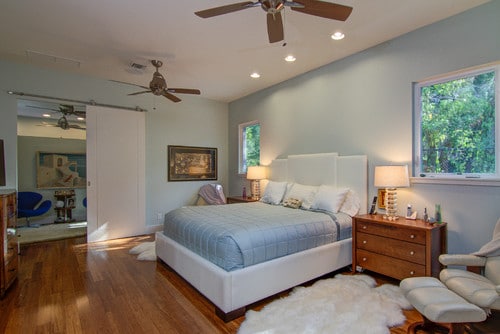 A bedroom is a place where one goes to rest and relax. It's important to maintain a calming atmosphere in your bedroom for you to get a restful sleep. Healing Aloe by Benjamin Moore is an ideal choice for bedrooms because it creates a tranquil ambiance in the room. Light-colored bedding and curtains will go perfectly with this color. You can use rattan furniture and wooden accents to improve the look. Pale blue accessories can also be added for an enhanced appeal.
2. Bathrooms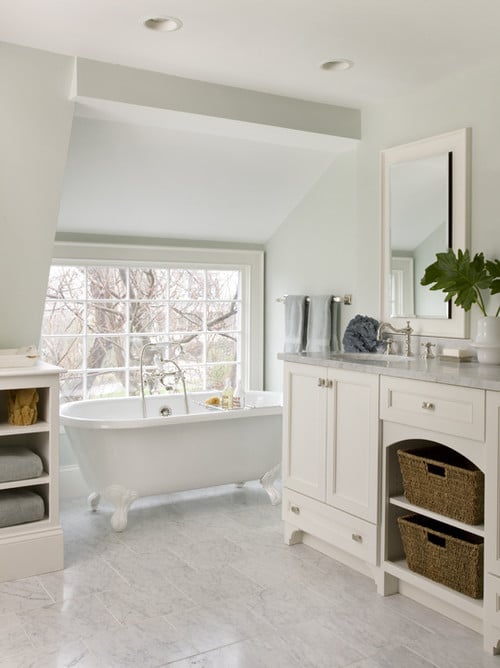 For a refreshing and rejuvenating start to the day, a good shower is a must. You can create a spa-like atmosphere within your bathroom using Healing Aloe. You can put tiles or paint the walls with this color along with stone elements to create a beautiful and serene oasis in your home. You scented candles, fluffy towels, and indoor plants around the basin to add a touch of luxury and uplift the bathroom experience.
3. Living Rooms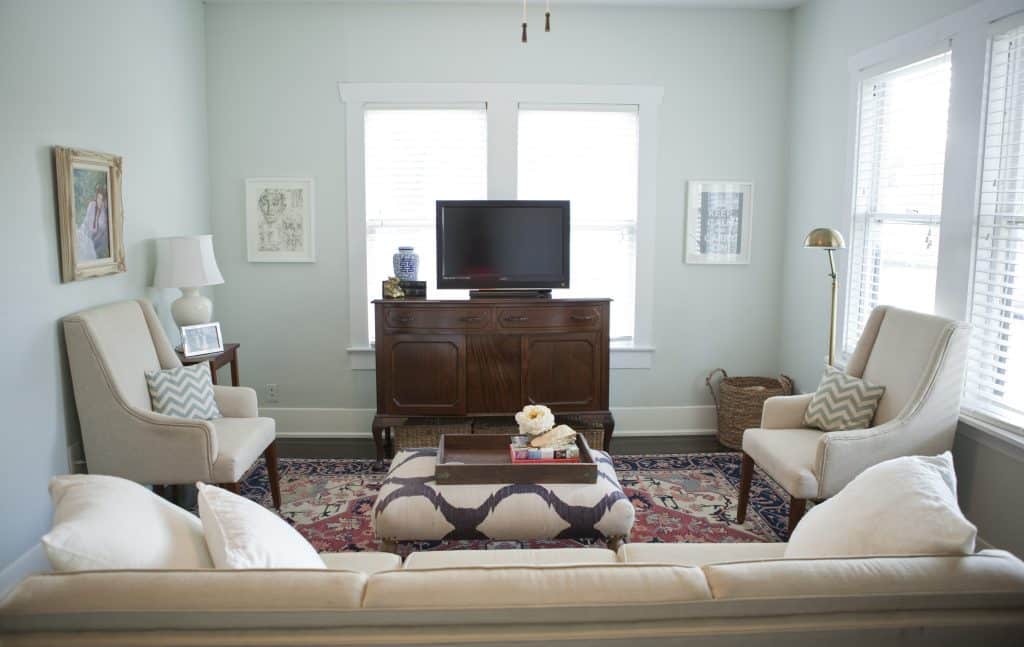 A space meant for you and your guests should be inviting and comforting. The living room is one of the first things anyone sees when they enter your home, and most of them will spend the majority of their time in your living room. Using Healing Aloe by Benjamin Moore brings comfort to the living room and creates the perfect space for entertaining and relaxing. It can be used as a backdrop for furniture or painted on the walls. Minimalistic upholstery and cozy textiles will amplify the beauty of the space.
4. Offices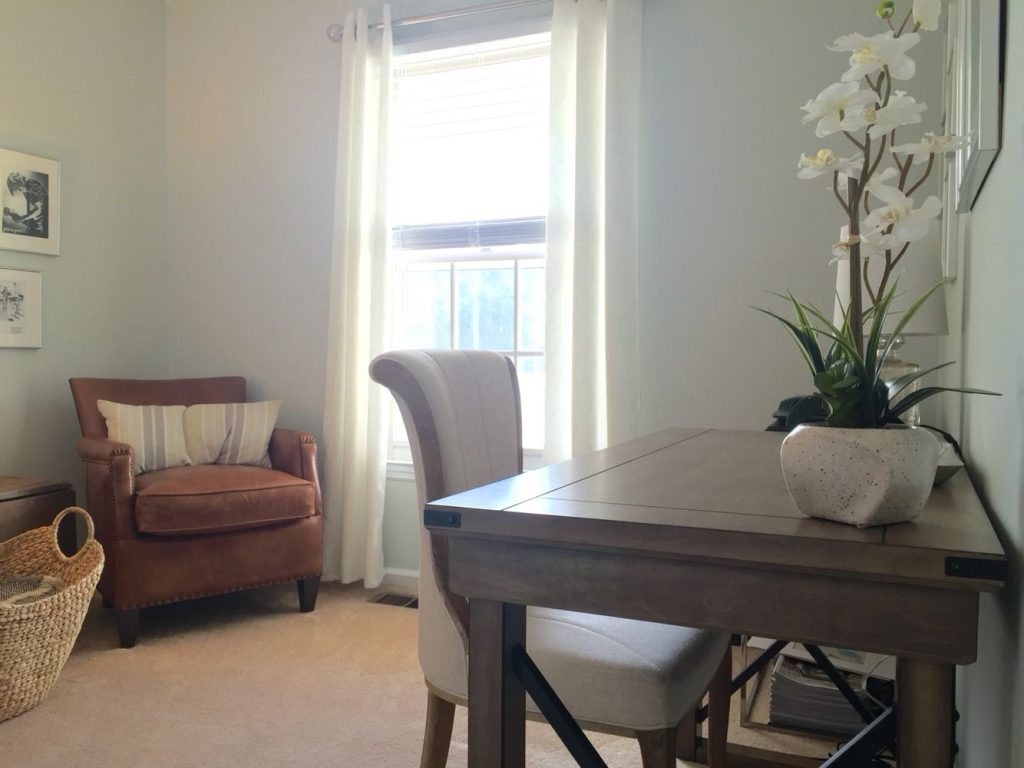 For a workaholic who works from home, it is necessary to have a home office where they can focus on their work and maintain their peace of mind. Home offices have now become a part of almost every household as they help in increasing productivity. Since the workload has been increasing recently, it's important to work in a peaceful environment, and Healing Aloe helps in creating the perfect workspace for the same. Add indoor plants and make sure that the room gets abundant natural light.
5. Dining Rooms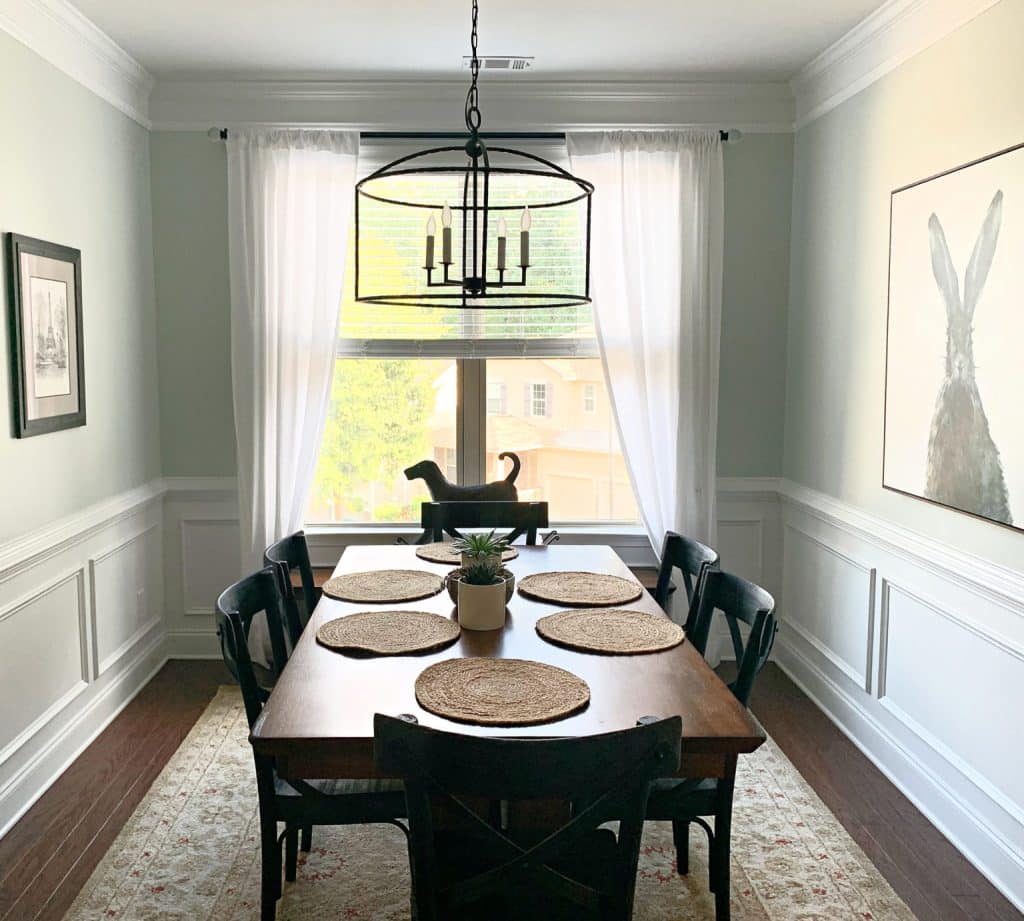 The dining area is meant for family to get together as well as for your close guests. A good dining area will enhance the appeal of your food and make it more enjoyable. Using Healing Aloe on the walls with wooden furniture and a big chandelier hanging over the table creates a luxurious yet sophisticated space for you to enjoy your food. Elements like white linen and soft tablewarewill help you curate an inviting atmosphere.
6. Hallways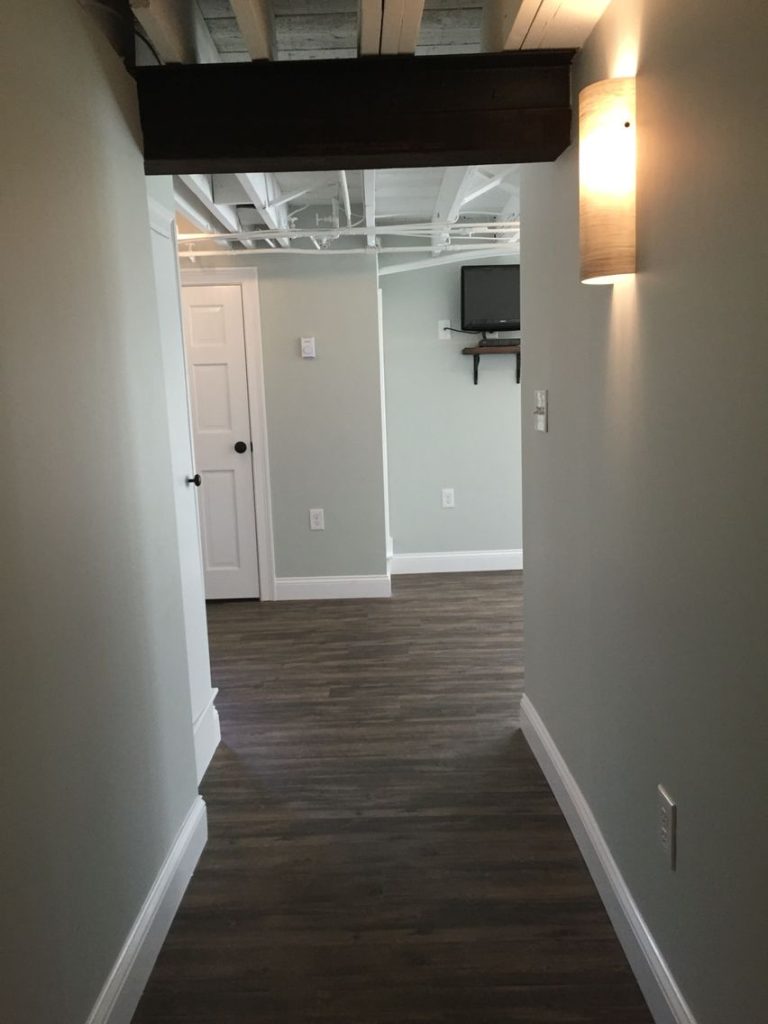 As it is popularly said that the first impression is the last impression, you should make sure that the entryway of your home is as spectacular as the rest of the interiors. A welcoming tone in the hallway will make your guests comfortable and relax their minds as well. As an accent or on walls, Healing Aloe will put your mind at ease as soon as you enter your home. With some statement art, pieces, and mirrors, you can always be transformed into a stylish one.
7. Healing Aloe as An Accent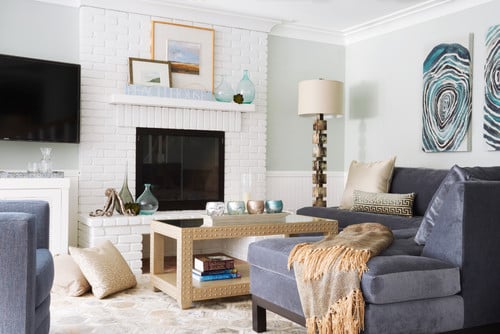 We have mentioned multiple times about Healing Aloe being used as an accent color. As beautiful as it looks as a primary color when used as an accent, it creates a cohesive space. You just need to wear the right furniture and accessories with this color to form a visually interesting space. Soft neutrals, muted greys, and pale blues or ideal for combining with this color.
In the realm of interior design, the right paint color can transform the whole area and the wife of your home. Benjamin Moore's Healing Aloe is not only just a captivating color but also brings tranquillity wherever it is applied. It adapts various designs, from contemporary to traditional, and everything in between. The calmness that exudes from this color transcends various other designs and styles. The versatility of Healing Aloe by Benjamin Moore lies in its ability to harmonize with various designs and styles. It does not matter if you are aiming for a contemporary or a traditional design; this color will work for you.
Whether it be for a relaxing and comforting sleep or concentrating environment, Healing Aloe can do it all. For living rooms where you want to unwind, it provides a serene atmosphere. Having it in your dining hall or your hallway sets a peaceful and welcoming tone in your home.
Conclusion
As we learned about the Healing Aloe, we got to know about Its cold tone and undertones which spring out its quality of adapting to various lighting. The blue and Grey undertones are responsible for the soothing ambiance. Whether it be on walls or as a furniture backdrop, this color brings harmony to any room. Talking about the versatility of Healing Aloe, it seamlessly blends with any design. You can use it for a cool backdrop in a contemporary interior or as an accent in a traditional setting. Due to it being compatible with both types of aesthetics, it is also ideal for a transitional design.
We can now say that we have explored every aspect of this color and how to use it to transform any living space into a sanctuary of calmness. So if you are new to interior designing or planning to renovate your home, consider incorporating the captivating charm of Healing Aloe by Benjamin Moore.
Unlock the transformative power of this color with your creativity.