Are your kitchen cabinets in need of a fresh and stunning makeover? Do you dream of a new and modern look that revitalizes your entire space? Look no further! This article will reveal the ultimate solution to your kitchen cabinet woes: White Paint. Imagine stepping into your kitchen and being enveloped by a bright, airy ambiance that effortlessly uplifts your spirits. White paint has been a popular choice due to its timeless appeal, versatility, and ability to brighten up any space. However, it becomes a tough job to select the perfect white paint for your cabinets.
Whether you prefer crisp, pure white, or warm, this guide to the best white paint for kitchen cabinets will help you make an informed decision. So, to help you give your kitchen cabinets a brand-new look, keep reading as we unveil the top white paints and bring your kitchen back to life.
Benefits of Using White Paint for Kitchen Cabinets
White paint for kitchen cabinets is truly a game-changer, offering a multitude of benefits that can transform your culinary space. Let's delve into the reasons why it's considered the best choice:
Timeless and Versatile Choice: White is a classic color that stands the test of time. It effortlessly adapts to evolving design trends, ensuring your kitchen cabinets remain stylish for years to come.
Brightens and Opens up the Space: White has a magical ability to reflect light, making even the smallest kitchen appear larger and airier. Say goodbye to cramped feelings and hello to a spacious cooking haven!
Complements Various Design Styles: Whether you prefer a modern, traditional, or eclectic look, white paint complements a wide range of design styles. It serves as a blank canvas, allowing you to incorporate other colors and accents into your kitchen décor effortlessly.
Creates a Clean and Cohesive Look: White cabinets evoke a sense of cleanliness and purity. They create a cohesive and uniform appearance, tying together the various elements of your kitchen for a polished and sophisticated look.
Enhances the Overall Value of the Kitchen: A kitchen with white cabinets exudes a sense of timelessness and elegance, enhancing the value of your home. It's an investment that not only beautifies your space but also boosts its resale potential.
With its timeless appeal, ability to brighten up the space, versatility in design, creation of a cohesive look, and enhancement of overall value, white paint for kitchen cabinets unquestionably emerges as the best choice for a stunning kitchen transformation.
Best White Paints for Kitchen Cabinets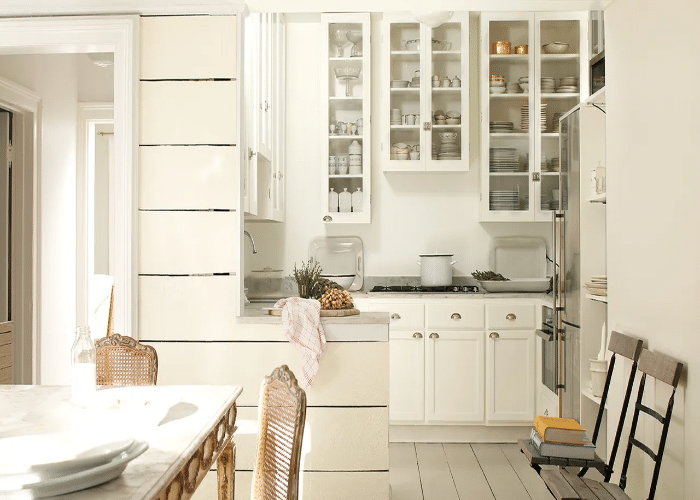 Considered one of the best white paint for kitchen cabinets, Benjamin Moore Advance Interior Satin Paint in the shade "Simply White" is a go-to choice for cabinet revamps. Its smooth and durable satin finish offers a sleek and modern look that enhances the overall appeal of the kitchen. With its advanced waterborne alkyd technology, this paint combines the smooth application of a water-based product with the excellent adhesion and durability of oil-based paint. What sets Simply White apart is its versatile nature.
This shade exudes a clean, bright aura that effortlessly complements various kitchen styles, from modern and contemporary to traditional and farmhouse. Its warm undertones prevent it from appearing stark or sterile, creating a welcoming and inviting atmosphere. Revamp your cabinets with Benjamin Moore Advance Interior Satin Paint in Simply White, and experience a transformative upgrade that will breathe new life into your culinary space.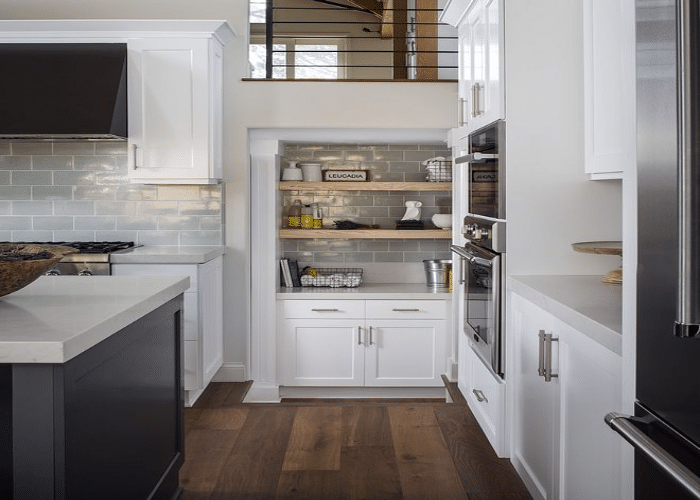 When it comes to the best white paint for kitchen cabinets, Sherwin Williams Extra White is a timeless favorite among homeowners and professionals alike. With its clean and crisp appearance, this paint color effortlessly breathes new life into any kitchen space. The brilliance of Sherwin Williams Extra White lies in its ability to create a fresh and modern look while maintaining a sense of timelessness.
Its pure white hue provides a beautiful backdrop for various kitchen styles, from contemporary to traditional. Not only does Sherwin WIlliams Extra White offer exceptional coverage and durability, but it also boasts a smooth and uniform finish. Its water-based acrylic-alkyd enamel formula ensures long-lasting beauty and easy maintenance, making it a reliable choice for high-traffic areas like kitchen cabinets.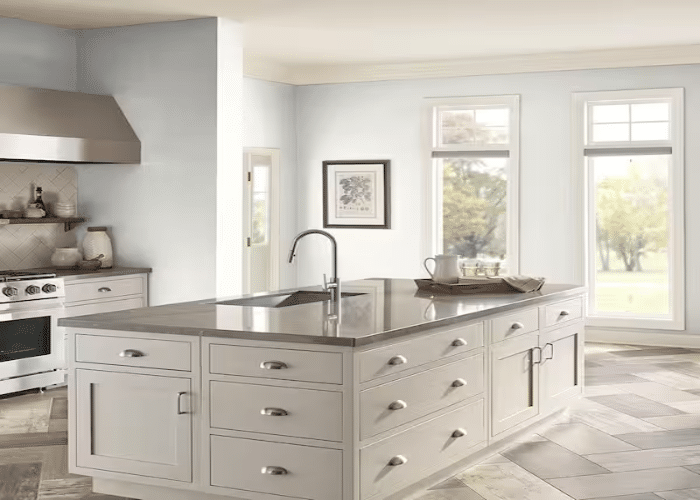 Behr Premium Polar Bear is one of the best white paint for kitchen cabinets, as it stands out as a top choice. This premium paint offers a soft and pure white hue, perfect for those who are seeking a bright transformation in their culinary space. It's exceptional coverage and smooth finish ensure a professional result, enhancing the overall aesthetics of your cabinets.
With Behr Premium Polar Bear, you can effortlessly transform your kitchen into a bright and inviting haven. Its durable and stain-resistance formula guarantees long-lasting beauty, making it an ideal choice for high-traffic areas. Embrace the elegance of Behr Premium Polar Bear and evaluate your kitchen's style to new heights with its exceptional white paint.
The Furrow & Ball Estate Eggshell in the shade "All White" is the epitome of sophistication when it comes to transforming your kitchen cabinets. Renowned for its exceptional quality and luxurious finish, this premium paint option surpasses expectations. Not only does it deliver a stunning aesthetic, but it also provides a durable and washable surface that withstands the hassles of everyday use.
The eggshell sheen strikes the perfect balance, imparting a subtle luster that elevates the overall appearance of your cabinet while ensuring a consistently smooth finish. With the Farrow & Ball Estate Eggshell in "All White," you can effortlessly achieve an elegant and refined look that will leave a lasting impression in your kitchen.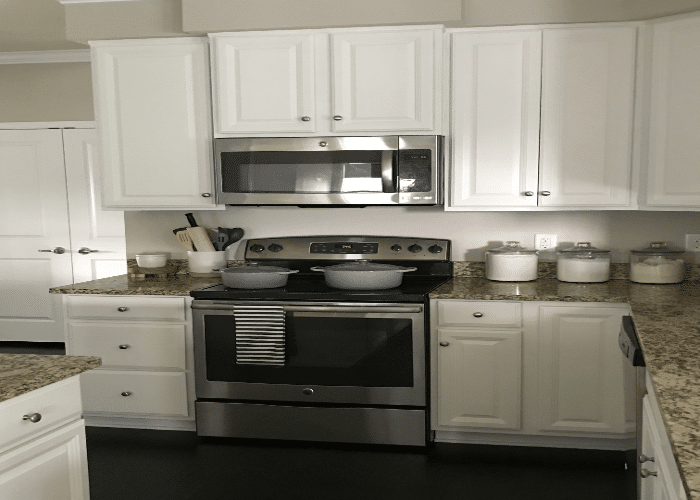 Valspar Cabinet Enamel in the shade "Swiss Coffee" is a semi-gloss latex paint that delivers exceptional results on kitchen cabinets. Its smooth and durable finish withstands daily wear and tear, making it an ideal choice for high-traffic areas.
The beautiful shade of "Swiss Coffee" offers a warm, creamy white that complements various kitchen styles. Valspar's Cabinet Enamel provides excellent coverage and is easy to clean, making it a reliable option for achieving a polished and inviting kitchen space.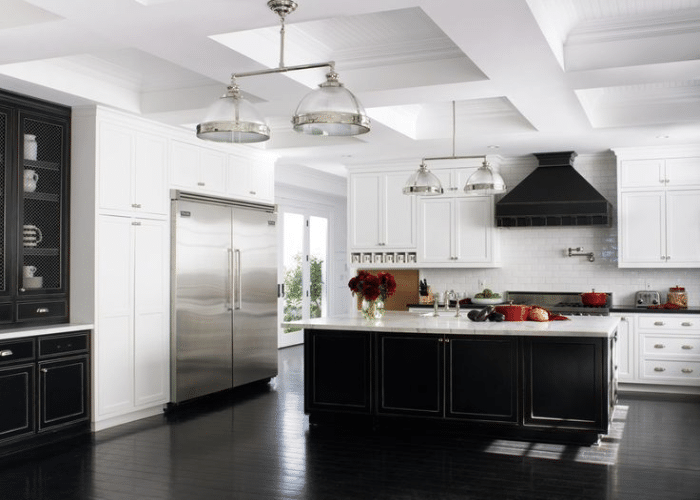 Dunn-Edwards Aristowall Semi-Gloss Enamel in the color "Whisper White" is a versatile paint choice for kitchen cabinets. The semi-gloss enamel provides a shiny and lasting finish that resists stains and dings, ensuring everlasting beauty.
The bright and crisp white shade adds a fresh and modern touch to any kitchen design. With its extraordinary coverage and high-quality formula, Dunn Edwards Aristowall Semi-Gloss Enamel is a reliable option for achieving a sleek and contemporary look.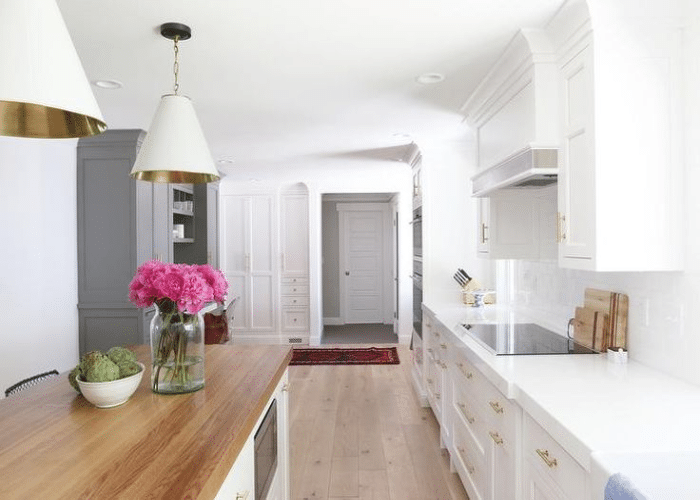 Benjamin Moore in the shade Chantilly Lane is a standout option among the best white paint for kitchen cabinets. Its extraordinary quality and beautiful hue make it a top choice for those seeking a crisp and clean look.
With its smooth application and durable finish, Chantilly Lace effortlessly transforms kitchen cabinets into timeless focal points. The pure white shade complements various design styles and ensures a stunningly bright and fresh appearance. Elevate your kitchen's aesthetic with the elegance and sophistication of Benjamin Moore Chantilly Lace.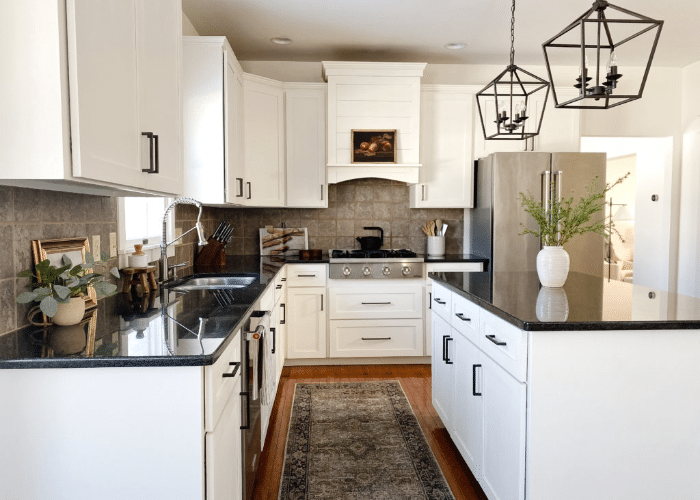 Sherwin Williams' Alabaster is also one of the best white paint for kitchen cabinets. It stands out as an epitome of elegance. This creamy and soft white hue brings a touch of sophistication to any kitchen space. Its versatile nature allows it to complement various design styles, from traditional to modern.
Alabaster Sherwin Williams creates a warm and inviting atmosphere, making it an excellent choice for those seeking a timeless and refined look for their kitchen cabinets. Its smooth finish and impeccable coverage ensure a flawless transformation that will leave your cabinets looking truly remarkable.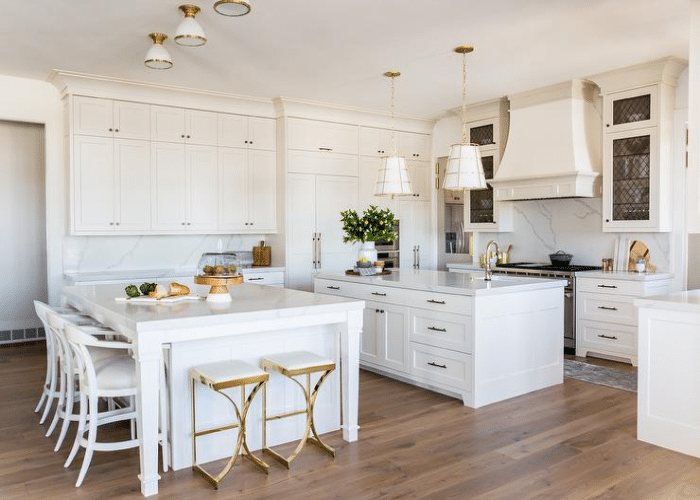 When it comes to the best white paint for kitchen cabinets, Sherwin Williams Snowbound is a top contender. This crisp, clean white hue brings a sense of urbanness to any kitchen space. With its subtle undertones, Snowbound offers a versatile backdrop that complements various design styles, from contemporary to farmhouse.
Its silky smooth application and lasting finish make it an excellent choice for revamping your kitchen cabinets, ensuring a timeless and fresh look that will withstand the test of time. Try Snowbound and witness the beautiful transition it brings to your culinary haven.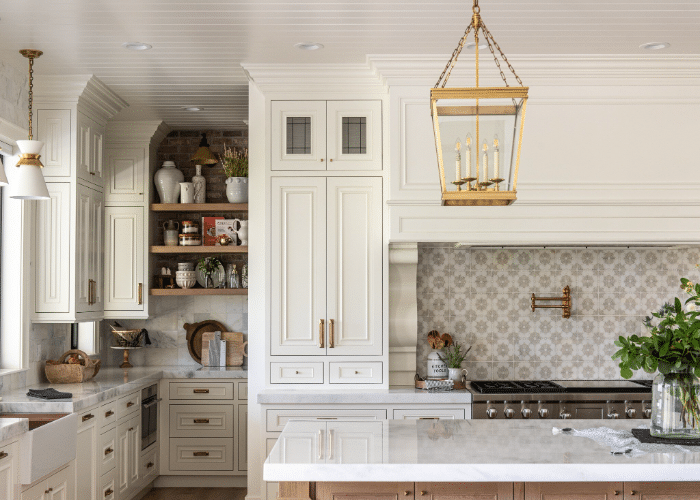 The iconic Benjamin Moore White Dove effortlessly elevates your kitchen space which makes it the best white paint for kitchen cabinets. This fan-favorite paint brings a touch of classic elegance to your culinary space. It's warm undertones and creamy finish creates a welcoming and timeless look.
It brings out a variety of design styles, from traditional to modern farmhouses. Trust us; your cabinets will thank you for this classy makeover! Renowned for its smooth application and excellent coverage, White Dove is a top choice for everyone.
Step-By-Step Walkthrough: Painting Kitchen Cabinets with White Paint
1. Preparing Cabinets for Painting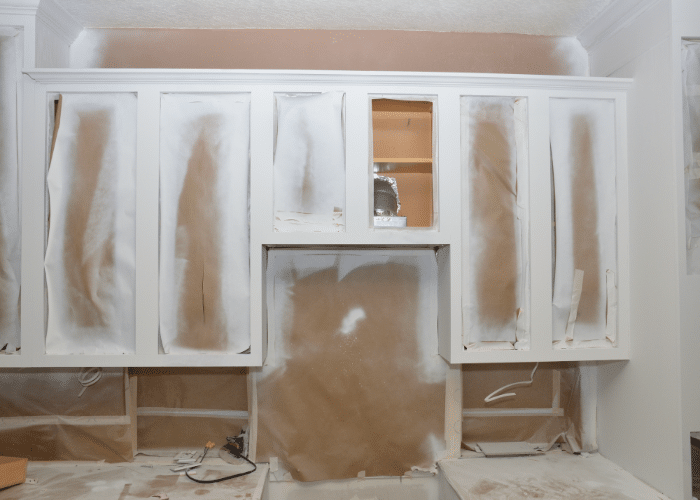 Before diving into the painting process, properly preparing your kitchen cabinets is crucial. Start by removing all cabinet doors and hardware, giving them a good cleaning to remove grease and grime. Lightly sand the surfaces to create a smooth base for the paint to adhere to. Don't forget to wipe away any dust before moving on to the next step.
2. Choosing the Right Tools and Techniques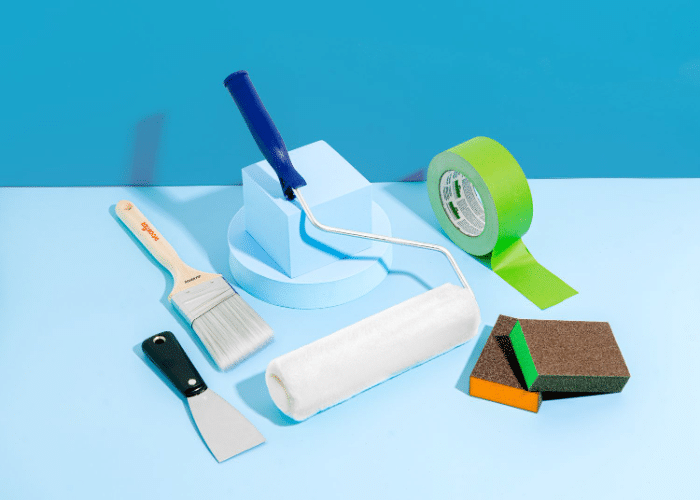 To achieve the best results, invest in high-quality brushes or rollers specifically designed for cabinet painting. Opt for a synthetic bristle brush or a foam roller for a smooth and even application. Consider using a primer for better adhesion and coverage, especially if your cabinets have a dark or glossy finish.
3. Steps for Painting Kitchen Cabinets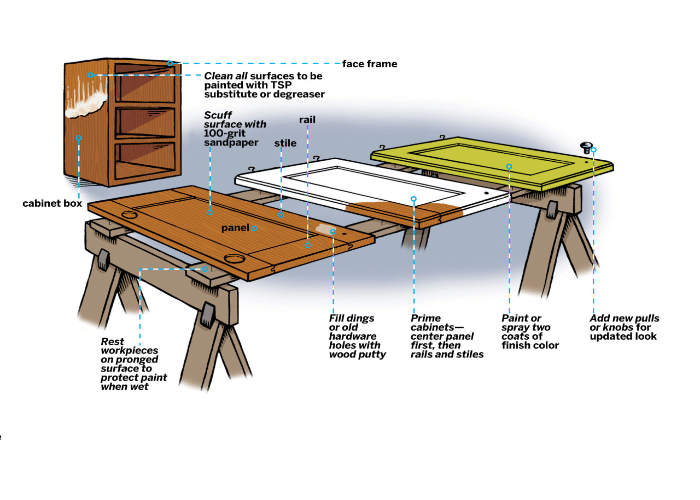 Start by applying a thin and even coat of primer to all the surfaces, allowing it to dry completely.
Once the primer is dry, begin painting the cabinet doors, drawers, and frames with the chosen white paint, working smooth and consistent strokes.
Apply multiple thin coats of paint, allowing each coat to dry before proceeding to the next one.
For a professional finish, consider lightly sanding between coats to remove imperfections and ensure a smooth surface.
Once you're satisfied with the coverage and finish, allow the paint to cure fully before reattaching the cabinet doors and hardware.
Pro Tips to Ensure a Flawless and Polished Look
Work in a well-ventilated area to ensure proper air circulation.
Take your time and be patient during each step of the painting process.
Avoid heavy-handed brushstrokes or excessive paint application to prevent drips and streaks.
Consider using a paint additive like Floetrol to minimize brush or roller marks.
Pay attention to drying and curing times as per the paint manufacturer's instructions.
The Transformational Power of White Paint for Kitchen Cabinets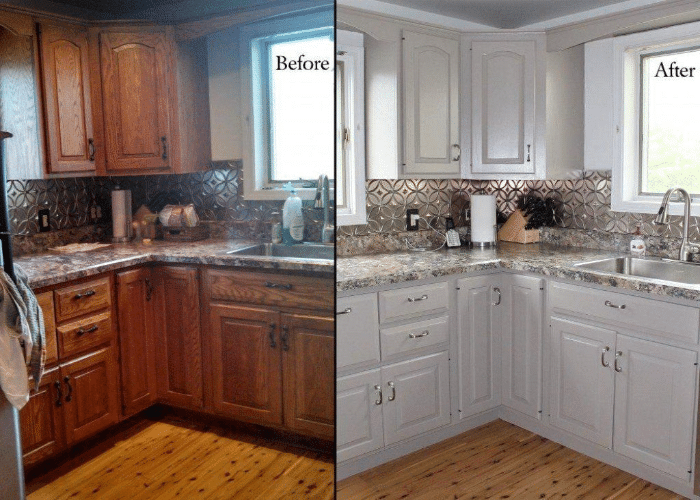 The dull and outdated cabinets transformed into the kitchen's bright, fresh focal points through the best white paint for kitchen cabinets, as depicted in the image, showcases the power that they can add to give the kitchen cabinet the required makeovers. The power of white paint is truly remarkable, as it holds the power to breathe new life into even the most tired-looking cabinets.
From modern and sleek to charmingly rustic, white cabinets can elevate any kitchen style. Bid farewell to lackluster cabinets that bring down the mood, and welcome the illuminating effects of the finest white paint through such ideas to take your kitchen aesthetics to reach new heights of beauty.
Conclusion
From the timeless elegance of Benjamin Moore Simply White to the Versatility of Sherwin Williams Snowbound, these paints have proven their ability to revamp and rejuvenate cabinets with stunning results. Whether you're planning for a sleek and modern look or a cozy farmhouse aesthetic, there is a perfect white paint on this list to suit your style.
The power of the best white paint cannot be overstated to transform your kitchen cabinets. It's the secret ingredient that can breathe new life into your culinary space, making it feel brighter, fresher, and more inviting. Invest in the best white paint for kitchen cabinets and embark on a transformative journey that will leave you inspired to cook, entertain, and create lifelong memories in your beautiful, refreshed space. Get ready to enjoy the magic of a stunning kitchen makeover! Let us know in the comments which one is your favorite white paint!
Frequently Asked Questions
How to Choose the Perfect Color for Kitchen Cabinets?
When choosing a kitchen cabinet color, consider the overall style and ambiance you want to create. Opt for a color that complements your kitchen's existing elements, such as countertops, backsplash, and flooring, while also reflecting your personal taste and preferences.
What are the Color Trends for the Kitchen in 2023?
In 2023, the kitchen color trends are leaning towards a mix of warm and cool tones. Earthy and neutral shades like warm greys, soft greens, and creamy whites are popular, while pops of bold colors such as deep blues or vibrant yellows are being used as accent colors to add personality and visual interest to the space.
What Kind of Paint is Recommended for Kitchen Cabinets?
A high-quality, durable paint with a finish suitable for kitchen cabinets is recommended. Specifically, using enamel or acrylic-based paint with a semi-gloss or satin finish is ideal for kitchen cabinets, as it offers excellent durability, easy cleaning, and a smooth, attractive appearance.