Organizing your wedding is unnerving – we get it! It's not just about deciding the guest list, food, and vows. Where you host your wedding is a tough call to make. But if you are among the smart people who decide to use their own backyard for the same, congrats!
Hosting a wedding in your backyard, if space permits, can be a super useful and innovative idea that can essentially save you a lot of money. There are a lot of advantages to it, but it is the lack of planning that can mess things up. In this segment, we have prepared a list of some similar ideas that you can plan around to throw a mega treat for the upcoming big day.
Here is a list of 21 DIY backyard wedding ideas on a budget that will surely be worth your effort, time, and money for a wedding that remains etched not only in your and your partner's hearts but also in the hearts of your guests.
Creative DIY Backyard Wedding Ideas on a Budget
1. Mark a Focal Point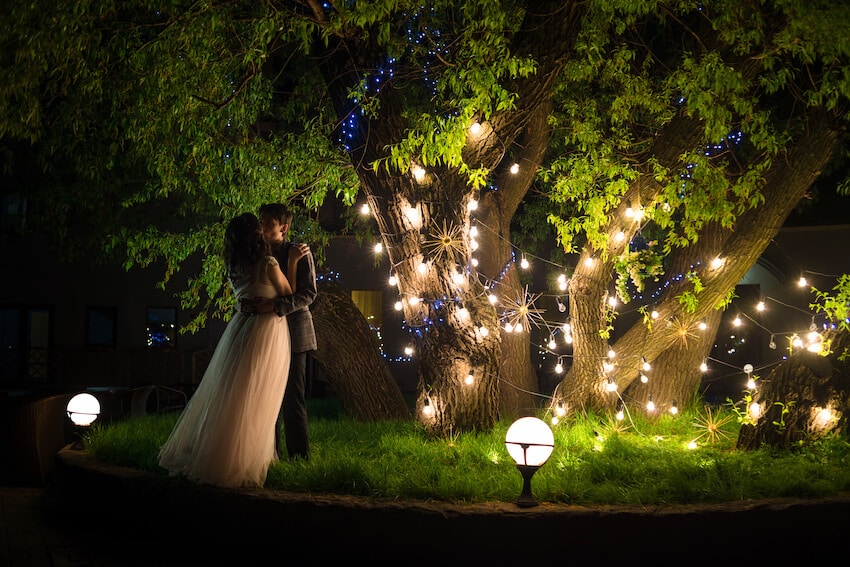 Focus on one area or object in your backyard that acts as the central point of attraction. Whether extensive or not, being an open space, a backyard usually contains an array of features that might seem more or less distracting in a wedding venue. Thus, highlighting one focal point is one of the best backyard wedding ideas that is simple to arrange.
You could highlight one of the trees in your backyard by lighting it up with fairy lights or install a podium where the actual ceremony takes place. You can either keep it minimal or make it a resplendent affair – either way.
2. Wedding Arch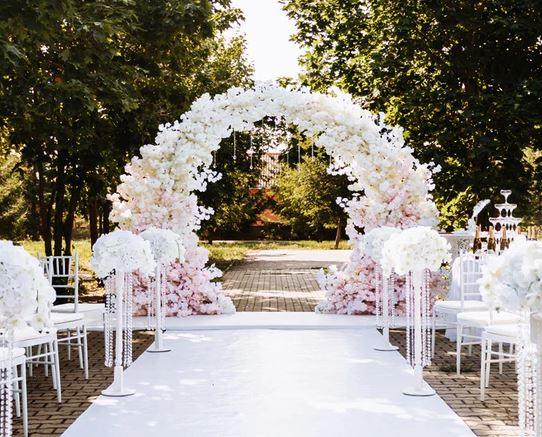 There is probably no other decoration that can replace the old-world charm of a DIY wedding arch at a backyard wedding. The best part? You can be as creative in creating a wedding arch as you want! Decorate them with floral hangings, hang down strings of pictures of your best memories, or let macrame hangings do all the show – there are endless ideas that you can incorporate! Other unique ideas you can try for a wedding arch include using a floral arch made of garlands or a combination of balloons and shrubs.
3. Use Furniture for Decor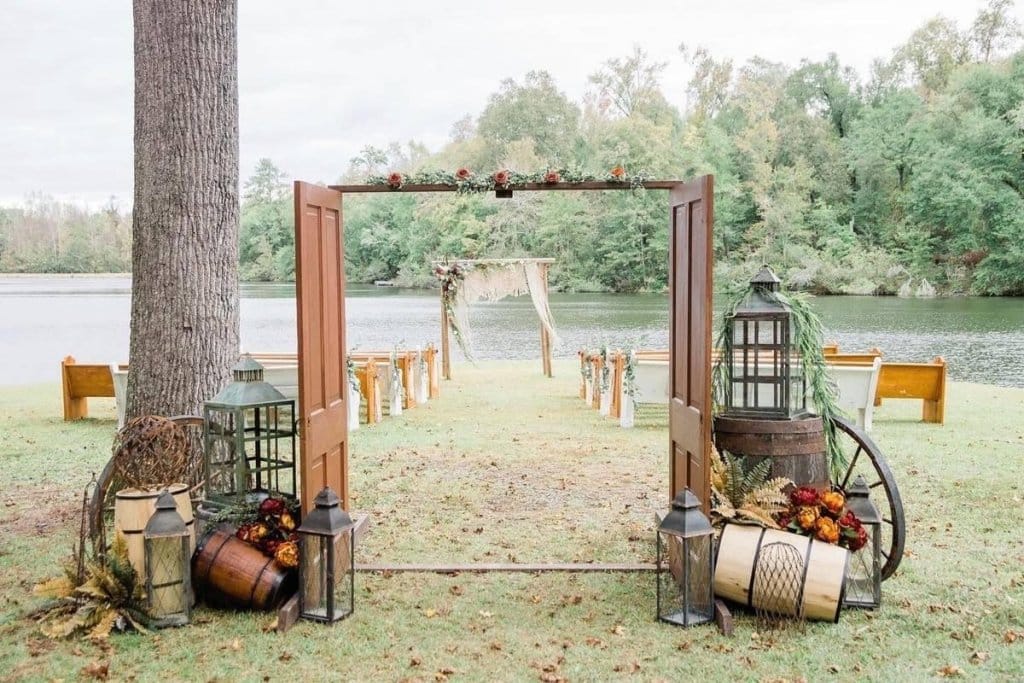 Apart from being utilitarian, pieces of furniture can serve as elegant wedding decor. Who said you have to stick to rustic or vintage pieces? You may either buy or rent small decorative movable, or you can skilfully utilize your indoor furniture for the purpose. You can choose to either keep it plain and simple or decorate them with florals or other adornings. Place a few wedding cards, wedding itineraries, or a memory book on top where guests can pen down their memories with you!
4. Self-Serving Snacks and Drinks Counter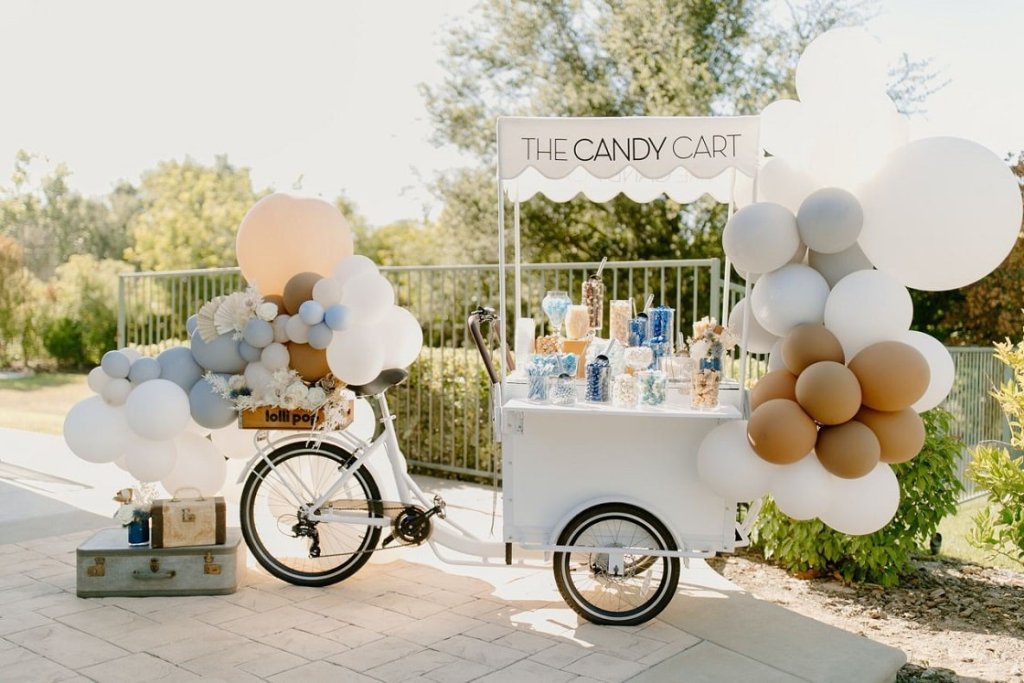 Serve signature local cuisine to your guests at the self-serving food snacks and drinks counter. While your guests can enjoy light snacking in between the wedding programs, a food cart and drinks bar doubles up as creative wedding furnishing. Put up cute sticky notes stating one-liners that remind your friends and family of a funny incident at lunch or dinner that you'll have enjoyed together.
5. Outdoor Games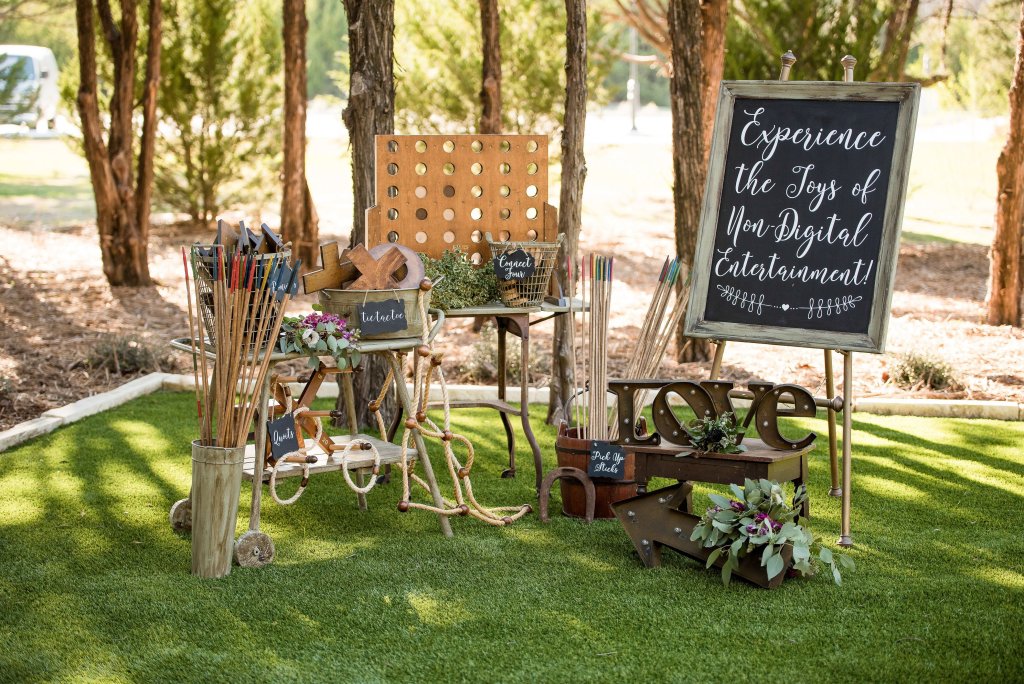 You thought a low-scale backyard wedding would be boring? Well, it's time to think again! Think of fun backyard wedding ideas by keeping games your friends and family can play outdoors without tampering with decorations.
Yes, we are talking about Scrabble, Jenga, 3D Tic Tac Toe, and other board games. These games keep your guests entertained, including children, so they don't run around spoiling other decorations by mistake.
6. Light It Up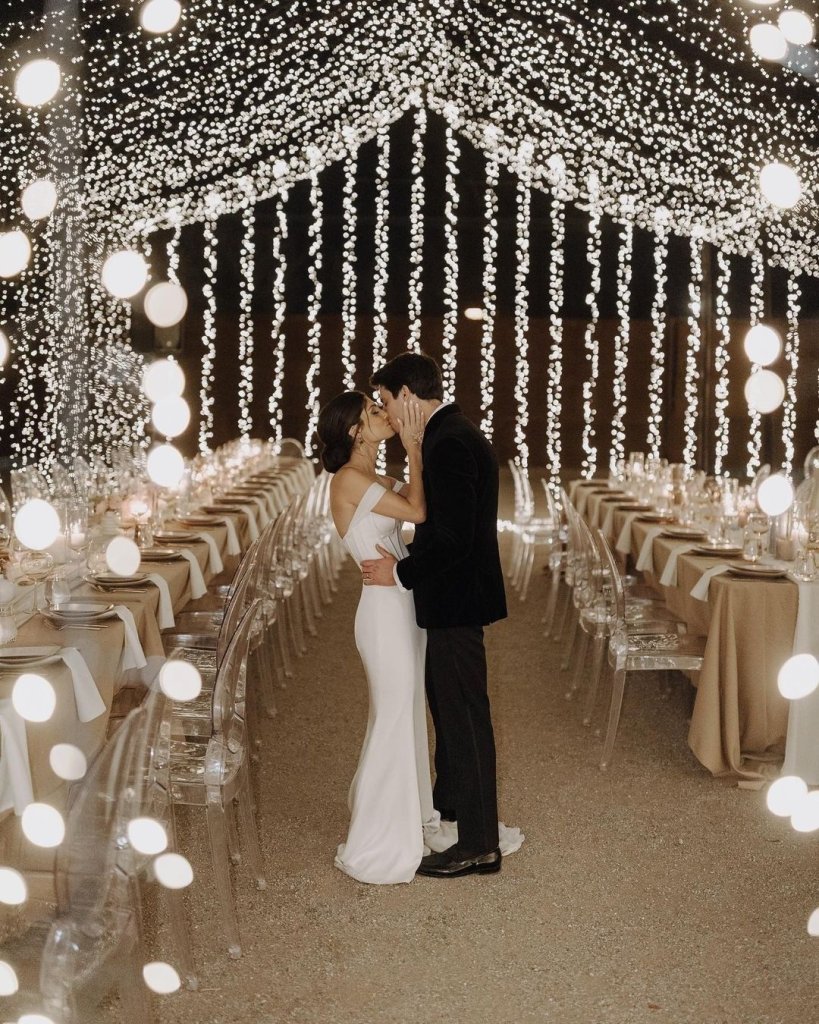 Play with lights at your wedding as pompously as you want to! Fairy lights, string lights, vintage style hurricane, or patio lights – use one type or mix and match for a dreamy wedding that you've dreamt of since childhood.
Accessorize the trees and tables, and furniture by garlanding them with strings of lights or by hanging them. Hang these string lights from the wedding arch and tented ceiling, and turn your basic backyard into a classic venue that your friends will vie for.
7. Tented Ceiling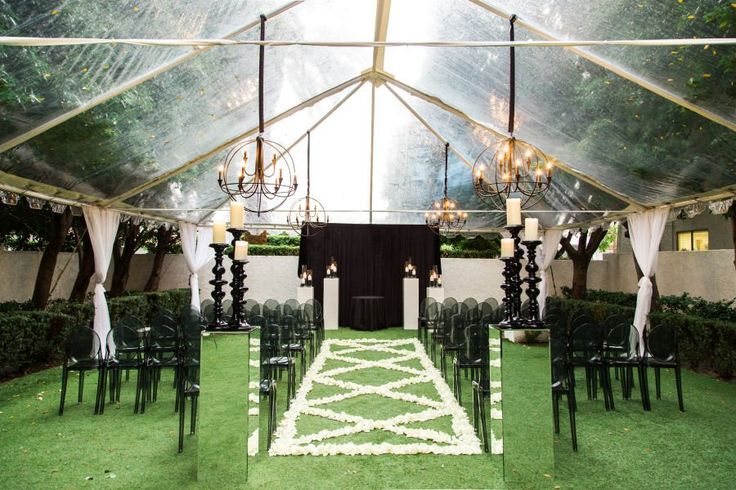 One of the best backyard wedding ideas we vouch for! And why wouldn't we? It not only gives a grandeur vibe if done correctly but also acts as an emergency backup for the unannounced downpour.
Glam it up with macrame hangings, floral hangings, a piece of an exquisite chandelier, hanging Chinese lights, or hanging pendant lights. Or, make a collage of pictures of your courtship period and print it on the cloth that you will use for making the tented top for a touch of nostalgia.
8. Wood Wedding Signs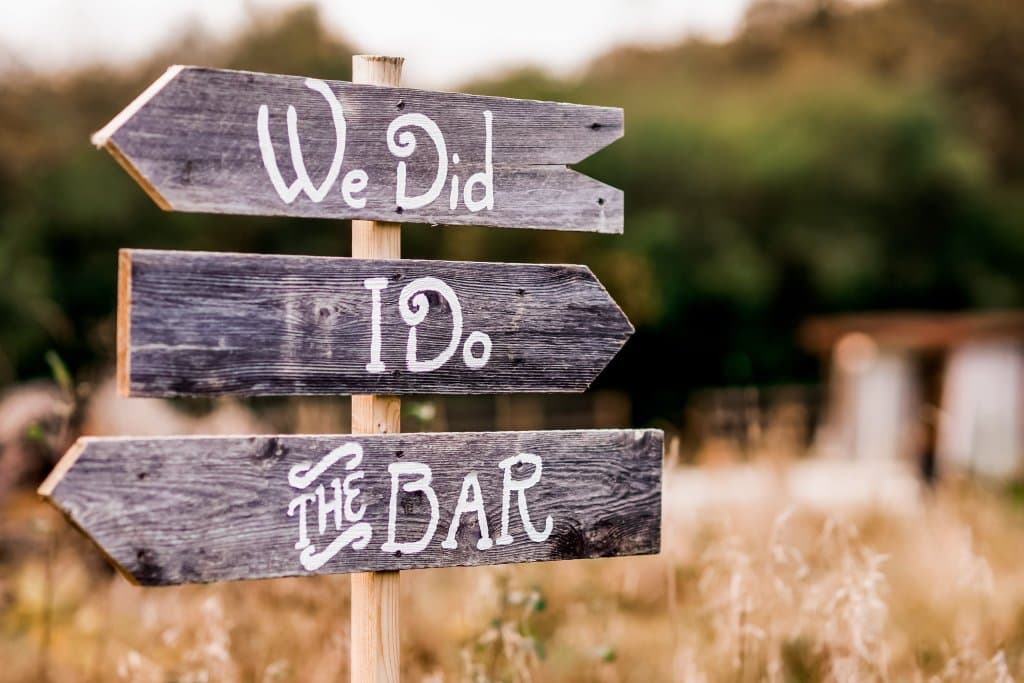 Install DIY engraved wooden placards in your backyard that will allow your invitees to know which direction they are heading. This will keep your guests at ease, knowing they don't have to grope for the way in the dark, and also serve as minimal wedding decor on a budget.
Do not elaborate much, and keep the content concise. But who's stopping you from being playful with your words and blending sarcasm into your engraved signs? After all, we all love a slight touch of humor on any happy occasion.
9. Design a Theme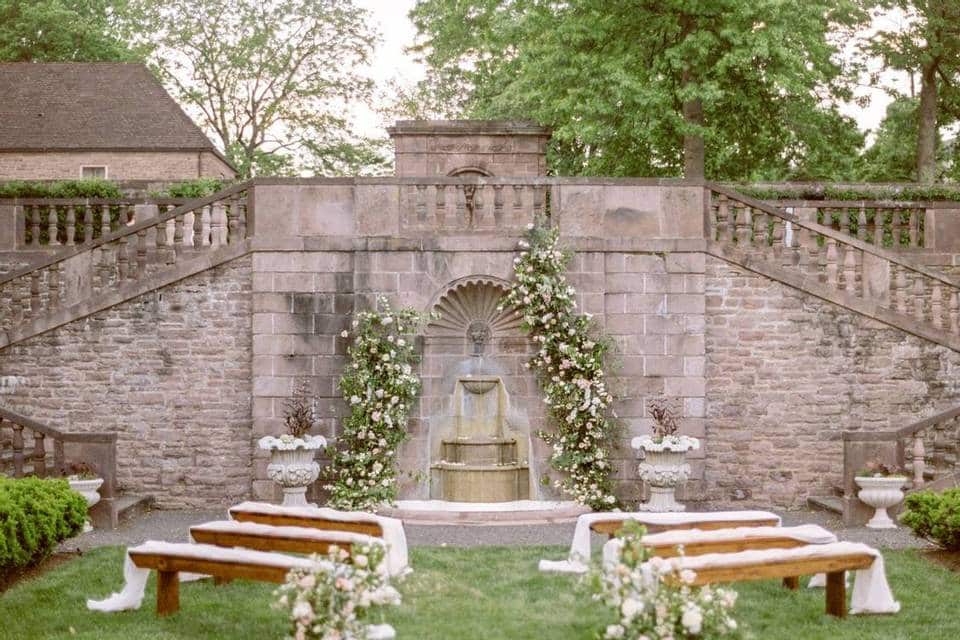 Having a themed wedding party might be a bit uncommon, but it is something that can liven it up! Ask your friends and family to dress up on par with the theme while you set the stage by decking it up appropriately.
Relive your childhood memories and/or your days of dating by choosing a theme that connects them. After all, who doesn't secretly wish to be all teary-eyed (in a happy way, of course!) on their wedding day?
10. Photo Booth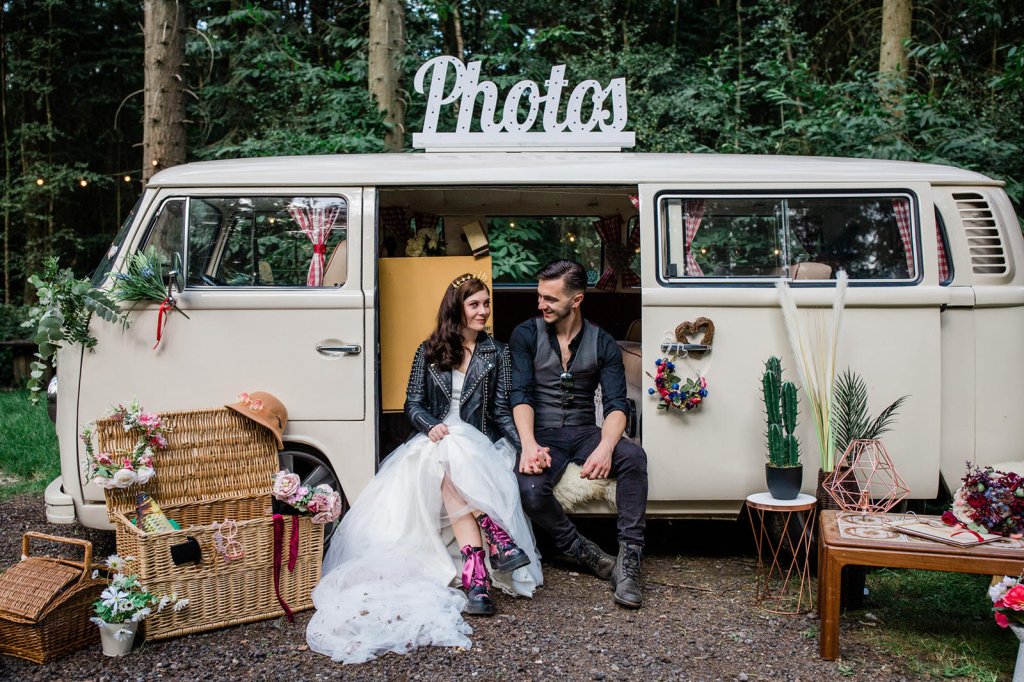 A backyard wedding is usually a cherished affair with close-knit family members and friends who have become family along the way. Preserve the memories by adding to your list of backyard wedding ideas by installing a photo booth where one can click pictures solo and in groups.
Add quirky props for more fun and even better pictures that will have a story to tell every time you look at them down the years. You could even have a dedicated photo session to click pictures with every guest either in a group photo or with all guests in turns. This will not only make them feel appreciated but also prevent them from crowding around to take pictures with you and your spouse.
11. Photo Gallery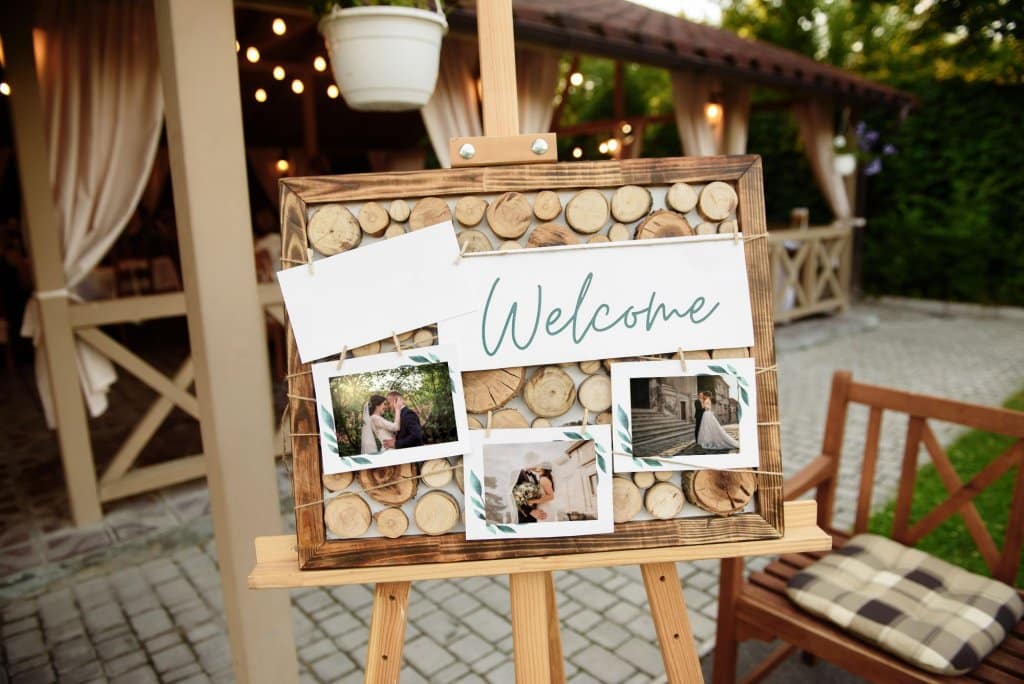 Keep your favorite pictures of memories at different stages of life on display by creating a mini photo gallery. Include pictures of your family, friends, colleagues, partners, and loved ones who have crossed over for the most warm and personal wedding decor. Paste pictures on a board display or create a collage of the same. You can even hang them from the larger trees alongside fairy lights.
12.Display Screen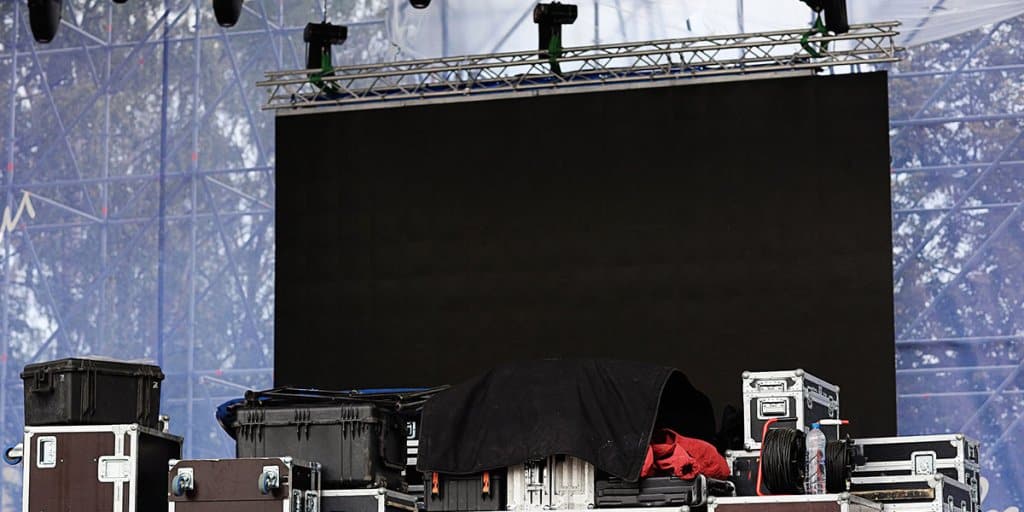 Portraying your childhood videos or proposal videos on a display screen placed at the center of the venue is a highly creative wedding decoration idea. You can even surprise your partner by not letting them know about this idea of yours until the video starts playing! Not only will it make them happy, but it will also encourage engagement and interaction among your guests.
Or, if you have a small wedding area, you can live stream the ceremony on the screen to prevent excess crowding around the podium.
13. Live Wedding Painter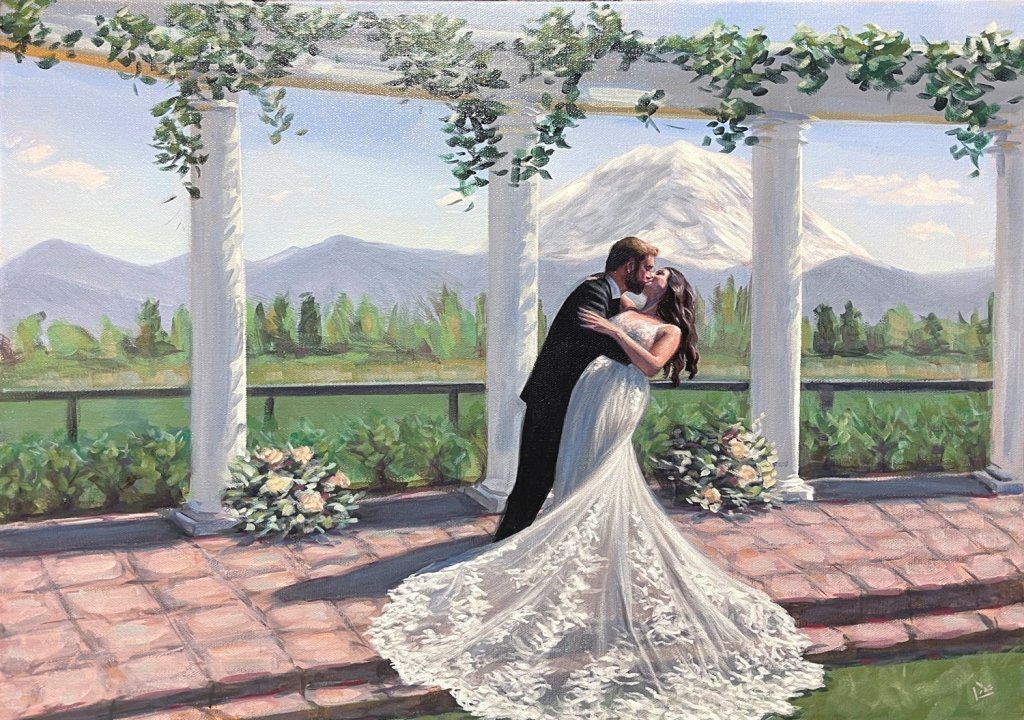 What could be better than an illustrator drawing the most memorable events on your D-day right there, right then? Hiring a live painter at weddings is becoming increasingly popular and for the right reasons. And if you are planning a backyard wedding, investing in one is a smart decision to make.
Having hand-painted pictures of your ceremony is an asset that is worth its value and can be cherished for a lifetime! You cannot (and should not) miss out on this backyard wedding idea!
14. Live Band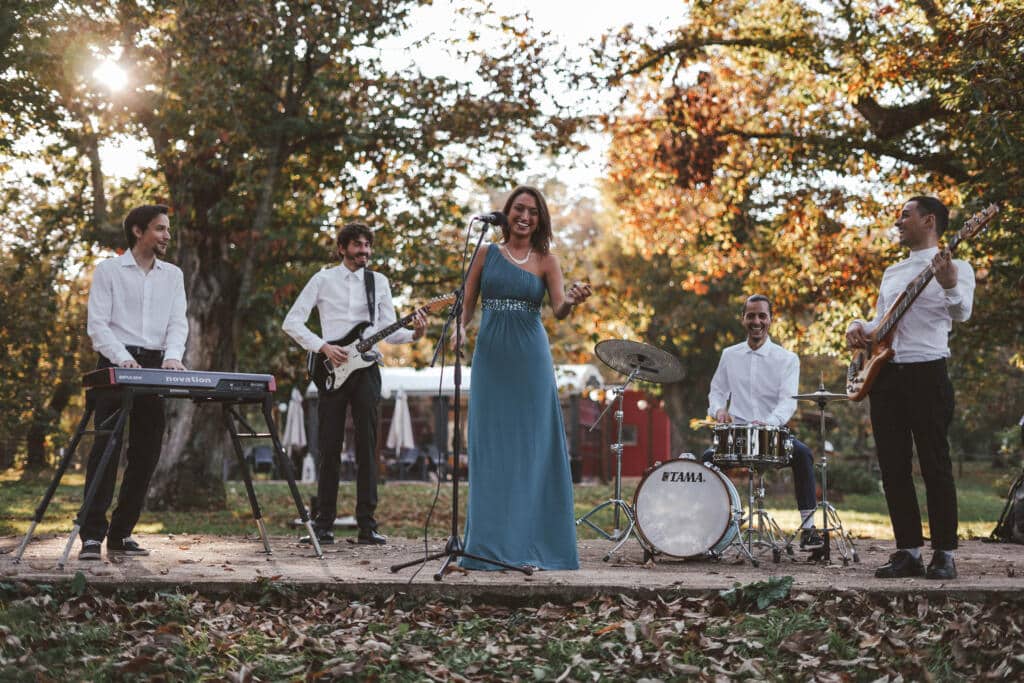 Entertain your guests and yourselves by hiring a live band on your special day. Play songs that hold a special place in your lives for a more personalized touch. This is a great backyard wedding idea if you can splurge on one, especially since other costs have been cut down. You can either hire a professional band or ask your family members to perform on stage if they have a flair for music. It would make for a more personal affair.
15. Dance Floor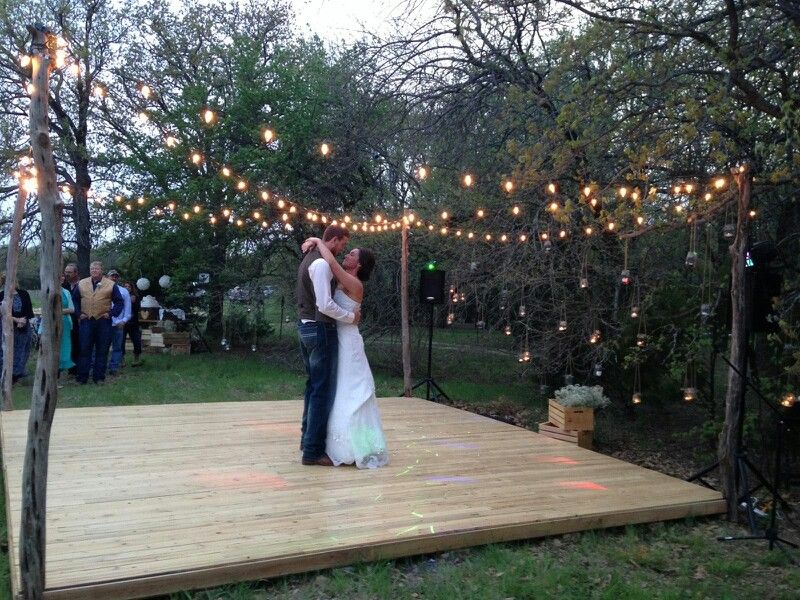 Create a DIY custom dance floor on the patio itself to mark the celebrations with an elegant couple dance. A separate dance area highlighted with curtains and lights allows for visual ease for guests and leaves room for dancers as well.
Suppose there's a pool in your backyard; set up a bridge that serves as a stage for dancing and other customary events. Place bouquets of your favorite flowers in rows along the sides for an enhanced visual treat. You could even use string lights to decorate the dance floor.
16. Use Flowers and Bouquets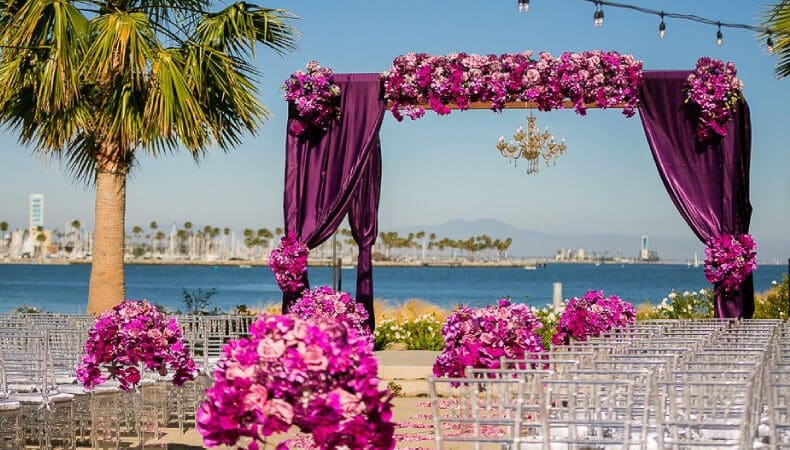 Flowers and potted plants are non-negotiable when styling a vibrant backyard wedding. There are numerous ways to incorporate them into your backyard wedding decorations. Make a floral carpet on the aisle or the area where the nuptials will be done. Place fresh blossoms, flowering shrubs, and bouquets around the seating area for a fresh and peaceful vibe. Create your own DIY floral garlands for ornamenting the trees, wedding gate, or even your wedding arch.
17. Arrange a Long Banquet-Style Table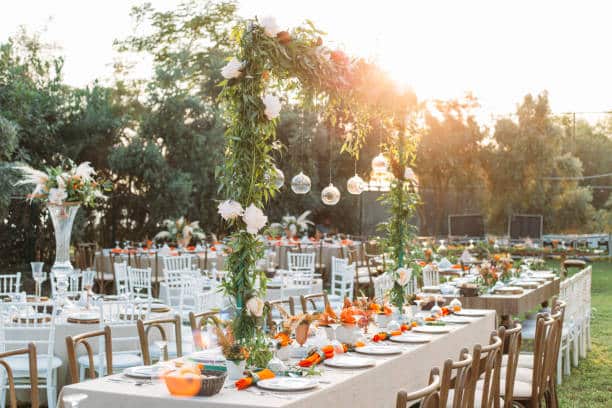 What's more beautiful and personal than a deep conversation with your loved ones? And arranging a long banquet-style table for your backyard wedding allows you to get the joy of the same! Your guests can interact with each other and form a deeper bond with you and your family. Add a flair of personalization by going for self-service that will encourage cooperation and harmony.
18. Focus on Centerpieces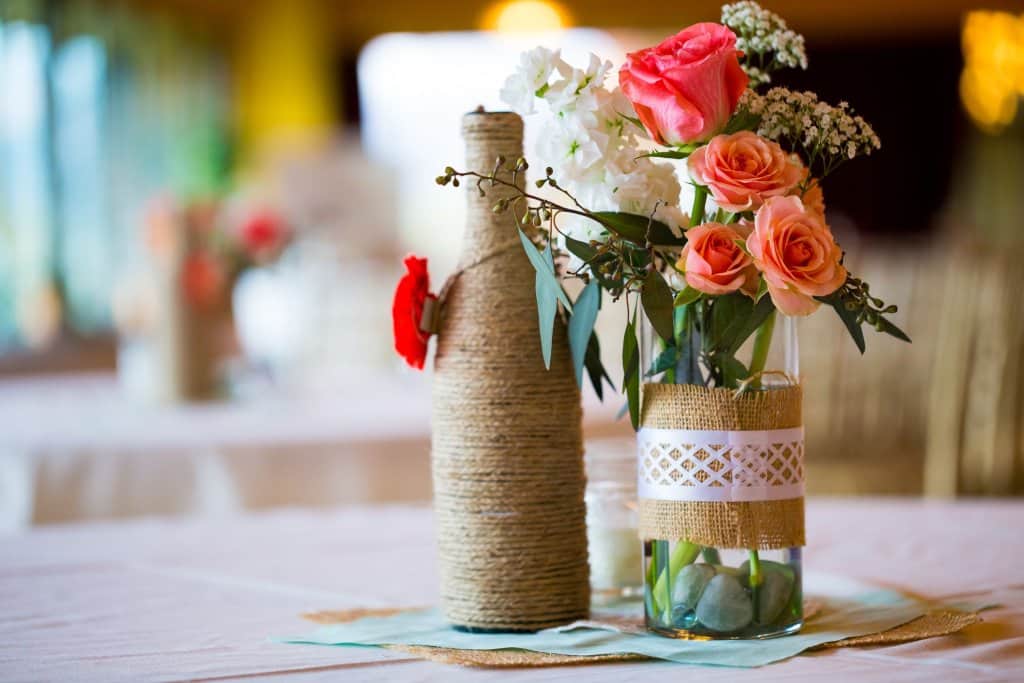 Just like having one focal point of attraction at your wedding venue, putting up simple or majestic centerpieces on tables is one of the simplest backyard wedding ideas. Try experimenting with potted plants, mason jars, or even candles. Use shrubs from your own backyard for simple culinary arrangements on the dining table. Place vintage pieces on the racks of your outdoor furniture. The key to using this backyard wedding idea in the best manner is to highlight a centerpiece that will be the showstopper in a particular area without cluttering it.
19. Make Provisions for a Campfire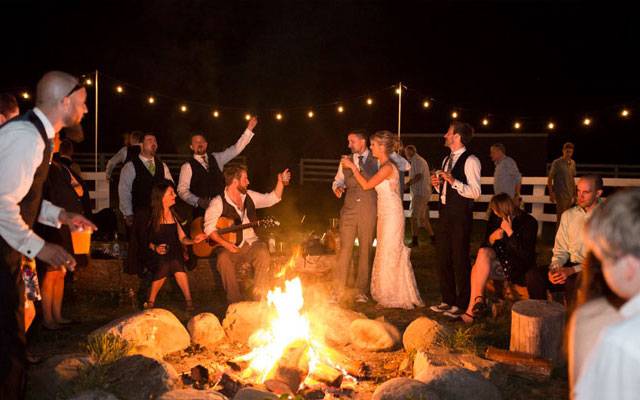 No matter the season, settling around a campfire after-party is one of the best ways to unwind after a hectic wedding schedule. This backyard wedding idea allows you to relax with your loved ones and also creates an environment of love and laughter.
Your wedding calls for a toast that you can indulge in around the campfire setting. It sets up the perfect ambiance for nourishing the bond between you and your guests. Sing, talk, dance, play games, or even just sit and relax while sipping on your favorite drink!
20. Prepare a Separate Lounge Area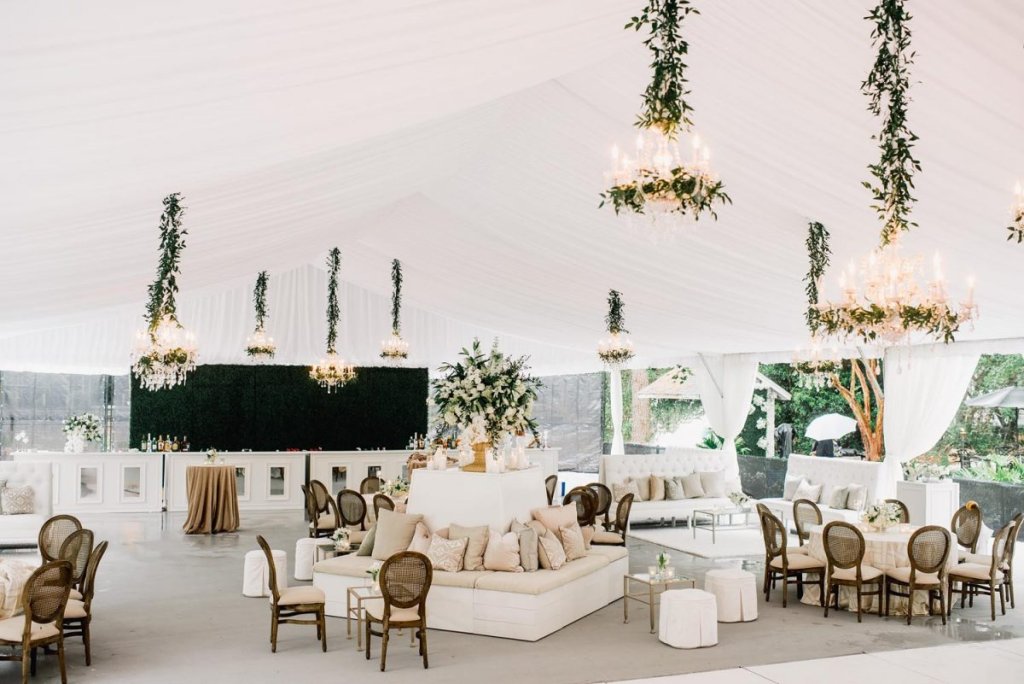 Setting up a lounge area where visitors can sit, and chill is a thoughtful idea that has multiple benefits. Not only does it give space for your visitors to interact with each other, but it also helps pets and children cool off. Keep your guests comfortable. If it's the cold season, keep comforters handy in this seating area. You can also set up a small display screen or speaker here that will live stream the highlights of the ceremony in different areas of your backyard, so no one misses out!
21.Arrange for Send-Offs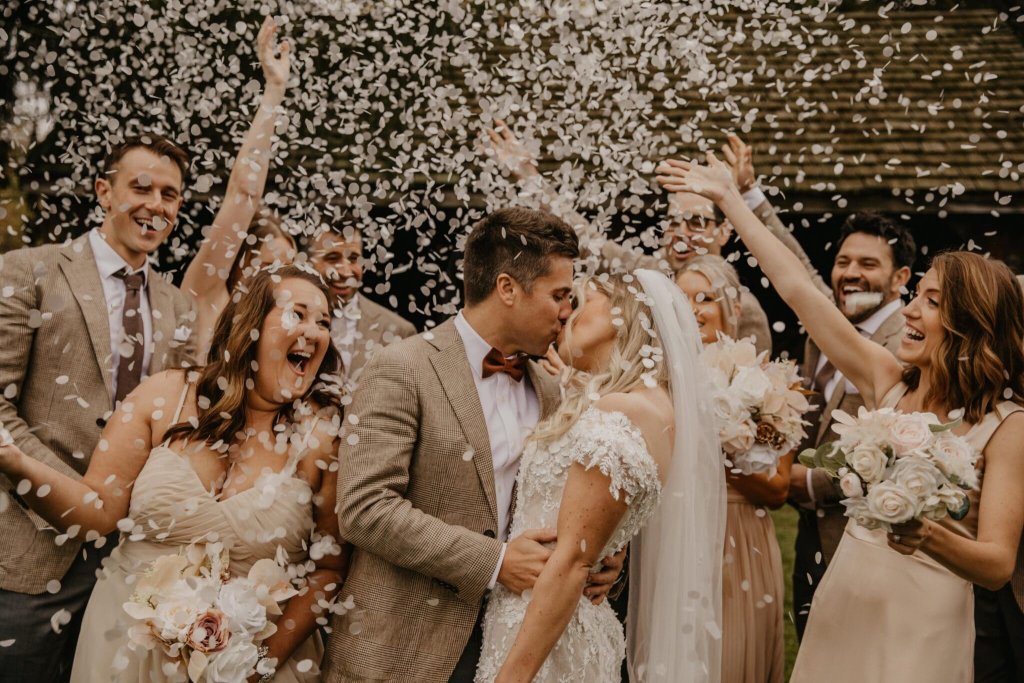 A wedding celebration calls for a bash! And what better way than send-offs like sparklers, confetti showers, glitters, or bubbles to mark the beginning of a new journey in life? Commemorate the day with excitement and joy. Send-offs can be the perfect highlight to conclude the day with. Place the send-offs on a separate stand or rack that will be easily accessible for invitees so they can enjoy your wedding as much as you!
The Takeaway
Backyard weddings can be a meaningful way to celebrate your special day. Decorating your backyard wedding is not too much of a difficult task with the numerous creative backyard wedding ideas you have on a budget. Let your personality shine through with how and your partner you decide to decorate.
Keep it minimal if it is a close-knit affair with a handful of guests comprising your immediate family. Or, you can go for extravagant decorations if your guest list includes people other than your near ones. Let us know in the comments section how you would decorate your backyard wedding ceremony! We'd love to know other backyard wedding ideas from you if you have any, and how well was your experience of attending a backyard wedding, if any?
Frequently Asked Questions
How Fine is It to Host a Wedding in Your Backyard?
For the ones who have ample time for your wedding and are second-doubting if having a wedding in your backyard is the right choice, here's your answer. Hosting a wedding in the backyard is an intimate affair.
Is it Worth Having a Backyard Wedding?
Yes. In short, it is worth having your wedding in the backyard. Whether you want to keep it simple or make it an extravagant affair, you can achieve either by proper planning and diligent execution. If you don't have a very spacious backyard, we suggest you either utilize your front yard or even rent one!
Are Backyard Weddings a Lot of Hassle?
Backyard weddings are not a lot of hassle. Rather, they are relaxed, and you can take time to experiment with how you want to plan your wedding. You need not conform to rules and regulations imposed in indoor weddings regarding how much time you can take for your vows or limited space and the like.