Do you also like to curl up on your couch or bed after a long day at work and enjoy your favorite television show or movie? If yes, then you know how important it is to have a neat and presentable TV Unit. Recently, there has been a big trend of floating TV Stands from Ikea. The idea is simple, instead of keeping the whole unit on the floor, it is mounted on the wall.
There are two main benefits of floating tv stands. The first one is that it looks aesthetically very pleasing and stylish. It can give your simple bedroom/living room a very modern and trendy vibe. The second benefit of a floating tv stand is that cleaning is not a hassle anymore, as the floor below the stand is easily accessible.
We are sure you will like the ideas of floating tv stands we are about to share with you.
Innovative Ikea TV Stand Hacks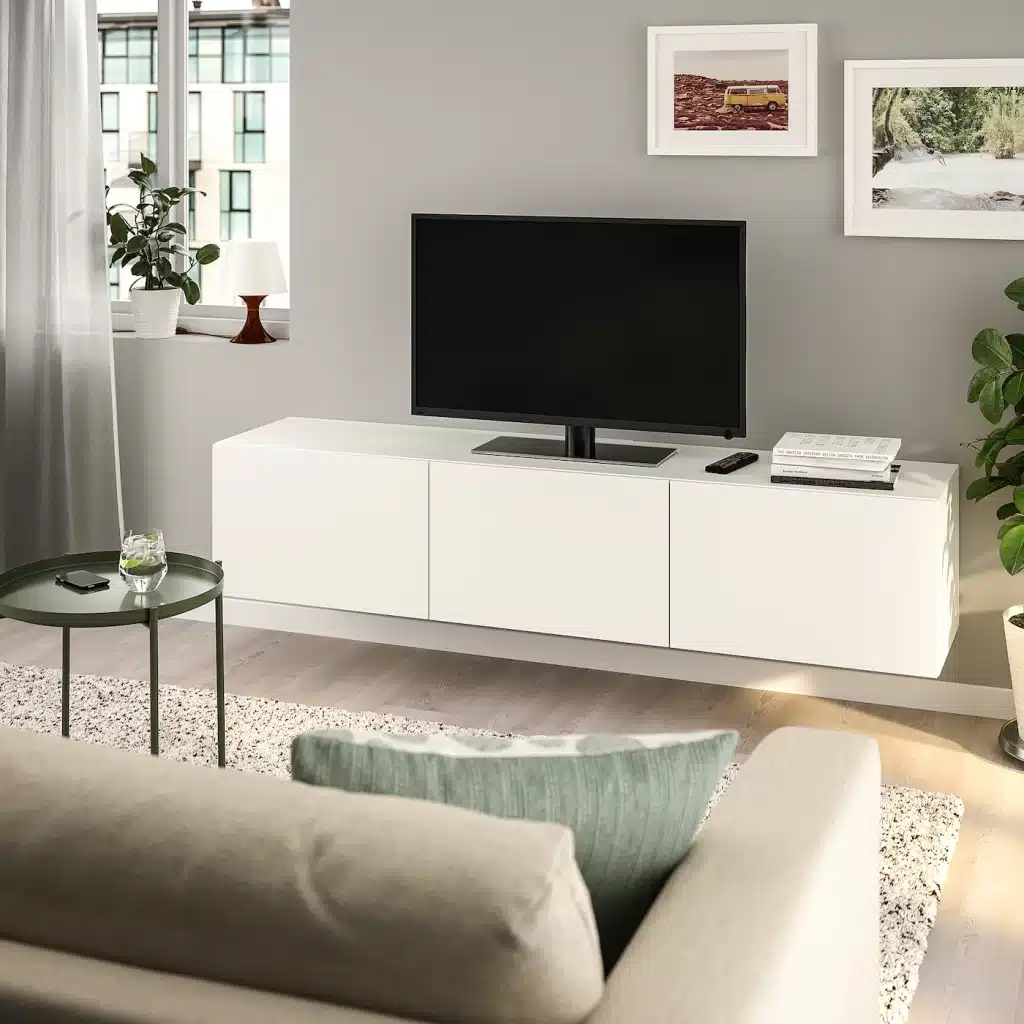 Let us begin with basic and minimalistic designs. This one has a simple and sober look to it, and it will blend in easily with your room aesthetics. The design is basic yet practical. There are two storage units inside this floating TV stand in which you can store anything you like. Since this will probably be in your living or bedroom, you can keep all of your daily required items in the unit. You can also keep decorative articles on top which will further enhance the look of your unit.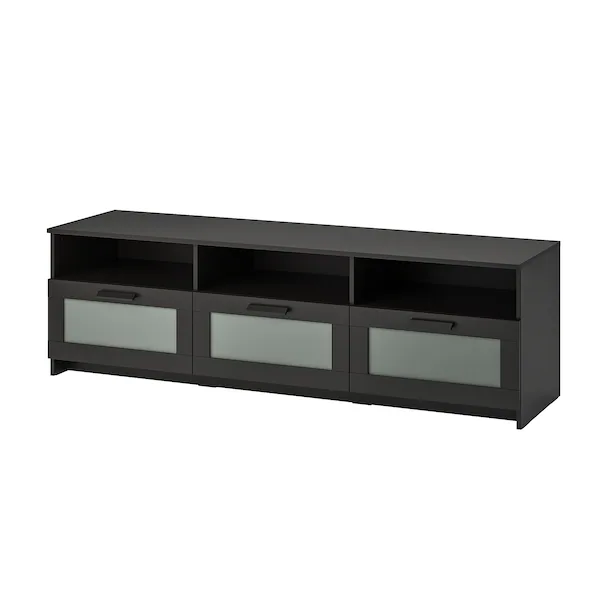 As you can see, this unit focuses on storage. A stand is another piece of furniture in your room, and it only makes sense to have sufficient storage inside it to keep items from our household. There are 3 cubby spaces provided where you can keep your audio system or other electronics for the TV; there are three glass cabinets below which offer a great amount of storage to you. One more thing which makes this unit a good choice is that you have the option to make it a floating tv stand or simply keep it on the ground. Of course, hanging it will require some expertise, and you would have to make sure not to fill in any heavy items in the storage, but looks-wise, it will look good.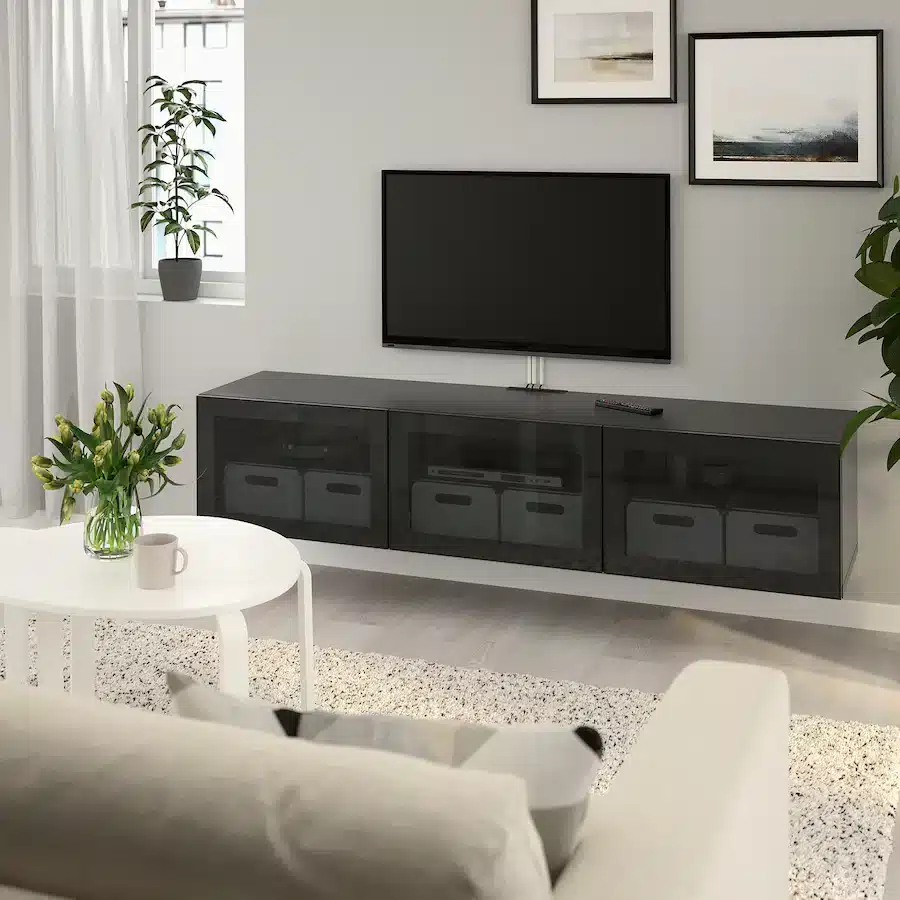 This one will definitely catch your eye! The front of the floating tv stand is all smoked glass which looks very stylish and appealing. There is an option to keep it on the ground, but once you look at it, you simply will want to keep it floating. There are two storage cabinets, and the glass can be pulled to access them. The overall design looks very premium, and one should definitely consider this if they are looking for an aesthetic design for their floating tv stand/
This is another example of a simple and practical floating TV stand. The design offers three exposed storage spaces and that's pretty much it. If you are fine with having the items stored in there exposed, then this one is for you. There is hidden cable space given at the back of the tv stand so your cables are not exposed. This tv stand can be placed on the floor or can be wall mounted. You can keep decorative items on top if you feel that the tv stand looks too simple.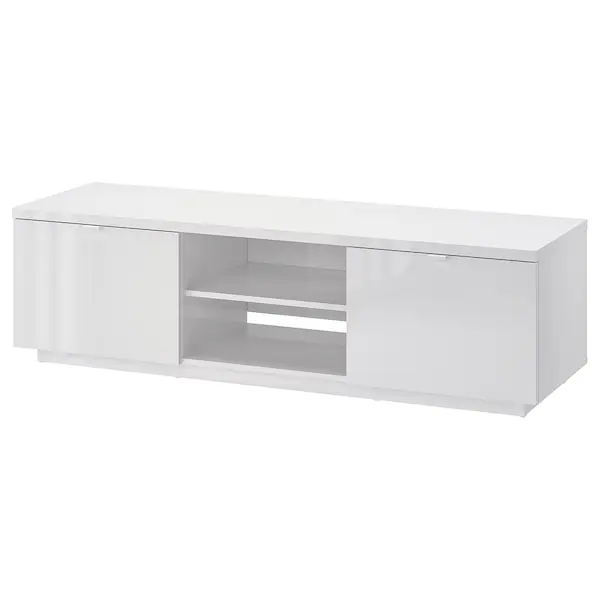 As the name suggests, this tv stand has a glossy white color which will definitely catch every guest's eye once. Obviously, it is not super glossy that it becomes irritating after a while. There are two cabinets on both sides, and the storage inside can be accessed by simply pulling the front. The shelves inside are adjustable, which can be useful. The middle part is exposed if you want to keep your consoles, audio unit, etc. There are spaces for wire management so the wires are not exposed. You can also make it a floating tv stand which will require you to keep lightweight items inside so the stand does not fall off.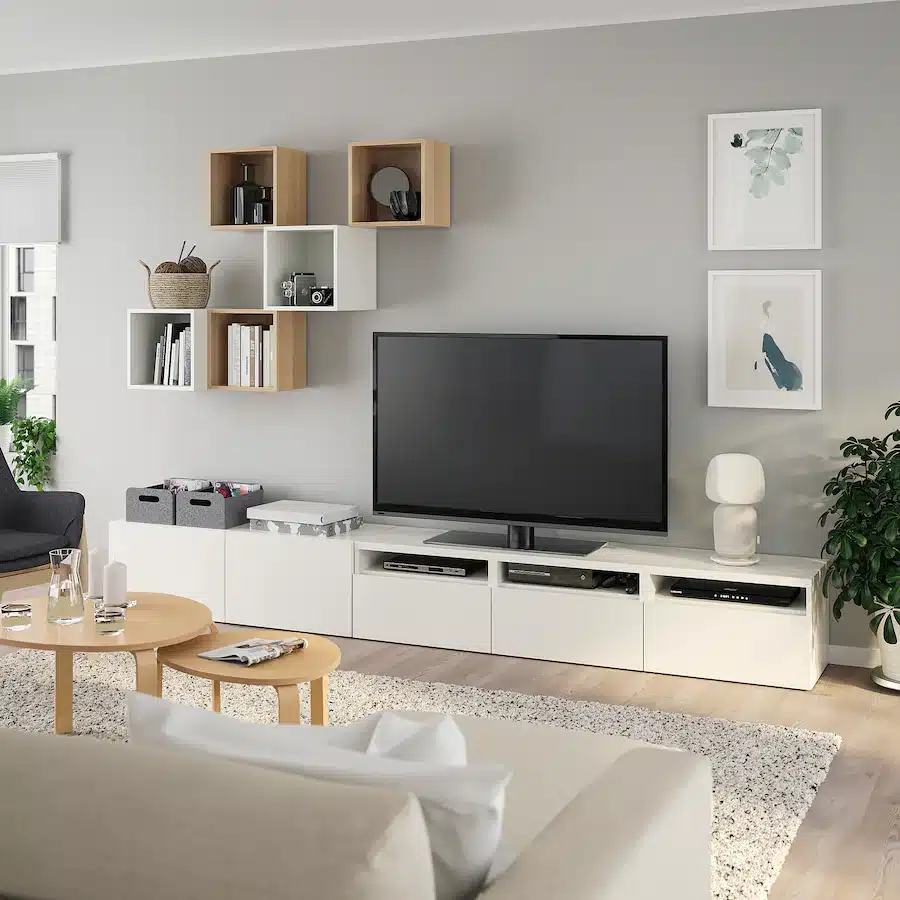 This TV stand focuses on storage and style. The design is sleek and simple. The TV stand offers 3 soft open/close cabinets with cubby spaces above them for your devices. There is plenty of space above it to keep your TV and other items. You can make this a floating tv stand by hooking it onto the wall. Along with the unit, there are also 5 shelves offered which will be wall mounted, giving the television area a very modular look. These shelves can be used to keep books are other decorative items.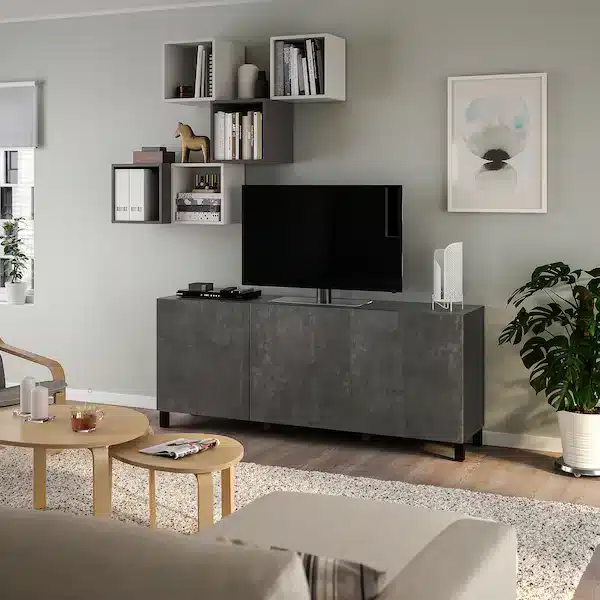 This is another example of a simple and sleek design. The main TV stand has 3 doors in the front which makes the storage completely private, which is a major requirement for many people. The doors are soft close, and open, which makes the stand feel very premium. Even though this TV stand is kept on the floor, the support is only at the corners, which makes it look like a floating tv stand. There are 5 shelves offered which can be wall-mounted, and decorative items can be kept there for display.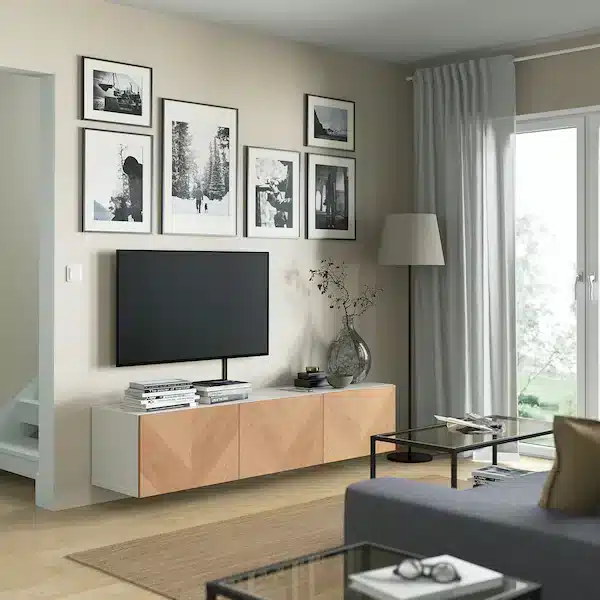 This floating TV stand takes style to a new sophisticated level. The unit mounts on the wall, and there are two door cabinets in the front with adjustable shelves on the inside. The oak finish in the front looks very classy and elegant and will definitely have your guests asking about your tv stand. You can keep decorative items on top for added elegance.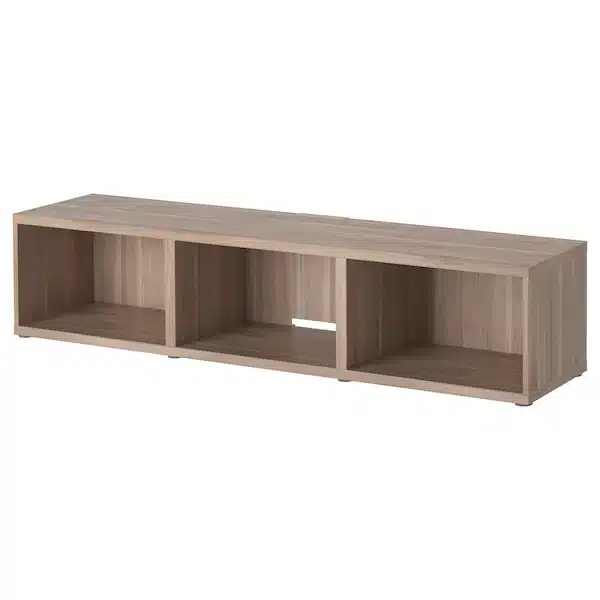 Even with exposed storage spaces, this TV stand looks very elegant. The design is basically textured wood, and it will go well with your furniture. The TV stand will blend in with your existing furniture, making it look like a perfect part of your room. If you are fine with exposed storage, then you should go for this one. You can wall mount it to make it a floating TV stand.
This Combo can serve two purposes for you. The first one is that you have multiple storages on offer, which means that your TV stand will not just be there to serve looks. Secondly, The legs of the stand are only at the corners, which gives it a floating TV stand appearance. Now coming to the second part of the combo, there are 5 shelves offered that can be wall mounted; the added bonus to it is that there is a combination of closed and open storage so you can keep private stuff hidden and other decorative items on display.
A TV stand that offers a modern and modular design both at one time. The main unit has three soft close/open cabinets, which look marble-finished, making it very stylish. The minimalistic supports of the unit give it a floating TV stand finish. There are shelves inside each cabinet, so you can adjust and use them accordingly. Floating shelves are also offered with this TV stand which can be mounted on the wall and used to store items or decorative articles.
With this one, the design is pretty simple, and it is made that way so it can easily blend in with your existing furniture without standing out too much. There are two-door cabinets on both sides where you can store essential household items. There is a little cubby space in between, which can be used to keep your consoles or other related devices. The supports are at corners and long enough to make it look like a floating TV stand.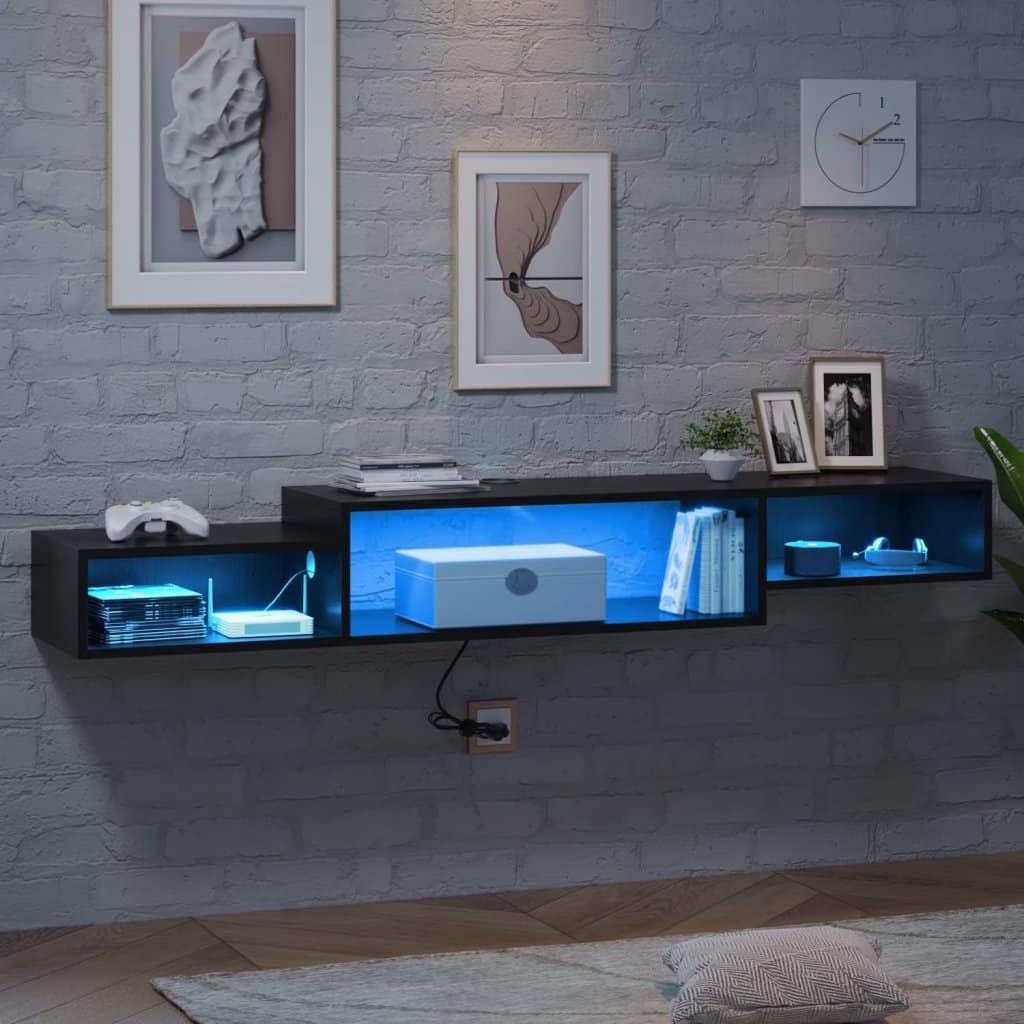 This floating TV stand is unique and modern looking. The jet-black color goes very well with almost kinds of room designs. There are two minimalistic spaces for you to keep your consoles and other media-related devices. Now the best part, the spaces have an inbuilt LED light which you can customize with any color your like, and this absolutely changes the way the tv stand looks and feels. You can keep decorative items on top for extra style.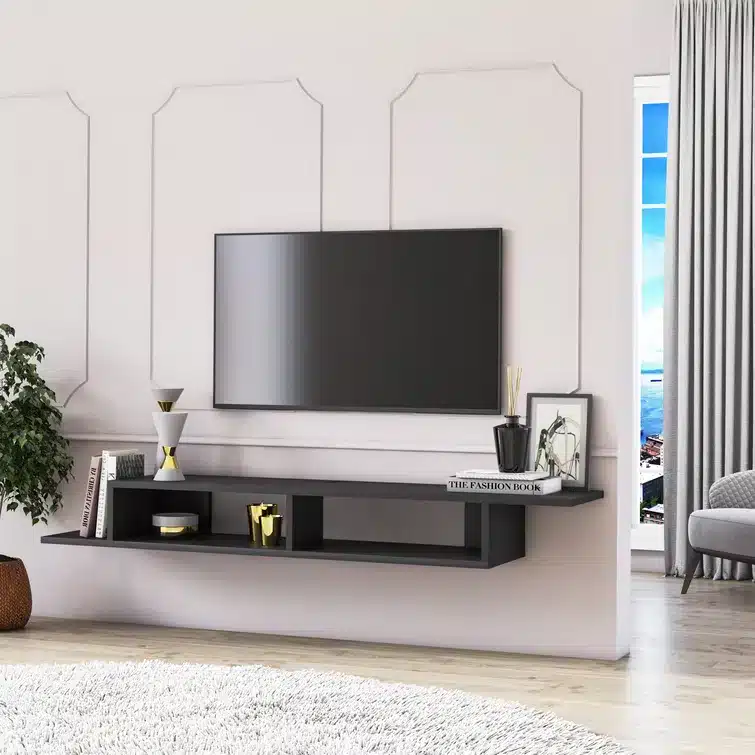 This floating tv stand mainly focuses on looks and not storage. If you are looking for a simple-looking tv stand with basic storage, this one will interest you. There are spaces in between for your electronics, and there is also a platform on the side for you to keep books or magazines. You can also keep other decorative items as you like.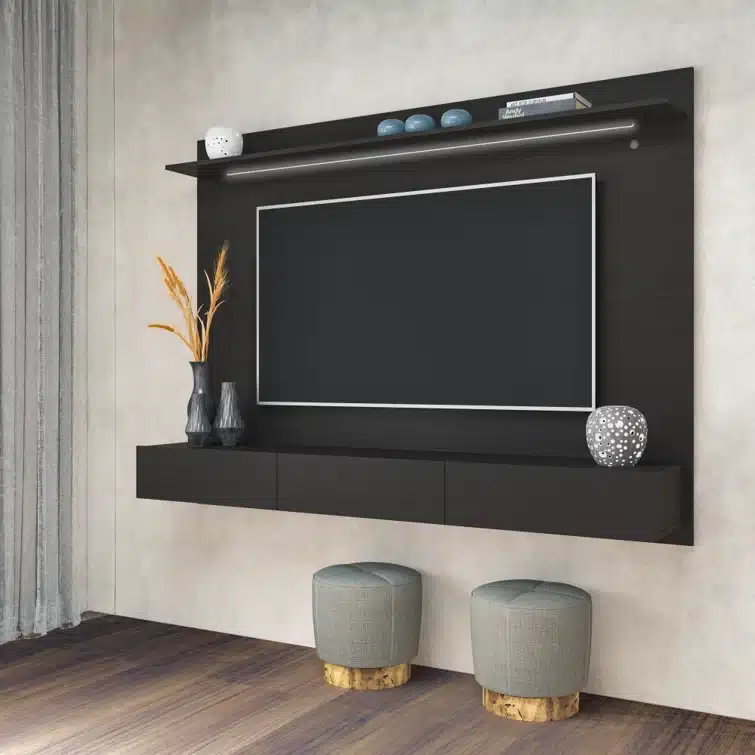 As the name suggests, this is not just a floating tv stand but a full-blown system to take care of enhancing the looks of your entire TV Unit. The whole unit hangs on your wall, and your TV will be placed on it. There is a long shelf on top which can be used to keep books or other decorative items. There is a long strip of LED light below the shelf, which serves both as a look enhancer and can also help with better light in the room. There are cabinets below which can be used to store stuff.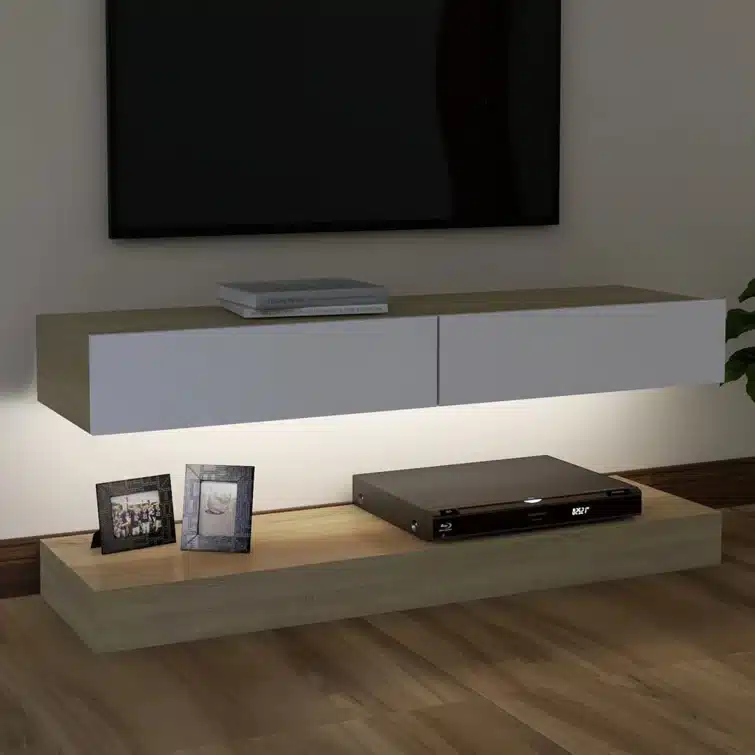 This floating TV stand has a very simple look to it. It has a basic platform at the bottom which will seat your electronics related to the TV. The unit above has two cabinets that can be door closed. Beneath the cabinets is an RGB LED strip that can light up in any color you like making the whole TV stand look very attractive.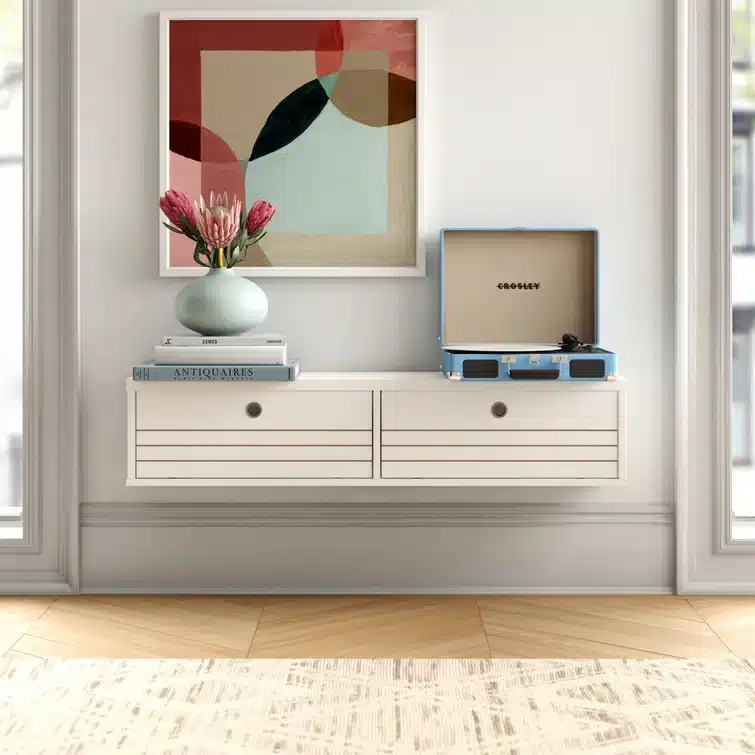 This TV stand does not have any exposed storage. There are two drawers in the front which have enough storage inside to keep plenty of smaller items. On the top, you can keep your TV-related electronics like a console and soundbar. You can also use decorative items so that they can go more with your other room furniture.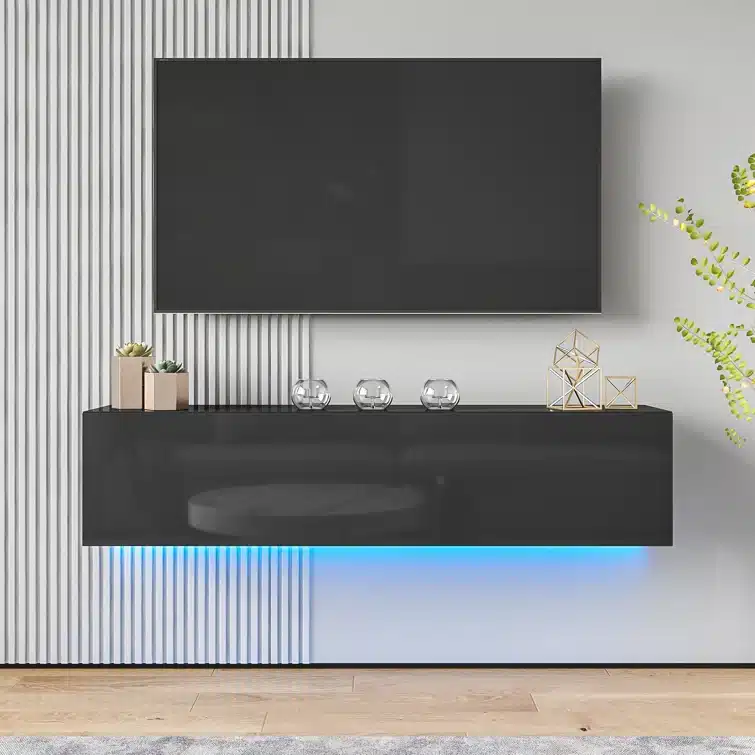 This TV stand has a glass finish to it which looks very nice when it reflects other things from the room. The design looks very modern. The whole glass front can be opened, which exposes plenty of closed storage inside. There are 3 spaces inside to store various things, and you can also store your TV electronics. On top, you can keep your soundbar and other items as well. Below the TV stand is an RGB LED light which has multiple color options to choose from.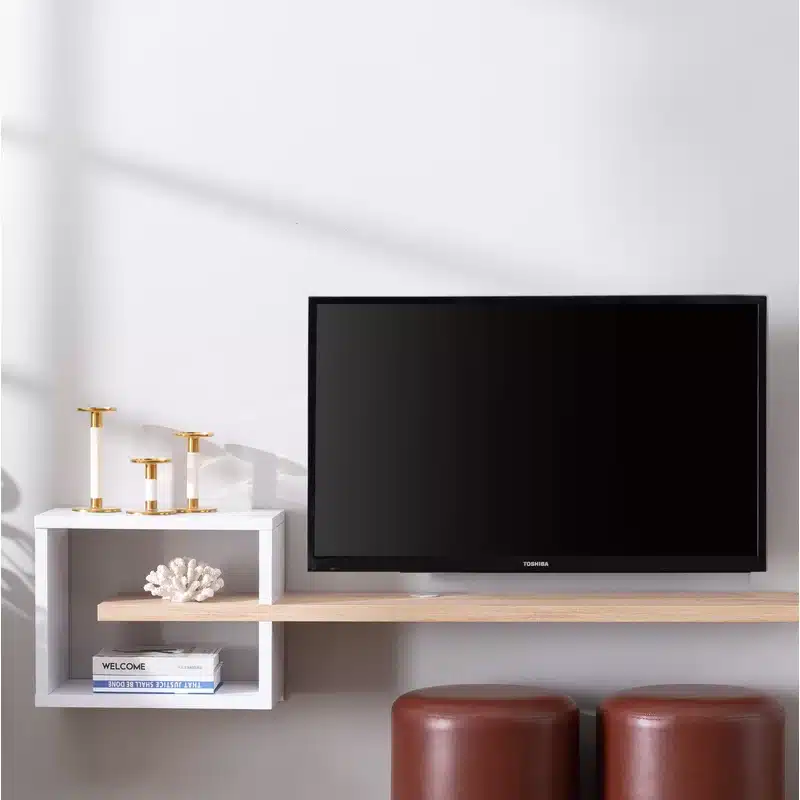 This might be the most unique-looking TV Stand on our list. The Design is purely based on looks and not too much on practicality or storage. There is a simple wooden piece that will go below your TV, and the piece blends into a square-shaped shelf that can be used to store items only for show purposes. You can only fit in a soundbar on this stand and will have to figure out an alternative for your other devices.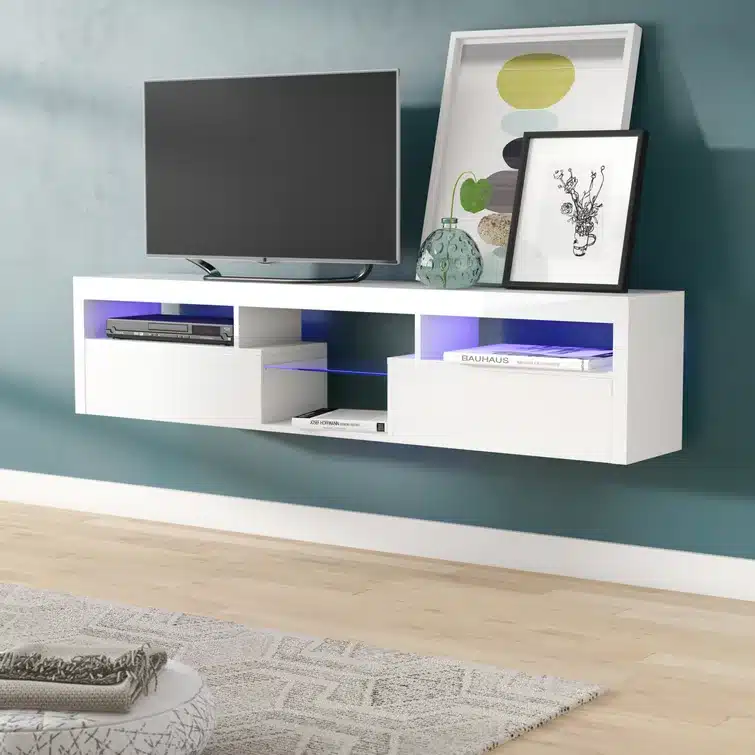 This TV stand is yet another design-based stand with less storage. However, this one does have plenty of storage for you to keep your electronics and a soundbar on top. So this will solve your basic TV stand requirements. There is no enclosed storage, but there is an LED light featured inside the cubbies which gives it a very modern look.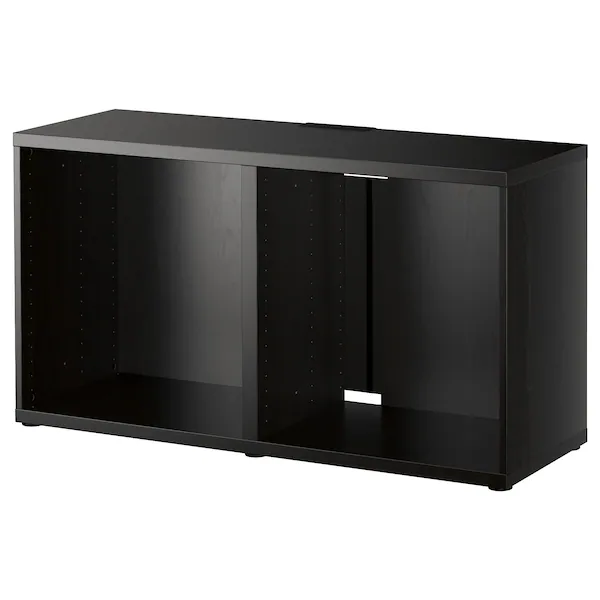 This TV stand offers a lot of storage; the only thing is that it is all exposed. There are two big exposed cabinets in the front of the stand, and that is pretty much it in terms of design. There is cable management offered, so your cables will not be visible easily. If you are looking for a simple TV stand with a good amount of storage, you can go for this one. You can make this a floating TV stand, but you will have to watch out for keeping heavy items inside it.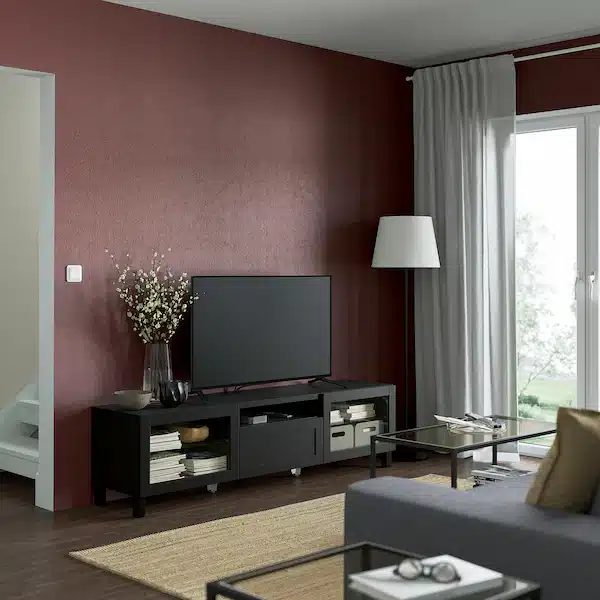 This TV stand offers both looks and practicality. There are two glass cabinets on either side and a push-open cabinet in the middle. Your items kept in the cabinets will be exposed. However, they will be safely enclosed. In the middle, you can keep your TV electronics, and on top, you can keep some other items like a soundbar, decorations, etc.
Conclusion
There is no limit to the innovation you can have on your TV Stands. There are plenty of options available for both floating and non-floating TV stands. Did you ever think that your simple TV could look so much more attractive with a simple addition of a stand? Well, it is true.
Your storage needs can also be solved with a TV stand, as most offer a good amount of storage. However, it might take some time to find a TV Stand that actually goes well with your room's design and aesthetics, but we are sure you will find it, and the list above will help you.
So it is finally time to elevate your television viewing experience and make those movie nights more special. Create a stylish corner in your living/bedroom room with these TV Stands and make your TV-watching experience even more enjoyable.
Do let us know how you feel about these ideas and how you would proceed with your renovation project.