When it comes to parties, few things bring as much joy and excitement as a Piñata! The colorful, candy-filled creations have become a staple at celebrations worldwide, delighting both kids and adults alike.
While store-bought Piñatas are readily available, crafting your own adds a personalized touch and allows you to tailor the design to fit your party's theme.
In this article, we'll explore 12 easy DIY Piñata ideas that will elevate your next celebrations to a whole new level of fun and creativity.
What Can Be Used to Make a Base and Supplies for the Piñata?
To create a sturdy base for a DIY Piñata, there are a few options to consider. One commonly used material is cardboard, which is easily accessible and provides good support. You can cut out the desired shape, such as a star, heart, or animal, from cardboard and then glue multiple layers together for added strength. Another alternative is foam board, which is lightweight yet durable. Foam board allows for more intricate designs and can be easily cut and shaped to your desired form.
As for supplies, you'll need tissue paper or crepe paper in various colors to cover the Piñata. Other decorative materials include construction paper, markers, adhesive letters, stickers, and even ribbons or streamers for additional flair. Additional supplies like scissors, glue, tape, and a hole punch may also be needed depending on the design and decorations you choose.
Remember to have a string or strong ribbon to hang the Piñata securely. With these base materials and supplies, you'll be well-equipped to create your own fabulous DIY Piñata for a memorable party experience. Let's check out these super cool and easy DIY Piñata Ideas.
1. Fringed Fun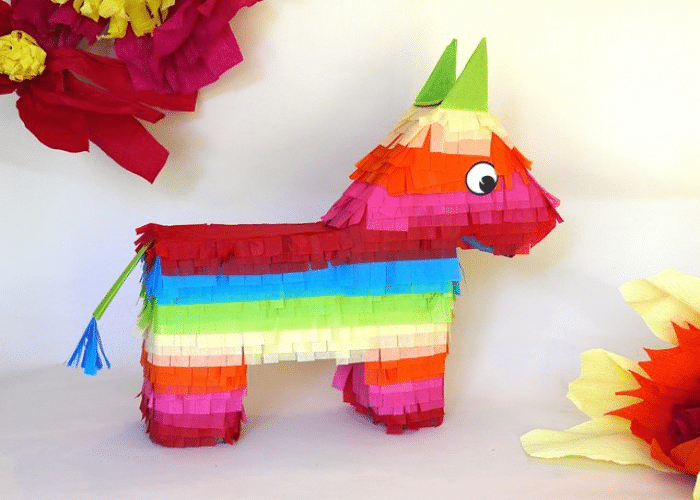 If you're looking for a classic Piñata design that's easy to make, the fringed Piñata is the way to go. Start by selecting a shape that suits your theme, such as a star, heart, or even a number.
Using cardboard, cut out two identical shapes and glue them together, leaving a small opening. Next, cut colorful tissue paper into strips and fringe the edges. Starting from the bottom, glue the fringed strips onto the cardboard shape, layer by layer, until the entire Piñata is covered. Finally, fill it with goodies, seal the opening, and hang it up with a sturdy string. Get ready to watch the excitement unfold as your guests take turns trying to break it open!
2. Paper Bag Surprise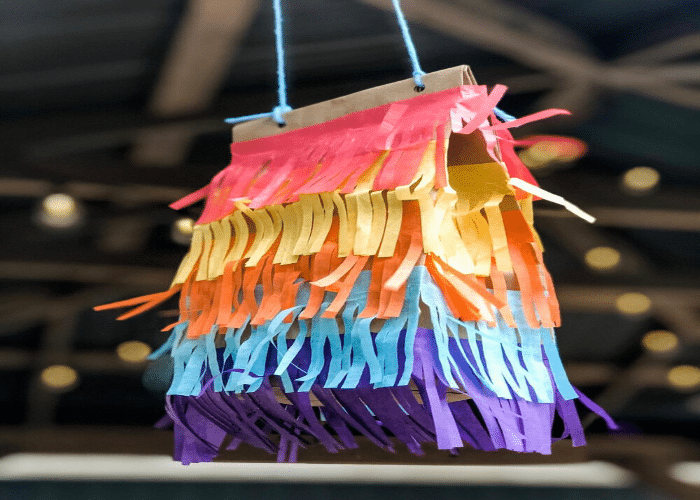 For a quick and easy Piñata option, repurpose a simple paper bag. Fill the bag with treats and goodies, leaving some empty space at the top. Roll down the bag's opening and tape it securely. Now, it's time to get creative!
Decorate the outside of the bag with colorful markers, stickers, or cut-out shapes. You can even add fringed tissue paper or streamers to give it a festive touch. Attach a string to the back of the bag and hang it from a sturdy support. When it's time for the Piñata fun, let the kids take turns pulling on the string until the bag bursts open, showering everyone with surprises!
3. Mini Balloon Burst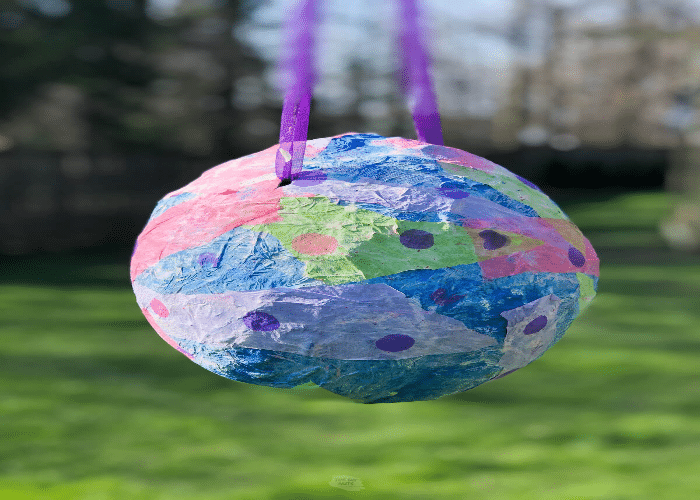 Looking for a pint-sized Piñata that's bursting with fun? Create a mini balloon Piñata! Inflate small balloons and tie them off. Dip newspaper strips into a mixture of water and glue, then layer them onto the balloons until they are completely covered. Allow the paper to dry thoroughly.
Once dry, pop the balloons and remove them from inside the hardened paper shell. Cut a small hole near the top and fill the Piñata with small treats. Seal the hole, and your mini balloon Piñatas are ready to be hung up! The kids will love the thrill of breaking open these colorful surprise packages.
4. Pull-Tab Treasure
If you want to avoid swinging sticks and keep the excitement of a Piñata, opt for a pull-tab version! Start by creating a sturdy cardboard shape, such as a star, circle, or animal. Cut two identical shapes and sandwich a long strip of cardboard between them, leaving a small opening for the treats.
Attach multiple ribbon tabs inside the opening. Decorate the outside of the Piñata with colorful paper or paint, and then fill it with treats. Close the opening, making sure the ribbon tabs are accessible. Hang it up, and let each guest take turns pulling a ribbon until the treats are released! It's a safer alternative that still brings the joy of a traditional Piñata.
5. Glittering Gold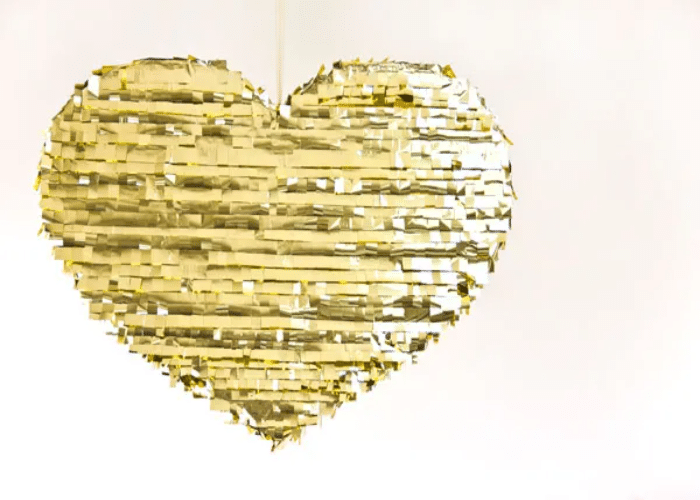 For a glamorous touch, create a sparkling Piñata using metallic tissue paper or gold wrapping paper. Start by selecting a shape, such as a crown, treasure chest, or even a number, for a birthday celebration. Cut out two identical shapes from cardboard and glue them together, leaving a small opening. Cover the Piñata with a layer of gold spray paint or adhesive, and then apply the metallic tissue paper or wrapping paper.
Add any additional embellishment, such as faux gems or glitter, to make it shine even brighter. Fill it with treats, seal the opening, and hang it up. Get ready to bask in the golden glow of excitement as your guests take turns trying to break open this dazzling Piñata!
6. Sweet Surprise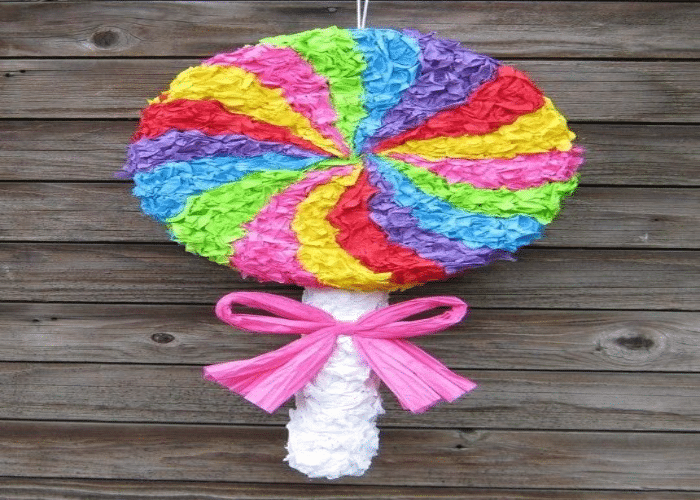 This is one of my favorite Piñata ideas. If you want to add a tasty twist to your Piñata, why not create a candy-filled one? Start by following the instructions for a fringed Piñata, but before sealing the opening, fill it with an assortment of wrapped candies. Close the opening securely, and you'll have a Piñata that not only bursts with surprise but also delights with sugary treats!
You can also incorporate a mix of candies, small toys, and even personalized notes for an extra special touch. Hang it up, and watch as your guests eagerly gather to experience the thrill of finding sweet treasures. Just make sure to have some extra treat bags on hand for the loot!
7. Superhero Smash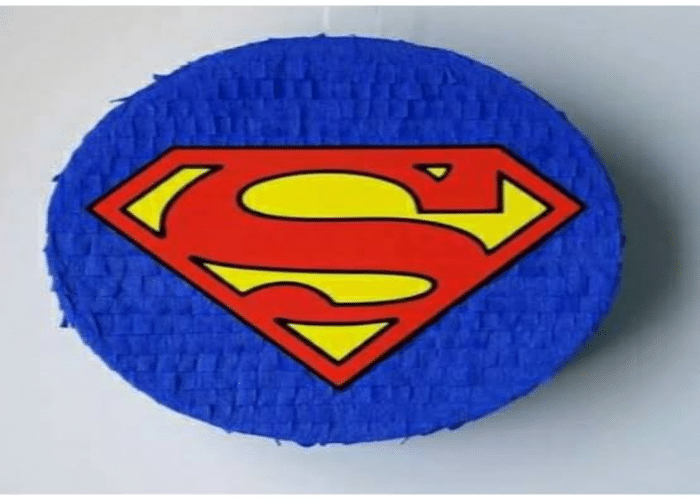 Is your little one a fan of a superhero? Then this is one of the most famous and loved Piñata ideas. Surprise them with a superhero-themed Piñata! Start by creating a basic Piñata shape, such as a rectangle or square. Cover it with colorful construction paper or cardstock to represent their favorite superhero costume.
Add details like a cape, mask, or emblem using additional paper or markers. Fill the Piñata with superhero-themed treats and hang it up. Let the kids take turns channeling their inner superhero strength to break open the Piñata and unleash a shower of goodies. It's a smashing idea for an action-packed party!
8. Donut Delight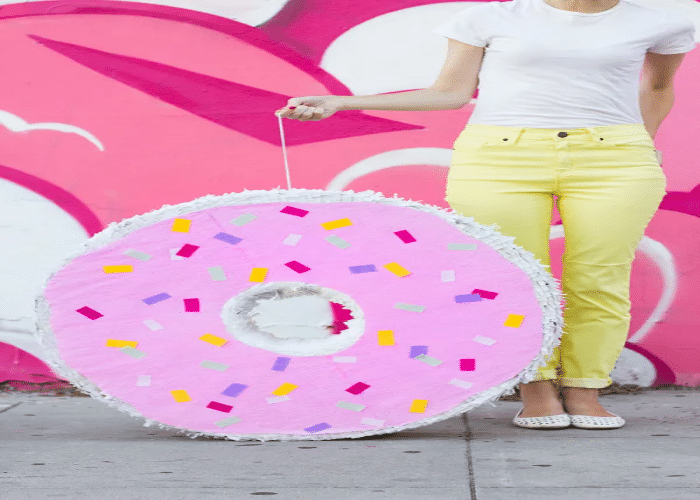 Who can resist the temptation of a delicious donut? Create a delightful donut Piñata for a sweet twist. Start by shaping a large donut using cardboard or foam board. Cut out the inner and outer circles, leaving a wide ring. Cover the donut with light brown or tan crepe paper to mimic the donut.
Add colorful tissue paper circles to represent the frosting and sprinkle toppings. Fill the donut Piñata with individually wrapped candy or small donut-themed trinkets. Seal the opening, hang it up, and prepare for a sweet celebration. Everyone will be eagerly waiting for their turn to take a bite (or a swing) at these tasty Piñata ideas!
9. Soccer Sensation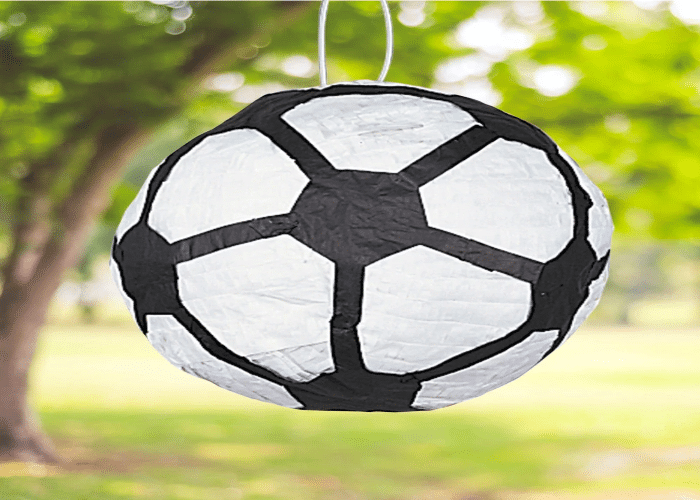 For sports enthusiasts, soccer-themed Piñata ideas are perfect for a game-day celebration. Create a soccer ball Piñata by covering round-shaped cardboard or a foam base with black and white crepe paper. Add additional details, such as pentagons and hexagons, to mimic the ball's pattern.
Fill the Piñata with soccer-themed goodies like small balls, mini jerseys, or soccer-themed candies. Seal the opening, hang it up, and get ready to kick-start the party. Whether you're celebrating a big game or simply the love of soccer, these Piñata ideas will be a winning hit!
10. Under the Sea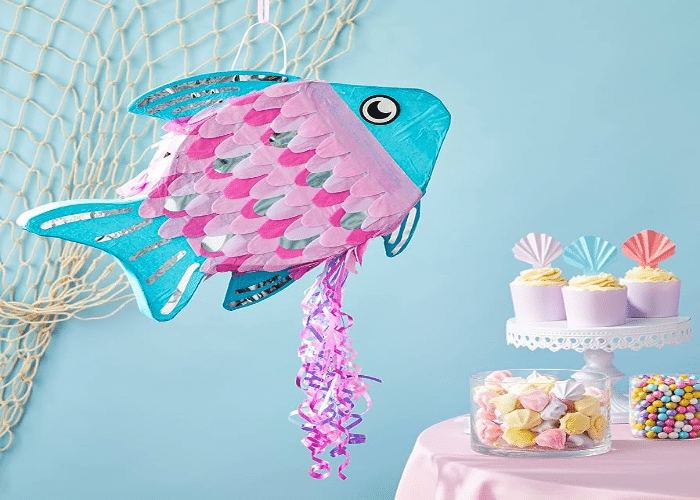 Dive into the world of underwater wonder with under-the-sea-themed Piñata ideas. Start by creating a fish-shaped Piñata using cardboard or foam board. Cover it with brightly colored tissue paper or crepe paper in shades of blue, green, and yellow. Add fins, scales, and googly eyes using construction paper or cardstock.
Fill the Piñata with ocean-themed treats like sea creature-shaped gummies or mini beach balls. Seal the opening, hang it up, and let the aquatic adventures begin! It's a Piñata that will make a splash at any ocean or beach-themed party.
11. Pinwheel Party
Bring a whirlwind of fun to your party with a pinwheel Piñata! Start by creating a square or rectangular Piñata using cardboard or foam board. Cover it with colorful wrapping paper or construction paper. Add pinwheels made from paper and attach them to each corner of the Piñata for a playful touch.
Fill it with party favors, small toys, or even mini pinwheels. Seal the opening, hang it up, and watch as the pinwheels spin and twirl with every swing. It's a Piñata that combines the joy of breaking open surprises with the whimsy of pinwheels, creating a truly memorable celebration.
12. Personalized Fun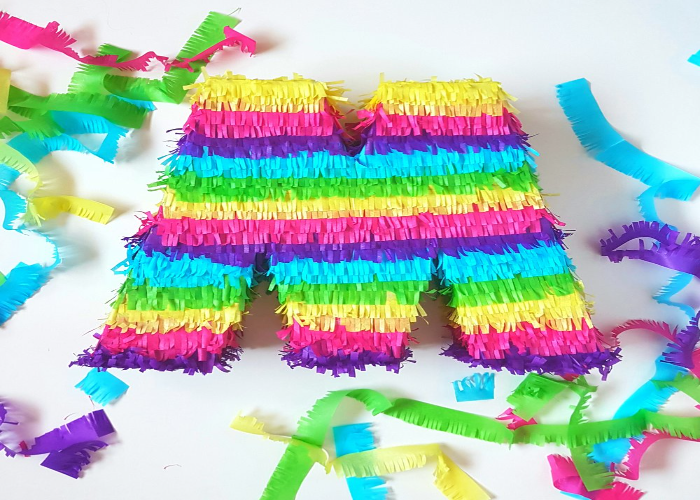 Make your Piñata extra special by personalizing it with the guest of honor's name or initial. Start by creating a basic Piñata shape, such as a letter or number. Cover it with the guest's favorite color or patterned wrapping paper. Use adhesive letters or cut-out letters from construction paper to spell out their name or initial.
Add additional decorations like bows, ribbons, or themed stickers. Fill the Piñata with personalized treats or small gifts that reflect the guest's interests. Seal the opening, hang it up, and let the personalized fun unfold! It's a Piñata that will make the guest of honor feel extra special on their special day.
Pinata Breaking Ideas
When it comes to breaking open a Piñata, you can take several exciting and creative approaches to make the experience even more enjoyable. Here are some Piñata-breaking ideas to add a twist of fun to your party:
1. Blindfolded Spin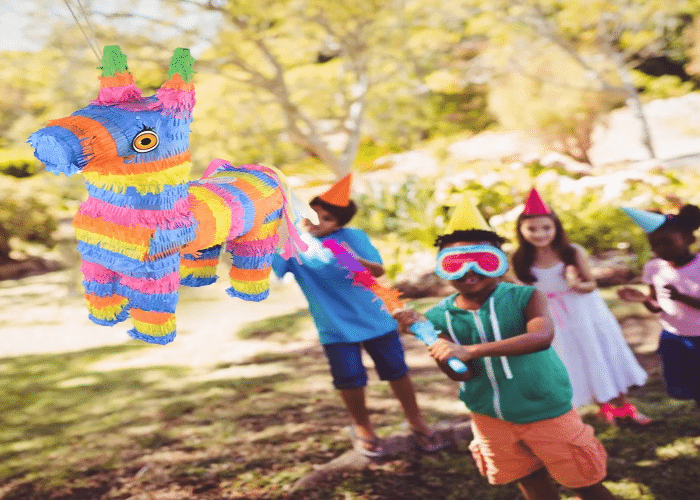 Blindfold the participant, spin them around a few times, and hand them a bat or stick. They must rely on their instincts and aim to strike the Piñata while disoriented. Adding this surprising component introduces an extra level of challenge that keeps the game engaging and unpredictable.
2. Team Effort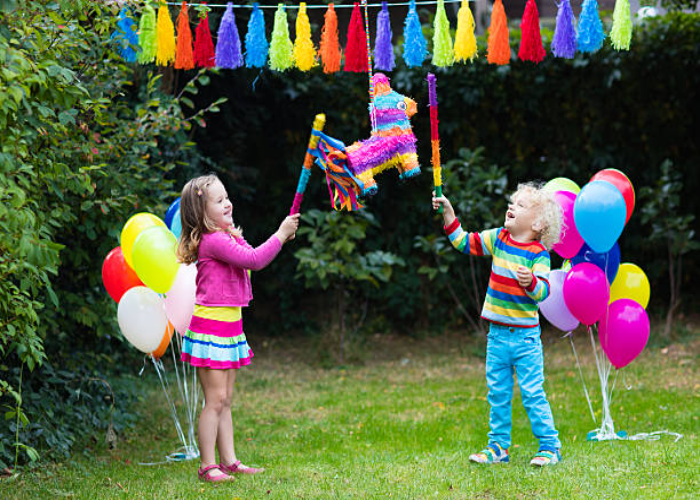 Instead of having one person takes turns, form teams and have them work together to break the Piñata. Each team member gets a chance to hit the Piñata before passing the bat to the next teammate. This encourages cooperation and teamwork, making the activity more engaging for everyone involved.
3. Musical Piñata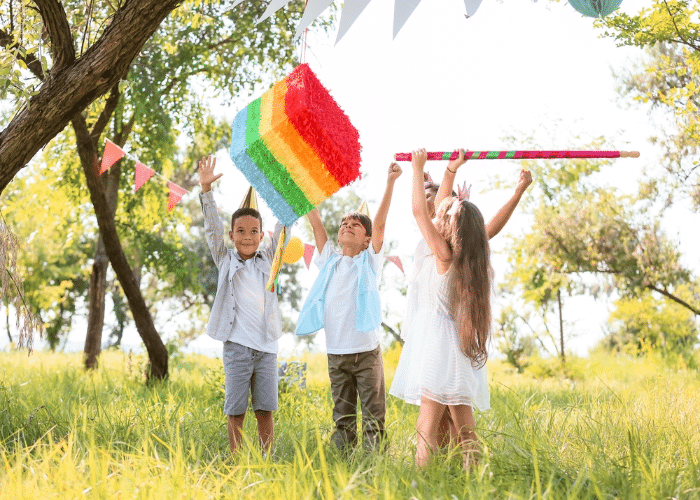 Play some lively music while the participants take turns swinging at the Piñata. When the music stops, the person holding the bat gets to take a swing. This adds a thrilling element of anticipation and timing.
Remember to prioritize safety by keeping a safe distance and providing enough space for swinging. These Piñata-breaking ideas will surely bring an extra dose of excitement and amusement to your party!
Conclusion
DIY Piñatas are a fantastic way to add excitement, creativity, and personalization to any party. With these 12 easy Piñata ideas, you can create Piñatas that cater to various themes and interests. From fringed designs to candy-filled surprises, each Piñata offers a unique and memorable experience for your guests.
So, gather your crafting supplies, unleash your imagination, and get ready to bring the joy of Piñatas to your next celebration.
Whether you are hosting a birthday, graduation, or just a fun gathering, these DIY Piñata ideas are sure to be the highlight of the party!
Frequently Asked Questions
What Paper Can Be Used to Make Piñatas?
Colorful tissue paper, crepe paper, and even wrapping paper are commonly used to make Piñatas. These types of papers are lightweight, flexible, and easy to manipulate, making them ideal for covering and decorating Piñata structures.
What Are the Easy Steps to Make Piñatas?
Creating a Piñata is an enjoyable and imaginative craft. The easy steps to make a Piñata include shaping a base using cardboard or foam, covering it with colorful paper or tissue, filling it with treats or surprises, sealing the opening, and hanging it up. Decorate the Piñata according to your desired theme, and let the fun begin!
What Can Be Used to Fill the Piñata?
A Piñata can be filled with a variety of treats and surprises, such as candies, small toys, stickers, or even personalized notes. The choice of what to fill the Piñata with depends on the preferences of the party host and the guests, allowing for a delightful and unexpected shower of goodies.