Craving warmth, comfort, and familiarity in the safe space of your home? Try warm blues to cozy it up! Bright, cheerful, lively, and pleasant – the color blue, especially the warmer shades, is known to enhance the happiness quotient of a space. Inspired by the bright hues of the clear sky and the ocean, warm bluescan instill positive vibes, thus brightening your home and life.
Blue, in general, is a "cool color." On the color temperature wheel, it is placed in the segment of cool colors, along with greens and violets. However, when the red and yellow components dominate, they impart a radiant vibe to them because reds and yellows are innately warm colors.
Wondering how to differentiate between a warm blue and a cool blue? And which warm blues will suit your vibe and your space? Don't worry; we've got your answers in this article. So, keep reading to learn about the best warm blue paint colors that will cozy up your home.
Warm Blues: A Misnomer
Blue is classified as a "cool" color on the color temperature wheel. Hence, the term "warm blues" may sound like a grave misnomer. It is not. For the why and how – keep reading.
Before getting into the debate, let us first differentiate the warm and cool colors. A warm color is one that invigorates and rejuvenates. It is a color that raises one's spirits. A cool color, on the other hand, is subdued and toned down. It calms, cools, and helps soothe your eyes. This property of higher red and yellow elements in a blue color makes it a warm blue and is the basic difference between warm blues vs. cool blues. Thus, it is not a misnomer.
Still not convinced? Imagine a sunny morning. Now, how does the color of the sky on that day make you feel? Energized. Exactly! Now THAT is a true "warm blue," and that is exactly what warm blues do!
Best Warm Blue Paint Colors to Cozy up Your Home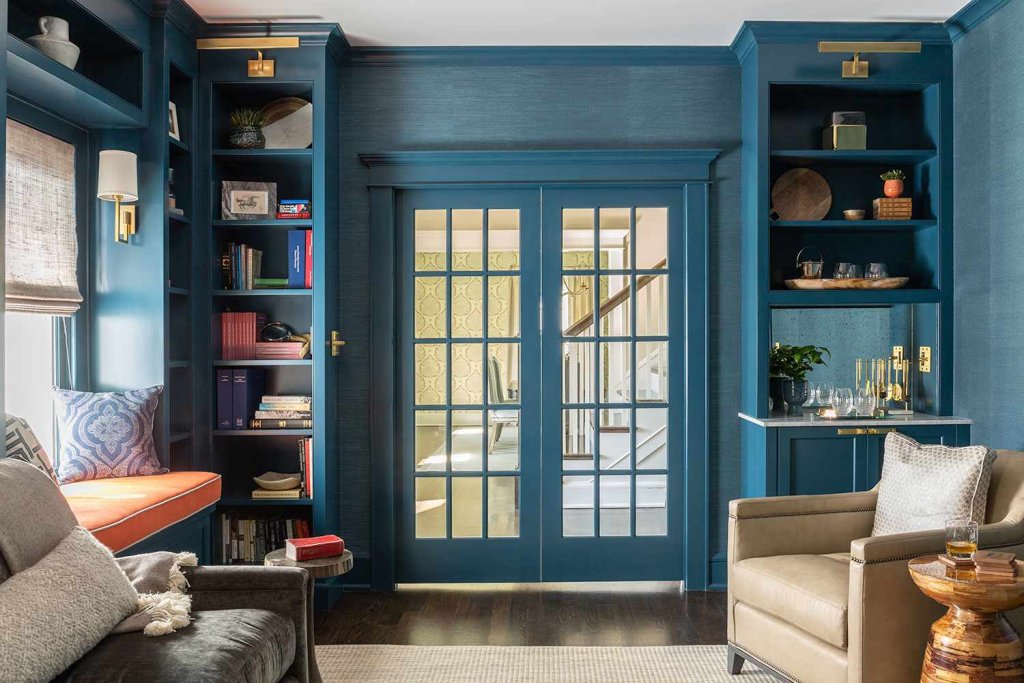 While it may take some time for you to tell the difference between warm bluesand cool blues technically, we are here to make the task of choosing the best warm blues easier for you. If you want to paint your house a warm blue to make it feel homely and secure, we can help you.
But before we proceed, here is a quick piece of information. Despite the technicalities, it is the effect of light and visual perception that accurately depicts a warm blue. So, instead of looking for the percentage of blues, reds, yellows, and greens, check for how that particular color will portray itself in a particular room at different hours of the day due to differences in light conditions. Use paint samples to check the exact undertones a color will reveal when exposed to natural and artificial light.
Here we present to you a comprehensive list of 14 warm blue paint colors to give your home a cozy look.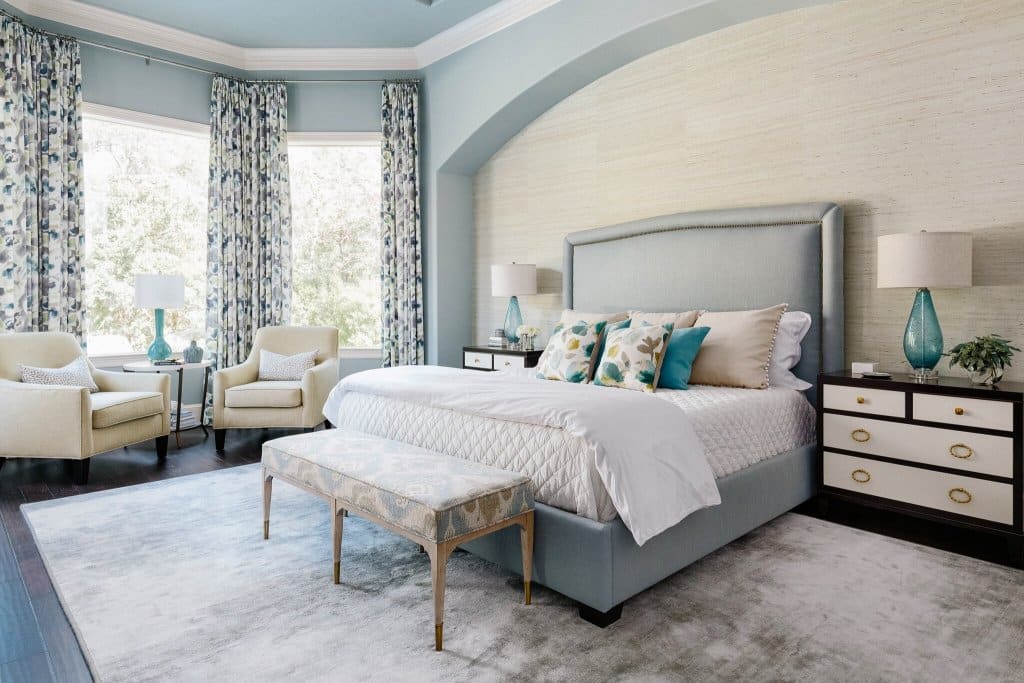 Light Reflective Value: 73.93
RGB Value: Red (219), Green (227), Blue (229)
Hex Code: #DBE3E5
One of the most intriguing warm blues, Silver Cloud by Benjamin Moore, portrays a prominent warm gray on an underlying brick tone. It exudes a relaxing vibe and depicts a safe environment. This paint color is a calming escape for the interiors, especially in bedrooms, living rooms, laundry rooms, or even bathrooms. Striking a perfect balance between radiant and soothing, the Silver Cloud paint color is highly recommended, especially if you look forward to an inviting space after your hectic schedule outdoors. The blue is slick, neither arrogant nor too obvious, making it a favorite for persons who prefer minimalism. Warm blues are known for their healing properties, and the Benjamin Moore Silver Cloud will help you understand why. Complement this paint color with white neutrals or off-whites for an eye-catching appeal.
Light Reflective Value: 73.8
RGB Value: Red (217), Green (224), Blue (224)
Hex Code: #D9E0E1
This is one of the timeless and classic warm blues. Just as the name suggests, it is a mystifying color that looks royal and elegant. Imagine a cool and breezy day while you are vacationing on the beaches – this is the exact feeling that Blue Veil gives you! Adding the perfect zest to a monotonous routine, this blue with a periwinkle undertone invigorates and refreshes you. That is why we recommend using this paint in the living room and mudroom, which you first enter after a tiring day and the last room you leave when starting the day. You will literally feel an increase in your energy levels throughout the day. For an electrifying home decor to stun your guests with, pair it with the Downpour Blue by Benjamin Moore.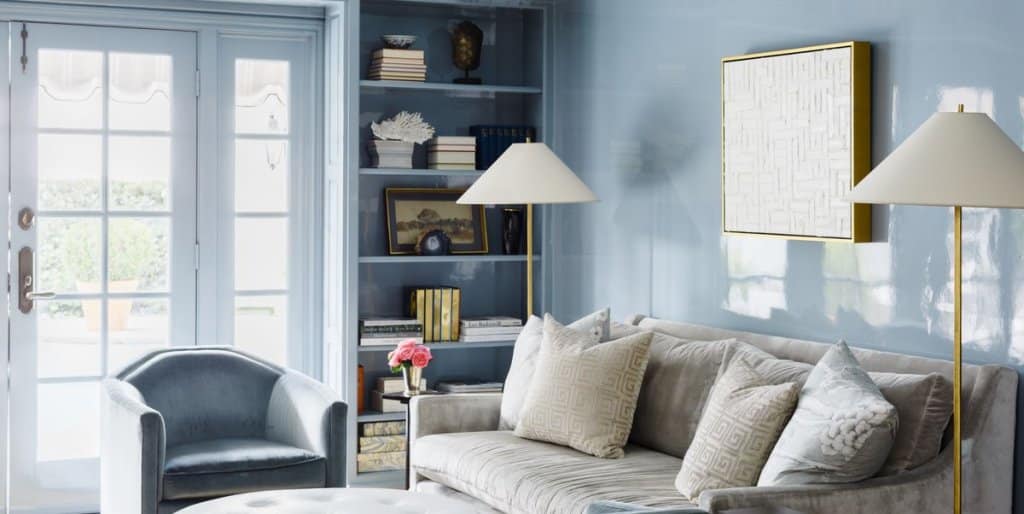 Light Reflective Value: 76.19
RGB Value: Red (215), Green (229), Blue (235)
Hex Code: #D7E5EB
A truly sweet color, this warm blue is great for revamping your children's bedrooms and attics. There is a hint of a very crispy blue over a gray undertone. Sweet Bluette is a soft color that enlivens the space because of its high reflective value. Moreover, this color subtly balances gentleness with confidence, making it a popular choice for both traditional and modern households. This color could enhance the illusion of a larger and brighter space for rooms that do not have many square inches in their purview or receive less sunlight. One of the most joyous warm blues that look happy but are not overly enthusiastic. Another way to use this color to cozy up your home is by using it for painting the ceiling, as it does a good job of concealing construction defects.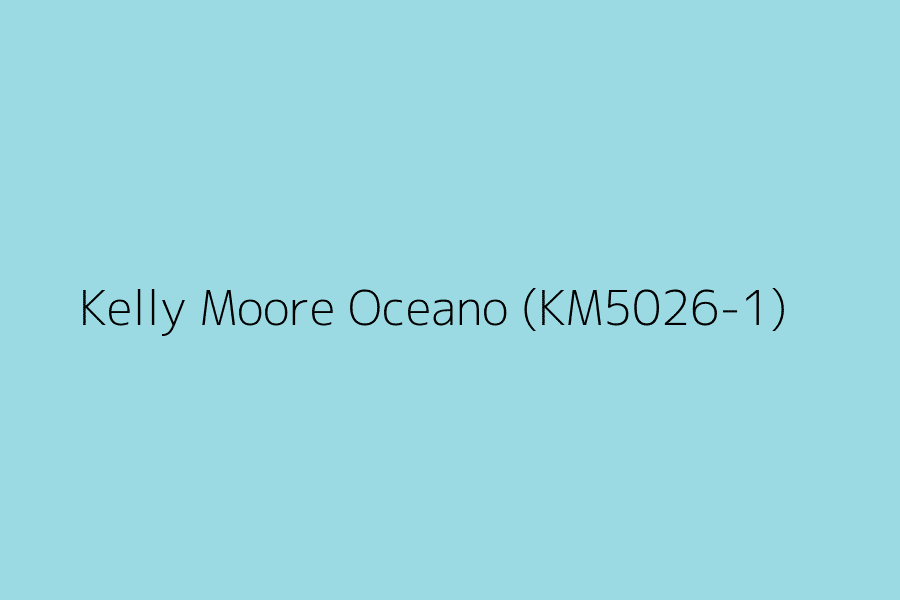 Light Reflective Value: 62.16
RGB Value: Red (154), Green (216), Blue (227)
Hex Code: #9AD8E3
Kelly Moore Oceano, the color that truly revitalizes your senses, lives up to its name. One of the true warm blues, this paint color is rightly inspired by the cheerfulness of the waves of the ocean. The ocean never lays still, and neither does this color. On whichever wall it is painted on, be it your teenager's bedroom or the lounge area in your home, it brings with itself renewed vigor in ripples. It portrays itself as a warm sky blue on a sunny day. Due to its youthful exuberance, young adults who prefer a boho chic interior look for their homes love it! You can also use this soft yet solid color for painting an accent wall, the basement, or even the front door of your home. The color is jolly and leaves a mark on its attribute without looking cluttered or messy.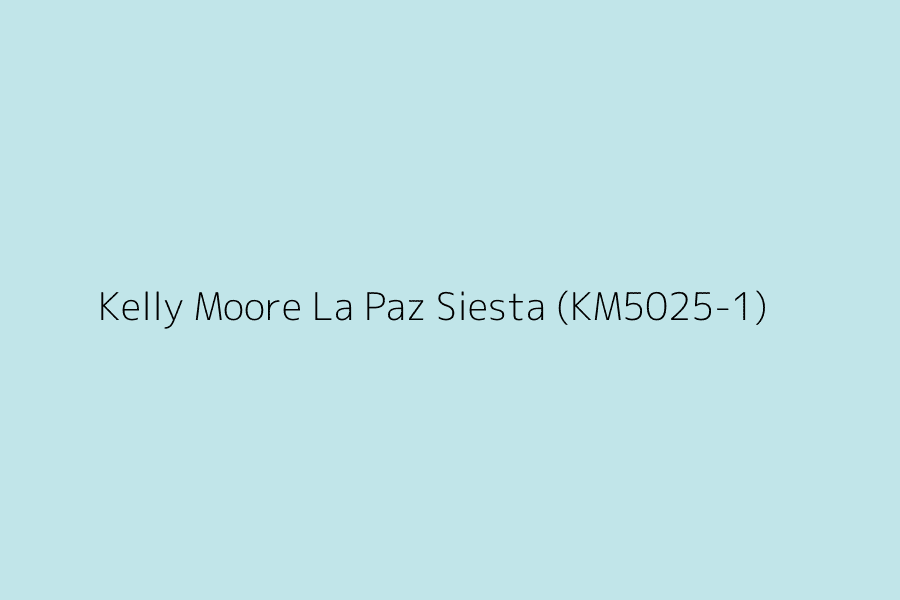 Light Reflective Value: 73.17
RGB Value: Red (193), Green (229), Blue (233)
Hex Code: #C1E5E9
With a soothing gray undertone, this color surprisingly falls among the most pleasant warm blues range. To understand the depth of this color, you would have to imagine the sunrays invading through the slits in a pile of clouds in the sky. It uplifts your mood but does not scream brightness. A rather pale blue, as you may call it, this paint color lightens up seemingly darker rooms. Perfect for minimalists to use in drawing rooms, this paint color is most commonly used in kitchens and bathrooms for a clean, simple, and uncluttered look. You can also paint a single wall in your bedroom using this color, where you can place a nightstand accessorized by potted indoor plants. Beiges, greiges, or paint colors having warm whites as their primary colors match well with this rather uncommon inclusion in warm blues by Kelly Moore.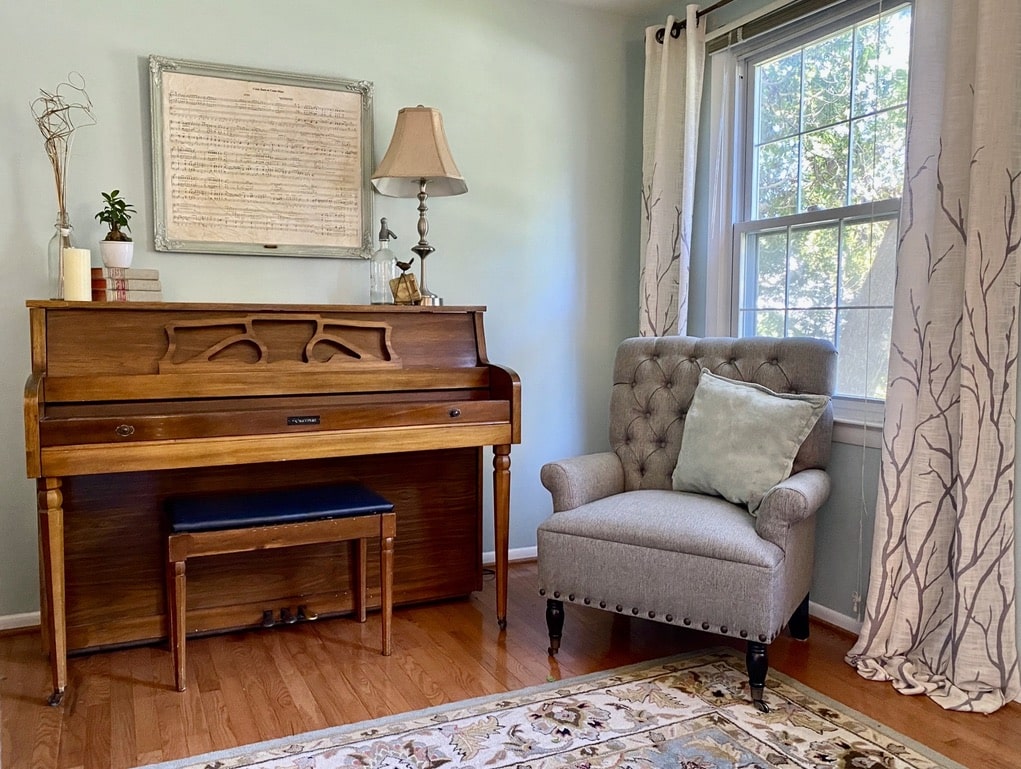 Light Reflective Value: 73.17
RGB Value: Red (195), Green (215), Blue (211)
Hex Code: #C3D7D3
Another one of water body-inspired warm blues, the SW 6477 Tidewater by Sherwin Williams, brings the vibes of the sea to your home. And it is a hit wherever you paint it, be it the bedroom, living room, dining room, kitchen, bathroom, mudroom, or laundry room! Nature lovers will swear by this shade in warm blues by Sherwin Williams because it combines the vibes of the forests and the waters. That is, a light ocean blue, embedded in a warm green undertone – this paint color imparts the healing essences of grounding techniques and adventure trips. You could also label it a warm green color but for the slightly enhanced hue of blue that makes it an interesting color to work with and use for cozying up the home.
Pro tip: Use SW 6482 Cape Verde for highlighting wall brackets or a single wall in your room for an alluring charm.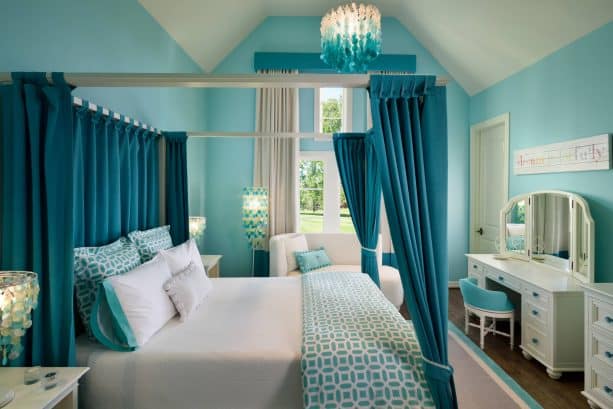 Light Reflective Value: 46
RGB Value: Red (110), Green (194), Blue (196)
Hex Code: #6EC2C4
A slightly darker shade in warm blues, Mariner by Sherwin Williams radiates positivity without overwhelming the place. We bet your child will love it because of the playful nature of the color as if a warm, soft green were playing peekaboo with a strong blue. This merry disposition of the Mariner justifies the title and gives the color a cozy and comfy essence. Hence, SW 6766 is quite popular for painting children's bedrooms. Although lively, this paint color gives off a calming sensation that acts as a comfort for the visual aids of a person. Thus, you can also use this playful blue for painting the bathrooms and laundry rooms.
It depicts the colors of the marine flora, a green world submerged beneath a cover of blue. No wonder it is a high-depth color and should be used in rooms that receive moderate to sufficient sunlight.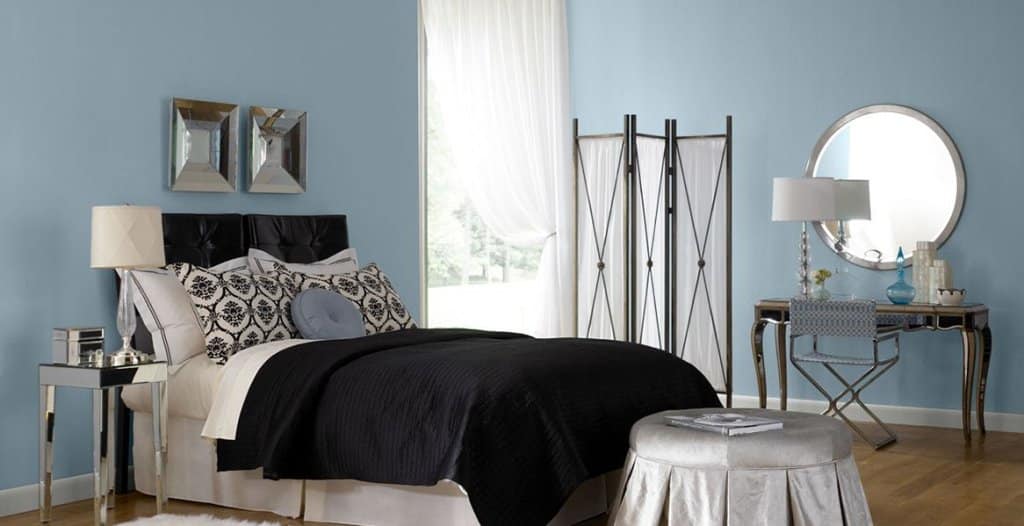 Light Reflective Value: 55
RGB Value: Red (176), Green (200), Blue (208)
Hex Code: #AFC8D1
Inspired by tidal undercurrents, the Gentle Sea by Behr in the range of warm blues is a pretty stirring color. It strengthens the spirit while also creating an environment of peace, calm, and relaxation for the seer. Among all the warm blues that usually originate from the colors of the skies, oceans, and clouds, this is one that stands apart. It resonates with the motionless foams created by the endless tides brought to the shore by the tidal currents. Hence, this color has a unique characteristic of stillness and silence. A baby blue at heart, this color depicts itself as a neutral blue-gray composition, thus emanating a calm and relaxing mood.
Use this warm blue to paint the foyer as a welcome for preparing oneself for a cozy and familiar setting at home. When used to paint bedrooms, this color enhances sleep quality owing to its tranquility.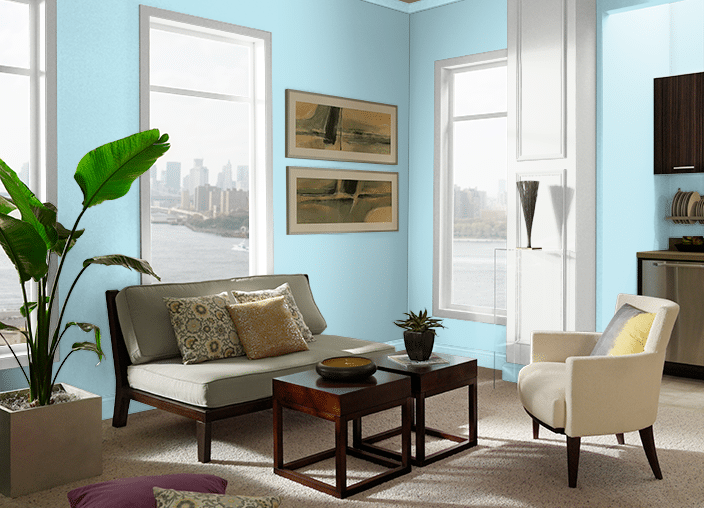 Light Reflective Value: 71
RGB Value: Red (184), Green (227), Blue (237)
Hex Code: #B7E2ED
Among all other warm blues by Behr, this true baby blue shade is one of our most favorites that we can never seem to have enough of! It is so rich, so classy, yet so gentle that it never feels real. Yet it is. And it is a perfect delight for children's bedrooms and bedrooms for adults too. For children, it is an encouraging color that inspires one to dream and be free. For adults, this color brings back memories of childhood play and remotivates you to go collect those pebbles from the beach like you used to when you were young. Warm blues are always happy, but Ocean Front by Behr probably epitomizes this happiness. You can paint your living room walls using this color for a soothing vibe. Taste the saltwater in the comfort of your home with the unique property of this color.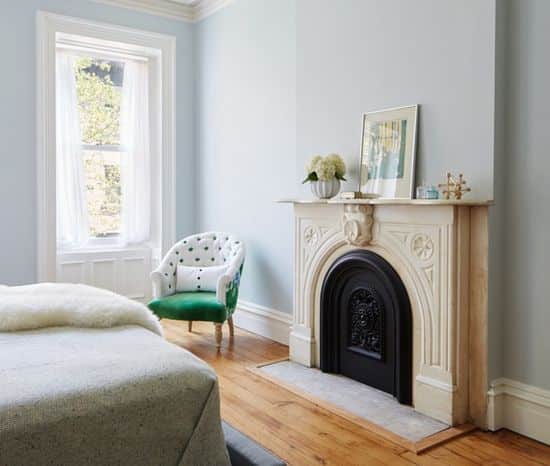 Light Reflective Value: 70.01
RGB Value: Red (216), Green (223), Blue (220)
Hex Code: #DBE5DC
Remember those sleek summer sun rays trying to get a glimpse of you through the half-closed window treatments in your room while you were enjoying the summer break at home? Capture those rays on a color palette; you've got one of the most picturesque warm blues! The Borrowed Light by Farrow and Ball! The pale blue light that passes out from the prism when white light diverges through it – this paint color reminds you of the power of gentleness. Splash this paint color in your bedrooms to maximize the healing effect of this frequency of light. Keep the decor minimal and enrich the glory of the room by adding flowerless shrubs, macrame hangings, or photo displays. Pair it with 281 Stiffkey Blue, 237 Cook's Blue, or 2005 All White by Farrow and Ball for the furniture tops for a captivating impression.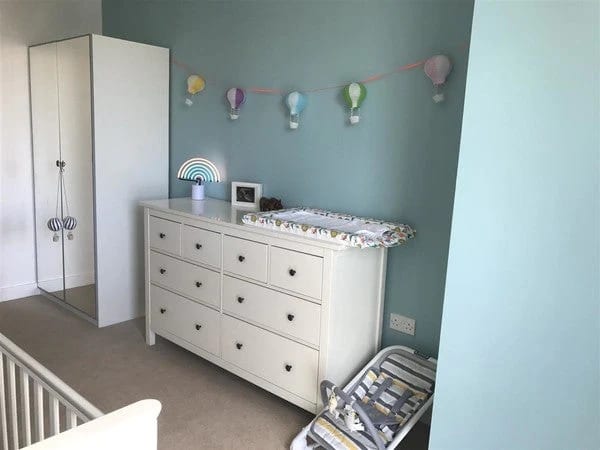 Light Reflective Value: 51.53
RGB Value: Red (159), Green (210), Blue (205)
Hex Code: #9FD2CD
An upbeat color, the collection of warm blues by Farrow and Ball is incomplete without this Blue Ground. This medium-depth color may present a prominent gray-green undertone, but paint it on the walls receiving a fair amount of sunlight, and you will find this to be one of the most promising joyous blues. It surely boosts your morale and is never an icy cool color. An ideal color for playrooms and nurseries, if you have a furry friend, you can also paint their kennels this warm, bright color and watch them jump around in pure joy! It has a medium blue shade and is included among warm blues for its significant optimistic vibe. Use 274 Ammonite or 275 Purbeck Stone by Farrow and Ball as accent colors for the complete look.
Light Reflective Value: 75
RGB Value: Red (224), Green (233), Blue (243)
Hex Code: #E0E9F3
A chill afternoon in the early onset of Autumn is what describes Harbor Afternoon the best. A subtle and cool shade, you may be wondering why this color is included in the warm blues. Well, there's a reason for that. Autumn signifies the buffer period between the end of summer and the beginning of winter. It is no different with Harbor Afternoon. Although visually cool, it has a prominent white undertone that imparts relief and a peaceful vibe in accurate proportions. A cool shade intertwined with a warm undertone, Harbor Afternoon by Dunn Edwards subtly radiates a sense of enthusiasm in the air. You can use it on the kitchen walls or even for your kitchen furniture. This is great for bathrooms, front doors, and drawing room furniture. An exemplary color that clearly highlights the exception among the warm blues incorporates sophistication in your home's interior design by using this paint color.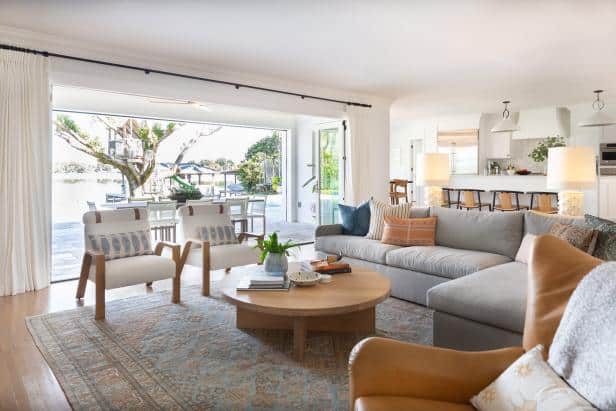 Light Reflective Value: 65
RGB Value: Red (200), Green (218), Blue (245)
Hex Code: #C8DAF5
A color of great value, mystery, and depth among the most unique and precious warm blues, Fly A Kite by Dunn Edwards really makes you want to reach the sky. The welcoming aura and pure joy that it generates give you immense confidence and strength. The might of the majestic sky has inspired this color, and has an almost obscure shade of periwinkle. You know the lavender shade is there; you can feel it, but it is not visible to the naked eye – such is the enigma of the color. We recommend using it for beautifying the living rooms, bedrooms, ceilings, and accent walls because this color deserves all the attention. Use hanging gray or black sleek pendant lights or ceiling lights, especially if you pay minute attention to detail. This setup will almost immediately make your home look and feel cozy and inviting.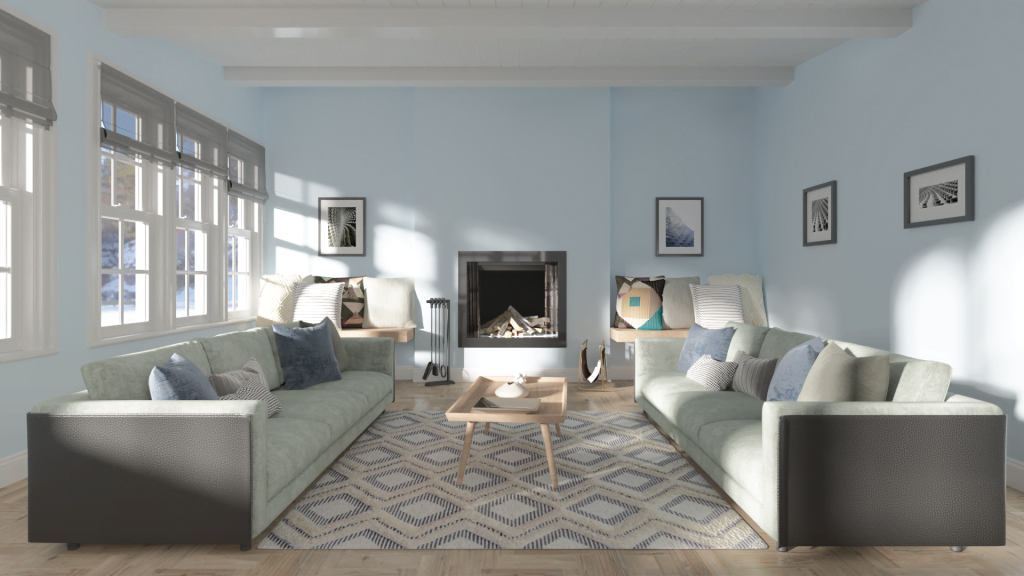 Light Reflective Value: 76.88
RGB Value: Red (211), Green (230), Blue (241)
Hex Code: #D3E6F1
When picking out the best warm blues to paint your home for a cozy feel, you absolutely CANNOT miss out on this one! Unlike other warm blues that are usually inspired by the colors of the water, the sky, or the floating clouds, this color takes inspiration from different hours of the day! Yes. A light color signifying tranquility, it combines a pale arctic blue shade with the undertones of twilight. Almost as clear as a literal dewdrop, the Dewdrop by Valspar contains soft blue's cooling and palliative properties. But it also enhances vitality by easing the nerves and deep healing; hence, it is classified under warm blues.
Paint the front door, laundry room, mudroom, living room, or bedroom using this color. For the bedrooms especially, we recommend pairing it with browns and beiges for a reflective experience.
Conclusion
Colors have a very powerful visual impact that has the power to alter your imagination. That is why the reason why you may always be feeling blue may be attributed to the paint color of your home. And surprisingly, warm bluescan help you reimagine multiple aspects to glorify the beauty of your home! They have an inherent revival property that is rarely highlighted.
However, if you search for warm blues according to the percentage of reds and yellows in them, you may fail in your search, or the outcome may not be what you desire. It is all about the feelings a color evokes that categorize it as a warm or a cool color.
Let us know how the warm blue color uplifted your mood and which color it was. Never had the experience to date? Then take a cue from the above ideas and tell us which warm blue paint color you are excited to try out and where in the comments below.