The bedroom is a safe haven for most teenagers; creating and decorating one that reflects their personality is a must. Undoubtedly and inarguably, it is a tricky task. But we've got you covered with a list of teen girl bedroom ideas to make it feel like a breeze.
With bedroom ideas for teenage girls, you have to be particularly careful not to make it look too childish while also keeping remnants of memories of the child alive within them. That is, creating the perfect balance between bright and bold and a slightly toned-down decor is the key to going ahead with teenage bedroom design.
One of the best and surest ways to ensure this is to involve your teenager in the process. Take inputs from them so you don't go wrong with redesigning their bedroom. It is also a good idea to keep yourself fairly updated with the latest trends in teen girl bedroom ideas.
In this article, we have curated a list of 24 similar ideas to transform teen girls' rooms.
Best Teen Girl's Room Decor Ideas
1. Jazz Up Your Wall Decor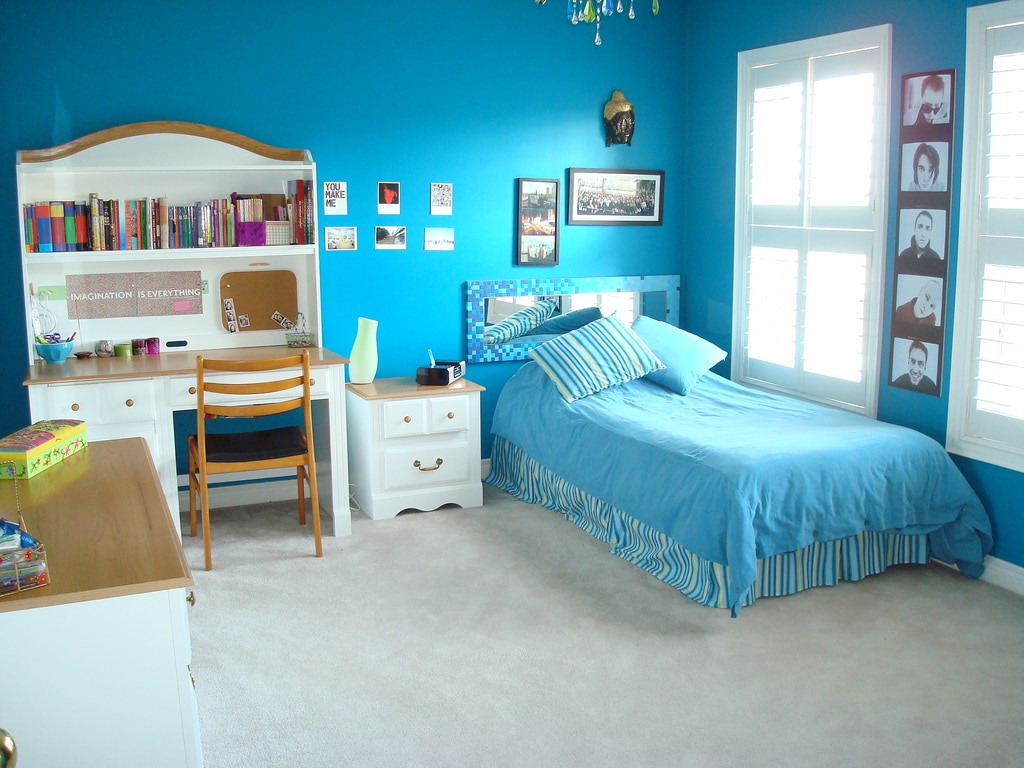 Think of the wall as a blank canvas that you and your princess can work together on to portray their persona and vivid imagination! A few ways to jazz up your teenage girl's bedroom wall is by painting it with bold pastel colors. Team up with them to paint the walls with hues of blues and pinks and yellows, and oranges. Contrasting a bold color with a neutral one on different walls or using splash color designs is a great idea!
You can also use wallpapers of your daughter's favorite prints and patterns. Small stickers of their favorite animals or series are also one of the most creative teen girl bedroom ideas that they would surely love.
2. Theme it Up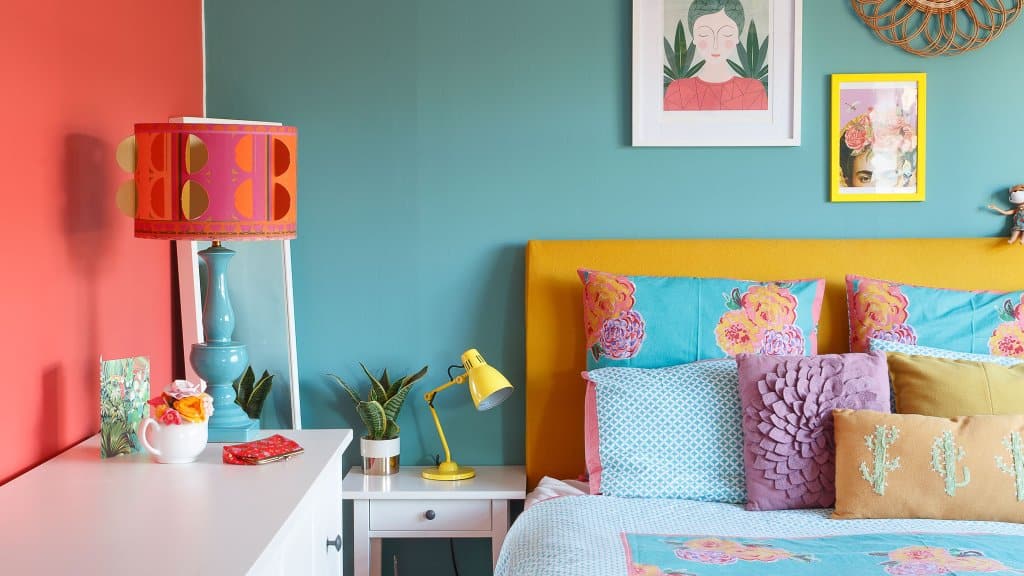 Choose a theme of your daughter's choice and incorporate it in their bedroom. This is a widely popular teenage bedroom design. Keeping in mind their aesthetics in teen girl bedroom ideas, you can either surprise them or you can ask them to select a theme of their choice for redecorating their bedroom.
For classy teenage bedroom decor, you can go with a soft and minimal theme (like neutral colors paired with wooden furniture or a grayscale theme paired with metal furniture). If your teenager is more outgoing and bold, go for a more vibrant and quirky theme (like a boho vibe makeover or flashy colors and wallpapers).
3. Add a Swing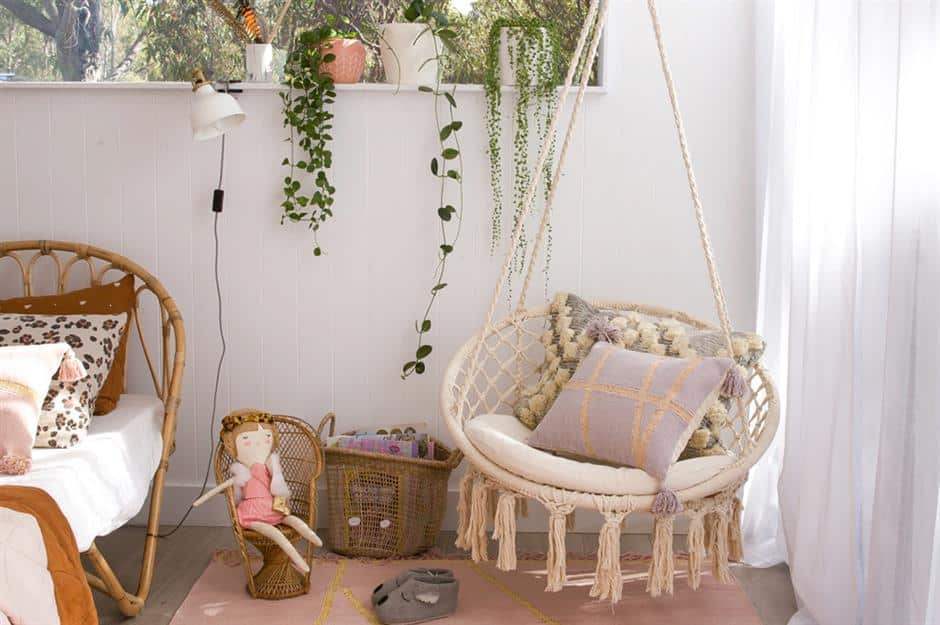 Your growing princess will love this in her bedroom, and we guarantee this! Setting up a swing chair or a hammock chair in the bedroom adds the perfect touch of aesthetics. Hanging it near the window will give your teenage girl the perfect place for zoning out, as she needs significant leisure time watching nature outdoors amidst all the activities backed up by her raging hormones.
Make it comfortable for her by adding cushions and keeping a few storybooks handy. Deck it up with thin floral garlands or string lights so it becomes the center of attraction in the room. Add a bright touch of pop by using funky cushion covers for your knitted hammock chair.
4. Set Up Striking Pieces of Furniture for Decor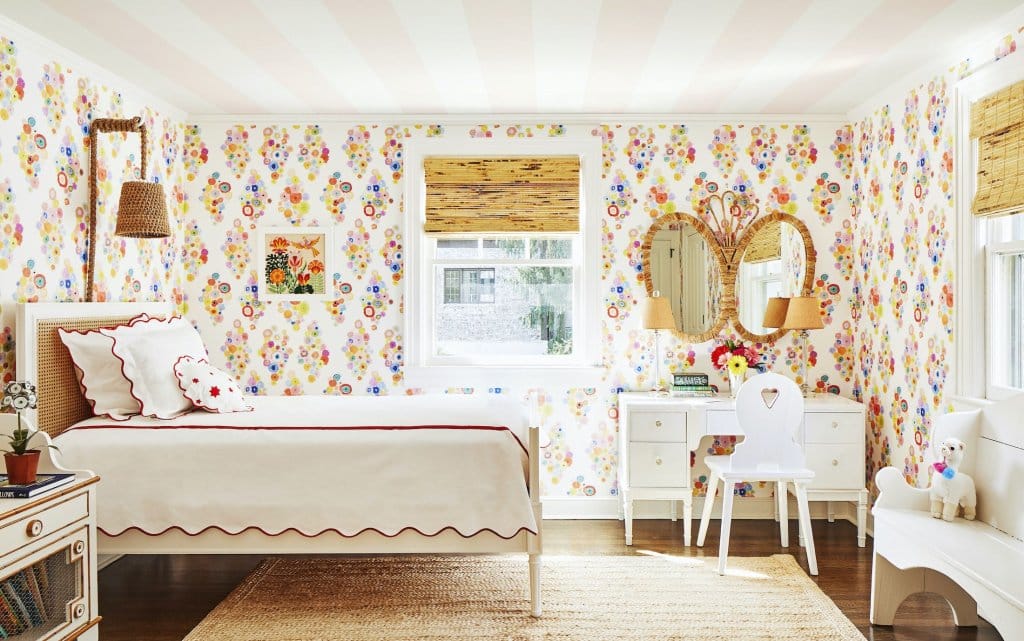 Teen girl bedroom ideas are not just about colors and hangings and all things floral. Just in case you were second-guessing, here's your answer. Yes, you can utilize furniture decor for planning your teenage girl's bedroom design. Experiment with quirky metallic furniture in geometric shapes, vintage and rustic pieces, or even simple furbishing. Spray paint them if your creative mind feels like it would go with the bedroom theme. Mount them on the wall if they are small, or place them in the room if they have large storage space. Use tassels on the knobs of the chests of drawers for a subtle highlight.
5. Focus on Ceiling Decor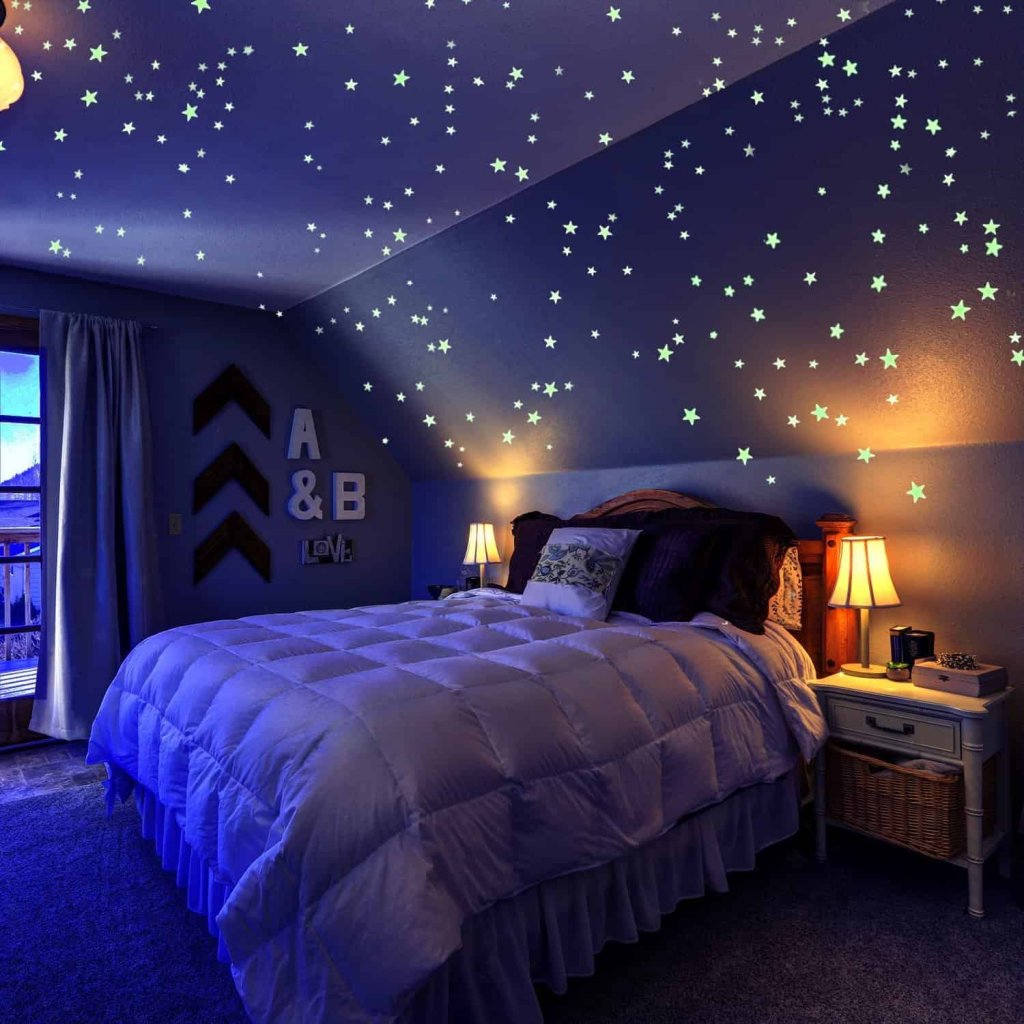 Ceiling decor deserves as much attention as any other part of your teenager's bedroom. Although often overlooked, ceiling decor can elevate your teen girl's bedroom decor game like nothing else. We are talking about ceiling drapings, chandeliers, and hangings from the ceiling. You can also put up wallpaper exclusively on the ceiling to make it the focal point.
For teen girl bedroom ideas, set up DIY paper chandeliers or minimal pendant lights. They are the perfect choice instead of glass chandeliers which complement living rooms better. If the ceiling drape is your choice, don't make it too elaborate such that it weighs down on the ornamentation of the entire room.
6. Glam Up the Window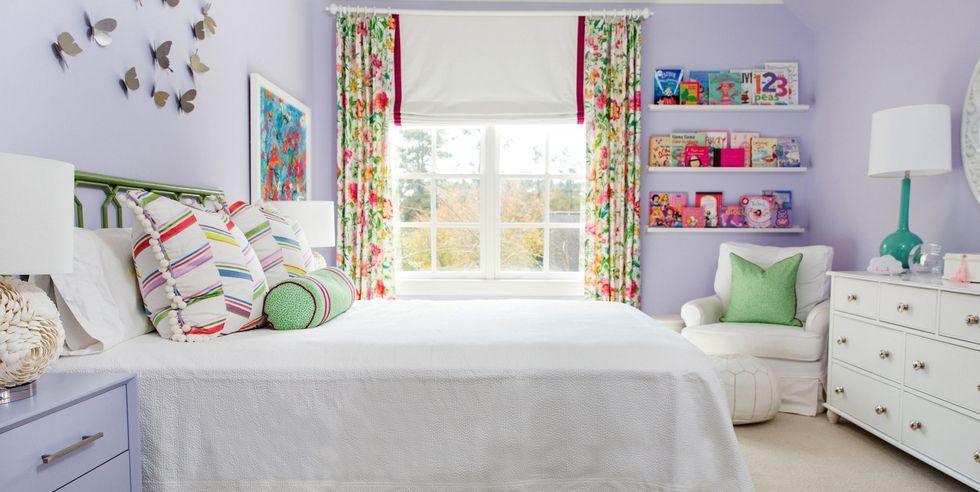 Invest in window treatments not just for protecting your window frames but also for classy teenage bedroom design. However, ensure that the window treatment that you choose for your girl's bedroom does not make it look too cluttered. Hang down add-ons like a dreamcatcher or a windchime for a pretty and chic feel. Hang down small transparent curtains if you wish to. Installing a window sill or a mounted board that serves as a window tray is also a simple and unique teen girl bedroom idea.
You can place a DIY bird feeder to welcome winged guests to the room. Your teenager will thank you for utilizing this teen girl bedroom idea so effectively!
7. Create a Lounge Area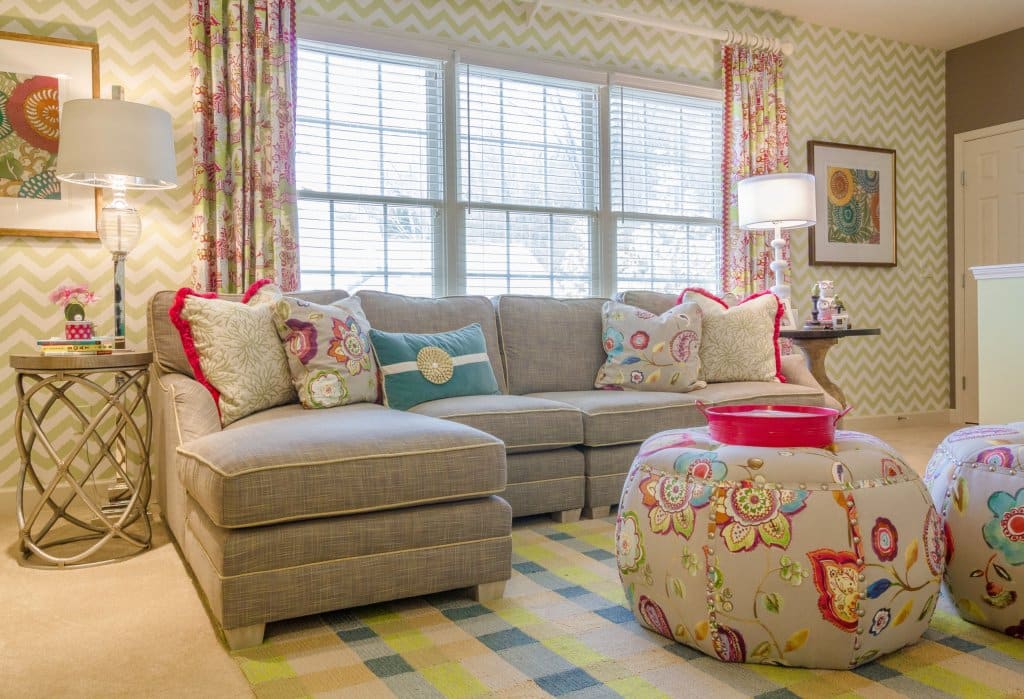 Your teenager will need a lot of "me-time" for themselves at this stage of their life. What better teen girl bedroom idea than creating a space for her in her room that can be her comfort zone when she needs time to be alone with herself? It can also serve as her chilling space where she can play card and board games and gossip with her friends and besties. Improvise the available space in the room by placing a comfortable rug or a futon or a couch, and a small circular tea table, and place some throw pillows to accentuate the theme.
If budget is not a problem, add a mini fridge to store water and juice to ensure your precious child stays hydrated. Place one or two bean bags if a tea table as part of teen girl bedroom ideas feels too basic and formal for your teenager's bedroom.
8. Set up a Tent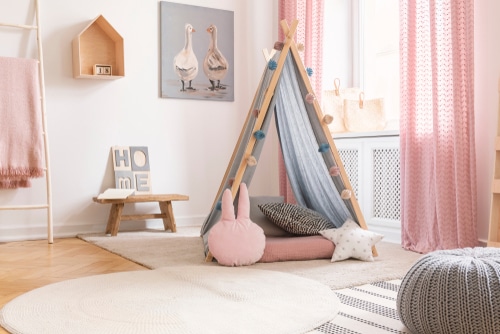 One of the most unique and creative teen girl bedroom ideas, a tent is both decorative and functional. It can serve as a modified lounge space for your teenager to unwind after a long day. Make the space cozy by placing their favorite duvet, a few snack bars, and a small music system. Stack it with some card and board games for her to play with her friends when they come over.
Decorate the tent with some fairy lights to create the perfect ambiance in the dark. You can also adorn the tent with flowerless shrubs from your garden or floral garlands. Use canopy curtains for creating a makeshift tented area if your teenager feels like the tent is too childish an idea.
9. A Separate Dressing Area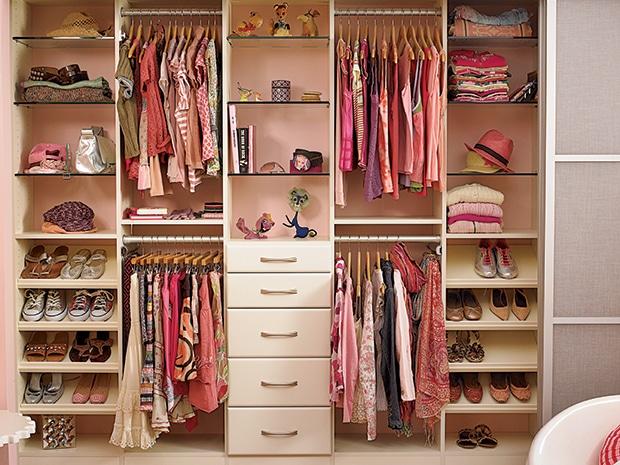 No girl has enough dresses to wear to a party. But that doesn't mean she doesn't need a space to store all her clothes. This could be her "dressing area," and you could actually put up a sequinned label for extra decor. Another impressive addition would be a female bedroom mannequin that could be her dressing canvas.
She could even change the dress according to the season or special days. A very simple yet sophisticated dressing area decor could be garlanding the mannequin with a measuring tape for the most elegant presentation.
10. A Make-Up Area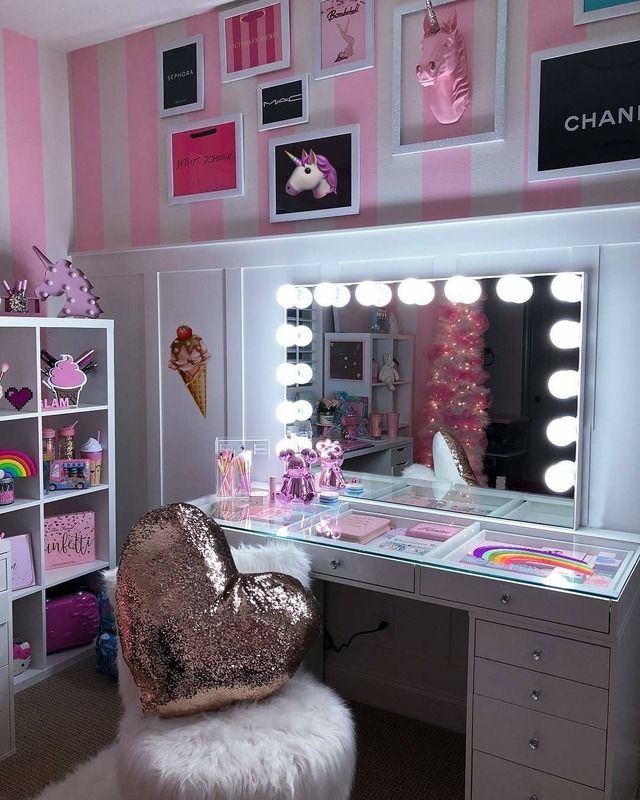 This is one of the most exclusive teen girl bedroom ideas and is a must-have in a fashionista's bedroom. You may either set up a full-length mirror and a basic make-up organizer. Put a thin string of fairy lights around the mirror for those perfect selfies. Or, you could create a proper setup where she could do her makeup without much hassle. Place a vanity mirror with LED lights atop a basic four-legged table having one set of drawers.
Include a curlicue chair to make it look like a teenager's space and not an adult's. You could also add curtains to cover the mirror for decoration. Keep a small trash can below the table so she can discard her wipes easily.
11. A Mini Library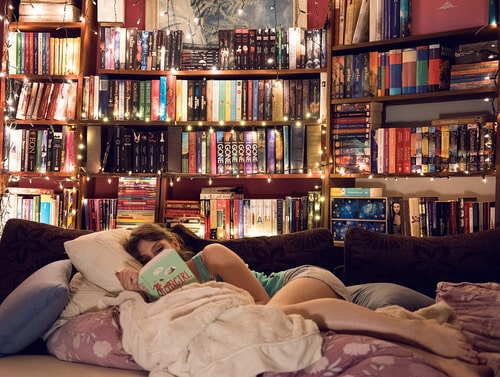 If your teen girl loves reading, this could be the perfect way to redesign her bedroom. Create a reading nook for her, which should include a study table, wall shelves or bookshelves for displaying her books, and of course, a reading light. To add vibrancy, put up cute little centerpieces on the reading table.
You could also put up a soft board on the wall above the table where she could put up cuttings of inspirational quotes or sticky notes stating her to-do list. If there isn't much space in the bedroom, you could use a folding wall-mounted table. After all, teen girl bedroom ideas are all about maximizing the available space for recreating their personal sense of style!
12. Design The Nightstand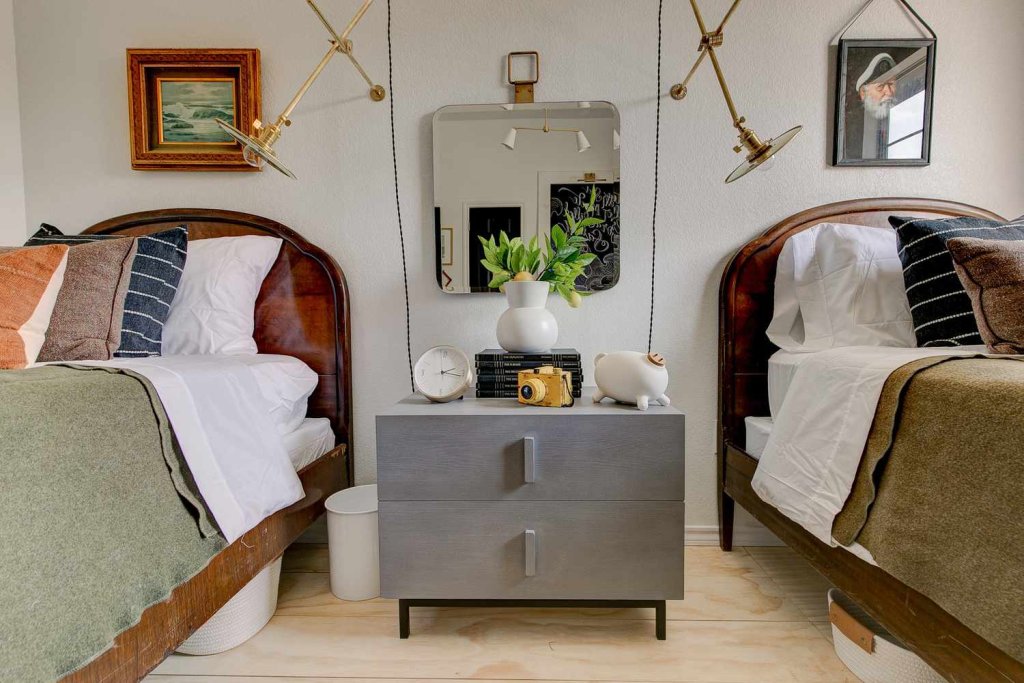 The nightstand can be pretty much a statement piece if styled correctly. If there isn't one in your teenage girl's bedroom, we'd suggest you either buy one or design one yourself. One of the easiest and most effective ways is by inverting a tall flat-bottomed metallic trash can. You can then either spray paint it or cover it with a piece of printed or monotone fabric.
A vintage glass lamp or a fabric lampshade could add the right amount of elegance to the bedroom. We'd suggest keeping a slender and tall nightstand that also has storage space. Adding the nightstand is a utilitarian teen girl bedroom idea for your girl to keep their spectacles and phone handy when they wake up or in the face of an emergency.
13. Focus on Decorating the Bed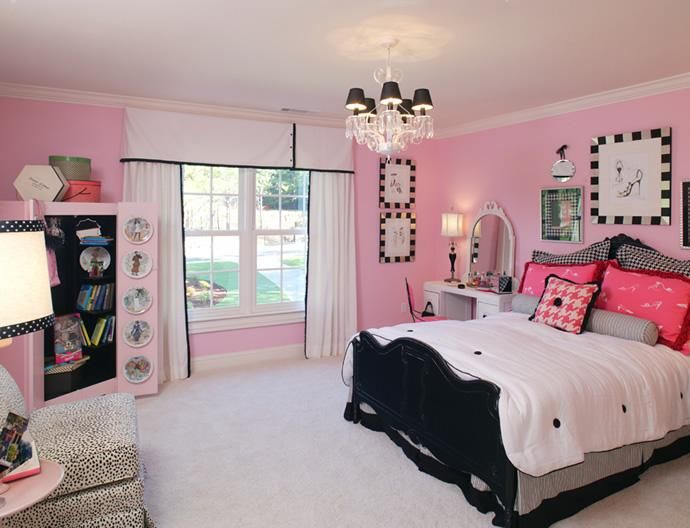 The "bed" is the single factor that distinguishes a "bedroom" from other rooms. Naturally, it is the focal point in the room irrespective of how much and how well you decorate the rest of the room. Hence, bed decor can instantly enliven the appearance of teenage bedroom design if done right. Use bedsheets of bright colors or cheerful prints, keep some throw pillows and stuffed toys, and keep it otherwise clutter-free. The most crucial factor when setting up one among the many teen girl bedroom ideas is to keep the bedroom tidy so your ornamentation is visible.
Set up an end table at the foot of the table that serves as a storage unit so the bed does not look like a mess. Knitted pillow covers provide a subtle hint of grace to your teen girl's bedroom decor.
14. Utilize Bed Curtains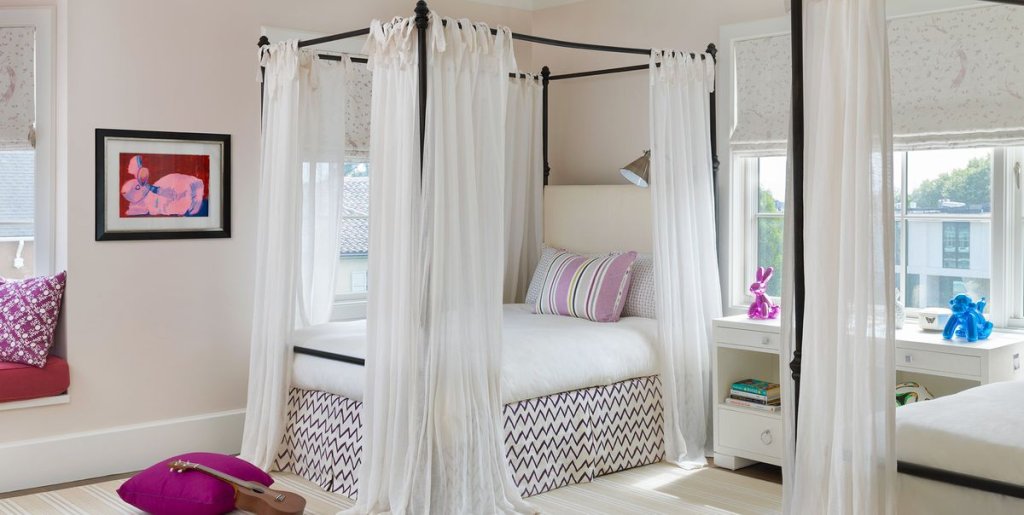 Set up bed curtains from a four-poster frame adorning your teenager's bed. Or, you can even hang curtains for the bed the canopy style. This provides the much-needed privacy for your growing young girl while also providing a cozy ambiance within the enclosed space. Using translucent fabrics in soft shades is perfect for imparting a dreamy look to your teen girl's bedroom ideasaesthetic.
We recommend choosing colors that match the theme of the bedroom decor. Also, you can either use a single color of curtains or a set of curtains of two different colors or prints. Set up a small chandelier in the middle for the ultimate fairy core aesthetic. Sew up sequins on the curtains if extravagant is the keyword for your teenage daughter.
15. Install a Mounted Headboard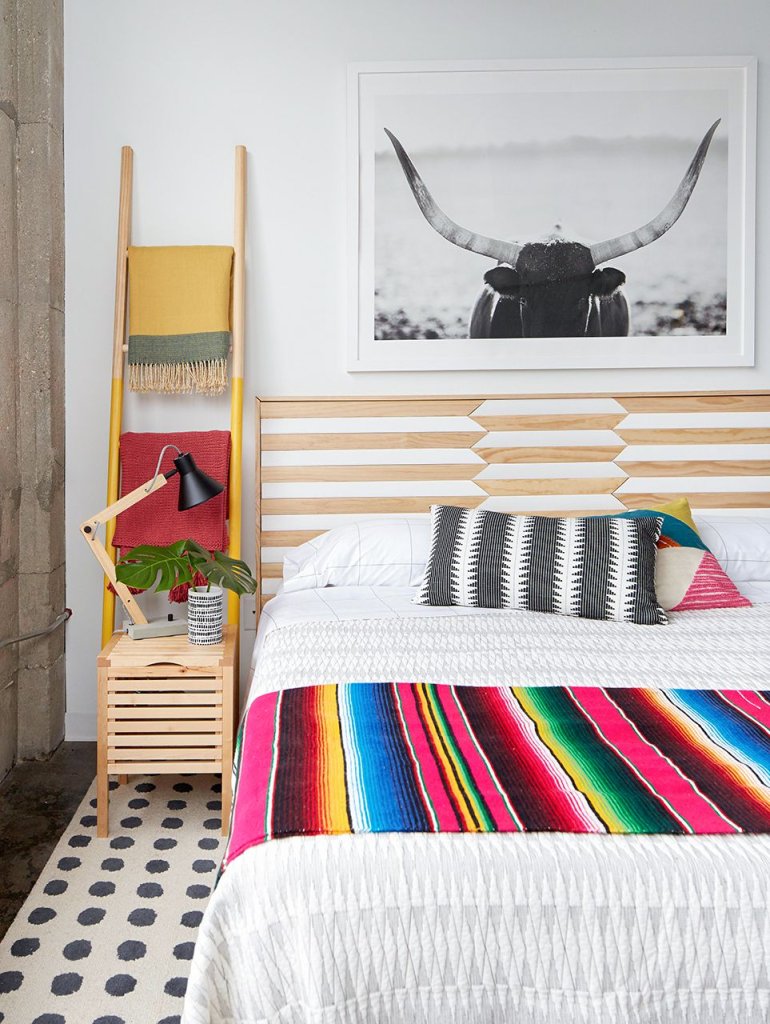 A mounted headboard is a significant statement piece for your teenage girl's bedroom. Choose from a wide array of shapes, sizes, patterns, textures, and even colors. Bold prints, flashy colors in darker shades, circular or square shapes, and velvet textures are mostly thought of for teen girl bedroom ideas. Make sure that it aligns with the theme of how you plan to revamp their bedroom.
While a mounted headboard has no utility as such, its decorative purpose serves very well. Hence, when thinking of teen girl bedroom ideas, you cannot miss out on this. Moreover, you cannot go wrong with this choice of decor (usually)!
16. Wall Display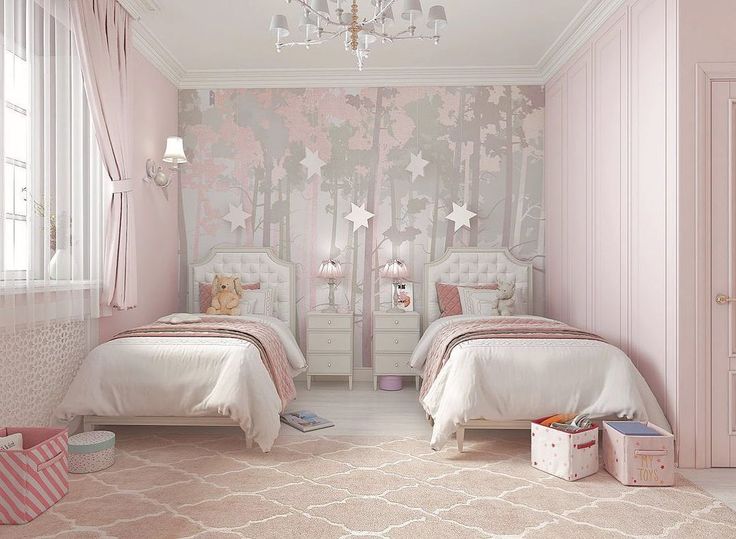 Wall displays form an integral part of artful teen girl bedroom ideas. Right from displaying artwork, motivational quotes, or even tapestry that resonates with your teenager's personality – pour your (and their) heart out when designing the wall display. Sometimes, mounting empty photo frames give a minimalistic decor that is simple yet eye-catching.
Moreover, a gorgeous and interesting wall display instantly refreshes one's mind when they enter the room. If you have run out of ideas for a wall display, take a white sheet of paper. Ask your girl to fill it up with their painted hand prints, frame it, and display it on the wall! It not only decorates the wall but becomes a memory you can cherish forever when your teenager moves out.
17. Display Board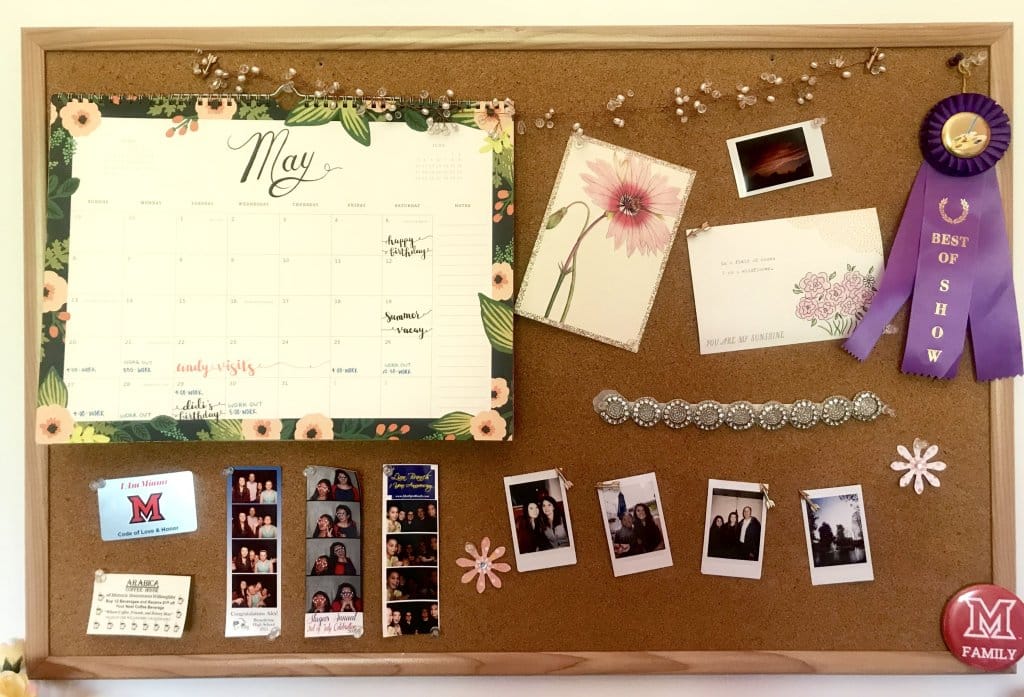 A soft board or a magnetic display board is a stylish teen girl bedroom idea. It gives them a blank space where they can express their thoughts and imagination. Be it putting up their exam schedule or inspirational quotes, a display board helps jot down necessary information for your teenager in a single place. They can put up their to-do list or goals for the month.
They can also put up posters of their favorite artists or bands, or actors. Magnetic stickers add fun and color and give an outlet to your teenager's wanderlust. This decor adds a touch of personalization to their room without being too showy. Keep a pen stand nearby so your teenager can scribble down important reminders and put them on the display board.
18. Picture Display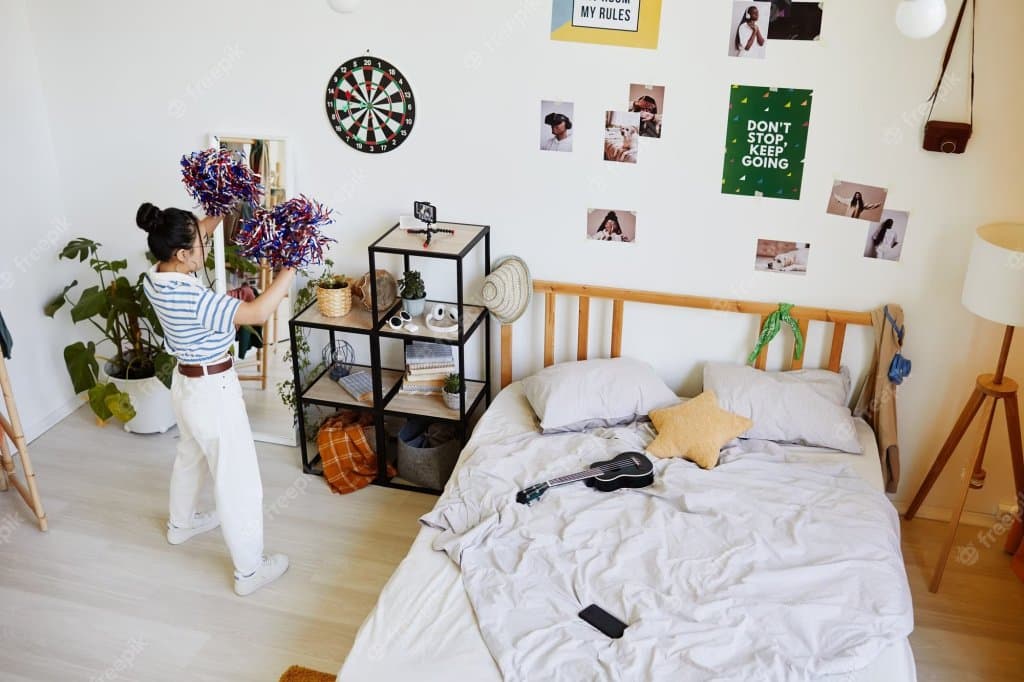 You can never go wrong with putting up pictures on display in your teenager's bedroom. Clip your princess's favorite memories on a string that you can hang from the wall. You can also frame your favorite memories with your youngster and display them on the wall.
Scatter them around different walls or highlight one segment of the wall. Or, put up picture ledges on the mounted headboard of your bed to give them a prominent view. Your daughter can change the pictures as and when they want, thus, making it a versatile teen girl bedroom idea. Putting up one digital photo frame on the nightstand is also a simple way to display pictures.
19. Light it Up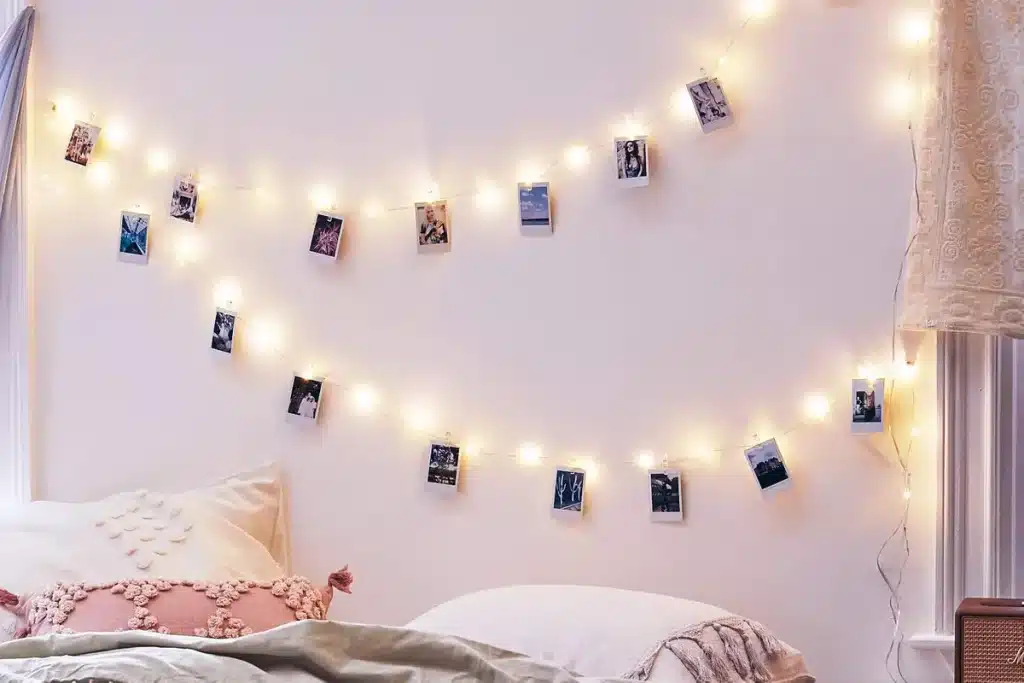 One can never go wrong with lights for any decor. Use string lights – hang them from the walls, adorn the furniture and displays, or use string lights in mason jars for centerpieces. The list is endless, and for the right reasons. Pendant light hangings from the ceiling set up a rustic charm. Don't go for too bright lights for decorating the bedroom.
Soft lights set up the perfect ambiance for a cozy and chill vibe – just the way that a teenage girl's bedroom should be. Asking your daughter to set up the lights would be the best option, especially if she is particular about her bedroom decor.
20. Use Fresh Flowers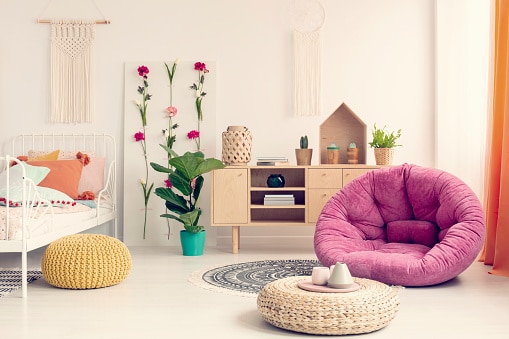 Teen girl bedroom ideas are incomplete without fresh flowers. After all, who doesn't love the sweet lingering smell of seasonal fresh blooms? Keep these flowers in a glass or a mason jar, and watch them flourish and add to the beauty of the room. Keep potted plants like jade or money plants that are easy to maintain and also improve the air quality of the room.
Coming back home to a fresh-smelling room can instantly calm down your teenager's anxiety so they lead a stress-free life. Apart from adding to decor, keeping fresh flowers and potted plants in a girl's bedroom helps her cope with mood swings.
21. Maximize Wall Space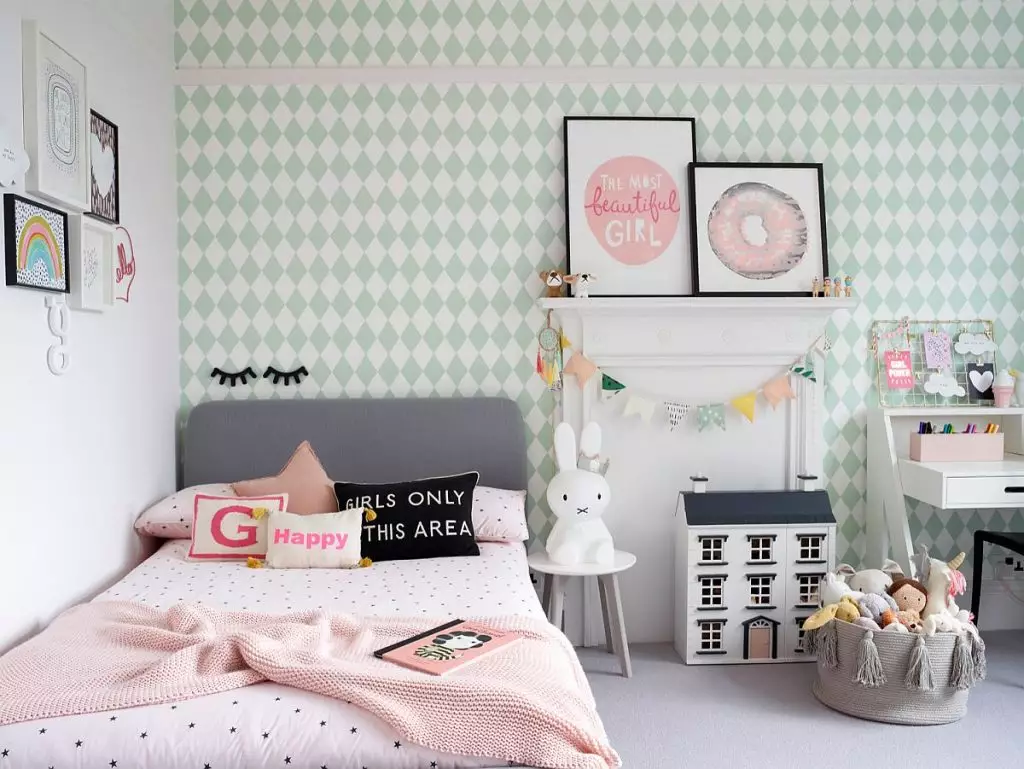 A teenage girl's bedroom is most likely to be a medley with shoes, clothes, and other knick-knacks, all of which she needs. Thus, teen girl bedroom ideas need to address storage space. And there's no better and more effective way to add more storage space than by maximizing wall space.
Use floating shelves or wall shelves, or convert the odd blank spaces between pillars to wall cabinets. This way, she will not only get ample space to stock her necessary stuff but also a space to display her showpieces. What's better than an organizer that does not require extra space to fit in?
22. Wall Hangings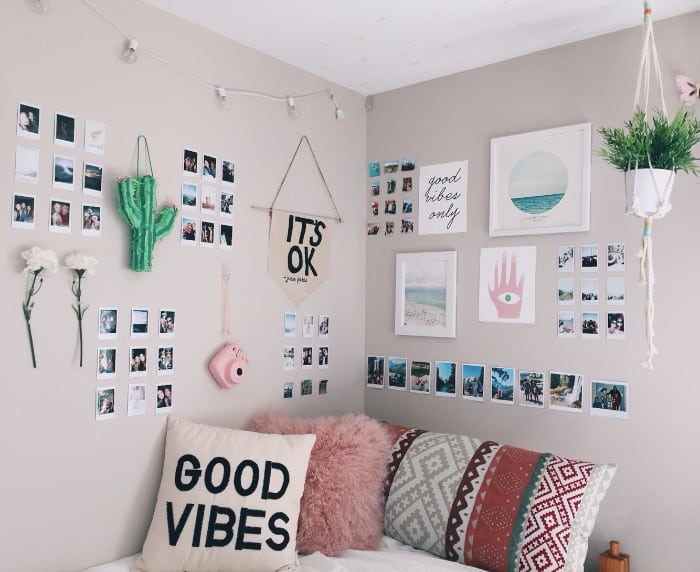 Wall hangings can effectively cheer up the existing color scheme of the room. Think of macrame, dreamcatchers, monograms, etc., for wall hangings. Contrasting colors draw attention to the hangings while also adding a hint of taste to a teen girl's bedroom. Floral garlands, wreaths, or decorative stockings can also be put up for wall hangings. However, don't go too exorbitant with wall hangings that can ruin the beauty of the entire set-up of the room.
Putting up one or two statement wall hangings or three to four small ones should be fine. DIY wall hangings pair well in bedrooms, especially if your daughter can make them by herself that suit her style.
23. Use Furniture Cover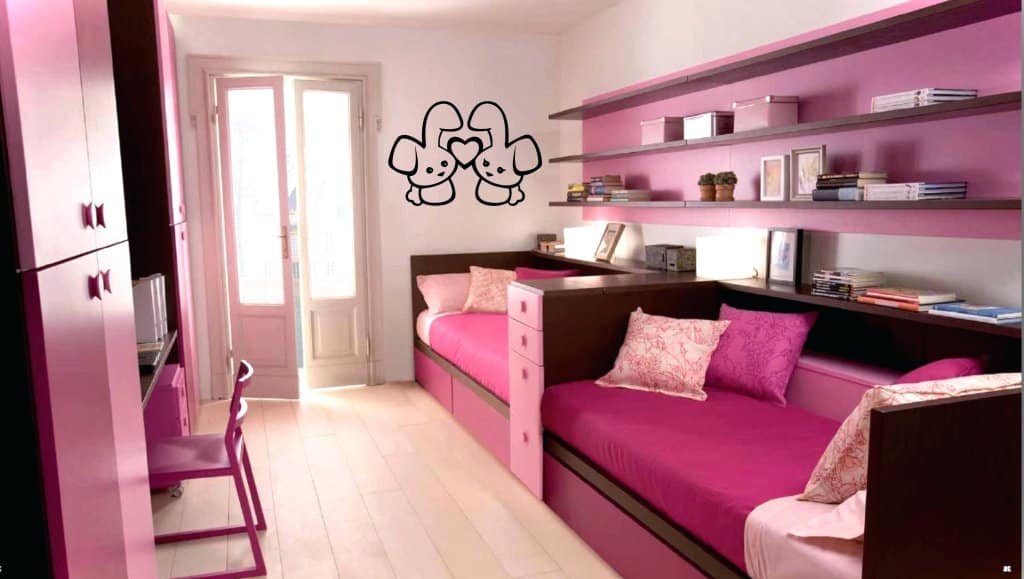 Furniture cover not only prevents the collection of dust on furniture tops but also double up as bedroom decor if one can get it right. Use fancy covers like polka designs, pompoms, or crocheted covers for simplicity mixed with elegance. You may use a mix-and-match of covers for different pieces of furniture.
Or, you can stick to one particular design that uplifts the theme of the room. Again, DO NOT go extravaganza with furniture covers that can overwhelm your girl's bedroom decor. Curate DIY covers with your teenager. It will not only add to their bedroom decor but working together will help strengthen the parent-daughter relationship!
24. Use Accents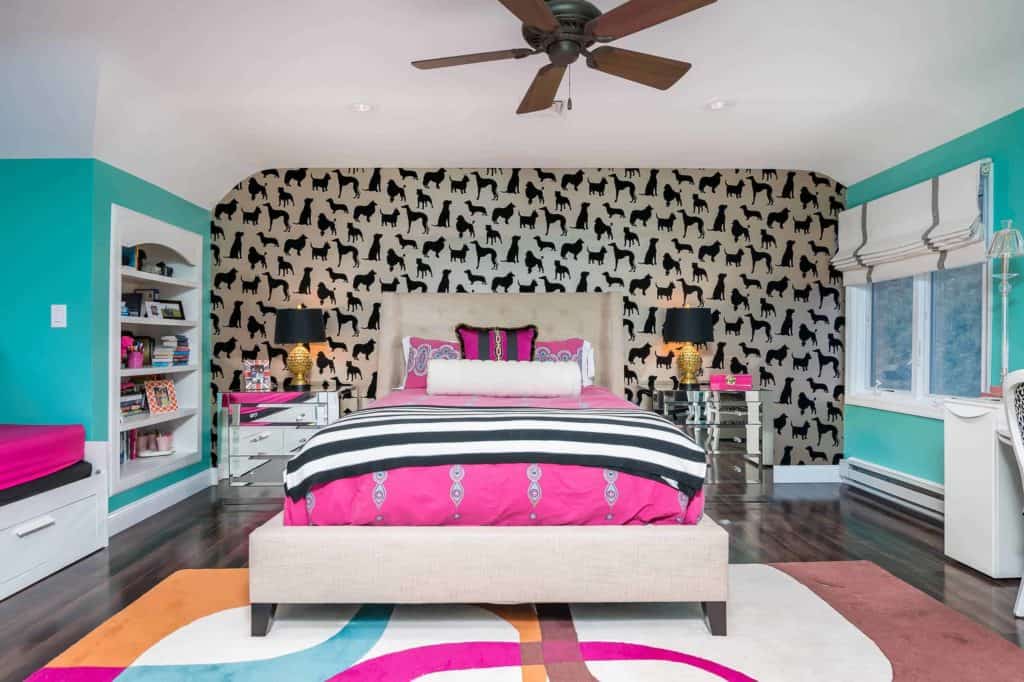 Teenagers are free-spirited and curious beings. And so should their bedroom. Using accents is one of the best teen girl bedroom ideas. Paint a wall mural, use flowers and plants, go all sequins, display DIY art – recreate a bedroom with your daughter that will awe both her and her friends who come over. Choose a theme and accessorize skilfully.
And when it comes to a teenage girl's bedroom, nothing speaks louder than pictures and lights and DIY crafts. Hence, there is a plethora of decorations that you can choose from and use. Team up with your daughter to ideate on accents for the best ideas.
Conclusion
When it comes to revamping your teenage girl's bedroom, there is no scarcity of teen girl bedroom ideas. There is no "one" teen girl bedroom idea that stands out. Rather, it is a personal preference that accentuates the feel, vibe, and decor of the bedroom. Because, after all, it's your little girl's sacred space where she needs space to be all herself.
Understand your girl's taste when it comes to bedroom decor. Analyze her sense of style to select a theme that she will love in the first go! Does she prefer minimalism that soothes her visual aesthetic sense, or does she love it all bling and extravagant? Style accordingly. Among the above list of teen girl bedroom ideas, you will find it all that you feel will suit your daughter's dream bedroom.
You can always add your own creativity and take input from her. Revamping your teen girl's bedroom can be very satisfying, especially when you collaborate with her on the project.