With modern interiors asking for subtleness in homes, one color that matches the thought of almost every interior designer is Cream! The cream is one such color that is in trend for its hint of peace and sophistication that it offers to the houses. Still, at the same time, an appropriate color selection of this light shade is essential since it determines the mood and ambiance of the room.
When painted, cream paint colors from different manufacturers generate a wide array of effects on the walls, but dove wing 960 from Benjamin Moore is one of the most sought-after cream paint. This paint color offered by one of the most reputable paint brands in the world leaves a very lasting impression on people with its touch of tranquility and class.
The adaptability of dove wing 960 is so much so that it can lighten up the ambiance of any space in the house.
So, Let's take a closer look at what makes Dove Wing 960 so special.
Characteristics of Benjamin Moore's Dove Wing 960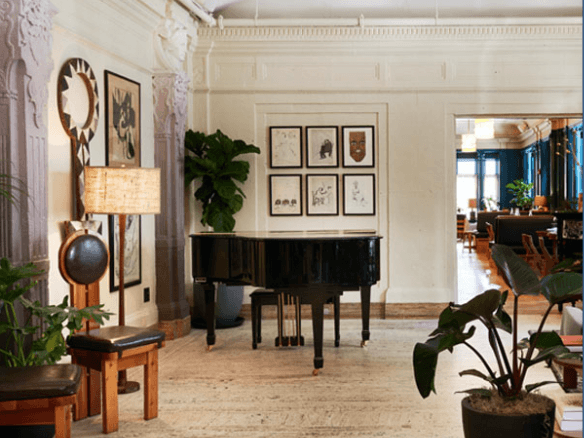 The versatility and enticing effect of Benjamin Moore Dove Wing 960, also known as Dove White 960, carries along a range of distinctive characteristics that unarguably make this light shade everybody's top choice.
This muted shade of creamish white with a silver undertone reflects a soft elegance that has the power to glow the interiors of any room. Its neutral base makes for a perfect backdrop for an array of interior design styles, enabling the smooth integration of multiple color schemes and decor options.
Light colors, especially creams and whites, have a superpower of excellent light reflective properties. The dove wing 960 illuminates spaces by giving them a more expansive and welcoming atmosphere. The ability to cater to various design preferences extends to its usage since it can be used on surfaces such as ceilings and walls.
With the timeless appeal of this excellent color, dove wing 960 makes sure that the interiors of your house stay stylish and trendy for years to come. Whether you want solace and calming atmosphere in the bedrooms or a sophisticated and stylish look in the living room, dove wing has a magical power to deliver it all, making it absolutely a top choice for homeowners looking to create a welcoming aura.
Versatility in Design – The Ideal Choice for Every Room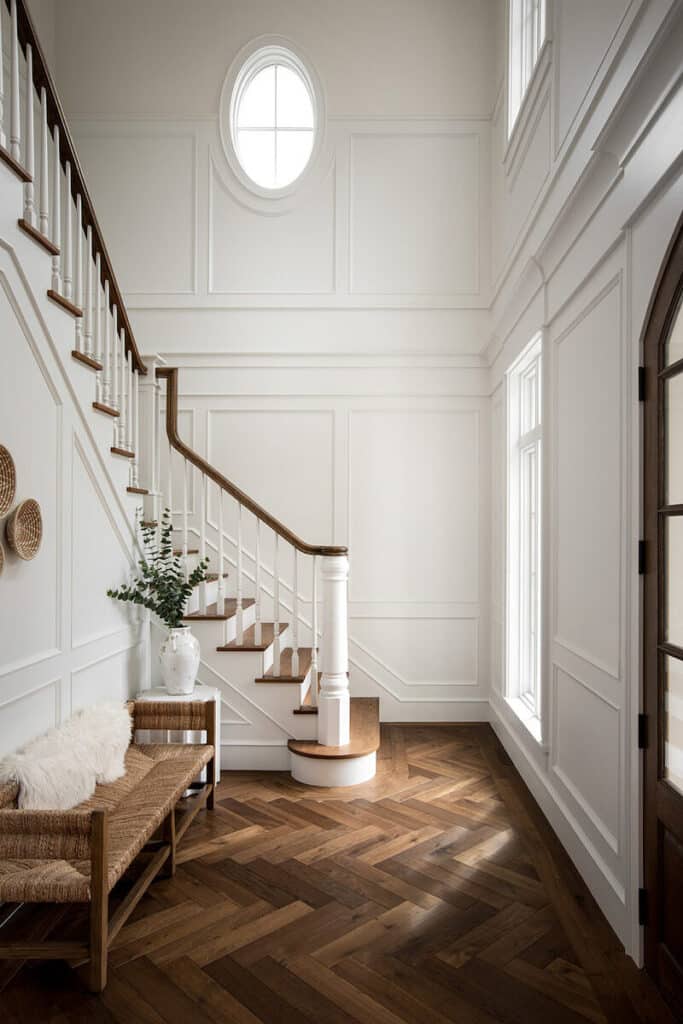 The versatility of any paint color is portrayed by its suitability in all the corners of the house. Benjamin Moore Dove Wing 960 is remarkably versatile, adapting to various design styles and spaces. Its neutral base pairs well with a broad range of color combinations, making it simple to add your own style to the interior.
When combined with soft colors, it has light-reflective qualities that brighten spaces while also fostering a calming ambiance. Dove White 960 is still a timeless and standard option that improves any area and is appropriate for the living room, bedroom, kitchen, bathroom, office, and nursery.
1. Living Room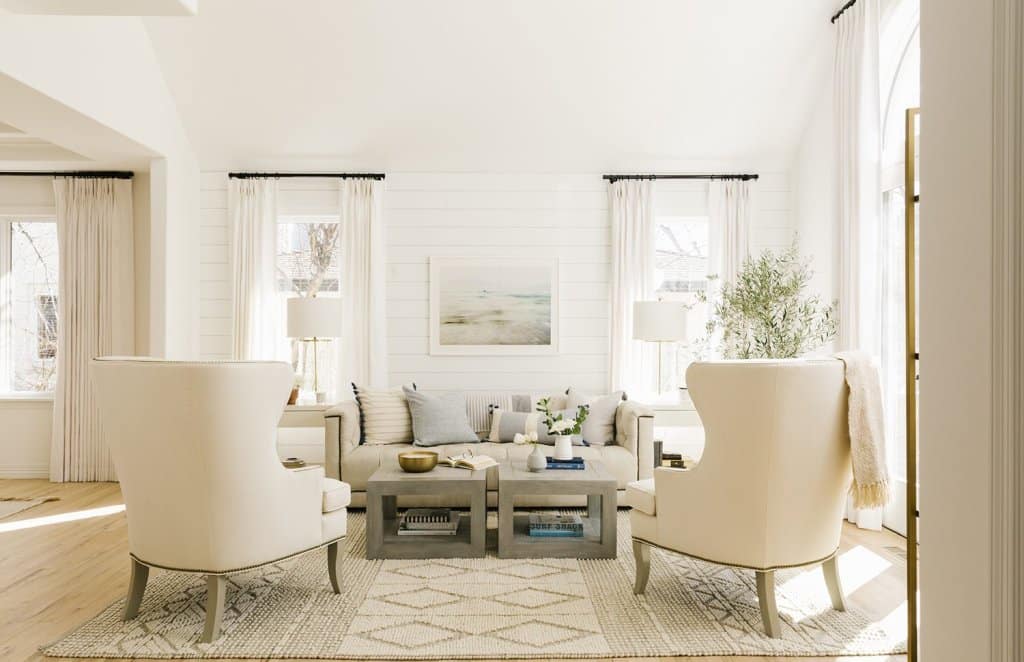 Everyone likes their living room to be sophisticated and peaceful, in which guests and family members can feel a welcoming atmosphere. Benjamin Moore Dove Wing 960, when used on the walls of the living room, serves as an excellent choice to create a warm and attractive atmosphere. Its soft and muted white and silver tone pairs naturally with other neutral colors like grey or beige, allowing for a classic and timeless look.
To add depth and interest, consider incorporating pops of color, such as blue or green, through cushions, rugs, artwork, or any interior decor that maintains the vibe of the living room. These additions will fill the space with a more vibrant and dynamic feel while still maintaining peace and cozy interiors.
2. Bedroom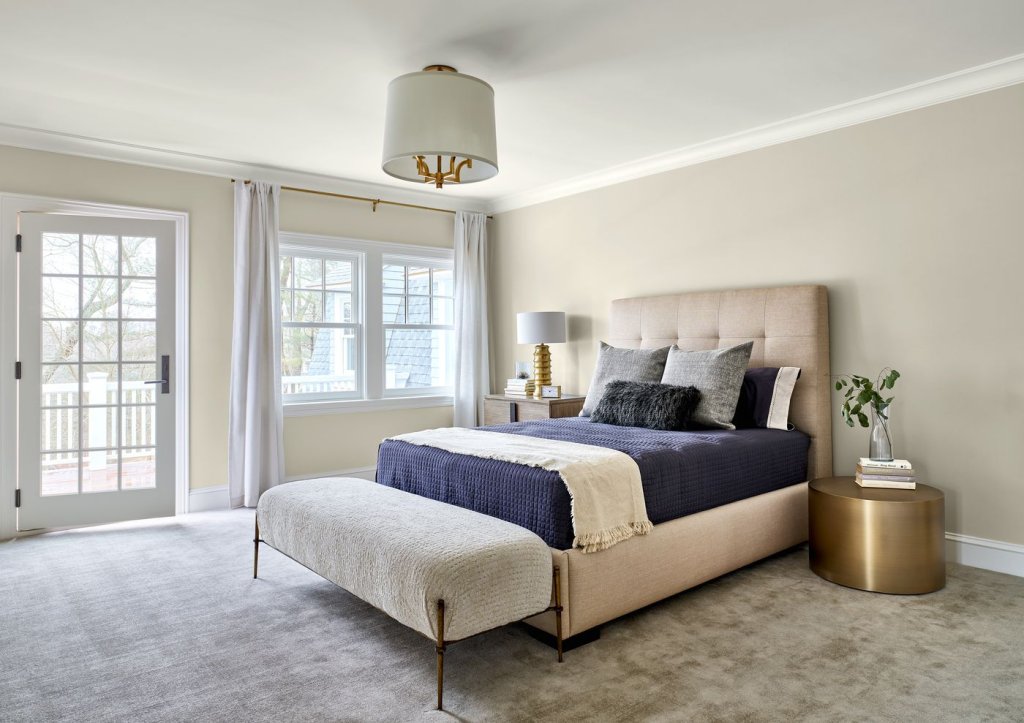 Having a good sleep always requires a quiet and subtle atmosphere around the bedroom, and paint colors do play a big role in it. For a calming and relaxing bedroom retreat, Dove Wing 960 is an excellent and wonderful choice. To have a hint of fun look while maintaining peace at the same time, pair it with soothing colors like pale blues or greens. The color combination of these hues creates a very peaceful environment.
To add a touch of playfulness, consider incorporating bedroom essentials like quilts, bedsheets, side table decors, and clocks with some contrasting colors such as yellow, blue, green, or orange. This can inject a cheerful and refreshing vibe without overwhelming the calming nature of the space. With the setting of dove wing 960, you are sure to have a sleep that will transport you to good dreams!
3. Kitchen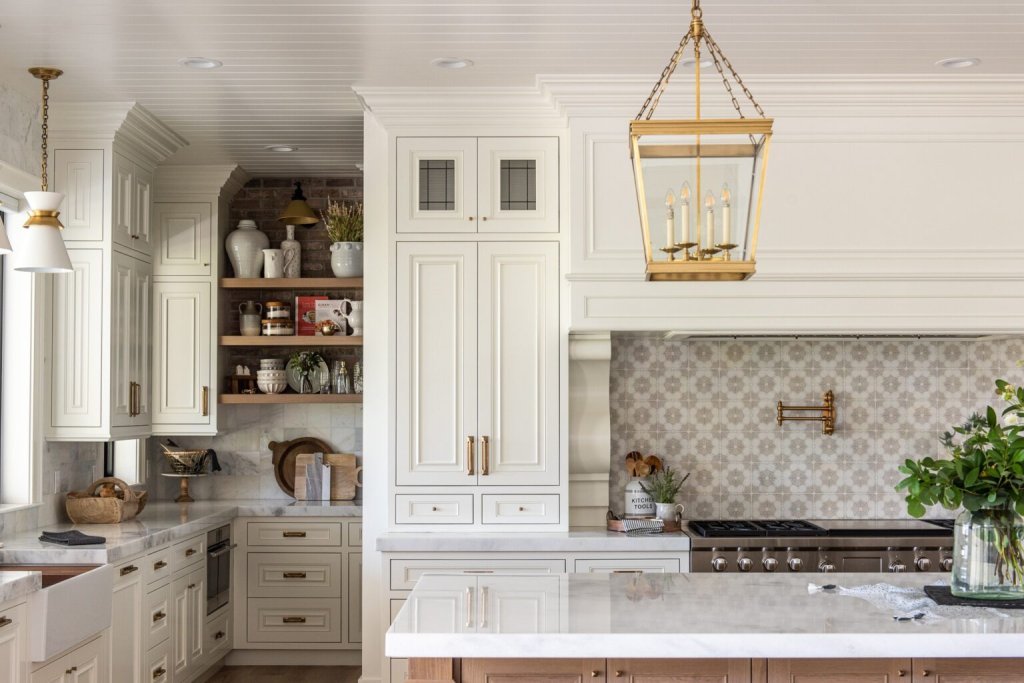 A good cooking space delivers good food! In the kitchen, Dove Wing 960 can create an environment that makes the kitchen feel more spacious and airy so that cooking doesn't feel like a tedious task. Use kitchen accents like stools, cabinets, shelves, and other kitchen decors of contrasting colors such as blue, brown, or yellow to infuse a fun and energetic atmosphere.
To add warmth and a touch of nature, consider adding natural materials like wooden countertops, stone backsplashes, and planters. This kitchen setting will produce a more natural and laid-back atmosphere, blending the dynamic energy as you cook with a dash of firmly sophisticated grounding.
4. Bathroom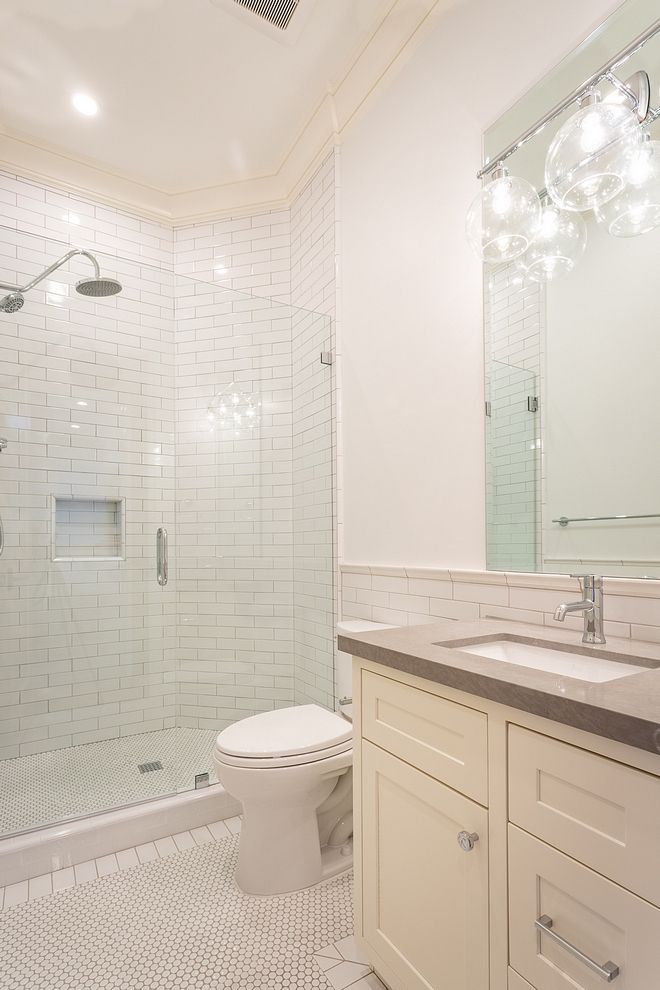 Clean and light bathrooms have an altogether different vibe. To create an airy, clean, and light look for the bathrooms, Dove Wing 960 is an excellent choice. To create a spa-like atmosphere that encourages rest and renewal, use natural materials like wood or stone.
Consider using gentle pinks or purples as accent colors in towels or decorative elements to give the room a more feminine feel. This setting will fill the bathroom space with a delicate and elegant interior, enhancing the soft touch of the bathroom and contributing to a sense of cleanliness and simplicity as well.
5. Office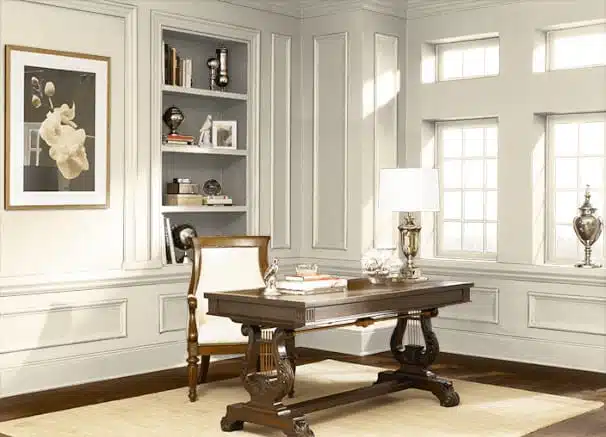 For an office space to reflect a working environment, its very essential to consider the vibe that it gives to the working people. For a calm and focused atmosphere in the office, Dove Wing 960 on the walls is a perfect choice. This cream color can be paired with other neutral colors like grey, white, and beige to create a professional and refined look that fosters productivity and concentration.
Fill the space with some decor, office supplies, or artwork of colors like blue or green, as it can add a touch of creativity and energy to the working environment making people feel more enthusiastic and inspired towards their work. The dove wing also makes the office space look more organized and airy.
6. Nursery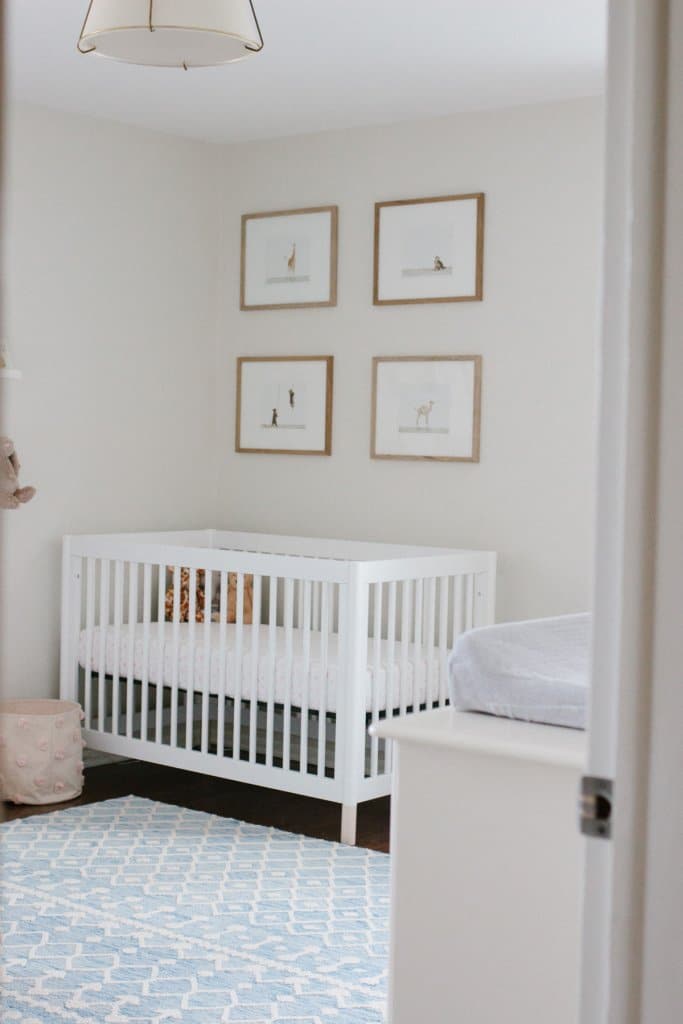 Nursery is mandatory to reflect peaceful vibes for kids. Dove Wing, 960 in the nursery, can create a calming and soothing atmosphere that is perfect for a baby's room. Pairing the room with some soft pastel colors like light pinks or blues can give a dreamy and ethereal look to the space. These soothing colors encourage a calm and cozy atmosphere, which is crucial for a baby's comfort. Think about incorporating bright colors like yellow or orange to lend a lively and vibrant touch to toys or nursery décor. While still preserving the calm and caring ambiance that Dove Wing 960 offers to the space, this will give the place a happy and young vibe.
Here are some additional insights into why you must consider using Dove Wing in your home…
Create a Modern Vintage Look: Go for a modern and sophisticated style by using Dove Wing 960 throughout the room, including walls and ceiling. Introduce textures and patterns through furniture and decor in similar tones for an elegant and cohesive monochromatic look.
Contrast with Bold colors: Dove Wing 960 serves as an excellent base for pairing up the space with bold and vibrant colors. Use this creamish shade in rooms that feature vibrant furnishings, bold wall art, or dramatic accent walls. Dove Wing 960's contrast with the bold colors of the space gives it a fascinating visual impact and gives it more life.
Enhance Minimalist Design: If you prefer a clean and minimalist aesthetic, Dove Wing 960 can be the perfect choice. Use it on walls and ceilings to create a peaceful and more organized space. Pair it with simple yet modern furniture along with subtle room decors to achieve a minimalist design with a timeless appeal.
Natural look: Dove Wing 960 pairs wonderfully with nature-inspired decor. Introduce natural colors like brown tones, sandy neutrals, and green accents to create a nature retreat. Adding rugs and mats of brown tones can enhance the appearance of the space even more. Blend with Metallic Accents: Pair Dove Wing 960 with metallic accessories like brass, gold, or copper for a touch of luxury and glamour. These metallic elements add a hint of sophistication and visual interest to the neutral space maintaining a perfect balance.
Colorful Gallery Wall: Gallery walls are a new and most loved interior trend. Because of the neutral backdrop of dove wing 960, transforming walls into a gallery by hanging a collection of colorful artwork and photographs is an excellent choice. The cream backdrop allows the art to stand out, creating a captivating focal point in the room.
It's important to keep in mind that the key to utilizing Benjamin Moore Dove Wing 960 effectively is to experiment and explore different design elements and color schemes to find the right match for your own preferences and home décor goals.
Choosing the Right Finish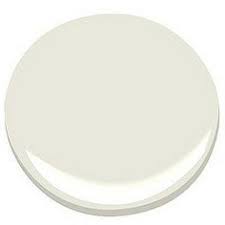 When choosing the right finish for Benjamin Moore Dove White 960, it's essential to consider both aesthetic preferences and practical needs. Benjamin Moore offers various finishes, each with unique characteristics that can significantly impact the overall look and feel of the color.
Mattee finish: A matte or smooth finish is frequently preferred for a classic and adaptive choice. It offers a smooth, non-reflective surface that highlights the grace and understated appeal of the Dove wing. Matte finishes are a great choice for older or textured surfaces because of how effectively they cover wall imperfections.
Satin finish: An eggshell or satin finish would be ideal if you want to give Dove White some extra depth and texture. These finishes provide a light shine that can enhance and soften the paint color. Additionally, they are more enduring and simpler to clean, making them appropriate for highly used areas like kitchens, kids' rooms, and living rooms.
Semi-gloss: A semi-gloss or high-gloss finish can be suitable for a more polished and sophisticated appearance. These finishes produce a polished appearance with a greater level of gloss that is ideal for doors, cabinets, and walls.
Ultimately, the choice of finish for the dove wing 960 from Benjamin moore depends on personal preferences and the required extent of durability. It is always better to consider the room, lighting, and overall design style because it will help you find the perfect finish to enhance the beauty and character of this timeless color.
LRV of Benjamin Moore's Dove White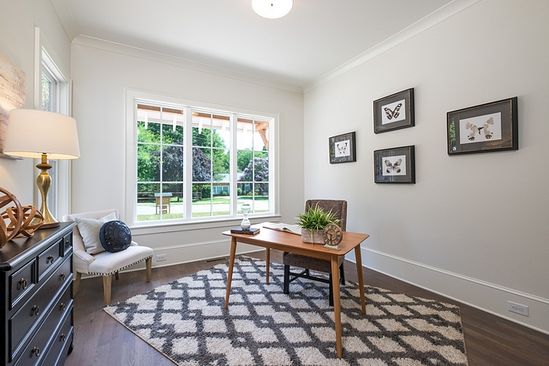 The Light Reflectance Value (LRV) of any color is a crucial factor to consider when choosing a paint color. LRV measures the percentage of light that color reflects, ranging from 0% (absolute black) to 100% (pure white). Benjamin Moore Dove wing 960 has an LRV of approximately 85, making it a light and reflective color.
The high LRV of Dove Wing means that it has excellent light-reflective properties, making it an excellent choice for rooms with limited natural light. When applied to walls, Dove White can help brighten up spaces, creating an open and airy feel.
Moreover, the high LRV makes Dove White a versatile option for various design styles and room sizes. It can make smaller rooms feel more spacious and larger rooms feel even more open and inviting.
Best Color Coordination of Dove Wing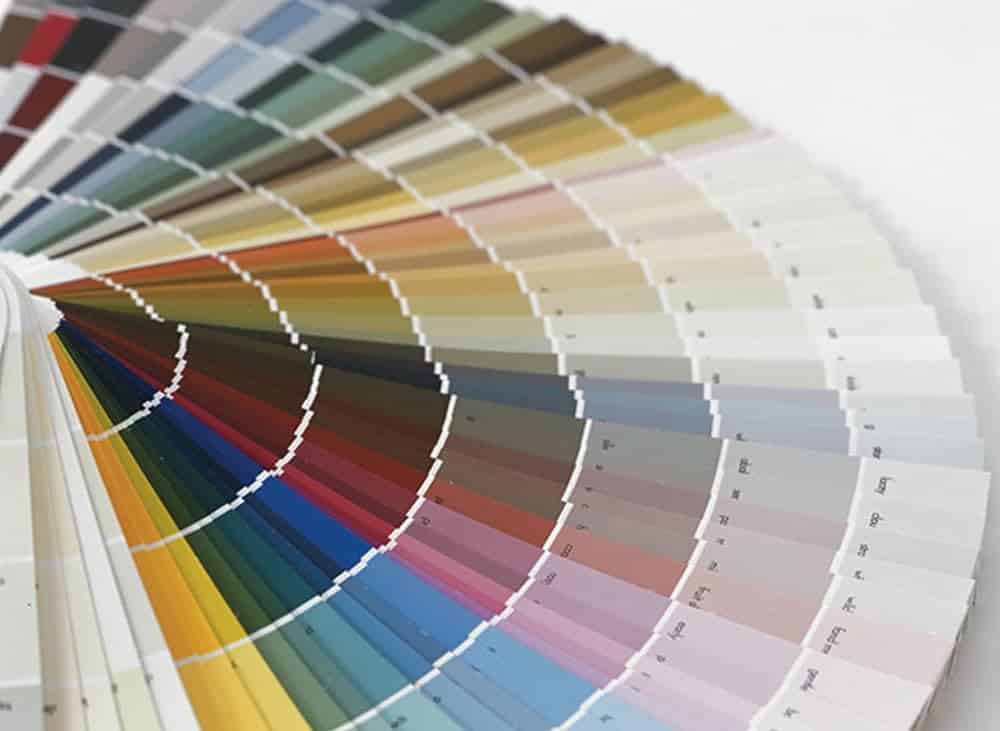 Greys: Pairing Dove Wing 960 with various shades of grey give the space an overall look of sophistication and elegance. Darker greys offer a stunning contrast that improves the overall design, while lighter greys give depth without taking away from the gentleness of Dove Wing 960.
Blues: Combining Dove Wing 960 with blues brings a sense of calm and tranquility to a space. Blue shades are also mood lifters when added with any neutral colors. Soft pastel blues create a soothing and dreamy ambiance, while deeper blues add richness and depth to the overall color scheme.
Greens: Greens, especially mild and earthy shades, work well with Dove Wing 960 to create a peaceful and natural atmosphere. Sage greens or olive tones blend with the luxury of Dove Wing 960 to produce a luxurious and sophisticated ambiance.
Browns: Browns offer a warm and cozy pairing with Dove Wing 960. Light, sandy browns provide a natural and earthy feel, while deeper chocolate browns add a touch of luxury and elegance.
Black: Black and Dove Wing 960 can combine dramatically and opulently. Black accents, such as furniture, picture frames, or accessories, provide depth to the entire design and create an eye-catching centerpiece.
Silver: Dove Wing 960 is given a contemporary, sophisticated twist when added with a silver tone. The softness of the shade is complemented by the gentle shine created by silvery elements like mirrors, lamps, or decorative pieces.
Gold: Incorporating gold accents with Dove Wing 960 adds a touch of luxury and glamour. Gold details in hardware, light fixtures, or decorative elements create an opulent and inviting atmosphere.
Consider the mood and look you want to create in your room when combining these colors with Benjamin Moore Dove Wing 960. To create a space that reflects your individual taste and design preferences and is harmonious and visually appealing, experiment with various colors and color combinations.
The Durability of Dove Wing's Application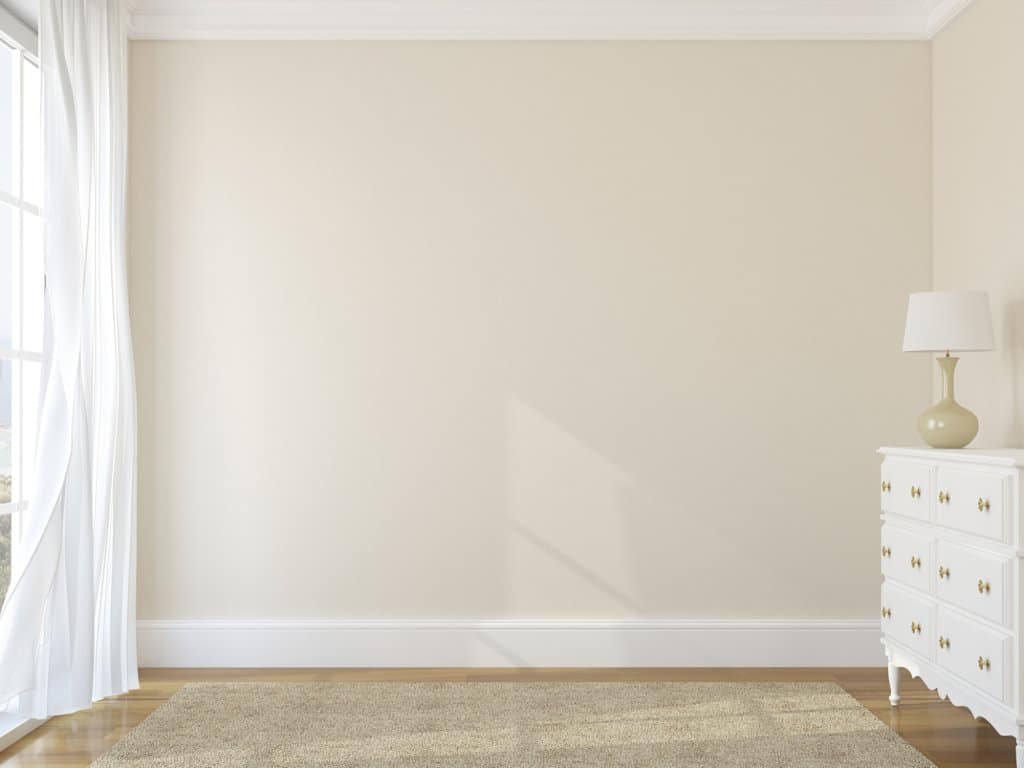 Benjamin Moore Dove Wing 960 has impressive durability, making it a perfect choice for interior walls and ceilings. This paint is made up of premium-quality materials, ensuring its resilience against daily wear and tear. Whether you have notorious small kids or pets that keep roaming around the house all time, Dove Wing 960 can surely withstand the demands of an all-time active household.
Because the paint is resistant to stains, your walls will stay looking clean and new for a considerable amount of time. Dove Wing 960 keeps up well in areas where there are frequent accidental scratches and smudges; therefore, this durability is very beneficial in those settings.
Furthermore, Dove Wing 960 has amazing color retention, preserving its original color even when exposed to natural light or used in outdoor areas. The overall appearance of your room will be preserved for years to come because of this, which guarantees that your chosen tone will stay true to its natural tone.
How to Keep a Check on Dove Wing's Maintenance?
5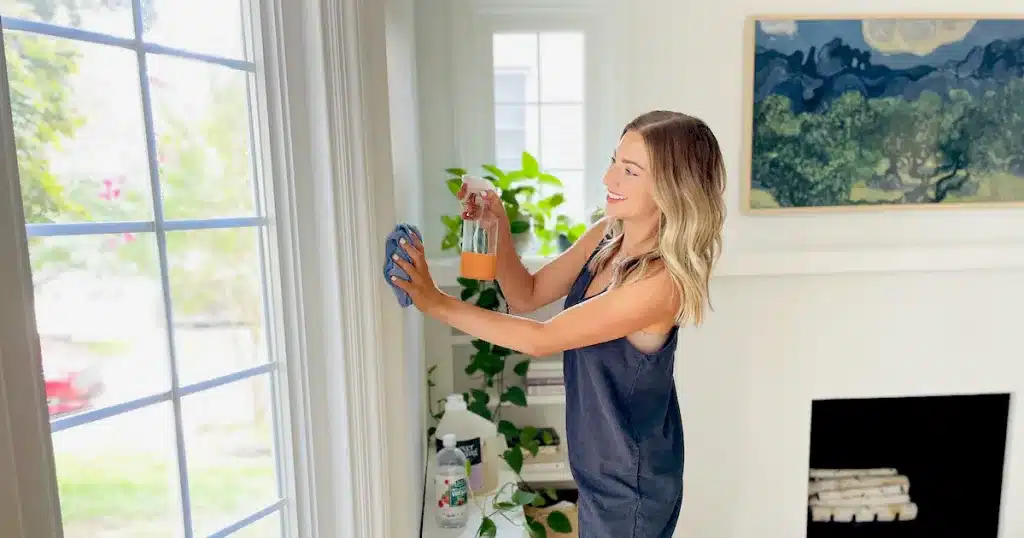 Maintenance of cream colors can be daunting, but the dove wing 960 is a true exception! Below are some pointers that will help you understand this clearly:
Keeping up with Benjamin Moore Dove Wing 960 is a breeze because of its outstanding durability and low maintenance requirements. Using a few straightforward cleaning techniques will keep your walls looking clean and new.
Regular dusting using a soft, dry cloth or a feather duster helps remove surface dust and prevents it from accumulating. This simple routine is especially effective in areas prone to dust and dirt.
For occasional cleaning, a soft damp cloth can be used to wipe the painted surfaces gently. Mild, non-abrasive cleaning solutions can be used if needed, but it's always best to test them in an unexposed area first.
The exceptional resilience of Dove Wing 960 guarantees that it resists stains well, making it simple to keep its clean and glossy appearance. As a result, there is a significant decrease in the requirement for frequent touch-ups.
Conclusion
Benjamin Moore Dove Wing 960 is a fine example of incorporating simplicity and versatility into any space. With its soft and muted silver tone, it effortlessly elevates any room with a timeless charm.
The subtle elegance of Dove Wing 960 creates a serene and calming atmosphere, making it a perfect choice for those seeking a peaceful vibe in their favorite space of home.
Its attraction is increased by its versatility in terms of design aesthetics and color schemes, which gives homeowners and interior designers the freedom to create distinctive and fascinating rooms.
Whether you're designing a minimalist living room, a nature-inspired bedroom, a modern kitchen, or an elegant bathroom, Dove Wing 960 always turns out to be more than your expectation complementing the ambiance of every space.
Let us know in the comments below about this beautiful and ravish paint color Dove Wing 960 by Benjamin moore!