Sherwin Williams Neutral Ground 7568 is a warm, off-white color that looks spectacular if you know how to use it. As the name suggests, the Neutral Ground is indeed a neutral color, meaning it is the perfect base for almost any aspect of your home.
When it comes to neutrals, it can be a little difficult to pick a shade at first. The color might look too washed out once applied on the walls or appear much darker than you anticipated. The various light conditions will have a direct impact on the look and feel of the paint and your home, by extension.
Does that mean you need to steer clear of neutrals and go for those garish paints that make you throw a fit? Not at all. You just have to know how to pick the right neutrals, and the Neutral Ground is worth looking at. If you want a sleek and sophisticated look for your home that gives you ample scope to play around with colors and textures, then this could be your pick.
Here is a review of the shade and why you should consider it for your home.
Why Can SW Neutral Ground Be a Perfect Shade for Your Home?
At first sight, you may think there is nothing very special about the Neutral Ground's appearance. It just looks like a regular off-white color with nothing noteworthy about it. But if you remember what Paulo Coelho once said, "It's the simple things in life that are the most extraordinary," this holds true for the Sherwin-Williams Neutral Ground in a big way. The Neutral Ground has several things working in its favor. Here are some of them.
1. The Setting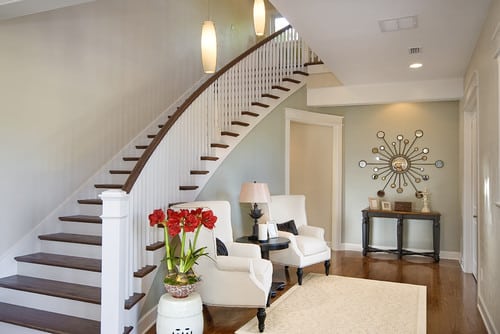 First, the Neutral Ground goes well with almost any setting. Whether you are a minimalist who only prefers clean lines and muted shades, or a maximalist who needs a blank canvas to play with a plethora of colors in the foreground, this shade works for all. It perfectly complements the sleek lines of a metal staircase or the plush cushions with Victorian motifs.
It will create an equally stunning background for a modern abstract paintingor a vintage lamp with carved bronze legs. You can do just about anything with your decor, and it will stand out with this brilliant shade in the background.
2. The Calmness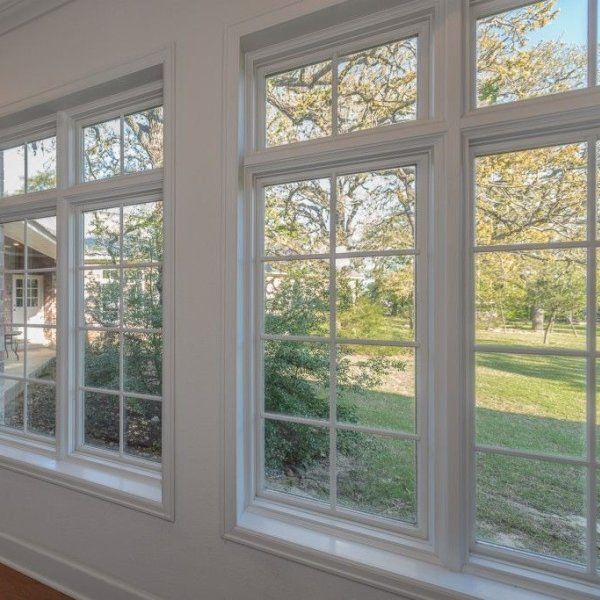 The one thing that you need from the paint you choose for your home is to make you feel calm and relaxed. After a hectic day, you want to feel the stress leaving your body as soon as you enter the calmness and quietness of your home.
Neutral Ground helps you attain that feeling instantly with its soft and warm undertones. You feel cozy and fuzzy all at once. Vibrant colors may give you a burst of energy, but it is a calming neutral that keeps you relaxed.
Color psychology states that neutral colors are often responsible for having a soothing effect on the subconscious, which is why you tend to sleep better in rooms with soft and muted colors. The Neutral Ground is a perfect choice for it.
3. Interplaying with Lights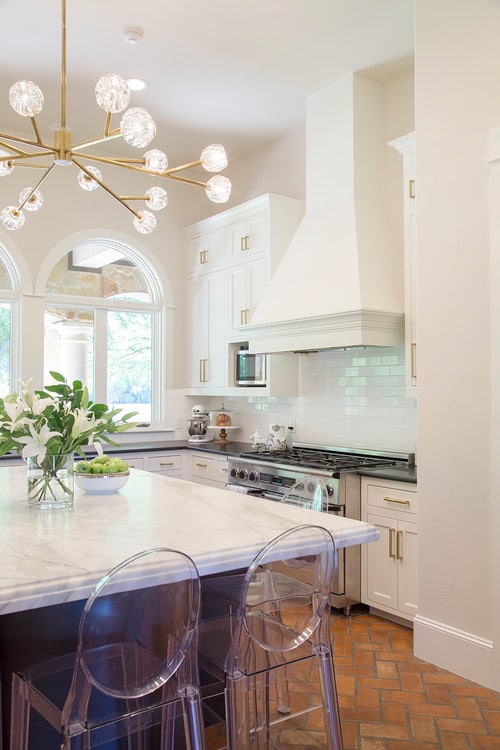 Lighting plays an important role in determining how a shade of paint looks on your wall at various times of the day. The Neutral Ground looks stunning both in natural and artificial light. It looks warm and cozy in a room overexposed to sunlight, curbing much of the vibrancy, which could seem too much at times. And yet, it will make your room appear larger and more airy even if it faces away from the sun.
Similarly, you can create the dreamiest ambiance by switching on the fairy lights once the lights come on in the evening. The neutral shade reflects artificial light equally well by curbing the harshness and giving off a muted glow.
4. The Soothing Texture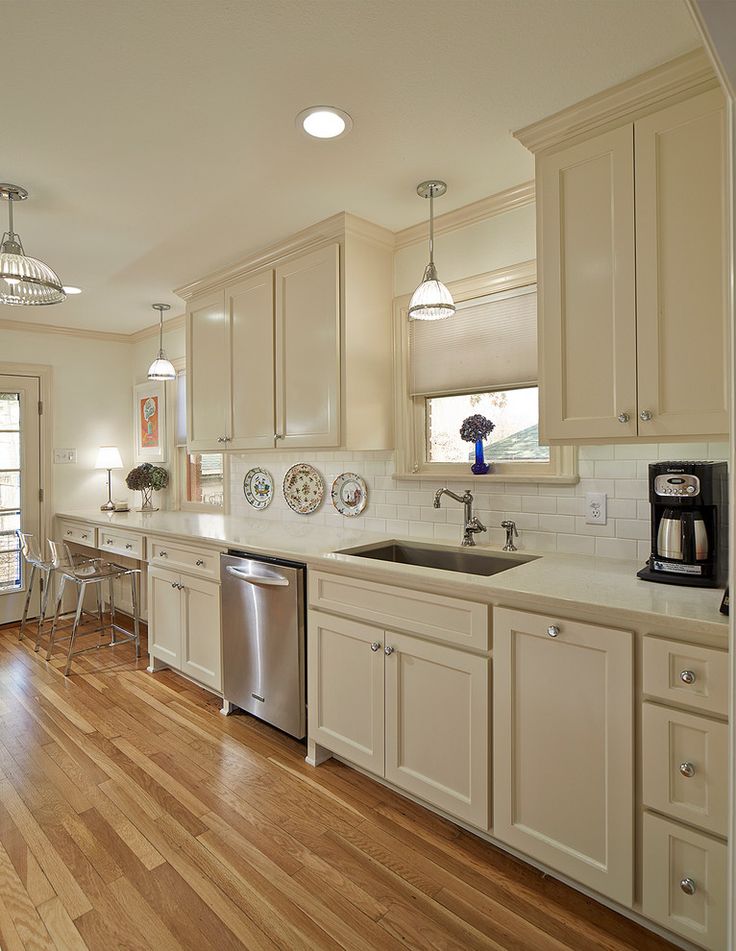 Every shade of paint has an inherent texture, and the Neutral Ground has a smooth and silky appearance when it goes on the walls. It is not entirely matt and has a light sheen to it. This makes it a great choice for an urban setting, and it looks well, irrespective of whether you have a modern apartment or a century-old villa. The paint is also easy to maintain because of it, and you can wipe the smooth walls occasionally to retain their character with minimal effort.
Understanding the Undertones of Sherwin Williams – Neutral Ground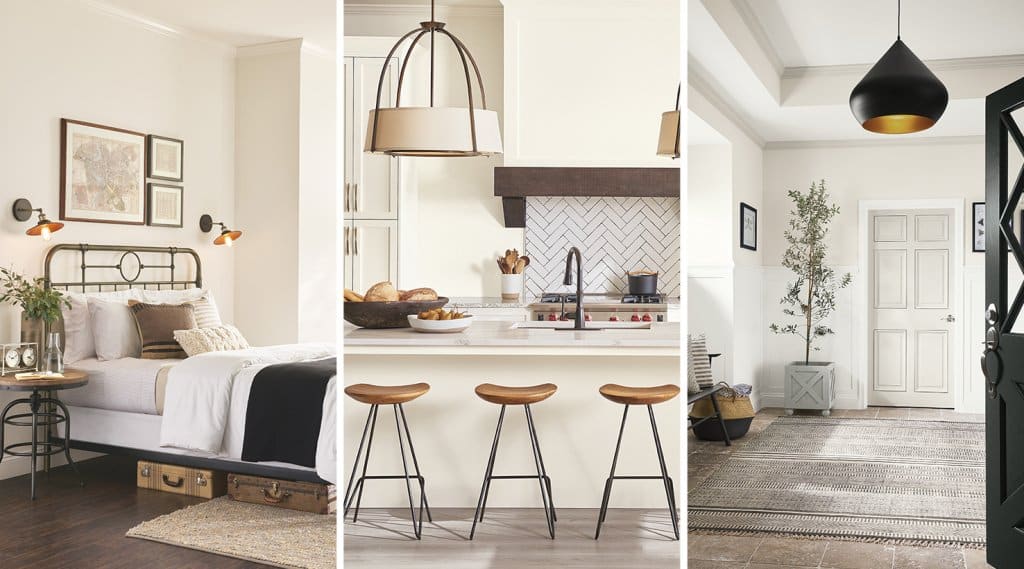 If you are unsure about how the Neutral Ground will look on your walls, devoting some time to understanding its undertones can help you decide. The Neutral Ground is an off-white shade with beige undertones. However, it also has a greenish tinge that lends it a greige undertone. That means it will look darker in rooms that have excessive natural light. This is good if you do not want your walls to look washed out.
One advantage of this is that although it is an off-white shade, the undertones make it distinguishable from the white ceilings. Although it might look very light on the shade card, it has a creamy, beige look once you paint the walls, making your rooms appear light enough but not white.
With an LRV of 70, the Neutral Ground is a light color that will tick all the right boxes if you are looking for a warm and soft shade for your rooms. The hint of tan in the undertones makes this shade stand apart from the rest in the category.
How Can You Play Around with Sherwin Williams Neutral Ground?
No matter what you feel about what others have to say about a particular shade of paint, you should always try to draw your own conclusions while going through a color review.
To do so, you need to know how you can play around with the shade to bring out its best characteristics. Since you already know that the Neutral Ground has an LRV of 70 and has warm undertones, here is what you can do to get an idea of what it may look like once it goes on your walls.
1. Think About Your Rooms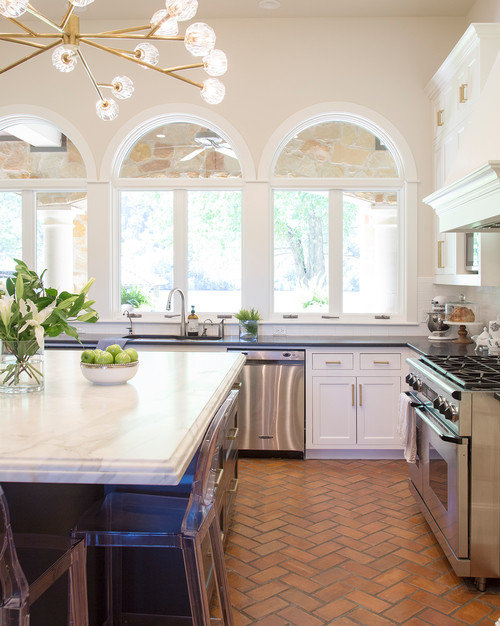 While some choose to paint the entire house in a particular color, some prefer doing up different rooms in different colors. Based on your preference, it is important to envision the various rooms in this shade of paint.
For example, you can use a bottle of sample paint to do up one corner of your bedroom or living room and see how it feels. Does it give you the calm and sophisticated look that you were aiming for? Does it look too washed out due to excessive light? Or does it look darker than you imagined? Does it brighten up your room, or does it feel monotonous?
You will never have this clarity from a shade card or what others say about it. Hence, choosing a sample and painting a wall with it will help you have ample scope to play around with the colors before finalizing it.
2. Picture Your Interiors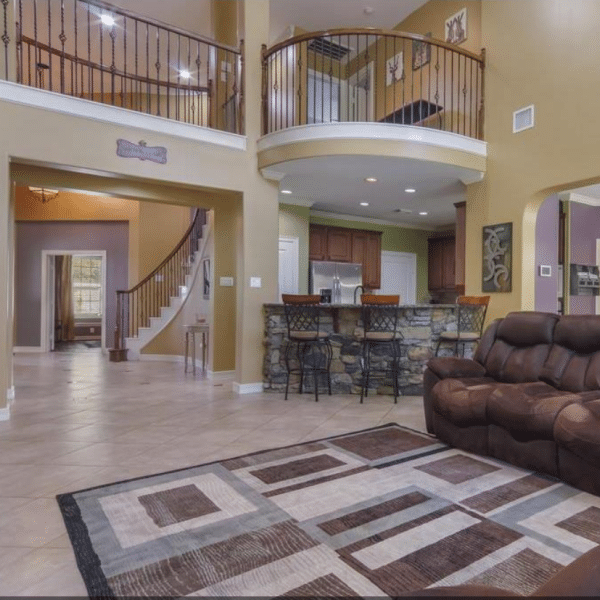 While choosing a color, try to picture the kind of interiors you want for your home. Do you want lots of indoor plants in your house, or do you want to display your collection of artifacts? Do you prefer a stark and minimalist interior, or are there going to be plush cushions and colorful rugs all around? Do you like your walls clean and fuss-free, or are you going to hang lots of paintings by your favorite artists?
As mentioned earlier, the Neutral Ground works well with almost everything, and this is its biggest strength as a neutral shade. But using some props of your own will help you gain clarity.
3. Try out Different Textures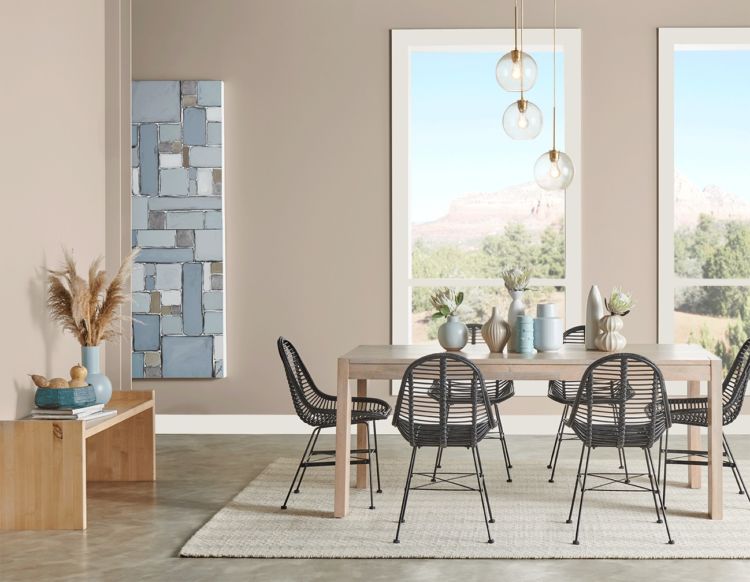 Trying out various textures with the shade you want in your home is a great way to figure out how the end result will look. As mentioned earlier, you can use a sample bottle to paint one area of the room. Then choose some furniture and complimentary furnishings to get an idea of what your finished room will look like.
While this may look like too much work initially, it will save you a lot of regret later if you do not like the shade later once your room is fully done. Or you find out that the color does not bring out the best of the decor that you had in mind for your room.
Hence, use rugs, cushions, pillows, bed sheets, wooden shelves, curtains, and other items to do up your room to get an idea of the final result.
4. Use Some Lights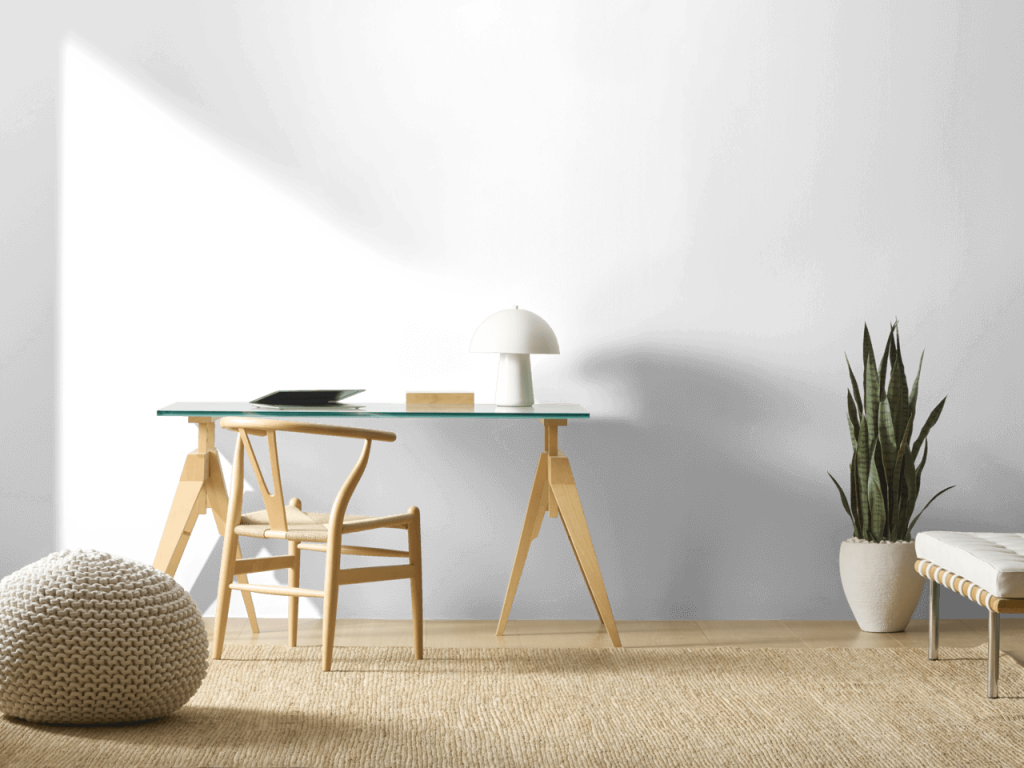 The Neutral Ground looks good in natural and artificial light, yet only you know how much light your home receives. Your living room light will look different if it faces the front lawn in the east than what it looks like if it faces the backyard in the west.
Or the angle at which the sunlight hits your bedroom through the windows of the apartment will also play a part. On the other hand, if you want to use the Neutral Ground for a partially covered terrace that you intend to turn into a party area and bar in the evenings, then you will need some mood lights to see the final results.
5. Ceiling and Flooring Details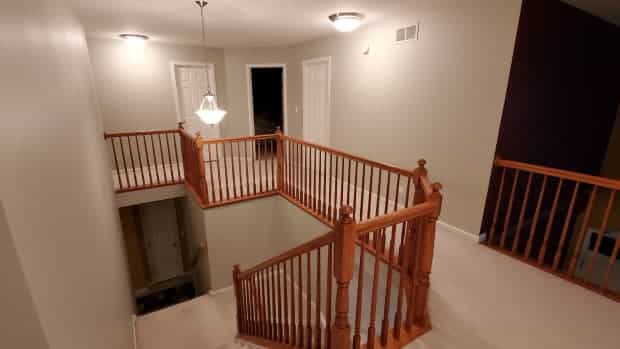 The walls are sandwiched between the ceiling and the floors, and while choosing your Neutral Ground, you would also consider the shades of your ceiling and walls. While many prefer white ceilings, and you are one of them, you can judge how the shade looks paired with a white so close by and with the light your room receives. On the other hand, what kind of floor do you have?
Neutral Ground tends to look different with hardwood floors, marble floors, or tiled floors, which you might cover with carpets and rugs. The way the colors hit the walls will have an impact on the overall look of your room.
6. Use Double Coats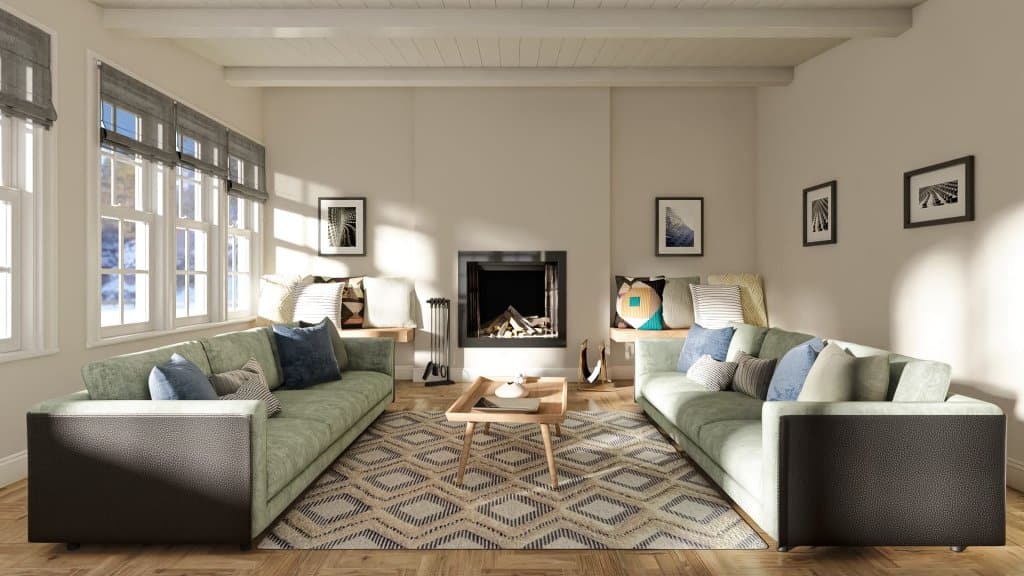 While reviewing a color yourself, always look at double coats of paint. A sample container of paint contains enough to coat a patch of the wall twice. This will help you bring out the undertones because the light hits the full range of pigments with the double coat.
Most experts are of the opinion that a double coat of Neutral Ground looks quite different than a single coat and definitely brings out its best qualities. The beige and tan undertones bring out the warmth in the colors and experience the shade in its entirety. Letting two coats of paint dry will take some patience, but it will be worthwhile in the long run.
Points to be Careful About while Choosing Sherwin Williams – Neutral Ground
Although Sherwin Williams – Neutral Ground is a stunning color, you should still be careful about a few things before choosing this shade.
Always do a swatch of the colors when you pick a shade. The same goes for Neutral Ground. You can either opt for the small samples or go for the paint stickers that enable you to have the shade on your walls before you actually buy the paint.
Make sure you have the sample on your walls for a full day. That will help you determine how it looks at various times of day and night. Keep the samples on the walls for a couple of days to check whether you change your mind!
Although you might not do up the room entirely, use some props to see how the paint will look against various textures. This way, you won't have to worry about going wrong once you start bringing in other items of home decor.
Final Thoughts
The Sherwin-Williams – Neutral Ground can help you create the perfect backdrop for all the elements you want to incorporate in your dream home. It may not work for all the areas in your house, but it will definitely suit some areas where you want a more relaxed and earthy vibe.
The Neutral Ground is not for everyone, but those who prefer pastels and neutrals will vouch for it. Yes, you do need to try on the sample and play around with textures to get the final look and feel, but very few can escape its charm.
You can also use highlights of contrasting shades to bring out the Neutral Ground's warmth, which will truly enhance its beauty. Once done, you are sure to be proud of your choice for choosing this stunning shade for your home.