A deep green paint is great for bringing the essence of warmth into the home's setting. One such quality paint in the market today is sherwin williams Pewter Green. The charismatic shade comes with a grey undertone that helps you reflect the elegance of your place.
When this color is incorporated into your accent walls, be sure that your room will transform into a captivating heaven. You might have felt it as a muted green paint while noticing this color for the first time, but in reality, it is a rich green paint with that gorgeous grey undertone.
Transform your home into a stunning visual element this summer with the elegant power Pewter Green Sherwin Williams. To complete the look, style your decor with light wood undertones or white marble; that will help you create a captivating heaven for yourself. Now with all the basic detailing done, let us now dive into its detailed review.
Pewter Green Sherwin Williams SW 6208: Shades and Undertones

A picture cannot always judge color, and hence we recommend the use ofpaint swatches to that you get the feel of the actual tone of the color. Pewter Green tends to look different in various lighting conditions, and hence you must perform a sample test on your wall. Since the color comes with a grey undertone, you must explore the color temperature wheel, which will tell you about its unique color contrast.
The Technical Aspects of Pewter Green Sherwin Williams
Light Reflecting Value: The LRV of this Pewter Green 6208 is 12. LRV stands for light reflecting value. Since it's on the lower side, it won't reflect much light in your room. Since it's a saturated color, you would need a lot of light to achieve a higher LRV, but if you are someone dark and rich undertone, Sherwin Williams Pewter green is the best fit.
RGB And HEX Code: Every color has a portion of green, blue, and red installed in them. This Red, Green, and Blue is simultaneously called RGB. Thus the red portion in the color comes in 94, the green is 98, and the blue is 89. At the same time, the HEX code stands at #5E6158. For those who don't know, Hex code is a simple way of presenting the RGB format.
The Effect of Light on Pewter Green SW 6208
Since it's a rich green paint, it's indeed a bold and dark color. Experts claim that this paint is a combination of olive green and deep gray. If you have a lot of natural light coming into your room, then it may appear gray. If there is no natural light and you are dependent on artificial light, then it may appear rich green.
1. North Facing Rooms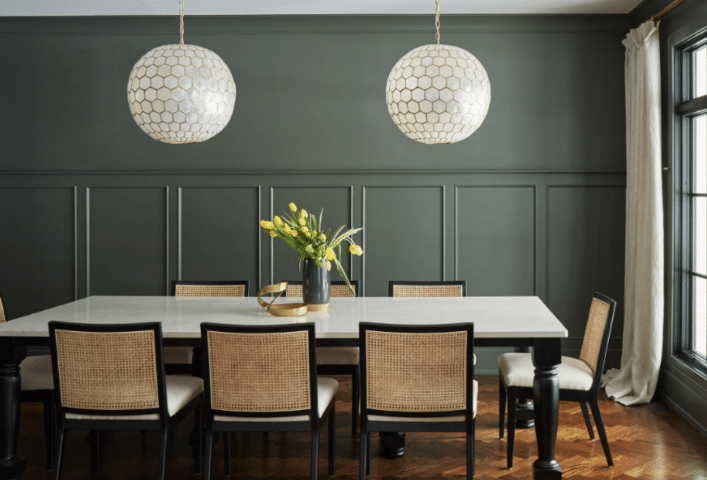 The north-facing rooms usually receive low natural light; when Pewter Green is applied, it enhances the visual appearance of the entire space and produces a stunning display. Thus you can always go ahead with this paint and transform your room into a captivating atmosphere. Make sure that you have a combination of black and white furniture to complete the look.
2. South Facing Room
The South facing room receives medium sunlight, and using a dark like Pewter Green creates an illusion of a bigger space. Applying this paint on your accent wall will make your room appear spacious and brighter. Complete the look with wooden flooring as shown in the picture, or you can use crisp white furnishing as they go pretty well with this color.
3. West Facing Room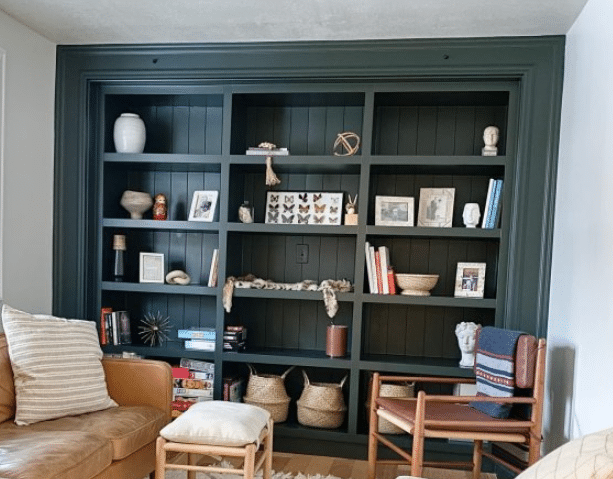 When Pewter Green is applied in west facing room, it produces an interesting shade that is warm and welcoming. With the help of natural and artificial light, this paint makes your room appear majestic. To complete the look, make sure you use wooden finish furniture as shown. Using proper furniture enhances the visual appearance of the room and gives your guest an unforgettable experience.
4. East Facing room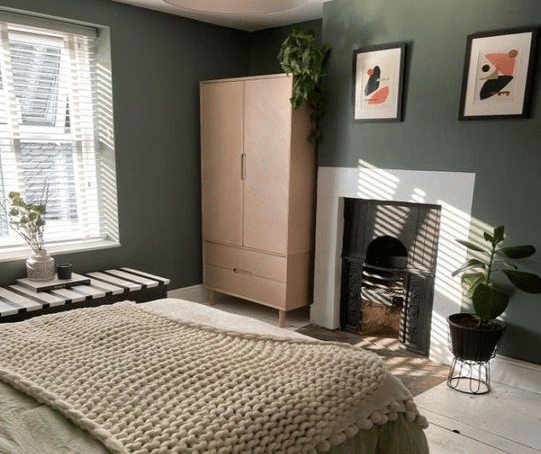 East-facing rooms are the ones that receive extreme sunlight, and hence applying Pewter Green in such rooms would produce the best contrast. You can go ahead with this paint, but we will always recommend using a wall patch to test the color before using it. Furnishing and decor should be kept crisp white, or you could go ahead with wood furnishing to complete the look.
Note: Rooms are usually north, south, west, and east-facing. When you apply this color on the northern side, then this color can look crispy green. Similarly, on the southern side, it might look soft blue. On the western side, it may appear muddy; on the east-facing rooms, it may appear grey. Thus considering your lighting conditions before applying this paint becomes a necessity. Take a look at the picture below: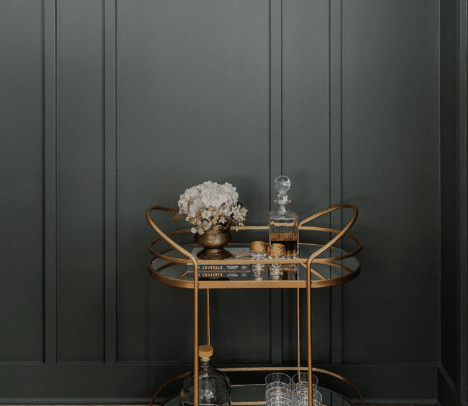 Colors that Match with Pewter Green Sherwin Williams SW 6208
The gray undertone of this paint makes it a great pair with the neutral color palette. Our recommendation would be to use earthy tones like terracotta, beige, brown, and creamy white. Interior designers suggest that to have the best contrast, this paint should be used with natural wood tones. Use this combination to transform your room into a space of peace and tranquility.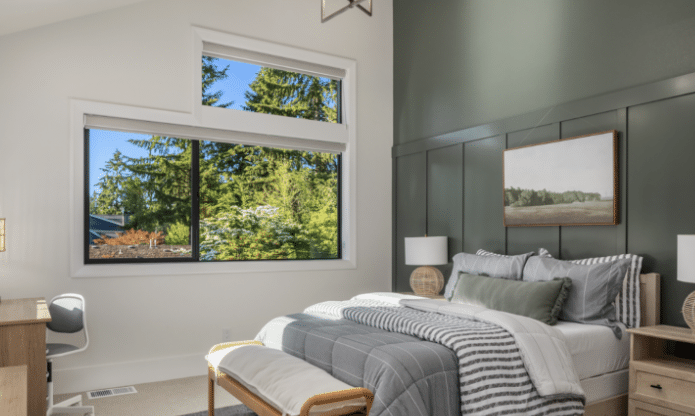 Since Peweter Green is a dark color pairing it with Creamy SW 7012 would make your room appear well-lit and airy. When you add these two combinations then, you automatically bring elegance and sophistication to your room. To complete the look, you can use wooden finished decor or go ahead with grey furnishing.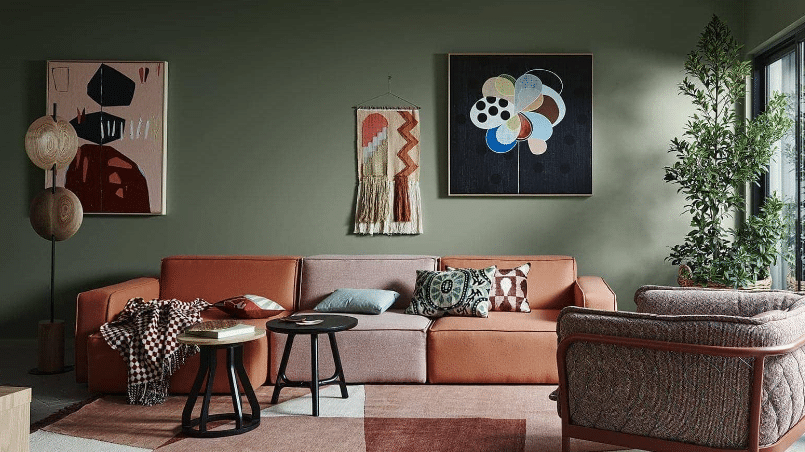 When this combination is used, you invite a rustic atmosphere in your room. Terracotta has a rich undertone and can produce a calming effect. When paired with a grey undertone like Pewter Green, it creates a proper balance in your room and fills it with a lot of exuberance and warmth. Use this spicy shade to transform your room into a spectacular space.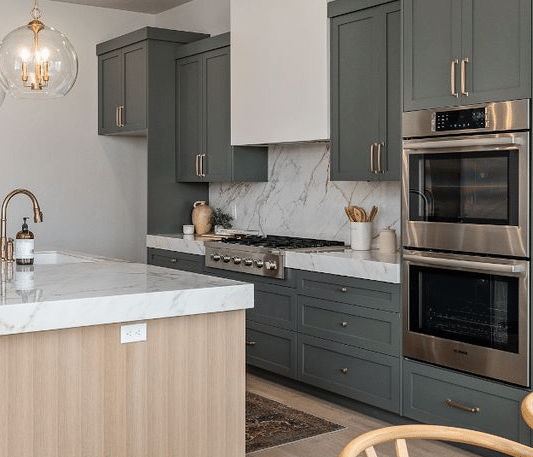 Biege is known to create a welcoming space. Even if you have little space in your room, a color combination like this will make your room appear bigger and brighter. When you pair Beige with Pewter Green, you are creating an inviting atmosphere where your friends and family can enjoy their time together. This pair will create provide instant warmth to your room and make your guest appreciate the welcoming space that you have created.
Pewter Green Sherwin Williams SW 6208 vs. Other Similar Colours
Though we don't recommend using any color other than Pewter Green, there are a few alternatives that you choose from. Some of the famous alternatives are sherwin williams retreat,sherwin williams dried, and sherwin williams homburg gray. These colors bear a close resemblance to this paint, and you can try them.

Pewter Green retreat is the most used alternative instead of a normal Pewter Green. They have similar undertones but differ greatly in terms of LRV. While the standard Pewter Green has an LRV of 12, the retreat has an LRV of 21. This means retreat reflects a lot of light into your room and makes your limited space appear bigger.
Using Pewter Green SW 6207 for an eggshell finish is highly advisable. Since the paint has a dark undertone and low LRV, it doesn't reflect much light into your room. Hence to make the paint bounce light, an eggshell finish is recommended. This would make your room appear shiny and gorgeous and give your guests an unforgettable experience.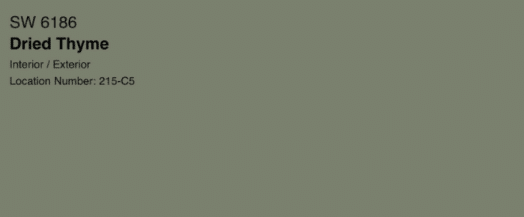 Dried is a sage green color that has the same LRV of retreat. This means this color has a high reflecting value and makes your room appear more spacious. When placed side by side, they might look the same, but the standard Pewter Green is dark and muted. Hence some people opt for Dried due to its LRV.
Color specialists recommend that using Pewter Green DRIED on your kitchen walls transforms your room into a captivating heaven. To complete the look, you need to use marble countertops and watch how your kitchen gets a bright glow. This beautiful pop color can elevate kitchen space into a captivating visual element.
6 Advantages Of Painting Your Room With Pewter Green
With the help of this paint, you can create a relaxing and calming space in your room. Pewter Green is a top choice for homeowners who desire peace and to get rid of anxiety.
Pewter Green Sherwin Williams SW 6208 bears a close connection to nature. Since the color is close to nature, it brings vitality, freshness, and rejuvenation to your room.
Pewter Green comes in different varieties, so it gives consumers the choice to choose their best fit according to their mood and convenience.
Studies reveal that Pewter Green can increase focus and concentration. Having this color on your accent walls would bring precision, focus, and productivity.
Mental and physical health gets a boost with Pewter Green. The rich undertone of this painting can create a harmonious atmosphere and helps you get rid of stress.
Room colors are associated with mood and have the power to evoke emotions. When the Pewter Green SW 6208 color is implemented, it reflects your personality and style. It speaks volumes about your character. For instance, coloring your accent walls with Pewter green will show that you are a person that cherishes positive emotions like harmony, tranquility, and calmness.
Takeaway
Pewter Green Sherwin Williams is one of the most favorite that people around the world use to transform their rooms into captivating heaven. Since the paint has a rich undertone, it sits perfectly for exterior and interior spaces.
They are not limited to a particular area and can be used in various regions like kitchens, hallways, and bedrooms. The paint has the power to create a cozy atmosphere since it has stunning visual elements attached to it. Besides this, this color is known to provide excellent coverage and an attractive finish.
They are regarded as the chameleon color since they change according to the aligning conditioning. Having a lower LRV, this color might appear dark and light based on the amount of light your room receives.
Using this paint also reflects the type of person you are and shows the world that you are approachable and filled with positive vibes. In addition, they can serve as an excellent background for your paintings and complement any decor seamlessly.
Frequently Asked Questions
Will Pewter Green Offer a Fine Finish to My Walls?
Yes. The undertone present in the paint has the power to provide a refreshing environment to your space and a seamless finish. It serves as an excellent backdrop for showcasing your paintings and excellent coverage of different furnishing styles.
Can I Use Pewter Green for the Interior and Exterior Walls?
The gray undertone present in the paint comes with a versatile formation; hence it fits perfectly for your doors, kitchen walls, hallway, bedroom, and exterior. This will make your space achieve a harmonious look, giving your guest a memorable experience.
How Lighting Conditions Affect Pewter Green?
Yes, it does. Since the LRV of this color is low, hence you would need a lot of artificial light to reflect light in your space. If your room gets enough natural light, then moderate lightning conditions are enough.