We all dream of our Wedding day to be magical, filled with love and beautiful moments. While you plan for this once-in-a-lifetime event, every decorative detail is important, including the centerpieces that will embellish your table. The value of these beautiful centerpieces will help transform your venue into a breathtaking wonderland that will leave your guests in awe.
Suppose you are seeking inspiration for finding the right centerpieces for your wedding venue. In that case, we will be listing down 26 mesmerizing and unique centerpiece ideas that will enchant your wedding venue and leave your guests talking about your wedding for years to come.
From enchanting floral arrangements to romantic candlelit displays, get ready to be inspired as we explore a range of ideas that will enhance the beauty of your wedding venue to another level.
1. Romantic Candlelight Centrepiece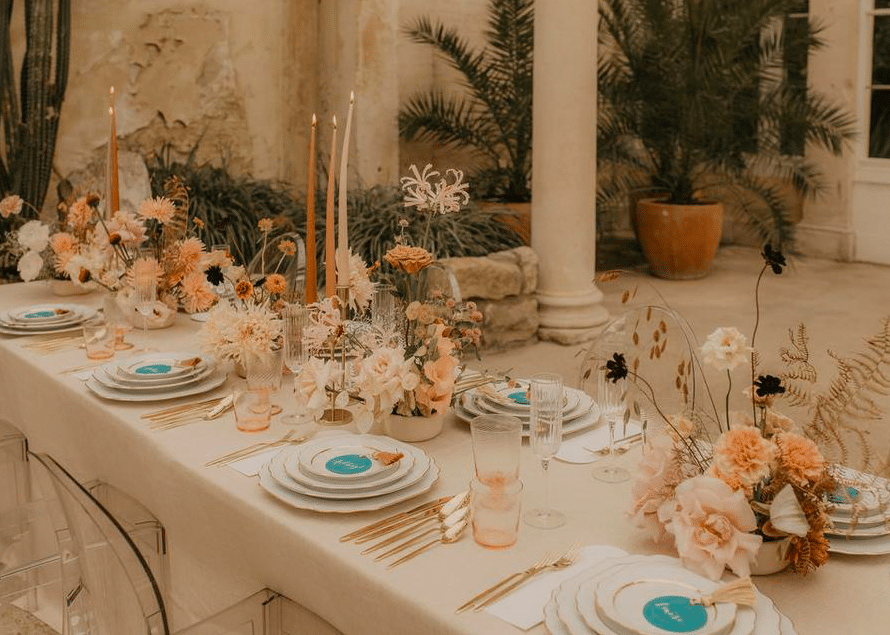 There is something incredibly romantic about candlelights. Set the mood with a wedding table centerpiece that is an assortment of pillar candles of different heights placed on a mirror tray or within a 'hurricane' glass vase. You can consider spreading rose petals around the table, matching with red color napkin sets. If you want to put flower accents, a bunch of white and red roses will add a dreamy look to the arrangement.
2. Lush Flower Arrangement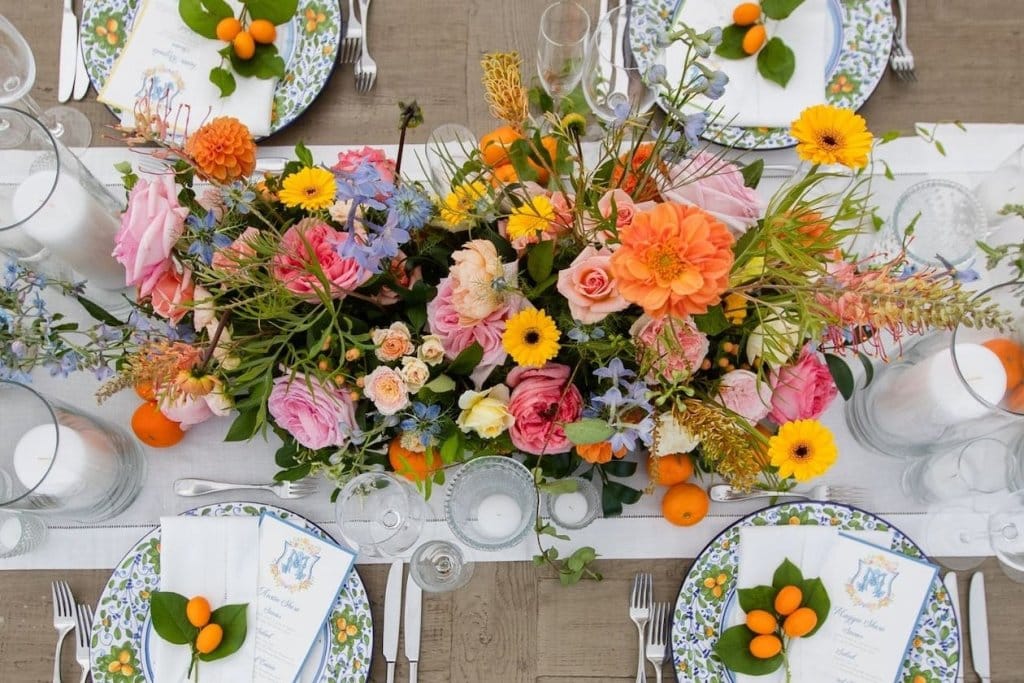 Flowers make the most classy and sophisticated choice for a wedding table centerpiece. Create a voluminous arrangement of a mix of flowers. You can use roses, peonies, hydrangeas, and greenery. The best way to choose the right flower mix is by matching its color tone with the wedding venue's theme. This centerpiece combination will promise a stunning display for your wedding.
3. Rustic Charm Centrepiece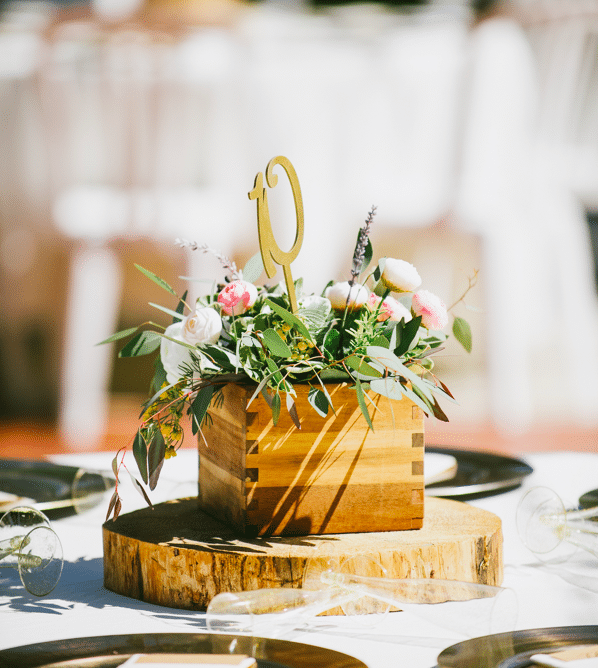 Suppose you are planning a wedding in the countryside. We strongly advise you to consider rustic-styled centerpieces for the dining tables at your wedding. Embrace nature by using wooden slices, mason jars, and wildflowers. Arrange them together or place a single in each jar for a simple, charming centerpiece on your wedding tables.
4. Golden Sprayed Wine Bottles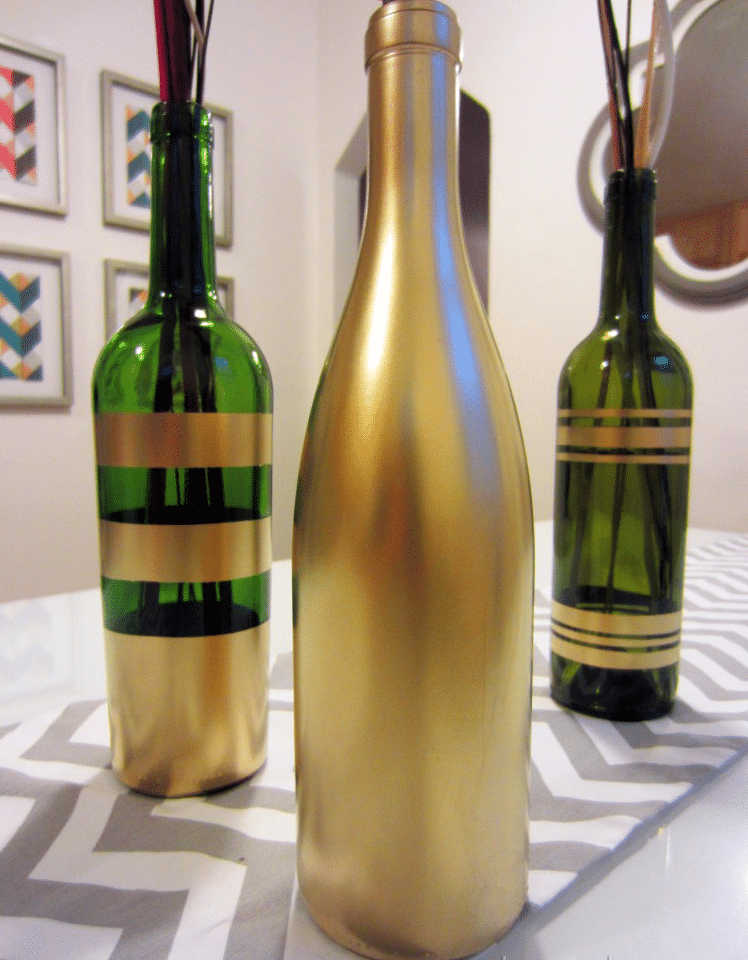 For those who essentially require to pull off a budget-friendly DIY centerpiece for wedding tables, this simple yet effective idea will do wonders for you. Collect leftover wine bottles from a nearby restaurant, soak off the labels, and spray paint golden color on them. You might be required to coat the bottles a few times before their colors start looking even. The outcome will leave you with a set of beautiful golden vessels that you can decorate with flowers and place at the center of your table in groups.
5. Birdcage-Inspired Table Centrepiece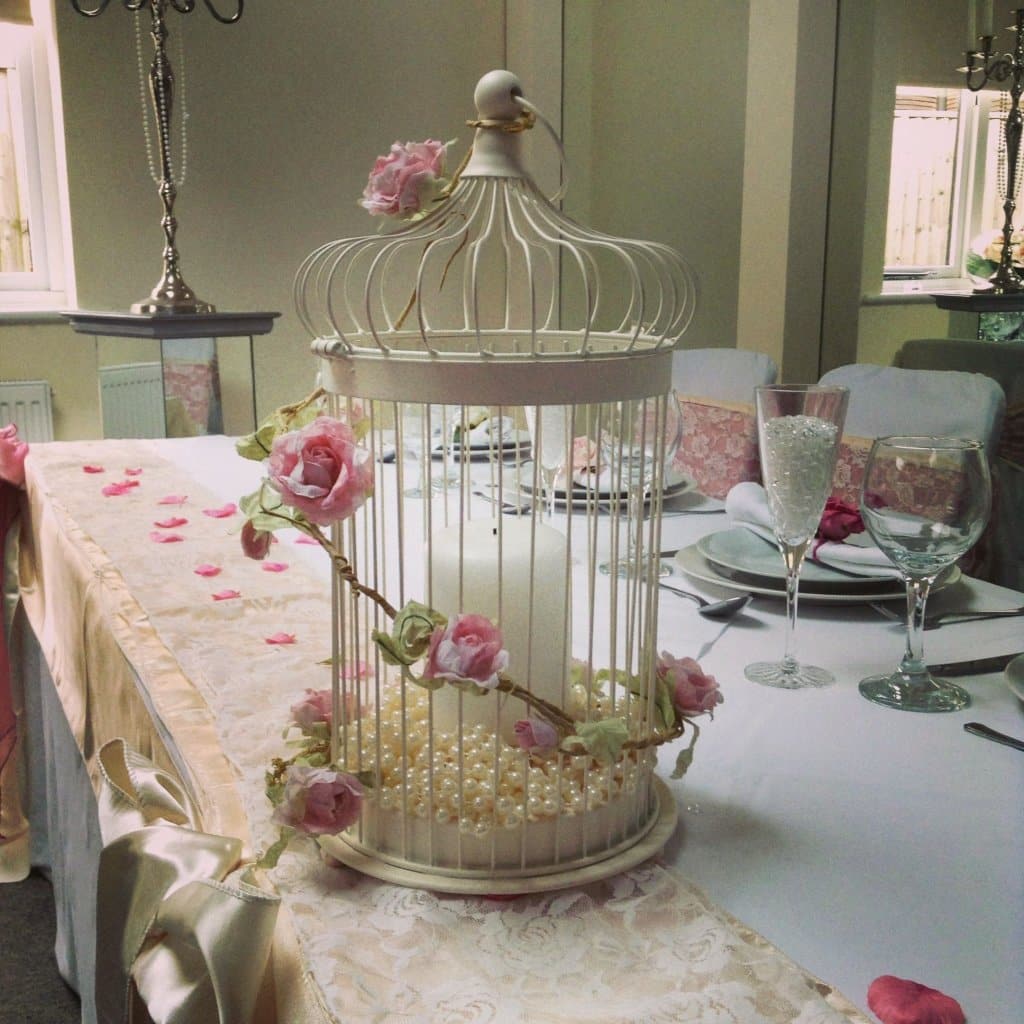 Another easy and unique way of creating a centerpiece is using Birdcage or aviary as decorative pieces. To create this DIY centerpiece, start by finding vintage birdcages or decorative birdcages that suit your style. Fill them with lush green leaves, delicate flowers, and even small bird figurines or feathers for an enchanting effect. Hang them from above or place them as centerpieces for your wedding tables. This DIY idea will bring a touch of nature and elegance to your wedding, capturing the beauty of a bird's sanctuary at your reception.
6. Candelabras Wedding Centrepiece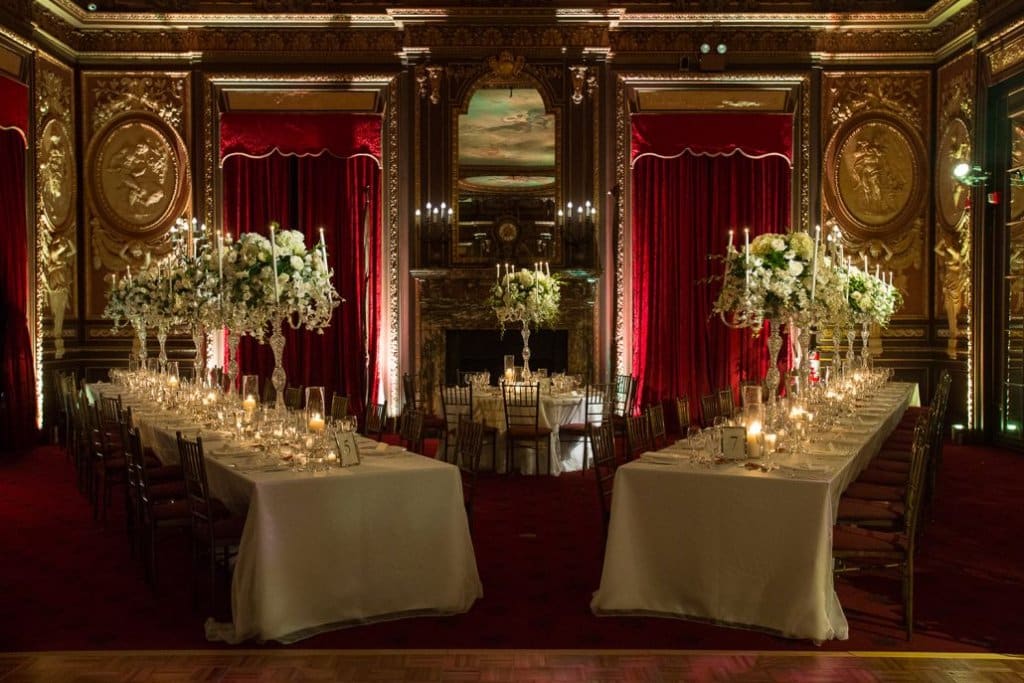 Candelabras make elegant and timeless wedding centerpieces. Arrange a group of candles arranged in varying heights on a mirrored tray or inside a glass hurricane vase to create a romantic ambiance. Alternatively, you can choose large-sized candelabras adorned with delicate flowers and lush leaves to create a warm and inviting atmosphere. It is completely your choice to opt for a single candle arrangement or an elaborate candelabra display, creating an atmosphere that will add a magical vibe to your wedding decor.
7. Umbrella-Themed Wedding Centrepieces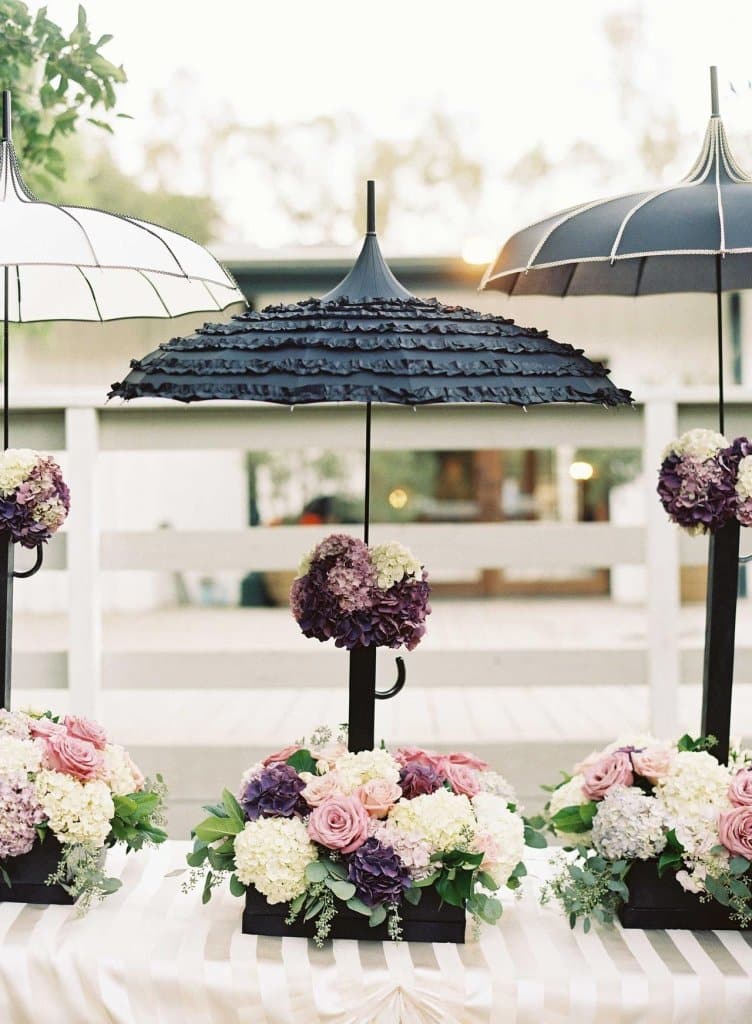 Umbrella-themed wedding centerpieces bring a whimsical and playful element to your reception decor. Choose small decorative umbrellas in various colors and styles and open them up to create unique centerpieces. Fill the umbrellas with fresh flowers, vibrant paper lanterns, or ribbons of pop color. Place them in the center of the tables or suspend them from above to create a catchy eye display. These umbrella centerpieces will bring a sense of joy or celebration to your wedding while providing shade and protection in case of unexpected rain showers.
8. Tree-Inspired Wedding Centrepieces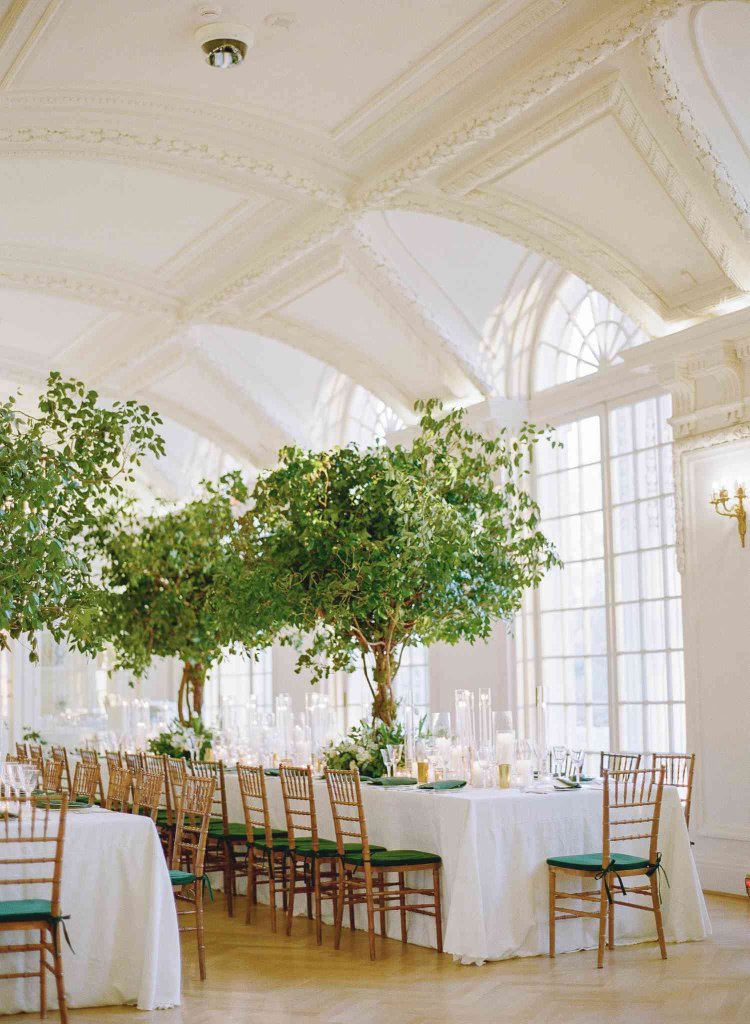 Tree-inspired wedding table centerpieces are a great choice if you want to add nature's beauty to your wedding decor. This will add a touch of organic elegance to your reception. Incorporate small potted trees or branches at the centerpiece, adorned with twinkling fairy lights and delicate hanging ornaments. You can choose to enhance the look with moss, flowers, or rustic elements such as birch bark or wooden slices. This centerpiece idea will be effective for creating the enchanting atmosphere of being in a forest. It makes for the perfect choice for couples who love outdoor settings and would want their wedding venue to look like an extension of nature.
9. Minimal Wedding Table Centrepieces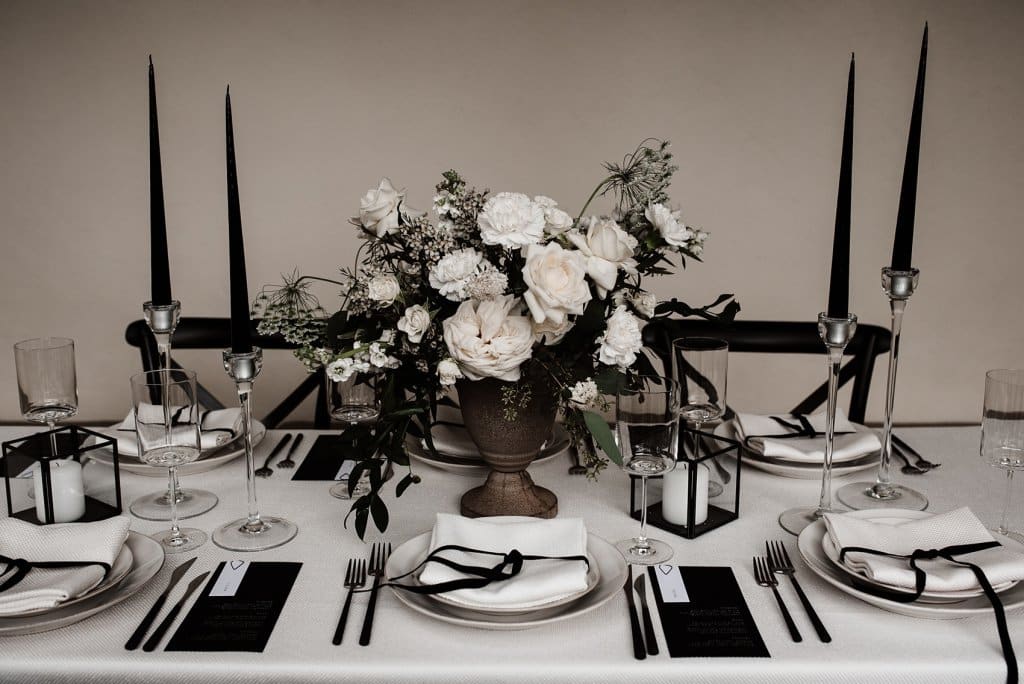 Minimal wedding table centerpieces will always stay in style due to their simple and sophisticated vibe. In order to decorate your table with a minimalistic centerpiece, start by selecting a single statement piece, such as a geometric vase with a single item or a cluster of minimalistic bud vases.
Minimalism is all about focusing on quality over quantity, which allows negative space to enhance the overall aesthetic. You can add single plant sticks or ones with less bloom in order to create a chic look. The minimal wedding table centerpieces are perfect for couples who find beauty in simplicity and yet want their wedding decor to make an impactful statement.
10. Ceiling Suspended Table Centrepieces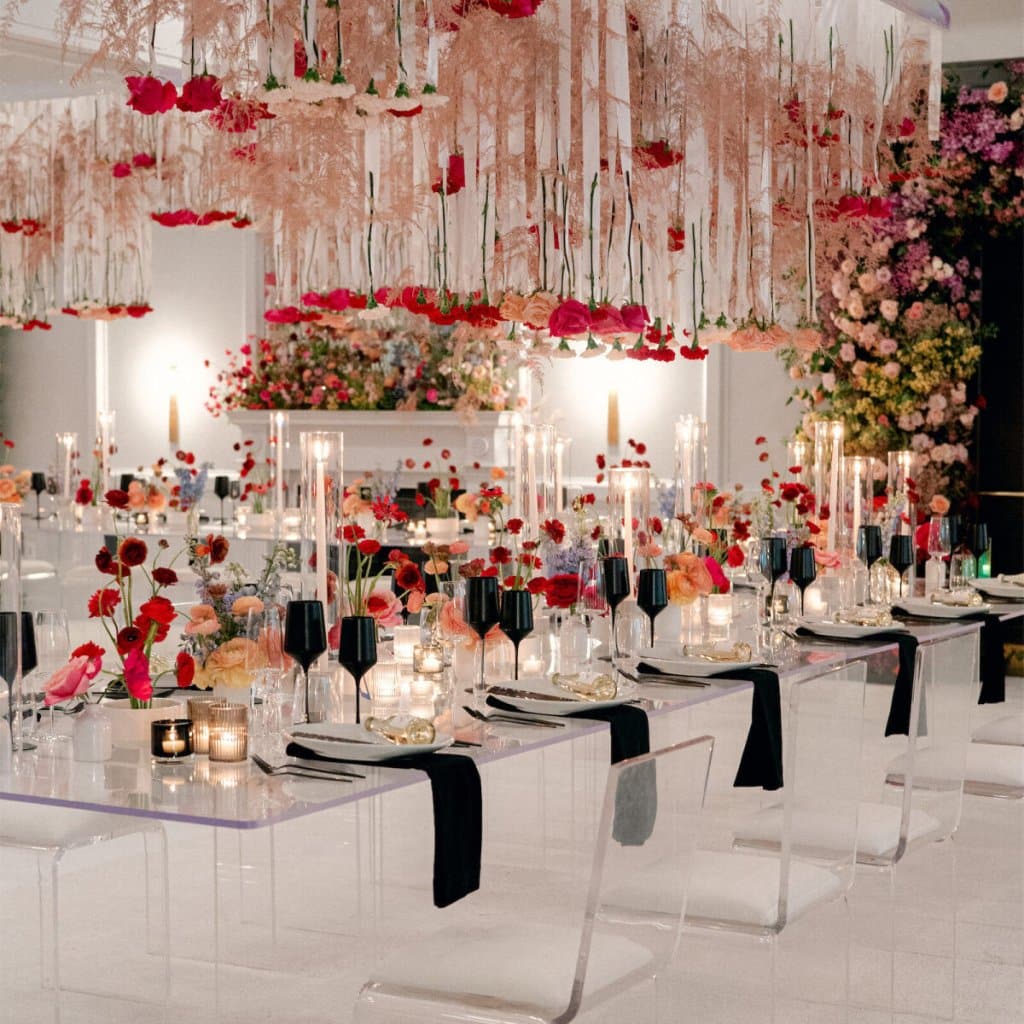 Ceiling-suspended table centerpieces are sure to add a breathtaking ambiance to your wedding venue. Start by creating an enchanting atmosphere by hanging floral installations, cascading greenery, or delicate hangings from the ceiling above the tables. This innovative approach frees up space on the table, allowing for more conversations and space for the guests to keep their belongings.
The suspended ceiling centerpieces will give a royal look to your wedding decor. Your guests will be captivated by the magical ambiance created by these suspended table centerpieces, making your wedding truly unforgettable.
11. White Hydra Centrepiece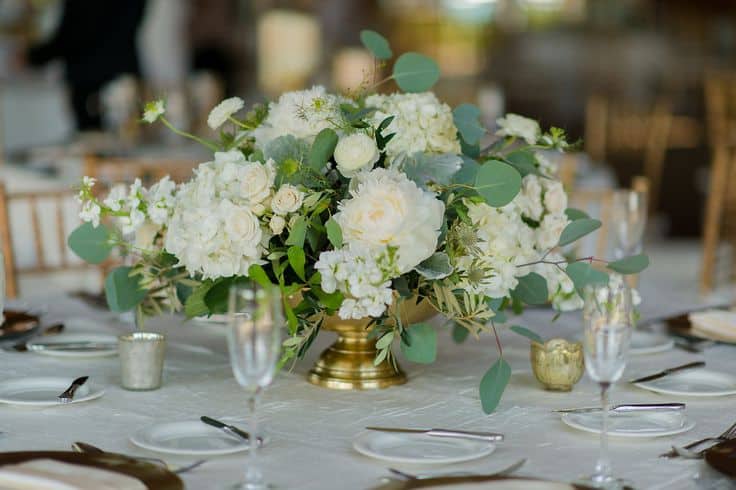 If you are looking for timeless aesthetics for the tables in your wedding venue, we strongly suggest opting for white hydra-decorated centerpieces. Arrange lush white peonies in a mix of open and closed buds in a simple glass vase jar to create a classic and romantic look. The soft and delicate petals of peonies create a dreamy atmosphere, perfect for a wedding celebration. You can complement the peonies with hints of greenery or add a subtle hint of color with coordinating booms.
12. Blue & White Hydrangea Centerpieces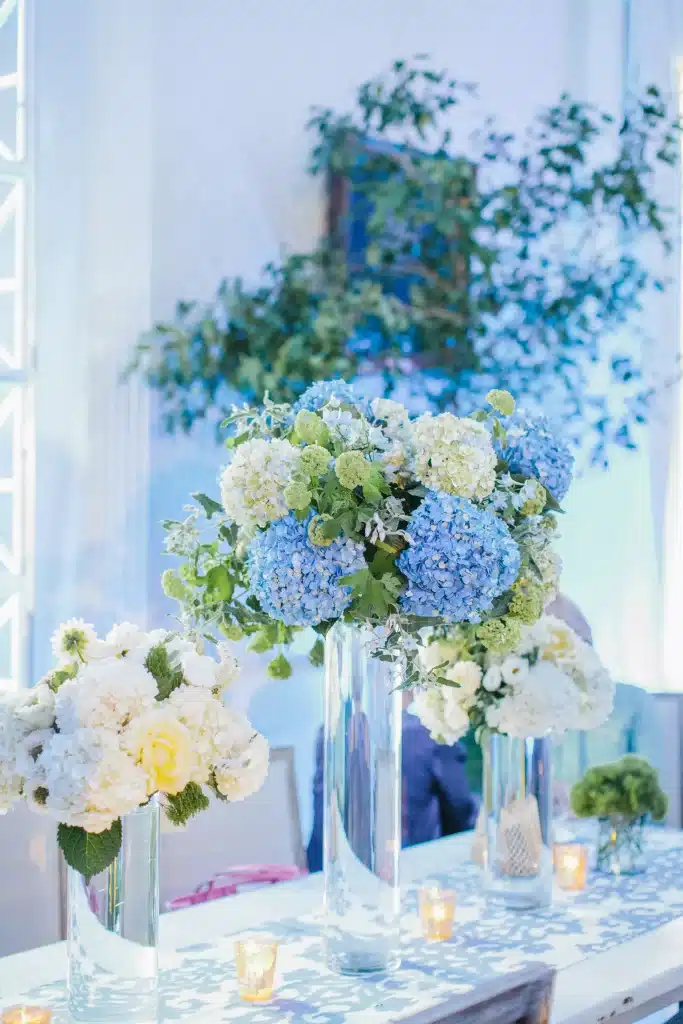 Blue & White Hydrangea centerpieces are a stunning choice for wedding tables. These beautiful blooms create a harmonious blend of colors that evoke a sense of tranquility and elegance. Group together blue and white Hydrangeas in tall vases or low compotes for a lush and creative display. The combination of these colors adds a touch of serenity and sophistication to your wedding decor. Whether you are seeking a monochromatic table decor or want to incorporate other complementary flowers, blue and white Hydrangea centerpieces will leave a lasting impression on the guests.
13. Boho Elegant Centrepiece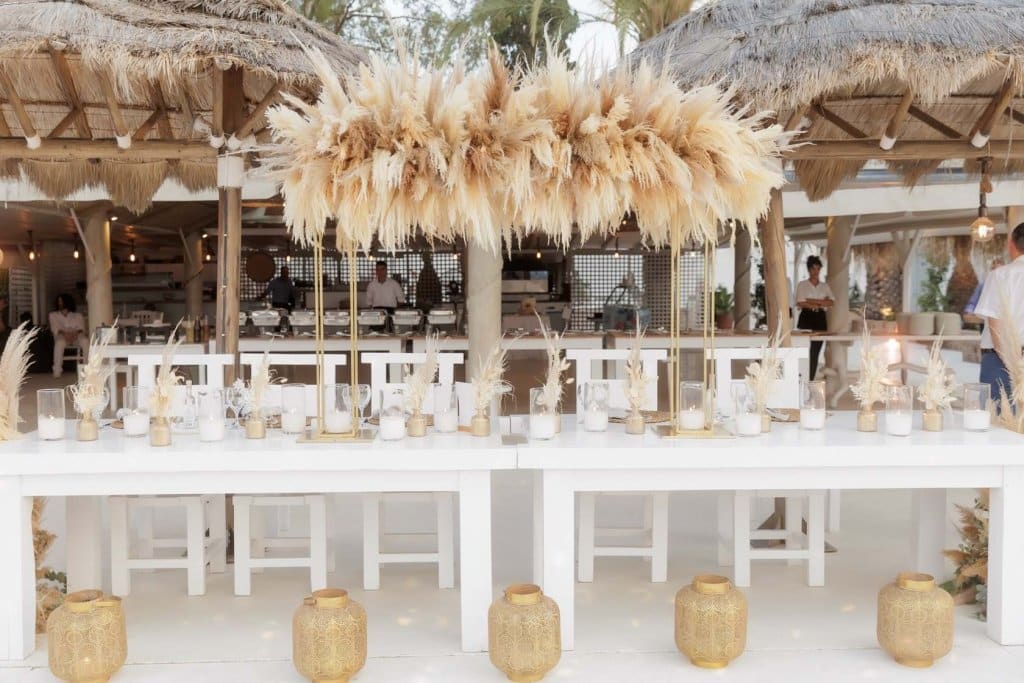 Boho Elegant Centrepieces are trending in the current wedding decor world. The Boho elegant centerpieces use natural elements with a touch of sophistication. You can include elements like macrame', feathers, and wooden accents in your centerpiece design. Combine delicate wildflowers, eucalyptus, and pampas grass for a free-spirited and organic look. You can also use mismatched vases, vintage bottles, or terrariums to enhance the Bohemian vibe. This creates a relaxed yet quirky decor that exudes both charm and elegance.
14. Garden Rose Centrepiece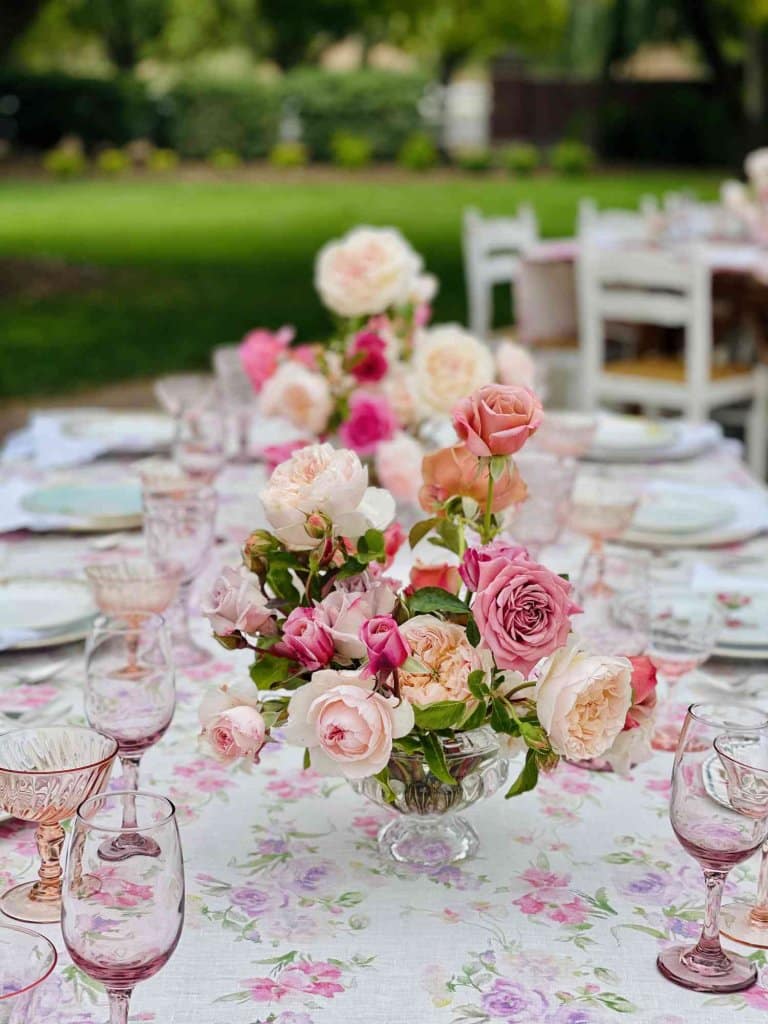 Garden rose centerpieces for wedding tables will make a captivating choice that gives out romantic and timeless beauty. The rich and vibrant hues of dahlias combined with the delicate elegance of garden roses create a stunning visual. Arrange them in a mix of sizes and colors, such as blush pink, deep burgundy, and vibrant corals, to add depth and visual interest. Pair them with lush green plants for a romantic yet serene touch. Garden rose centerpieces will make a promising statement that will add elegance to your wedding tables.
15. Greenery Table Runner Centrepiece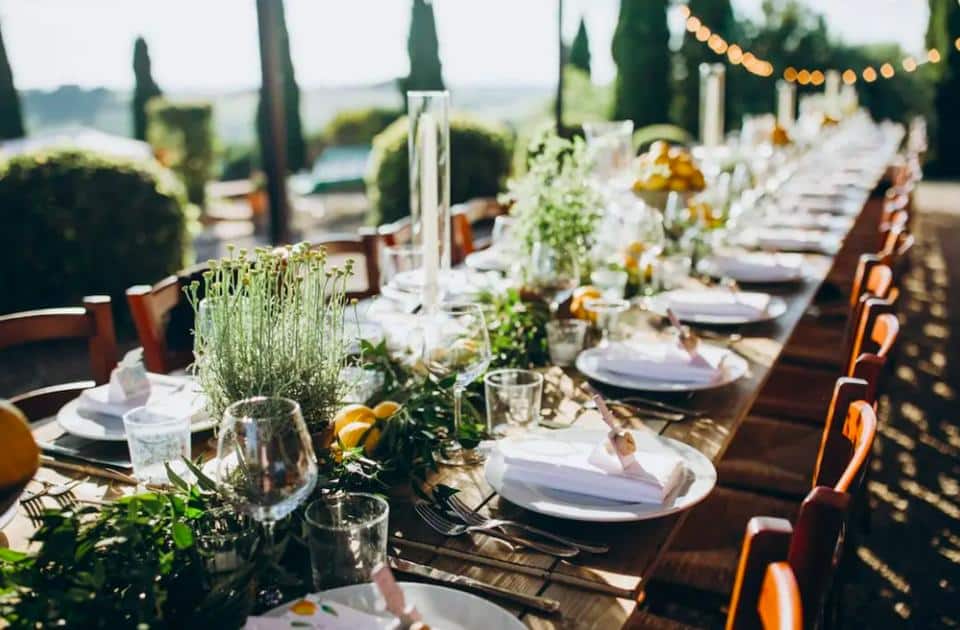 your wedding tables. The greenery table runners make for an easy and sophisticated table display by using a variety of foliage, such as eucalyptus, ferns, and ivy. Arrange the greenery in a long, flowing runner down the center of the table, intertwining it with delicate blooms or votive candles for added charm. This centerpiece option adds a touch of vibrancy and freshness while allowing easy conversations among guests. The greenery table runner is sure to create a visually stunning and effortlessly beautiful look that will add life to your wedding decor.
16. Wes Anderson Inspired Centrepiece for Wedding Tables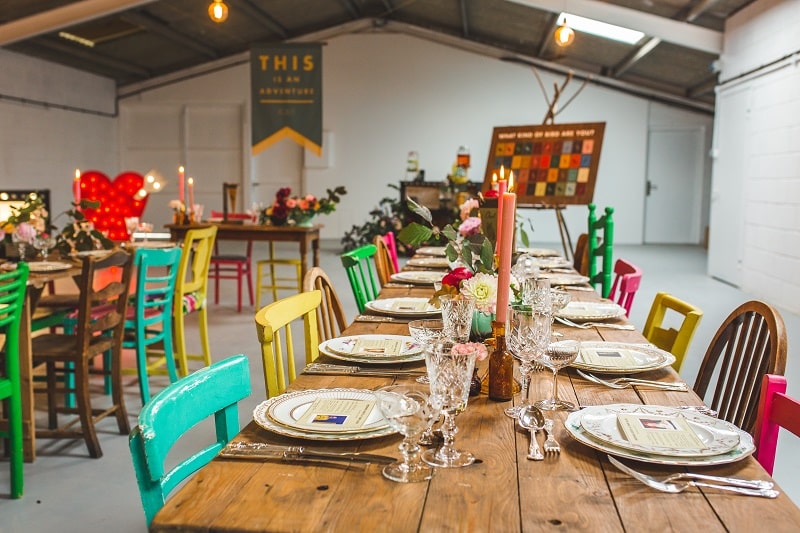 A Wes Anderson-inspired centerpiece for wedding tables captures the whimsical and nostalgic essence of his films. To execute this style, incorporate vintage elements like retro cameras, old books, or quirky figurines as a part of the centerpiece design. Select a color palette that reflects Anderson's signature style, such as a combination of pastel hues or bold primary colors. This centerpiece idea pays homage to the director's distinct visual aesthetic, creating a charming and captivating atmosphere that transports guests into a world of cinematic magic.
17. Camping Lantern Centrepiece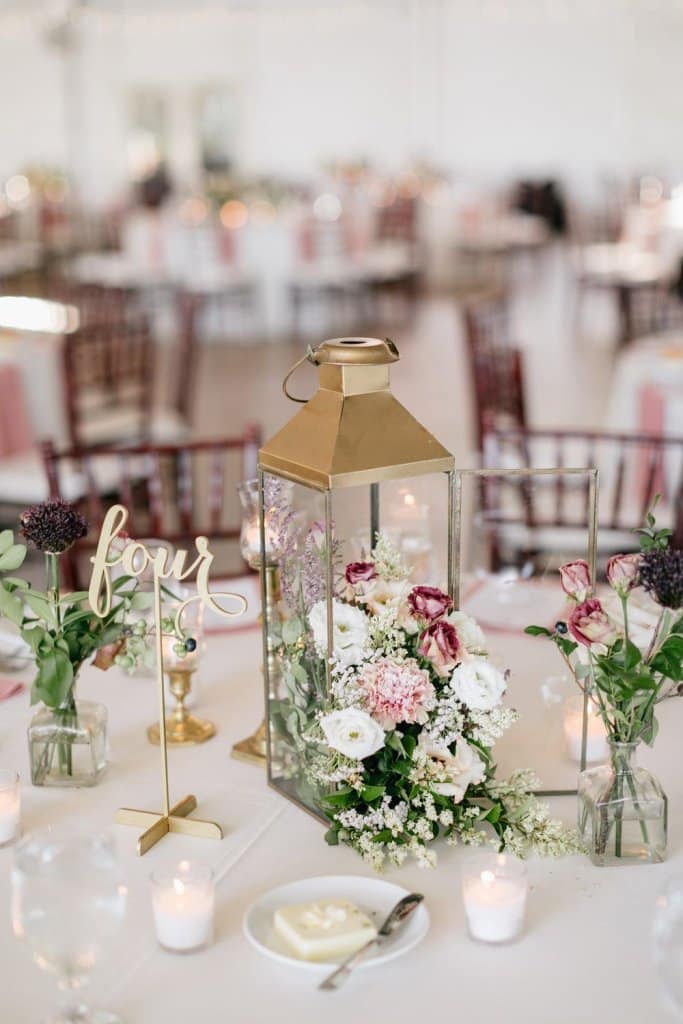 A camping lantern centerpiece is a unique way of decorating your wedding tables with a rustic yet adventurous theme. Choose vintage or modern lanterns in metallic or antique finishes to create a nostalgic atmosphere. Fill the lanterns with pillar candles or fairy lights to create a nostalgic and retro atmosphere. You can choose to surround these lanterns with elements such as pine cones, moss, or small wooden logs to enhance the camping theme. This unique centerpiece idea will add a cozy and intimate ambiance, perfect for outdoor wedding venues.
18. Succulent Centrepieces For Weddings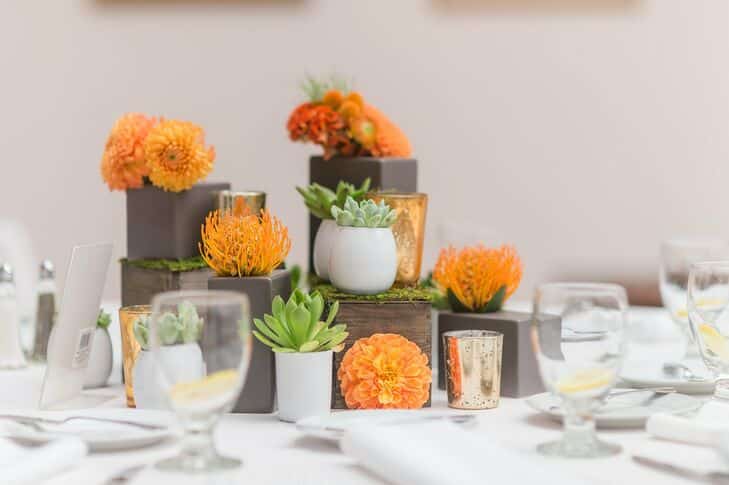 Succulent Centrepieces for wedding tables bring a touch of natural beauty along with modern elegance to your wedding reception. Get started with arranging a variety of succulent plants in decorative containers or terrariums for a captivating display. The unique shapes and colors of succulents add visual interest and texture to the table decor. Incorporate moss, rocks, or drift.
19. Silver Mirrored Tray Centrepiece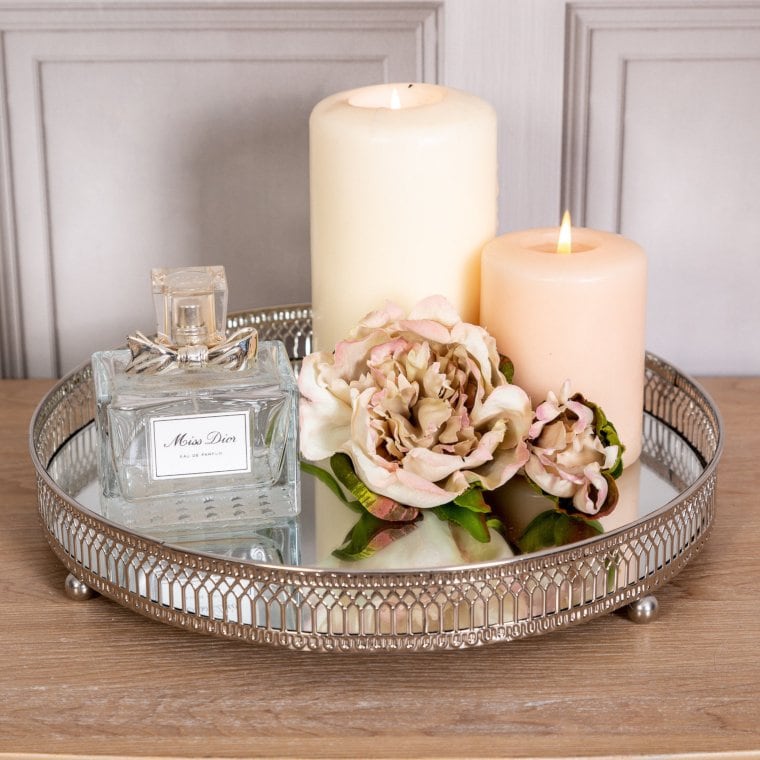 A silver mirrored tray is the easiest and instantly attractive choice for a centerpiece, especially if you are running low on time for deciding on your decor. These silver mirrored trays come in all kinds of shapes and sizes; you can select according to the length and shape of your table. You can add design elements like matching long candles, flowers with a vase, and a bottle of wine/champagne to add to the appeal. You certainly do not need to invest in a tray made of actual silver.
20. Simple and Chic Balloon Centrepiece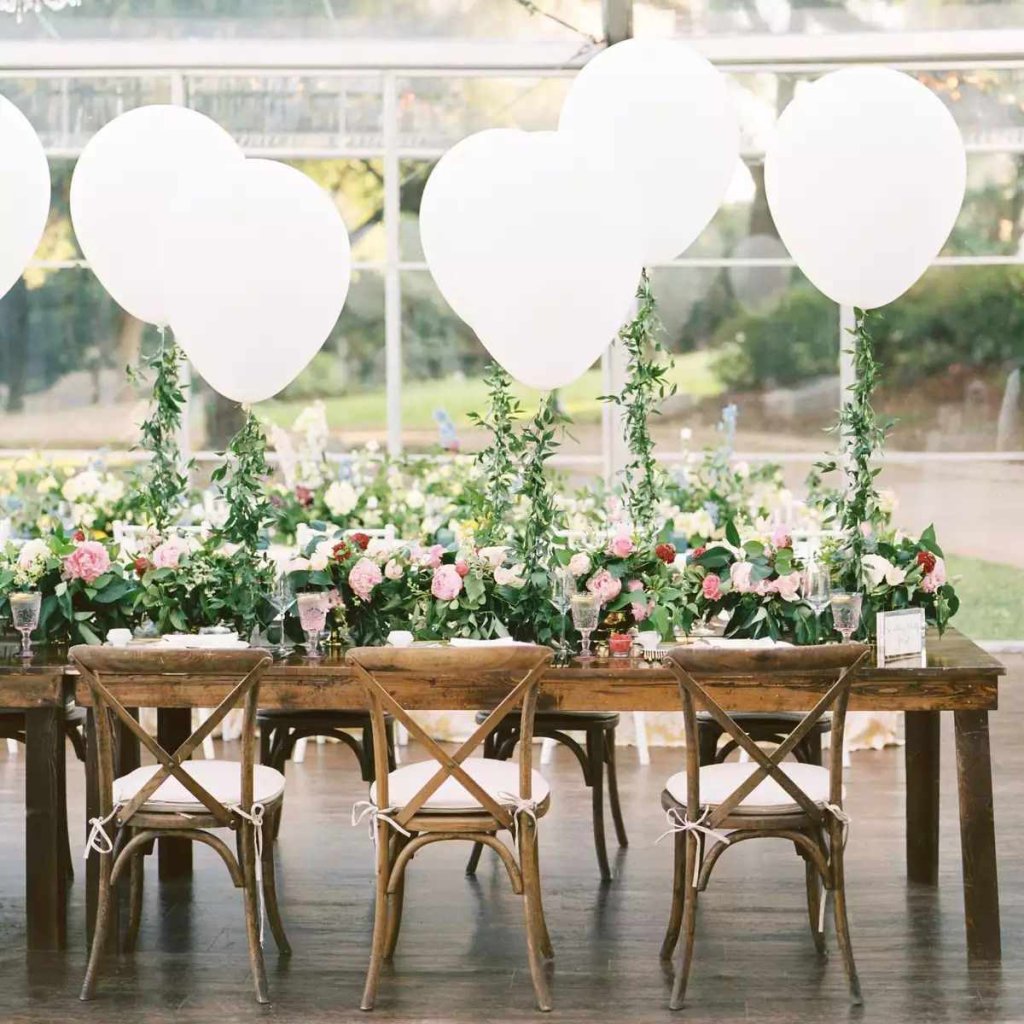 If you are looking to add a fantastical touch to your wedding decor, consider adding balloons as a part of your centerpiece on wedding tables. This centerpiece idea is absolutely beautiful and within budget. All you have to do is purchase balloons (matching the venue decor) and fill them up with helium. Tie the balloons with long silk fabric. Place a little bowl of flowers in the middle of the table at the bottom of the centerpiece, which will look gorgeous.
21. Colored Candles with Matching Flower Bouquets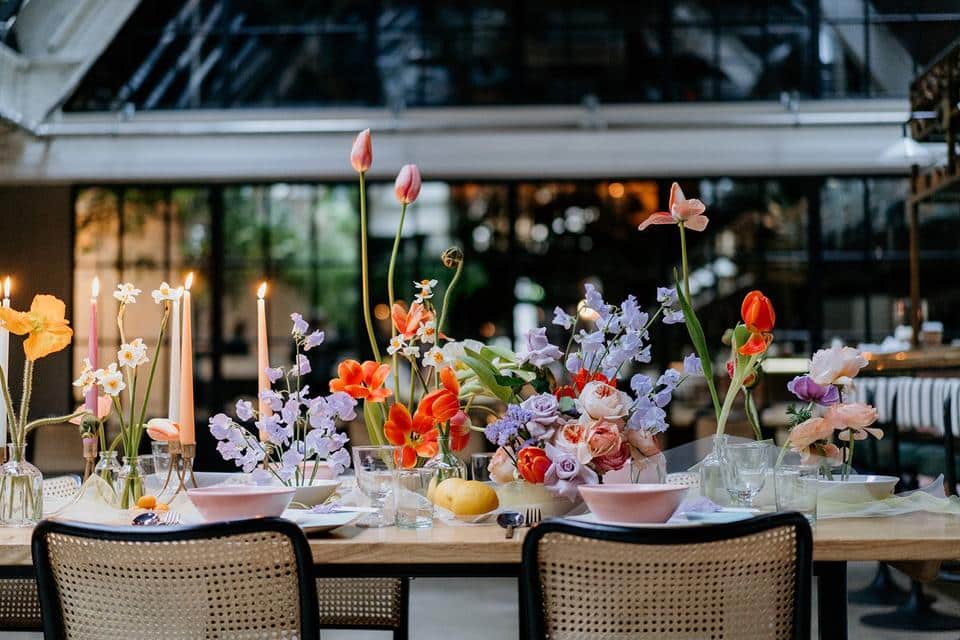 While white is the dominant color in most weddings, we suggest adding colorful candles with matching flower bouquets creating a vibrant look at your wedding dinner tables. You can also choose to stick to a particular color scheme to match your candles and flowers for an aligned look. Select a fabric material that matches your wedding theme and create a table runner for each wedding table. We advise sequins as they add as they are particularly stunning. However, if blingy is not your style, then you can opt for fabrics made up of other materials, such as velvet which will add a royal appeal to your tables.
22. Photo Centrepieces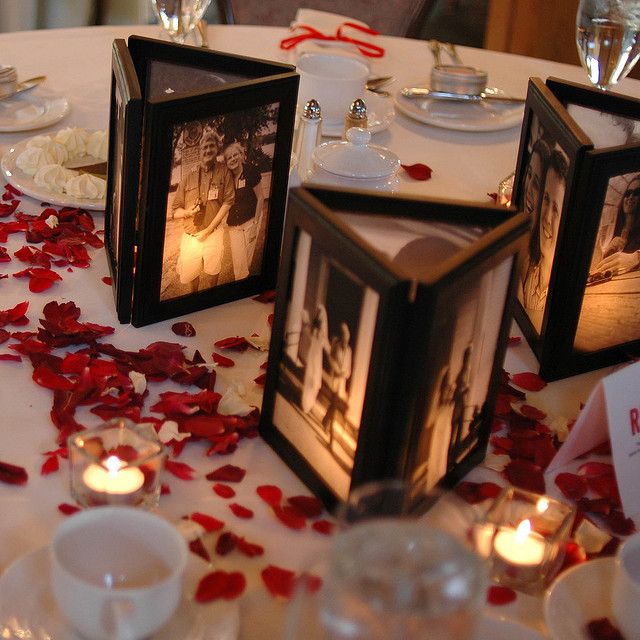 Photo frame centerpieces are a good way of adding a personalized touch to your wedding tables. This adds a romantic vibe to the occasion and brings sentimental value to your wedding decor. The execution is very simple; all you have to do is select your favorite photograph with your partner, have them printed out, and put them in pretty frames. Place these photographs at the center of your table with a bunch of flowers and matching candles to add to the appeal.
23. Floating Candles Centrepiece
If you're all about simplicity and saving some cash when it comes to centerpieces, then floating candles are your jam, my friend! These beauties require minimal effort on your part. Just grab some sleek glass vases, fill them up with water, and plop in those charming floating white candles. Voila! Watch as these centerpiece wizards work their magic, turning your tables into the epitome of attractiveness and elegance. You might have to purchase the glass centerpiece and floating candles separately.
24. Pearl-Filled Candle Jar Centrepiece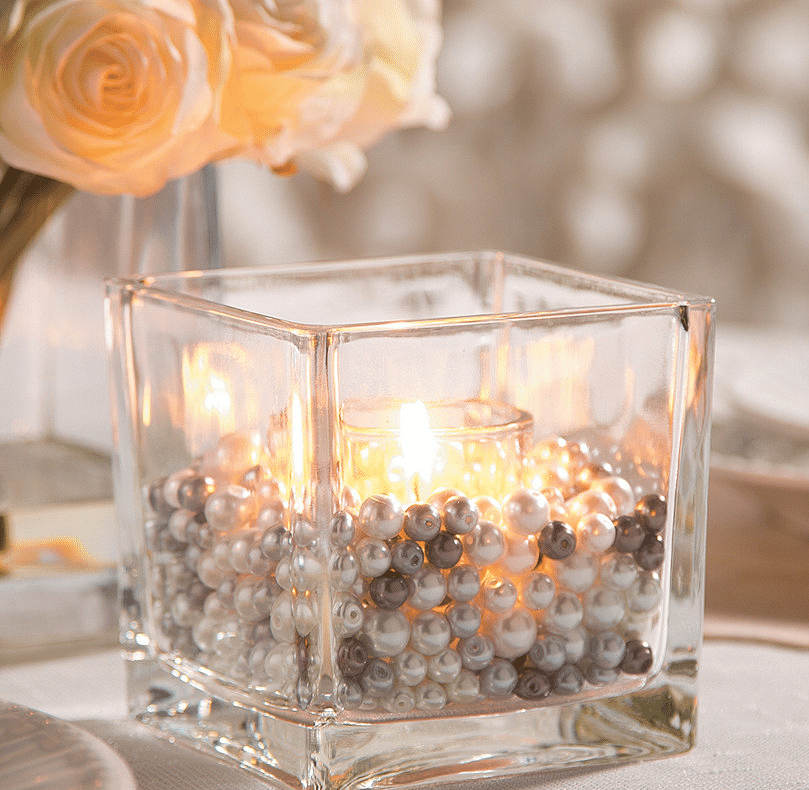 Another DIY table centerpiece that will instantly add a royal appeal to your dinner tables is pearl-filled candle jars. Place the candle holder in the center of a square glass vase. Fill the space between the candle holder and vase with an assortment of craft pearls. Place the vase in the center of your wedding tables, along with a bunch of flowers. This wedding centerpiece idea will add an instant glow to your wedding tables, along with being budget-friendly. We recommend you check out Zopeal's 16 square glass vase centerpiece set on Amazon for executing this look.
25. Lavender Rustic Centrepieces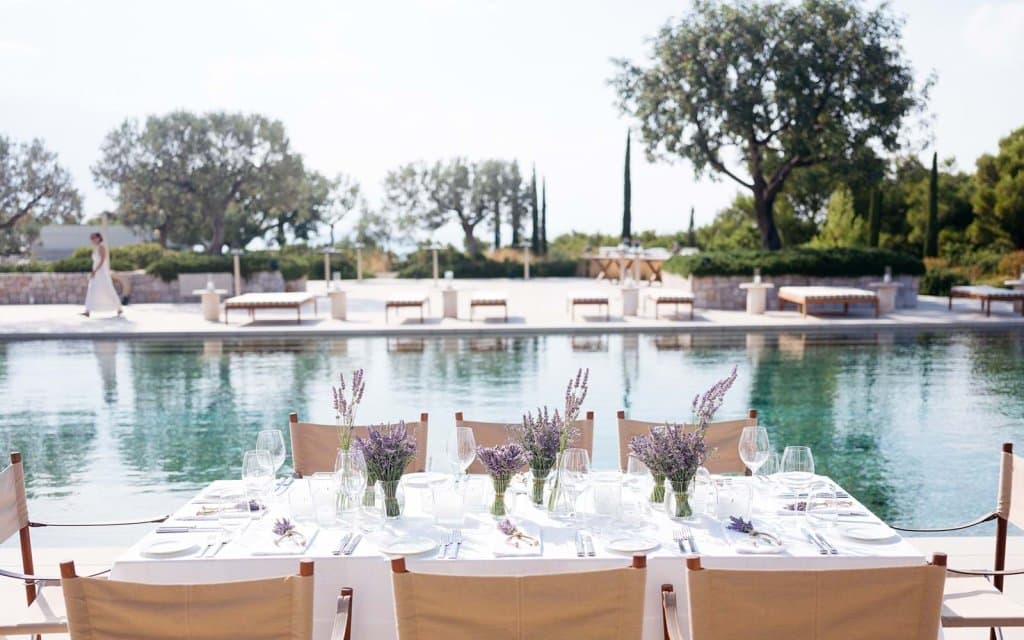 Lavender is considered to be auspicious as it brings good luck and prosperity. This makes them a perfect addition to occasions like weddings. Lavender works well with rustic decor. If you are planning your wedding around a similar theme, a lavender centerpiece will work best for you. This flower smells incredible and is photogenic. It also lasts very long, even years (if preserved well) which makes it a perfect choice for a centerpiece.
26. Statuesque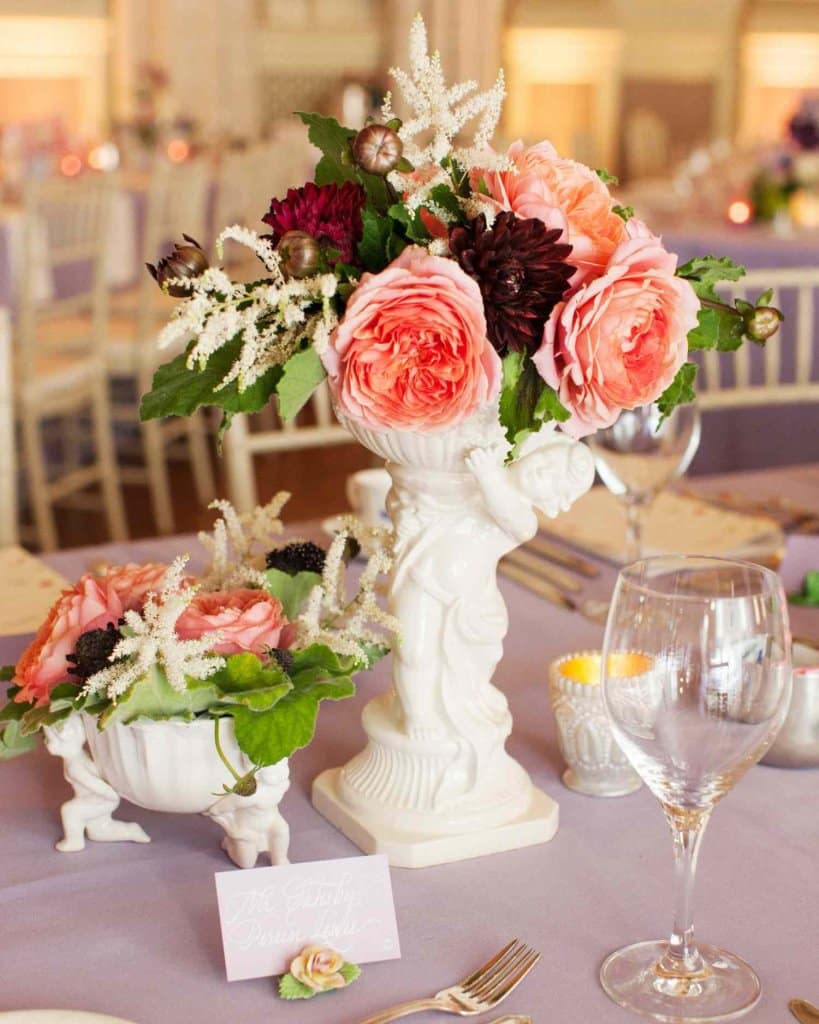 Another unique option to enhance the serenity of the table on the grandest day of your life. Each table is accompanied by vintage milk-glass vessels that hold sweet Janie Medley arrangements of lilacs, roses, scabiosa, and greenery. The addition of statues can vary from a wide range of themes or can follow a simple, unique style alongside other amenities that you have shortlisted for decorating the table. The statue idea can well be customized as well to store eateries or can be used to hold flowers for decoration, as depicted in the image above.
Conclusion
We are sure that these 26 centerpiece ideas for wedding tables will light up the ambiance at your wedding venue. Whether you are fond of rustic decor, romantic ambiance or desire a Wes Anderson look for your wedding venue, there is something for everyone.
These centerpieces will add a touch of beauty and charm to your wedding venue, creating a warm atmosphere for your wedding guests. Remember to select a centerpiece that reflects your personal style and complements the overall theme of your wedding.
With these creative ideas, you can create stunning landscapes that will leave a lasting impression on your loved ones! You can well opt for a range of options available to customize the option in any way you desire to enhance the personal touch.
Do let us know in the comments below how you liked the above ideas and how you plan to proceed with these timeless wedding centerpiece ideas.