Welcome to the vast cosmos of options for your dependable Billy bookcase from IKEA! We are all accustomed to the Billy, which is dependable, strong, and the ideal option for arranging your literary treasures.
What if we told you that this plain bookcase could be transformed into 21 amazing creations that will astound your guests? Get ready to enter the universe where creativity meets practicality, where shelves serve as blank canvases for your imagination, and where the Billy bookcase serves as a doorway to the world of original hacks.
In this article, we've compiled a list of the most creative modifications that will change the way you think about the basic Billy bookcase, from hidden havens to cozy reading nooks and dazzling displays to creative storage solutions.
So, let us take you on the imaginative voyage of simple yet extremely creative Billy bookcase hacks that are going to change your admiration of using this bookcase.
1. The Window Corner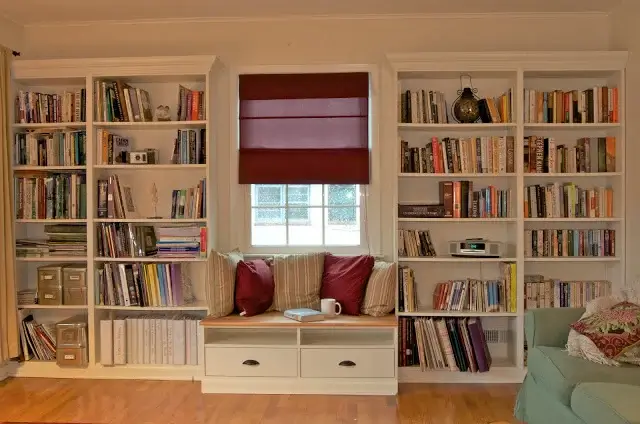 Make a cozy space by adding a Billy bookcase in any corner of a room. Finding a perfect corner next to a window and getting a billy bookcase can transform your room into your very own private oasis. To give this billy bookcase hack a perfect use, fill up the shelves with your favorite books and literature. Add the bookcase next to a window so that you can get the natural light when you read.
Add comfortable sitting, either a small bed or a plush chair, with cushions and a plush rug that can give you your much-needed 'me' time. This serene space will surely be your go-to place for finding solace while relaxing and watching the sky with reading and getting lost in your favorite book.
2. Home Office Haven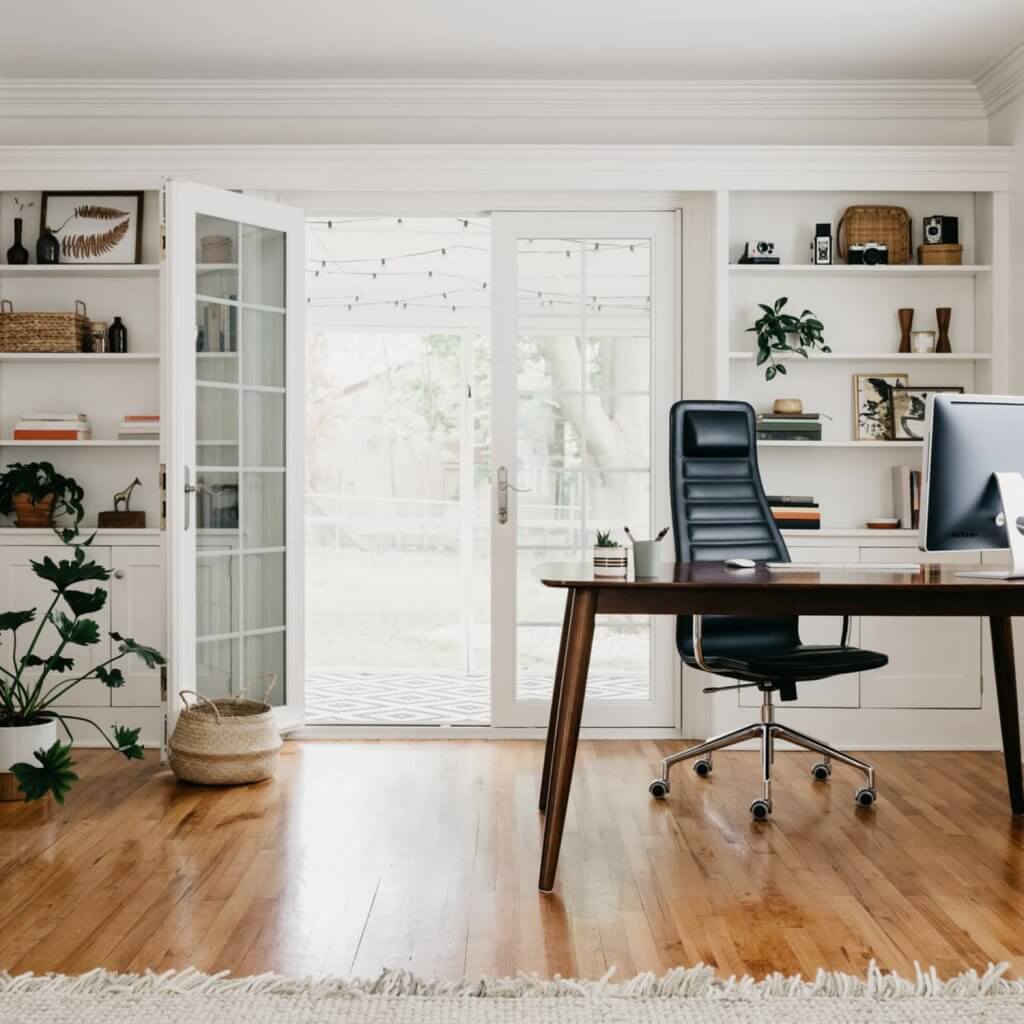 With the work-from-home and work-on-weekends culture, this billy bookcase hack can be your savior. All you have to do is place this bookcase on each side of your work table so that you have easy access to all the work-related supplies and stuff needed while sitting in one place. This arrangement will also keep you organized at its best.
Adding a pegboard on the bookcase where you can pin up all the important notes and meeting reminders can also help you be on time with the calls and schedules of your day. A comfortable chair and work lighting can be added to this whole setup to make it your comfortable and favorite space for working, even on your off time. With this work setup, you're sure to be on your highest energy for working and staying motivated and focused.
3. Kid's Retreat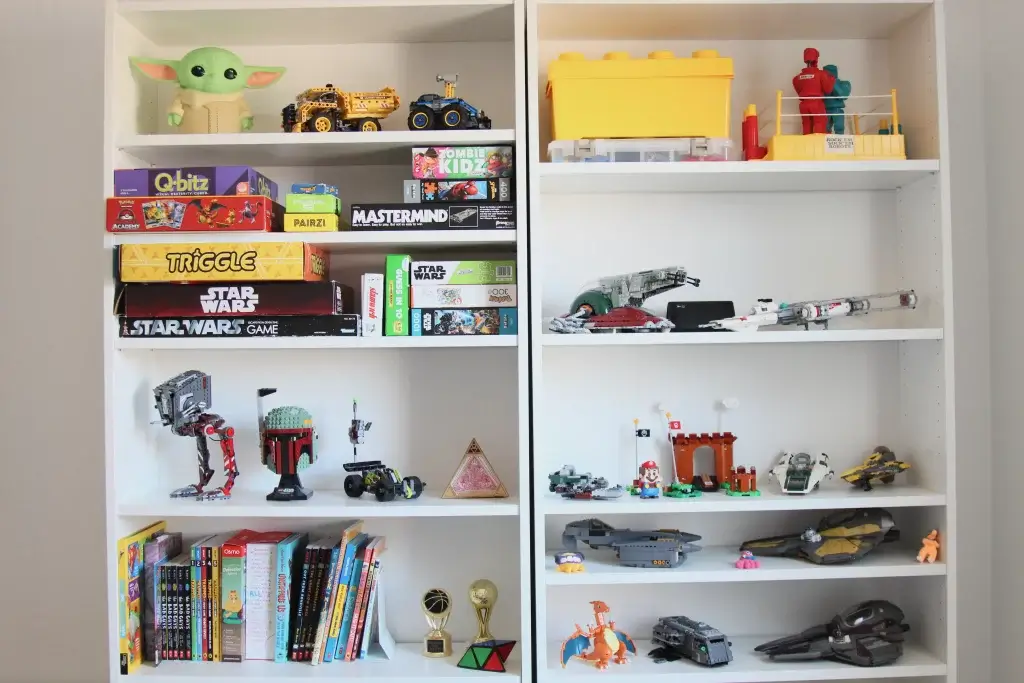 Perfect for your child's room, this billy bookcase hack can turn their space into fun. Place the bookcase next to the wall and fill the shelves with some toys and things useful for your child. Add colorful baskets or storage boxes to keep small little things in it on the shelves so that it gives your whole shelf a clean look.
Add funky wallpapers and a small sitting to the setup. This dedicated space is going to be your child's favorite spot to have their own me time. Let your child's imagination bloom with this fun space.
4. Pet Play Hack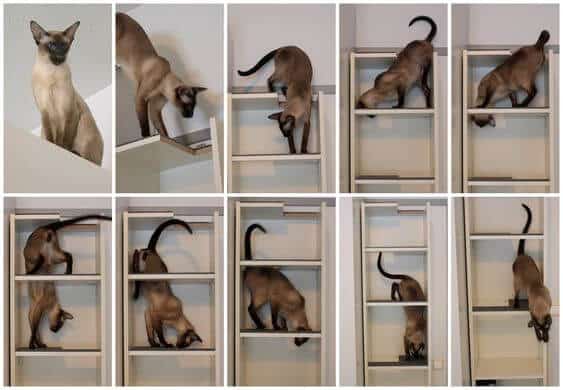 Pets, especially cats, love their own dedicated space and are very particular about it. Using this billy bookcase hack, create a pet retreat for your special companion. Convert a few shelves with a small playing area by keeping pet toys. To make a roomy sleeping area, take down a few shelves. For maximum comfort, add a cushion or soft blanket.
Keep everything nicely organized by using the remaining shelves to hold all of your pet's supplies and accessories. This innovative trick provides a private area for your pet while easily merging into the design of your house. Enjoy watching as your animal friend curls up in their personal haven, surrounded by all their favorite things. It's the perfect way to adore them and give them a sense of belonging.
5. The Vintage Keeper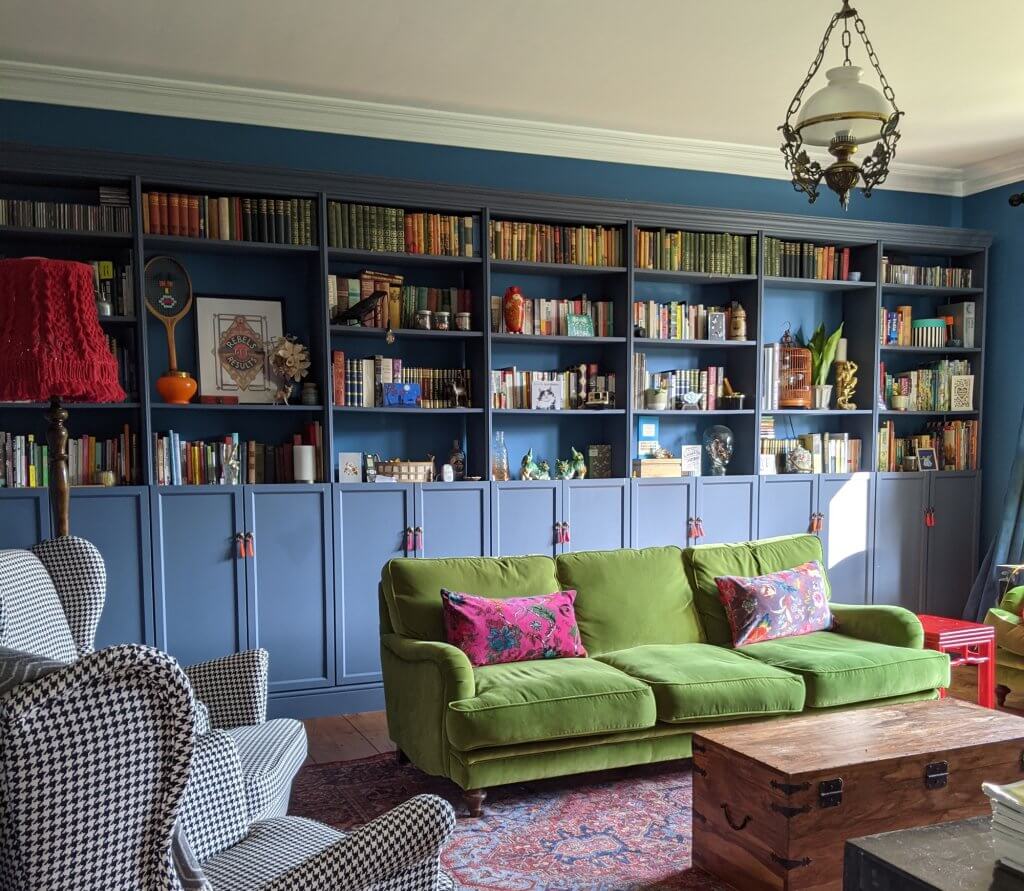 Everybody loves to have a vintage-inspired corner where they can restore their vintage collection of different things. This billy bookcase hack is perfect for vintage lovers. Start by painting the bookcase into a hue that gives you a vintage feel, like dark green, muted color, or any sot paint. To intensify the nostalgic atmosphere, add furniture and all the hardware in the room that can connect a person with their old days while they sit and relax to cherish their victories, collections, and memoirs.
Add your collections of antique pieces of literature, instruments, priceless artifacts, paintings, and everything that is vintage-styled on the shelves. With this vintage-inspired billy bookcase, you can go back in time and cherish your passion for collectibles.
6. The Artistic Showcase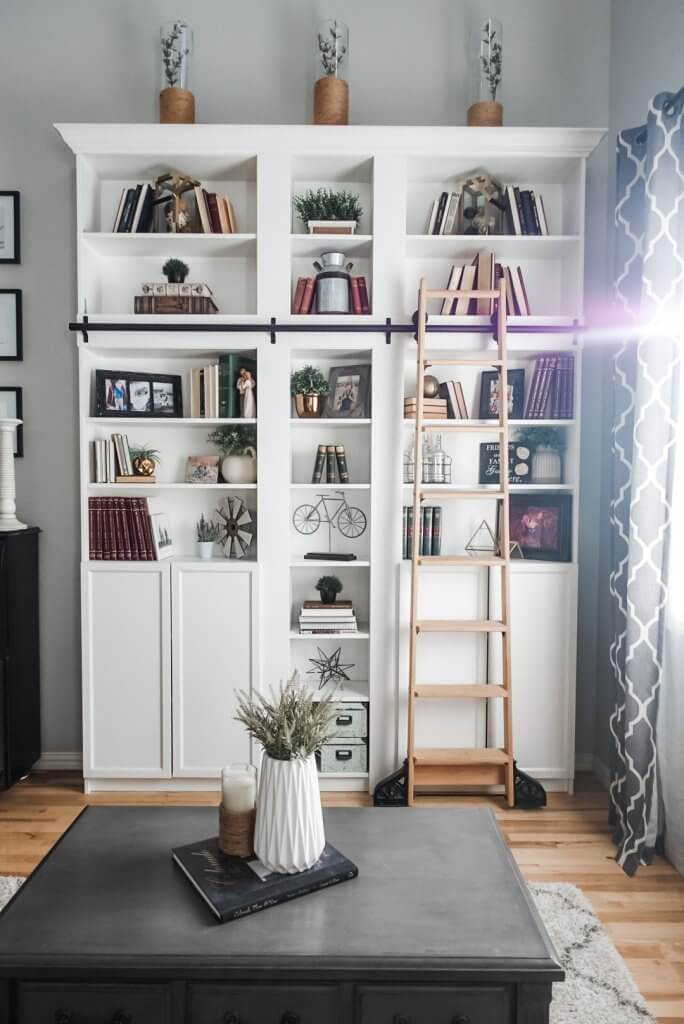 Having a gallery and a space where one can display their work of art is everything that artistic people want. This billy bookcase hack is truly for artistic people to display their passion and work for art. Remove some shelves and add frames and paintings in accordance with shelf size. Paint the bookcase with some subtle and artistic hue that can elevate the look of your work interestingly.
Add up and organize your displayed work in a way that gives a creative appeal to the viewer. This brilliant setup seamlessly combines aesthetic beauty with practical storage in a compelling way, adding a touch of refinement and personality to any space.
7. Garden Greenery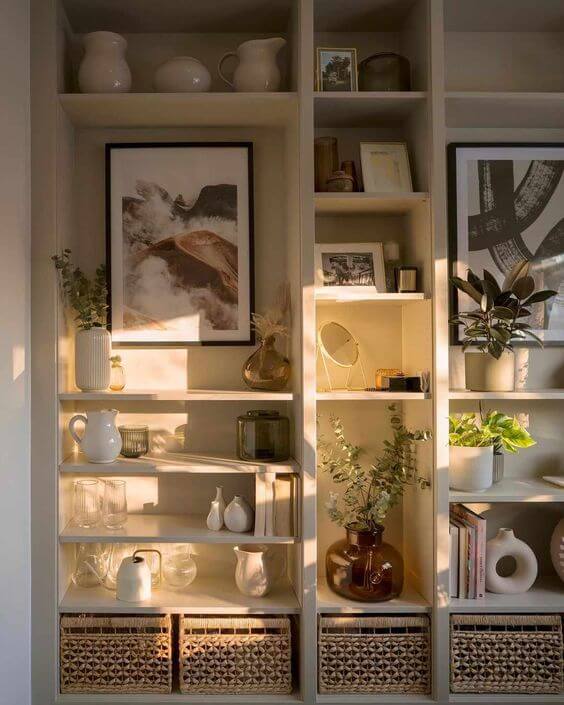 Plants give a sense of positivity and fresh air in whichever surrounding they are placed in. Your room can now be transformed into a vertical garden with this aesthetic billy bookcase hack. This eye-catching interior refuge can add up garden greenery just like your outside space. Add small plants in different colorful pots or white pots on the shelves. This bookcase hack is sure to bring a feeling of freshness and nature to your indoors with its aesthetic appeal.
You can also decorate the bookcase with some fairy lights, lamps, and other artistic stuff that can make the complete arrangement of planters more appealing and attractive. The soft glow will add a whimsical element and create a calm environment that is ideal for unwinding and tranquillity whenever you take a seating in this very space. The calming influence of nature indoors is sure to take you on a nature and floral ride while relaxing.
8. Pantry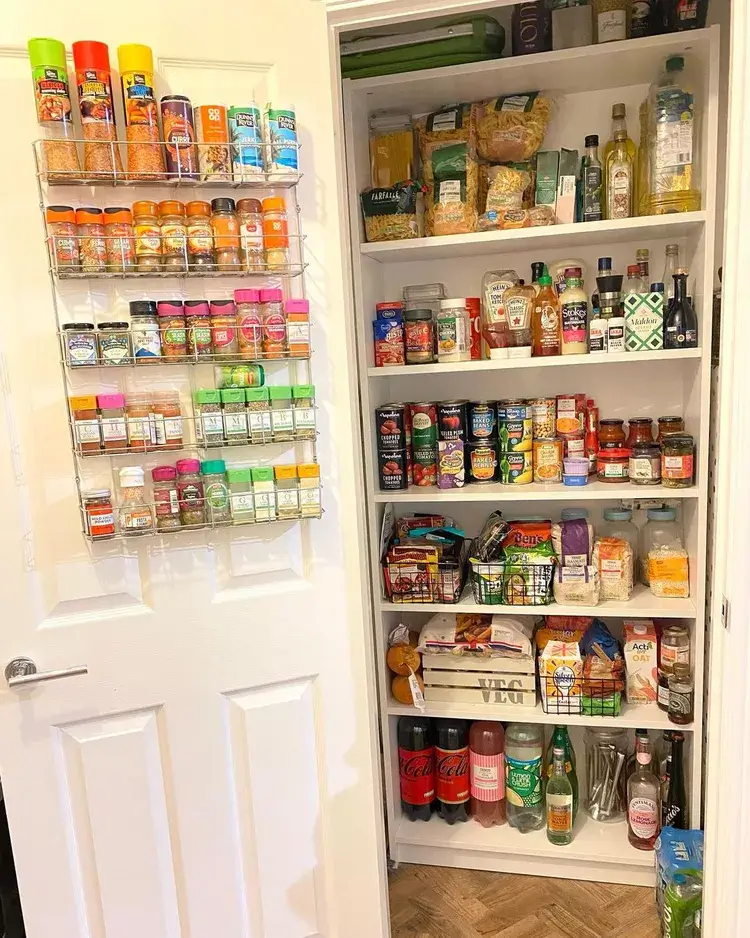 This DIY for billy bookcase hack can turn your kitchen into a paradise by having all snacking in one place so that you don't have to search the complete kitchen for your favorites at all. Start by placing all the eatables, ready-to-eat mixes, and snacks on the shelves in accordance with their space size. Organize it so that everything is easily accessible to you when you're super hungry so that it doesn't become hectic to find what you want at once. You can place this bookcase in any corner of your kitchen.
Add up a coverup or door to this bookcase and attach steel hangers to it so that it can also have extra space for your storage on the doors. This inexpensive bookcase can be a dream come true for all snack eaters and food lovers.
9. Wardrobe Wonder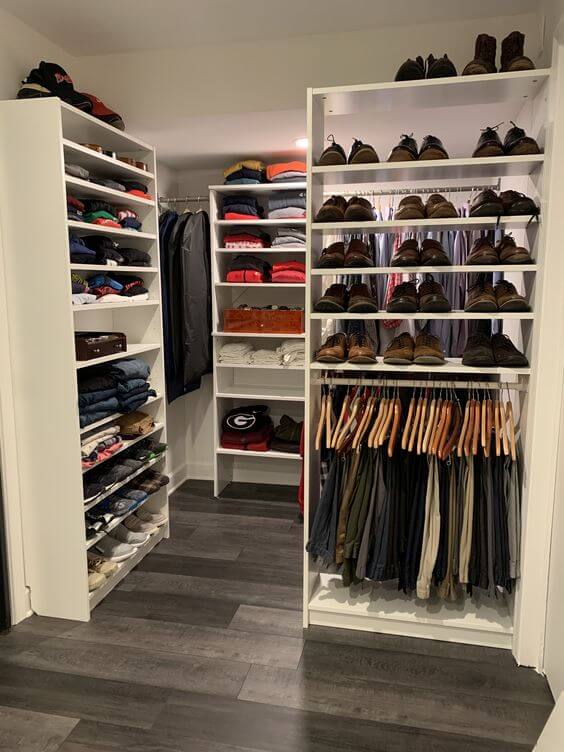 The billy bookcase hack for your wardrobe in your dressing room can be the game changer with its storage capacity. Add a steel rod to the top of the shelf for your clothes that need hanging so that it prevents wrinkles. All the folded clothes can be kept on the lowers shelves with proper spacing. Add drawers or baskets to keep socks, handkerchiefs, ties, and other accessories in one place so that it's easy to find without clumsiness. Remember to organize your wardrobe category-wise so that everything is easily accessible.
You can also add glass panels or a mirror to the front of the bookcase to give it a premium closet feel. Add soft lighting and wallpapers related to fashion to give your dressing room space a dash of glitz. This complete interior of your wardrobe space with this bookcase is surely going to add a touch of class to your everyday fashion chores.
10. Media Center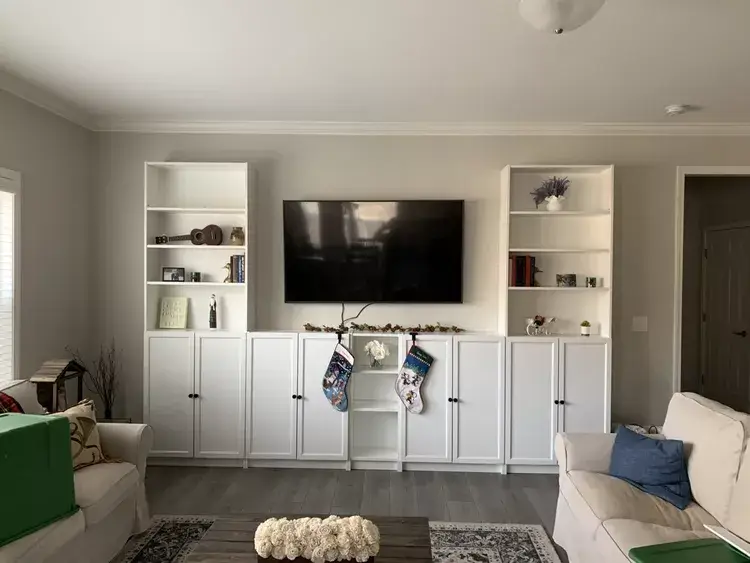 The living room of your house with this billy bookcase hack can be converted into a fantabulous media center. Add a flat-screen TV to the flat surface and two bookcases on each side with a cutting-edge sound system or home theatre that can give you a theatre feel at your house. Add soft lighting, a sofa set, and a center table to this space for a premium seating arrangement.
Arrange all the DVDs and entertainment-related pieces on the shelves that can give the overall living room entertainment vibes. This modern arrangement can be your hotspot of entertainment and leisure in addition to offering a practical and well-organized space.
11. Living Room Aesthetics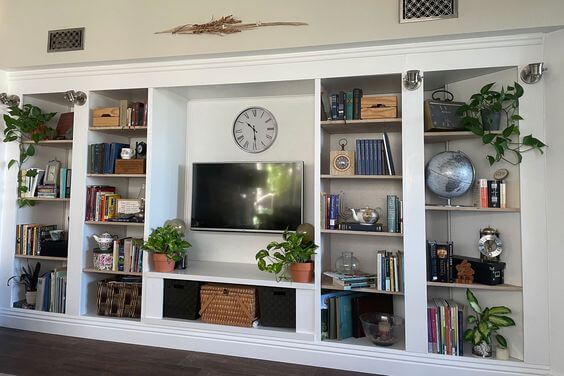 The aesthetic appeal of this billy bookcase hack in your living can leave all your guest in awe when they step into your house. To make this space effortlessly beautiful and creative, combine decor with entertainment. Add your favorite books, DVDs, and decorative purposeful stuff on the remaining shelves to create an attractive setup that also resonates with you and your way of living life.
Take the beautiful boxes into use to keep all remote controls, cords, and other necessities so they are easily reachable yet give an organized and sophisticated look to your entire space. Decorate your shelves in accordance with your room's theme and add planters that can give your room a fresh vibe and blooms. This mix and match of elegance and sophistication can give you and your guests a welcoming vibe with this whole arrangement.
12. Bedside Essentials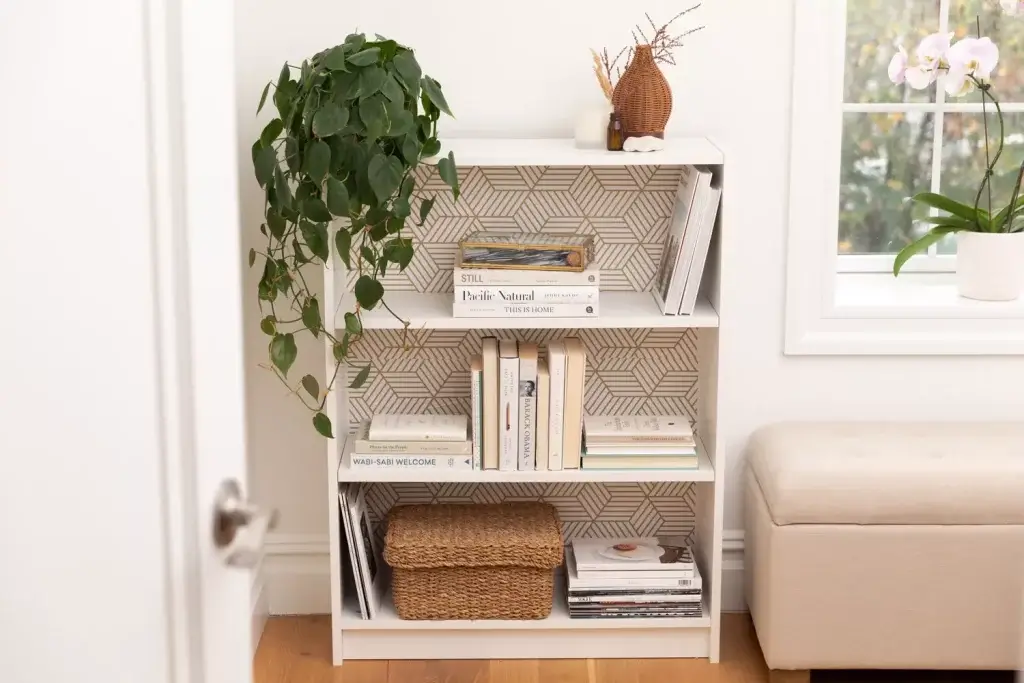 A bedside billy bookcase hack is one such comfort that can make you reach your most needed things in just one arm. Adjust the bookcase and shelf size according to your needs. You can keep all your bedtime essentials like skin care, books, chargers, earphones, and everything that you wish, so they are easily accessible without even leaving the comfort of your bed. Keep a lamp on the top of the shelf for late-night reading sessions.
You can also add some small planters to give you a peaceful and positive vibe. To keep the shelf even more organized, keep small little things in one basket or bin so as to avoid giving your shelf a messy look. The usefulness and purpose of adding this shelf next to your bed are going to be the best ever decide that you will appreciate taking as it will make your life a bit sorted.
13. Stylish Room Divider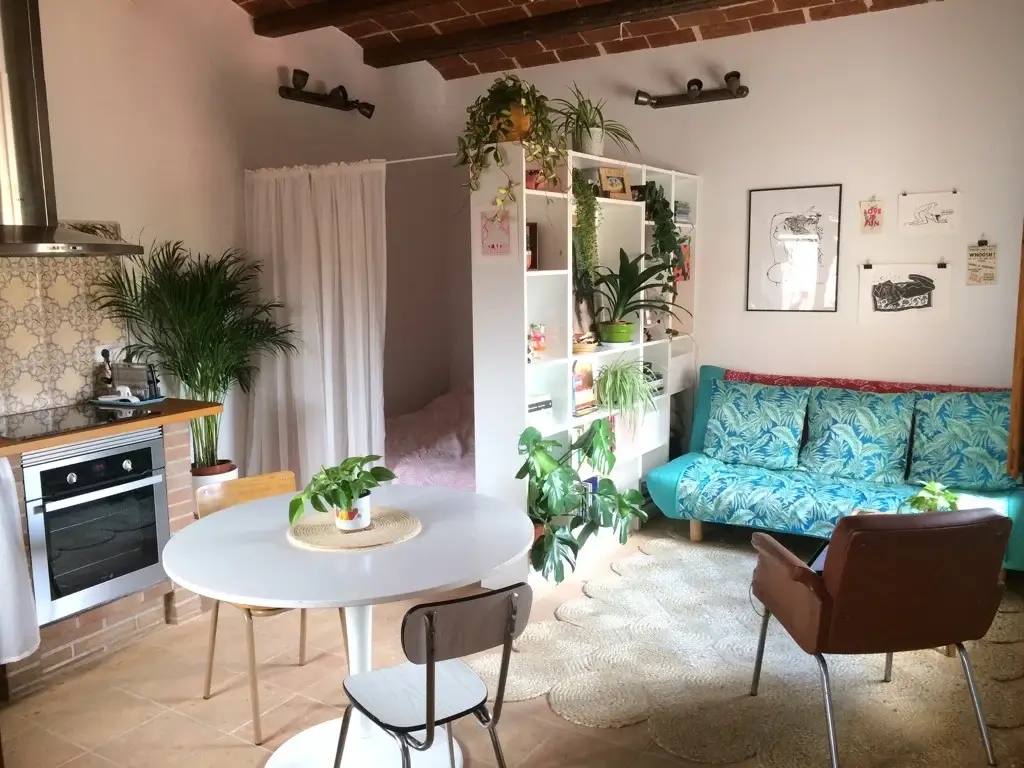 The flexible room divider with this billy bookcase hack can transform the overall appeal of any space. Keep a bookcase at some distance from the opposite wall and hang a rod on the top of the shelf. Now, hang a curtain on the rod to create a separate space with this bookcase. This small private space can be of multiple uses, whether you want to read a book, relax, or be in your own company!
On the shelves of this bookcase, you can arrange whatever you want, be it your favorite books, some decor items, or anything you like that is needed when you have your 'me' time. This nook can also be your playroom or office corner where you can work comfortably. You can alter the look and feel of your area to fit your preferences with this exquisite divider room.
14. The Ultimate Bagdrobe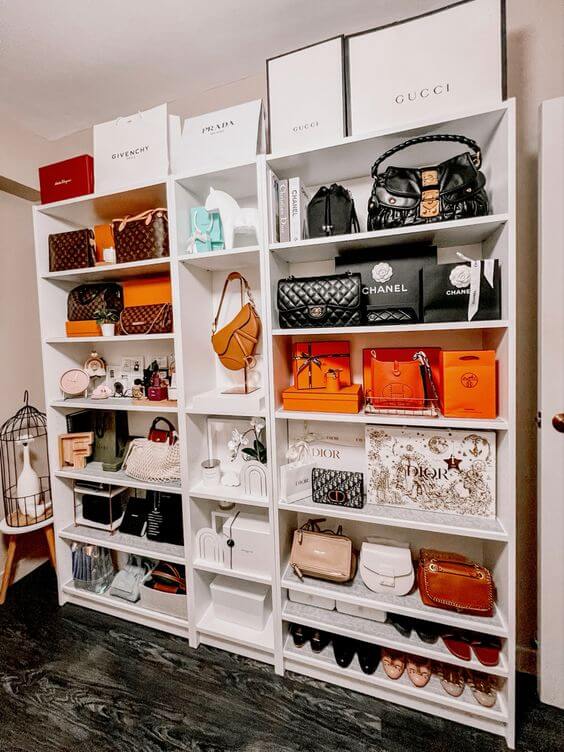 The chic wardrobe with this intriguing Billy bookcase hack can transform your way of showcasing your bags into a whole new premium display. This particular space tends to be the favorite of all women because of their passion for handbags. Women love to express their style of bags by organizing them wonderfully and separately, and this arrangement of their bags in this bookcase is surely going to be their all-time favorite. Make the size of shelves according to the handbags to be kept.
Smaller and lower shelves can be used for smaller bags like clutches, wallets, and slings. To make the shelf even more attractive, keep some decorative stuff and add led lighting to give the overall space a luxurious feel. This setup of wardrobe can add a touch of classic flair to your collection of handbags and will keep them easily accessible whenever you wish to carry them.
15. The Shoes Space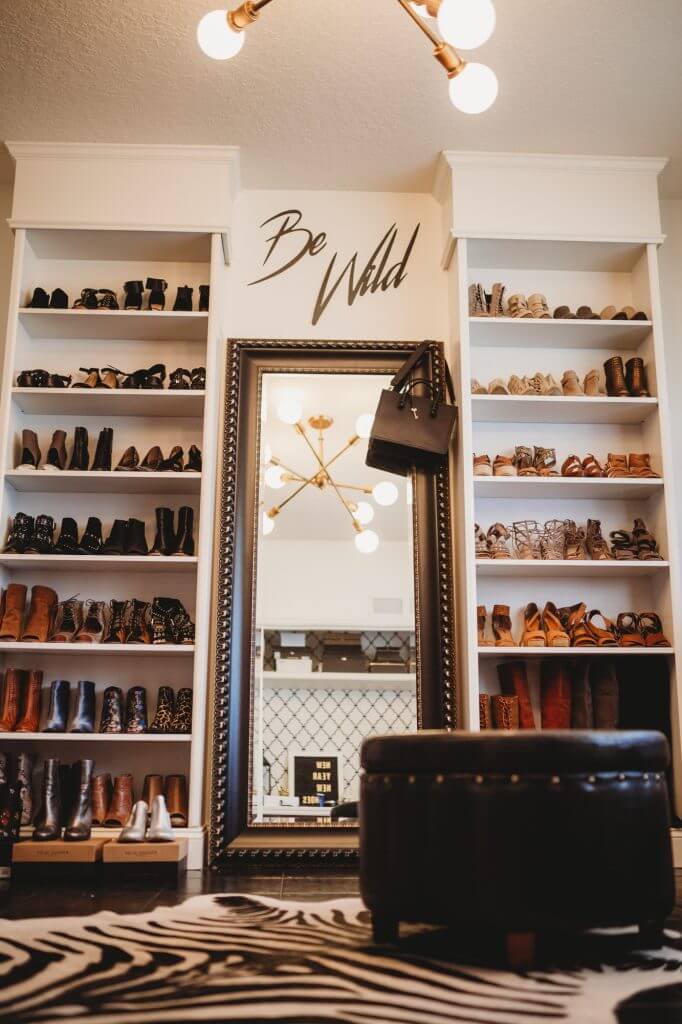 This creative Billy bookcase hack is perfect for keeping your shoes in one place. Adjust the shelves according to the shoe sizes. Arrange all the shoes and sandals in such a way that they look organized yet very appealing. Organize all the shoes in categories like one side; there are boots, one-side heels, and one-side sneakers.
Add small baskets or bins to create shoe accessories like shoe polishes, socks and etc. You can also attach a long mirror to either side of the bookcase to check whether the footwear picked fits your overall attire. Keep a chair and plant to the arrangement and add some lighting to the shelf to enhance the entire space's aesthetic appeal, making it simple to find and show off your favorite pairs of shoes.
16. Sophisticated Library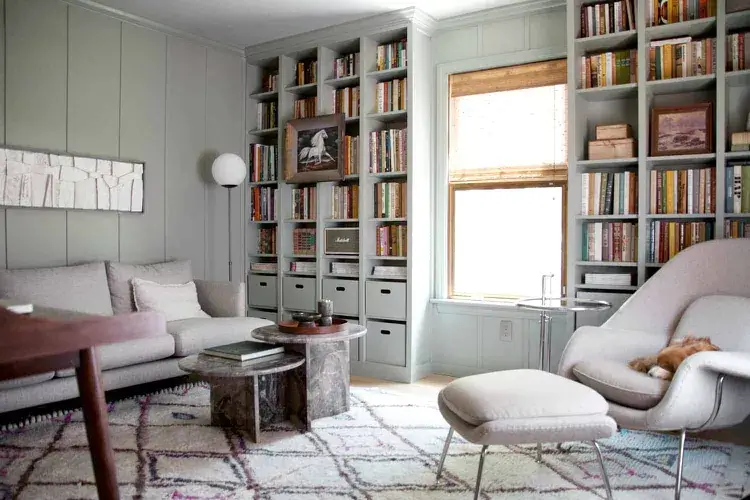 This insightful Billy bookcase hack can turn your library into a warm and welcoming space making it your favorite space as well. People who love reading books are very particular about the space and arrangement they read books in. Fit the bookcase to your perfect definition of a personal library by filling it with your favorite books and pieces of literature.
To make your reading even more comfortable, add plush chairs with cozy cushions and a rug on the floor to make the space warm and serene. Add soft lighting to the room and get lost in the paradise of books, offering yourself an ideal escape.
17. Bar Cart Brilliance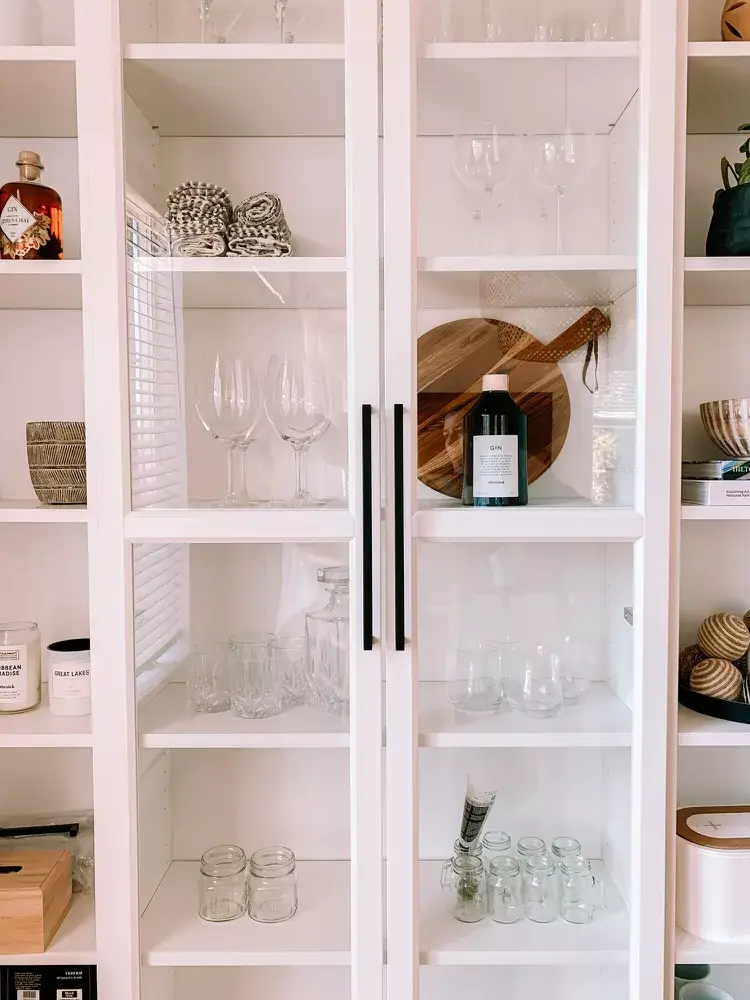 This chic bar cart is one of the best creative ways to use a billy bookcase. Add different cocktail glasses and bottles to the shelves adjusting the shelf size as per your choice and needs. Add a rear glass panel to the bar cart to give it more depth and glitz to further enhance its elegance. Add glass holders or hooks to keep your wine glasses organized and conveniently accessible.
This Bar cart brilliance will surely be the talk of the house for the cocktails you share with the guests or your homies. As you create and serve delectable cocktails from your stylish and useful bar cart, let your inner mixologist shine and show off their cocktail-making skills with this billy bookcase hack.
18. Custom Setup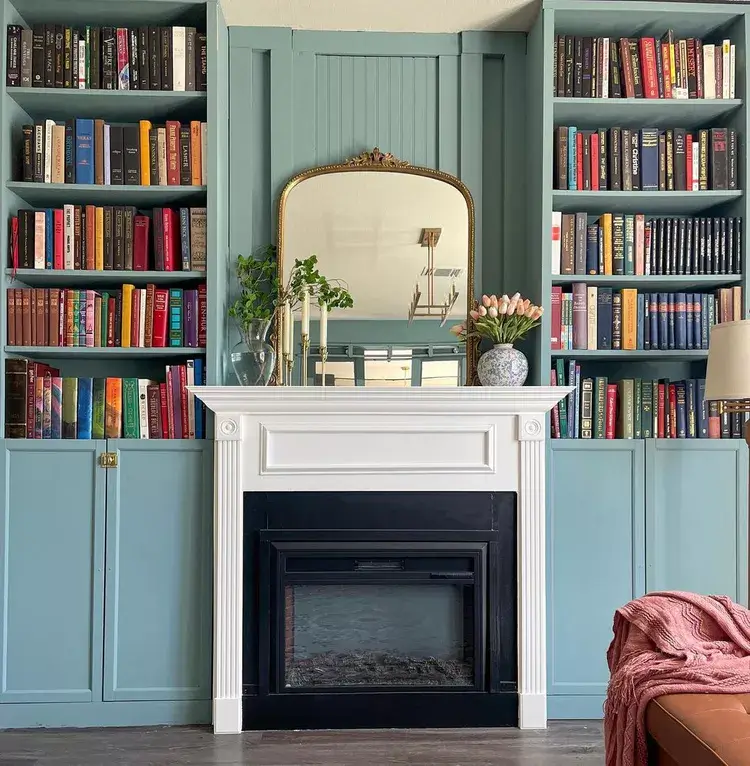 This billy bookcase hack incorporating a fireplace beneath it can be of most use for people living in colder regions. The hue of the bookcase makes it even more attractive and appealing, giving the overall room a very sophisticated vibe. One tip for improving the appearance of your IKEA Billy bookcase is to put only a specific kind or quantity of objects on the open shelves—for example, only books—and put other items behind cabinet doors.
Add a comfortable sitting to this whole setup to make this space your resting and go-to place. This classic arrangement can give a vintage aesthetic to the overall appearance of the room and can make you feel boasted about the timeless appeal of this entire space.
19. Dining Essentials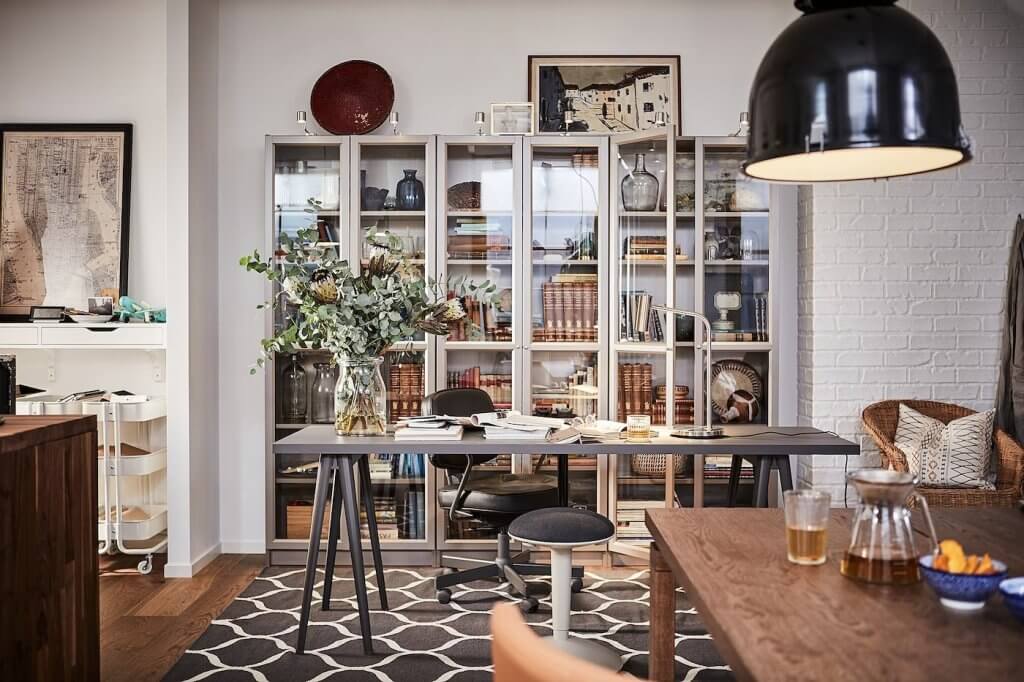 Storing all the kitchen essentials using this billy bookcase hack can transform your dining experience in a fashionable and practical way. Display your dinnerware like works of art, including plates, bowls, and dining sets, in the shelf size that you prefer or need. Cutlery, napkins, and tablecloths can all be conveniently found over mealtime by being arranged in containers or shelves that also display your organizing skills.
If you want to give your dining space a touch of elegance, incorporate glass holders or hooks to display your favorite stemware. Dining in your house at this fantabulous space will be an unforgettable experience with this whole setup of artistic accessories and lighting, which will also lure and enchant visitors.
20. The House Play Station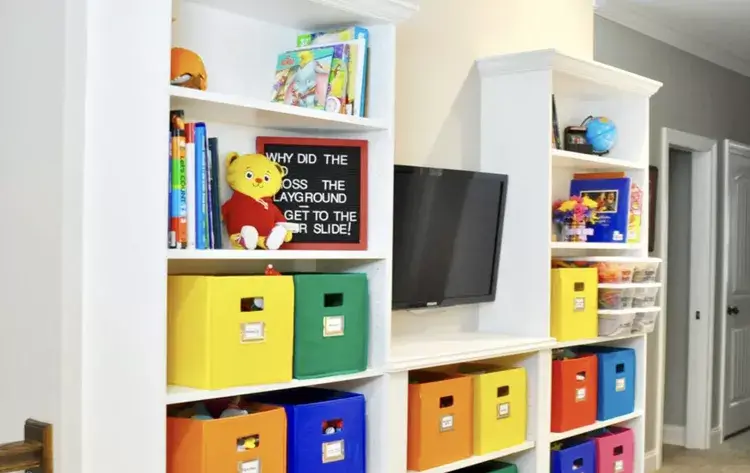 Convert a space of your house into a magical room for your children using this billy bookcase hack. Arrange all the toys and playthings like paints, clays, and creative kits on the shelves at a lower height so that they are easily accessible to your kid. Add colorful baskets to keep things organized effectively, and if needed, name the baskets so that your kids can pick their favorite things needed to do their playful activity.
Add some learning stuff like a globe, books, and other knowledgeable items that can make your kid learn and know things on their own. Let the imaginations of your kid fly away in the air of this playful area as they enjoy their time doing their countless adventures.
21. The Big Better Bedroom Keeper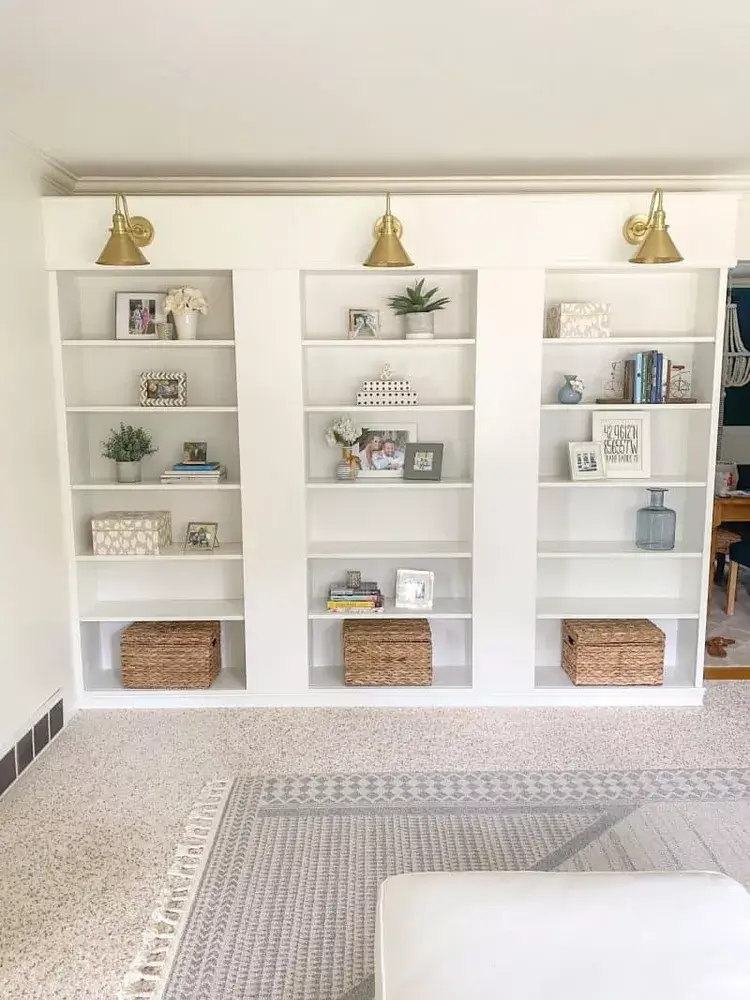 Storing all the essentials and covering one wall of the bedroom for your storage is a very creative idea that can be made only possible with this interesting billy bookcase hack. Store all your necessities, like books, office supplies, study essentials, etc., on this bookcase's shelves and adjust each shelf's size accordingly.
Decorate the bookcase with fairy lights and small planters to give your room a positive and peaceful vibe so that whenever you wake up in the morning, seeing this arrangement makes your morning happy, as it's really important to have a good environment. At the same time, you spend your time in your room.
This whole setup exudes aesthetic appeal and utility, producing a tranquil haven where you can relax and take in the wonders of art and reading.
Conclusion
We are sure that this limitless imagination and originality of these billy bookcase hacks have moved you to recreate your spaces into your cozy haven! These hacks, which range from the most straightforward alterations to the most intricate reconfigurations, have shown that the simple bookcase is capable of much more than merely housing books.
It has evolved into a representation of adaptability and a space for our imaginations. It's time to take your own explorational walk and use your very own IKEA Billy bookcase to craft something spectacular with just a few simple alterations and ideas.
Let us know how you feel about these alterations to create your dreamy corner where you can spend your 'Me' time just the way you want! Have fun hacking!