Wedding table decorations hold the power to convert your wedding into an unforgettable experience. A well-decorated table sets the perfect tone for ambiance and mesmerizes your guest through the event. When you add a personalized touch to table decorations, you portray your unique style and traits in front of your guests, which makes them appreciate your uniqueness and creativity. An ethereal atmosphere is created when you have tablescapes that are pleasing to the eye.
They serve as an excellent backdrop for photographic opportunities and provide a pathway for the fine dining experience. In addition, they are responsible for providing a coordinated theme that creates a harmonious look in your wedding venue.
In this article, we have formulated 38 wedding table decoration ideas that will make your special day a memorable journey and foster communication between your loved ones.
1. Jar-Candle Centerpiece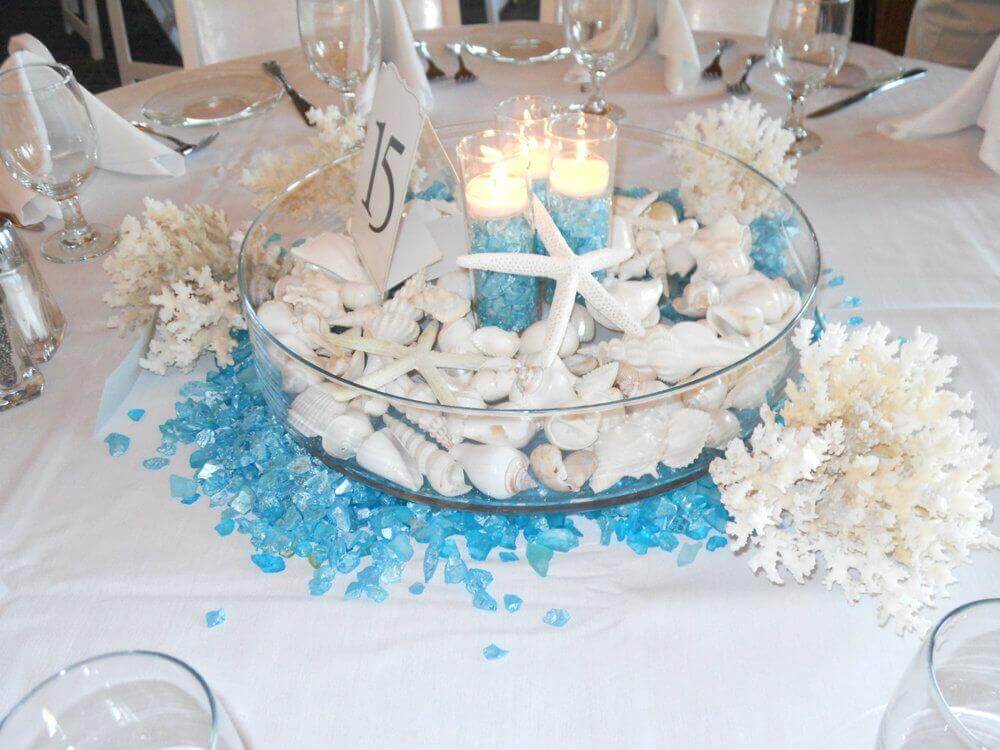 When you use candles and jars as your wedding table decoration, then you create an aura of contemporary display. Just make sure that your wedding venue allows candles and jars; if they don't, replace them with led candles. Either way, you are creating a modern look that looks stunning and brings a lot of vibrancy to your special day.
2. Vintage Lantern Centerpiece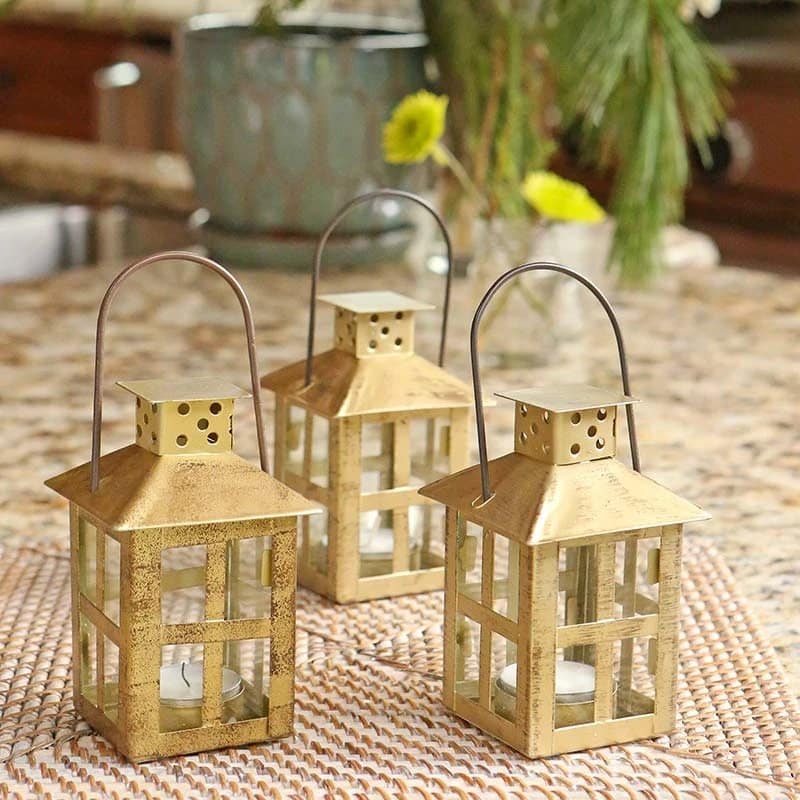 This is regarded as the most popular wedding table decoration idea in 2023. You can use lanterns in two ways. One, you team the lantern with flickering candles and flowers or leave it alone on the side. In addition, they have a very economical pricing structure, and hence you will be able to create a style statement that is affordable.
3. Floral Centerpiece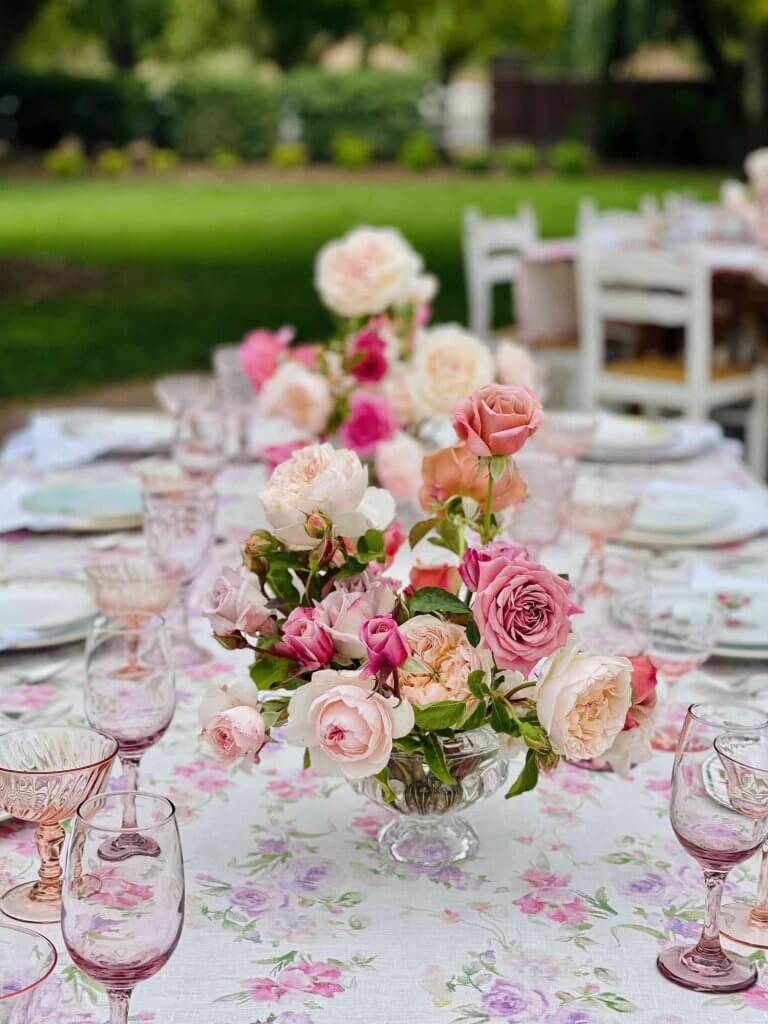 Floral centerpieces are used as wedding table decorations all around the year. Some wedding planners even reuse it in reception too. If you are someone who wants to make their wedding a grand celebration, then using a tall floral centerpiece would be your best fit. They will set a vibe that brings grandeur, elegance, and sophistication.
4. Ceiling Flower Centerpiece<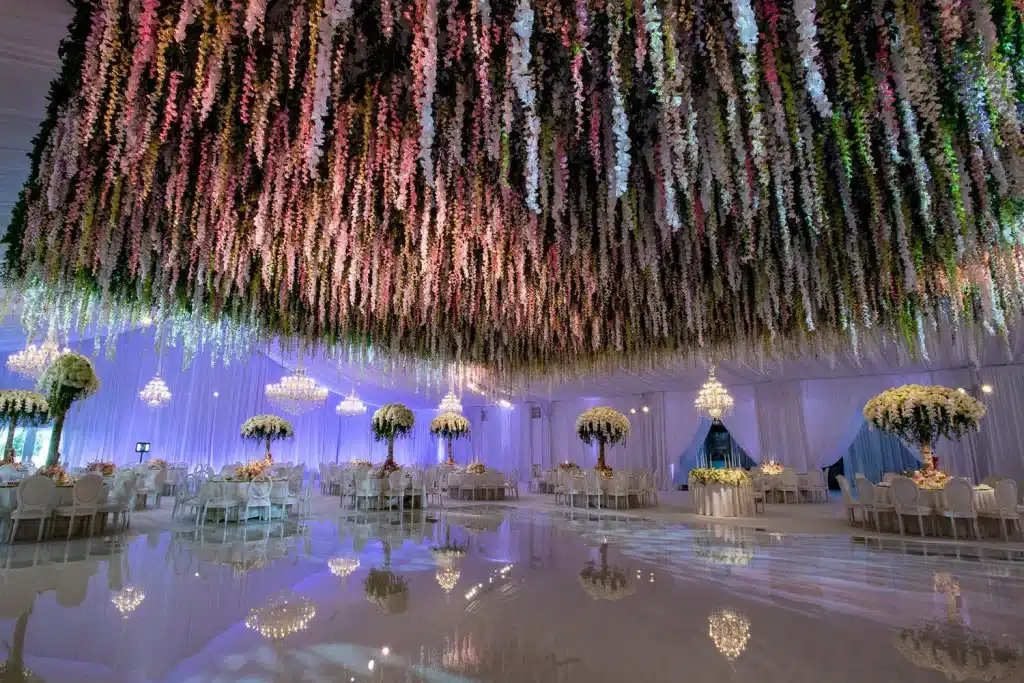 Hanging flower installation could be done with orchids and faux. Both these flowers increase vivid blooms and lush greenery on your special day. Your guests walk in, and they see incredible architecture where flowers are hanging from the top to create a captivating heaven. Most wedding planners use this idea for hiding rafters and ceilings.
5. Garlands Centerpiece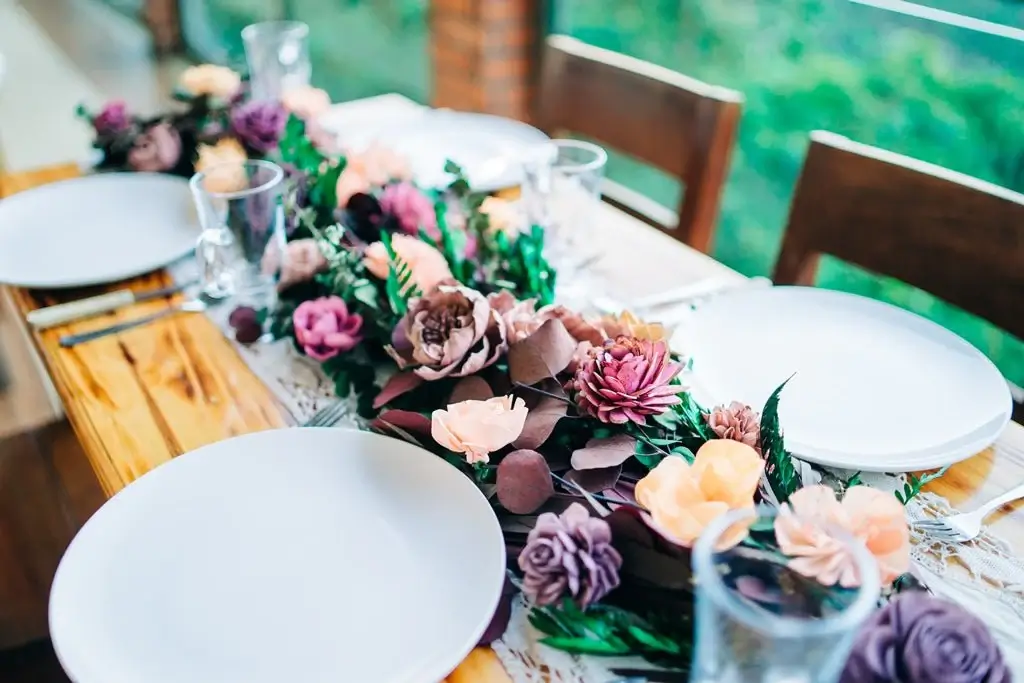 Need a stunning idea of where long wedding tables look beautiful and mesmerizing? Worry not, as we have got your covered. Just add garlands to the entire stretch of the tables, which will create an illusion that flowers are being formed from the tables themselves. Garlands are known to create a sophisticated look, and they are affordable too.
6. Table Runners Centerpiece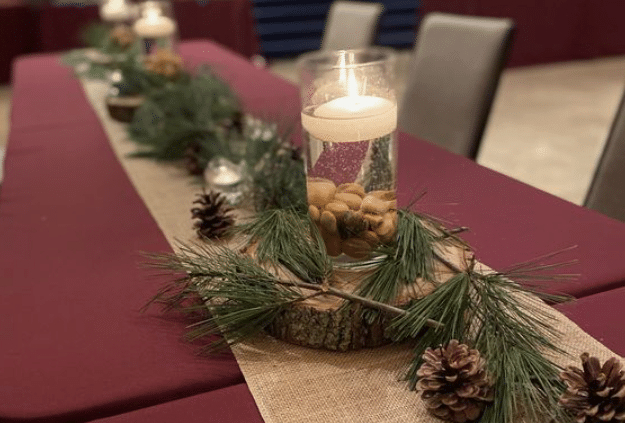 Most wedding planners use table runners as their backdrop because they complement the centerpiece. The tablecloth creates a lot of texture and makes the room look vibrant. Linen, chiffon, and silk are one of the best fits of tablecloth runners as they create a cohesive look without being too dramatic.
7. Glassware Centerpiece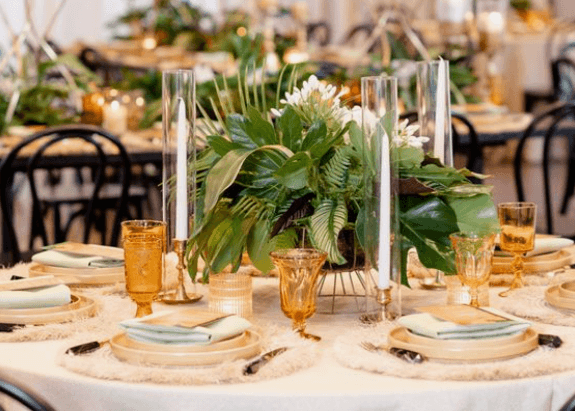 Using colorful glassware helps you create a magnificent venue. The choices of glassware and the color associated with it create an aesthetic that will make your guests awe with the wedding decor. You can select a single color for your glassware to create a minimalistic look or mix and match to create an eclectic vibe.
8. Flower Holder Centerpiece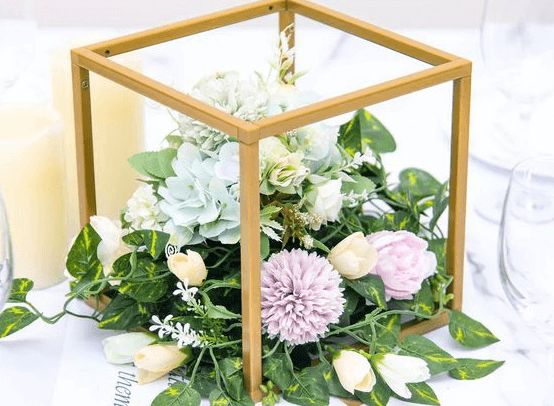 Your guests will fall in love with this wedding table decoration. This setting uses a single flower that needs to be placed on each table. This decor is perfect for marking the seating arrangement for each guest. In order to complete the look, it's advised that you add some tea lights that will bring the ultimate sophistication.
9. Cake Centerpiece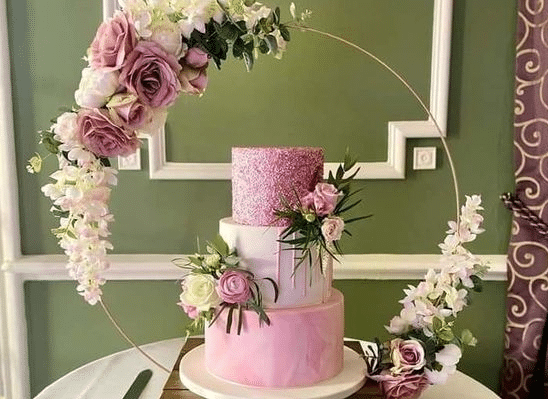 The cake is a dessert that every wedding needs. What if I tell you about a wedding table decorationidea that would make your cake setting a statement piece? A cake stand can be used to create a cohesive look in your wedding room. Using a cakestand, you automatically increase the aesthetics of your wedding venue and make your guests appreciate the decor.
10. Pedestal Centerpiece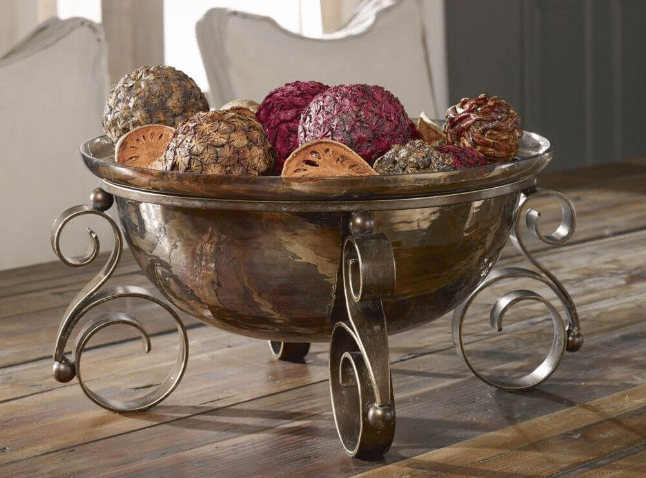 Pedestal centerpiece idea makes you appear super creative during your wedding day. Using a sleek fruit bowl filled with red pomegranates, oranges, and apples will bring the aura of nature into your wedding venue. This decor looks super classy when they are placed on your wedding table and brings a lot of panache into your room.
11. Table Lamp Centerpiece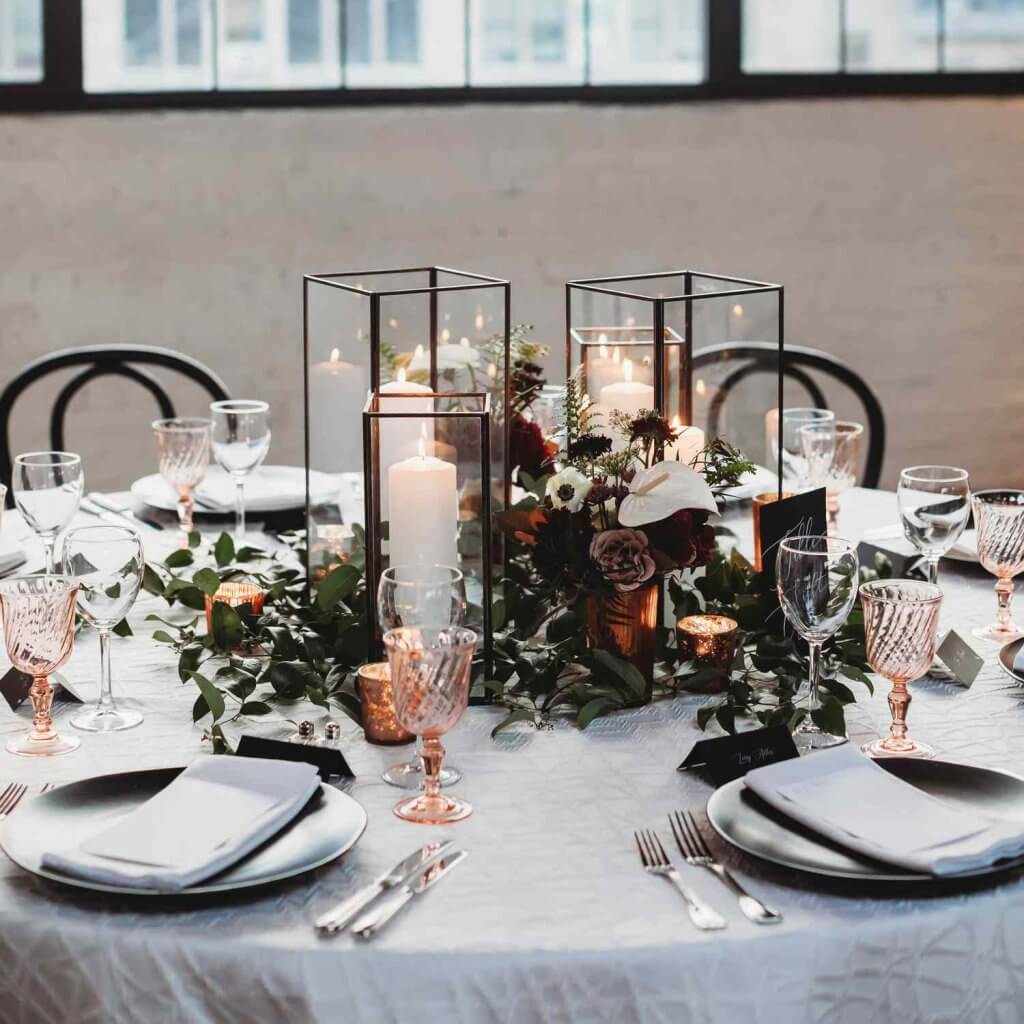 The easiest way to create a statement piece during your wedding day is by utilizing the power of table lamps. A Tall table lamp provides enough space for food and drinks without compromising on the decor. They are known to create an alluring atmosphere as it fills up your wedding venue seamlessly. Your guest can comfortably enjoy a fine dining experience throughout the event.
12. Greenery Centerpiece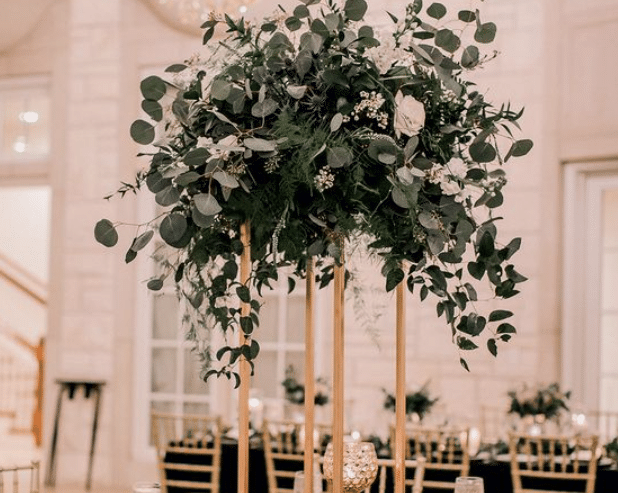 There are people who want to cut the cost of flowers as they want more greenery instead. For them, greenery centerpieces are the best fit. Ask your florist to stick with one bloom, and for greenery, stick to lemon leaf, eucalyptus, dusty miller, and ferns. Doing this decor will make your wedding a memorable experience.
13. Chandler Centerpiece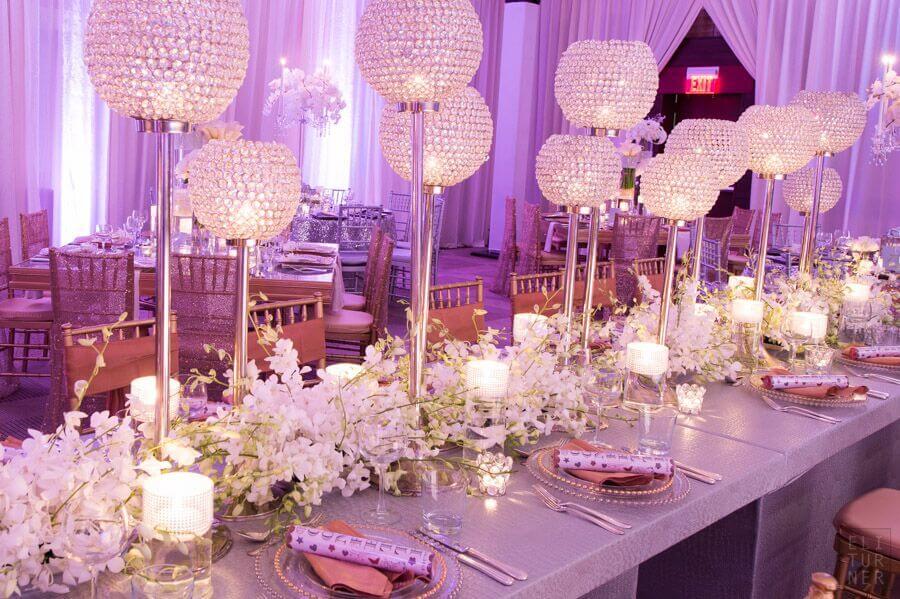 Make your wedding day unforgettable with the help of Chandler Centerpiece. This decor adds functionality and uniqueness at the same time. Using this setting, your dining table could be organized, and your guests could enjoy a seamless service flow. This touch for personalization creates flamboyance on your wedding day.
14. Metallic Centerpiece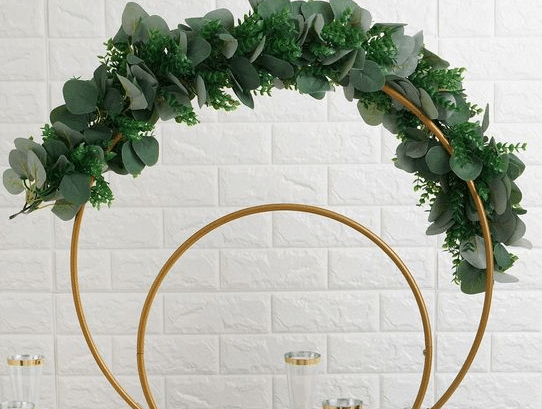 A wedding table decoration that never ruins of trend is a metallic centerpiece. Incorporate a metallic setting in your wedding venue and see how every head turns by looking at this enchanting table decor. To complete the look, make sure you add metallic cutlery along with a metallic centerpiece.
15. Tapers Centerpiece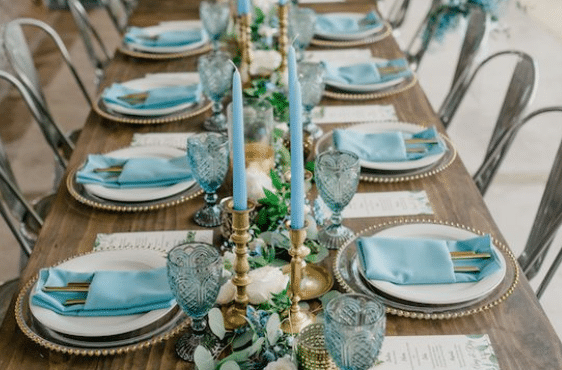 Though white candle centerpieces look great, the use of a blue taper candle has the power to elevate your setting. With the help of this wedding table decoration, you are taking your table display to a whole new dimension. This setting will portray your personality and style, and this personalized theme will make your wedding feel special and unique.
16. Wooden Lantern Centerpiece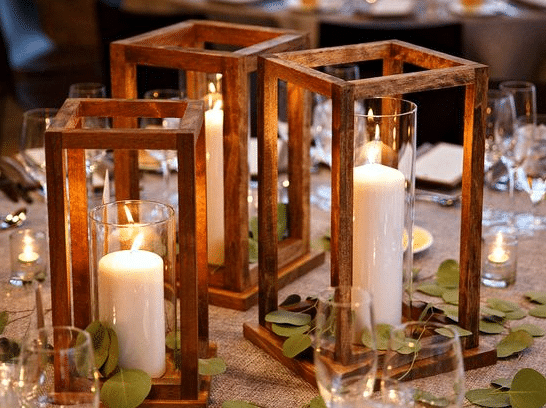 The wooden lantern theme gives an aura of bohemian vibe. This wedding table decoration creates a relaxed and romantic vibe. The natural elements like the wood and flowers create a laid-back atmosphere for couples who wants a enjoy a casual wedding without making it look too extravagant. This unique setting will create an eclectic atmosphere that your guest will enjoy throughout the event.
17. Peonies Centerpiece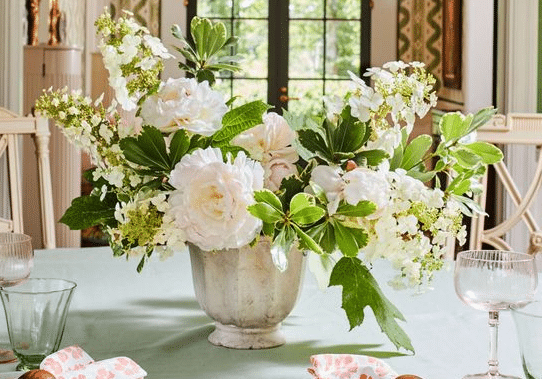 These gorgeous flowers help you reflect your personality styles and traits. With the help of this centerpiece, you add a touch of glamour to your wedding venue. Mix and match different colored peonies to create an atmosphere which free-spirited and portrays an eclectic style. We are sure that this table decoration idea will definitely make heads turn.
18. Minimal Bloom Centerpiece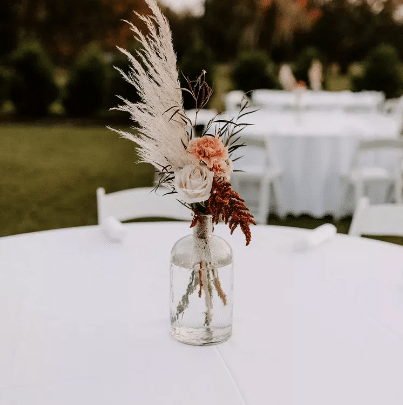 The minimum bloom wedding decoration idea involves a singular floral vase with roses, ranunculus, and pampas grass. This setting creates a quiet romantic atmosphere that is combined with elegance. In order to complete the look, we will suggest you add silver and metallic accessories. A thoughtful setting like this will make your guest appreciate your creativity.
19. Mini Topiaries Centerpiece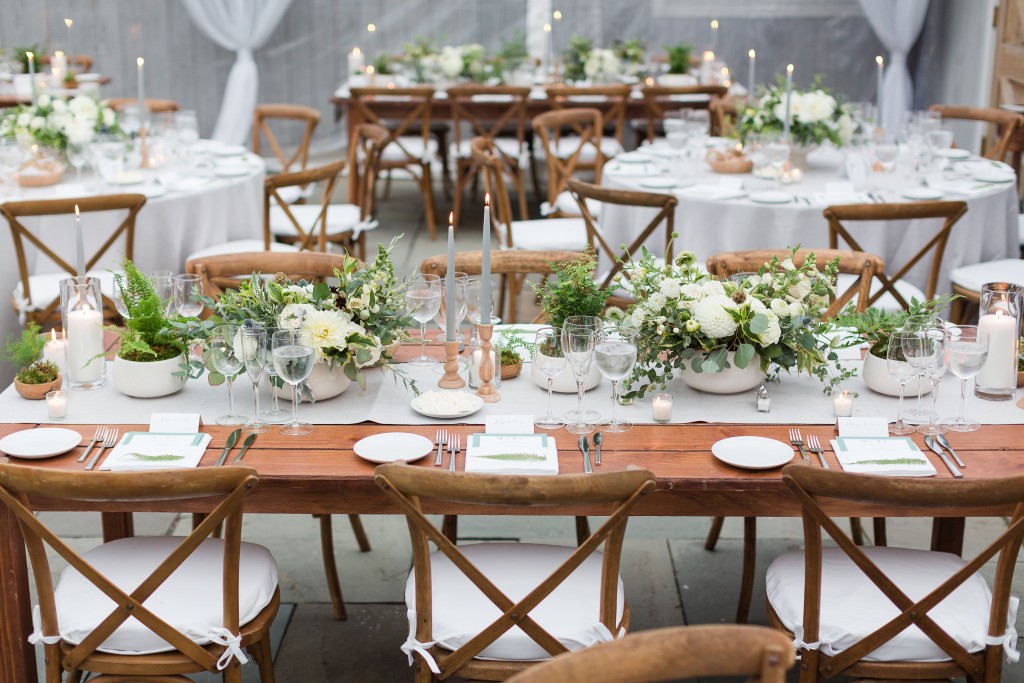 There are people who are not interested in tall flower vases, chandeliers, or running table cloth. They just need a simple setting that adds greenery to their wedding venue. For them, this wedding table decoration idea would be the best fit. This will leave a good impression on the guest present at the venue.
20. Succulent Centerpiece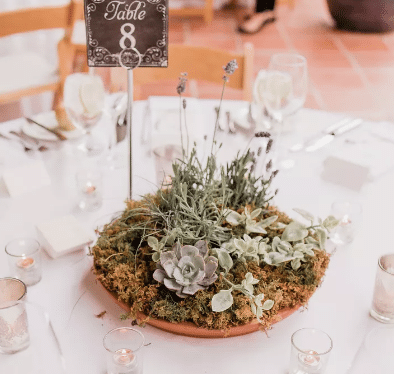 Want to do something out of the box for your wedding day, then opting for a succulent centerpiece would be a good choice. This will highlight your unique taste and style in front of your guests. The aesthetics of the wedding venue will amplify, and you will get an enchanting atmosphere that will long-lasting impressing of sophistication and beauty.
21. Ivory Knot Centerpiece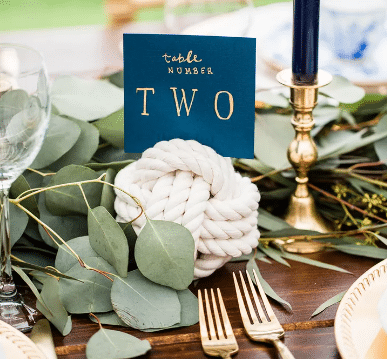 Want a wedding table decoration idea that will help you display the table number of your guest? Then use an ivory knot centerpiece. This setting will make your tables the center of attraction. Well-decorated tables are very pleasing to the eyes and will definitely help you create a captivating atmosphere. Give your guests an unforgettable experience with this well-decorated table.
22. Wildflower Centerpiece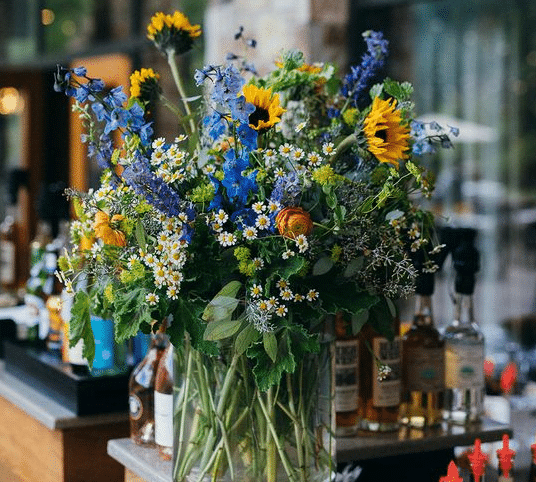 In 2023, orchids and garlands are not only the flower option, as we have a plethora to choose from. Using wildflower stems to compliment the wedding tables can be a good option. This setting ensures that your table decoration creates a coordinated theme that will provide a harmonious look throughout your wedding venue.
23. High Stem low Floral Centerpiece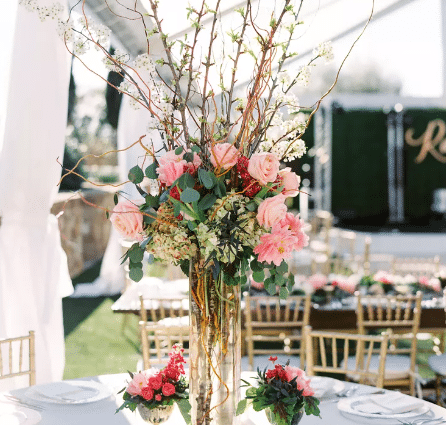 On your wedding day, if you decide to add a good texture and vibrancy, then a high stem and low floral centerpiece can give you a lot of attention. This setting can be served as an ice breaker where guests who don't know each other can start a conversation and create an interactive atmosphere in your wedding venue.
24. Palm Leaves Centerpiece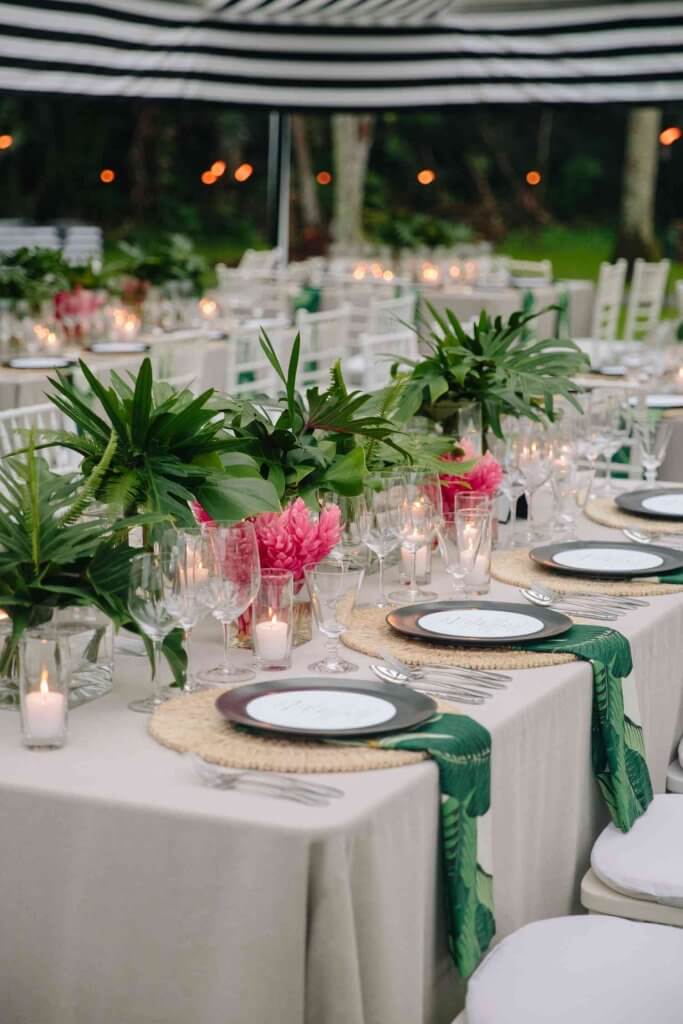 If you decide to go big and bold on your wedding, consider thiswedding table decoration idea. Opt for a clear vase and place the palm leaves inside it. This will create a photographic background for your guest. A well-decorated table is known to create a backdrop for stunning photographs, and palm leaves definitely fit the picture.
25.Pincecones Centrepiece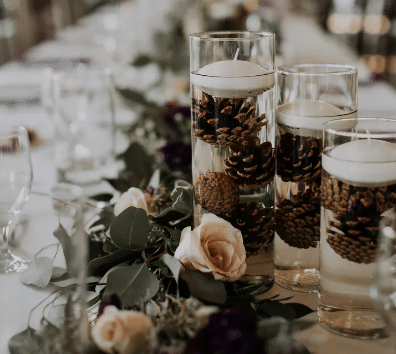 This wedding table decoration idea is made for people who are planning their wedding in winter. Use transparent candleholders and place small cuts of pinecones inside them. By doing so, you are creating a table that provides enhanced ambiance. Unique and customized touches like these will make people appreciate your creativity.
26. Fairytale Centerpiece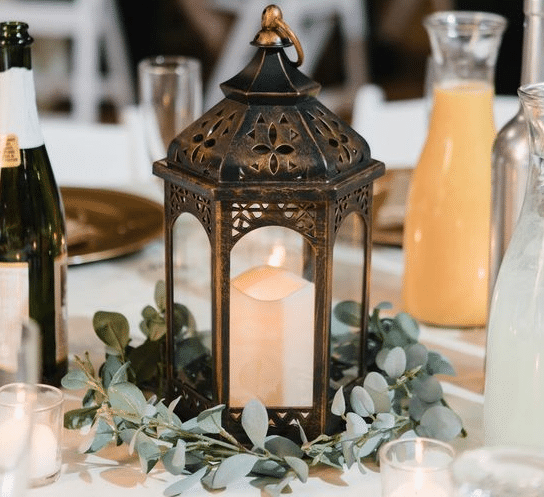 Every fairytale wedding will require ambient lighting conditions that amplify the decor for the wedding venue. One such wedding table decoration idea is known as a fairy tale centerpiece. This table decoration idea will need a transparent lantern and dainty lights. Once you combine these two and place them on the center of the table, you will be surprised at how amazing it looks.
27. Potted Tree Centerpiece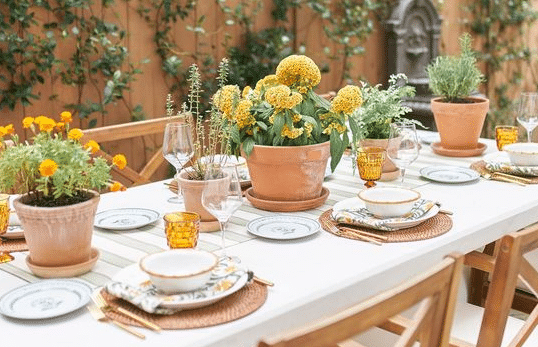 People having their wedding day in summer can opt for a potted tree centerpiece. Adding a mini citrus tree to your wedding table can help you enhance the ambiance of your wedding venue. This setting is known to magnify the visual appeal and create a long-lasting impression in front of your guests.
28. Terrariums Centerpiece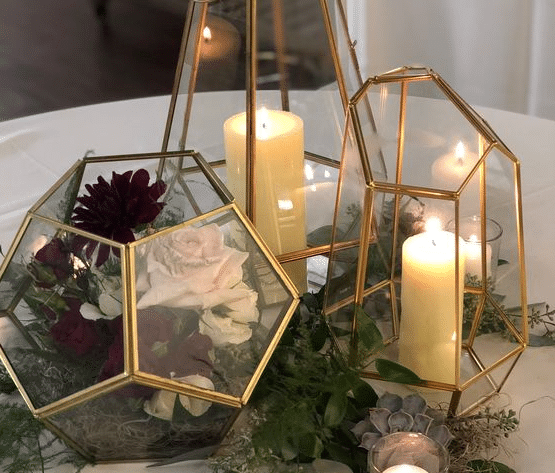 The terrarium table decoration idea looks adorable when put into practice. When rose gold edges are paired with tiny succulents, this display creates a pathway for guest comfort. Since this wall decoration idea is so thoughtful, your guests will enjoy a pleasant dining experience coupled with an intimate setting.
29. Baby Breath Centerpiece
This wedding table decorationsetting is least appreciated and has been extremely underwhelming associated with its usage. Though in recent years, we have seen people using this more and more. When you choose this decor as your centerpiece, you portray a sense of elegance and sophistication. Your guests will be impressed by the atmosphere that you have gone with.
30. Tropical Centerpiece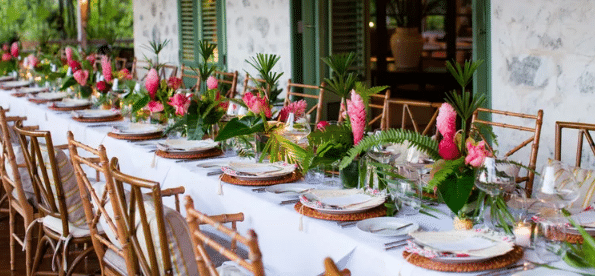 Never be afraid to embrace color and texture. This setting creates a captivating atmosphere as this decor consists of ginger, palm, torch, and hibiscus. A thoughtful table decoration could create a lasting impression and give them an unforgettable wedding day experience. When you create a unique table setting like this, then you are paving a way where your guest can have conversations and foster love and admiration for their style and personality.
31. Stone Vessel Centerpiece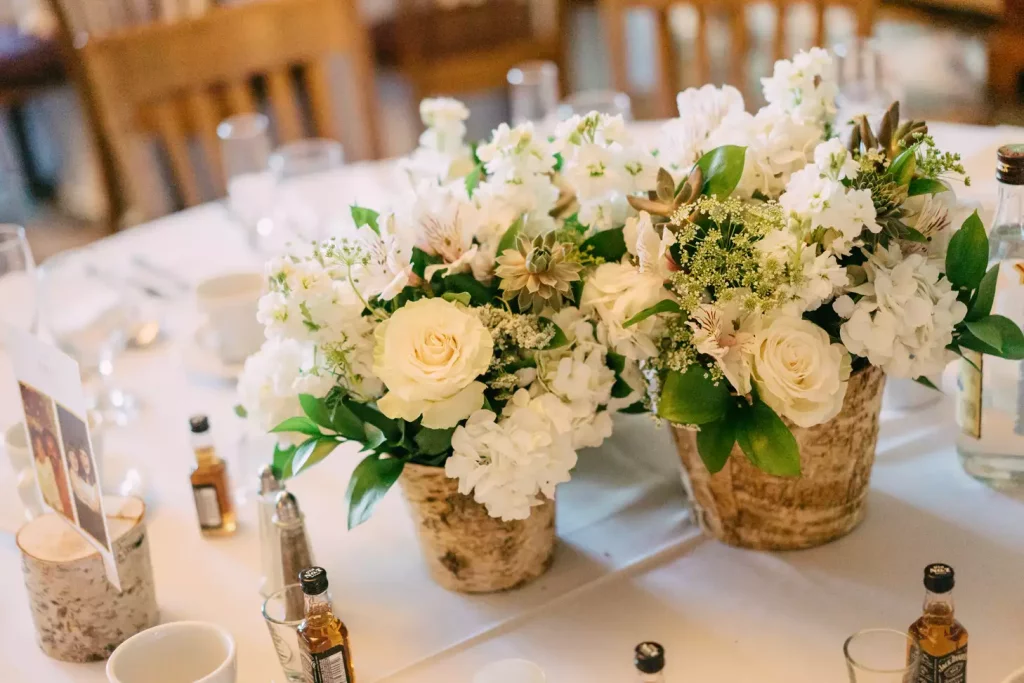 White and green are color combinations that are known to beautify any wedding venue. As you and your partner are compatible, the same goes for this color combination. This setting creates a brilliant photographic background and amplifies the atmosphere during your special day. Make sure the stone vessel consists of dark color, as shown in the picture.
32. Hydrangeas Centerpiece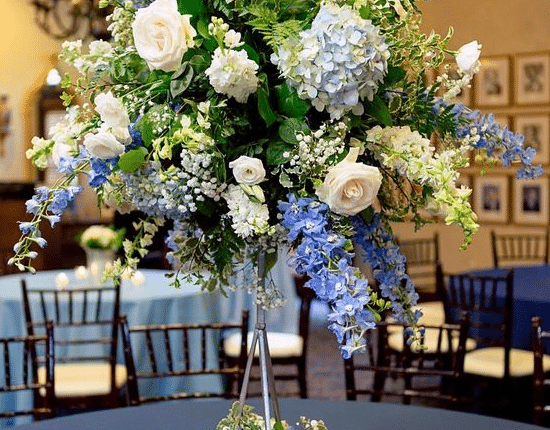 Most wedding planners want to create a romantic vibe for couples, but if you are someone who wants to stand outside the box and create a fun and fresh vibe, then choosing hydrangeas as your centerpiece can be an excellent fit. They have an effect on creating and enhancing the experience through the event.
33. Daliya Centrepiece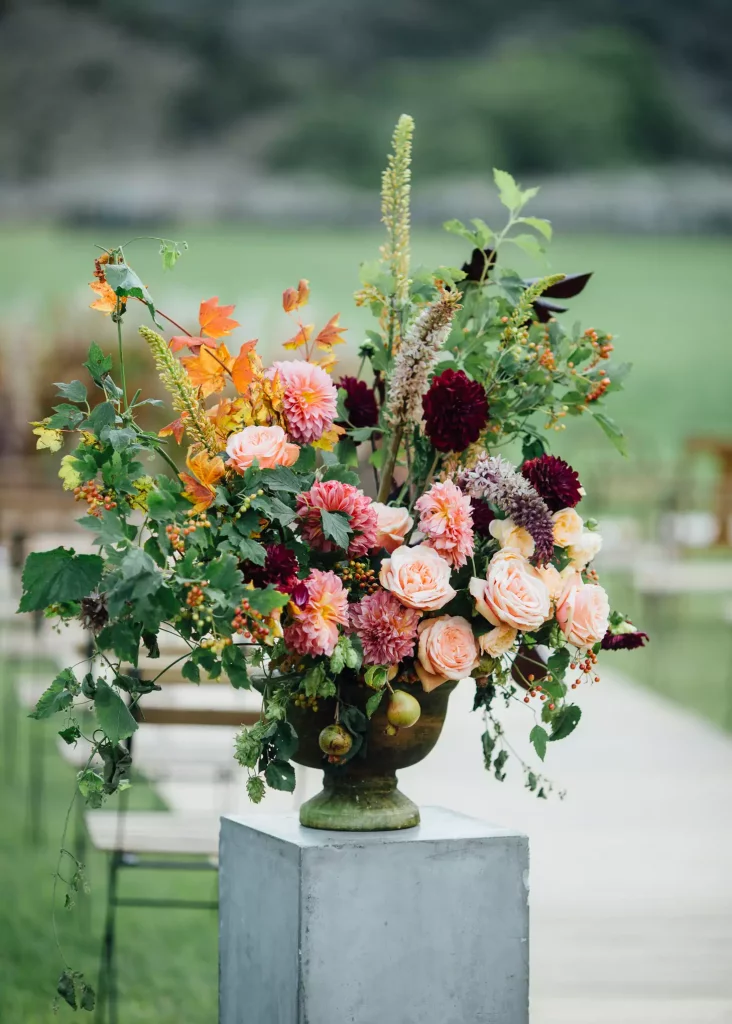 Daliya can be paired with little white blooms to amplify the guest experience. Daliya possesses the power to make your guests feel welcome throughout the event. Thought decorations like these are the top reasons why your guest find it easy to connect with other people during your special day. They are known to foster communication, connections, and laughter.
34. Chrysanthemums Centrepiece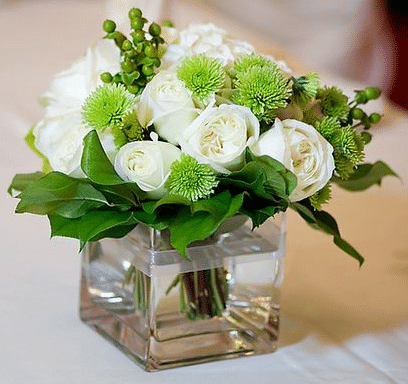 This bloom is known to create an atmosphere that is soft and simple. This minimalistic design brings elegance and sophistication naturally. Realize that your special day requires table decorations that reflect your personality and traits, and hence going with this flower category can create magic. A well-decorated table like this can easily be the center of attention for all your guests.
35. Tulip Centrepiece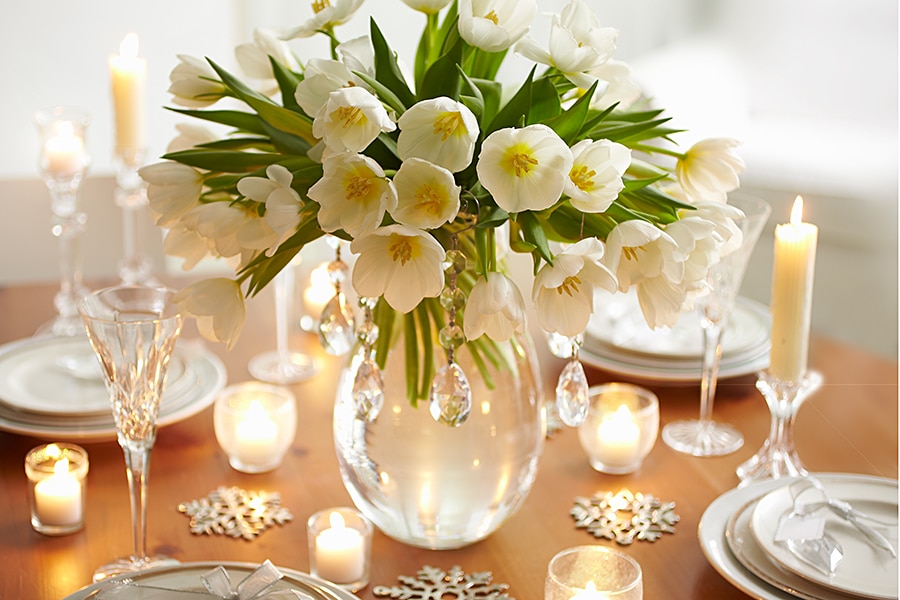 A tulip is a flower that signifies love. For centuries people have used this bloom to portray love to their partner or their loved ones in the family. They have their origin in Turkey and Iran, and the special feature about them is the fact they don't stop growing once they are cut. Since they grow to a colorful bloom overnight, they are very pleasing to the eye.
36. Jasmine Centerpiece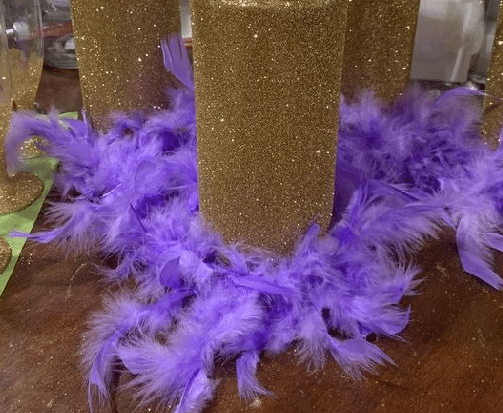 Jasmine comes with a strong fragrance. People all around the world have used jasmine as their wedding table decoration on their special days. This bloom is known to symbolize beauty, love, and sensuality, and hence they are preferred during wedding seasons. In Persian culture, jasmine is known as Yasmin, which translates into "God's gift."
37. Garden Rose Centerpiece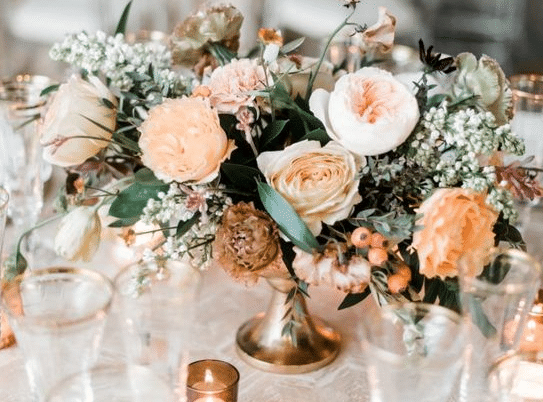 Garden rose comes inbuilt with a lingering fragrance. They are widely used in wedding table decorations because they express admiration, joy, and love. Garden roses have ruffled petals that swirl naturally to form a bloom. This looks magical when placed as a centerpiece. Try them out and watch guests admire your creativity.
38. Full Harvest Centerpiece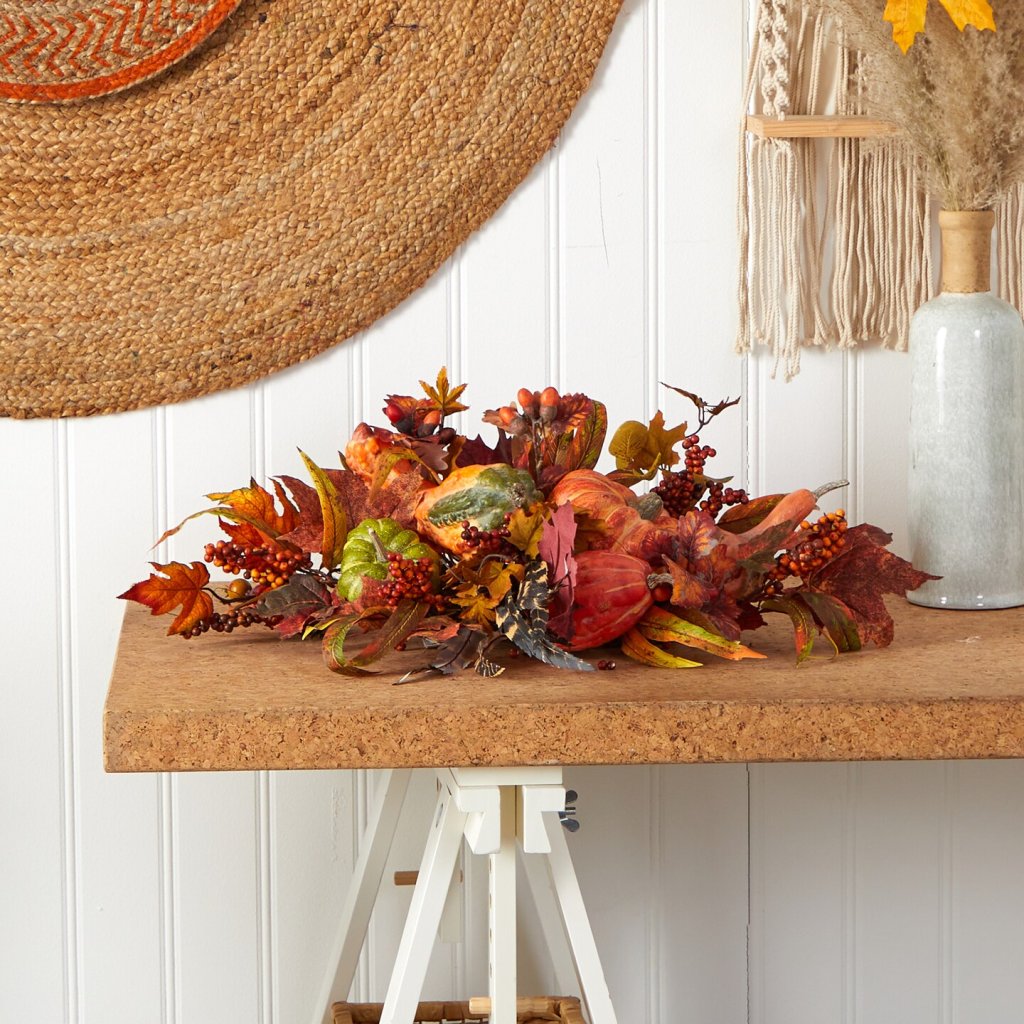 Adding fruits like pomegranates and grapes with light greenery is all you need to set up a well-decorated wedding table. This combination allows a lot of texture and color gets added to your special day. This contrast allows your guests to start a conversation at the table and enjoy a fine dining experience throughout the event.
Takeaway
We believe once you have gone through the entire 38 uniquewedding table decoration ideas, that we have given enough information would help you create a delightful wedding experience. When you use our list of ideas, you are creating an unforgettable wedding experience for your guests that connects with your love story. We have armed you with a plethora of ideas that you need to explore and find your best fit.
Whether you select a potted tree centerpiece, pinecones centerpiece, fairytale centerpiece, or any other theme from our list, it will automatically create an enhanced atmosphere that will help you create a captivating heaven. Plan your wedding day by working with wedding planners and converting your special day into your reality. With the help of our decorative ideas, make your guests feel loved, welcomed, and appreciated. Do let us know in the comments how you liked our ideas and how you'd proceed with the same.
Frequently Asked Questions
Is Table Decoration Compulsory at Weddings?
Yes, Wedding table decoration ideas create a long-lasting expression for the people that are visiting your wedding. They amplify the aesthetics of your wedding venue and create a romantic atmosphere. Having a well-decorated table with a personalized touch creates a room for conversation, photography, and fine dining opportunities.
How to Decorate Tables to Provide the Best Look?
Choose any wedding table decorations from our list to create a comfortable experience for your guest. Our selection contains decorations that would amplify the structure and organization of your wedding venue. The settings on our list ensure that your guest gets their assigned seats and a sociable atmosphere.
What is the Best Decoration Idea for a Wedding?
All 38 ideas given in our list would suit perfectly fine in your wedding venue. We have mixed modern ideas with traditional settings so that you can customize the table decorations of your choice. Once done, you will be able to create an eclectic vibe that will help your guests have an unforgettable experience.