If you are someone with the notion that only bright and extravagant decor items can brighten up a space, you are wrong. It is how you can accessorize your basic household items that actually liven up your space.
No wonder something as simple as an accent wall fireplace can set up a huge bar for your room decor, but only if you can do it well. Right from classic, timeless decor to a bold and modern look – a well-planned and equally meticulously executed theme plan of an accent wall fireplace works magic!
The appropriate fireplace accent wall ideas can turn the look of your room 360 degrees from mostly simple and boring to something remarkably distinctive.
If you're wondering how to read this article for some of the most unique and interesting accent wall fireplace ideas that will make your space stand out and a space to cherish by you and your guests!
Fireplace Accent Wall Tips and Tricks
If it feels like a foreign concept to you and you are out there wondering if a fireplace wall can be an accent wall, check this space to know why our answer to your question is YES.
But before we move on to the best accent wall fireplace designs, here are a few things you should consider when creating an accent wall around the fireplace. It is about styling the fireplace and designing an accent wall that forms a visual statement piece of the room.
Location and Position of the Fireplace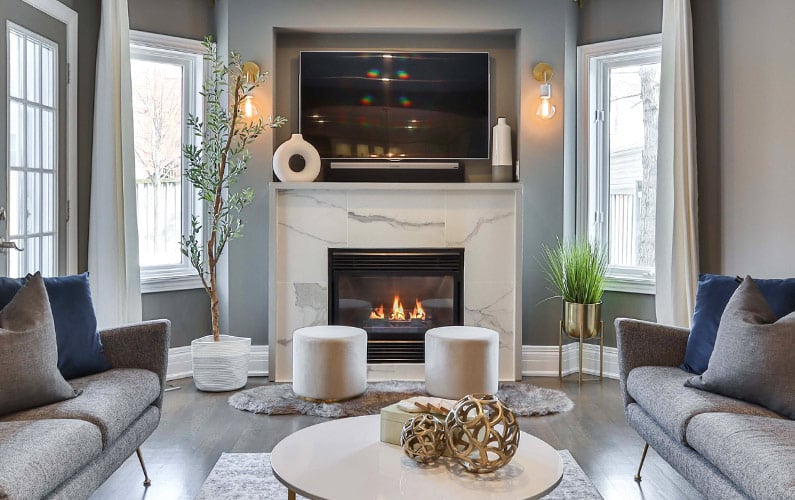 If you are yet to install a fireplace, this point is of utmost importance to you. You can install a fireplace in literally any room of your house (except the bathroom, of course, and the kitchen!). However, if you are looking to beautify your fireplace accent wall in a way that becomes a visual treat for friends, family, and guests, we suggest you set it up in the living room, where it will be accessible for all to view. You can also install one in your bedroom if you go by the mantra of practicality over fancy home decor and accent the wall around the fireplace.
Coming to the positioning, it is best to install a fireplace in a corner wall in the room or somewhere in the middle of the seating area. Whichever area you choose to install your fireplace, ensure leveraging the wall to the maximum by accenting it well!
Lighting Around the Fireplace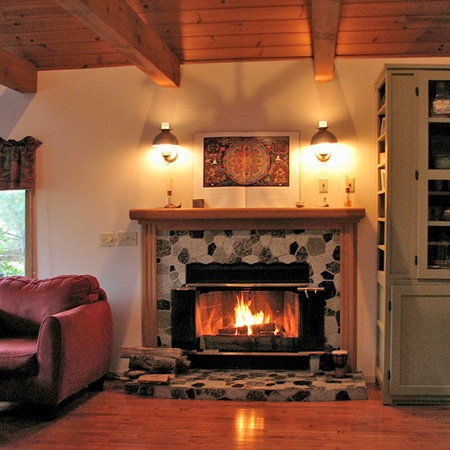 The lighting scheme around can make or break the entire decor of your accent wall fireplace. Lights themselves make for extrinsic decor items. But, when prepping up for accenting your fireplace wall, you must be cautious about placing them correctly at the right angle, providing ample lighting to light up your fireplace accent wall. You can use pendant lights as separate decor items for your living room, which can double up as spotlights for your accent wall fireplace. Setting up string lights around the edges of the fireplace or bottle LED lights over the mantelpiece can also elevate your fireplace accent wall.
Do not, however, go way too over the top with lights around the accent wall fireplace. You don't want to steal away the thunder of your fireplace that you have so diligently curated, do you?
Materials for Accenting the Wall Around the Fireplace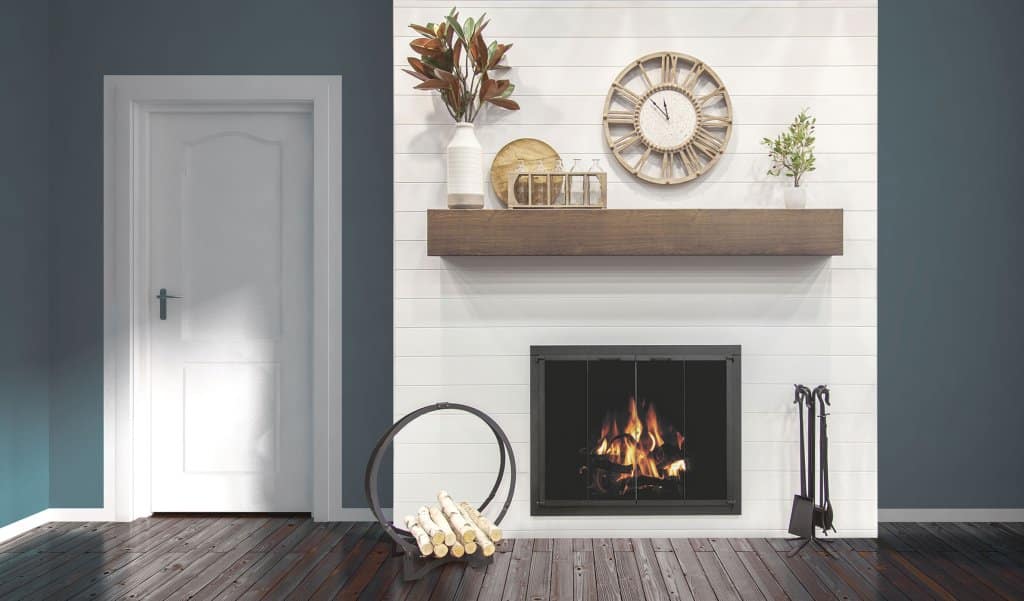 Well, choosing the right materials for your accent wall fireplace may not really be as easy as you think. This is because what you use for accenting your fireplace wall will determine its look and utility. That is, you cannot just use materials that will look great on your accent wall fireplace but also choose ones that are durable and are able to withstand higher temperatures. You don't want the accent wall decor to wear off or get tarnished within a couple of months. Also, keep in mind that the upkeep of your accent wall fireplace will retain its beautification for a long time. Thus, when choosing the right materials for your accent wall fireplace, choose the ones that are low maintenance, easy to clean, and preserve their original luster longer.
Choosing the right materials for accenting the fireplace wall will help you save a huge sum in the long run.
Fireplace Accent Wall Ideas that Stand Out
Instead of stressing yourself out, check out the best 11 ideas on how to accent a fireplace wall. Invigorate the vibe of your living room or bedroom with a fresh and gorgeous accent wall fireplace.
1. Shiplap Wall Around Your Fireplace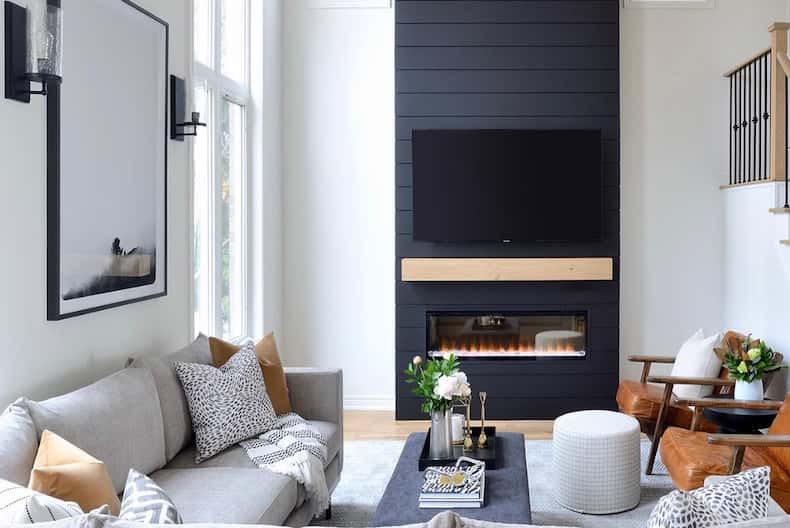 A shiplap wall makes for one of the best accent wall fireplace ideas. It imparts authority to the statement piece in your room. Not just that, the entire setup looks extremely organized and tidy by default, thus making your room look appealing. A shiplap wall is the perfect blend between ageless and modern accent wall decor. Depending on how you want your accent wall fireplace to turn out, you can accessorize accordingly.
A shiplap wall in a pastel color of a darker shade (read navy blue, dark turquoise, magenta) blends seamlessly into your living room if you keep your furniture decor minimal. Wood furniture, white walls, or walls in neutral colors make for the perfect shiplap accent wall fireplace that looks bold and timeless very subtly. If you have a more modern taste, you can try a polished shiplap wall for creating your dream accent wall fireplace.
2. Reclaimed Wood for Getting the Glory of Your Fireplace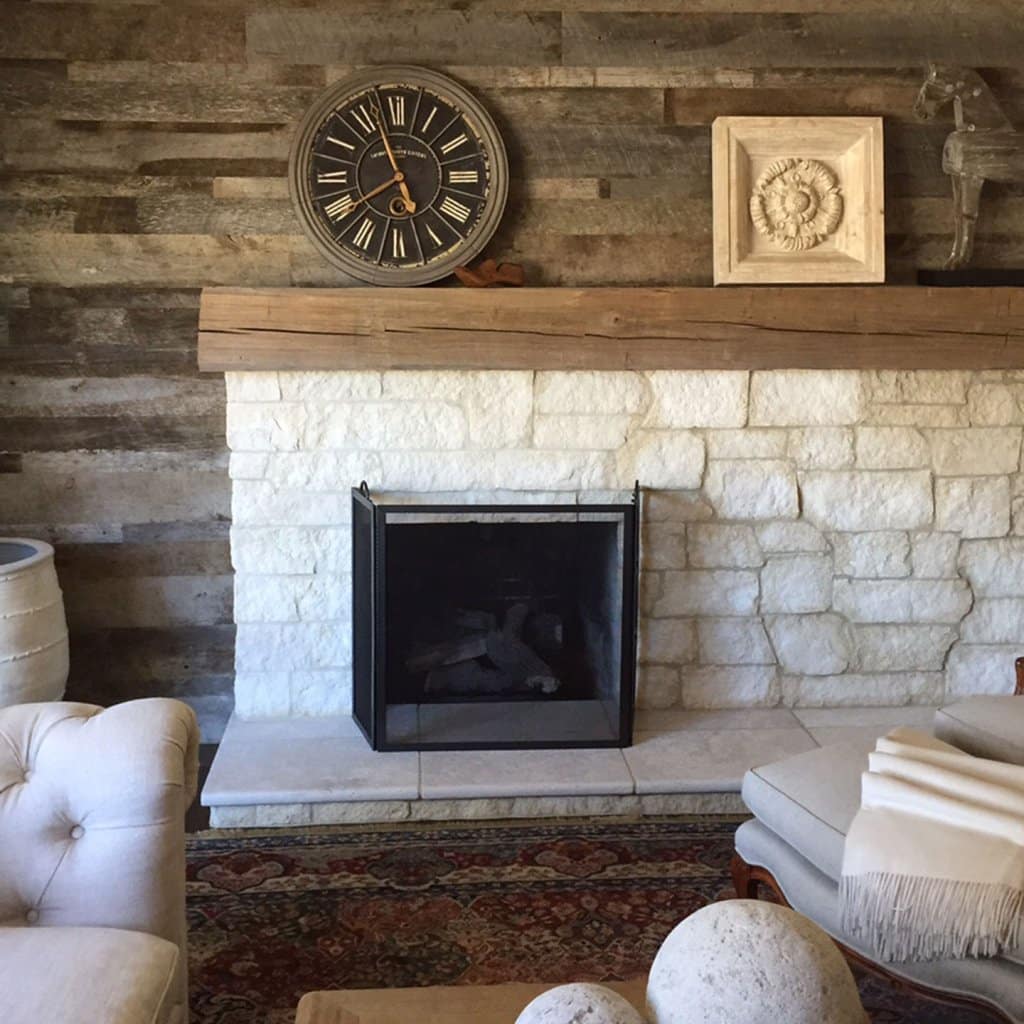 "Aging like fine wine"gets a whole new dimension when you see reclaimed wood redefining the style of your accent wall fireplace. Another timeless classic – accenting your fireplace wall using reclaimed wood accentuates the class and elegance of your entire room. It appeals equally to the minimalist as well as to the extravagant. And the best part about using reclaimed wood in your accent wall fireplace is that you need not worry about accessorizing at all. It looks good just as it is and exudes sophistication by itself.
Reclaimed wood looks best for accenting walls around wood fireplaces. However, with electric fireplaces taking over, they are becoming increasingly popular for accenting walls of other types of fireplaces as well.
The reclaimed wood accent wall fireplace has a certain rustic charm that is hard to overlook. However, if it feels a bit too old-world for your taste, use reclaimed wood for the mantel shelf only.
3. The Unmatchable Tile and Stone Combo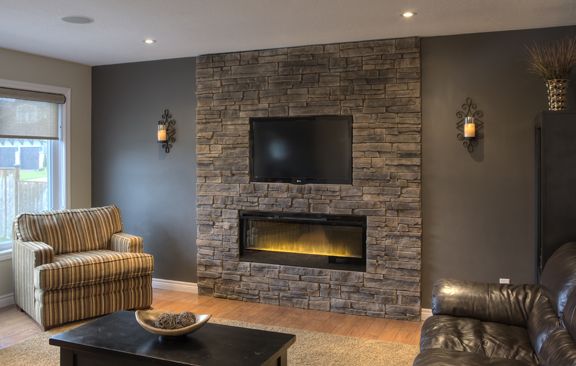 A hands-down favorite for designers who visualize and prefer it "au naturale"for their client's interiors. And why not? It is an exciting and unfading choice for an accent wall fireplace. Giving off a vintage vibe, the tile and stone fireplace accent wall is a marvel to watch in the true sense of the term.
You can use marble, limestone, travertine, or granite. Being custom-shaped slabs, these fit in perfectly to create your accent wall fireplace that is eye-catching.
Too excited to try it out? Before you start, it is necessary to let you know that it may be a bit too time-consuming and tedious to accent your fireplace wall using tile and natural stone. But the perk is that these materials are easy to maintain and even easier to clean! Trust us; the extra effort is 100% worth it! Take a minute look at the picture above, and you will understand why.
4. Concrete Wall for the Solid Look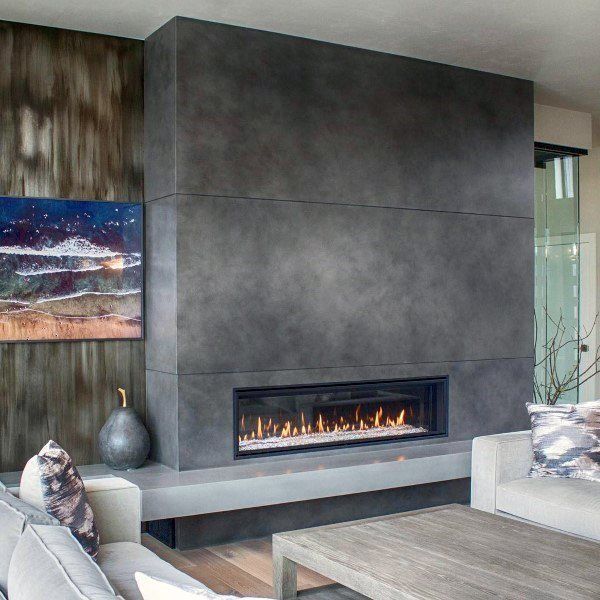 Want an idea that looks bold and stands apart from its popular contemporaries, yet not too over the top? Here you go! Use faux concrete wall panels for an accent wall fireplace that transcends all themes and ages. A corner wall setting is perfect for implementing this idea. Setting up a concrete accent wall fireplace works wonders, especially for an electric fireplace.
You can also use real cement to carve out an accent wall fireplace by yourself that makes a mark in the room in which it is placed. The biggest advantage is that not only does it work equally well for electric and wood fireplaces, but it is also nonflammable. Hence, it is a safe choice for homeowners with children, aged, and infirm. Being affordable, highly durable, and pretty low maintenance, you can focus and spend on other aspects of home decor.
5. Paint the Wall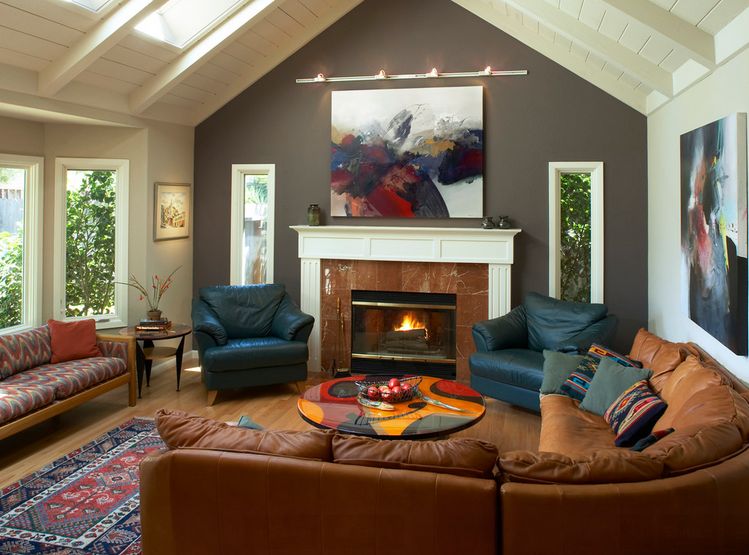 This option is one of the most interesting and fun DIY accent wall fireplace ideas! And it never goes out of style! Grab your paint supplies and paint that favorite color of yours to accent up your fireplace wall that invokes your personality and character in every square inch.
Think of blues, greens, grays, and everything in between to liven up your living room fireplace wall. Contrast it with colors used on other walls. Complementary colors look good too. But if you want an accent wall fireplacethat becomes the talk of your guests every time they join in your soiree, we'd suggest going for a monotone dark color for the wall that shows a stark difference from the other walls. Use minimal signature centerpieces like a grandfather clock or a large wall clock to elevate the essence of the theme.
6. Wallpapers for the Wall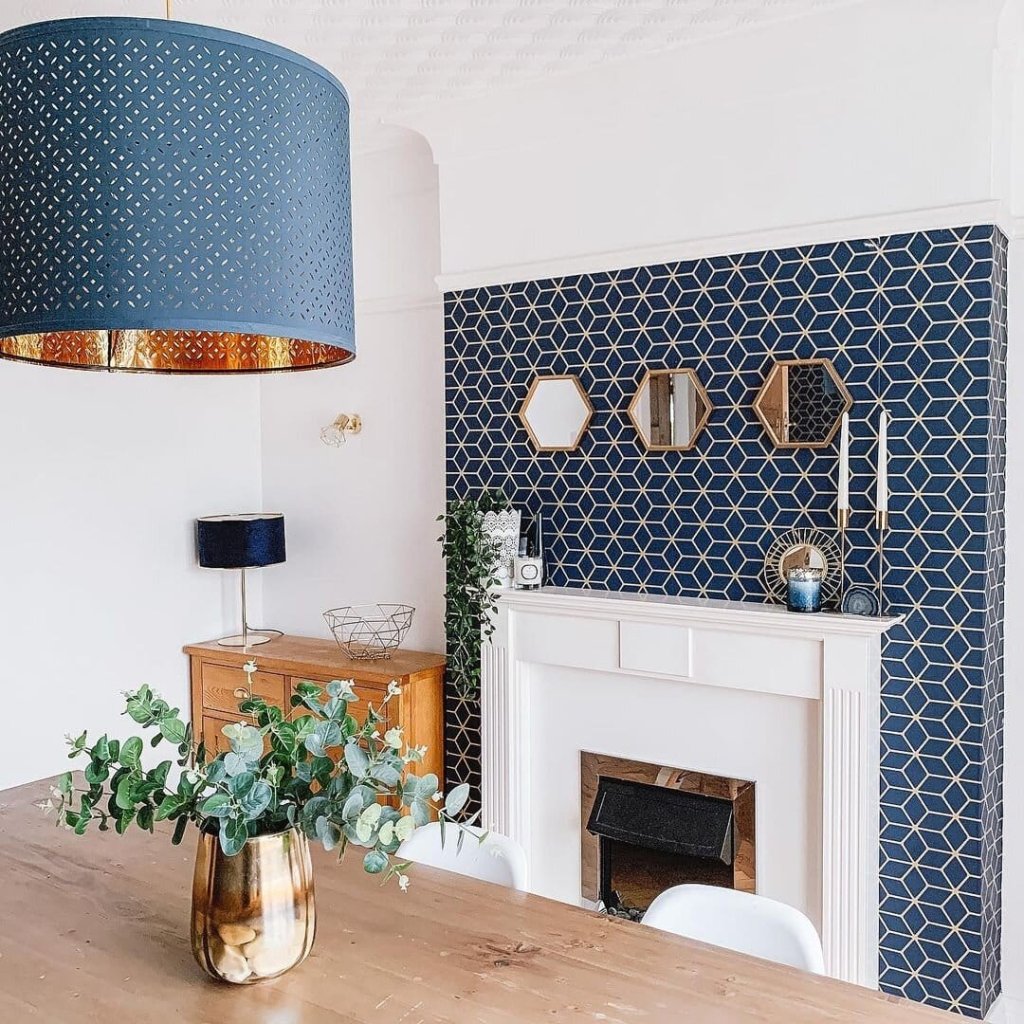 Wallpapers are the trend and are being used as decor for the front door, bathrooms, kitchens, and even bedrooms. Why not utilize it for your accent wall fireplace? Choose from a wide variety of prints and designs, and colors for the exact look that you want. If you are accenting your living room fireplace wall, try not to use wallpapers that are too flashy. But also, don't set wallpapers that are too plain, either. You can use floral prints or geometric patterns in bright and attractive colors.
Even better, you can use wallpapers to create a faux fireplace when you haven't installed one yet!
Use wall hangings like stickers, macrame, stockings, or string lights to make it look vibrant. You can also use decals or variants of wallpaper like stickers for ornamenting a concrete or painted fireplace wall.
7. Bricks for the Raw Charm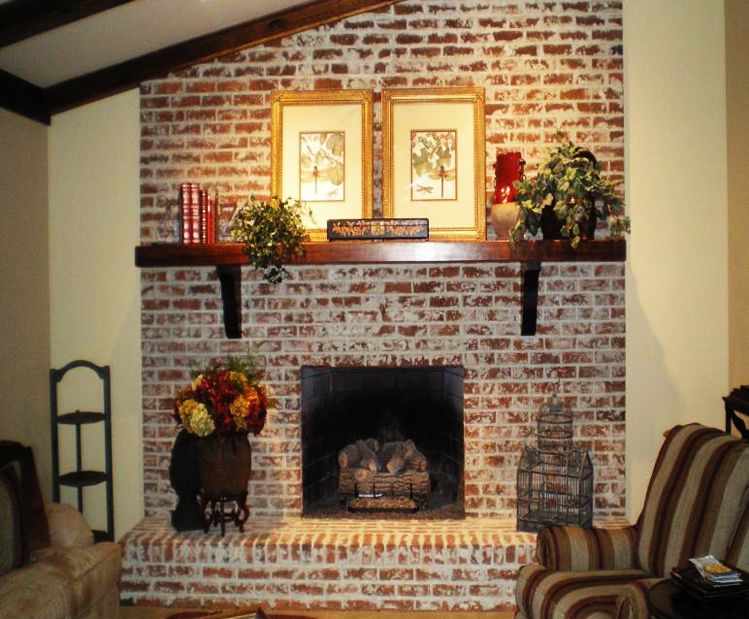 Creating a DIY accent wall fireplace using bricks sets the background for a bygone era that speaks of the elegant taste of the homeowner. They are strong, durable, and safe for placing around a fireplace. Moreover, it is a one-time investment that will last long. While the idea may seem a bit outlandish, it can actually increase the aesthetic vibe of your entire home.
Whitewash if you want to, using white mortar for a touch of professionalism and modernism without missing out on the original charm of the idea. In fact, the bricks and mortar accent fireplace wall is a classic combo, pretty much like the tile and stone one. The uniqueness of the accent wall fireplace idea makes it impossible to be ignored. So, if you want to create a fireplace accent wall that stands out, go ahead!
8. Let Shelves Do the Talking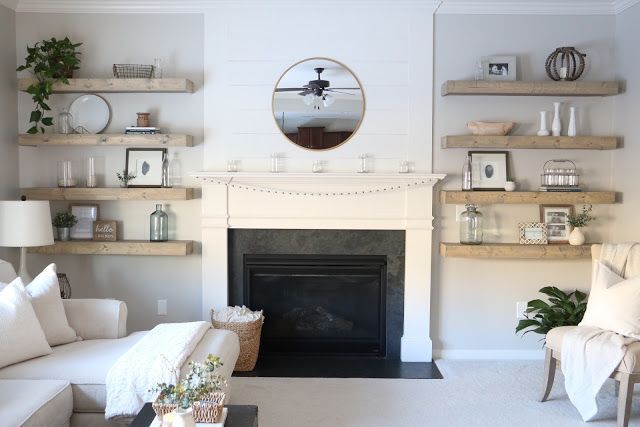 Accent walls are not truly complete (mostly) without a row or two of mounted shelves or floating shelves. You can use either of them for creating your DIY accent wall fireplace. These preferably look the best when set on painted walls or shiplap walls. But even for all other types of walls, shelves really get the game going!
Arrange books for display or flower vases on the shelves. You can also leverage shelves by placing potted plants, flowerless shrubs, or hanging floral garlands. Don't overburden the shelves with too many items. Keep them presentable and orderly by only displaying a handful of items. When using shelves, use the walls on the sides of your installed fireplace as the accent wall. Or else, if you position the shelves on the same wall as your fireplace, it may not be able to garner enough attention as otherwise to be labeled as the accent wall.
9. Set up Your Entertainment Center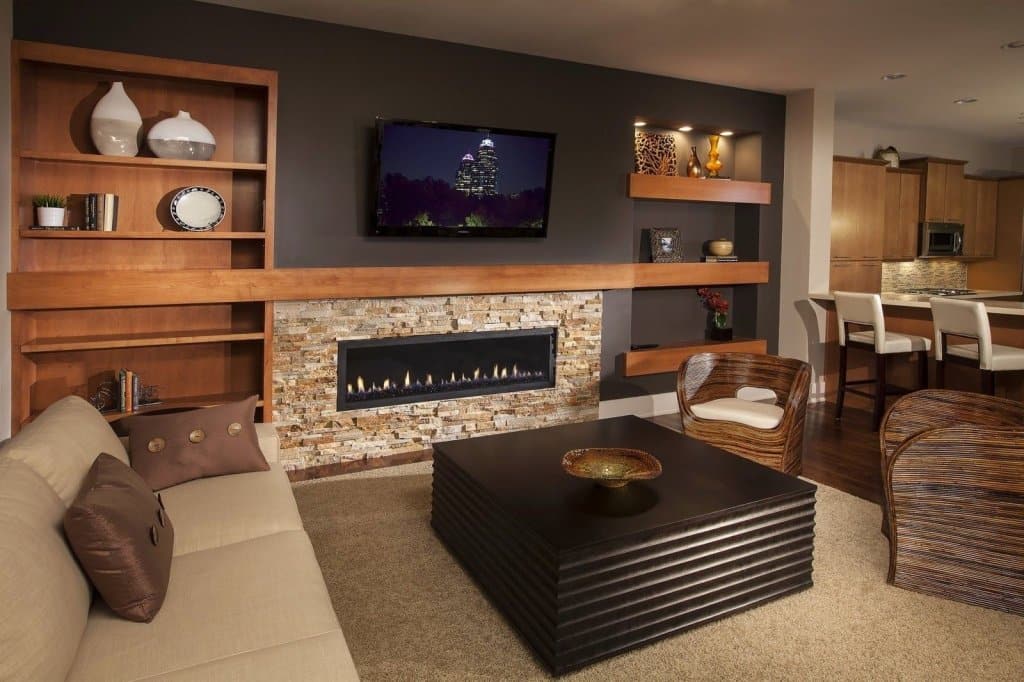 What better place to indulge in an indoor dinner date or have a fun family movie night than under a fireplace's comfort (and warmth)? But wait, you need an entertainment center – a screen to watch your movie and a music system for a slow dance with your partner.
Why not utilize your accent wall fireplace to create a space that allows you to enjoy the simple joys of life without missing out on the warmth of a cozy fireplace? You can set up your media setup over and around your fireplace by mounting your TV on the accent wall fireplace and the speakers on floating shelves. The perfect combination of decorative and functional accent wall fireplace – your kids and guests will love this accent wall fireplace in the living room.
Pro tip: Install LED ceiling lights for the ultimate movie-theater vibe in your home.
10. 3D Moldings
Geometric millwork designs are perfect for amping up your accent wall fireplace. You can play with arch-shaped 3D moldings or abstract and asymmetrical geometric patterns for accenting the wall around your fireplace.
This works amazingly for all types of fireplaces. It speaks of subtle charisma that is incomparable. They are easy to install but take quite a bit of time because of the amount of preciseness needed to install the intricate carvings.
Pair 3D moldings on an accent wall fireplace with weathered wood paneling on the surrounding walls for heightened beautification. You can paint the outlines of the carvings a different color for contrast.
11. Focus on the Mantel Shelf Decor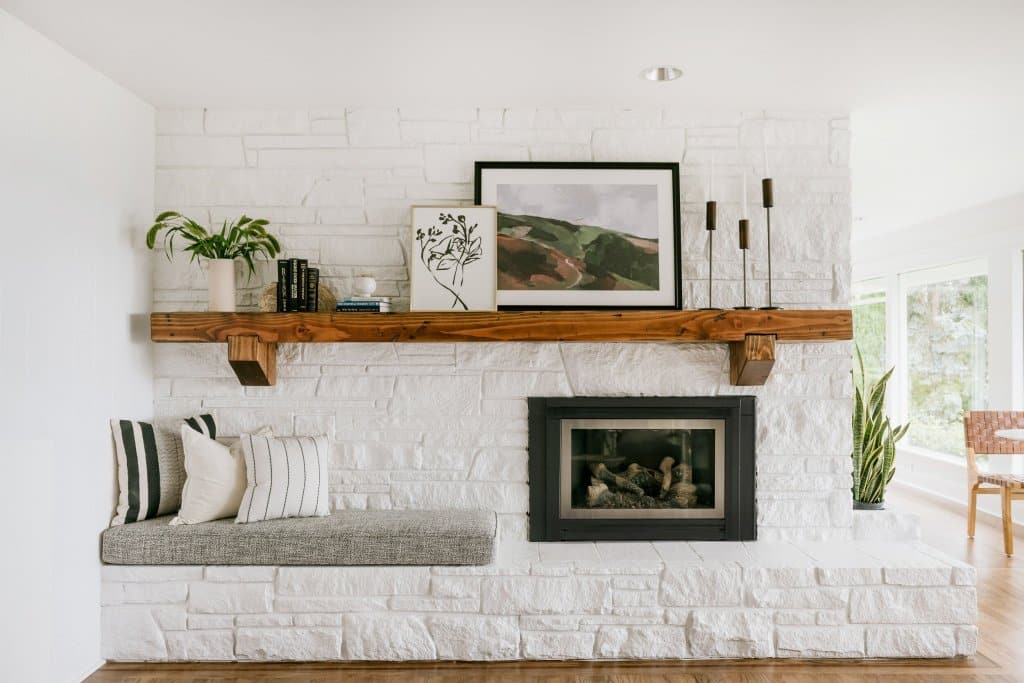 You absolutely cannot miss out on this one when accenting your fireplace wall. This is the second (if not the first) that onlookers will notice after your fireplace. Therefore, highlighting it on the accent wall fireplace contributes to the accent itself. Use weathered wood or reclaimed wood for creating the mantelpiece above your fireplace.
Place candles, vases, and flowering shrubs on the shelf for decor. Use picture ledges to portray your family pictures and childhood pictures to increase their decorative quotient. Place a round mirror over the mantel shelf to add an element of calm and sophistication to the entire decor.
Make the mantel shelf stand out so that it forms an integral part of the accent wall fireplace you have been dreaming of creating for so long.
The Takeaway
According to experts, accent walls around fireplaces will continue to be the top trend of 2023 in home decor. Thus, think well, and visualize before you actually start working on creating your own accent wall fireplace.
When creating an accent wall fireplace, it is important to take into consideration the exact theme you want to portray. It should obviously be an extension of your preference in decor but equally suitable for the surrounding area you have or will install the fireplace in.
There are many options to choose from, but you know your space best. Hence, you need to decide on one idea that revamps the entire look without hindering the functionality of a fireplace.
We'd love to hear from you regarding which fireplace accent wall idea you would like to implement in your house and why! Drop your feedback in the comments section below, and once you're done with it, share your personal tips and tricks!