There's no better home decor than fresh blooming flowers in your garden, especially if they're in beautiful colors like blue, yellow, pink, red, white, and whatnot. One of the most beautiful colored flowers that you can add to your garden is purple flowers. Imagine strolling through a wonderland of colors with vibrant shades of purple dancing among the greenery. Purple flowers can turn any outdoor space into a mesmerizing haven that not only delights the senses but also captivates the soul.
Just like how gardens breathe life into our homes, we will be talking about purple flowering trees that will breathe life into your garden. Flowers are beautiful on their own irrespective of the color, but let's face it, we all want our gardens to stand out, and hence, adding some purple might just be the finishing touch you were looking for.
In this article, we will take a deep dive into the characteristics, blooming season, growth patterns, and ideal growing conditions of six purple flowering trees.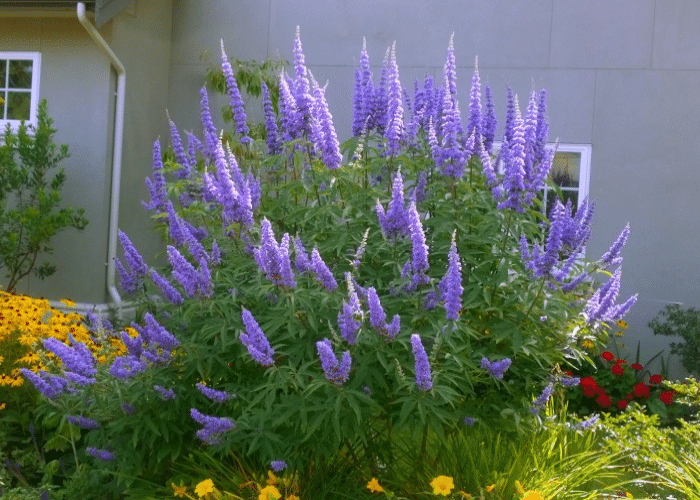 One of the most widely known purple flowering trees is the Chaste tree – also popularly known as Vitex or Monk's Pepper. It is a fast-growing tree that reaches 10 to 20 feet in height with a spreading habit. Its flowers bloom in summer and can reach a foot in length with enchanting hues of pink, blue, purple, or white. The tree also produces small black fruit resembling peppercorns. Thriving in full sun, Chaste Trees are winter-hardy in USDA Zones 6 to 9. They also attract pollinators, including butterflies and bumblebees.
Prepare slightly acidic to neutral, well-draining soil for Chaste Trees; once planted, they become drought-tolerant. Make sure you prune it regularly to maintain its appearance and prevent invasiveness. With cultivars like 'Abbeville Blue,' 'Alba,' 'Blue Puffball,' 'Rosa Ann,' and 'Shoal Creek,' you can select the size and flower color that suits your preferences.
Chaste Trees are usually low maintenance. However, they can be susceptible to leaf spots and pest infestations. Make sure to provide these trees with adequate sunlight, proper fertilization, and well-drained soil to ensure abundant and vibrant flowers.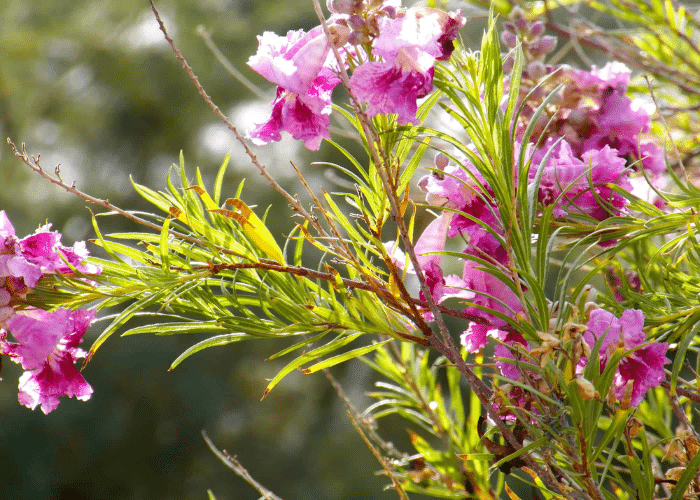 A rather captivating addition to any landscape, the Desert Willow Tree is native to the southwestern United States and northern Mexico. This small deciduous tree boasts slender, bright green leaves and show-stopping trumpet-shaped flowers. The name of this one can be called misleading as it is not exactly a willow tree.
Its flower displays can range from white to purple and even pale pink or lavender. The Desert Willow thrives in arid conditions(ideal for regions with low water availability) and adds a touch of elegance to the surroundings. This tree can bloom in full sun or partial shade and can adapt to any well-draining soil type.
Desert Willow is a low-maintenance tree that only requires deep watering for the first year; post that, it can survive easily by regular watering every two weeks or so, or even a month – during winters. It is advised to prune the bushes after winter. With its adaptability to arid climates, stunning flowers, and low-maintenance nature, the Desert Willow is a perfect choice for you to add beauty and resilience to your garden. Bring the allure of this unique tree to your landscape and enjoy its enchanting presence year after year.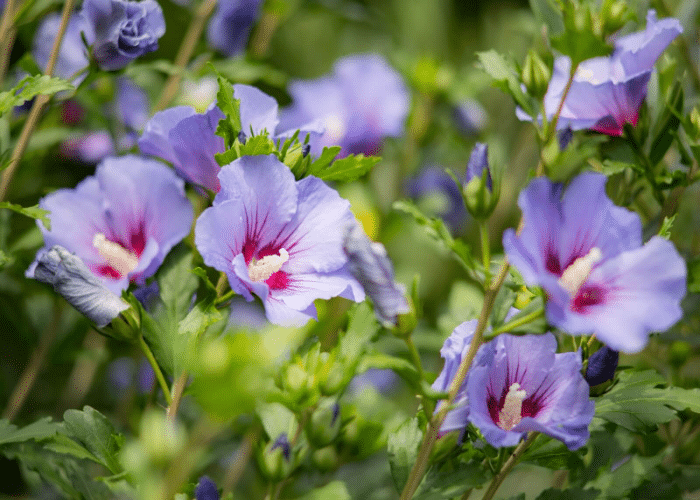 We all know the Hibiscus tree for red flowers, but did you know that they also have purple flowers? The color of its flowers can range from purple, pink, white, red, and orange to yellow. This plant can grow up to 15 feet tall and is a hardy, deciduous multi-stemmed shrub that thrives in warm-temperate, tropical, and subtropical regions.
Hibiscus flowers typically bloom from July to December and attract butterflies and hummingbirds as its pollinators. Hibiscus Trees serve a variety of purposes – they have medicinal properties, can be used ornamentally, and even in culinary applications like pickling or herbal teas.
Hibiscus tree requires well-drained potting soil and full to fragmented sunlight to bloom. It also requires adequate watering, especially during hot weather. Its pruning promotes a healthy appearance and stimulates blooming. With minimal pests and diseases, this low-maintenance plant will bring effortless beauty and charm to your garden, infusing it with a touch of exotic allure and a lasting floral delight.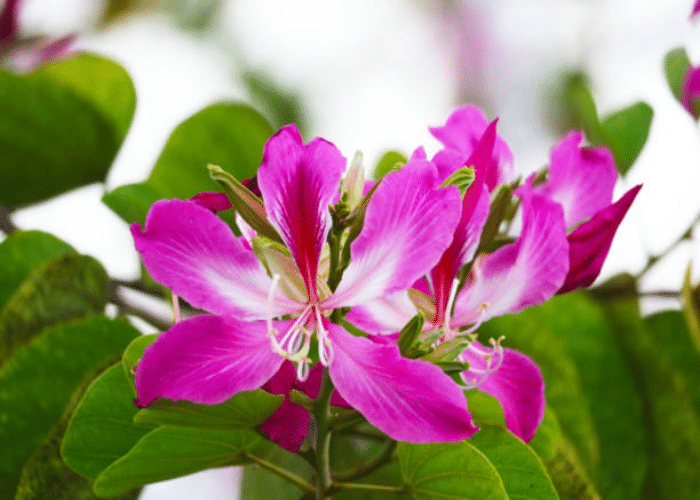 Also known as Bauhinia Purpurea, this one is a tropical delight that adds a touch of purple to your garden. This tree showcases clusters of glowing purple flowers during mid to late fall, each measuring 3 to 5 inches. They also feature heavily7 veined petals that resemble butterfly wings, adding a touch of whimsy to your garden.
This tree also has slender brown seed pods following the flowers, which are approximately 12 inches long and add to the visual interest. Its leaves are medium green and heart-shaped. Purple Orchid Tree can grow up to a maxim height of around 35 feet and is suitable for focal point planting or container gardening on a patio.
Purple Orchid Tree thrives in a rich, moist solid and requires 80-100% sunlight exposure. To ensure healthy growth, gradually acclimate the tree to its environment and select an appropriate container size(if growing in a pot). Fertilize sparingly with a slow-release product for a long life.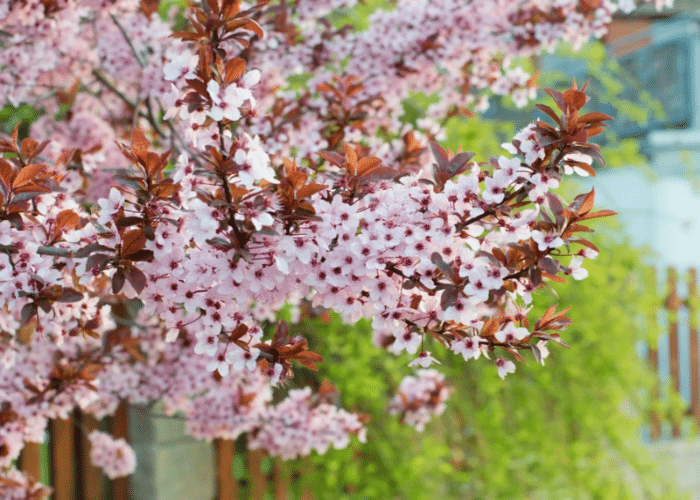 As the name suggests, this tree does not really have green leaves but beautiful dark-reddish purple leaves all around the year. This is a captivating tree that has snowy white to pink blossoms in the spring, which are very similar to Japanese Cherry Blossoms. This tree reaches a height of around 15-25 feet and forms a vase-like structure with a rounded shape. One thing to note about this tree, however, is that it is prone to insect infestations and diseases, and the twigs & fruit drops can create a bit of a mess.
This tree is not very demanding when it comes to soil type and can tolerate moderate drought once established properly. It thrives best in full sun, allowing its foliage to exhibit its most vibrant hues. It does bear fruit which attracts birds and small mammals. However, it is pretty bland for human consumption.
Purple Leaf Plum is suitable for various purposes such as foundation plantings, screen purposes, as a small group, or even as a specimen tree. Make sure to prune this one regularly, as it has rapid growth. Despite its challenges, it is a pretty great tree to add showiness and charm to your backyard.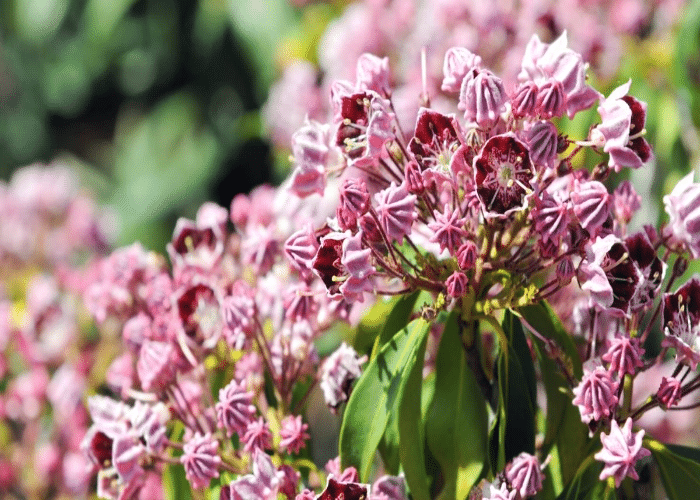 An evergreen shrub native to the eastern United States, Mountain Laurel is a relative of everyone's favorite Rhododendrons. It features stunning spring blossoms and glossy, deep-green leaves resembling rhododendrons. This one is a shade-loving shrub with a gnarly, multi-stemmed growth. Its flowers bloom in the late spring in clusters of rose, pink, and white with purple markings and create a vibrant display. Its leaves are elliptical in shape and add to the visual appeal of this shrub throughout the year.
Mountain Laurel thrives in excellent, moist, well-drained, acidic soil and is an ideal pick for mass plantings in shady borders, woodland gardens, or foundation plantings. While this shrub prefers partial shade, it can tolerate full sun, though not for long, as it may cause leaves to turn yellowish.
Remember not to touch the flowers of this plant, as all its parts are highly toxic for humans and pets. It is a highly sought-after plant for its stunning blooms and glossy foliage, despite its susceptibility to leaf spots and pests.
Conclusion
While all flowers in themselves are beautiful and add a happy vibe to any garden or patio, purple in itself is a prized color when it comes to flowers. You don't get purple flowering plants easily, and they are often high-maintenance. Adding a bit of purple to your garden can truly elevate the look of your outdoor space and create a captivating mix of colors. You can either choose The Chaste Tree with its beautiful summer blooms or The Desert Willow for its stunning trumpet-shaped flowers, The Hibiscus Tree with its range of vibrant colors or The Purple Orchid Tree with its whimsical butterfly-like flowers, The Purple Leaf Plum with its delicate blossoms or The Mountain Laurel with its vibrant spring blooms.
In the end, make sure that whatever plant you go with matches the whole vibe of your garden and does not seem out of place.