Among the very few colors that have remained high in demand in 2023 and had constantly remained out of stock, the Benjamin Moore has been at the top of it because this magical neutral hue is a perfect fit for a variety of spaces. Winds breath is a combination of beige, taupes, creams, and warm grays. People always wanted a color that would have little of these shades, and Wind's Breath has fulfilled this need. Customers love this popular paint color because it provides a rejuvenating and relaxing feel.
Winds breath comes from a family of off-whites, providing an incredible balance between gray and creamy undertones. When a fresh coat of wind breath is applied to your room, it amplifies the aesthetics of any space and creates a sophisticated and elegant atmosphere.
With this information, we have enlighted you about the basics of winds breath; it's time we deep dive into the technicalities and give you a detailed review.
Benjamin Moore Winds Breath OC-24: Shades and Undertones

People widely use paint swatches since they can signify the actual tone of the color. Since this paint has a variety of undertones, it can appear different in various lighting conditions. Thus every reputed interior designer would suggest a sample test before you finalize your wall color. Since this color is a mixture of a variety of shades, it's recommended that you use a color temperature wheelto understand the uniqueness of Benjamin Moore Winds Breath OC-24.
Technical Aspects of Winds Breath Benjamin Moore OC-24
Light Reflective Value: The LRV of this paint is 69.9. So that means it is a light color, which will make your room appear brighter and more spacious. LRV represents the amount of light the paint can reflect on your walls. Thus with LRV, this color can create an airy and light atmosphere in your room.
RGB and HEX value: RGB Stands for red, green, and blue proportions. In simple terms, it can be said the amount of red, green, and blue combination present in this color. Similarly, the HEX value is the decimal representation of RGB. So RGB of this color comes to (223.217,204), and the Hex code is #DFD9CC.
The Effect of Light on Benjamin Moore Winds Breath OC-24
The technicalities clearly show that this paint is a warm color. The application of this paint is not only limited to walls but goes beyond. It can be incorporated into cabinets and ceilings to create a cohesive look. When paired with different rooms, it creates a magical aesthetic. Take a look at the following pictures.
1. North-Facing Room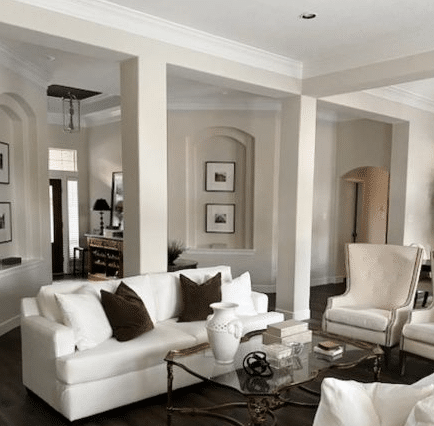 North-facing rooms are usually spaces that receive the maximum light. When Benjamin Moore OC-24 is applied on the accent wall, it enhances the aesthetics of your room and creates a stunning display of color and texture. To complete the look, add crisp white decor or wood finish furnishing. Once completed, your room transforms into a majestic space.
2. South-Facing Room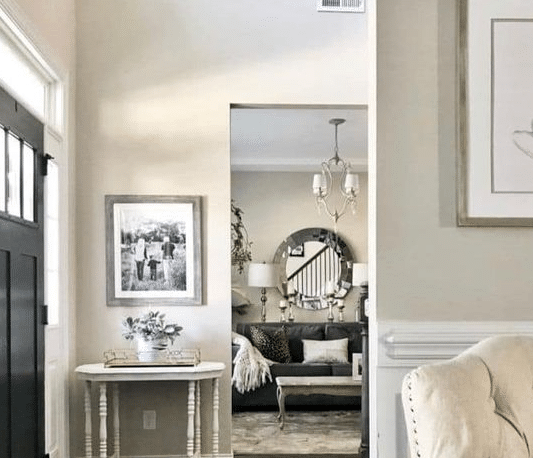 South-facing rooms are house rooms that receive medium sunlight. Applying Benjamin Moore OC-24 can be a game-changer in such cases. Since the LRV of this paint is high, it can reflect a lot of light into your room and create an airy and light atmosphere. To complete the look, pair it with white furnishing. Once completed, your transform into a welcoming space.
3. West-Facing Room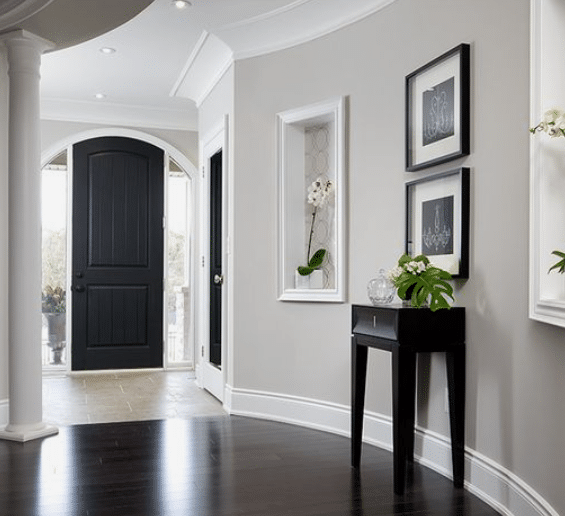 When Benjamin Moore OC-24 is applied in west facing room, it produces an interesting effect. It makes your room warm and inviting so that your guest, family, and friends can have a good time together. Make sure you use artificial lighting to transform your room into captivating heaven. Give your guests an unforgettable experience with this unique color.
4. East-Facing Room
East-facing rooms are spaces that receive the most sunlight, so applying this paint on this accent wall would create an eclectic atmosphere. You can play with this paint, but we recommend a patch test before finalizing your color. To complete the look, make sure you use wooden finish decor or crisp white decor as an alternative.
Note: Since the paint has a neutral hue and warm subtle undertone, people might think that it may appear pink. These undertones blend into your room so perfectly that you would hardly notice them. Take a look at the photo provided above; winds breath is applied on the walls while keeping the furniture crisp white. So no, it would not appear as pink.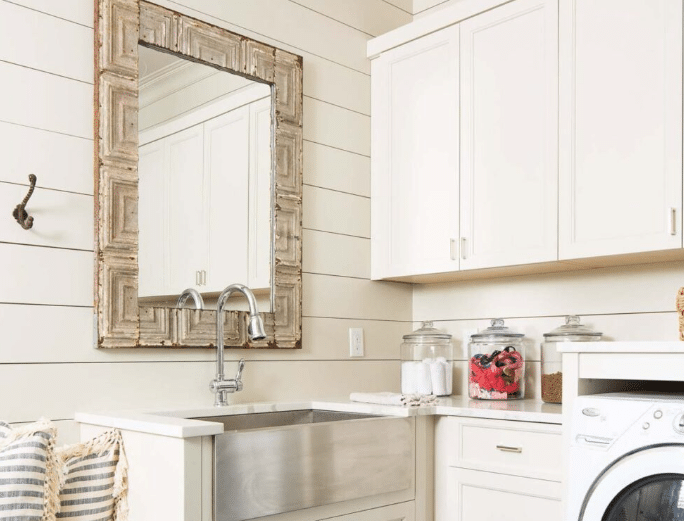 Colors that Match with Winds Breath Benjamin Moore OC-24
Humidity affects the paints severely. For instance, if the humidity is high, the paint can collect vapor, and due to this, discoloration can occur, and surface leaching can be noticed. Selecting a match that can withstand high humidity and provide the best finish to your room is very important.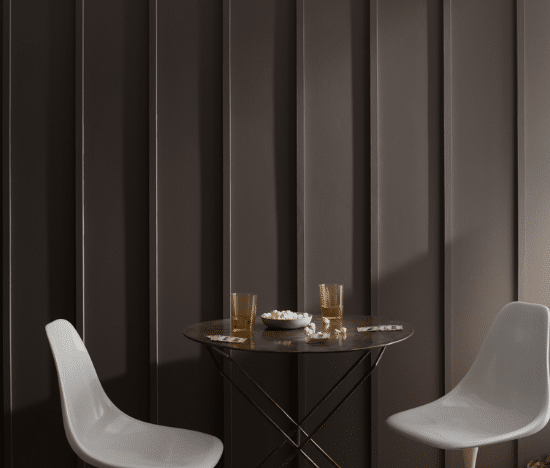 Silhouette AF-655 is a dark gray color. This means whenever you use this contrast Benjin Moore OC-24, you are creating a relaxed and calm atmosphere. With this color combination, you are making your room feel with peace, where people can have conversations and feel welcomed. Make your guest feel comfortable with this paint and give them an unforgettable experience.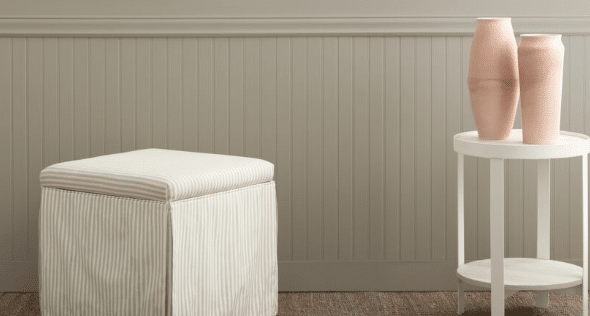 Rockford Gray is considered a gray color which is on the lighter side. When this color combination is used with Benjamin Moore OC-24, you are signifying yourself as a person who is filled with confidence and spreads energy and happiness around people. The calm and passionate combination brings out the best version of yourself.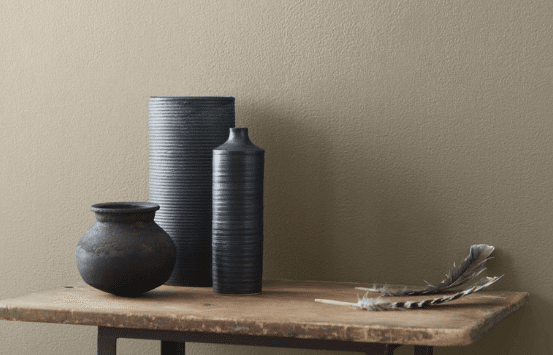 This color combination would make you feel motivated and charged at all times since it is considered uplifting. When this paint is combined with Benjamin Moore OC-24, it creates a tranquil atmosphere that brings peace into your room. Make sure you use black decor to complete the look, or use crisp white furnishing as an alternative.
Winds Breath Benjamin Moore OC-24 vs. Other Similar Colors
We recommend not using any other color other than this gorgeous paint, but if you want to browse some of its alternatives, here are a few of them.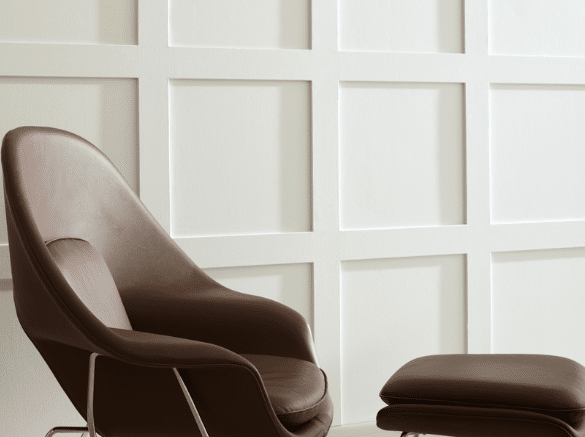 One of the most used alternatives of Benjamin Moore OC-24 is Benjamin Moore OC-64. This is because they both have high LRV and can reflect ample light into your room. When this paint is used, it creates a light and airy vibe. Even if you have limited space, using this color will create an illusion and make your room appear bigger and more spacious.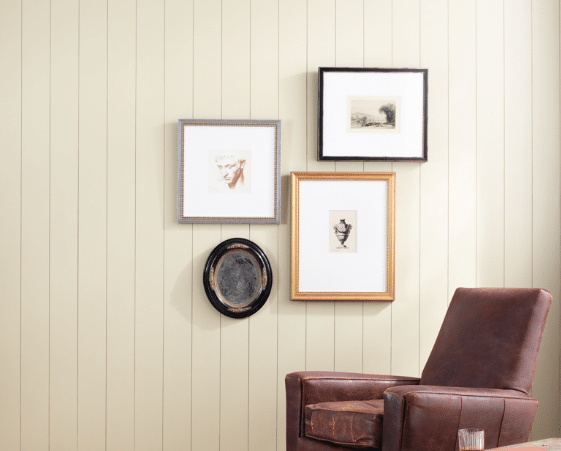 When this paint is used as an alternative, it gives your room an eggshell finish which brings elegance and sophistication to your room naturally. Your guest will get startled by this gorgeous color and appreciate your choice of color. To complete the look, use wooden furnishing to transform your room into a captivating heaven.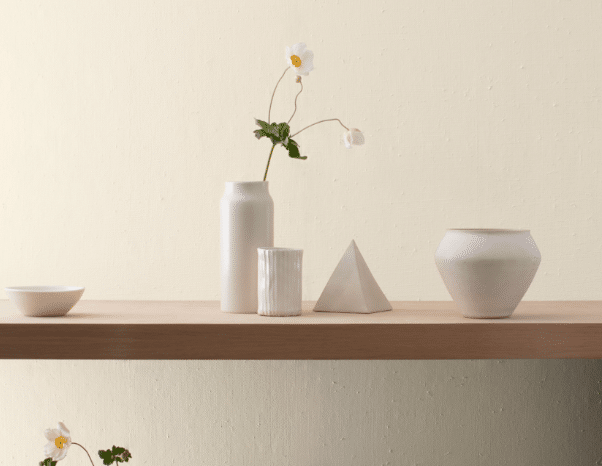 Feather Down OC-6 is peaceful, which creates a zen-like atmosphere inside your room. The color looks majestic when applied to your accent walls and creates an environment of peace and tranquility. To complement this color, interior designers suggest the use of crisp white decor to provide an eclectic atmosphere.
10 Advantages of Painting Your Room with Benjamin Moore OC-24
You will all agree that applying a fresh coat of paint on the interior or the exterior is a simple and quick way to update your home seamlessly. This is an improvement strategy that makes your home transform into a captivating oasis. The best choice available in the market right now is winds breath benjamin moore.
When you coat your wall with this paint, you automatically increase your real estate value. Buyers are most interested in taking a well-furnished home that has a paint color that creates a welcoming atmosphere. So your resale value gets increased.
The house's curb appeal gets a massive surge with the help of this paint. When you paint the interior or the exterior with this paint, the curb appeal of your home gets increased. Curb appeal denotes the aesthetics of your house.
The indoor air quality of your house gets a massive boost when you use winds breath Benjamin more. The high-quality finish of this paint can the power to reduce odors and fumes away from your family and makes sure you get a safe environment.
Winds breathe Benjamin more and keep dust and dirt away from them at all costs. The paint will always keep your plaster on 24-hour surveillance. So the collection of dust or stains will be minimum.
Some permanent marks are impossible to remove from your interior walls. This is not the case with winds breath benjamin moore. Coating a fresh coat of this paint will remove marks permanently.
The paint will protect you from extreme weather conditions like snow, heat, and ice. The paint has the natural power of durability, and hence winds breath benjamin moore becomes a top choice for homeowners.
No water damage happens with winds breath benjamin moore. This paint has shown proven results that would stop the water damage occurring on the walls. You will never face water damage-related issues with this paint.
Most of your time is spent in your home, so opting for low-VOC and zero-VOC paint would be ideal. The best option available at the moment is winds breath benjamin moore. So the air you breathe is improved, which is the most important factor.
Winds breath benjamin moore has the power to transform your entire look. You can create a fun and cheerful vibe with the help of this paint. Use this paint on your accent walls to make your bedroom appear serene and cozy.
Many studies reveal that opting for a fresh coat of paint can increase your well-being. A fresh coat of wind breath, benjamin moore would bring a lot of positivity to your house and eliminate all previously present negativity.
Pro Tip: Make sure you pay close attention to undertones when selecting this color. Since this paint has been warmly underdone, a cool undertone color would be the best fit.
Takeaway
Benjamin Moore Winds breath comes in a neutral color that is not limited to bedrooms but can be applied in hallways, kitchens, and exteriors. Due to its high LRV, it has the power to make small spaces appear larger and create a cozy and inviting feel. Since the color is so soft and elegant, it has also become the top choice for females around the world. One of the best features of this paint is the ability to adjust in different settings. Furniture may or may not be updated occasionally, but still, you don't have to change the wall color based on the decor. Hence it can be said that it is a universal color that elevates in space. So what are you waiting for? Don't miss the chance to transform your home into a captivating heaven with the help of this neutral hue.
Frequently Asked Questions
Is Benjamin Moore's Wind Breath a Neutral Color?
Yes. The LRV of this paint is 69. Hence it is a neutral and light color. It comes with a white-Gray undertone, and hence it gives your room a cohesive look. Your guests will have an unforgettable experience in your room as this painting is a great welcoming atmosphere.
Why Does Benjamin Moore's Winds Breath Work Best with Warm Undertones?
As stated, this paint is a worm color, and pairing it with a cool undertone would make your room transform into a captivating heaven. Some of the popular combinations include charcoal gray, navy blue, and beige.
What are the Factors to Consider Before Applying for Benjamin Moore OC-24?
Yes, there are certain factors associated with this paint. Some of the most common ones are the climate, the paint jobs that have been done previously, and the quality of paint used.