Maintaining an organized space is essential for stress relief, saving time, and increasing your daily productivity. With so many parts of our lives that require organization, knowing where you can start can be a bit tedious. We have compiled a list of 40 ingenious ideas that can help you organize. From your kitchen to your office or garage and the bathroom, these organization ideasare sure to help you.
You'll know how to declutter your living space by using clear labels, repurposing old items, using innovative storage techniques, and even installing pegboards.
Get ready to organize and transform your home into an orderly haven with these ingenious organization ideas.
1. Clear Plastic Bins with Labels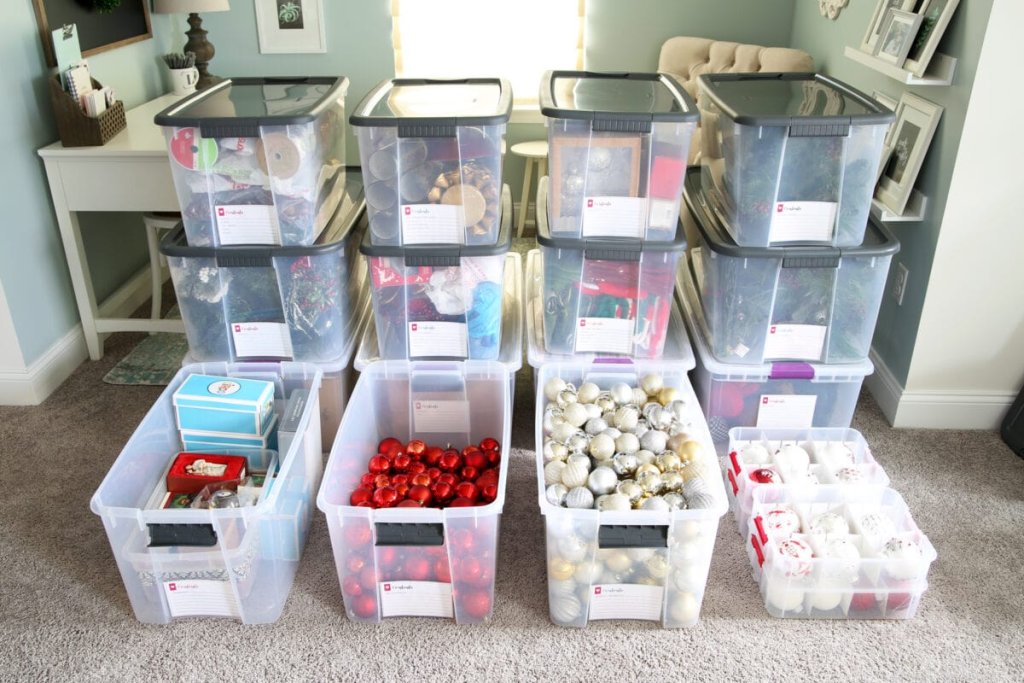 The transparent design of these plastic bins allows you to see the contents easily, while the labels let you identify them just as easily. You can use these in the kitchen, garage, closet, office, or even the bathrooms. These bins will help you organize and categorize the items efficiently. These organization ideas help reduce the clutter in the dedicated room and allow easy access to the tools or things that you require, also reducing the time to search for them.
2. Pegboards for Tools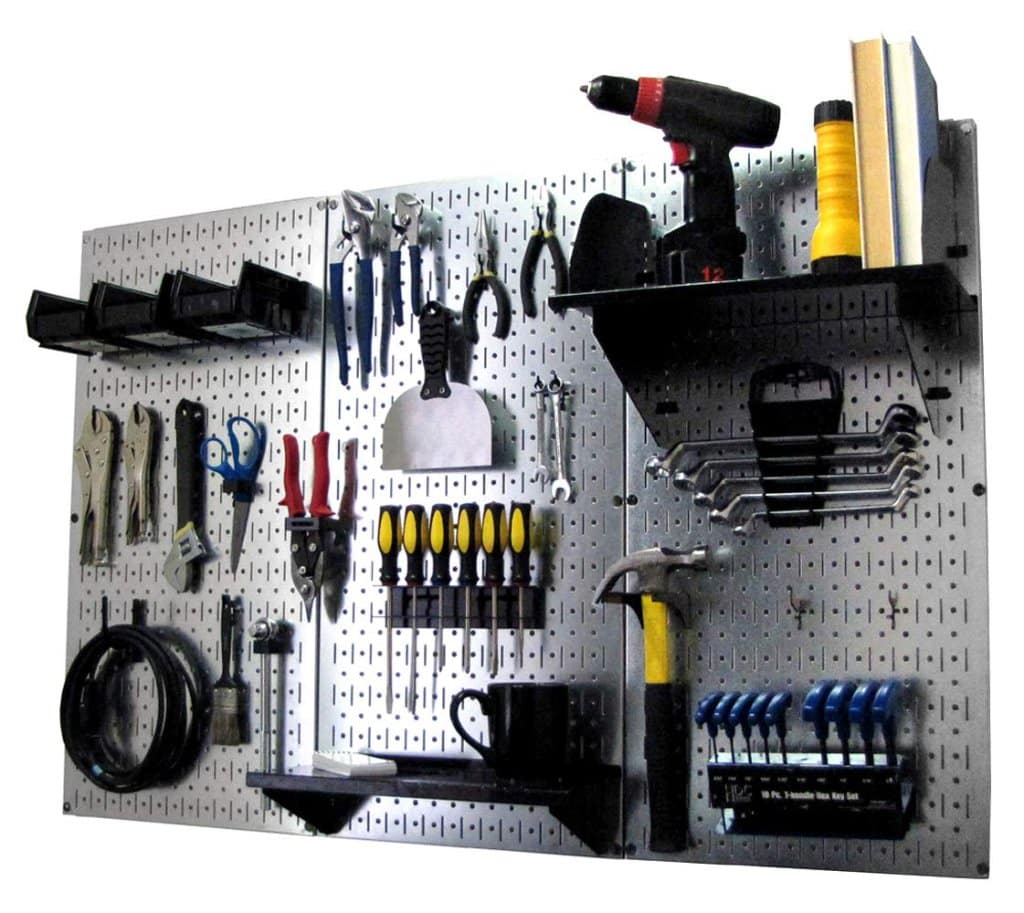 A pegboard allows you to hang and organize tools that you require frequently. Integrating one on a wall in your workspace lets you customize the storage system to keep the tools. You can hang the tools using hooks and holders according to your needs. These organization ideas reduce the hassle of digging through the toolboxes for the tools and save necessary space as well. Use this to enhance productivity around your place.
3. Hanging Shoe Organizer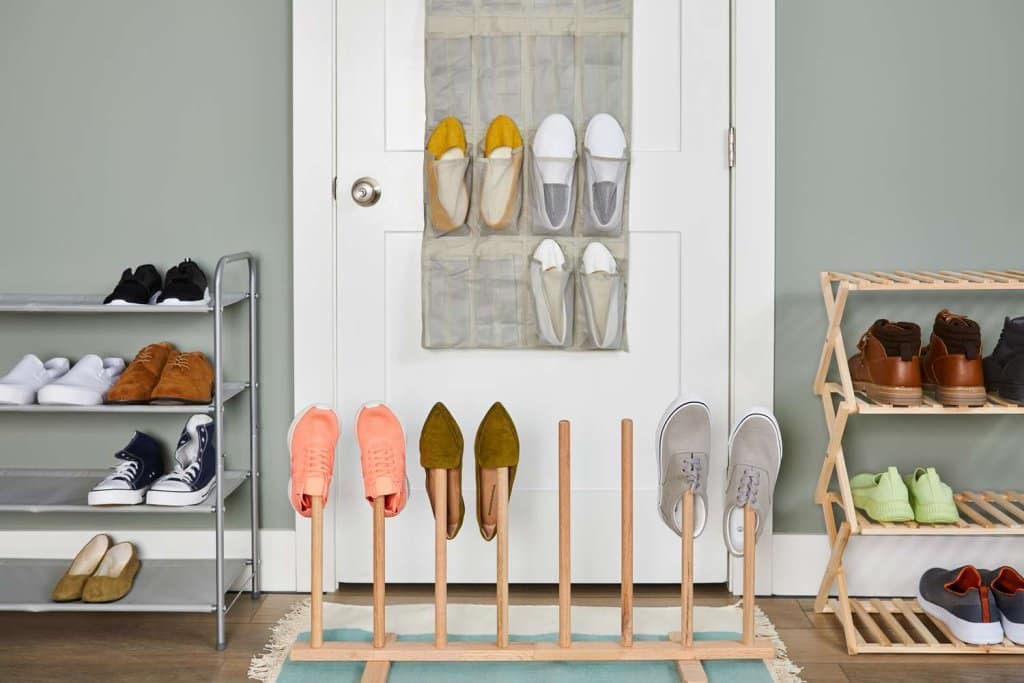 The hanging shoe organizer allows you to organize more than just your shoes. You can hang these on the back of a door to keep small accessories like belts and ties, gloves, hats, and more. You can attach transparent pockets that allow you to keep office supplies and toys while providing easy visibility. These organization ideas make it simple to find items without the hassle of rummaging through boxes.
4. Tidy Drawer Dividers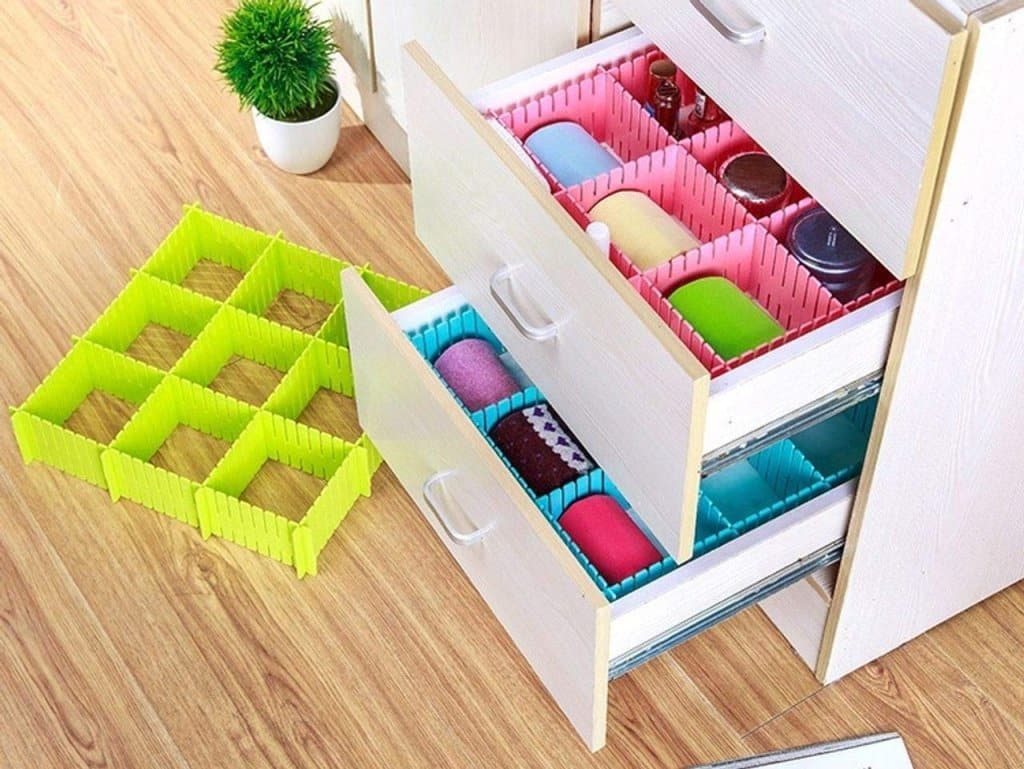 Drawer dividers allow you to compartmentalize and organize your items like clothes, office supplies, and even kitchen utensils by creating a designated space for the same. By using dividers, you can separate and arrange your items according to your leisure to make the room a clutter-free space. Dividers are available in different shapes and sizes that are adjustable as well.
5. Binder Clip Organizers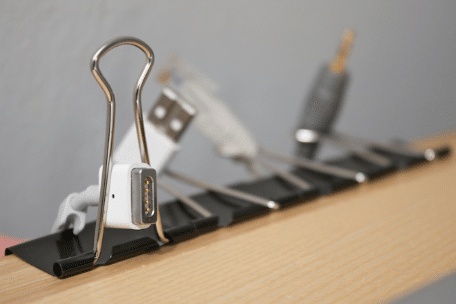 Binder clips allow you to easily organize the tangled mess that is the cables that are lying around your table. These organizing ideas allow you to keep the cables neatly organized and easy to access. The clips reduce the chances of tangling and reduce occupied desk space for efficient management. Additionally, you can label the clips to identify them easily.
6. Wall-Mounted Desk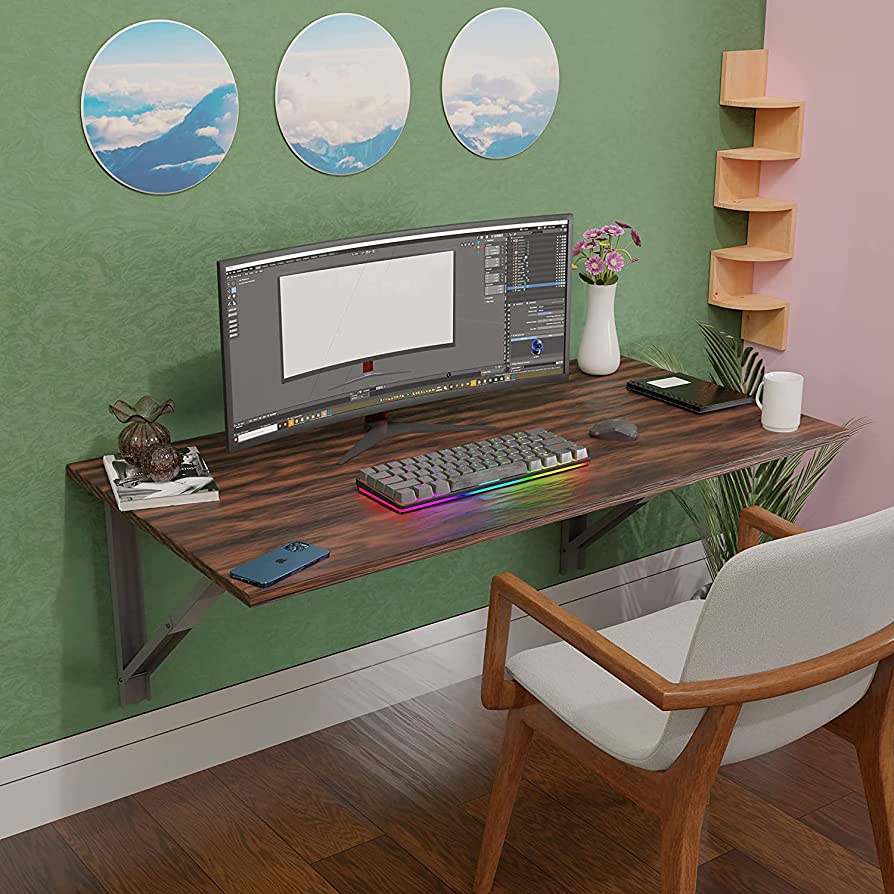 By mounting a desk on the wall, you can free up important floor space and transform the area into a functional space. The wall-mounted desk design is a perfect idea for small apartments and home offices. The height can be adjusted according to your preferences for an ergonomic setup. These organization ideas can be multi-functional as you can use them for studying or even use your computer conveniently.
7. Magnetic Strip for Metal Tools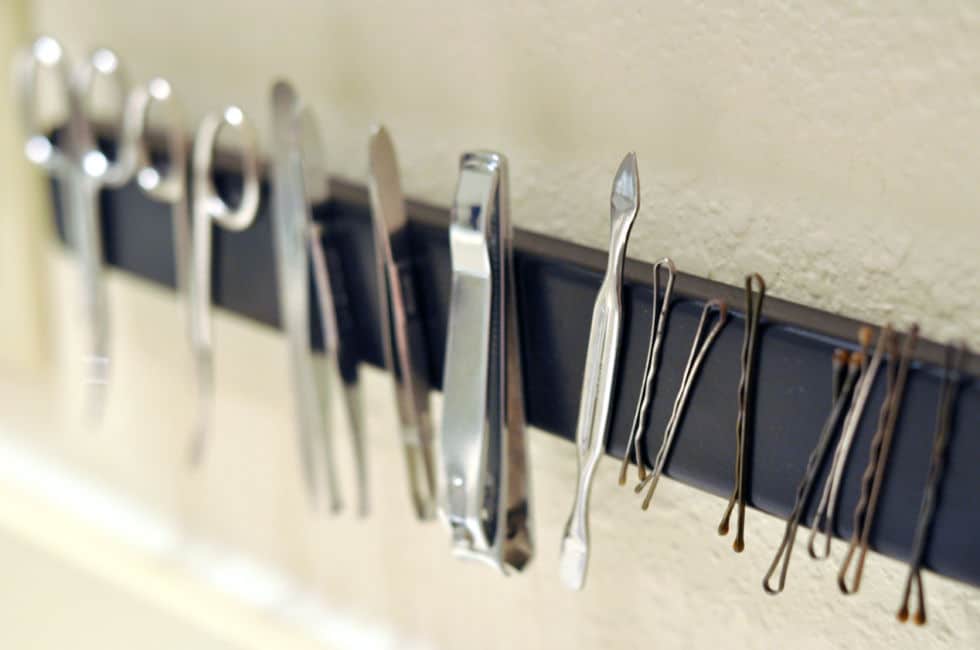 Organize your metal tools easily by using a magnetic strip. You can attach the strip to a wall or even inside a cabinet door. The strip will hold the magnetic tools firmly that can replace bulky storage containers. You can use these organization ideas to reduce countertop clutter and display your kitchen tools efficiently. Since the strips can be installed practically anywhere, it gives you the freedom for various placement options.
8. Labeling Jars and Containers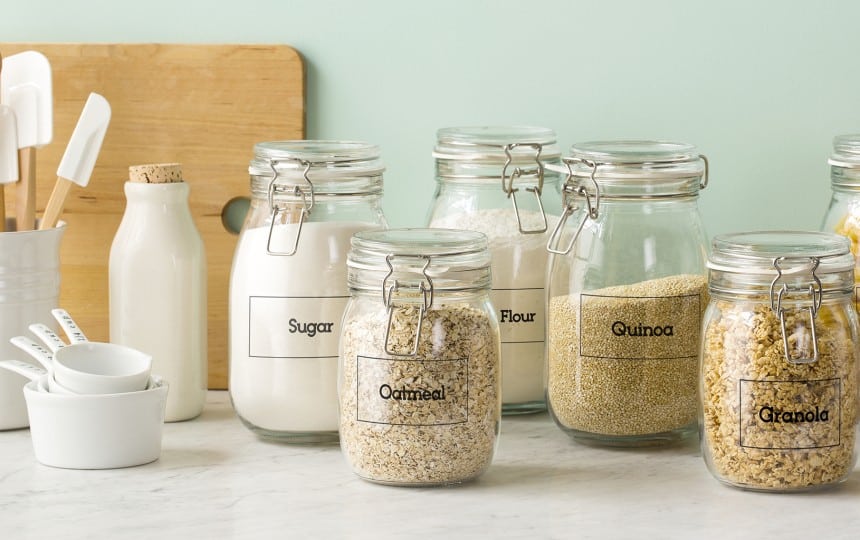 Labels allow you to identify the contents of the jars easily. From food items kept in your pantry to crafts supplies in the closet, the labeled jars provide an efficient way to keep the tools organized and handy. These organization ideasoffer a uniform look to the storage area. You have the option to choose from hand-written labels to printed labels to enhance the look of the area.
9. Magazine Holders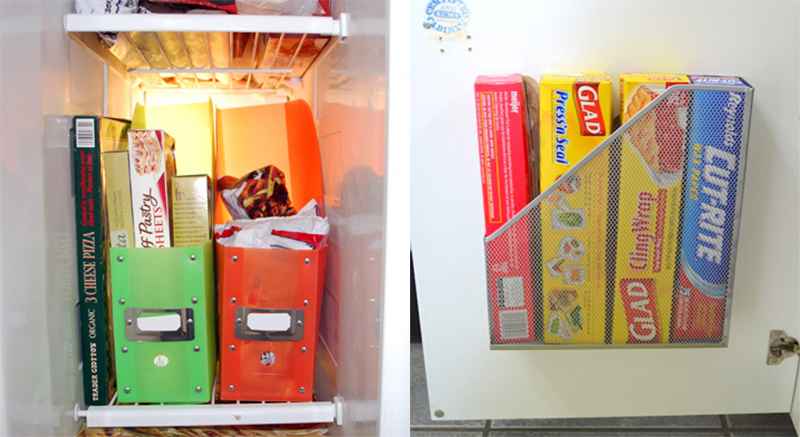 You can repurpose old magazine holders from the halls to keep the kitchen organized. You can add kitchen wraps to the holders to organize them. These organization ideas allow you to vertically stack the wraps to maximize the storage area of your kitchen. The open-front design provides ease of access while allowing you to place them practically anywhere in the kitchen. This also allows you to place the kitchen cutting board for efficient placement.
10. Floating Shelves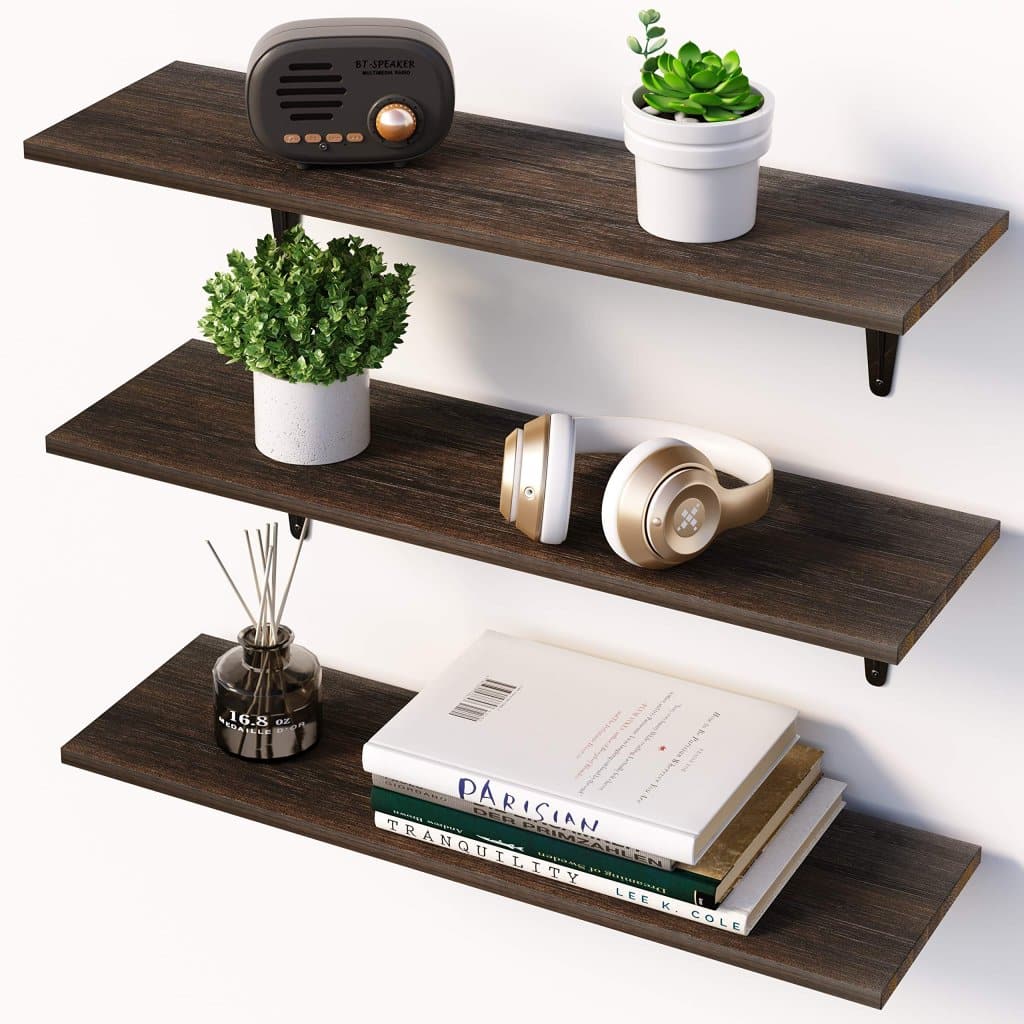 Floating shelves provide trendy organization ideas to keep the items in your study and other rooms easily. You can place the shelves practically anywhere, thus providing freedom of management. You have the option to display everything from books to plants and action figures that you have. They can be mounted easily as well. These create a sense of a bigger area which makes them ideal for small rooms.
11. Tension Rods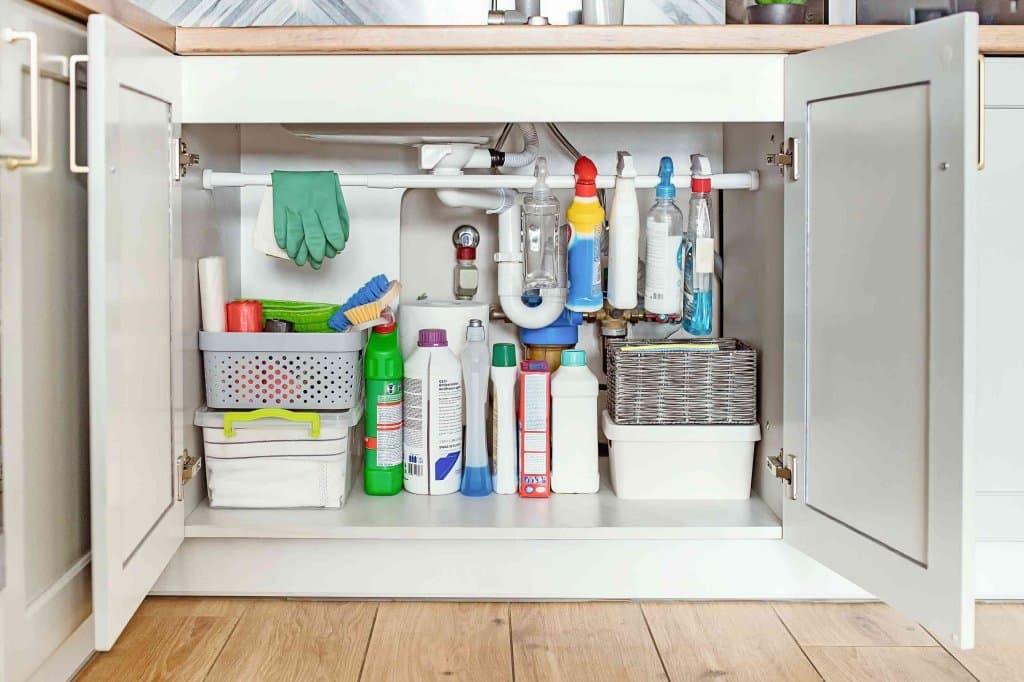 You can use the space under the sinks by adding a tension rod which allows you to hang cleaning supplies easily. These organization ideas allow you to maximize the usage of the available vertical space, which reduces the clutter in your bathroom and kitchen. These can hold sponges and other small items to create a tidy space. You can add tension rods inside cabinets to keep and organize the cleaning supplies and prevent them from spilling.
12. Cabinet Doors Hooks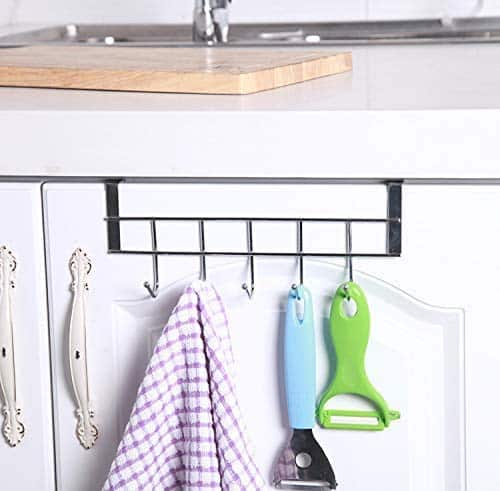 You can add additional storage to the cabinets in your kitchen and workspace by adding hooks to the inside of the doors. These organization ideas allow you to hang essential items that you require occasionally and keep them within reach. You can even hang oven mitts for handling pots and pans easily. Cleaning tools and bathroom accessories can be added to keep the place organized by using essential vertical space.
13. Paper Clutter Decorations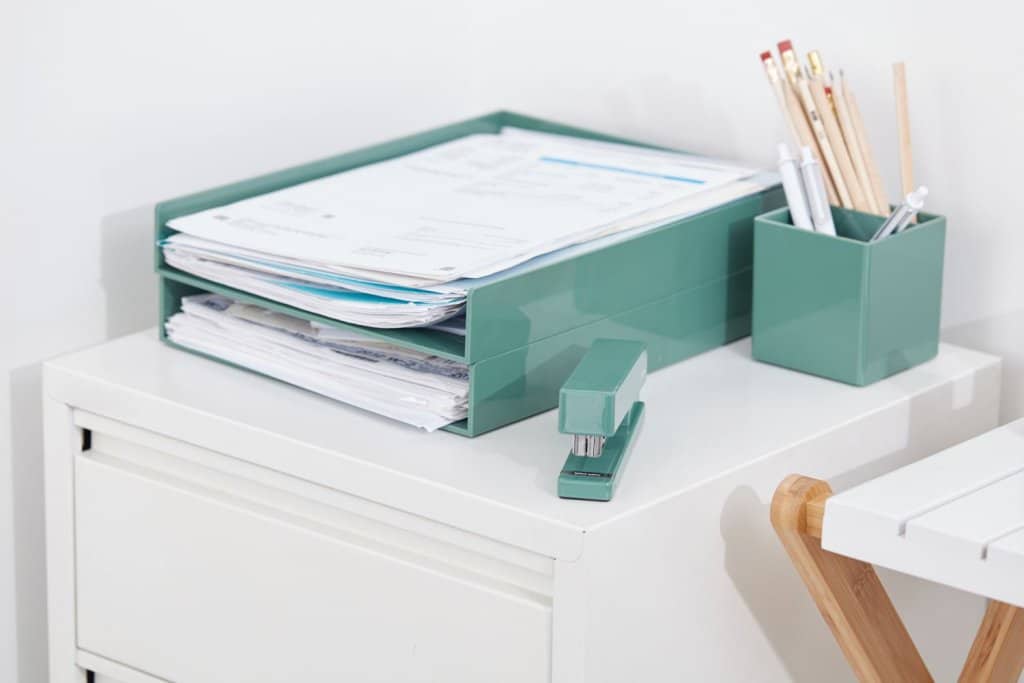 You can use the paper clutter around your study and other rooms by transforming them into stylish decorations. You can create a wall to frame and store important documents to create a gallery-like design. Adding clipboards to organize the mail and to-do lists creates a visually appealing ambiance. You can even place papers in a basket to keep them organized or use them for your next DIY project.
14. Wall-Mounted Mail Organizer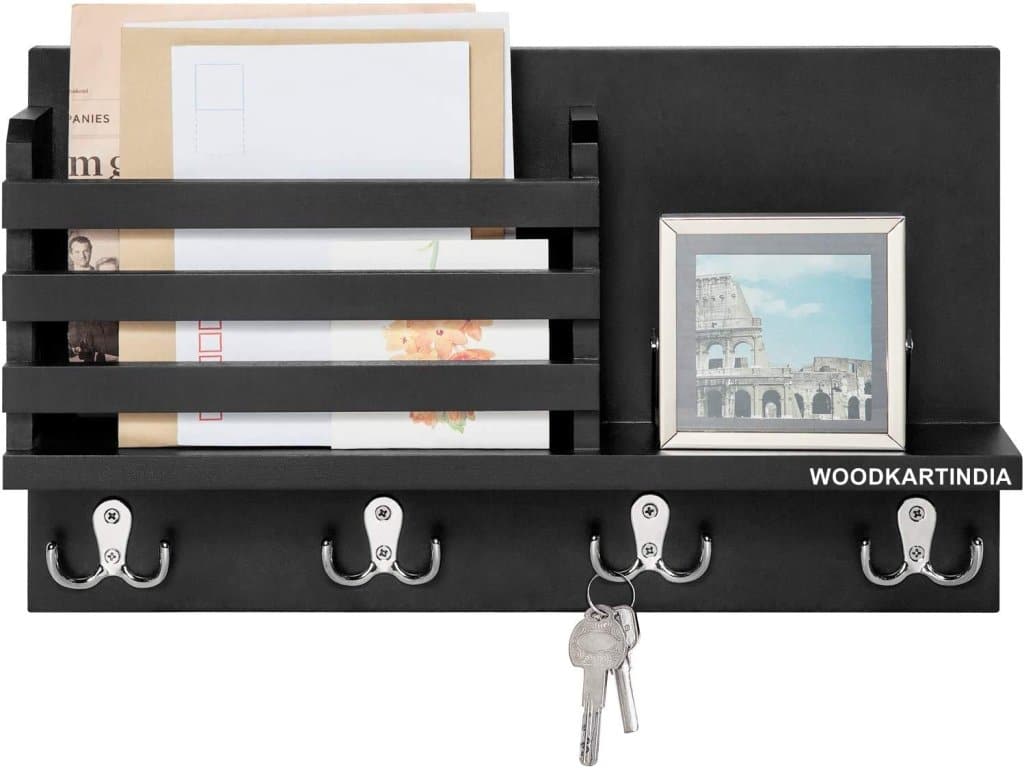 You can keep the cluttered mail organized using a wall-mounted mail organizer. You can create designated slots to separate important mail from junk and bills. Since the mail will then be organized, you won't have to search through a pile for that important letter that arrived a few days back. These organization ideas help keep the countertops clear of clutter and can be used to keep your keys as well.
15. Use a Pinboard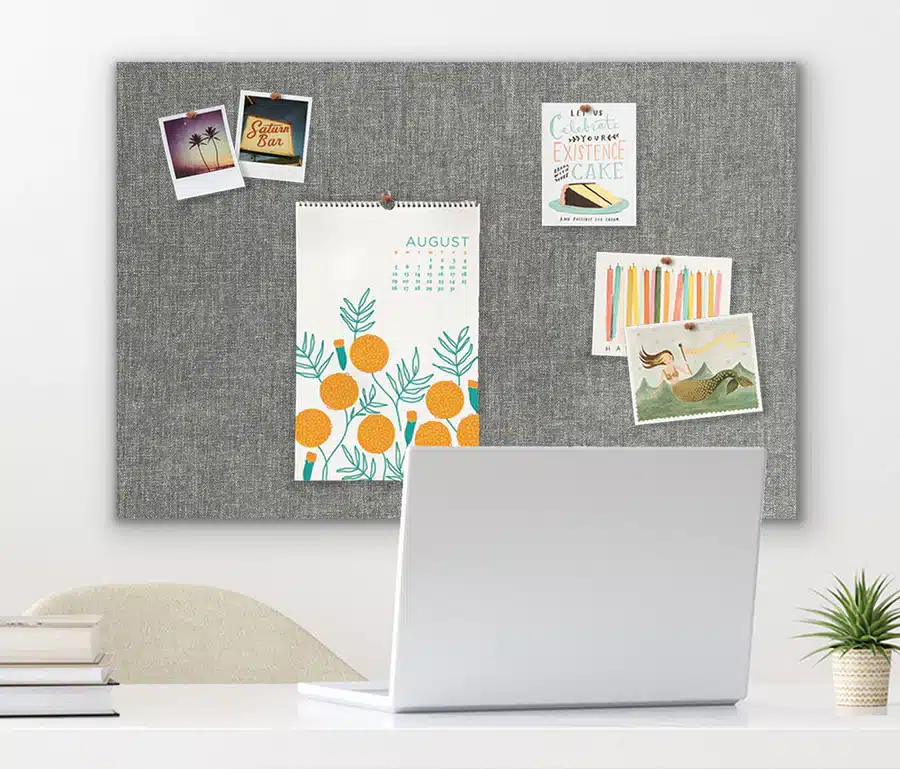 These organization tools allow you to stay organized while adding a creative space to your room. You can attach important notes to the board as reminders and to-do lists. This helps organize important papers and documents by having separate sections to avoid cluttering them. These also allow you to showcase old photos and create a collage while being a customizable space where you can show your creativity.
16. Using a Shoerack for Cleaning Supplies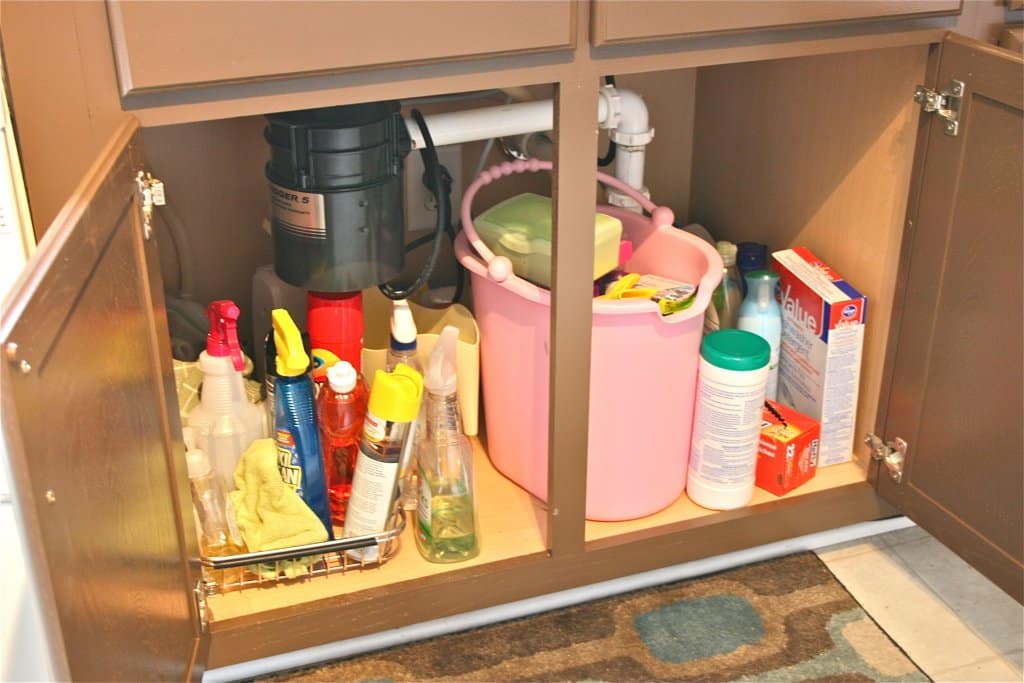 You can easily repurpose an old shoe rack to place the cleaning essentials. This acts as a perfect place for the same as it provides you with open shelves for easy access and identification. These organization ideas use vertical space thus being ideal for small spaces. With their different compartments, you can separate various kinds of items and can expand the space if you run out of them.
17. Create a Command Center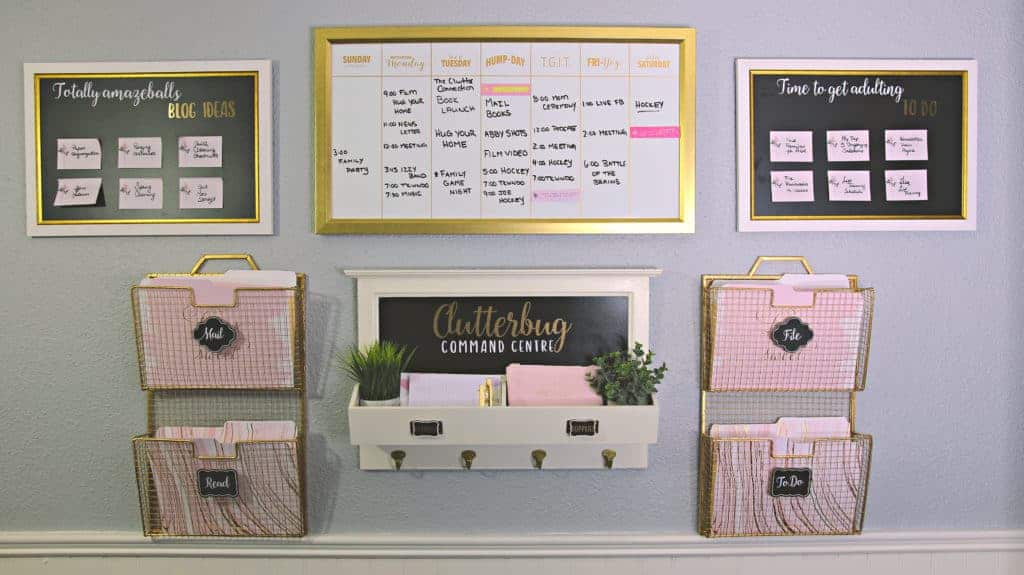 Manage your daily activities from a command center right at your home. You can select a section of your room that is easily accessible and visible. You can install a bulletin board or a whiteboard and make it a focal point to write important reminders and points for the family to see. Additionally, you can add storage solutions to keep the keys, mail, and other essentials.
18. Clothing Drawer Dividers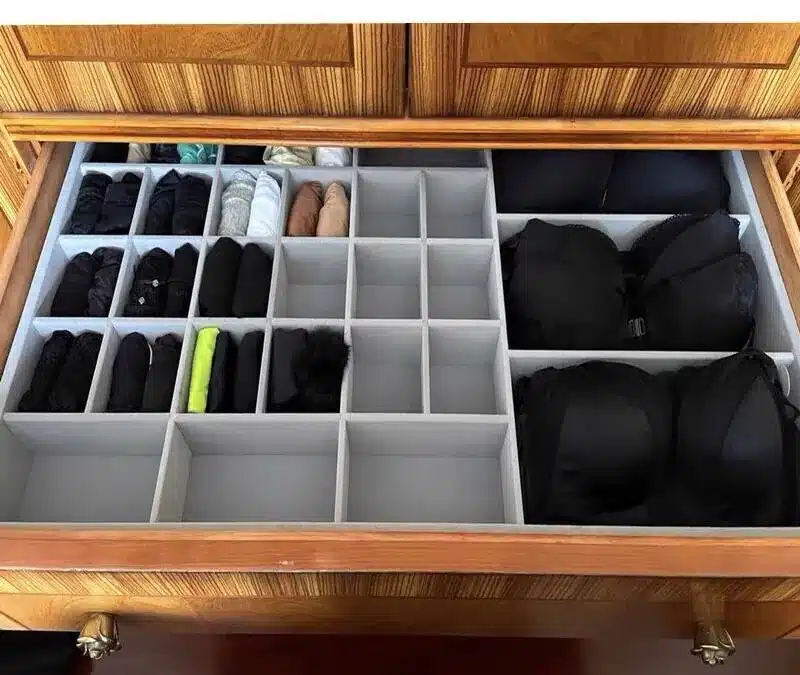 These organization ideas allow you to separate different types of clothing in the drawers. You can separate your t-shirts, socks, and accessories easily. Dividers help you maximize the available space efficiently. By keeping the clothing neatly folded, you can protect them from tangling. This saves valuable time while searching for them. The dividers allow you to customize the space according to your needs too.
19. Organize Your Tupperware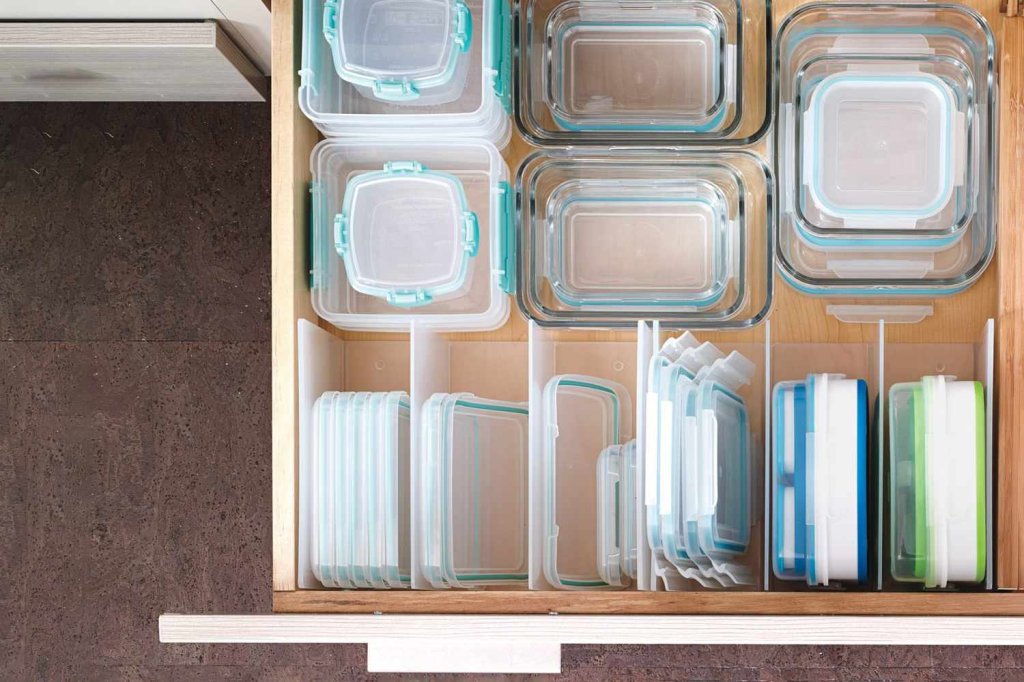 The first step to organizing your Tupperware containers is to get rid of the broken and mismatched pieces. You can optimize the space by stacking the containers on top of each other. You can even place them in a storage system which allows you to organize the containers easily. Additionally, you can label the containers to identify what is inside the containers quickly.
20. Toilet Paper Roll Cable Management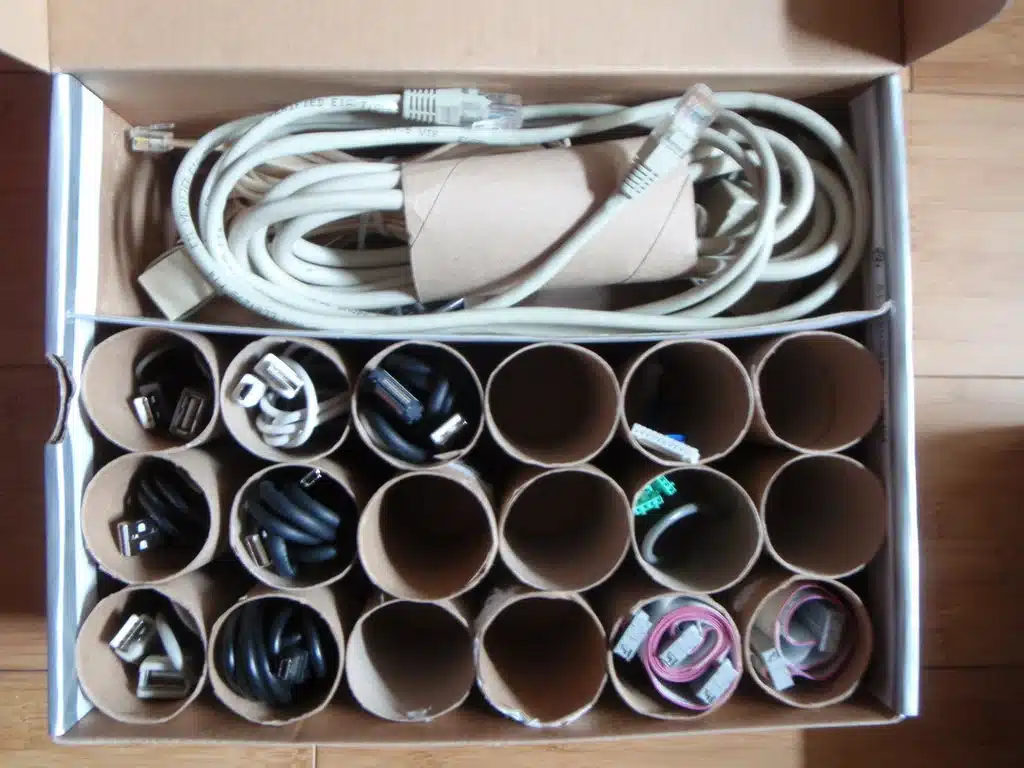 Repurpose the toilet paper rolls to keep the cables organized. This reduces the chances of tangles and expenditure on expensive cable organizers. Adhesive labels can be used to identify the cables easily. You can even keep the rolls in clutter-free cable storage. Ensure that the rolls are dry and clean before use. You can use towel rolls for longer cables.
21. The 2-Dresser Desk
You can repurpose old desks in your room and create a desk to increase the available functional space. You can paint the dressers according to the room's aesthetics. Be sure to select dressers that are at the same height and keep your feet comfortable. You can add a keyboard tray to organize your computer and maximize the storage space. Add decorative elements to enhance its look.
22. Magnetic Spice Rack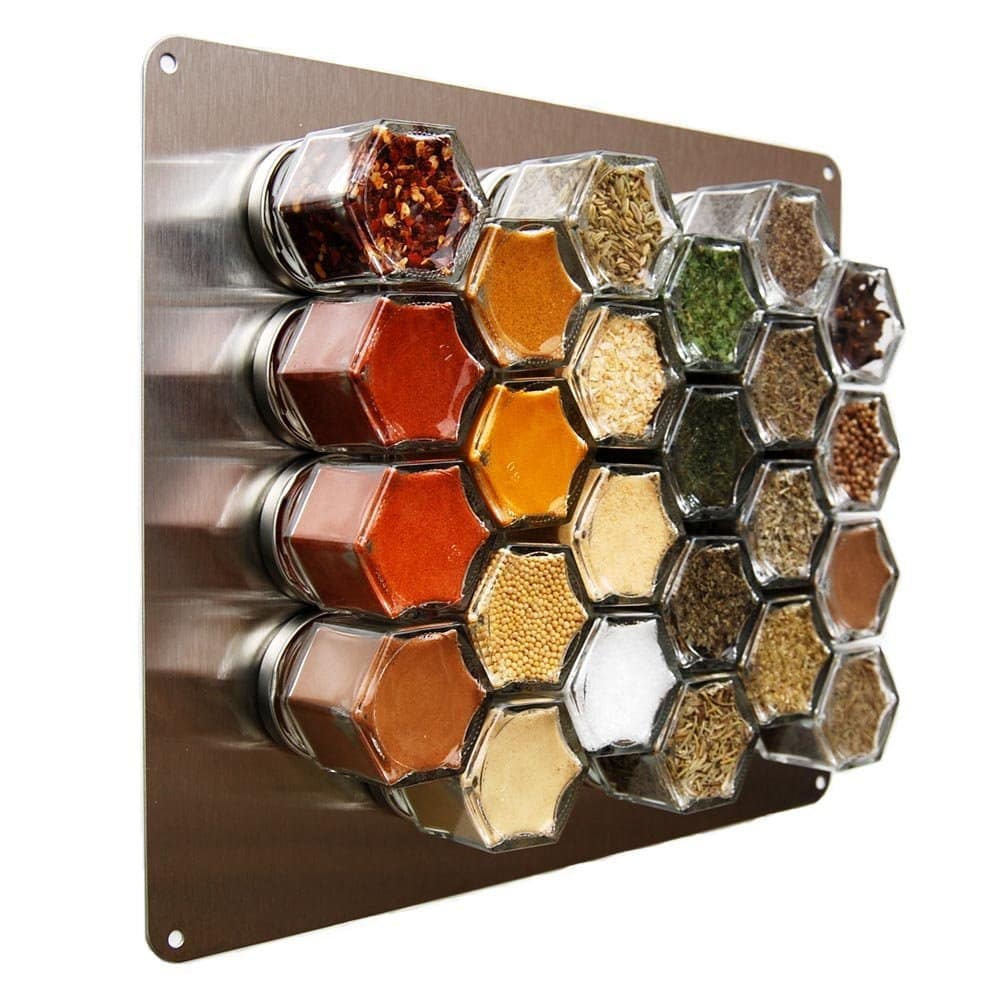 You can organize the kitchen spices and reduce the clutter to streamline your cooking experience. The magnetic rack can be attached to rolling carts for easy portability. The racks come with individual containers that can be labeled and rearranged to keep the spices easily. Using individual spice containers helps in reducing the chances of cross-contamination and makes it easier to replace them when required.
23. Using the Space Under Your Bed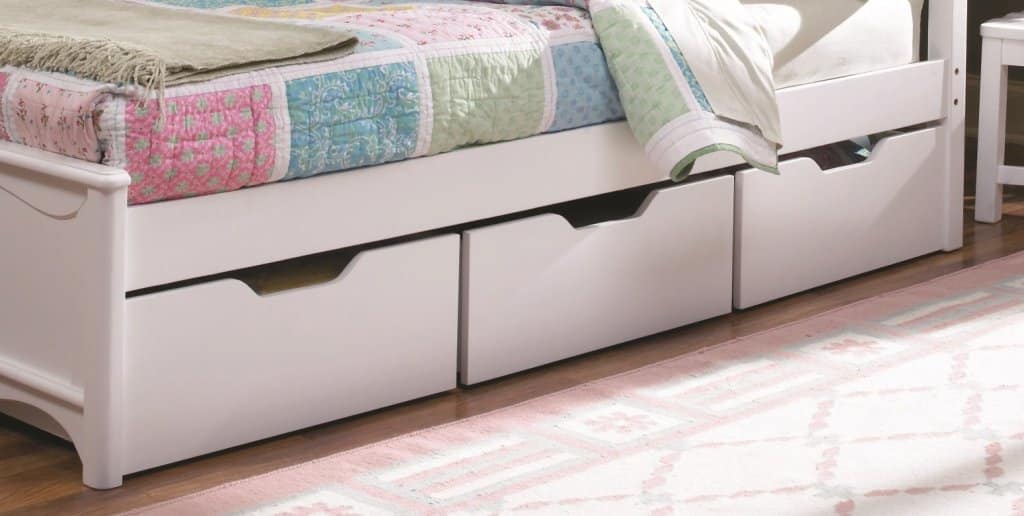 Utilize the space under your bed to declutter the space around it. You can use rolling drawers that slide easily to organize your office supplies and other smaller items. Add bed risers to increase the bed height and create additional space under it. It allows you to place larger bins and taller items. It also allows you to place labeled storage containers to keep your items organized.
24. Pot And Pan Hangers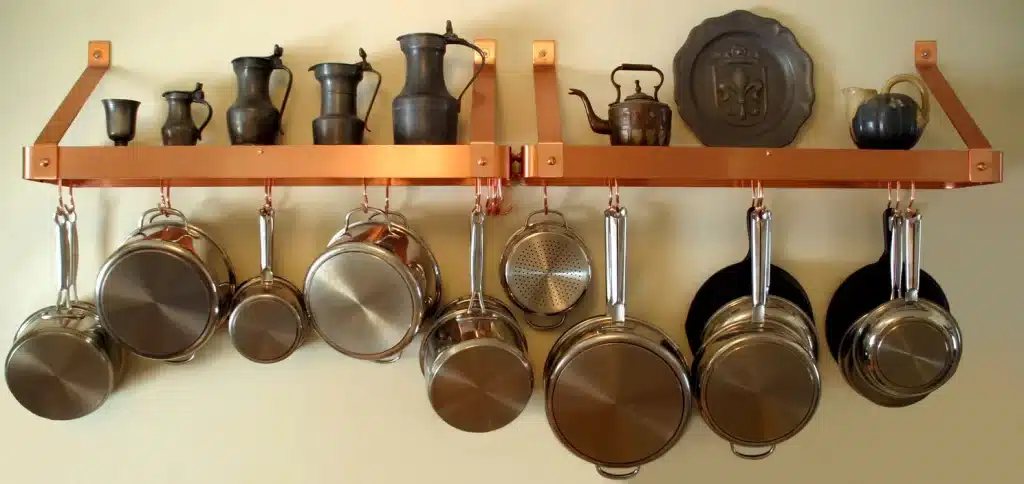 You can declutter and free up cabinet space by easily hanging the pots and pans in your kitchen. These organization ideas help visually enhance the appeal of your kitchen by displaying the cookware. You have multiple options to choose from while hanging the cookware, like ceiling mount, wall mount, and even hooks. You can also add additional hooks to attach and keep additional accessories and pan lids.
25. Garage Magnetic Knife Strip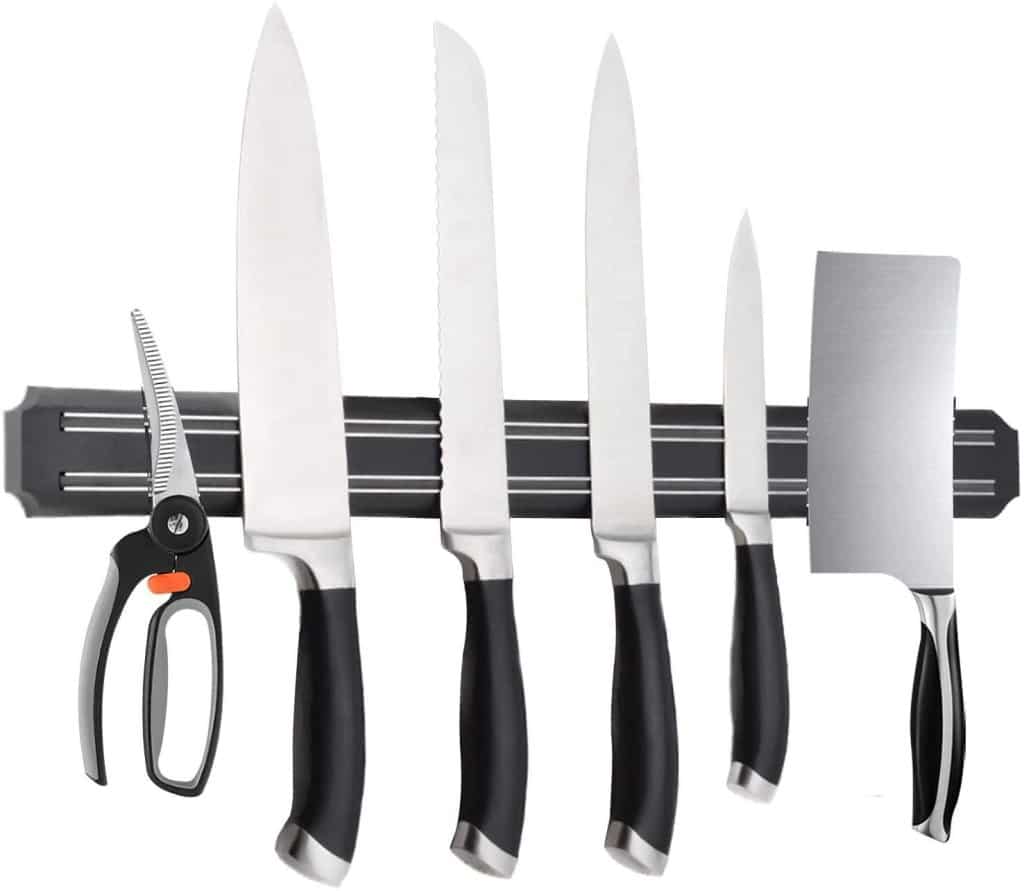 Repurposing a magnetic knife strip allows you to transform the garage space into an organized place where you can easily keep your tools. You can place metal tools like wrenches, pliers, and small hammers so that they are easily accessible. Mounting tools can be used to install the strip securely. These organization ideas help you keep the tools secure and reduce the chances of accidental injuries and clutter.
26. Shower Caddy for Cleaning Supplies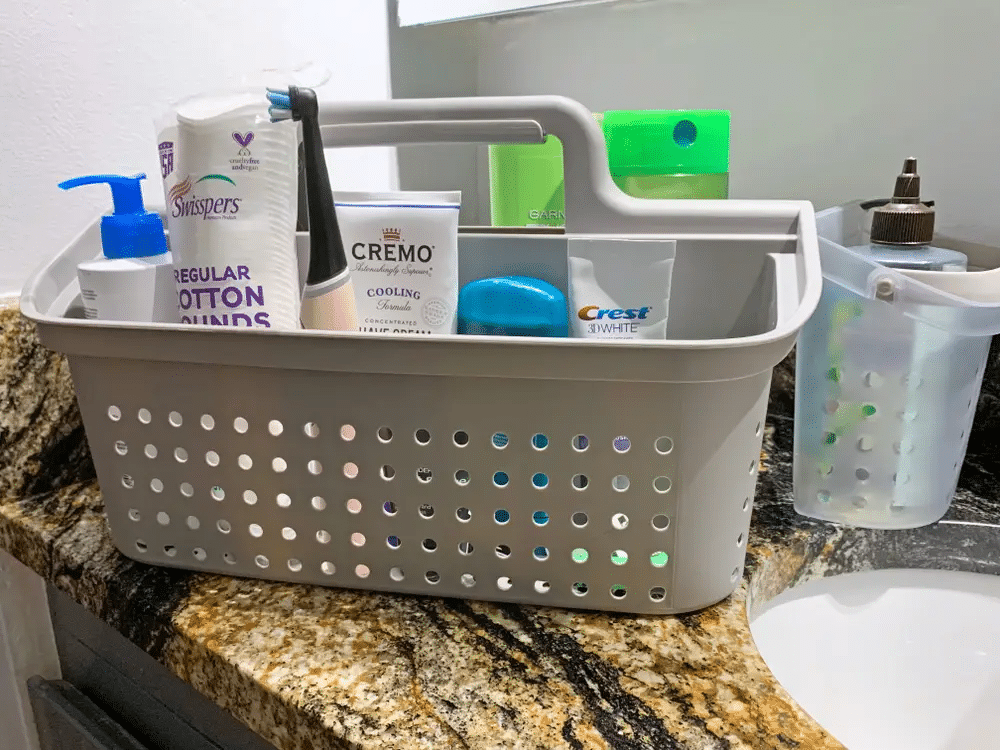 Reusing a shower caddy for keeping the cleaning supplies provides a portable and organized option that makes it easy to make a cleaning routine. You can separate the supplies into various compartments. The adjustable design lets you keep items of various heights. You can even hang the caddy to the bathroom door using hooks for ease of access and keep the floor clutter-free.
27. Paper Clutter System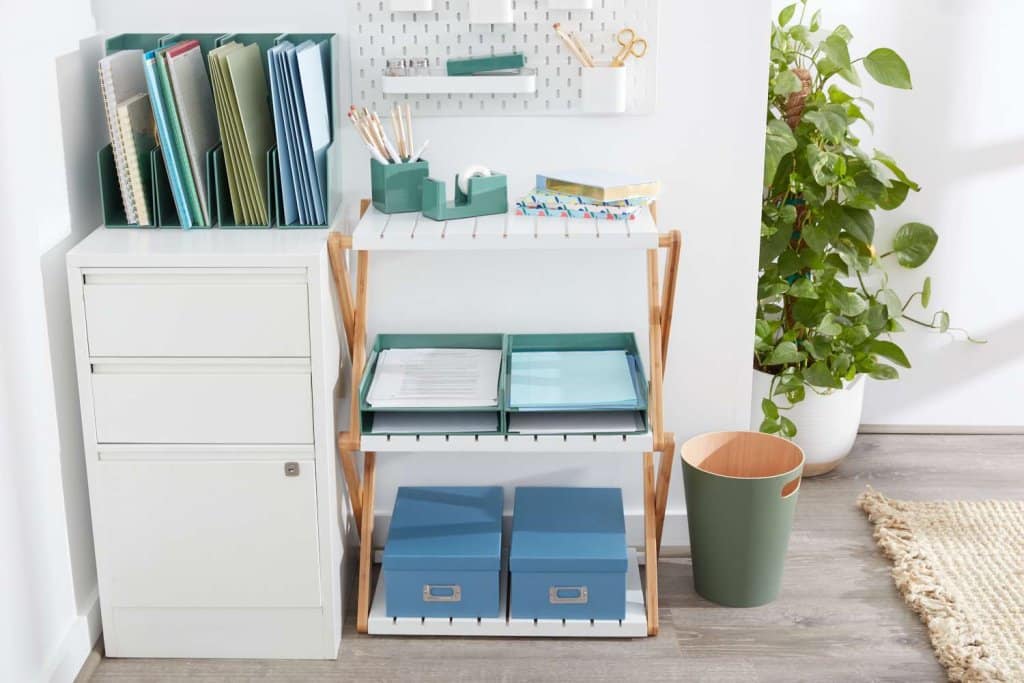 Paper clutter can accumulate quickly in your home and office. To manage the system, you can choose a designated area or filing cabinet to organize the documents. You can even set up an inbox to keep the mail, with a filing system to segregate the important items according to their labels. A designated outbox can be created for items that need attention, like bills and RSVP emails.
28. Empty Space Behind Cabinet Doors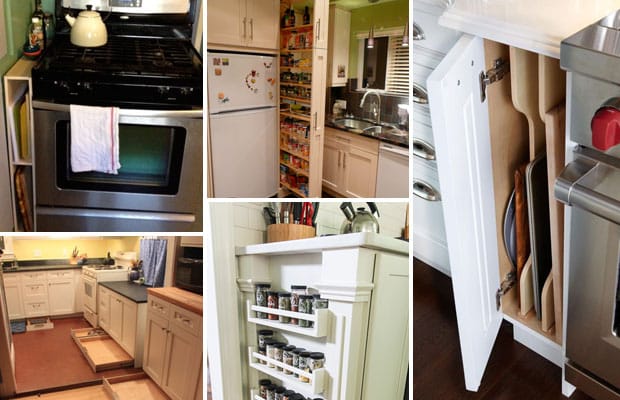 You can utilize the space behind cabinet doors to expand the storage options available. Door-mounted racks can help utilize the vertical space inside the cabinet doors. These can hold various items like cleaning supplies, spices, cutting boards, etc. Pegboards can be attached for you to keep lightweight items organized. Wire baskets and adhesive pockets are easily attached to the doors for you to organize the kitchen accessories.
29. Magazine Holders for Filing Items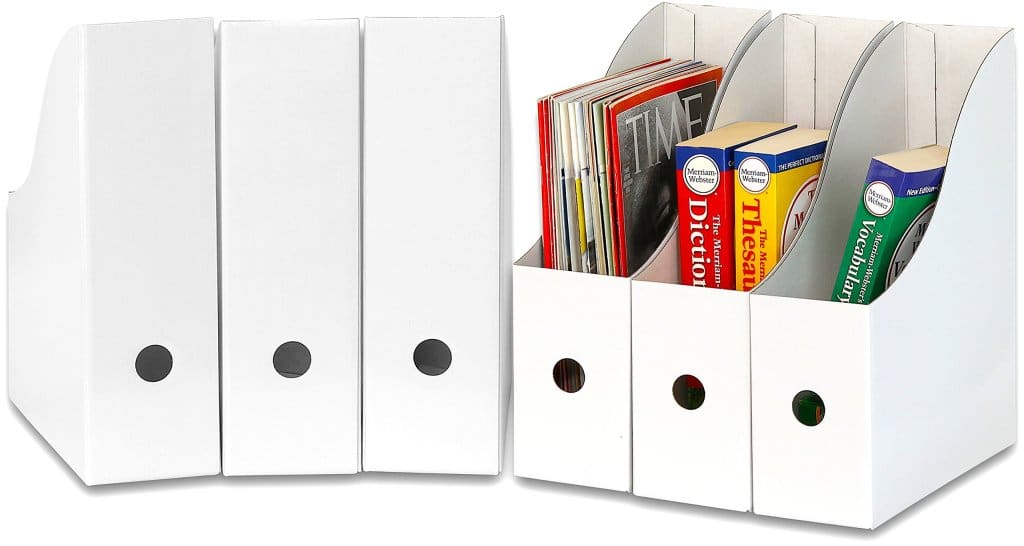 You can reuse old magazine holders to keep and organize your file folders in an efficient manner. Sort and label the folders into categories according to their purpose for easy identification. Add dividers to separate the items if there are more than two categories. You can even use multiple holders and even separate them by using color tabs to differentiate between sections. You have the option to place the holders practically anywhere for ease of access.
30. Garage Pegboard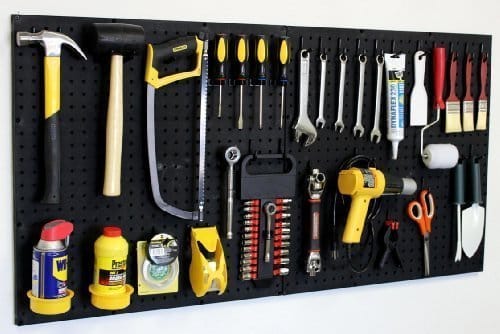 Maximize the storage in your garage and reduce the clutter by using a pegboard to keep the tools organized. This makes the tools easy to access and increases the storage space of your garage. You can use various pegboard accessories like hooks and baskets to organize the tools according to the frequency of their use. You can even outline the board for keeping the tools so that none of them get lost in the clutter.
31. Magnetic Whiteboard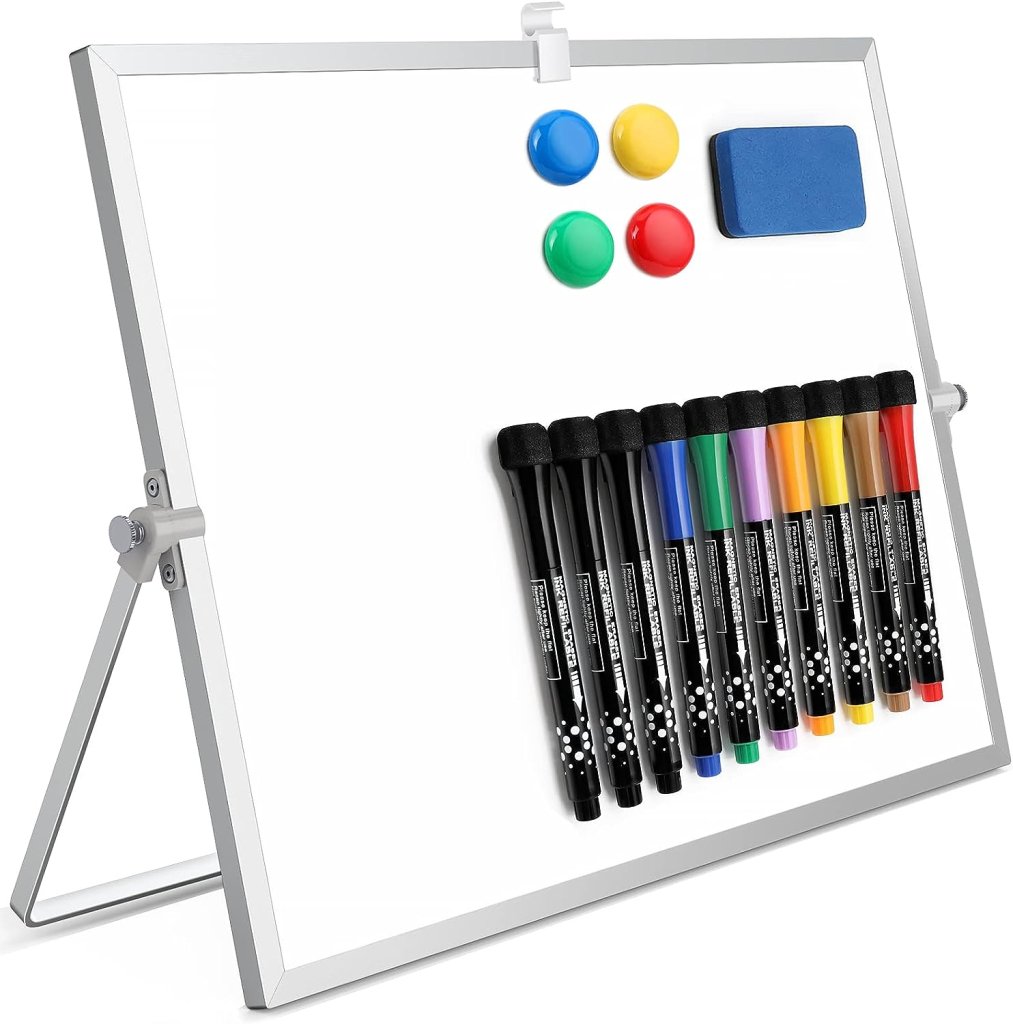 You can utilize a magnetic whiteboard for planning your meals and organizing your kitchen routine. Installing the board in a spot that is visible across the kitchen would be the perfect spot making it easily accessible. Using magnetic clips allows you to attach various recipe cards to the board. Dry-erase markers make it easier for you to update the board every day. Erase the previous day's plan and write a new one easily.
32. Stackable Storage Containers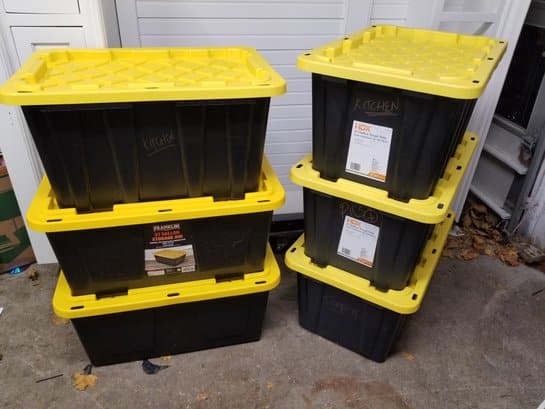 Stackable storage containers are a one-stop solution to keep your items organized. You can categorize and store items easily in a container and stack them to utilize the vertical space and reduce clutter. Labeling the container with the contents makes it easier to locate items and keep things organized. Clear containers let you view the contents easily. You can even place frequently used items in an easily accessible position.
33. Charging Station
By making a charging station, you eliminate tangled cords and scattered devices. You can color-code the cables for the efficient organization of your devices. Position the devices in a way that provides easy access to the screen and buttons. Cable clips can be used to organize the cables and keep them tangle-free. Keep the station organized by removing any unused devices or accessories.
34. Bathroom Drawer Organizers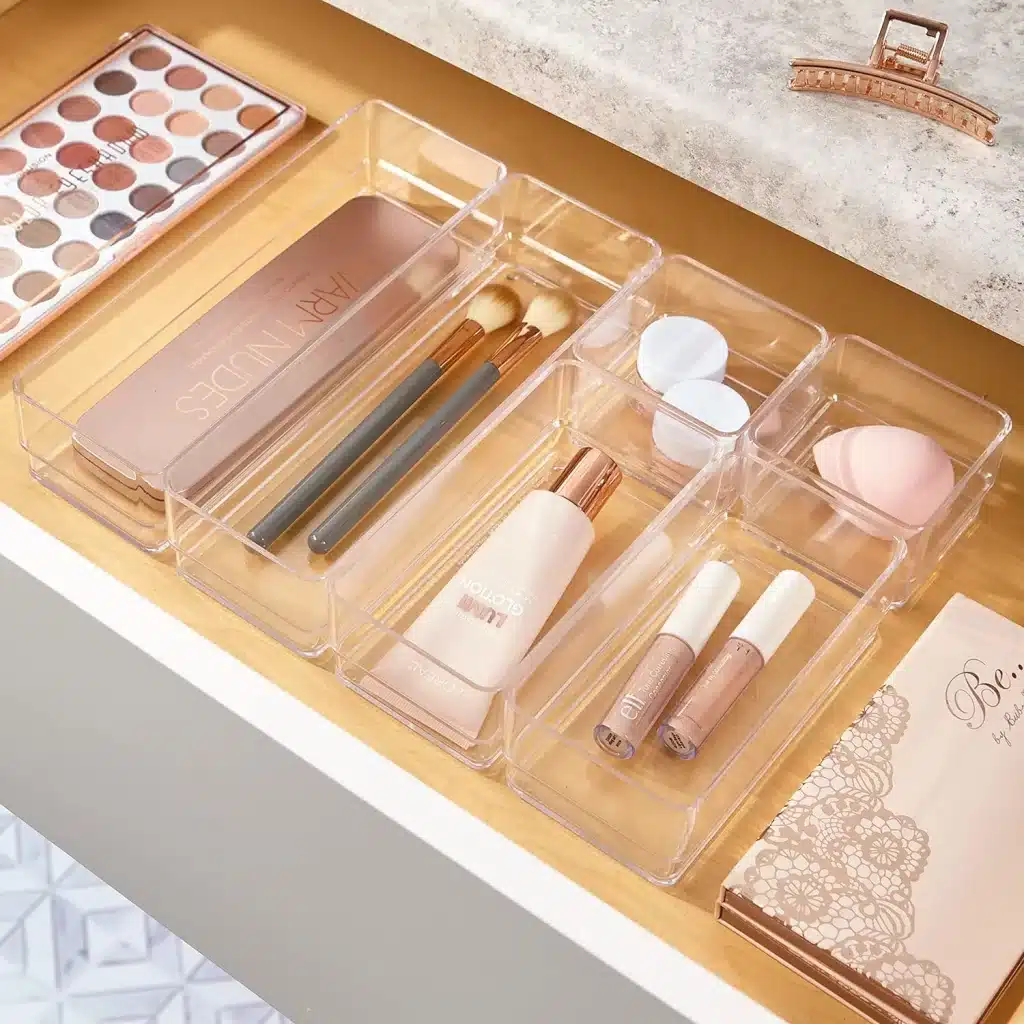 Optimize the storage in your bathroom by using drawer organizers. You can use these drawers to keep the essentials arranged. You can organize the toiletries, cosmetics, grooming tools, etc., according to your requirements. Drawer dividers can be used to create dedicated compartments for efficiency. Stackable organizers allow you to reduce clutter and use vertical space. Adding clear and labeled organizers make it easier to locate the items.
35. Inspiration Boards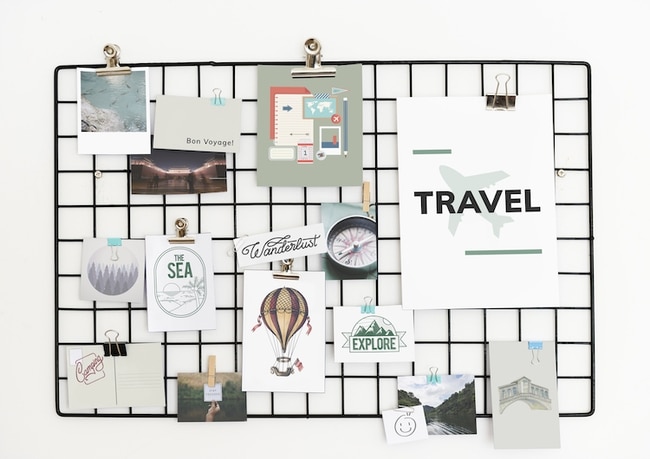 An inspiration board is a tool that helps in visualizing your goals and gathering ideas. Placement for the board is an important aspect as it should be visible and accessible easily. Collect and attach important and inspiring materials to the board. These can include magazines, postcards, and photographs. You can use tape, pins, and clips to attach them securely. Keep it updated regularly and add personal touches such as photographs and hand-written notes.
36. Donation Bins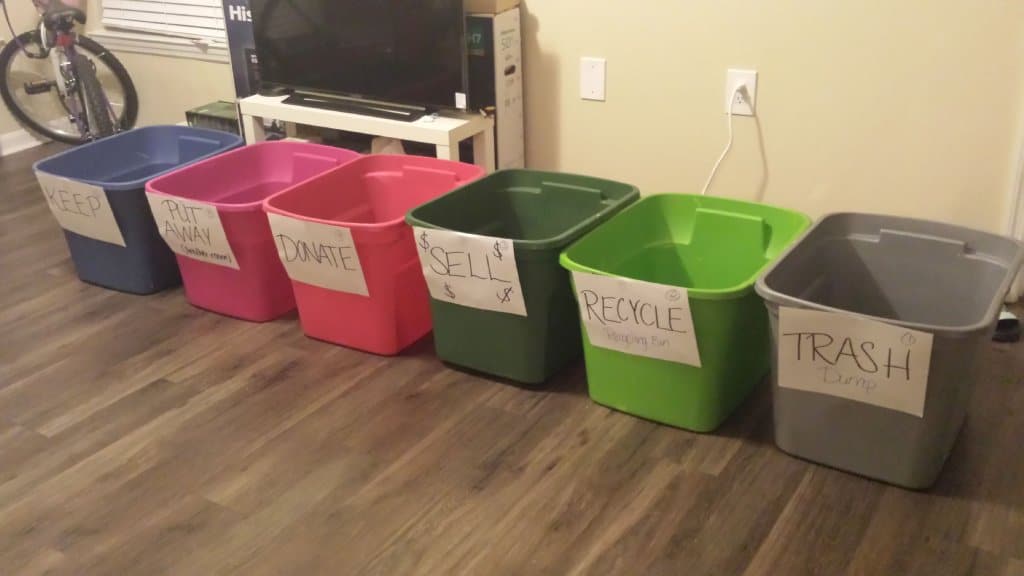 Donation bins are an effective way to reduce the clutter around your house and give them away to those in need. You can create a designated space for items that are no longer needed for easy sorting. Use a big container to hold the items conveniently preferably with a lid to keep them safe. Label the bins to separate them from regular storage items. Separate them according to the contents for efficient sorting.
37. Designated Drop Zones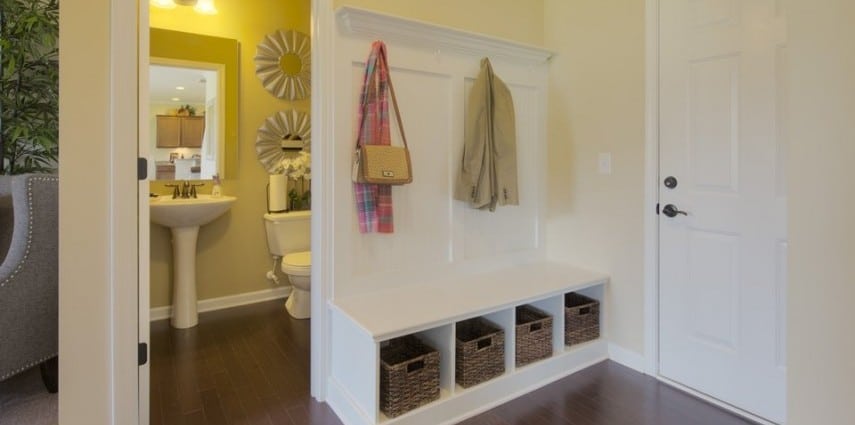 You can place strategic drop zone areas to organize items easily. This helps in clutter reduction and provides easy accessibility for daily-use items. You can keep the zones near the kitchen or the entryway. Make the zone attractive by adding decorative elements like a plant or a mail organizer. Add guidelines for the drop zones in a way that every member of the household adheres to them.
38. Office Supplies Drawer Dividers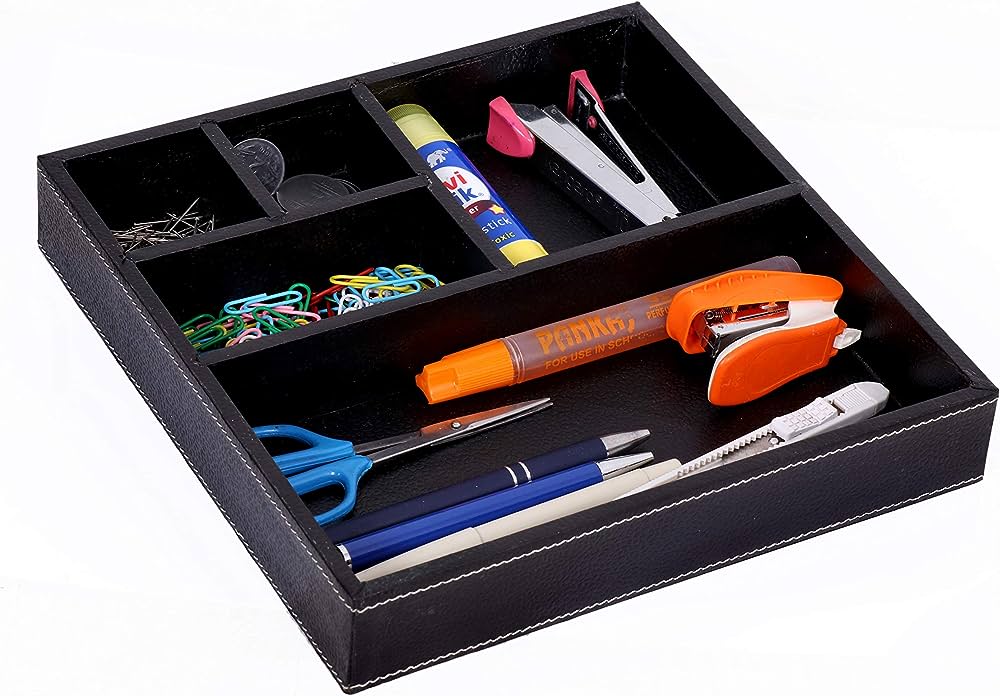 Enhance your workspace by creating a well-organized drawer with dividers to separate the office clutter. Sort the supplies into functional categories like pens and pencils, stationery items, notepads, etc. Place the items in the correct compartments and assign labels to them. You can adjust the dividers to manage larger items easily. The labels remind you to return the items to their designated spots.
39. Hanging Shoe Organizer for Toys
You can efficiently store and organize various toys, whether they are yours or belong to anyone in the household. You can keep them in designated slots according to the theme or even from the same show. Label the contents of the pockets to keep them organized. Rotate the toys to sustain your interest in them and reduce the clutter. These organization ideas help keep the toys and the surroundings clean.
40. Decorative Boxes for Supplies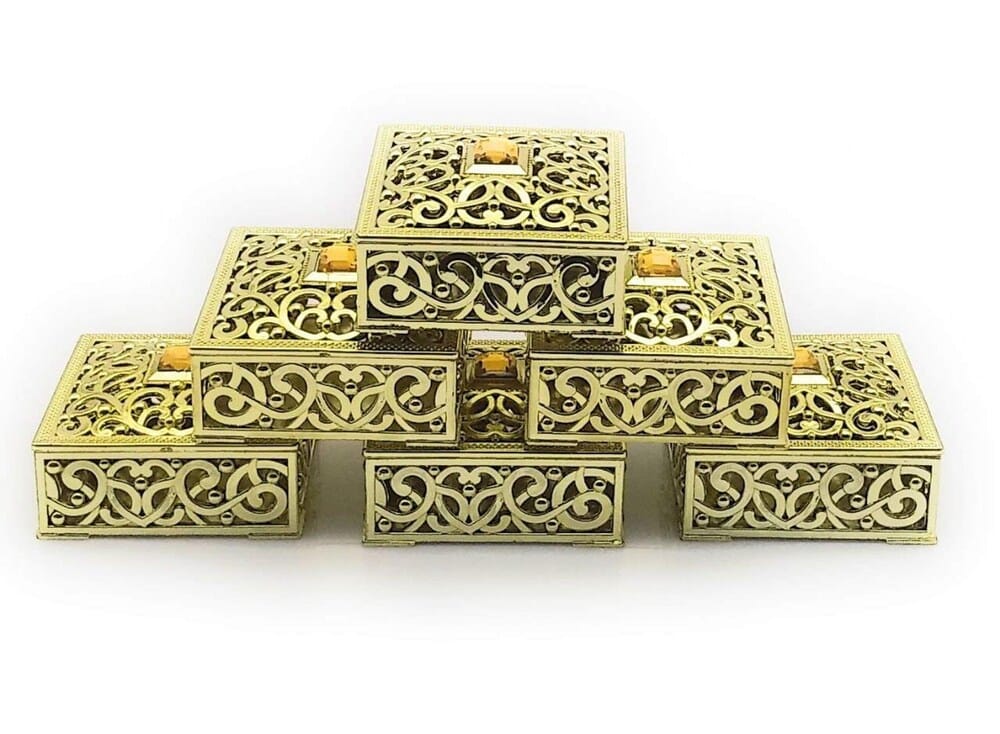 You can keep your supplies organized and add a touch of sophistication to the workspace by using decorative boxes. Separate the items according to their use, like office supplies, art supplies, etc., which will help you decide the box size. Matching the boxes with the room aesthetics creates a striking aura and makes them the centerpiece of the room. You can label the boxes according to the contents for easy recognition.
Conclusion
Adding these organization ideas into your life can have a deep impact on your house. From using plastic bins to creating a complete drop zone, each idea helps you streamline and reduce the clutter around your place. We hope that by implementing these strategies, you will be able to create a more functional and organized environment.
It is time to take action on these 40 ingenious organization ideas and implement them around your house. The organization is an ongoing process, so it is important to be patient and consistent. You can share your process with people at home and inspire them to do the same.
Enjoy your peace of mind in addition to the productivity around your organized house.